Luke Hobbs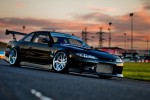 You asked, and Luke Hobbs has delivered. Here are desktop sized images of Australian Drifting GP Driver, Ryan Cummings' awesome S13.5; one of the finest looking S15 fronted 13s on the planet. Enjoy!
The first round of the Australian Drifting Grand Prix was played out in style in beautiful Tasmania. Needless to say, I was getting pretty excited as I had never been over there before, and the competitor line up was looking pretty amazing! Luke Fink was back to defend his last years title, Danny 'Denzo' Vahoumis was here with a new look car and Simon Michelmore was also keen to give everyone a run for their money!
The Australian Drifting Grand Prix Round 2 was hosted at Queensland Raceway last fortnight. To say I was excited to see the talent up there is an understatement….