When the rumour mill started flowing that Christy Carpenter had bagged a big name sponsor for the upcoming Irish Drift season I was straight on the phone to the man they call 'Carpo'. A new season, a new brand, a new tyre, a new colour scheme, and a new adventure for Christy Carpenter. Most people I know would love to have any form of Nissan Silvia S15 as their private weekend or daily car, but Christy "Carpo" Carpenter does not have a reputation for doing things in half measures, therefore it will come to no surprise to those who know him best that this amazing machine has been built with only the finest parts money can buy.
Check out more Nissan Silvia S15's on Drifted
Christy says "I feel if you invest in good quality parts you will gain more in the long run, for example you could buy a cheap diff etc. and blow it out in one event during competition, quality parts are key to a reliable car"
Quality parts are definitely something this car has in abundance for sure, let's take a look around Christy's awesome machine.
We line up the Nissan s 15 for a test shot, awesome fat lines filled beautifully by those 9.5J Gramlights.
It's Round 1 and Christy get's his official stickers on the freshly finished paint job carried out by Martin O'Meara, top job as always !
We wonder how much Christy can actually see from these mirrors, but really who cares, they look awesome.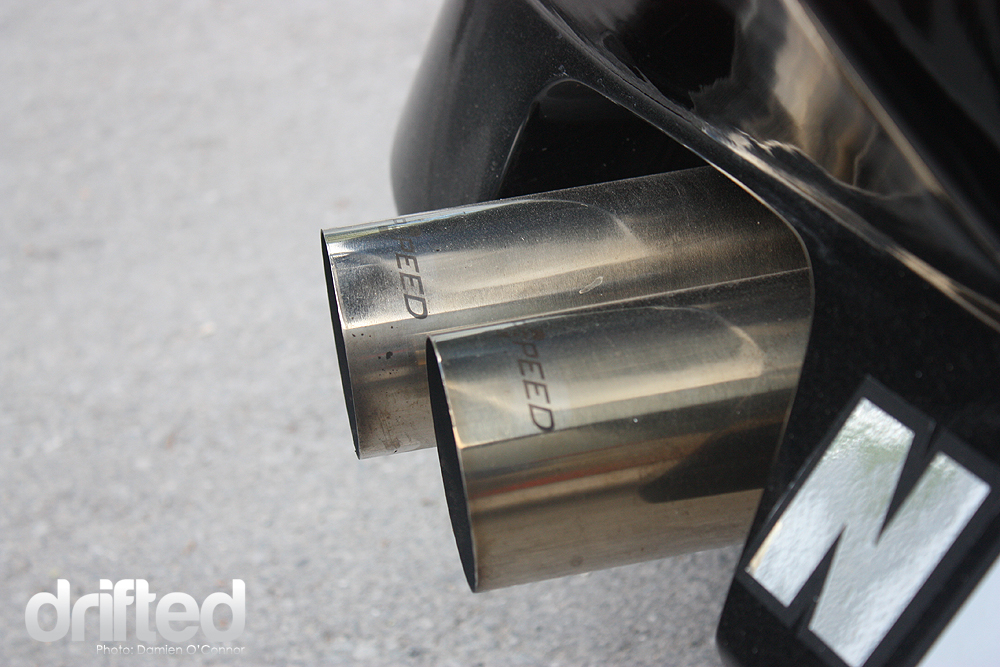 Christy is rocking new shotgun style exhaust from Japspeed this season, which carry the note of the 6 cylinder JZ Toyota motor incredibly.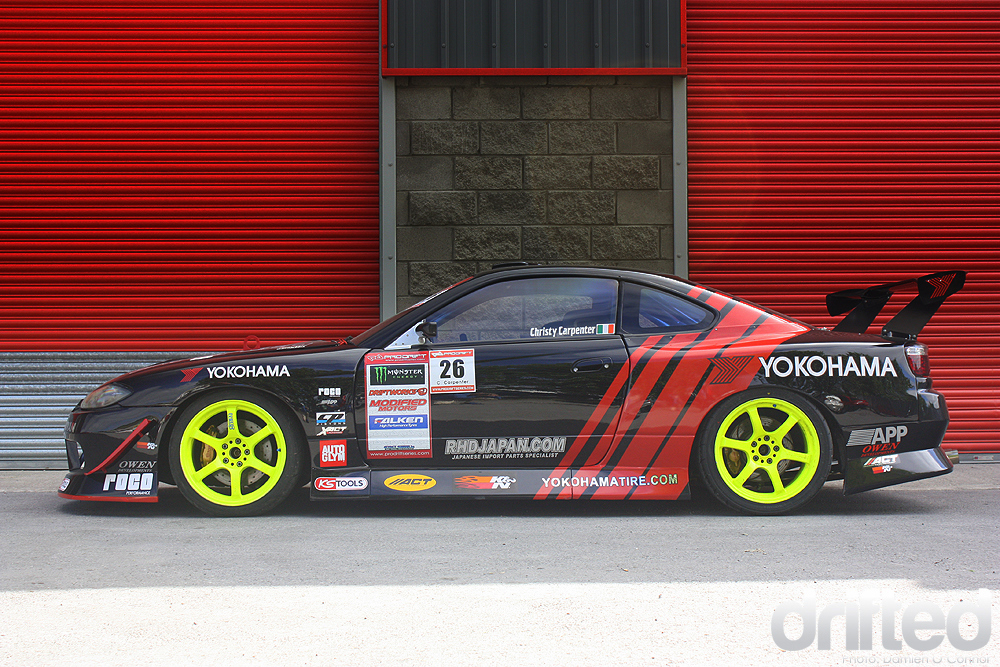 This car could really attend any event worldwide and fit right in, especially with big name sponsors like Yokohama and RHDJapan.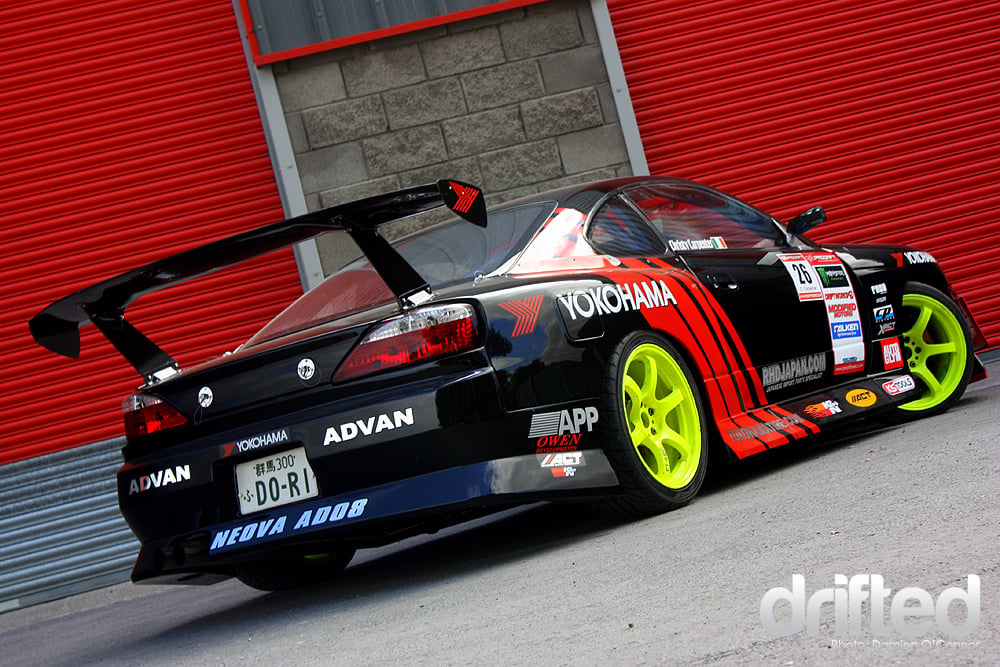 Up close and personal, every detail on the car performing it's own function, aesthetic or otherwise.
One of my favourite shots of the day, the S15 sits somberly in the shade, the illuminous wheels really contrasting vigorously against the reds in the picture.
Inside the cockpit, where all the business happens.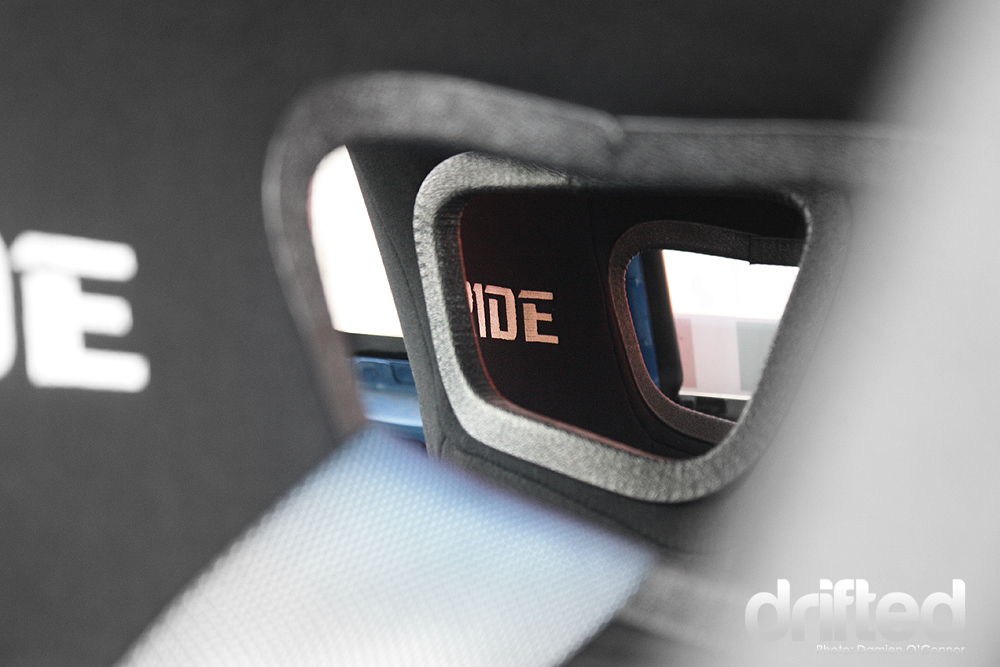 Matching Bride Gardis FIA approved seats keep Christy and his plus one secure.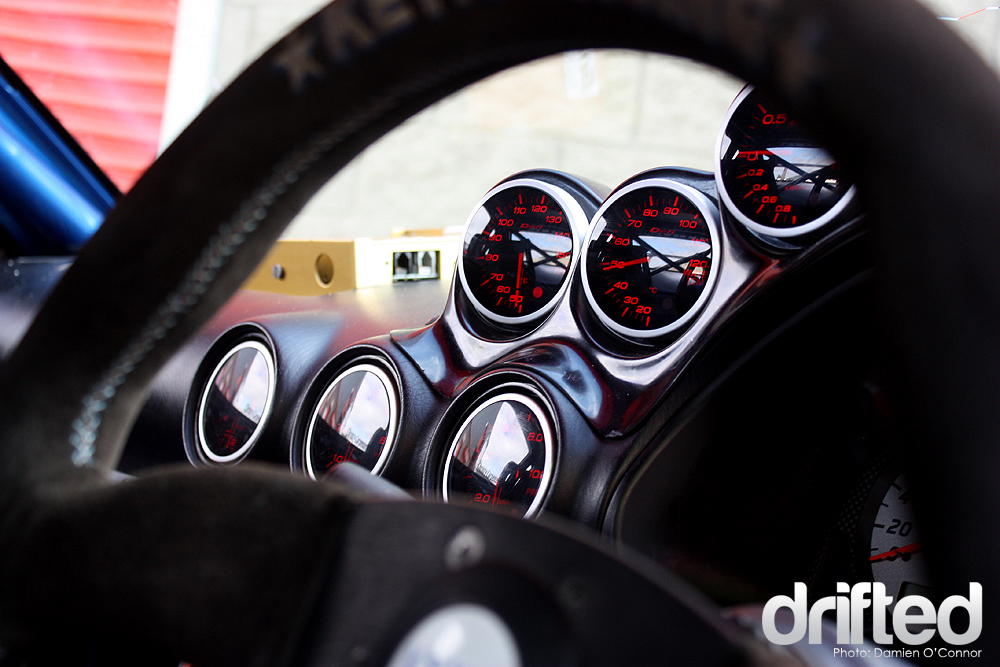 There may actually be a Defi gauge here to tell you the time, I wouldn't be surprised.
This Willwood hydraulic handbrake gets the rear wheels locked up in ultra quick time.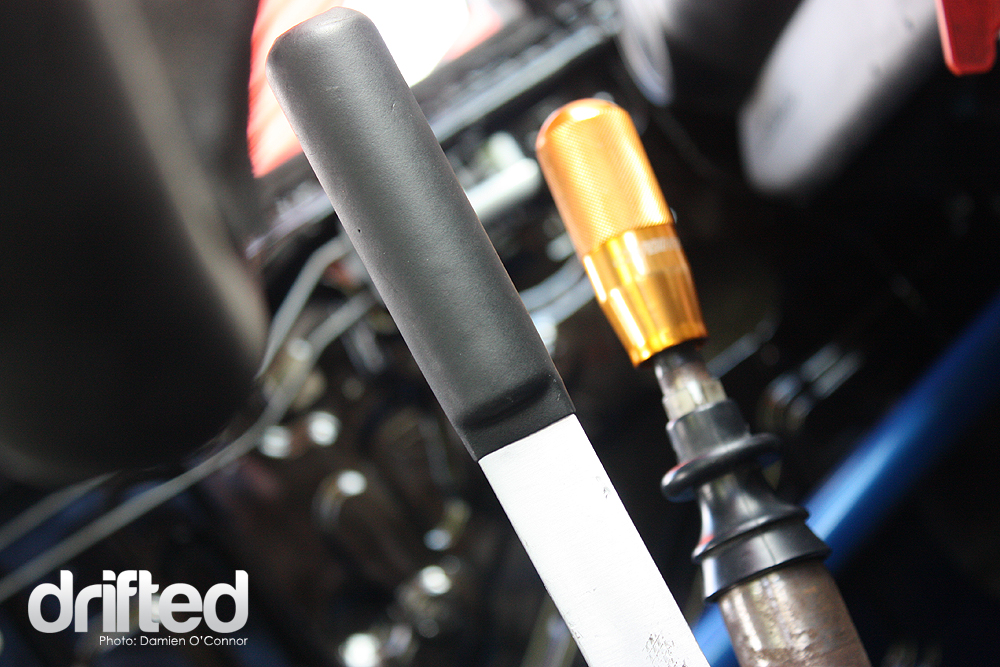 With the aid of Christy hanging on to this of course 🙂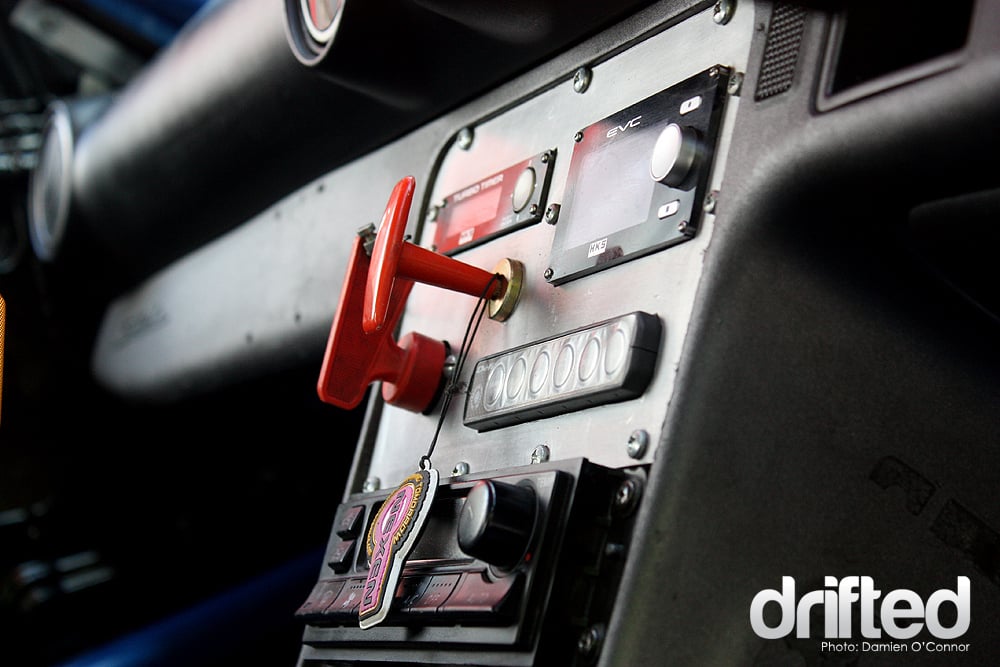 Christy can manage his turbo boost and his array of Defi gauges via his custom centre control panel.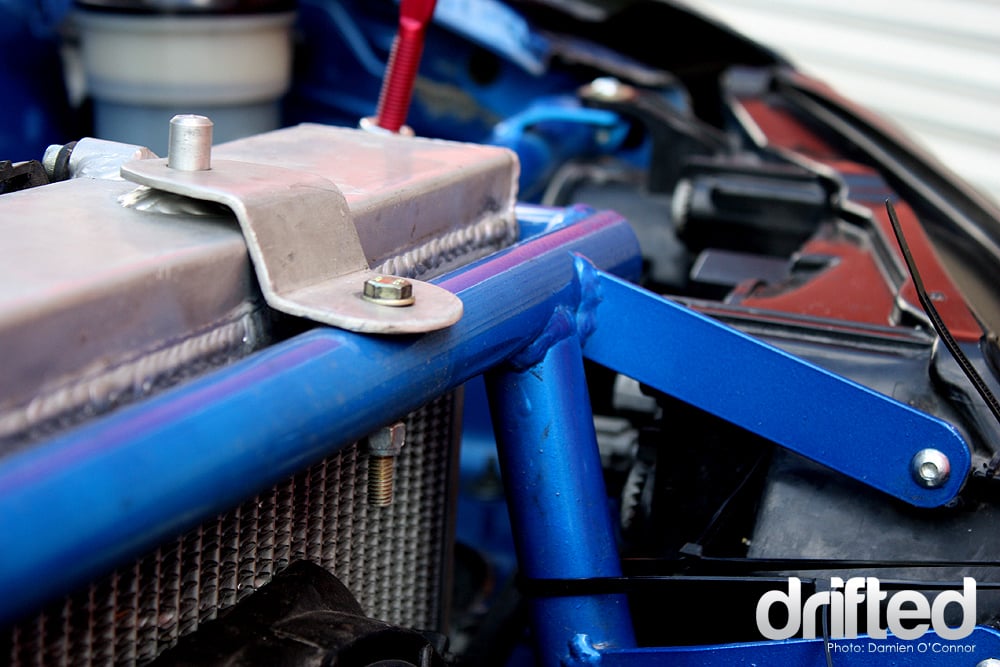 Christy obtained the services of ROCO Performance to fabricate this crash barrier across the front of his car to protect the cars vital parts during competition, in theory Christy can take impact now while greatly reducing his chances of knocking off an intercooler pipe or damaging his coolant system, and after seeing Christy lose his front bumper in twin battles it works !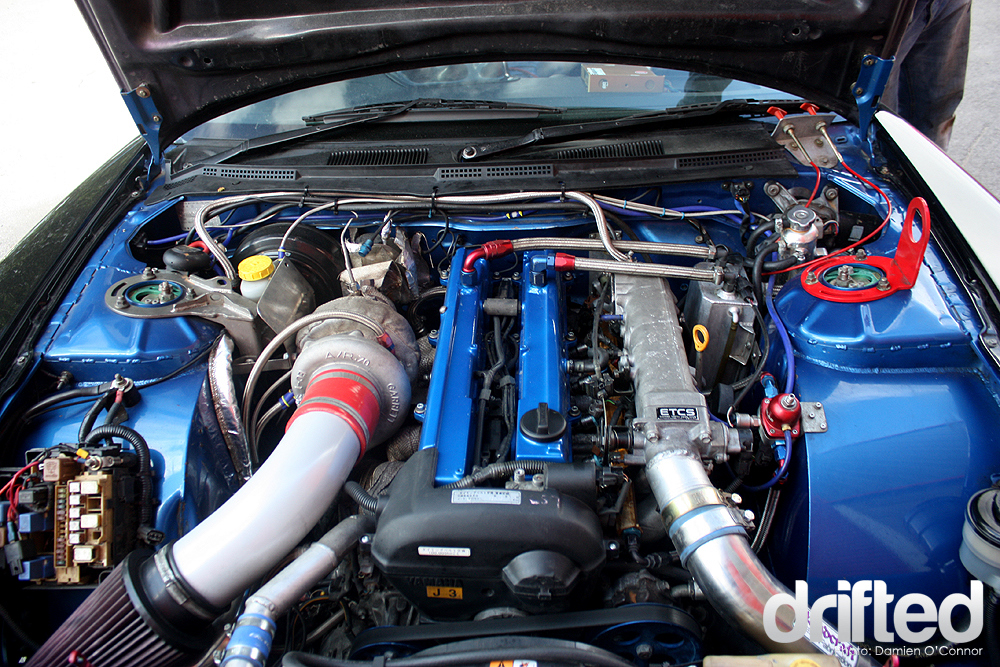 Reflection of the 1JZ lump that can churn out figures of circa 600bhp !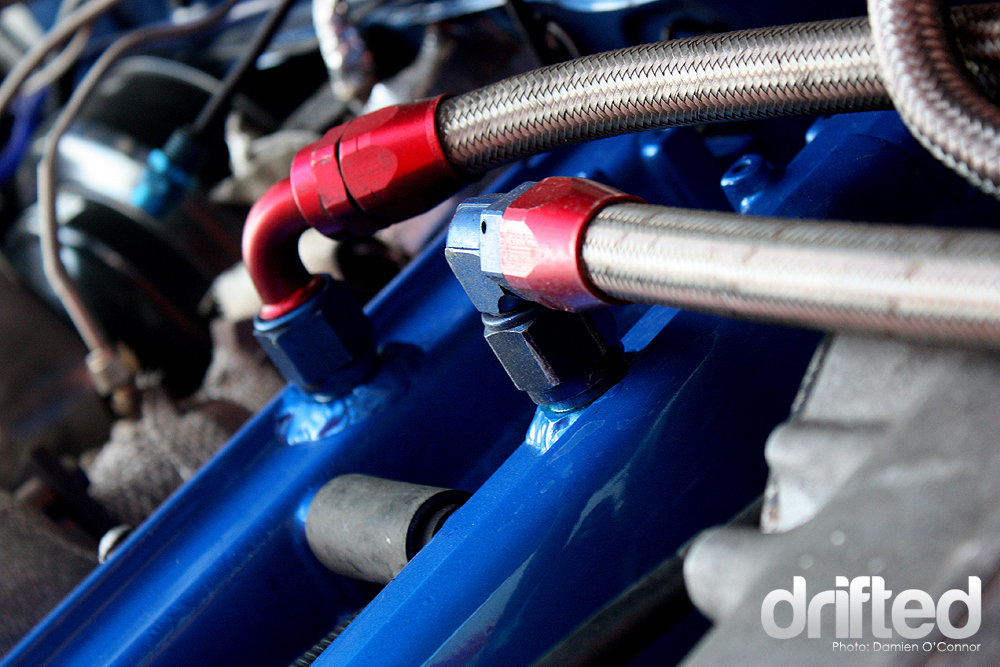 Upgraded braided hoses and fittings are essential given all of the extra power.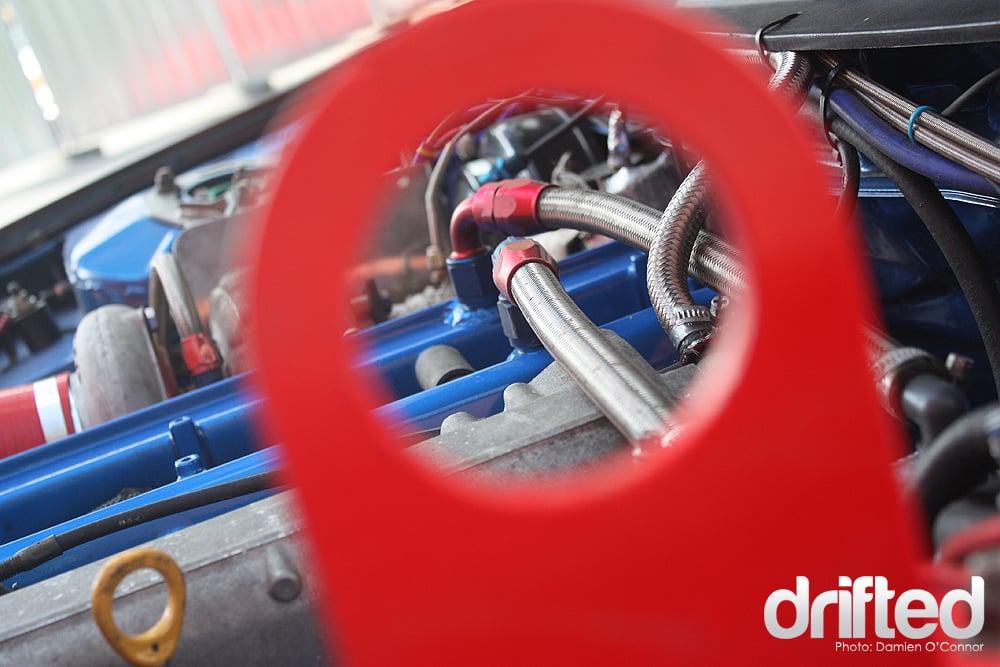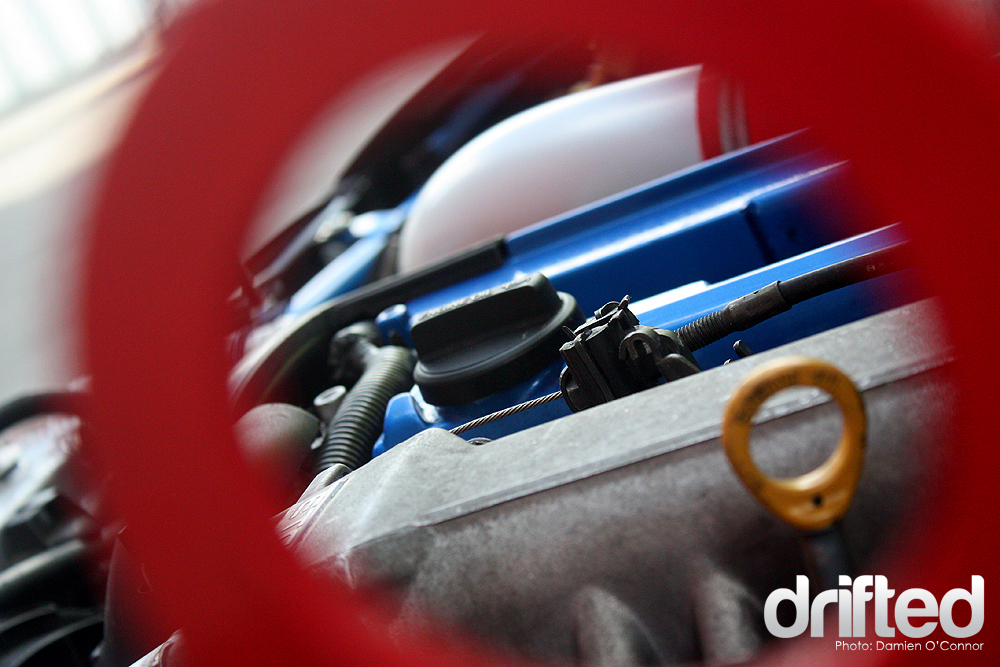 We look at the life of a 1JZ through the eye of a tow hook.
Christy rolls out to gear up for some sideways action.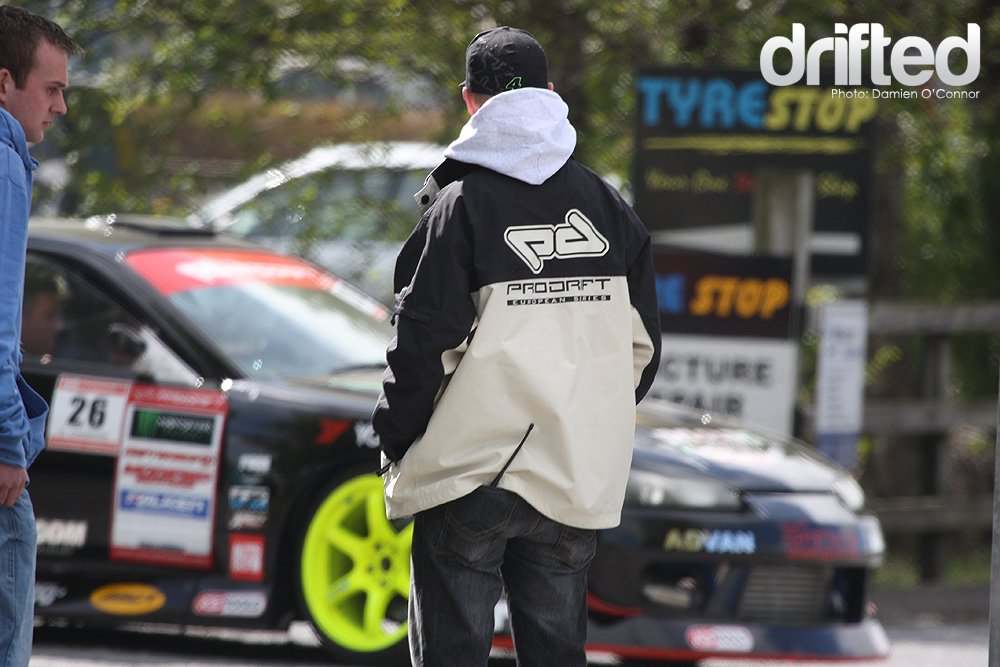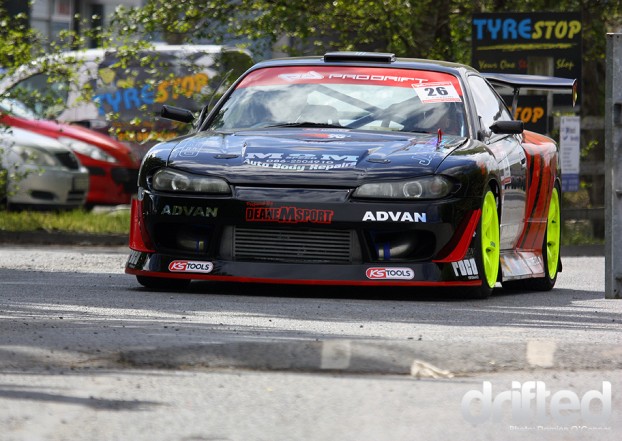 A Prodrift Marshal looks on as Christy deviates his best plan of entry, this car is quite low.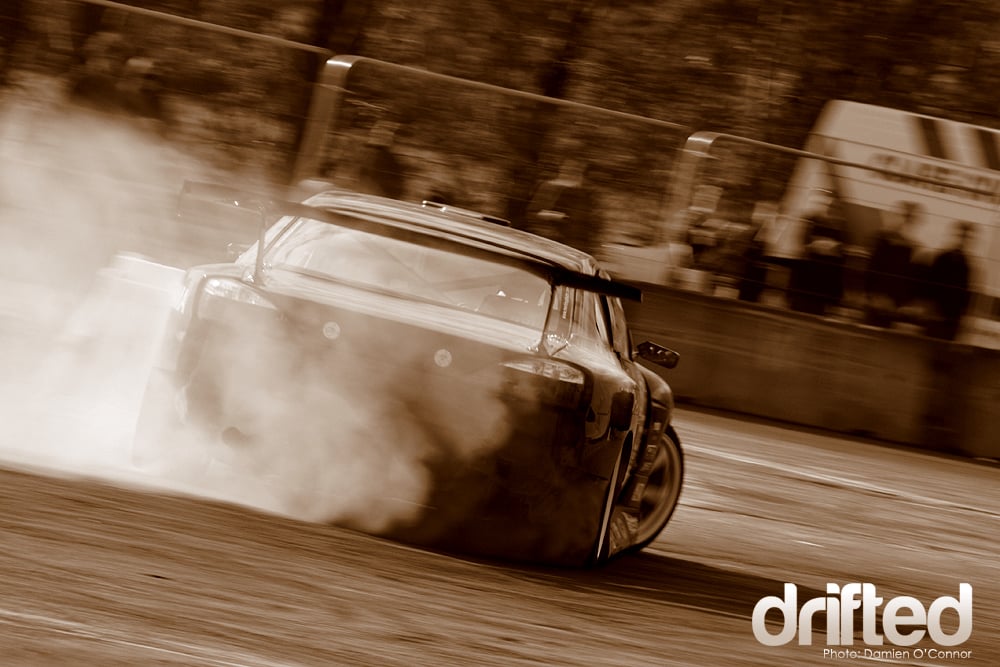 A couple of shots of Christy in action at Prodrift Round 1 to finish up, that's my lot for now.
Engine:
JZX100 1JZ VVTI 2.5 turbo engine by DEANEMSPORT
Garrett GT35R Turbo
Garage 27 Stainless Exhaust Manifold
Tail External Wastegate
Custom Down pipe
Custom Japspeed exhaust system
HKS 264 camshafts
HKS Cam pulleys
HKS Timing belt
HKS F-Con V-Pro ECU
HKS Intake Air Filter
ACL Race Bearings
ACL Rod Bolts
ACL Headbolts
SARD 1000cc injectors
SARD fuel rail
2 x Bosch Fuel Pumps
Custom Swirl pot
Custom Fuel Lines
Custom headwork by TDP.ie
Custom intercooler piping
Custom oil catch tank
Japspeed Skyline GT-T Front Mount Intercooler
Japspeed s14 50mm Racing Radiator
Custom Ford Fan
Mocal Power Steering Cooler
Mocal Oil Cooler Kit
Aqua Sump Kit
Drivetrain, Transmission & Braking:
6 speed Supra Getrag Gearbox
ACT Race Clutch kit w/ XACT Prolite Flywheel
Custom prop shaft
Skyline r33 v-spec diff
Skyline r33 v-spec drive shafts
Skyline r34 brembo gt-r brakes front and rear
Nismo GT-Pro 2 way lsd 4.1
Power enterprise front and rear brake lines
Reddot brake discs
Project mu brake pads
Cusco brake stopper
Suspension:
Driftworks subframe bushes
Ikeya formula pillow adjustable lower arm kit
Ikeya formula tie rods and tie ends
Ikeya formula tension rods
Ikeya formula adjustable rear lower arm kit
Ikeya formula toe rods
Ikeya formula traction rods
Ikeya formula rear camber arms
Good road japan front knuckles
URAS steering rack spacer
Tein drift master adjustable coilovers
Tein adjustable top mounts
Swift racing springs
Wheels and Tyres:
Front 19" x 9.5, Rear 19"x 9.5 Gram Lights
Yokoaham Advan Neova A048
Exterior:
BN Sports Blister kit
BN sports front bumper
BN sports rear bumper
BN sports side skirts
BN sports fenders front and rear.
Custom Garage bb GT-Wing
V-S Racing Carbon Vented Bonnet painted
Origin FRP Doors
Wise Square Mirrors
Wise Square 50/50 tail lights
Carbon Roof vent
Origin Front Bumper Canards
Polycarbonate windows
Carbon door panels
Driftworks front and rear toe hooks
Interior:
Defi Gauges x 6
Defi Gauge controller
URAS Gauge Pod Holder
HKS EVC Boost Controller
HKS Turbo Timer
Keys Racing Steering Wheel
Keys Racing Snap Off Boss Kit
Willwood Hydo Handbrake
Plumbed in fire extinguisher
Electric Cut off switches
SARD Racing Battery Box
Bride Gardis 111 FIA seats x2
Custom Roll Cage by Garage-D.com
Custom Front and Rear tubs by Garage-D.com
Full Seam Welded Shell by Garage-D.com
Custom Gearbox Tunnel by Garage-D.com
Car painted inside in custom blue
Performance: Power 620.8hp/543.6 toque