Best Drifting Drivers in 2019
Drifting has never been so popular, and its popularity seems to grow year on year. With pro racing happening across the world and with a highly regarded professional championships, who are the best drivers in 2019 that make those cars snake around the track?
Fredric Aasbo
Fredric Aasbo is a 33 year old Norwegian and one of the most successful drift drivers. He has notched up over a 100 podium victories racing in three continents and is a championship winner.
He has become a fan favourite dazzling the crowds with his flat out style and conviction to win. He has been racing professionally since 2010. In his debut season, he won the coveted 'Rookie of the year' title.
Aasbo tours the worlds racing in Asia, America, Canada, and Europe and is currently leading this year's championship race.
Aurimas Bakchis
Aurimas Bakchis known as Aurimas "Odi" Bakchis has been in the drifting circuit since 2011 and is known for being a multiple event winner. In 2017, Odi achieved 3rd place in the Formula Drift USA championship.
His consistency is a remarkable thing, finishing in the top 5 from 2014-2017. Currently, he sits at number 2 just three points off Aasbo's tail.
Odi came to drifting from an engineering route. He founded his own suspension company Feal Suspension and experimented with various suspension systems on motorcycles and offered solutions to race teams that wanted customised configurations.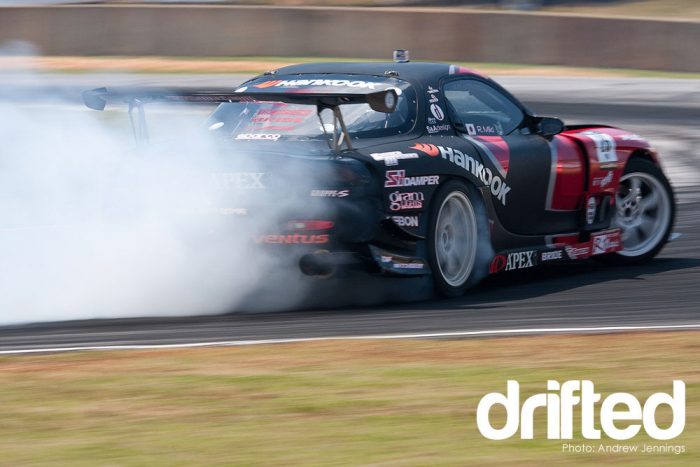 After a period of rally car racing, he raced his first professional race in 2011 where he earned the title 'Rookie of the Year'
Originally he hails from Lithuania but has been living in the U.S since he was eight years old.
Ryan Tuerck
Ryan Tuerck is a veteran drifter having been in the sport for 17 years. From an early age, he became fascinated with driving stunts such as burnouts and donuts and soon realised that drifting was a good fit for his skills.
In 2007 he finished 15th in Formula D and from that point he has not looked back and has finished respectably for several seasons achieving 2nd in 2009.
Currently, he races for Gumout snaking a Toyota GT86 around the track. He is a highly consistent driver and is sitting in 3rd place behind Bakchis.
Chris Forsberg
Forsberg currently races for NOS Energy Drink putting a Nissan 370Z through its paces. The self-taught drifter has tasted the glory. In 2009 and 2014 he won Formula Drift Championship. In 2016 he went one better and won the Formula Drift World Championship.
He is a highly consistent and skilled driver and came to the sport via the East Coast racing scene.
Somewhat ironically, he learned to drift while driving a tractor on his family farm.
Currently, in fourth place, he sits behind Tuerck by a few points.
Keep your eyes on these drivers as one of them may well be the championship winner this year.