NEWS: Drifted on Facebook
Not only is it an incredibly easy way of being nosy into the lives of people from your past but Facebook is now a veritable pot of drifting gold, thanks to the Drifted Facebook Page.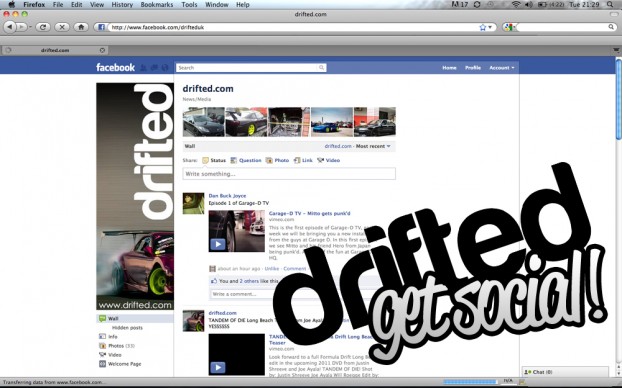 You may notice that we don't really do any webmining ,as its become known, here on the site. Its not because we're lazy or have our heads stuck in the sand, quite the opposite in fact. It's because we like to set ourselves apart from the sea of other blogs out there by bringing you fresh and unique content, from the eyes of our worldwide Drifted crew.
There is however an incredible amount of cool stuff out there on the internet that we think you should see if you like your drifting pictures and videos and so we share these on the Drifted Facebook Page. Not only that, it's your chance, as our readers to share your views, rides and own pictures. We've actually been introduced to photographers and videographers via the page who are now part of the crew!
As if that wasn't reason enough to join up, we run a weekly competition affectionately known as 'Giveaway Friday' on the Facebook Page where you have a chance to win some Drifted apparel and stickers.
Subscribe to Drifted
If you like this article why not subscribe to Drifted and we will email you our freshest content for free!