The Best Garage Flooring Ideas: 7 Amazing Options
Has the flooring in your garage run its course and is in need of a replacement? Are you looking for options that find a balance in style and performance?
If so, then you'll be happy to know that there is a variety of garage flooring ideas available for your situation. Whichever option you go with will depend on how much liberty you need with your flooring.
Some ideas are applied only once, which works for those looking to save time. Other options give you more freedom for adjustment but require more work and care.
With our automotive knowledge, you'll find the right flooring for your garage while keeping your car safe and comfortable.
Here are seven amazing options for the best garage flooring ideas.
1. Interlocking Tiles
Among the more unique garage floor ideas are interlocking tiles, which snap together to ensure stability on top of your floor and come in handy for hiding cracks.
You can find such tiles at RaceDeck Garage Floors. You can choose tiles that come in different colors if you want to create patterns and designs to add life to your garage.
2. Paint
If you're looking to save money on your garage flooring, then we recommend painting your floor. The tools that come with this renovation are cheaper then the other options. 
Make sure to clean the floor and fill in cracks before painting, and you might need to repaint the floor every few years to keep it in shape.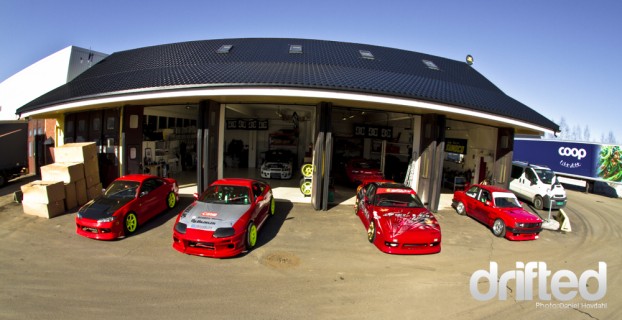 3. Carpet
Another one of our garage floor solutions is carpet, which may also already be helping your home stay comfortable and free of messes.
We recommend finding carpets that can give you an easy time washing off the oil and other material that might fall from your car, and keep an eye out for high-tech options that you can install like tiles.
4. Vinyl
When it comes to updating your garage floor's style and creating a unique environment for your car', vinyl flooring is the way to go.
This may be one of the more expensive options, but it is easy to install, and you need to be careful about moving the car to avoid scratches.
5. Epoxy
Epoxy is among the most reliable garage flooring options because it gives you more control of how you want your floor to look.
Like with paint, you'll need to clean the floor and remove material that can get in the way of application, but it will last long and resist oil easily.
6. Concrete
Some of our garage flooring ideas provide the ability to maintain and save money, which is where a concrete sealer comes in handy.
We advise using a solvent-based or water-based sealer so that you can remove messes easily, keep a smooth look, and not breathe in dangerous material.
7. Peel-and-Stick Tiles
Peel-and-stick tiles are the best option for homeowners with garages that are already free of cracks, height imbalances, and similar issues.
Take your time applying the tiles so that you don't have to redo your whole flooring, and you can use different colors if you want to get creative.
Our Take on Garage Flooring Ideas
The best garage flooring ideas allow you to be creative while finding a balance in performance so that you avoid extra work in the future.
With these ideas, you can keep your car and garage in shape while creating an attractive environment in your home.
For more of our automotive expertise, check out our guides on making your car work for you for as long as possible.