Want to get involved in drifting but don't have a car? No problem! You can join us on our official Drifted Assetto Corsa evenings.
Join us on Assetto Corsa 🕹️
It should come as no surprise that here at Drifted HQ, we are big on drifting games. We are especially keen on the excellent sim racing title; Assetto Corsa.
Because we love you guys and want you to join in with us, we have hired an official Drifted Discord server and we host a regular Assetto Corsa evening, every Tuesday at 7pm GMT.
To make things a little more exciting, each week our Assetto Corsa livestream is broadcast to our Facebook following of over 350,000 drift fans.
Once you have got yourself up and running and and are ready to start rubbing doors with the team here at Drifted then you should join the Drifted Discord channel and introduce yourself.
---
What is Assetto Corsa?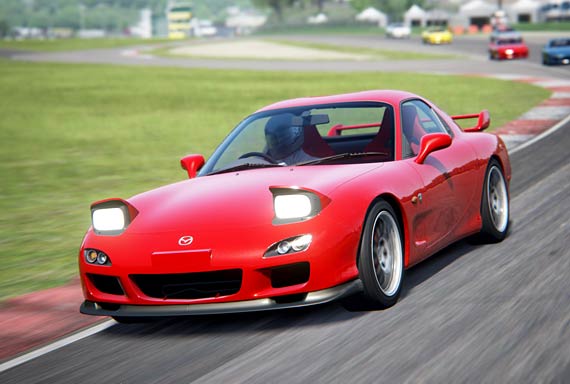 Designed to provide a highly realistic driving experience, our advanced physics engine includes features and aspects of real cars never before seen in any other racing simulator, such as tyre flat spots, heat cycles including graining and blistering, a highly advanced aerodynamic simulation with active movable aerodynamics parts controlled in real time by telemetry input channels, hybrid systems and energy recovery simulation.
An extremely detailed simulation with single player and multiplayer options, Assetto Corsa lines up exclusive licensed cars reproduced with the highest accuracy thanks to the official cooperation of car manufacturers.
Assetto Corsa is developed at the KUNOS Simulazioni R&D office located inside the international racing circuit of Vallelunga, allowing the development team to work on the game with the cooperation of real-world racing drivers and teams.
How do I get involved?
If you would you like to join the Drifted Assetto Corsa evenings then follow the next steps:
Purchase a copy of Assetto Corsa from Steam
Get some offline practice and when you are feeling confident:

Register on Discord
Join our Discord channel
Introduce yourself
Drift 😄
Just want to watch? Sure thing!
If you would prefer just to watch the livestreams then please do, you can catch all the previous livestreams on our Facebook page.
Make sure you subscribe and enable notifications so that you don't miss the live Tuesday 7pm GMT show.
---
Who runs this livestream?
Your host for the Assetto Corsa evenings is Stuart Sheil, not only a talented motorsports photographer in his own right but also rather good at pedalling digital drift cars.
To find information on our team, feel free to read our about us page.
---
Livestream advertising
We would love to offer your brand a unique livestream advertising placement. Please contact us to find out more.
---