DRIVER BLOG: An International Affair
First a quick introduction – my name is Hugo Fernandes and I am a Portuguese drift driver. 2012 is my first year competing in the British Drift Championship in Team Redmist. My friends and I touched down on UK soil at Luton airport at 6pm on Friday 20th April, the day before the start of the British Drift Championship 2012 kicked off.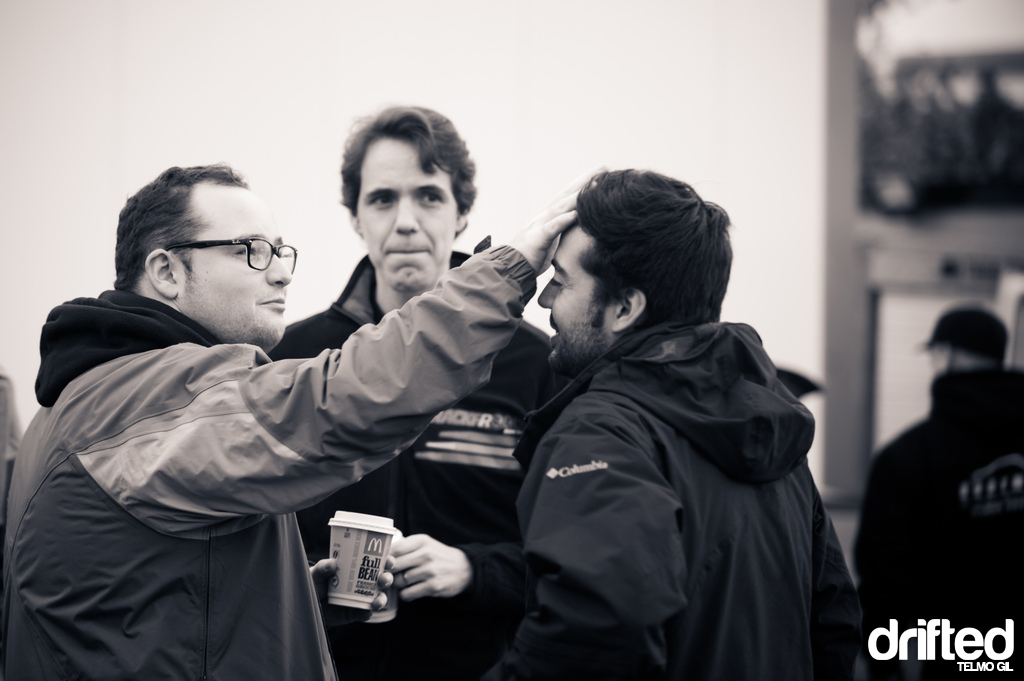 All seven of us were fresh from sunny Portugal and were greeting by some very traditional English weather (rain!). We were joined at Luton by a Portuguese friend who lives in London and who would be accompanying up on the journey north to Teesside Autodrome, Middlesborough. We jumped in our rental cars and started the journey, finally arriving at the track at around 2am on the morning of the competition. I had sent my car to England the month before to be prepared and finished for the event. I had read on Facebook that at midnight the night before the event the car was at Protuner being mapped. I had no idea if my car would be at the track in time for the event! I tried not to worry too much on that, since I wanted and needed to get some sleep. We had to be on track by 8am , and I had been sleeping for just 2-3 hours per night since Wednesday preparing for the event!
We woken up on Saturday morning to freezing conditions, by Portuguese standards anyway! It was raining also and I was already missing the sunshine. After speaking with Team Falken's Paul Cheshire I receive some good news – my car is on it's way to Teesside with Danni Murphy, fresh from mapping! Yeah! Upon arrival at the track, it was really glad to see some familiar faces, and also some old friends. The atmosphere at BDC events is someting hard to describe.
The training sessions start and my car still hasn't arrived, Team Redmist team-mate Stuart Egdell tells me to go practice on his car. The car was a struggle for me, since the seat position is too low; I cant see shit! To make matters worse I can barely reach the pedals! I just want my Soarer!
Between the first 2 practice sessions, my car finally arrives at track. We hurry to fit the fire extinguisher, and the decals on the car.
I go into the first practice session under a torrential downpour.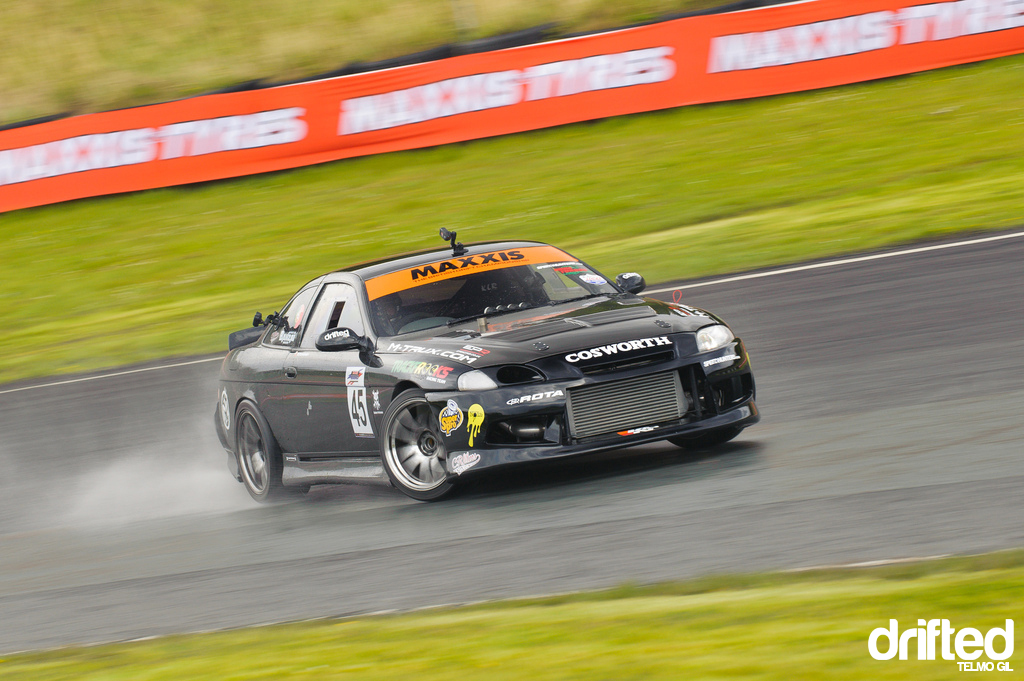 Completely nervous to test the car , I get the confirmation to go from the start-line marshall. First gear…..second gear…..Kaboooom. Big clunking noise. I'm out.
I head back to the pits and hear the heart-breaking news that my Tomei LSD has self-destructed. Stuart immediately went to source a replacement diff for me. My LSD wasn't damaged badly, but the crown ring had shattered.
Semi-Pro and fellow Soarer pilot Ricky Emery was kinda enough to lend me a diff, and the Irish guys at WKD Imports from Chambers Performance helped us change and weld he diff in the pits. We got the car ready for the qualifying just in time. The Semi-Pros had the luck of very little rain during their session, but it started to rain heavily before Pros went out to qualify. I had only ever drifted the Soarer in the rain once before, and that was at a trackday and not a full competition event. Plus at the time the car was completely stock!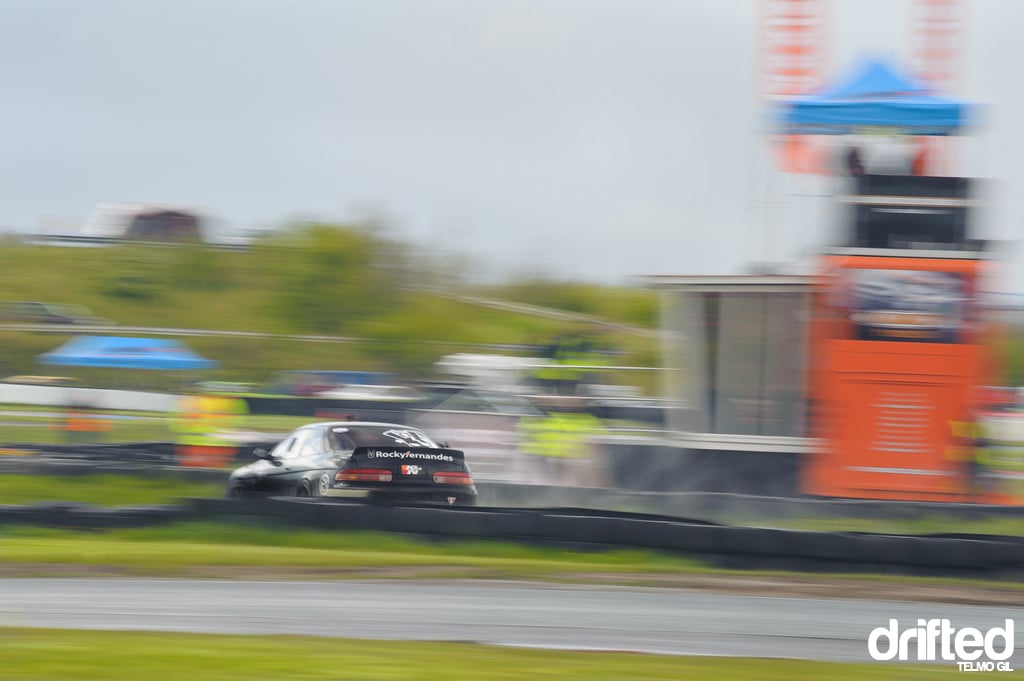 Lots of changes have been made to the engine now and with new 265-profile rubber on the back, I wasn't sure of how the car would handle. On the first lap it doesnt go that bad, except for a spin on the last turn after entering with too much speed. Second run and the track is so slippery. I spin right around when entering the first corner. Run over. Third run. Come on, gotta stay focused. My last chance of qualifying for the Top 16 battles. It was a pretty conservative run, close to clipping points, but I wasn't that aggressive, since I didnt want to take any risk on not qualifying.
So I was pretty happy on qualifying on 10th position! And also very happy on the car's behaviour, even though it hadn't been aligned since the KD Race event in Lousada last year. Me and my friends were completely wet and cold, this Saturday was very weather-severe. We just dreamed about a hot shower at the hotel….not together I might add.
Sunday rolled around and it was time for the battles! Having known from Saturday that I was going to battle with Christian Lewis, I went to meet him, and he's a top guy, a very cool dude. Basically, the two practice sessions on Sunday were really good. Lots of sunshine, a dry track, lots of smoke, people having fun and a wicked event. The car is totally different in the dry.
The first run with Christian is all good except a minor correction from me in the area of the first clipping point, a result of having entered with too much speed, but it was good overall.
On the second run with me leading we start off. First gear, second gear and flat-out.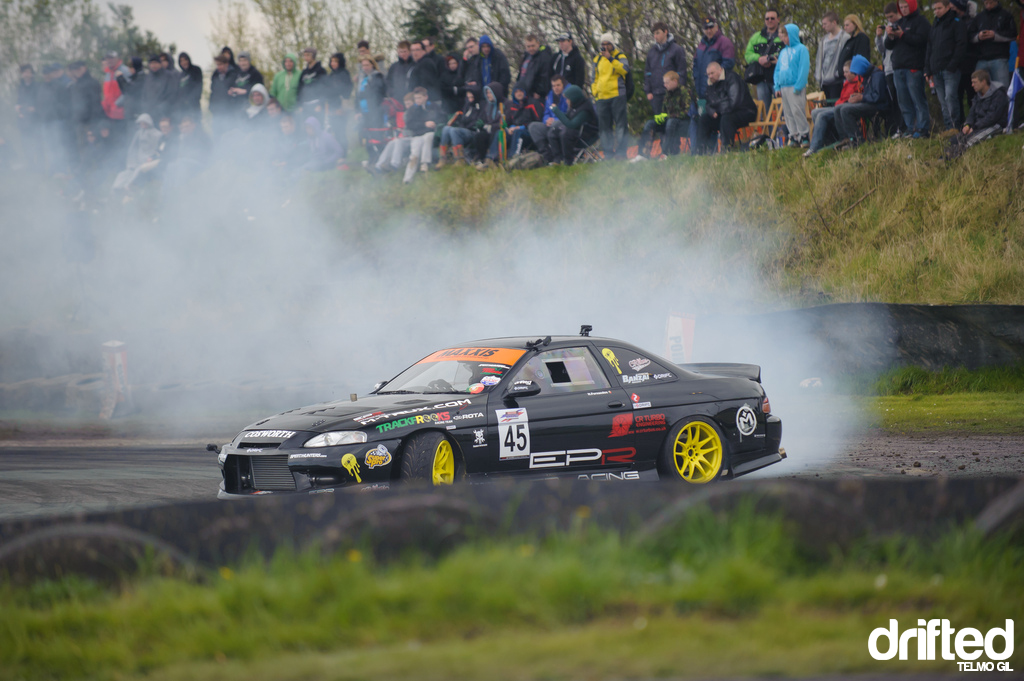 A pretty nice run, with good clipping points and lots of smoke!
Unfortunately, I got disqualified for that run, since it was judged that I didn't respect the drag cone pace rule. 🙁 That will make me not forget the rule again!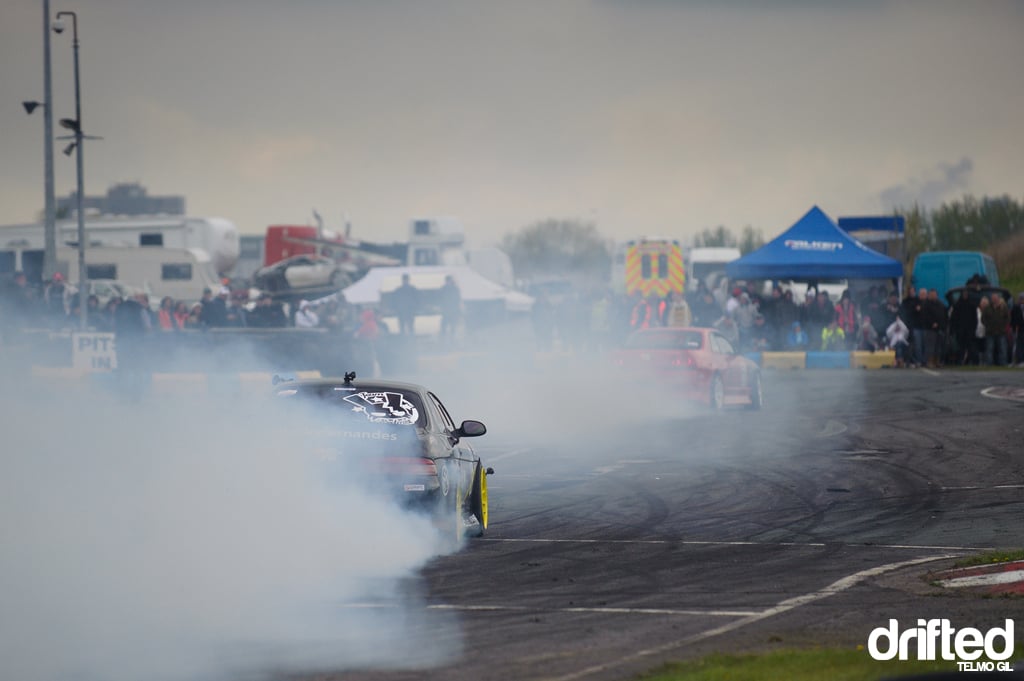 Christian went on to take the win in the Pro Class so I was really happy  for his success.
Me and my friends at Trackfreeks Racing and Team Redmist had a wicked weekend, full of fun and also plenty of stress and action. I really cant wait for Round 2 and doing it all again.
Thank you everyone for everything.
See you at Norfolk.
::Hugo
Words: Hugo Fernandes
Photos: Telmo Gil