LIVESTREAM: Formula Drift 2012: Round Two: Road to the Championship
Watch live video from driftstream on www.twitch.tv
Youtube stream below incase the Justin.tv stream fails!
Formula DRIFT Returns to Road Atlanta Home of the Inaugural Formula DRIFT Event Back in 2004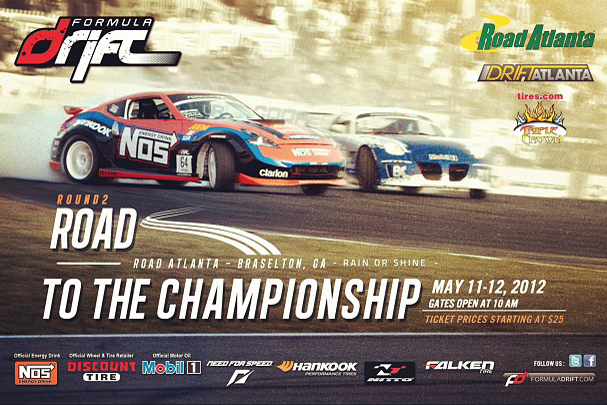 Road Atlanta opened in 1970 and was home of the inaugural Formula DRIFT event back in 2004. The 2.54-mile, 12-turn track is owned by Panoz Motorsports and hosts many events throughout the year including Formula DRIFT.
Utilizing Turns 10A, and 10B of the road course, cars slide sideways through the turns and then hit the loop before the Suzuki bridge and back towards Turns 10B, 10A, and then ends dramatically by drifting uphill on an incline.
Round 2: Road to the Championship at Road Atlanta will be one of the most anticipated events of the season. The event will be spread between 2 days of drifting action. Drivers are tested on the fast entry and tight turns of the road course and will have to prove that they have what it takes to reach the podium.
ALL TIMES ARE EDT UNLESS STATES OTHERWISE
Friday, May 11, 2012 - Practice & Qualifying
8:00am – 6:00pm – Will Call: Open for Vendors/Sponsors/Teams
10:00am – 10:30pm – Gates Open to the Public – Venue
10:15am – 10:35am – GTA: Session #1 – Track
11:35am – 11:55am – GTA: Session #2 – Track
12:10pm – 1:55pm – Pro /Am: Qualifying – Track
2:25pm – 2:45pm – GTA: Session #3 – Track
3:00pm – 4:00pm – Autograph Signing Session – NOS Energy Drink Booth
3:45pm – 4:15pm – GTA: Session #4 – Track
4:30pm – 5:30pm – FD: Open Practice – Group 1 – Track
5:30pm – 6:30pm – FD: Open Practice – Group 2 – Track
6:45pm – 9:00pm – FD: Qualifying – All drivers in reverse ranking order
9:00pm – 10:30pm – Pro/Am: Top 16 Competition
10:30pm – Gates Close to Public
Saturday, May 12, 2012 – Main Event
8:00am – 7:00pm – Will Call: Open for Vendors/Sponsors/Teams
10:00am – 10:00pm – Gates Open to the Public – Venue
10:15am – 10:45am – GTA: Session #2 – Track
12:00pm – 12:15pm – GTA: Session #3 – Track
1:15pm – 1:30pm – GTA: Session #4 – Track
2:00pm – 4:00pm – FD: Top 32 Open Practice – Track
4:00am – 6:00pm – Main Competition: Round of 32 – Track
6:00pm – 7:30pm – "Half-Time" Break – Venue
7:30pm – 8:00pm – National Anthem / Opening Ceremonies – Track
8:00pm – 10:00pm – Main Competition: Round of 16 to Finals – Track
10:00pm – 10:30pm – Trophy Ceremony and Closing – Main Paddock
*SCHEDULE IS SUBJECT TO CHANGE