Best Drift Car In Forza Horizon 5 Guide
As Playground Games takes drifting to the next level in the latest installment of the Horizon series, we bring you the best drift car Forza Horizon 5 guide to find the ultimate drift cars in the game.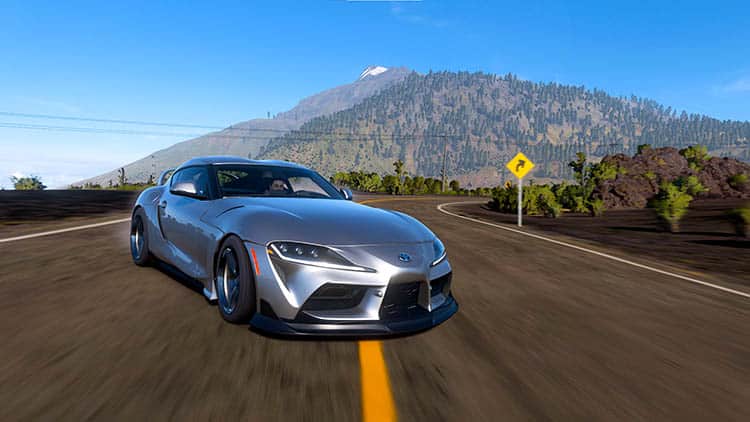 ---
Introduction
Forza Horizon 5 has proven to be the fastest-growing Horizon game in history, and it got there quicker than a Nissan GTR could cross the quarter-mile.
Having hit 3 million unique players just a few days after its official release, there are now more than 15 million players enjoying what the latest title in the Horizon franchise has to offer.
It's not difficult to see why the game has become so popular among car and driving enthusiasts, though, since the Forza Horizon series has always sought to cater to a wide variety of racing and car fans. Rally, drag, circuit, sprint, off-road, drift. You name it – the Forza Horizon series has something for the motorsport fan in you.
However, perhaps most of Forza Horizon 5's allure can be seen in its online gameplay, where friends can meet up and drive their favorite cars around Forza Horizon's open-world set in beautiful scenic Mexico.
A slow and low cruise around town can be a great way to unwind from grinding in the hundreds of racing events found in Forza Horizon 5. However, at Drifted, we love the Forza Horizon series for a self-explanatory reason – Drifting!
A Better Drifting Experience
In the physics department, Forza Horizon 5 offers an arguably less realistic but more approachable drifting feel compared to Forza Horizon 4. The game's somewhat forgiving drifting physics seeks to help players focus more on the sideways experience than the techniques required to achieve and maintain drift states.
While the drifting physics still isn't anywhere near as strict and unforgiving as in more realistic driving simulators such as Assetto Corsa, the drifting experience in Forza Horizon 5 is impressively realistic enough to require the use of real-life drifting techniques such as the Manji.
However, we bet you're excited to tandem-drift with friends around Mexico's lush street environments and beautiful mountain ranges, so we've taken the time to come up with the best drift car in Forza Horizon 5 that will suit your drift skills and style.
---
Getting Started: Drifting in Forza Horizon 5
If you're a big fan of the Forza Horizon series, you probably already have a good idea of how to drift in Forza Horizon 5. However, you may be more interested in knowing about the best drift car Forza Horizon 5 offers. Don't worry. We'll get to that shortly, or you can scroll past this section.
However, if Horizon 5 is your maiden voyage into the Forza Horizon series, you might want to head over to our useful guide on How to Drift or watch this short clip on how to drift by TC9700Gaming so you can get a good idea of what you can try and do to start burning rubber in Forza Horizon 5.
Of course, since Forza Horizon 5 features new and refined drift physics, you can expect a dedicated guide on How to Drift in Forza Horizon 5 from us very soon.
Despite being a more 'casual' racing title, Forza Horizon 5's driving physics are no slouch – real-life drifting techniques and principles will still come in handy when learning how to drift in Forza Horizon 5.
Things to Consider
In terms of car choices for getting the most out of drifting in Forza Horizon 5, you will ideally make sure that your weapon of choice is built on a rear-wheel-drive platform.
While AWD and even FWD cars can still technically drift, these cars can't hold a candle to RWD cars in terms of sustained tire-shredding sideways action in Forza Horizon 5.
Tuning and setup are also essential aspects to consider if your goal is to score as many points as possible around Horizon 5's Drift Zones.
While there are a ton of free public drift setups that you can download and use in-game, most of these setups accommodate a specific player's driving style and preferences. Hence, these setups might not necessarily equate to a better drifting experience for you.
With that in mind, we made sure to pick only the best drift cars of Forza Horizon 5 from various performance classes that work well out of the box so that beginners and experienced drifters can spend less time on setups and more time shredding rubber around Mexico.
But before we get to our picks for the best drift cars Forza Horizon 5 has to offer, here are a few things you have to consider, especially if you're new to drifting or just new to the Forza Horizon series in general.
Step 1 – Choose Your First Car
Upon starting your career in Forza Horizon 5, you're given a choice of three cars: Toyota GR Supra, Chevrolet C8 Corvette Stingray, and the Ford Bronco.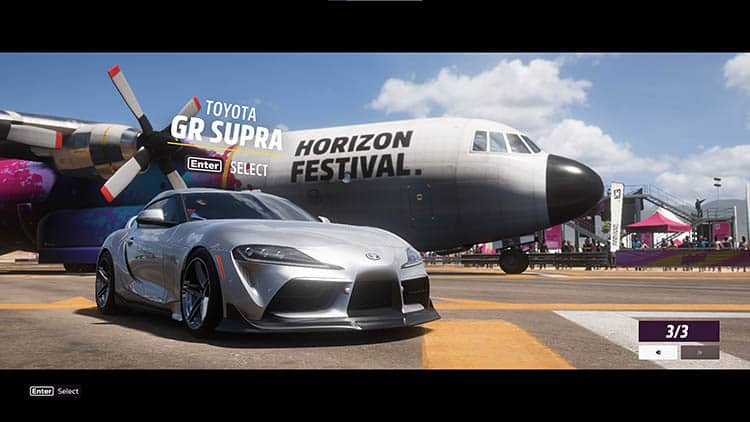 The Ford Bronco is out of the question unless you want to go offroad (even though it is technically capable of drifting to a certain extent), which leaves us with the Toyota GR Supra and the Chevrolet C8 Corvette Stingray.
Honestly, you can't go wrong with either, as both these cars are RWD platforms with tons of power to spare.
On the one hand, the C8 Chevrolet Corvette Stingray instantly beats out the slightly tuned Toyota GR Supra out of the box with more power, 515-horsepower versus 433-horsepower, respectively.
On the other hand, the Toyota GR Supra offers a more forgiving drifting characteristic, thanks to its ample power and excellent chassis balance.
Whichever of these beginner cars you end up with won't matter as much, so pick the car that resonates with your soul more. After all, your goal is to eventually move up to the best drift car Forza Horizon 5. Either of these two cars will take you anywhere very quickly.
Step 2 – Upgrades & Modifications
In Forza Horizon 4, upgrading and modifying your beginner car for increased power, acceleration, and sharper handling was a mandatory step because of how low-powered the beginner car offerings were.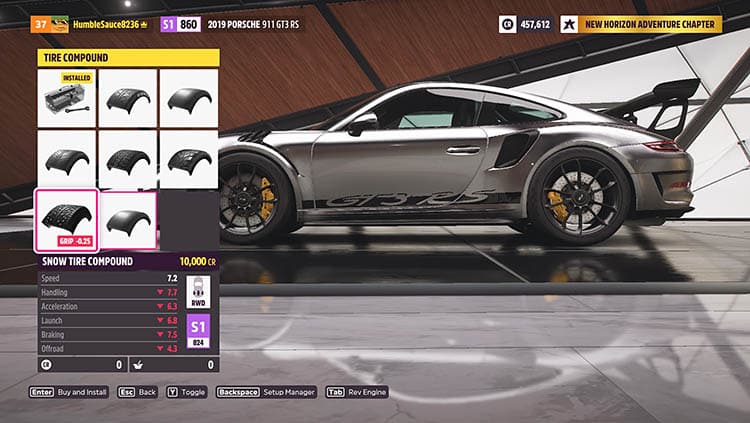 Fortunately, in Forza Horizon 5, the beginner cars are already slightly tuned right from the get-go, making future upgrades less costly so you can save up quickly to acquire some of the best cars in Forza Horizon 5, which we have listed in this article.
---
The Perfect Drift Spec
However, to get the best drifting experience from your drift car in Forza Horizon 5, make sure that you upgrade all of the following parameters to "Drift Spec" if they aren't already:
Engine Mods
Brakes
Suspension
Drivetrain
Wheels & Tires
Aero
For starters, you can skip the Engine Mods if you're rolling around the C8 Corvette Stingray or the GR Supra – these cars already boast well over 400-horsepower from the get-go – plenty of power to go sideways around the streets of Mexico.
Instead, you're better off spending your cash on Weight Reduction, Anti-roll bars/Chassis Reinforcement. These upgrades improve the overall responsiveness of the car's chassis when going sideways.
You're going to want to max out everything within the 'Drivetrain' parameter since upgrades such as the Clutch/Flywheel, Transmission, and Differential all influence how your car starts and holds a slide when drifting.
Don't forget to upgrade your tires to the appropriate 'Drift' tires modification. This will give your car the ideal grip levels it needs for drifting.
Avoid installing Sport, Semi-slick, Race, or Race-Slick tires on your drift car, as these tires are designed for maximum traction and will hinder your car's ability to go sideways.
Finally, make sure you upgrade your suspension to 'Drift' spec custom suspension as this upgrade will give your car the adjustability freedom it needs when you begin dabbling into setups and tuning, which we will touch on in Step 3.
One of the things that made the Forza Horizon series such a popular game was that Turn 10/Playground Games gave Forza fans almost everything they needed to express themselves freely through their cars in-game.
The game's seemingly endless choice of modifications and upgrades allows for an infinite number of configurations so players can roll around the streets of Mexico, expressing their unique style.
Step 3 – Tuning
Tuning is a dark art in Forza Horizon 5 – you either get it just right or not at all.
The performance and handling improvements that upgrade your car's components should be good enough for most casual players.
However, hardcore enthusiasts will want to extract every bit of performance they can from their cars and build their Forza Horizon 5 best drift car setup – this is where tuning comes in.
We're currently in the process of creating a dedicated Drift Tuning Guide for Forza Horizon 5. While that's on the way, we're going to have to settle for this Forza Horizon 5 Drift Car Tuning Tutorial by Crilla18
Step 4 – Turn Off Driver Assists
To make the game even more approachable and cater to a larger audience, Forza Horizon 5 sought to make the driving experience as forgiving as possible so that everyone could enjoy driving in-game.
The vanguards of this goal are the in-game Driver Assists in Forza Horizon 5.
While a few of the Driver Assists work wonders for Circuit and Sprint races, for Drifting, these assists will only hinder you from achieving sustained and controlled drifts around Mexico.
With this in mind, make sure that you configure the in-game Driver Assists as follows: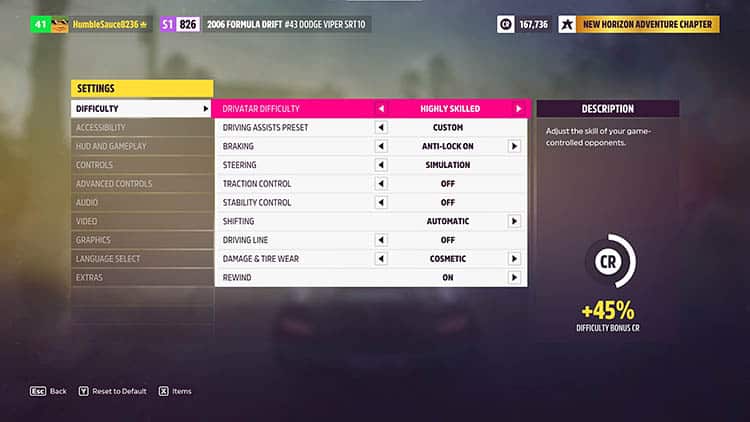 These settings should give you precise control of your drifts in-game but keep the game casual enough to keep you drifting for hours. A win-win in our books!
Step 5 – Seat Time
In Forza Horizon 5, no car, upgrade, or set-up combination can magically turn you into Vaugh Gittin Jr. overnight. Like any other form of art, drifting requires diligent and intentional practice to perfect, so don't worry about not getting into the flow of drifting right away.
A great way to get the hang of the drift physics in Forza Horizon 5 is by simply finding a wide-open spot where you can practice doing figure of eights or even something as simple as donuts.
After all, if you think about it, wide sweeping corners are just glorified figures of eights, with some donuts thrown into the mix!
Whether you're playing Forza Horizon 5 with a wheel, gamepad, or keyboard, awesome drifts in Forza Horizon 5 can be achieved with enough practice and the right car.
Another thing you might want to consider is the type of in-game camera to use for drifting.
Although Camera POVs come down to personal preference, the Chase Camera is probably the best POV for drifting in Forza Horizon 5. It offers the widest point-of-view, so you can easily judge your braking points, apex, and the succeeding corners.
However, if you prefer the realism that the Dashboard POV provides, then, by all means, go for it!
---
Best Drift Car in Forza Horizon 5
The Forza Horizon series has always had an impressive roster of cars from almost every manufacturer known to man.
The guys over at Playground Games also have a habit of outdoing themselves with every iteration of the Horizon series. For example, with Forza Horizon 5, they sought to have more cars available on launch versus Forza Horizon 4 – 500 versus 460, respectively.
Through multiple free, and DLC content updates, Forza Horizon 4 ended up with a massive 750 unique licensed cars on its roster. However, it's only a matter of time before Forza Horizon 5 catches up to that amazing number.
With over 500 different cars to choose from, surely some stand out from the rest as dedicated drift machines designed to carve mountain roads and tear up Mexican streets.
Of course, we'd love to feature every notable drift car available in Forza Horizon 5, but we wouldn't want to burn your eyes out reading through a massive list.
However, there is probably only one thing that drift enthusiasts want to know: What are the best drift cars in Forza Horizon 5?
With that in mind, we have made a list of our favorite drift cars in Forza Horizon 5, and what the Forza community would agree to be some of the Best Drift Car Forza Horizon 5 has to offer.
We know you've been itching to know our picks for the best drift car Forza Horizon 5 has to offer. The wait is over. Here are our choices for the best drift cars in Forza Horizon 5.
Nissan Silvia (240SX/S14/S15)
No best drift car Forza Horizon 5 list will ever be complete without the Nissan Silva (240SX/S14/S15).
Nissan's S-platform has withstood the test of time and continues to be the go-to drift chassis for enthusiasts and pro-drifters alike.
In Forza Horizon 5, the Nissan 240SX/S14/S15 is one of the cheapest drift cars you can get in-game but don't let the low price fool you – a few simple mods such as stiffer suspension, drift tires, chassis reinforcements, and some engine upgrades to its reliable SR20DET are enough to take the Nissan Silvia to the next level.
The super-reliable S-chassis will remain competitive in B-class, A-class, S1-class, and even S2-class if you opt for an engine swap later on, making it not only easiest drift car Forza Horizon 5 offers for beginners, but also a very competitive chassis down the line.
---
Mazda RX-7
Anime fans will immediately grab this iconic 90s sports car and paint it mustard yellow as quickly as possible in Forza Horizon 5 – just like Keisuke's yellow Mazda RX-7 in Initial D.
The rotary-powered rear-wheel-drive B Class Japanese sports car sports a very competitive chassis for time-attack and circuit racing. However, it is no slouch for drifing as well.
The Mazda RX-7's 13B two-rotor turbocharged rotary engine churns out 280-horsepower from a tiny 1.3 liter engine. With the help of forced induction, the RX-7's relatively tiny powerplant has enough power to light up the rear wheels for as long as your gas tank has fuel.
Its lightweight chassis and near 50-50 weight distribution help make left-to-right transitions easy when drifting in Forza Horizon 5 as well.
In-game, max power sits at around 'only' 700-horsepower when fully modified. However, for the RX-7's almost weightless chassis, that's more than enough to shred rubber on your favorite backroads and mountain passes in Forza Horizon 5.
---
Mazda Miata MX-5
It's no secret that Mazda made some sweet sports cars back in the 90s – two of their most iconic cars made it to our best drift car Forza Horizon 5 list after all!
In Forza Horizon 5, the Mazda Miata MX-5 is a short-wheelbase lightweight roadster with a relatively tiny four-cylinder engine. The D Class Roadster can be bought from the Autoshow for just 25,000 credits.
Forza Horizon veterans probably know that the humble Japanese roadster will struggle to keep the rear-wheels spinning in long sweeping corners, and they would be right.
But that's the allure of the Mazda Miata MX-5. If you're a beginner trying to figure out the ins and outs of drifting in Forza Horizon 5, the Miata is our pick for the best car to practice drifting within Forza Horizon 5.
The humble roadster's ample power will teach you the skills you need to start, maintain, and finish drifts around the game's scenic Mexican roads. At the same time, a simple rear-differential upgrade and stiffer drift-spec springs should help the MX-5 tackle left-to-right transitions easier.
---
Nissan Fairlady 370Z
We're now getting into the realm of 300+ horsepower drift cars that should have no problems attacking wide and long sweeping corners.
The Nissan Fairlady 370Z's 3.7-liter 332-horsepower V6 will have zero problems starting drifts in Forza Horizon 5. Since the V6 engine is naturally-aspirated, the powerband should be very smooth and linear – making it great for controlling drifts with the throttle.
The 370Z is definitely a step up from the three previous cars listed above. And while the 370z weighs a little bit more than those cars, a weight-reduction upgrade should be enough to help make the 370Z's power even more useable.
Overall, the 370Z is one of our favorite drift cars for Forza Horizon 5, thanks to its predictable powerband, precise handling, good power, and affordable price.
You can grab this B Class drift classic from the Autoshow for just 40,000 credits.
---
Ford Mustang RTR
Jumping from the 370Z's 332-horsepower V6 to the huge V8 in the A Class Ford Mustang RTR muscle car might seem intimidating at first but hear us out for a moment.
While the Ford Mustang RTR boasts significantly more power than the Nissan Fairlady 370Z, it also weighs quite a bit more. The extra weight should tame the animal that is the 5.0-liter Coyote V8 engine's 460-horsepower and 420lb-ft of torque a bit.
Despite the increase in power, the Ford Mustang RTR should pretty much be similar to the 370Z handling-wise – just with more power and torque this time around.
Its linear, predictable powerband and very controllable chassis should help prepare you for what's to come when you transition to more powerful, purpose-built drift cars on our list.
---
DeBerti Tacoma TRD
You're probably shocked to see a truck make it to the list.
However, maybe the following stat lines will help you forgive us for including a Toyota workhorse on our best drift car in Forza Horizon 5 list: NASCAR V8 with 900(!) brake horsepower. Custom body and 74-degrees of steering angle earned its moniker 'The Performance Truck.'
The power and steering angle of the DeBerti Toyota Tacoma TRD alone already screams "drift truck!". With that much power and steering angle on tap, only your imagination is the limit when drifting the DeBerti Tacoma TRD.
Despite the mods that made this truck a drifting monstrosity, it stay true to its roots and remains one of the Best Dirt Drift Car Forza Horizon 5 for dirt drifting and rallying.
The S1 Class performance truck can be acquired for 500,000 credits from the Autoshow.
---
Mazda RX-7 Twerkstallion
Now we have three Mazdas filling up our best drift car in Forza Horizon 5 list. Mazda really made a name for themselves in the late 80s and early 90s, don't you think?
However, the Mazda RX-7 Twerkstallion is a Mazda in form only. This beast has shed its old skin (engine) in favor of a modern American V8.
An engine swap that's considered heresy for many Mazda purists, but the results speak for themselves – Twerstallion's V8 engine produces 600-horsepower without working up a sweat.
That might not seem like much, especially when you're coming from the DeBerti Tacoma TRD with 900-horsepower, but you're forgetting one key factor – the Twerstallion only weighs 2866 pounds.
We all know a lightweight chassis, combined with tons of power, is the perfect recipe for unmatched sideways capability, and the Twerkstallion delivers on that front.
Your skill is the only limiting factor here. With tons of seat time in the first few drift cars we featured above, we have no doubts that you'll easily be able to tame this drift monster with relative ease.
---
Ford "Hoonicorn" Mustang
Ah, the custom-built Ford Mustang made for "hooning" around.
The Ford "Hoonicorn" Mustang debuted in the series back in Forza Horizon 3 as part of a Car Pack. For Forza Horizon 4 and 5, the car returned as a standard-issue car.
Since its debut back in Forza Horizon 3, the Ford Hoonicorn Mustang GT has cemented itself time and time again as one of, if not the best drift car in the Forza Horizon series.
With at least 1400-horsepower and 1200lb-ft of torque on tap, the Hoonicorn Mustang easily makes our list as one of the best drift car in Forza Horizon 5. With that much power under the hood, we do not doubt that the Hoonicorn will spin all four wheels without a thought, making it the Best AWD Drift Car Forza Horizon 5.
We all know the deal by now – Insane amounts of power in a lightweight chassis make a great drift car. The Hoonicorn is no exception.
---
Formula Drift #43 Dodge Viper SRT10
The stock Dodge Viper SRT10 is already a drift monster capable of 90-degree slides in stock form.
However, the Formula Drift #43 car driven by Dean Kearny of the Bridges Racing team will make even the most seasoned drifters work up a good sweat.
1350 ground-shattering horsepower from the 8.3-liter twin-turbocharged V10 can be a handful for beginners, which is why we placed this car near the tail-end of our best drift car Forza Horizon 5 list.
If you're thinking about slaying every drift zone known to Forza Horizon 5, get the Formula Drift #43 Dodge Viper SRT10 and slap on the AWD drivetrain upgrade for maximum control. This combination should easily make the Formula Drift #43 Dodge Viper SRT10 the best car for Drift Zones in Forza Horizon 5.
---
Formula Drift #34 Toyota Supra MKIV
You probably already saw this coming – the Formula Drift #43 Toyota Supra MKIV tops our list – it is our pick for the best drift car in Forza Horizon 5.
Powered by the bulletproof 2JZ straight-six engine used by multiple teams in almost every professional drift event, the Formula Drift #34 Toyota Supra MKIV makes a staggering 1035-horsepower and 920lb-ft of torque reliably by stroking the 3.0-liter 2JZ-GE to 3.4-liters and feeding it 19-lbs of boost.
The Formula Drift #34 Toyota Supra MKIV has less power than some more outrageous drift cars on this list. However, it more than makes up for it with top-tier speed, handling, and braking.
After getting a taste for the rowdy sub 1500-horsepower beasts such as the Hoonigan Ford Mustang and FD #43 Dodge Viper SRT10, you'll find the FD #34 Toyota Supra MKIV strikes an outstanding balance between outright power and razor-sharp handling.
Scalpel-like precision and effortless speed arguably make the Formula Drift #34 Toyota Supra MKIV the best drift car in Forza Horizon 5 and best Formula drift car, too.
---
The Best Game for Drifting
Drifting has always been very addicting in the Forza Horizon series. However, Horizon 5 takes it to the next level, making drifting even more accessible and approachable for all types of motorsports fans.
However, even if drifting physics feels more 'refined' compared to the previous Horizon game, drifting still requires time and effort to get right in-game.
With that in mind, we have come up with a car list that caters to both the aspiring Forza Horizon 5 drifter and the experienced rubber-shredder. We have even taken the time to list them in a specific order – beginner-friendly 'training-wheels' to reverse-entry monsters, so you can find the right car for your skill level.
With hundreds of cars just waiting to be unlocked in-game, we have no doubts that you'll find the perfect drift car for your driving style.
---
Conclusion
As you gain even more experience drift racing in Forza Horizon 5, you might start dabbling into upgrades and tuning to fine-tune your favorite drift car to your needs. Just take your time and start changing your car's settings in small increments to understand how each tuning parameter works. Not sure which settings you need to use? Our Horizon 5 Drift Tune Guide will provide everything you need to know.
Lastly, remember to have fun! Horizon is still a just game, after all. With enough seat time, we're sure you'll get the hang of drifting in Forza Horizon 5 quicker than you'd expect.
So, there we have it! We hope that we've covered everything you could want to know about modding the best drift car in Forza Horizon 5 in this guide.
Now that you've got the fastest drift car in Horizon 5, why not check out the fastest drag cars in the game?
You might also enjoy our in-depth Forza Horizon 5 money glitch guide here.
Looking to earn some additional credits to purchase your favorite drift cars? You can do so by having fun smashing solar panels.
Earn more Skill Points by mastering the Daredevil Skills here.
Want to find a game with a more extensive map and different modes of transport? Check out The Crew 3!
Thank you for reading our Best Drift Car Forza Horizon 5 guide
If you enjoyed this best drift car Forza Horizon 5 guide, please share it with the buttons at the bottom of your screen. If you've found this information useful, please take a moment to share it with other drifting and Forza Horizon 5 fans. We appreciate your support.
If you're looking for rally cars in Forza Horizon 5, we've listed our top picks for you!
---
Photography credits
We thank the following entities for the use of their photography in this article: