Ultimate 2JZ-GE Turbo Kit Guide
Toyota's 2JZ-GE engine has an insane amount of untapped potential. This guide will help you find the best 2JZGE turbo kit to suit your preferences.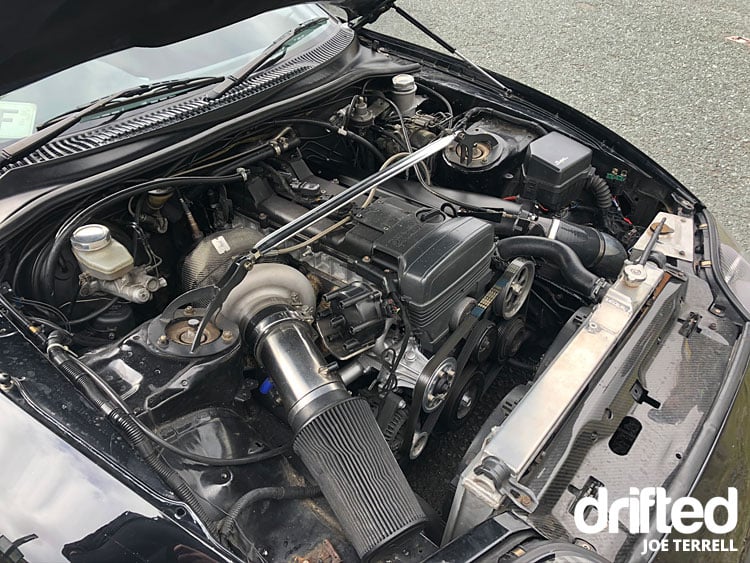 ---
In a hurry? Here is our 2JZGE Turbo Kit summary
| Budget Choice | Drifted Choice | Premium Choice |
| --- | --- | --- |
| | | |
| XSPower Turbo Kit | CXRacing Turbo Kits | Powerhouse Racing (PHR) Turbo Kit |
| 🔥🔥🔥🔥 | 🔥🔥🔥🔥🔥 | 🔥🔥🔥🔥🔥 |
| Buy Now | Buy Now | Buy Now |
Introduction to the 2JZGE
Whether you've purchased a Toyota or a Lexus with the underrated 2JZ-GE engine under the hood, you're probably already aware of what the 2JZ can achieve.
Some cars that came with this powerful inline six include,
Toyota Aristo/Lexus GS300.
Toyota Crown/Toyota Crown Majesta.
Toyota Origin.
Toyota Progres.
Sure, your 2JZ-GE isn't going to feel like the much-loved 2JZ-GTE in stock form, but with an NA-T turbo upgrade, you'll be amazed at how quickly and effortlessly you'll be able to achieve some impressive power figures at a fraction of the cost.
The 2JZ-GE often gets overlooked for its more impressive sibling, but with the ever-rising prices of the 2JZ-GTE, it makes more sense than ever for the GE engine to get the turbocharged lovin' that it deserves.
Thankfully, the 2JZ-GE is incredibly similar to the GTE, integrating the same rods and crankshaft, with the only discernable difference between the two powerplants falling to the choice of pistons.
So, despite being naturally aspirated, Toyota designed both 2JZ engines with forced induction in mind, and they're both up there with the most robust stock blocks that money can buy.
Although the pistons are different, they're still more than capable of handling respectable power figures, and it's not until you go chasing huge numbers that you'll maybe need to consider opting for forged pistons.
We've seen setups of up to 1,000 WHP achieved from the stock 2JZ-GTE bottom-end, and we've also witnessed a GE run a 9 ¼ sec quarter-mile from a motor with 220k miles on the clock!
Although there's no shortage of turbo kits for the 2JZ-GE engine, it can get a little confusing when you're looking at the options on the market, so we've compiled this guide to clarify which kit(s) will best suit your needs.
There's an influx of cheap 'Chinese' knock-off kits on the market, and although these may work fine for some owners, we're more interested in the companies committed to putting their names to their setup.
We'll cover the full range of products that we feel are worth considering, covering all price points from budget to premium, to help you find the perfect NA-T turbo kit to help you make the most out of your currently underachieving 2JZ-GE engine.
---
2JZGE vs 2JZ-GTE Differences
Since you're already reading this article, you'll undoubtedly know about the legendary 2JZ-GTE, most notably found in the MKIV Toyota Supra of the 1990s.
This factory-turbocharged equivalent of the naturally-aspirated 2JZ-GE engine has earned legendary status mainly due to its vast tuning potential. It has arguably become the most desirable holy grail engine in the worldwide drifting and drag racing scenes.
One of the main differences between the two engines lies in compression. GE's have a 10.0:1 compression ratio, compared to the 8.5:1 of the GTE, due to a thicker head gasket (.2mm for GE, 1.6mm for GTE) and lower-compression pistons in the GTE.
The GE manifold is designed to provide the most torque possible to compensate for the lack of forced induction, which assists in the lower bracket of the RPM band.
Both heads are slightly different, with the GTE having larger intake ports and the GE having larger exhaust ports, which has led some enthusiasts to be convinced that the GE head can flow better than the GTE head.
Other significant variations between the two engines include the injectors and airflow sensors, the ignition system, port spacing, and studs on the manifolds.
---
How Much Power Can The 2JZGE Handle?
Let's get to the meaty stuff – how much power can these 2Js handle?
Since the 2JZ-GE runs at 10:1 compression, we don't recommend going above 7-8 PSI of boost before you begin adjusting things like ignition timing. Let's face it; you don't want your Japanese masterpiece to boom because you got a little excited.
Instead, we always recommend an upgraded FMIC to get the most out of your setup immediately, especially if you intend to run more than 5-6 PSI.
Once you consider going over around 350-400 WHP, you'll want to consider upgrading your fuelling systems, such as the pump and injectors.
The stock compression of the 2JZ-GE will also likely limit you to around 400-450 WHP reliably before you need to consider upgrades such as a thicker head gasket.
If you have big-power goals, there will unsurprisingly be much more to consider.
Although several owners have had 800 WHP from the stock rods and pistons for several years, we'd consider upgrading them as a precaution. Who wants to blow up their expensive engine?
---
2JZ-GE Turbo Kits
Although many owners opt to DIY their NA-T upgrade, there's no question that the off-the-shelf kits on the market are far better suited for those less talented in the fabrication department!
With the wide range of options available, there's a 2JZ-GE kit out there to fit every enthusiast's requirements, and we'll help you decide which one is best for you in this guide.
Follow along as we take you on a guide through the best turbo kits available for this platform.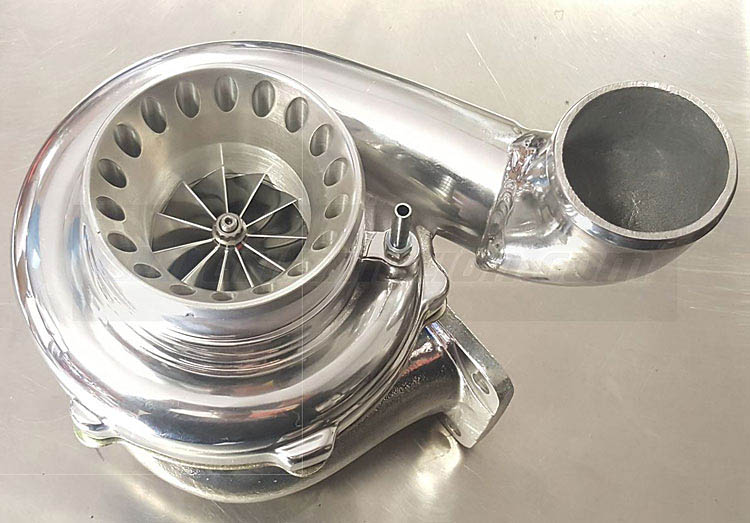 Manufacturer: Driftmotion
Fitment: Supra MK4 & SC300 (Custom mid-pipe required for other vehicles)
Value for money:
Purchase link: Driftmotion Turbo Kit
Our comment: Another popular offering to the market is Driftmotion with this good quality offering, which features Garrett internals.
We've found mixed opinions on this kit, with some owners stating that modifications were needed to ensure a perfect fit, which means it will not necessarily be a 'bolt-on and go' affair.
There are reports of a weak wastegate included in the kit, so it may be worth considering sourcing an alternative.
Despite many positive reports, when issues have arisen, some owners have found Driftmotion hard to contact for a resolution.
Overall, this provides plenty of reasonable, solid choices, and most feedback for Driftmotion has been positive.
They have various turbo options available, all the way up to 750whp. That's plenty of power for even the most diehard gearheads out there!
It's worth noting that these kits don't include the FMIC or piping, so that will need to be considered.
Manufacturer description: "We're confident that this is the best kit on the market for the money. A 4″ K&N filter is now included with the kit"!
"The downpipe included is a direct fit for a MK4 Supra or SC300 midpipe, for other vehicles a custom mid-pipe will be required to go from the downpipe to the catback. The kit will not fit a right hand drive vehicle without modification to the wastegate piping".
Turbo Kit Features:
Turbo with ceramic-coated exhaust housing and polished compressor housing
All Garrett internals
Blue anodized billet backplate
Manifold
Wastegate
4″ intake pipe
Dump tube
Fasteners
Oil lines and fittings
Gaskets
Adaptor flanges for turbo and block oil lines
---
Our comment: Frequently regarded as the best off-the-shelf bolt-on solution, CXRacing's wide variety of off-the-shelf 2JZ-GE turbo kit options provides excellent quality at a fantastic price.
This kit features an impressively crafted manifold featuring good-quality welding alongside a highly-regarded intercooler and piping.
There are various turbo and fitment options to decide on the perfect setup for your needs.
Many owners have successfully run these kits long-term on high-mileage 2JZ-GE NA-T engines with nothing but praise.
Despite many negative remarks online regarding CXRacing's products, they had a substantial overhaul in recent years and earned themselves an excellent reputation.
You will struggle to find a better all-rounder than the CXRacing kit for the quality, fitment, and price.
Manufacturer description: "This is CXRacing's Newest Product for various applications".
"All Parts Are Developed from Ground Up in Our R&D Center in USA, Designed and Built for Improved Performance Gains, with Excellent Fitment and Easy Installation".
CXRacing Turbo Kit Features (Various options):
Turbo (Various options)
Intercooler (with Mounting Bracket)
44mm 8PSI Wastegate
Air filter
BOV
V-Band Clamp
Turbo Oil Line Kit
Intercooler Piping Kit with Hoses & Clamps
Manifold
Downpipe
MAF Adapter
---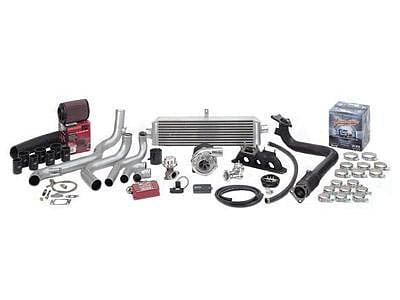 Manufacturer: Turbonetics
Fitment: 01-05 Lexus IS300
Value for money:
Purchase link: Turbonetics Turbo Kit
Our comment: This turbo kit from Turbonetics is one of the OGs, and one of the earliest to cater to the 2JZ-GE market.
As with the other kits we discussed, although some owners have had success with it, there seem to be many reports of issues. For the price, we can't justify the added value over the cheaper kits above.
We have also heard reports of the recently discontinued kit, so if you feel it is the right choice for your needs, we strongly advise checking this first.
Getting spare parts for a discontinued kit can become frustrating further down the line.
Although many owners have been happy with the Turbonetics kit, we think there are much better opportunities for the price on our list.
Manufacturer description: "Turbonetics Turbo Systems are for you, whether you have a four-cylinder sport compact or a V-8 muscle car, Turbonetics Turbo Systems include everything you need from fuel and ignition to piping and fittings for complete bolt-on turbo performance".
"Turbonetics offers complete turbo systems – from air entry to exhausting to the catalyst. The Turbonetics Turbo System is a true O.E. bolt-on that does not require "hacking" in order to install".
Turbonetics Turbo Kit Features:
Ceramic Ball Bearing Turbocharger (T3/T4 Hybrid or Custom T04E)
Spearco Intercooler System
Powder-Coated Intercooler Piping
Silicone Hose / T-Bolt Clamps
Exhaust Manifold – high carbon cast-steel with ceramic coating
Fuel / Timing Controller (electronic fuel/timing management system)
Fuel Injectors
"Evolution" Wastegate Assembly
"Raptor" By-Pass / Blow Off Valve Assembly
Mandrel-bent ceramic coated Downpipe with closed-loop wastegate discharge *Mandrel-bent ceramic coated Downpipe with closed-loop wastegate discharge
Intake System with Air Filter
All necessary Hardware, Hoses, and Fittings
Free Case of Turbonetics TS-1 Synthetic Motor Oil
---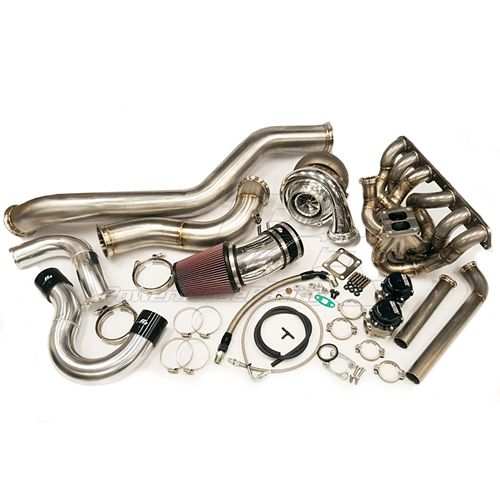 Our comment: PHR is up there with the best for aftermarket turbo kits.
Yes, they indeed come at a price. But, for those who don't mind spending a little extra money on premium products built to last, you will certainly not be disappointed.
Not only is the quality fantastic, but owners have noted how delighted they are with the power results and responsiveness of the setup.
If you're looking for the ultimate 2JZ-GE turbo setup for your Supra, look no further than these incredible options from PHR.
Manufacturer description: "PHR is proud to offer these NA-T kits for the 93-98 Toyota Supra NA".
"The S23 turbo kit features the Powerhouse Racing S23 Turbo manifold which features full stainless schedule 10 1.25″ runners and collector. Built all by hand by our master fabricators".
Powerhouse Racing Turbo Kit Features:
Your choice of Turbo
S23 Manifold
Full stainless downpipe/midpipe
Tial 60mm wastegate
Drop-Down Intercooler Pipe
Air Intake
Oil Feed
Oil Return
PHR Waterneck Rotator
Dumptube
All hardware and gaskets
---
Our comment: SupraStore has come through with another Supra-only 2JZ-GE kit (apologies, non-Supra owners!)
We've noticed many mixed opinions on these kits, with most owners speculating that they're XSPower parts.
If this is the case, given that SupraStore doesn't have the best of reputations when it comes to delivering the goods or customer service, we would be looking into either buying directly from XSPower or looking at CXRacing for a similar budget.
There are reports of owners who are pleased with the kit, but we recommend further research if you're considering purchasing.
Manufacturer description: "Our ProSeries, the SupraStore.com 2JZGE (NA-T) Turbo Kit is fitted with only the best parts, period. ProSeries turbo kits are available in Stages (1-4) and also are available with various ProSeries manifold configurations: Divided Manifold, Un-Divided Manifold, Twin Scroll Manifold (dual-gate), Quick Spool Valve Manifold & T6 Manifold".
"We looked at anything and everything from old school Japanese kits (outdated, horrible spooling turbos, expensive!!) to some competitors (no name brands and still expensive!) and were not satisfied, so we built our own 500HP 2JZ turbo kit with our specifications, Precision or Borg Warner Turbos, TiAL or Precision Wastegates, ProSeries Turbo Manifold, and the Titan Motorsports Oil Feed/Drain Set-Up Kit".
SupraStore Pro Street Turbo Kit Features:
ProSeriesTubular 2JZGE T4 304SS Stainless Turbo Manifold
Wastegate Flange Pre-Welded to Manifold
Precision 58MM journal-bearing turbocharger
TiAL or Precision 38/39mm Waste Gate
Titan Oil Feed & Return Set-Up Kit
Direct Fit K&N Conical Air Filter
TiAL or HKS Style BOV
---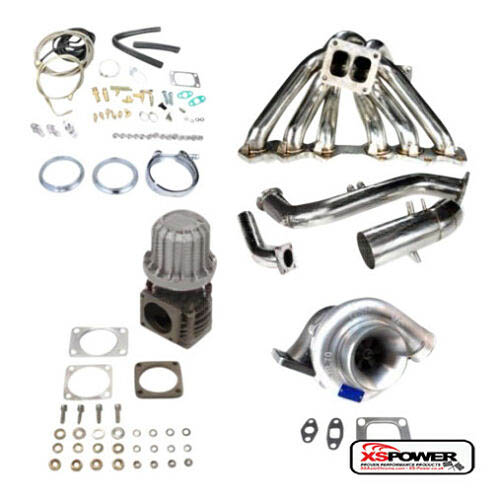 Manufacturer: XSPower
Fitment: 01-05 Lexus IS300, 92-00 SC300 & 93-98 Toyota Supra
Value for money:
Purchase link: XSPower Turbo Kit
Our comment: XSPower's kit is highly regarded within the budget 2JZ scene and has seen increasing popularity over the years, with owners racking up thousands of miles with very few issues.
Although this may initially seem far cheaper than the CXRacing kit, the price doesn't include the FMIC piping.
Regardless, this is another fantastic, newly revamped kit to compete with CXRacing.
The XSPower kit could make a great option, especially if you are on a smaller budget.
Manufacturer description: "Your stock GE motor makes 180WHP on a good day. The stock GTE motor puts down about 285WHP if the stock twins are in great shape".
"Install this XS-POWER 2JZ GE / GTE turbo kit and boost to 9PSI on stock internals, head gasket, and injectors. You'll be putting down 330WHP. No need to open the motor or mess with the injectors or tranny at 9PSI, just run 93 Octane and a fuel tuning system".
XSPower Turbo Kit Features:
TOP Mount T4 Single 2JZGE stainless 321 turbo manifold set ( intake, tube, downpipe , manifold)
Universal oil line kit (with oil feed, oil drain)
4 bolt 50mm wastegate (10 psi)
T4 STAGE III UPGRADED TURBO .96 turbo charger (good for 450hp)
3″ V-band clamp
---
Our comment: Turbo Specialties enter our list with one of the most expensive options on our list.
Turbo Specialties launched one of the first aftermarket 2JZ-GE kits to market as the main competitor of the SRT (Swift Racing) turbo kit. However, SRT has since gone out of business.
Although the kit includes a well-reputed Garrett turbo, we're not convinced that the T28R is the most efficient for getting the most out of your 2JZ-GE, and we feel there are more suitable options in our selection.
Combine this with the fact that most owners have mentioned the kit needing some adjustments to fit correctly; we can't justify the cost compared to some of the substantially cheaper alternatives on the market.
Manufacturer description: "If you are looking for the ultimate in high performance – the extreme performance packages are for you. Providing the maximum horsepower for the very discriminating and still providing dependability for daily driving".
"Incorporating all the high performance equipment in the superior performance packages, these extreme packages all include an intercooler, pop off valve, extra injectors, and injection control unit, (The Brain)".
"This offers complete control for your system, increased fuel delivery, and cooler temperature gas air mixture for better burning. The addition of this system can add as much as an additional 20 percent increase in horsepower above and beyond the superior turbo packages".
Turbo Kit Features:
Ex.Manifold, Ex.Outlet, Down Pipe, Hardwares, Actuator Bracket
Air Intake System, Intercooler, Charge Pipe
Oil Return Hose, Oil Pressure Sus Stainless Braided Hose
Cold Water Stainless Braided Hose
Icu601 Box, Ip201, Fpr140
Bp9901 Blow Off Valve
T28R Turbo – Ball Bearing
All hardware, pressure lines, hoses, clamps, and couplers included
---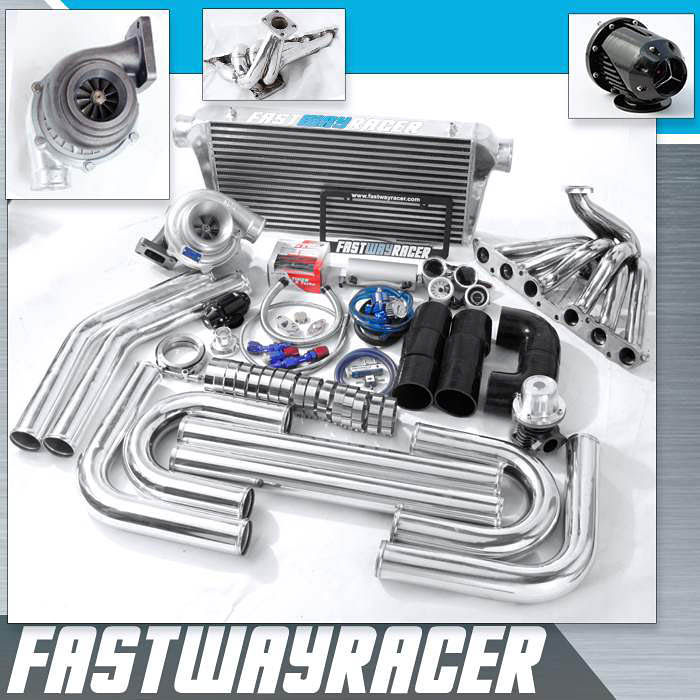 Manufacturer: FASTWAYRACER
Fitment: 93-98 Toyota Supra MKIV, 92-00 SC300, 93-06 GS300, 01-05 IS300
Value for money:
Purchase link: FASTWAYRACER Turbo Kit
Our comment: It's certainly not every day that you stumble upon a turbo kit for this price brand new, but FASTWAYRACER has pulled it out of the bag with one of the cheapest options on our list.
Unfortunately, there is very little to go on regarding feedback on this system, so we highly recommend checking that it suits your needs before proceeding.
The universal piping on the intercooler is one of the first things to get our alarm bells ringing. You'll immediately need to consider some significant adjustments to get that fitting correctly.
FASTWAYRACER has a reputation for providing poor-fitting parts; unfortunately, as far as we can see, this kit is no exception.
With that said, you certainly get a lot of kit for your money, but we wouldn't expect it to be premium quality.
Cheap isn't always cheerful, especially when things start going wrong!
Manufacturer description: "This is a perfect turbo kit for upgrading your car and get more boost. Your car will gain 130-180HP if you set at 7-15PSI. Customers require to upgrade the fuel pump, injector and ECU to tune the car if you set at higher PSI".
"This kit can max up to 550HP. We offer 90 days warranty for this turbo kit if it is installed by ase certified mechanic! We also offer "FASTWAYRACER" license plate and "FASTWAYRACER" sticker for free"!
Turbo Kit Features:
GT35 T4 .68AR turbo charger
Stainless steel turbo manifold
3.0" V-band clamp
Universal 3.0" polished aluminum piping kit
Universal 30.5"x12"x3.0" front mount intercooler
SSQV turbo blow-off valve
40mm 4 bolt wastegate
10AN oil drain/return line kit
Oil feed line
Fuel pressure regulator
Turbo boost controller
Oil catch tank
2" boost gauge + 2" air/fuel gauge + oil pressure gauge + rpm gauge
---
Our winners for the best 2JZGE Turbo Kit
Now that you know what 2JZ-GE turbo kits are on offer let us pick out our winners:
Our Drifted Choice goes to CXRacing
With a massive selection of turbo kits available for 2JZ-GE owners, CXRacing takes the Drifted choice award in this guide.
Our 2JZ-GE Turbo Kit winners are the CXRacing Turbo Kits
Although some owners will tell you that CXRacing products aren't of outstanding quality, the company has had a massive revamp in recent years. We've witnessed hundreds of delighted CXRacing turbo kit owners from across the tuning scene.
They won't compete with the much higher-budget Premium winner, but they certainly provide excellent quality, fitment, and reliability for the price.
---
Our Best Premium 2JZGE Turbo Kit Award goes to Powerhouse Racing (PHR)
We certainly can't question that PHR deserves the premium award in our guide.
Our Premium choice is the Powerhouse Racing (PHR) Turbo Kits
They may well be outside the budget for many enthusiasts, but for those of you who don't mind spending the extra cash for a beautifully-crafted long-term setup, we have no doubt you'll be delighted with your decision.
This is the king of off-the-shelf 2JZ-GE turbo kits, offering two kits, which are comprehensively customizable to suit your highly-refined needs.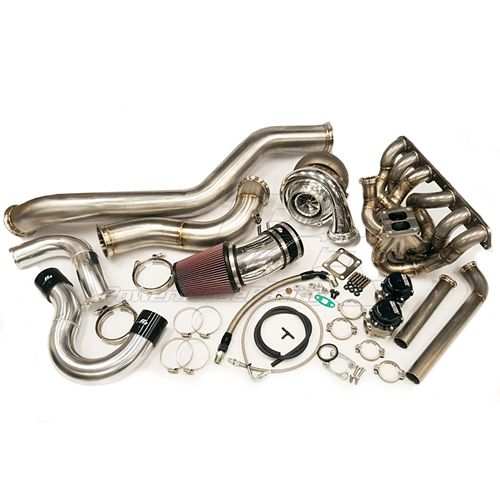 ---
Our Budget 2JZGE Turbo Kit Award goes to XSPower
The XSPower kit provides a great alternative to the CXRacing turbo kit that took our Drifted Choice award.
Our Budget choice is the XSPower Turbo Kit
Many happy owners have had excellent long-term results from the XSPower kit; however, you will need to consider the additional intercooler purchase.
We prefer the CXRacing kit after their brand overhaul, but the XSPower kit is also well worth considering for those with a smaller budget for your turbo upgrade.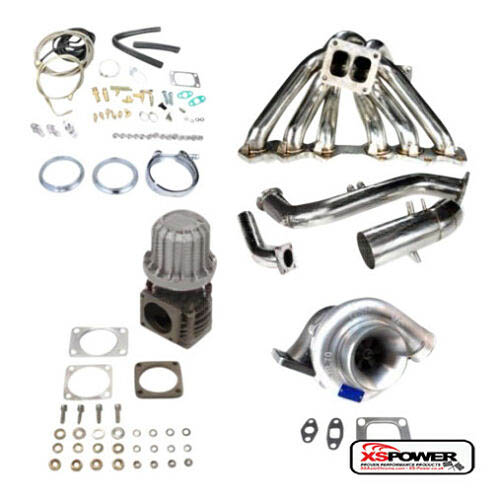 Thank you for reading our 2JZGE Turbo Kit guide
An excellent range of turbo kits is available on the market for 2JZ-GE owners, whatever your budget may be. And that's all that keeps you from achieving massive performance potential like this.
We hope we've helped narrow the difficult decision when choosing the perfect kit for your needs.
If you feel we've missed any options or any new kits are later released to the market, feel free to drop us a line, and we'll take a look.
---
Photography credits
We want to thank the following sources for the use of their images:
If you enjoyed this article, please share it with the buttons at the side and bottom of your screen. Find this information helpful? Please post a link to it on your 2JZ-GE-related online communities. We appreciate your support.