The Ultimate JDM Cars In GTA 5
They may be renamed replicas, but the JDM cars in GTA 5 will provide the same enjoyment as their real-world counterparts. Here are our ultimate picks.
The Term "JDM" (or Japanese Domestic Market) commonly appears among car enthusiasts.
All that stands is to categorize a group of vehicles (or parts) that belong within a specific region. In this guide, we're focusing on these elements from Japan.
Since the whole GTA franchise appears to be in a fictional world with new cities and sports car manufacturers, it tries to follow the same principle.

As a result, you'll see that we take the best vehicles that look as close to the JDM counterparts.
Whether you're curious about what JDM cars feature in GTA5, whether you're looking to find a specific ride or even our opinion on which one is best, this guide has it all.
10 Best JDM Cars in GTA 5
Let's take a look at our top picks for the best JDM Cars in GTA V.
10. Annis Elegy RH8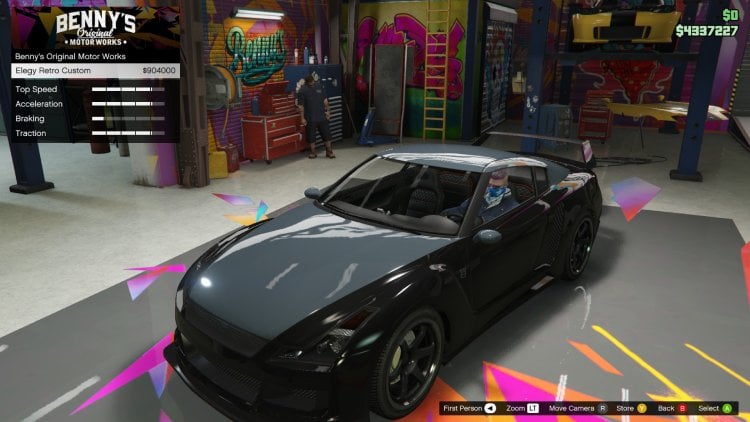 If you have the "Social Club Account" available in your game, you can quickly get this option without spending a single virtual dollar. In contrast, you can purchase the Annis Elegy RH8 for $95k, which isn't that difficult to acquire.
Overall, this vehicle looks similar to the Nissan GTR, which looks astonishing within GTA5 Online.
Since we got this option when GTA 5 became available to the public, you'll see that newer vehicles come with better stats.
Still, with some upgrades, you could increase the speed and let it help you win a couple of races, and it's also competent when it comes to going sideways!
If you're playing on the previous "gens" (PS4 or Xbox One), you should always keep this option at hand.
Unfortunately, you'll have fewer options as you try to add better parts to your car. Therefore, you might not see a significant improvement after you spend tons of that virtual currency in Benny's Workshop.
9. Annis Euros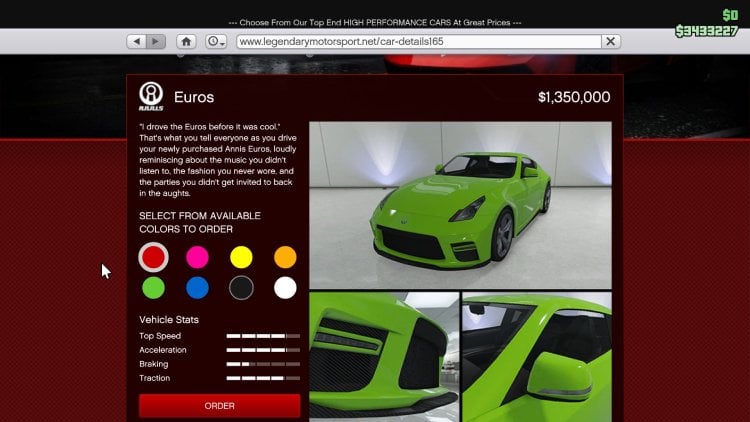 You can find this car in Legendary Motorsports for $1.8M (or $1.35m for its Trade Price).
Thanks to the multiple options you have to tune your car, you can use it in numerous ways.
Furthermore, the current stats make it an average vehicle that doesn't excel on any feature. Still, you can add or remove some of the numbers and make it faster or easier to handle.
The Annis Euros has enough features to make it ideal for a starter car. Due to its "hybrid" style, you can learn how to handle any vehicle in GTA V and see how the "Standard" works. You could learn how to drift with the Annis Euros easily.
After a while, you could acquire any of the most potent options on this list.
Lastly, the Annis Euros seems to have a massive inspiration from the Nissan 370z, one of the most common sports vehicles you'll see on different driving video games. Without a doubt, one of the best-looking JDM cars in GTA 5.
8. Karin Futo GTX
The real-life counterpart of this car is the Toyota Splinter Trueno, one of the most popular JDM legends.
Within GTA 5 Online, you can buy this car for around $1.6m or lower the price to approximately $1.2m if you complete the Trade Price goal.
It may look a little expensive initially, but you'll soon find it has excellent advantages.
Even though it has many options to customize the chassis and some components, you can add a few stats to the mix.
After a couple of tests, you'll discover that the Karin Futo GTX has an average speed, but at the same time, it has better handling.
In other words, this is a fantastic option if you want to dominate the "drifting" scene with a Japanese Domestic Market option.
If you want to see more vehicles with powerful drifting capabilities in the game, check out our Best Drift Car in GTA 5 guide.
7. Dinka Blista Kanjo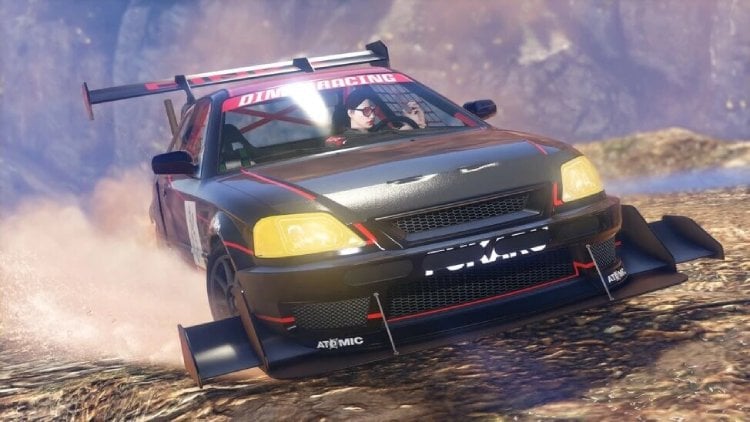 Next, in our favorite JDM cars in GTA 5, we give you this exceptional beauty inspired by the Honda Civic.
If you finish the Trade Price objective, you can now acquire this vehicle for $435k or get it at the total price of $580k.
Being a compact car doesn't seem to have an impact on the performance of this option.
Indeed, it takes a little effort to get used to the handling, but after a while, you'll learn how it goes.
With the Dinka Blista Kanjo, you'll have lots of customization options as you try to build the best stats for you.
Therefore, you can sacrifice a few points to make the road less tedious. Above all, the "classic" theme of the car will make it look unique against your adversaries.
Last but not least, thanks to the paint options, you can change that "civilian car" setting and make it look more like a rally/racing vehicle.
6. Annis Remus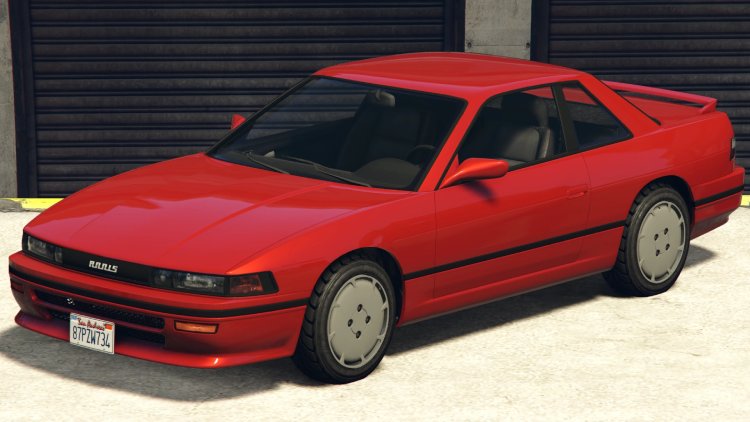 With the price of around $1.4M (or $1M with the Trade Price), it won't be hard to obtain this car for your collection.
It resembles the Nissan Silvia S13, and you can modify different parts of the vehicle to your liking. Therefore, you can add that extra touch that makes it unique as you take it for a spin.
The performance is acceptable due to the regular acceleration and powerful high speeds.
Also, you'll have less trouble moving around corners thanks to the handling capabilities. Still, it is recommendable that you keep the Annis Remus on the pavement and use it within those street races.
Even though it is an excellent option if you want a drifting vehicle, there are better cars on this list for that objective. Therefore, after a while, we would consider moving to something better.
5. Karin Calico GTF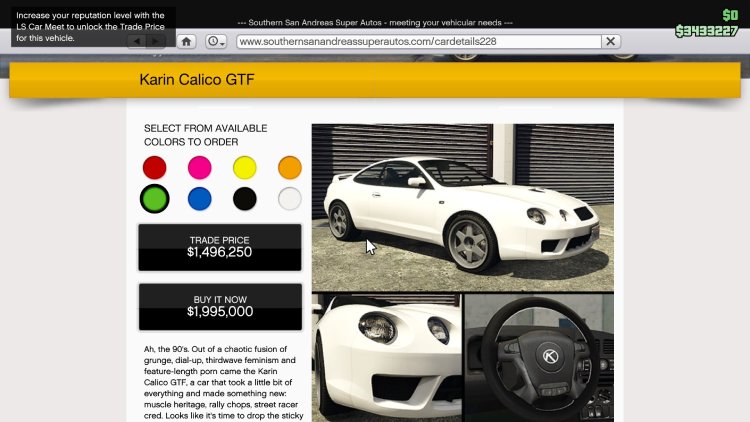 Thanks to the AWD drivetrain, you can see unique ways to make this car outshine the rest.
Due to the high-speed stats, acceleration, and fantastic handling, you'll discover that it can perform well in a race. Still, the AWD drivetrain from the Karin Calico GTF improves when you're in an off-road race.
This car looks like a Toyota Celica and has many options if you want to change the chassis. Therefore, you could spend a couple of minutes improving the looks and upgrading the stats. At the same time, you could make it unique with the painting options.
It's available for purchase for around $2m or $1.5m if you unlocked the Trade Price. As you can already tell, it isn't expensive, and you can start your collection with this vehicle.
4. Karin Sultan RS
To acquire this version of this vehicle is a little tricky. First, you need to buy the original car (Karin Sultan) for $12k, like any other option on this list. Second, pick it up and drive it into Denny's Workshop after it appears in your garage.
Inside the place, you should see the option to upgrade the vehicle for $795k.
After the change, you'll know it now has two doors instead of the regular four-door version. Lastly, you could invest more of your virtual currency to increase the stats, make it more durable, and change the aesthetics.
The Karin Sultan RS gets its looks from the real-life Mitsubishi Lancer Evolution, Lexus IS, and Subaru Impreza counterparts.
Performance-wise, this car gets a powerful acceleration and outstanding handling. Hence, you could see yourself winning races without too much effort.
3. Annis ZR350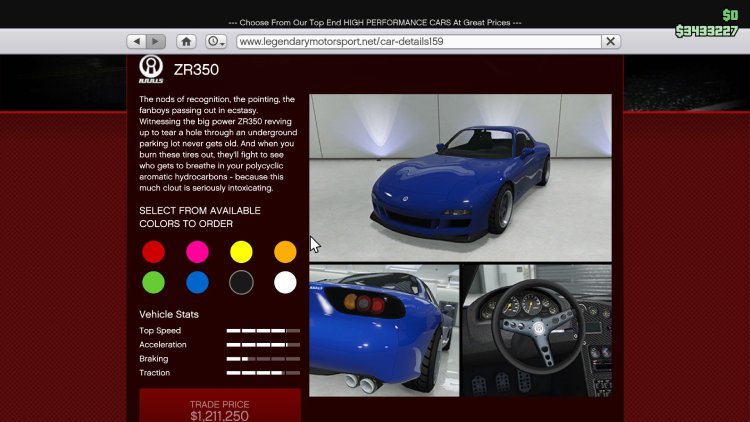 Performance-wise, the Annis ZR350 is a little above average, which means that it comes with high top speed and low acceleration.
Additionally, this vehicle needs a lot of mastering due to the unique way that it behaves when you're running between corners.
As a result, you'll need to run around the map until you become familiar with the handling.
You can buy this car for around $1.6m (the alternative Trade Price is about $1.2m), which isn't that expensive.
Overall, this is the Mazda RX7 GTA Online version, and it looks incredible when you're driving around the city.
One of the most significant aspects that makes it unique and outshine the rest is how many options you have to customize the vehicle.
The Annis ZR350 has many body parts and ways to paint the chassis. Hence, you could use it to show the rest of the players that you have an outstanding collection.
2. Karin Sultan RS Classic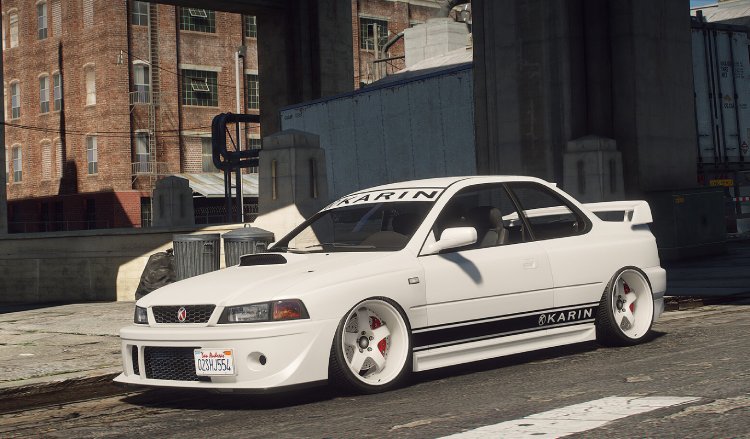 An outstanding vehicle, this option takes inspiration from the Subaru Impreza, which never looked better.
You can purchase the Karin Sultan RS Classic for around $1.8m (or $1.3m if you unlock the Trade Price). It comes with reasonable options within Benny's Workshop, meaning you can change the appearance to your liking.
Due to the performance capabilities, you can use this car on both streets or in off-road competitions. As a result, you could invest some dollars in this car and use it when battling against other players.
Even if you're not a competing person, you should look for this car if you're a completionist. Even though it is a little expensive for a "normal" race car, it lights up your garage with its looks.
1. Annis Elegy Retro Custom
Similar to the Karin Sultan RS, you'll need to complete a few steps to prepare this version. This time around, you'll need the Annis Elegy RH8 (which we already discussed in this list) and drive it to Denny's Workshop. Inside the building, you'll need to spend $904k for the upgrade, and that's it.
If you complete these steps correctly, you'll see an unprecedented change in its stats.
Afterward, you'll need to spend more in-game currency to make your vehicle "race ready" and look for any competition.
Initially, you can tell it's inspired by the Nissan Skyline GT-R, with hints of the R32, R33, and R34 if you look closely, but you can change things slightly and make it unique.
The vehicle has impressive stats and performs amazingly well on the road, making it a top priority if you want to race against other players. After a few minutes, you'll find out why this car is at the top of the list.
To grab more powerful options within GTA Online, check out our Fastest Cars in GTA Online guide.
The Best JDM Drift Car In GTA 5
In our opinion, the best option that you can get (that is available to all of the players from the start) is the Karin Futo GTX. Even though it appears in the eighth spot on this list, if you want to drift, we feel that this provides the ultimate value for money.
Before you start burning your tires, it is recommended that you tune the car a little bit at the Denny's Workshop. Also, learn how to keep those drifts alive by managing the acceleration and avoiding a collision.
New to drifting? Or you're looking to refine your skills? Make sure you check out our how to Drift in GTA Online article.
How To Get JDM Cars In GTA 5
Before you start improving your car collection, you'll need to follow a few steps when you log in to GTA Online:
Activate the Cellphone: Depending on the console you're using, there's a button to activate the cellphone and use the "web browser."
Buy a Property: You can either get an Arcade, NightClub, Apartment, or anything that gives you the option to add/improve the garage.
Set Your Garage: After you gather enough space for your vehicles, you could leave a single property for all your JDM cars.
Visit the Multiple Vehicle Dealers: Use the analog stick (or the Mouse) to move the cursor around and navigate the different websites. You can now find vehicles on this list in Benny's Original Motor Works, Legendary Motorsports, and Southern San Andreas Super Autos.
Buy Your New Car: Look for the car's name (or the price) you want, select the color and the paying option, and add it to your garage. After a while, you'll get a notification that tells you when you can use your new car.
Wrapping Up
Now that you have all the necessary information to start your new GTA JDM cars set, the rest is up to you. Complete different objectives and earn as many virtual dollars as you can manage to obtain.
After a while, you'll have enough cash to buy all the elements from this list, and you're now ready to hit up the local JDM car meet to show off your ride!
If you're looking to top up your bank balance with "honest" work, we highly recommend checking out our GTA Online Bunker Guide.