Best GR3 Car GT7 – What Are The Top Picks?
Discover why the GR3 category is one of the most competitive in Gran Turismo 7. We've got everything you need to know to take the top spot on the podium.
Introduction
When you reach the point of getting as many vehicles as possible in any racing game, everything could turn into chaos.
For example, a "family-friendly" sedan car could never compete against an unreal concept sports car.
Therefore, many developers tend to add multiple categories and place every vehicle in a group according to their stats.
As a result, when you want to participate with one of the fastest cars in Gran Turismo 7, you'll compete against other vehicles with similar characteristics.
Consequently, the game will match you against opponents with comparable rides after you pick your starting car.
As you move through different events, you'll see the requirements (like a GR) before getting into a race.
GR3 Category
The group GR3 in Gran Turismo 7 focuses on those sports cars that belong in a professional racing event.
Furthermore, many of the options here come from famous real-life events. For example, the Toyota Supra GT500 '97 won the championship that year (97) against the titan Nissan GT-R.
In other words, when you participate in this category, you'll see multiple vehicles with impressive stats. Hence, every single mistake on the pavement could become devastating.
We recommend that you master your vehicle's handling before running against real players.
Most noteworthy, every item on this group leaves a trail of exciting racing history. Thanks to the Internet, we also get that event where they left a mark thanks to their performance.
Undoubtedly, the developers at Polyphony Digital took that extra effort to make the professional part of racing a little bit more special.
Find how the developers handle everything in other games with the Need for Speed Payback Car List.
META In GT7 Explained
Before we talk about the best GR3 car in Gran Turismo 7, let's take a moment and analyze what the META does in the racing genre.
First, when we talk about META, it only means one thing in the video game world – the "best."
Following this approach, you'll only use what everyone thinks is the top option. Although following this trend isn't always fun, it gets you better results.
Second, if you still have bad results following the META, the problem may lie with your current lack of practice.
Knowing that no other option will get you higher positive probabilities, the only thing left is to practice more.
After a few tries, you'll "get" why people complain about some advantages of the current META.
Now within Gran Turismo 7, getting familiar with this approach means that you need to buy/practice with the top vehicles in the video game.
Overall, the best options in GT7 excel in one (or more) of these in-game stats:
Power
When we talk about this characteristic, we discuss acceleration and speed.
Many cars in Gran Turismo 7 will have outstanding power, which undoubtedly dominates the straight road.
Above all, you'll notice that one vehicle has unrivaled acceleration and speed when they "rush" for the top position in less than 10 seconds.
If you're the rival, you need to obstruct their path with your car, or they will leave you behind.
On the other hand, if you're the driver of a powerful car, the first thing to do is to press the accelerator as hard as possible.
Try to avoid any collision and try your best to keep the vehicle inside the road.
Your Achille's heel is, without a doubt, any hard turns. Depending on your car, the break might make things easier/difficult for you.
Furthermore, it would be best if you were extra careful when trying to regain speed. If you're not that precarious, you might lose control and start spinning.
Power in META means speed; you'll only find the fastest vehicles if you follow this group.
If you're only interested in speed, you might want to check the Fastest Cars in GTA Online.
Handling
Now the other spectrum in any racing video game of power is known as handling.
Instead of focusing on moving the speedometer as high as possible, this stat focuses on control.
Without a doubt, this is the favorite approach to us drifters, but this type of movement also gives you advantages in a race event.
If you're the opponent battling against a player with high handling, you'll need to outsmart them on the straight road.
If you are comfortable with more control, your goal is to make things difficult for everyone else. Don't let anyone take your position and gain the upper hand between hard turns.
Lastly, always keep an eye on your rearview mirror for upcoming rivals.
Handling, without a doubt, means control in META; you'll find vehicles that move quickly around the road.
Competitive Edge
Even though some of the vehicles in Gran Turismo 7 have supreme power or handling, they might not have an excellent competitive edge.
In other words, even though they come with impressive stats, you cannot take advantage of this racing video game.
For example, it doesn't matter if you have the fastest vehicle possible in GT7 when many track events have too many tricky turns.
You might reach a high position when the race starts, but you'll slowly lose to other players with slower cars.
On the other hand, you can have all the handling in the virtual world, but there aren't any drifting events or racing tracks with not that many turns.
You'll easily spot other vehicles with better speed from the start, and you can only hope they make hard mistakes.
Many vehicles that reach META status appear more often in the top online events.
Therefore, you'll see many professionals saying good things about them, and these cars might occasionally appear on media like Youtube.
Endurance Races (Fuel Efficiency)
Another element to consider becomes present when you participate in long racing events.
Overall, Gran Turismo 7 tries to emulate that real-life professional feeling by adding well-known tracks and popular sports cars.
Additionally, they tend to add those monumental events with more than 20 laps or might take half an hour to complete.
As a result, you'll find yourself driving with the exact vehicle and within the same place for a long while.
Besides the needed stamina to keep yourself alert for the entire racing event, you must keep an eye on your fuel tank.
When you're running out of fuel, you'll need to visit the pit (and change tires if necessary) if you want to remain to participate in the race.
If you haven't figured it out already, the META vehicles tend to have a big fuel tank, letting you avoid the pit more often in one event.
Balance of Performance (BOP)
To keep everything under "control," the developers took this number or limit for all the current vehicles.
As a result, many cars with dock stats or with tons of mods might participate together in a single racing event.
In other words, the BOP aims to find a balance between all the current vehicles in a single category.
Hence, the top performers get a little nerf, while the underperformers get some buffs. Depending on the car, the balance of performance might catapult it inside/outside the META.
Most noteworthy, not all multiplayer events have a balance of performance features.
Therefore, you might see a different car list (mainly those with the top stats) when participating in a racing event.
Above All, the Driver Leads Everything
As we previously mentioned, it doesn't matter if you pick the META and barely know about the video game.
Still, practice is the only thing missing when you know that you're using the best tools in the game.
When you have enough room to understand why these vehicles belong in the "best of the best" group, the next thing is winning some racing events.
Always keep an eye out for upcoming updates. The developers sometimes mix things up when it comes to the META.
Also, some players might want to live outside the box and play with whatever they feel comfortable playing. Even though it doesn't give you easy victories, they have fun in their way.
Sadly, if you want to reach the highest places, the META will always make things less troublesome in the long run.
Learn more about what Gran Turismo 7 Split Screen has to offer.
Top 5 Best GR3 Cars In GT7
Now that you have a clear idea about how the META works in Gran Turismo 7, we now give you good options for the GR3 group.
Remember that Polyphony Digital tends to add some "fixes" in a balance patch, and these suggestions might change slightly.
Subaru BRZ GT300
The Subaru BRZ is one of the most excellent vehicles that seems to stay more often in the META. Some characteristics that help it stand above the rest are its easy handling and fuel efficiency.
Even though it leans a little bit into the control spectrum, the Subaru BRZ gives you enough power to stay at the top.
When you're driving this superb vehicle, you'll be the master of each turn. Therefore, you should always consider this option for events requiring more precision.
Lastly, given that it comes with an expanded fuel tank, there's less need to visit the pit.
When participating in an endurance event, you should focus only on those curves and less on maintenance.
Dodge Viper SRT GT3-R '15
This vehicle is one of the fastest (if not the fastest) options in all Gran Turismo 7. Without a doubt, you'll feel its power when pressing the accelerator in a straight line. Players that master the handling of the Dodge Viper will have no issues remaining at the top of a racing event.
Sadly, the Balance of Power system makes this sports car less effective. Since it lowers some of the stats, the Dodge Viper isn't as effective as it should be. Therefore, you might want to pick this vehicle for those events that do not have the BOP.
Remember that you should respect every turn when you have too much power and less handling. Reduce the speed and accelerate slowly to regain the advantage.
Toyota Supra GT500 '97
Indeed, the Toyota Supra will help you reach the highest places in any racing event you participate. Overall, the handling is one of a kind and can help you master each turn with ease.
Most noteworthy, veteran players (like myself) fall into nostalgia when we get to drive this beast again. In Gran Turismo 7, you'll discover that it looks impressive and has outstanding engine sounds.
The Toyota Supra has excellent stats from the start, but you can improve it much more. Focus more on handling, and you'll have less trouble moving on any race event.
Mazda RX-Vision GT3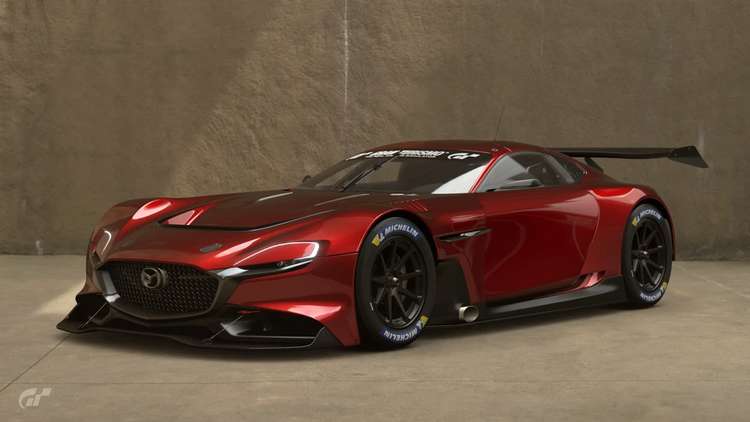 Another good option is the Mazda RX-Vision if you want to invest your time with this group in GT7. When you acquire the vehicle, you'll notice it has too much power. Therefore, you could practice until you learn how to master every turn, or you can sacrifice some speed for handling.
Another plus of this sports car is the fuel efficiency. Since it requires less fuel, you'll skip the pit more often on an endurance race.
If you pre-ordered Gran Turismo 7, you already have the "Stealth Model" on your account.
Porsche 911 RSR '17
One of the most effective options in GT7 seems to stay on top no matter the changes with the META.
Besides the great looks of the Porsche 911, you'll get outstanding handling on your races. Therefore, keeping the grip and control between turns will become less tedious. With this power, you'll see the difference within each track.
Lastly, this vehicle seems to have the best fuel efficiency in the entire GT7 library. As you already know, it reduces your time in the pit and keeps you focused on holding the highest positions.
Speaking about vehicles, you might want to see which is the Best Drift Car Forza Horizon 5.
Best GR3 Car GT7 FAQ
Here you have some of the most common questions about this article.
What is the Best GR3 Car in Gran Turismo 7?
Even though the META changes eventually, the Porsche 911 RSR '17 likes to remain on top.
What Does GR3 Mean in Gran Turismo7?
It is a category from which all vehicles have incredible stats and become bests for critical driving events. The GR3 undoubtedly follows the original FIA GT3 racing class.
How Much CR Do I need to Buy a GR3 Car?
Usually, the vehicles in the GR3 category costs 450,000 credits.
Photography credits
We thank the following entities for the use of their photography in this article: