12 Best Budget Project Cars
Thinking of buying a new project car? Well, look no further! In this ultimate budget project cars guide, we will review and compare the best project cars that won't make your wallet cry out in pain.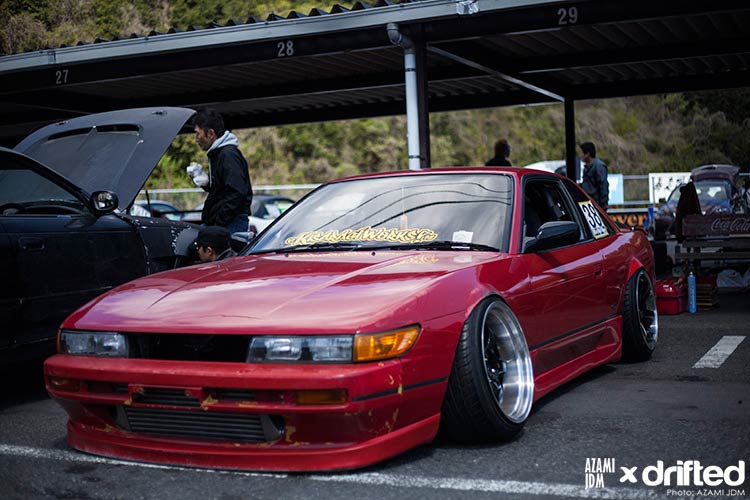 ---
In a hurry? Then watch our best project cars roundup
You don't have to be going through a midlife crisis to feel the need for a project car. Owning one can be one of the most enjoyable, yet tough, decisions you're likely to make.
Whether you just want to strip the car back to a bare shell and start from scratch or create a budget street weapon, this guide will undoubtedly help with your decision.
Sure, chances are it's probably not going to be the wisest financial choice you've ever made, but you can't put a price tag on the amount of enjoyment you can get out of cheap project cars.
Often, you can sell them for what you paid, in fact, some of our choices are already increasing in value, so it could well be the perfect time to snap one up as a future investment before they continue to escalate further.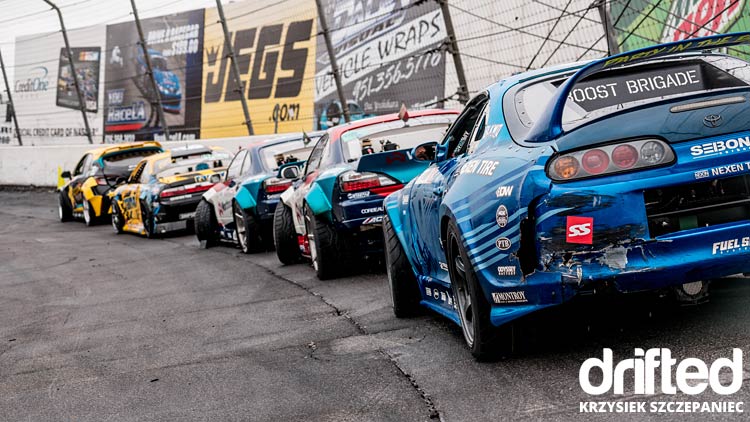 Initial considerations for best project cars
We highly recommend considering some important factors before you decide which car you'd like to go with.
First, consider what body style you want. Are you interested in trucks? Or would you have a sports coupe instead? Do you want to spend time figuring out a fancy dual-clutch transmission? Or would you rather put affordability first and settle on a manual gearbox?
Will the car be daily driven? Or are you one of those tuners who strictly purchase sports cars just to take them out on track days? In the case of a daily driver, the mods you make will most likely need to be done over the evenings and weekends. On the other hand, you can perform sports car modifications anytime you see fit.
If you're lucky enough to have storage space then this is obviously not a concern and you can leave the car on axle stands for a few days or weeks without worry when carrying out upgrades/maintenance/repairs.
Are spares easily available and within your budget? Now, there are heaps of alternative project cars you could potentially go with outside of our recommendations, but we've already considered the fact that most parts for these cars are available on the used market for relatively reasonable prices.
If you're considering something super rare that's likely to break every other week and cost you a fortune in impossible to source parts, it's probably going to end up being more frustrating than enjoyable. So, we recommend you choose a platform that has good aftermarket support and plenty of aftermarket parts to choose from.
Should I look for a high-powered car?
Is the car going to provide enough power for your current plans? Is the engine even running? You'll need to think about which upgrades are planned further down the line and what potential upgrades and engine swaps are available for that specific car.
We've noticed that budgets rarely work with these things, but it's always good to have a rough idea in mind.
If drifting is your aim, you're obviously going to need to be looking at the rear-wheel-drive platforms in our guide. It's always easy to want to buy something with huge power to begin with, but lower powered cars can be heaps of fun too, so they're definitely worth considering.
And do not forget, you'll have to spend a fair chunk of money for some suspension upgrades and a heavy-duty set of brakes too!
Thankfully, you can enjoy what high-powered cars have to offer without having to spend a penny from the comfort of your computer with games such as Drift Hunters and Madalin Stunt Cars 3.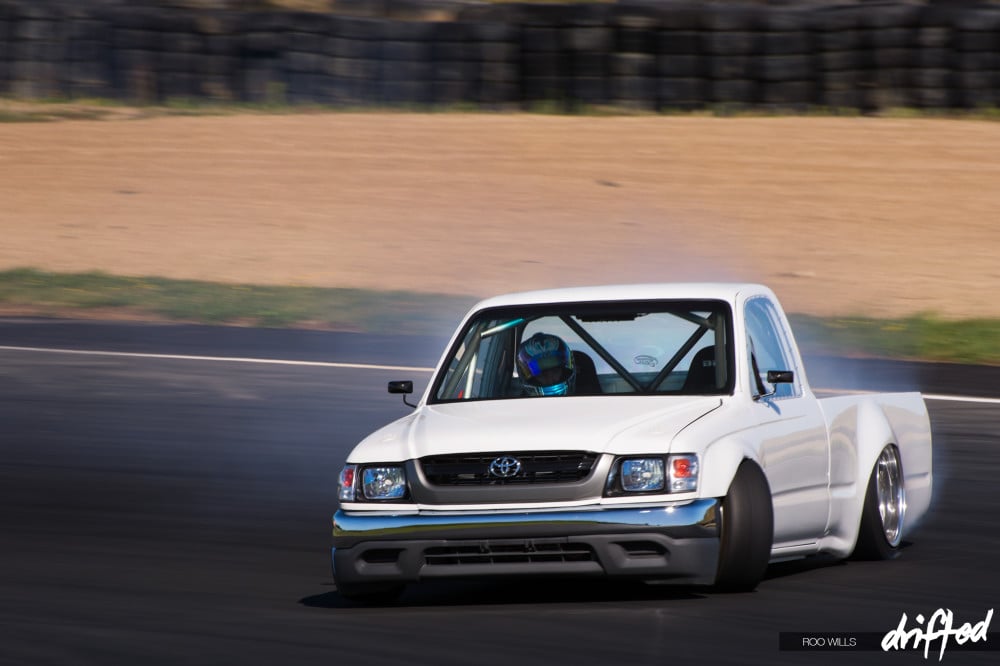 Think outside the box
Sure, you're probably already thinking along the lines of, "Drift car? Simple, I'll get a 240SX!" However, remember that this is what others are thinking too, and this is where 'drift' or 'scene' tax comes into play, and you'll probably end up being screwed over on prices for parts.
And of course, the size of your engine bay is the only limiting factor for the endless amount of engine swap options out there.
With that being said, it'll undoubtedly be worth it if you have your heart set on a specific selection that you've always dreamed of owning. We've made some pretty questionable choices in our time but we don't have any regrets!
You're on Drifted, so chances are you're set on something Rear Wheel Drive. However, don't completely rule out Front Wheel Drive cars too, these can be heaps of fun, especially if you're looking for something cheap. A great-handling, cheap FWD on a tight and twisty track would provide great bang for your buck.
Before we begin, check out what Donut Media's opinion of the best tuner cars for under $10k to give you some initial ideas!
Now, let's take a look at our budget project cars
Remember, project cars don't have to be the absolute best cars on the market, nor does it have to be what your buddies think is cool. Find something YOU like, pour a s**tload load of blood, sweat, and tears into it, and it'll soon win over your heart. (Or become your worst enemy, but we'll hope for the best!)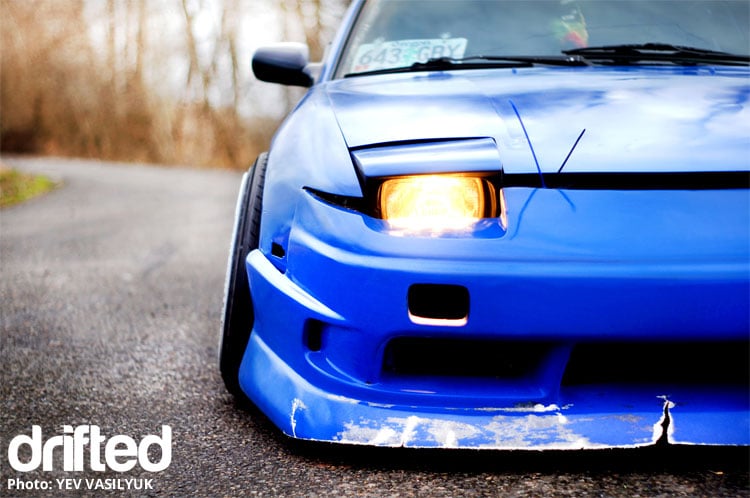 Model year: 1989-1999
Engine size: 2.4L
Power output: 1989-1990 – 140 bhp (100 kW) | 1991-1994 – 155 bhp (116 kW)
Drivetrain configuration: RWD
Our comment: Yeah, you knew it was coming! It's been hugely popular since it rose to fame in the '90s, and the 240SX is certainly no exception now. Due to their cult following and age/drifting taking its toll, the 240SX has undoubtedly risen in price over time. Reasonably priced models can still be had, but be prepared for it to be a little more of a project than you perhaps planned.
If you have a choice, we recommend going with the KA24DE which has more power out of the box, and far more tuning potential. Many owners choose to swap out the engine for an SR20DET, which it actually left the factory with on the JDM equivalent (180SX).
If power is your aim, then you may feel a little riskier and want to opt for a Skyline RB25 or RB26 replacement for something a little different!
As you've probably guessed, the 240SX is an incredibly capable lightweight chassis with great handling for drifting and will undoubtedly make a great platform for a project if you've got the cash. If you want to know more about why we recommend 240SX's so highly, make sure you check out our 'Why the Nissan 240SX is the best drift car' guide.
If you feel like the 240SX is the ideal project for you, and maybe have a little more money to splash, we highly recommend checking out S14's!
CarThrottle Review: "The chassis, the chassis is where this car shines. Now I am not going to talk about the drift potential of this vehicle. The internet will tell 1000 times its great for drifting and it will tell you 1000 more times. The car is tossable into corners. It can really carry a lot of speed through sweepers and tight twisties. The steering is fast, transmission is tight, pedals in the perfect spot and a chassis that communicates really makes this a fun car to carve in."
"I genuinely feel like people who buy this JUST for drifting are missing out. Not that doing that is a bad thing but SO many people look at this vehicle like its god given talent was drifting that they miss out on the other great things this car can achieve. You S-chassis owners that don't, try some canyon carving, autocross or track, you guys are really missing out. This car has plenty more on its resume than its drifting career."
– Read the full review
---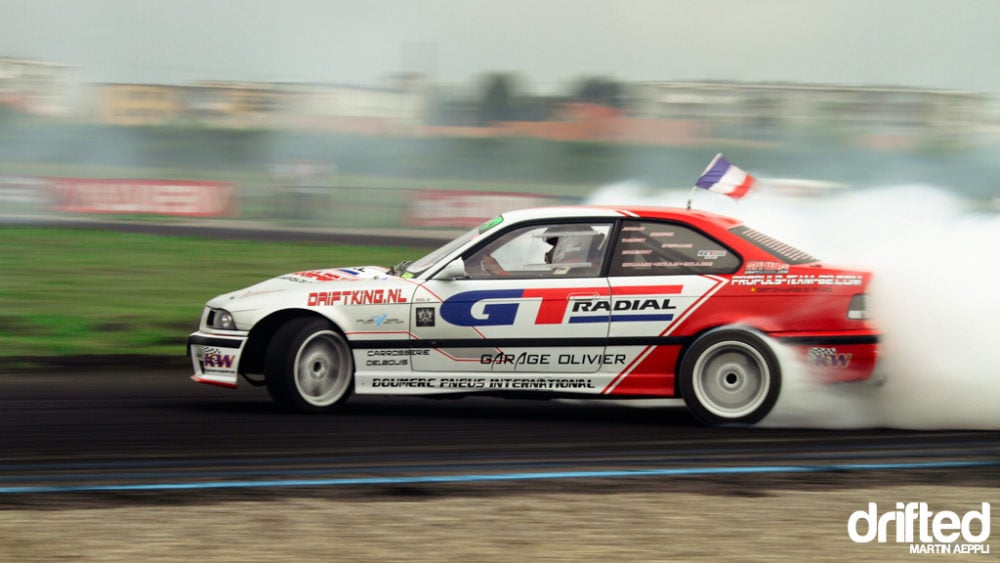 Model year: 1990-2000
Engine size: 1.8L-2.8L
Power output: 73 kW (98 bhp) to 142 kW (190 bhp)
Drivetrain configuration: RWD
Our comment: The German legend has arrived. Known throughout America and Europe as one of the best budget drift cars, the BMW E36 has definitely earned its place on our list. In Europe, E36's generally out-number most other cars at drift days, and with parts easily sourced and common, they're becoming a great alternative to the more expensive JDM cars.
Their popularity in the US has also risen quickly in recent years, with companies such as Pandem modernizing it with their Rocket Bunny kits to keep the stance (and brave drift) scene happy.
There are several different models of the E36, but a few basic mods will allow even the lowest power ones to go sideways. We highly recommend these for some cheap, great handling fun!
With E46's more affordable than ever, these are also a fantastic option if you fancy something a little more modern. If you like the old-school look, E30's have to be a sure temptation. We always love M3's, but we also know first hand the cost involved with owning them, so proceed with caution if they tickle your fancy!
Motortrend Review: "The E36 generation BMW 3 Series Coupes has a quite a few highs, the odd low and a whole heap of appeal. There are some rough examples around and buying a well-serviced car that's been kept as close to standard trim as possible is a wise move."
– Read the full review
---
Nissan Skyline R33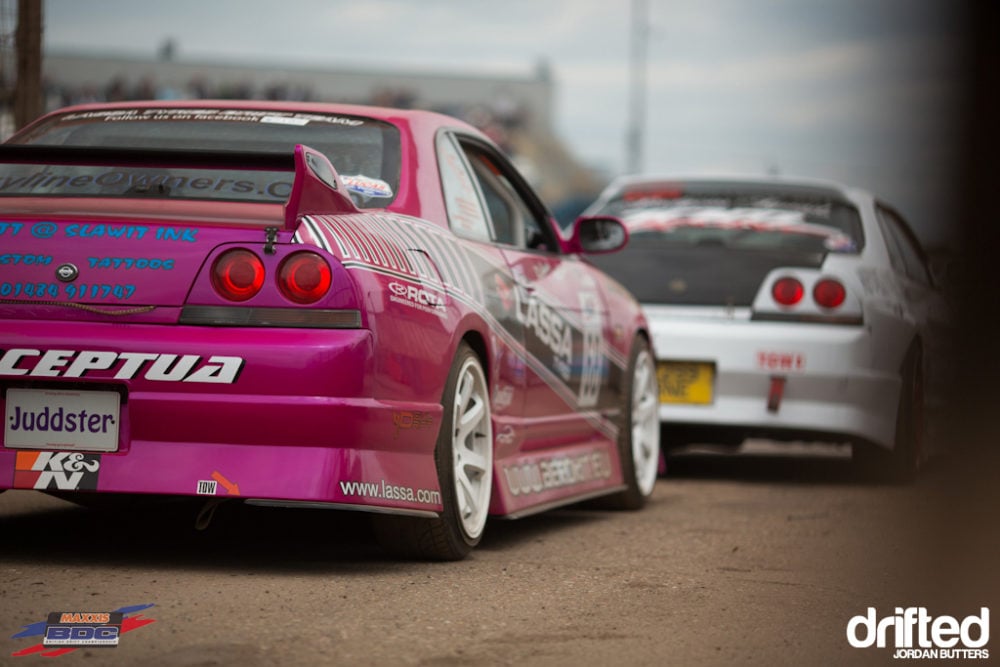 Model year: 1993-1998
Engine size: 2.0L-2.5L
Power output: 96 kW (128 bhp) to 184 kW (247 bhp)
Drivetrain configuration: RWD
Our comment: Nissan Skyline R32 and R34 prices have shot through the roof in recent years, even for the lesser models. Luckily, if you're after a Skyline, the R33 has remained relatively affordable during that time.
It's certainly not the cheapest option on our list, but it's a whole lot of car for the money. We expect that these will eventually creep up in value like their siblings too, even if they are the ugly duckling of the bunch.
With up to 250hp available from the RB engine in stock form, they also take extremely well to upgrades with some simple bolt-on modifications to squeeze the extra horses out.
Weighing in at 1,360kg, these certainly aren't the lightest of our choices, but strip out the interior and some handling mods and we have no doubt it'll keep you grinning ear to ear around the track.
Autospeed Review: "The RB25DET is undoubtedly one of the best single turbo engines we've ever sat behind. Off-boost torque is strong, but get some load on above about 3000 rpm and she's a real rocket. Torque holds strong until close to the 7000 rpm redline."
"The R33 is quite a large car – but its chassis is very well suited to an urban chuck-about. Tromp it a little early exiting a corner the back end squats, cork-screws a little and then eases to the side oh-so progressively. It's so sublime you don't always realize that it's happening."
– Read the full review
---
Mazda RX-8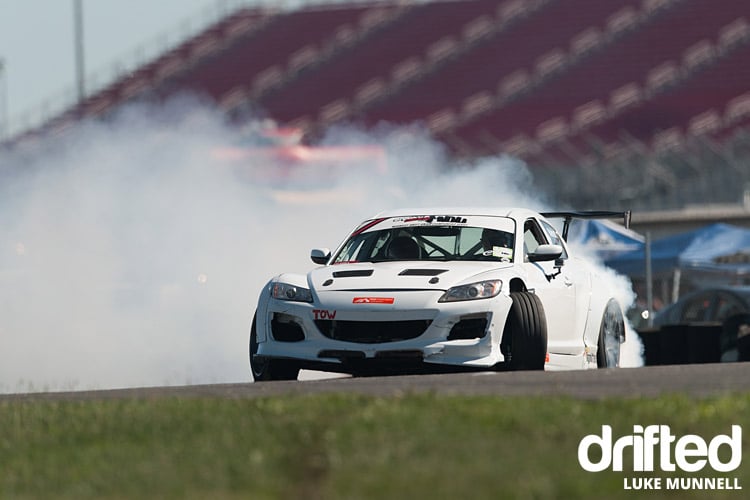 Model year: 2003-2012
Engine size: 1.3L
Power output: 141 kW (189 bhp) to 177 kW (237 bhp)
Drivetrain configuration: RWD
Our comment: You're probably upset that we didn't include the RX-7, and believe me, we wanted to. If you can get one reasonably enough, don't even hesitate! However, we can't ignore that RX-8 prices are plummeting while FC and FD prices rise, so we think it could well be the perfect time to land an RX8 for a project car base.
With a chassis that is comparable to the legendary FD, the RX8 provides up to 250hp weighing in at just 1,309kg.
On paper, it sounds like the perfect option, however, the reason for these being so cheap is due to the difficult to maintain rotary engines. Despite being incredible technology, they're definitely not the most reliable engine on the market.
If you can get one cheap enough, consider adding something like an LS1, or take it back to its true heritage with a 13B turbo. This way, you've got an affordable AND reliable lightweight drift car!
Although the rotary powerplant can put you off, these fantstic cars happen to be a great platform for an engine swap!
Autocar Review: "First off, there's still nothing else like an RX-8. That low, sleek coupé shape, those wacky suicide rear doors and two-rotor engine that sounds like a hoover on full chat continue to make it a unique proposition."
"The RX-8 feels really well balanced, eager to turn in, gripping more strongly at the front and with body roll now much reduced. The back end sticks very well, but switch the DSC off and as you exit a tight bend with power on, round it comes. And that's in the dry. But it's all well telegraphed and easy to catch."
– Read the full review
---
Honda Civic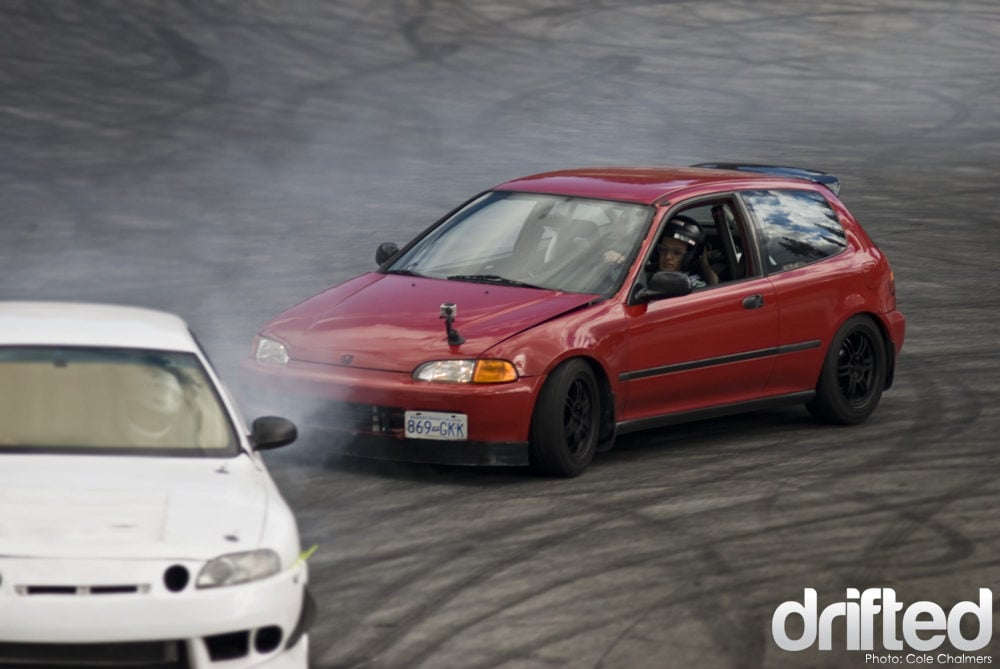 Model year: 1991-2000
Engine size: 1.3L-1.6L
Power output: 52 kW (70 bhp) to 93 kW (125 bhp)
Drivetrain configuration: FWD
Our comment: No sighing, please. You've probably already realized that here at Drifted, we don't exactly claim to be Honda Civic experts. That being said, we've been out in some track-prepped ones and we know that these can provide a s**tload of fun for the money!
With some models weighing a mere 925kg and capable of up to 125hp before you've done any upgrades, these are great value for money.
If you want some cheap, reliable, high-revving front-wheel-drive fun, these are definitely worth considering!
Autocar Review: "Peak horsepower is developed at a lofty 6600 rpm. And there's no serious penalty for turning the VTEC engine so fast, as it stays remarkably smooth right up to the point where its electronic rpm limiter steps in."
---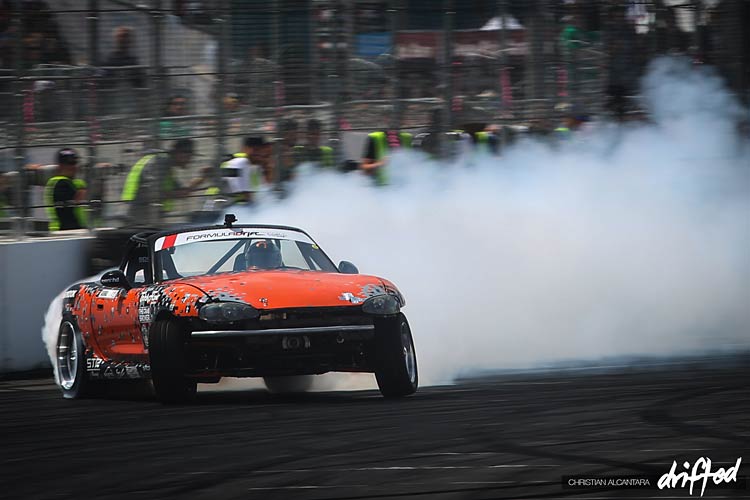 Model year: 1989-2005
Engine size: 1.6L-1.8L
Power output: 86 kW (115 bhp), to 99 kW (133 bhp)
Drivetrain configuration: RWD
Our comment: Cheap, cheerful and a fantastic base for a daily or a track-car alike. We love the Mazda Miata MX-5 and this throwback to British roadsters really is a unique car to throw sideways with the wind in your hair.
Certainly not the most powerful, but they're light and can take a good old-fashioned ass-kicking without causing too much of a fuss. Coilovers and an exhaust can really transform these. If you've got some spare cash, you can even go down the supercharger route for maximum potential!
Roadandtrack Review: "By mixing the fun of yesterday's roadsters with the technology of today, it marks a giant leap forward in the evolution of the sports car."
– Read the full review
---
Lexus SC400 (Toyota Soarer)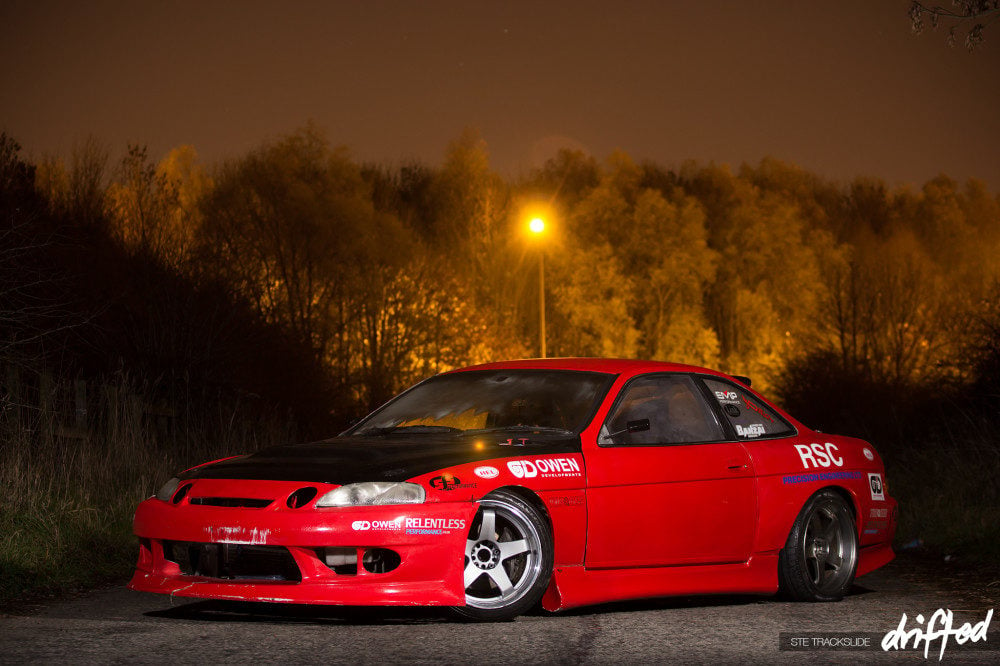 Model year: 1991-2000
Engine size: 4.0L
Power output: 186 kW (250 bhp) to 216 kW (290 bhp)
Drivetrain configuration: RWD
Our comment: The SC400 was $40,000 worth of car when it was first released, and now they can be had for a steal. The 290hp from the 1UZ-FE V8 isn't to be sniffed at, but they're not the lightest cars out there.
Whether you're looking for a drift car, or a VIP/daily, these will fit the bill extremely well. Many owners have gone all-out with 1JZ and 2JZ swaps from the Supra for maximum tuning potential.
The Truth About Cars Review: "There is nothing quite like it!" Every enthusiast I know has that attitude towards their car. But rarely is it actually true. If you find a well preserved one with less than 150k. Buy it. If you can find an SC300 with an all too rare manual tranny in it. Call me first. I'll buy it and be your new best friend."
– Read the full review
---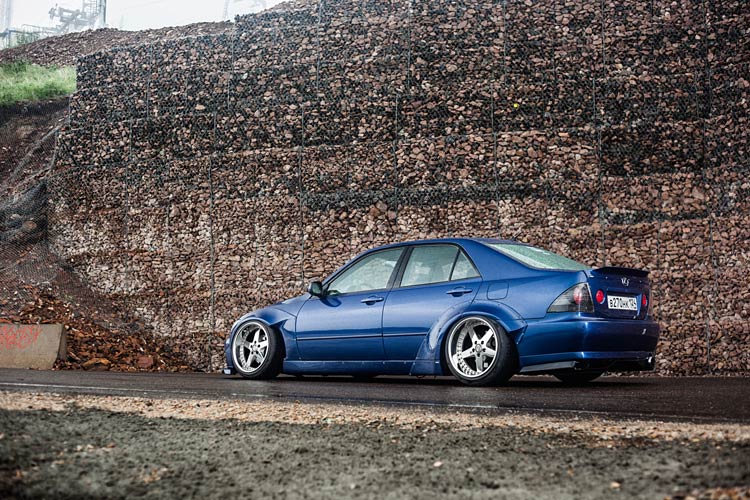 Model year: 1999-2005
Engine size: 4.0L
Power output: 186 kW (250 bhp) to 216 kW (290 bhp)
Drivetrain configuration: RWD
Our comment: The Lexus IS300 is quickly becoming a modern-day legend. With great looks and easy tuning ability alongside the potential of plenty of convenient off-the-shelf turbo kits, the 2JZ powerplant has a huge amount of potential.
These once again are great drift, daily or VIP-style cars with a huge amount of mods available on the market. We've got guides to show you our favorite coilovers and exhausts specifically for the IS300, and believe me, there's certainly no shortage of selection!
RAC Review: "If you can track down a reasonably priced IS300, it makes a very satisfying ownership proposition. The interior is well appointed, the engine is delightfully smooth and the reliability record is second to none. As one of those cars that seems to make a whole lot more sense used than new, the IS300 deserves a little recognition."
– Read the full review
---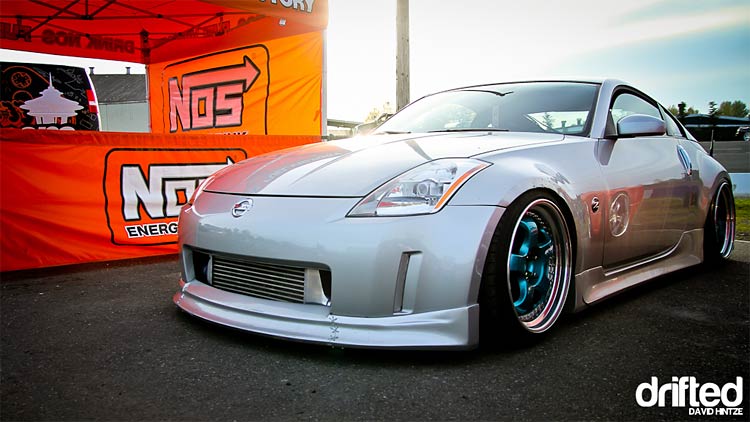 Model year: 2003-2008
Engine size: 3.5L
Power output: 214 kW (287 bhp) to 228 kW (306 bhp)
Drivetrain configuration: RWD
Our comment: The 350Z has been popular for many years in all sorts of motorsport, and with the arrival of its younger brother, the 370Z, chances are that you'll be able to pick one of these up at a more impressive price than ever.
With the reliable, yet underpowered, 3.5L power-lump under the hood and a bombproof gearbox, the 350Z has heaps of tuning potential and we have the perfect guides to help you find the ultimate parts for your build. Some basic mods will make this an extremely capable drift car with a lot of room to progress if you decide to go down the forced induction route later on.
Check out our wide variety of guides for the 350Z, there are simple bolt-on mods such as coilovers, exhausts and cold air intake to get you started.
Once you've got the car sitting and sounding nice, you may want to consider the forced induction route. If so, there's an epic range of tried-and-tested off-the-shelf supercharger and turbo kit options to turn your 350Z into a tire-shredding monster!
If you have big bucks to spend and fancy something a little different, the 370z is a fantastic consideration too.
Evo Review: "I've become a massive fan of the latest-generation Z-car. I reckon it's one of the greatest affordable performance cars of the last ten years."
---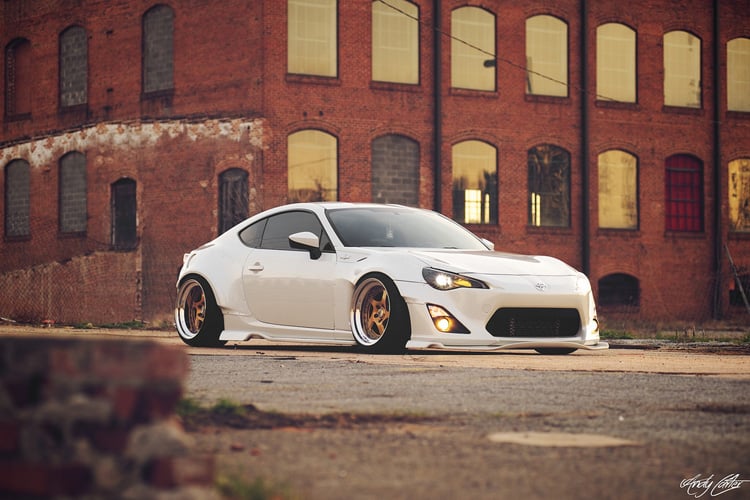 Model year: 2012-present
Engine size: 2.0L
Power output: 147kW (197 bhp) to 153 kW (205 bhp)
Drivetrain configuration: RWD
Our comment: GT86, BRZ, FR-S, whatever you want to call it! It's undoubtedly one of the best cars of this decade and prices on the earlier models are now becoming more affordable than ever.
Based on the original AE86, this stunning creation really does tick so many boxes. It may not have a huge amount of power from the factory, but the lightweight with skinny-tire combination makes it insanely fun to drive.
If you do fancy giving it an extra kick up the a**, we've got our GT86 turbo and supercharger guides to keep you happy!
For those of you that want to keep it simple and do some basic modifications, make sure you check out our exhaust, coilover guides!
We highly recommend the AE86 as a project car, but unfortunately, prices are soaring. If you're able to pick one up at a bargain price, don't even hesitate as it'll undoubtedly be a great investment!
Top Gear Review: "The simplest and most exciting Toyota in years is also a real pleasure to drive. It says a lot that Toyota took a whole five years to update the GT86, and kept the changes so light when it did. This is a fundamentally great car that may not look or feel especially modern, but that's sort of the point."
– Read the full review
---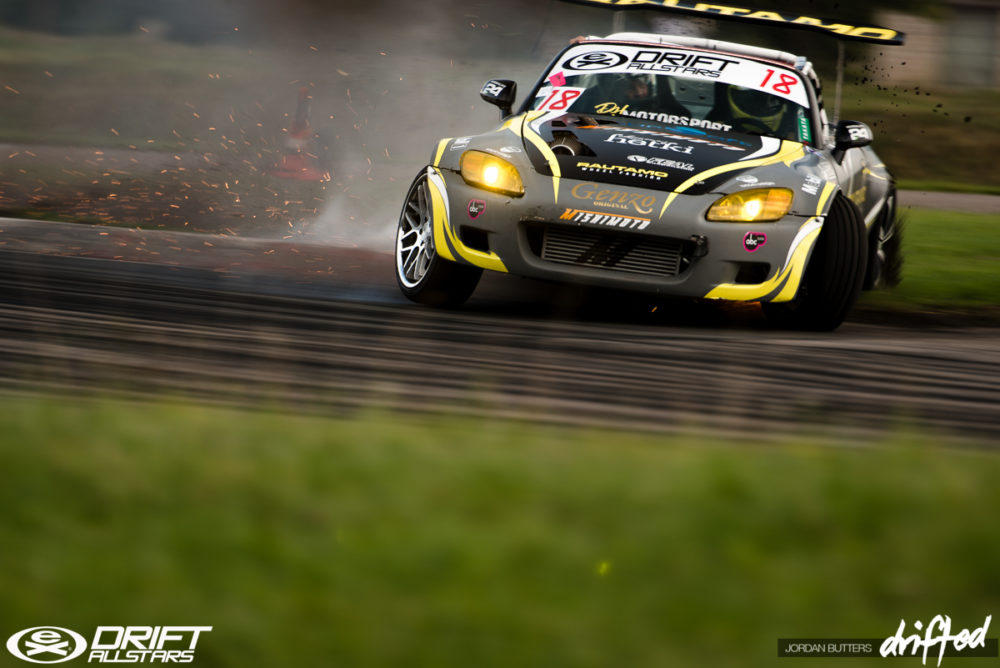 Model year: 1999-2009
Engine size: 2.0L
Power output: 177kW (237 bhp) to 184 kW (247 bhp)
Drivetrain configuration: RWD
Our comment: The S2000 doesn't typically spring to mind when thinking of project cars, but we think it has heaps of future potential. Prices are starting to get lower and for some of you it will be an affordable consideration
Honda created the S2K to mark the company's 50th anniversary, and it was certainly lived up to expectations. Think of it as a high-revving modern-day Miata on steroids. Once again, these have a huge variety of off-the-shelf parts if you feel the need for more than 247hp!
If you have the balls to whack a turbocharger on this lightweight chassis, you'll definitely want to take a look at our turbo and supercharger guides to keep you happy!
For those of you that want to keep it simple and do some basic modifications, make sure you check out our coilover and exhaust guides.
Top Gear Review: "You rev until you think pistons are going to burst through the bonnet, before grabbing the next gear via the utterly, utterly superb manual shift. One of the best I've ever used. Perhaps the best."
– Read the full review
---
Model year: 1992-2021
Engine size: 2.0-2.5L
Power output: 184 kW (247 bhp) to 231 kW (310 bhp)
Drivetrain configuration: AWD
Our comment: We get it, some of you guys aren't that much into drifting. Well, then let us present you our next choice – a multiple-time WRC championship-winning rally car!
From the beginning, Subaru's main goal with the WRX STI was to conquer the world of rallying. And to say that they achieved their goal would be an understatement. Powered by Subaru's legendary boxer engine, this AWD saloon won the WRC constructors title 3 times.
This is one of the most popular tuner car platforms in the world, and you'll find plenty of "Subie" aficionados no matter where you go. Oh, and did we mention that it can comfortably carry your whole family?
If you decide to go for a WRX STI, there are a few well-known reliability issues that you should keep an eye out for. And we have one more request – Please don't start vaping!
Car And Driver Review: "The STI is the mightiest and most aggressive WRX, but also the noisiest, stiffest-riding, and rawest."
– Read the full review
---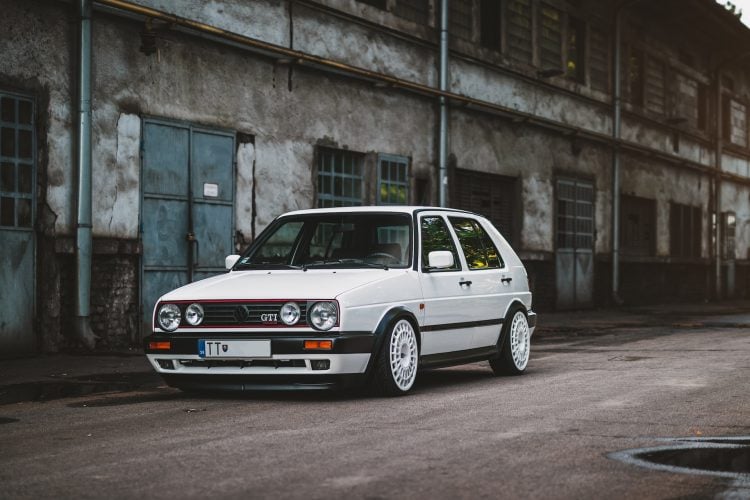 Model year: 1976-Present
Engine size: 1.6-2.0L
Power output: 82 kW (110 bhp) to 180 kW (241 bhp)
Drivetrain configuration: FWD
Our comment: Let's take a break from the Japanese stuff and head to Germany for our next entry. The Golf GTI makes a great family car, and an even greater project car if you decide to go crazy with the modifications.
As of 2023, there have been 8 generations of the Golf GTI. You can pick up an early-generation model for cheap, strip out the interior, and have a great, lightweight hatchback to take to the track.
If you have some more cash to spend, you can splash out on an R32 or a modern Golf R, which will give sportscar-beating levels of performance with just a few bolt-ons.
CarWow Review: "The Golf GTI is a great all-rounder - fast enough to be great fun, sensible enough to drive every day comfortably. But the Golf R is even faster"
– Read the full review
---
Model year: 1938-2003
Engine size: 1.1-1.6L
Power output: 16kW (22 bhp) to 84 kW (115 bhp)
Drivetrain configuration: RWD
Our comment: We know your thoughts, but hear us out! Rear engine, RWD, air-cooled – the VW Beetle is effectively a budget Porsche 911.
Jokes aside, if you are serious about picking up a project car for the cheap, there are few better options than this venerable "people's car" Although it came with a mind-blowingly slow motor from the factory, there are plenty of modifications available to give this little car some get up and go.
If you are crazy enough, you can do some wild engine swaps with the Beetle as well. Everything from Subaru EJs to Honda's K-series motors has found its way to the engine bay of this affordable family car.
RAC Review: "You'll either love or hate the 'new' Volkswagen Beetle. Some will celebrate it as an icon brought up to date, whilst others will feel it's a sad pastiche of a best-forgotten relic and a Golf in drag. Whatever way you look at it, the Beetle is here, it's sold rather well and it's great fun to own"
– Read the full review
---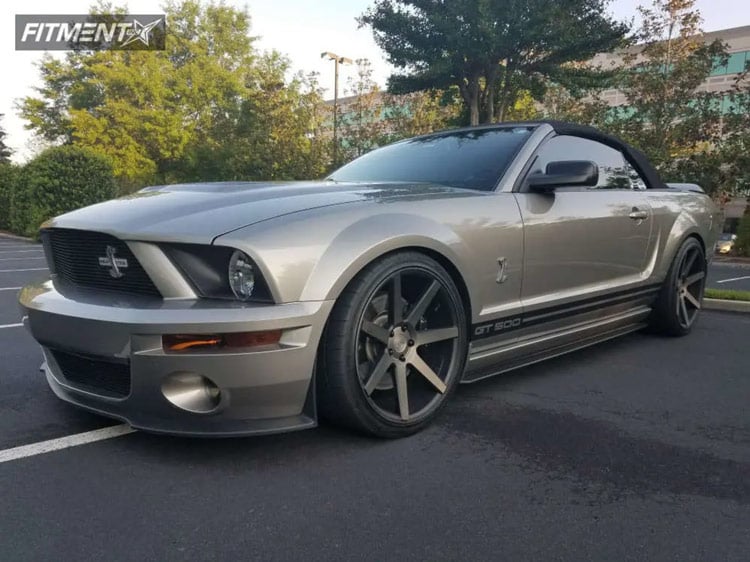 Model year: 1985-Present
Engine size: 2.3-5.0L
Power output: 220 hp (Foxbody) to 412 hp (Ford Mustang GT)
Drivetrain configuration: RWD
Our comment: When the Ford Mustang isn't busy trying to run over spectators, it can make a pretty damn good project car!
Although many of you may have gotten bored of seeing Mustangs over the years and feel they've somewhat lost their appeal, why not use that to your advantage?
Let's face it, the best project cars are those that are easy to source parts for, preferably with adequate power already under the hood, and the Mustang ticks both of those boxes.
Although there's no shortage of Mustangs waiting to be transformed into tire-shredding monsters in the US, you may still be able to pick up a bargain elsewhere.
With the early Foxbody versions pushing out 220 hp in stock form, the Mustang GT can also be found with ever-impressive price tags.
If possible, we'd be hunting down a 5.0L V8 GT, with a great power-to-value output of 412 hp, and a 0-60 time of 4.6 seconds.
With drivers such as Chelsea DeNofa and Diego Higa keeping Mustang's in the drifting limelight, there's no question that the chassis is more than capable when it comes to being thrown sideways at the track.
Although Ford has achieved a whopping 760 hp from the 2020 GT500 in stock form, we doubt you'll be finding one of those on a budget just yet.
CarandDriver Review: "The Mustang GT accelerates with a sound and fury that imported sports coupes cannot match."
– Read the full review
---
We normally decide our winner here…
This time, all our choices are winners for different reasons.
We've selected these cars from literally thousands of possibilities, and we've tried to give a wide variety of price ranges and choices. Admittedly, they may be a little drift biased, but what else would you expect from Drifted?
We have no doubt that whichever car you select, you're most likely going to have a rollercoaster ride at some point during your ownership, but as long as you see the project through, we have no doubt it'll be worth every minute you put into it.
Project cars have a special place in the hearts of car enthusiasts, and it'll open up a whole realm of possibilities as you begin to build the car, take it to meets and take it to the track. We hope you manage to build the car of your dreams and make new friends that last a lifetime.
Thank you for reading our best project cars guide
We hope that you're now confident in choosing the right car to satisfy your inner urges!
Photography credits
We would like to thank the following sources for the use of their images:
If you enjoyed this article then please share it with the buttons at the side and bottom of your screen. Find this information useful? Please post a link to it on your cars owners club. We really appreciate your support.