Ultimate Initial D AE86 Guide
Takumi Fujiwara's Toyota AE86 has become an instantly recognizable JDM cult icon. We're taking an in-depth look at the ultimate tofu delivery car – the Initial D AE86.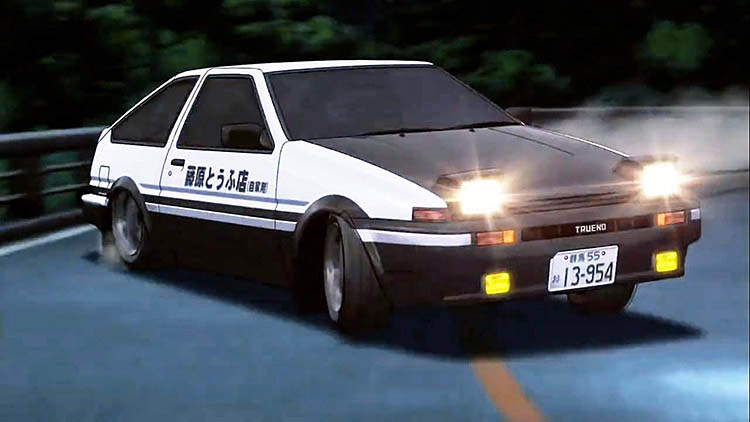 ---
Introduction
Japan's real-world touge paradise of Mount Haruna in Gunma Prefecture inspired the stage in the late 90s for the most epic fictional street-racing battles the world has ever witnessed.
With the fictional 'Mount Akina' playing host to the closely contested races throughout the series, the epic tight and twisty mountain touge roads based on the Kantō region of Honshu became the perfect choice for one of the most iconic series' ever to reach TV screens - Initial D.
Although the anime series became the ultimate choice for JDM fans worldwide, Initial D's initial introduction to the masses arrived through manga comics.
Providing an in-depth and insightful look at Japan's underground street racing and tuning scene, which set the path for the anime series that followed, offering the perfect platform to avoid using actors, creating a unique perspective.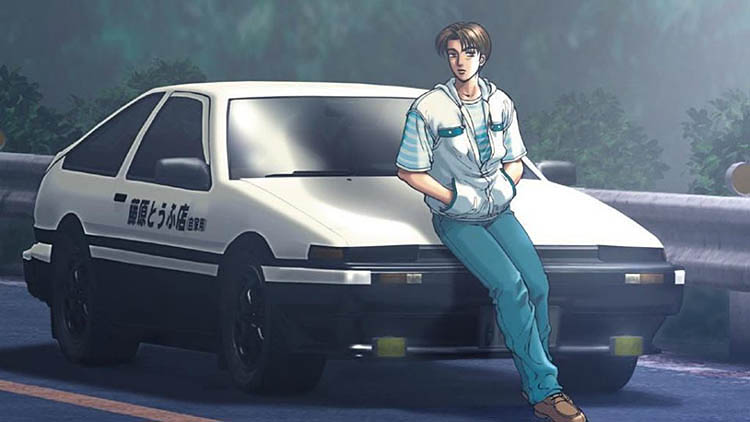 Although the anime series' popularity would later inspire a Hong Kong action movie, it lacks the vibes that the original version supplied in abundance.
Many fans will remember the infamous street races, which were a fierce neck and neck battle right the way to the finish line, but the series offered so much more to its fans than just racing.
Some of the most recognizable names in the drifting world were contributing to Initial D behind the scenes.
With the likes of Japanese drifting and Toyota 86 legend, "Drift King" Keiichi Tsuchiya on-board, he would play a significant role as technical director in the early stages of Initial D's creation.
Keiichi's role would be to ensure that the series's technical aspects were accurate, right the way down to each car's movements as they slide their way up the touge with pinpoint precision.
Given that Tsuchiya is often best-known for his drift bible series, there's arguably no better man for the job in understanding the specific elements of car control.
Initial D isn't certainly isn't your basic cartoon with a modified AE86 driving up a mountain. The creators were undoubtedly huge touge racing enthusiasts.
Thankfully, this provided the fans a tremendous amount of knowledge by watching the series, thanks to its profound understanding of technical aspects such as engines, differentials, and turbos.
While many drifting fans were initially hooked by the likes of The Fast and the Furious, there's no bizarre *DANGER TO MANIFOLD* warnings here - thankfully!
Gone are the neon lights and fake car builds; you'll only need to bring your best stock or lightly-modified setup and talent to compete with the best.
After reaching the mainstream for the first time in 1995 with the early manga comics, everyone's favorite tofu delivery driver, Takumi Fujiwara, continued to capture the hearts of the ever-growing worldwide fanbase.
The manga series was written and illustrated by Shuchi Shigeno for the Weekly Young Magazine from 1995; this would later span across 48 tankōbon volumes published by Kodansha Comics before becoming the hugely popular hit TV show.
If you've never sat down and watched an entire series, or perhaps even an episode of Initial D, we highly advise doing so. It's a must-watch for enthusiasts of drifting or the JDM car culture.
Much to the fans' disappointment, Initial D's final episode would later conclude production in 2013.
Thankfully, Takumi's legacy continues to live on in the present day.
For that reason, we're bringing this guide with everything you could need to know about his AE86 (Eight-Six, or Hachi-Roku,) which made the old-school-cool Toyota achieve a worldwide cult following.
---
Takumi Fujiwara's Initial D AE86 Trueno
Those of you with a keen interest in the JDM car culture will undoubtedly know that the car in Initial D driven by Takumi is the legendary Toyota AE86, also known as the Eight-Six (or Hachi Roku) in the series'.
Takumi Fujiwara drives a 1983 Toyota AE86 Sprinter Trueno 3-door GT-APEX Zenki. The agile, lightweight coupe is part of the fifth-generation Corolla family.
Throughout the series, Takumi's AE86 is also referred to as 'The White Ghost of Akina' and the 'Panda Trueno'.
The car belongs to his former downhill racing Champion father, Bunta Fujiwara. Eighteen-year-old Takumi gets handed the keys to the AE86 to carry out tofu deliveries to the hotel on Mount Akina. When racing with the Eight-Six, Bunta set the fastest downhill record on Mount Akina.
Bunta later goes on to race and defeat his son on the touge in his newly-purchased 1998 Subaru Impreza WRX STI Coupe Type R Version V (GC8) in the series during a test drive without Takumi aware it was his father behind the wheel.
Despite initially being forced to make the tofu touge runs out of boredom as a job, Takumi grew to love pushing his Eight-Six to its limits on the twisty mountain roads.
After five years of delivering tofu to the local hotel on the empty mountain roads of Mount Akina (based on the real-life Mount Haruna,) Takumi would soon be determined to become the fastest driver in the Gunma Prefecture.
Subtle details of Takumi's AE86 have become incredibly sought-after over the years, with accessories such as the Admiral red trim steering wheel demanding an eye-watering premium among fans.
Thankfully, other accessories such as the replica license plate are far more affordable for those keen to own some Initial D memorabilia.
Takumi's AE86 sports RS Watanabe Eight Spoke F8-Type wheels, suiting the old-school styling of the AE86 perfectly. Those looking to buy the wheels for their AE86 can often source them online.
Unsurprisingly, Toyota AE86 prices have soared thanks to the series' popularity, despite there being many replicas of the 'real' thing.
Thankfully, there are reasonably-priced alternatives out there for those on a smaller budget, such as this 1/24 scale replica model.
Okay, admittedly, it might not be QUITE the same as the full-scale car, but at least you get the fun of building it. Plus – it'll fit on a shelf, where you'll undoubtedly struggle to do so with the real thing. (Unless you have a REALLY strong shelf!)
---
Initial D AE86 Specs
For the keen JDM fans among us, you'll undoubtedly be aware that the Toyota AE86 Trueno is a lightweight, rear-wheel-drive coupe that is the perfect choice for being pushed to its limits on the touge.
With its compact size and low weight, it takes just 128 hp to make the high-revving 1600cc 4A-GE engine reach its full potential, but as the series progressed, Takumi knew his Eight-Six was capable of so much more.
Takumi's AE86 Specs (Stock)
Engine Name: 4A-GE
Engine Type: L4 DOHC
Power: 128 HP / 7,200 rpm
Torque: 105 ft/lb torque at 5,200 rpm
Displacement: 1587cc
Drivetrain: FR
Aspiration: NA
Length: 4205 mm
Height: 1335 mm
Width: 1625 mm
Weight: Under 1000 kg
Transmission: 5-speed MT
Having learned how to master the car in stock form, the OEM Eight-Six began to hold Takumi back, and tuning upgrades would soon be required to stay one step ahead of his touge rivals.
At this point, he headed to Fujiwara Tofu Shop, where the AE86 would now boast the following specs:
Specs (Fujiwara Tofu Shop Upgrade)
Engine Name: 4A-GE
Engine Type: L4 DOHC
Power: 150 HP / 7,500 rpm
Displacement: 1587cc
Drivetrain: FR
Aspiration: NA
Length: 4205 mm
Height: 1335 mm
Width: 1625 mm
Weight: Under 1000 kg
Transmission: 5-speed MT
When Takumi later became part of Project D from Stage 2 onwards, he would receive an engine swap, which enabled him to achieve a far more respectable 240 HP by using a TRD (Toyota Racing Development) Group A 4A-GELU engine.
Specs (Project D Upgrade)
Engine Name: TRD Group A 4A-GELU
Engine Type: L4 DOHC
Power: 240 HP / 11,000 rpm
Displacement: 1587cc
Drivetrain: FR
Aspiration: NA
Length: 4205 mm
Height: 1335 mm
Width: 1625 mm
Weight: 880 kg
Transmission: 5-speed MT
---
Takumi Fujiwara's Initial D AE86 Engine
When Takumi's AE86 started its life in stock form, it had the 4A-GE engine that came with the Toyota AE86 Sprinter Trueno coupe GT-APEX.
There are varied opinions on whether the stock engine had been somewhat upgraded by Takumi's father, Bunta, before allowing Takumi the opportunity to get behind the wheel.
Since it has a sport muffler right away in the earlier scenes, it's not entirely stock, and it's also said to have already had a rally-style gearbox upgrade.
Stock AE86 engine specs
It may seem underwhelming in stock form, but the perfectly balanced chassis gave Takumi the edge, although it later proved that this setup wasn't enough against the higher-powered competition.
Displacement: 1587cc
Valvetrain: DOHC 16V
Power: 128 HP / 7,200 rpm
Torque: 105 ft/lb torque / 5,200 rpm
Rev limit: 8,000 rpm
Intake: 2x 2-barrel carbs with 2x dual-flange oval air filters
Exhaust: Stock exhaust manifold, decat, stock middle section and sport muffler
Final AE86 engine specs (Project D, Stage 2 Onwards)
After upgrading the engine throughout the series, the final specs would have been something along these lines:
Engine Name: TRD Group A 4A-GELU
Engine Type: L4 DOHC
Displacement: 1587cc
Valvetrain: DOHC 20v
Power: 240 HP / 11,000 rpm
Torque: Circa 120 ft/lb
Rev limit: 11,000 rpm
Intake: Multi-point EFI and individual throttle bodies (ITBs) with velocity stacks
Exhaust: Aftermarket exhaust manifold, decat, full exhaust system with sport muffler
If you're keen to check out some impressive real-world Toyota AE86's, make sure you head over to our 7 Best AE86 Corolla drift builds to blow your mind guide.
---
Takumi Fujiwara's Initial D AE86 Body & Interior
The AE86 sports the now-infamous two-tone 'Panda' color scheme, with Fujiwara Tofu Store (藤原とうふ店 Fujiwara tōfu-ten) displayed on the side.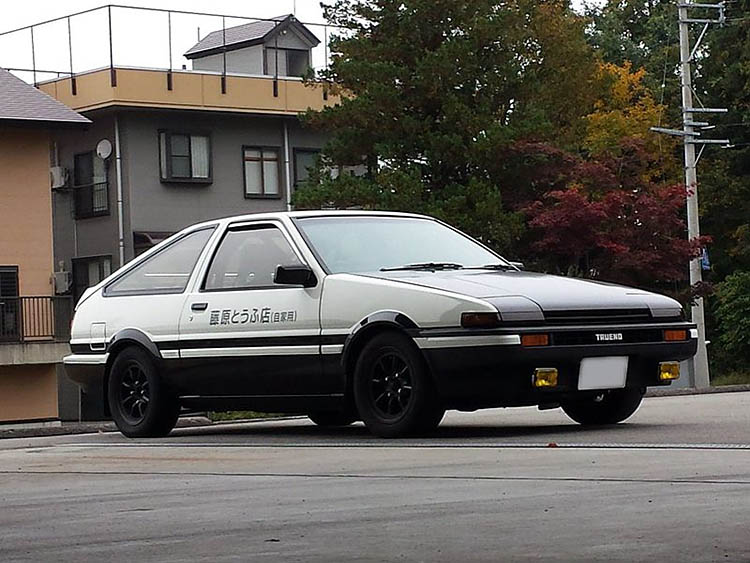 On the inside, you'll find the incredibly rare ItalVolanti Admiral red trim steering wheel alongside TRD (Toyota Racing Development) sports seats, a vent cup holder, OEM door visors, and a full roll cage.
The tacho seen alongside the other Smiths auxiliary gauges is a 12,000 rpm Ultra Step Motor Drive.
On the exterior, you'll find a TRD (Toyota Racing Development) carbon fiber hood for additional weight-saving, along with a Fujitsubo MC50 Muffler.
---
Takumi Fujiwara's Initial D AE86 Suspension & Drivetrain
The AE86 utilizes the hugely-popular RS Watanabe Eight Spoke F8-Type wheels, which we would expect to see wrapped with skinny 195/15 tires, although he may have opted for a gripper spec alongside the power gains.
Takumi's AE86 features Keiichi Tsuchiya's suspension setup of choice, the TRD Short Stroke Adjustable suspension kit, for optimal performance when handling alongside a Cusco strut bar.
There's an uprated TRD Crossed 3 gearbox with a 4.778 final drive alongside a TRD 2-Way LSD when it comes to transmission.
---
Takumi's Initial D AE86 in Games
Have you ever wanted to get behind the wheel of Takumi's AE86 before drifting your way through the tight and technical Japanese touge roads?
There are plenty of games out there that can provide precisely this!
For us, the ultimate choice is Assetto Corsa, and you can appreciate the game in its 4K goodness in this video.
Thankfully, Assetto Corsa is the most mod-friendly game drifting game available, but you'll want to ensure you get the PC version if you wish to drive Takumi's Eight-Six, as the console editions don't allow mods.
If you wish to download the Assetto Corsa mods, then head to the description on this YouTube video, where you'll find everything you need to know.
Not only can you drive Takumi's AE86 in its final, high-powered Project D form, but you'll also have a choice of the following Initial D cars.
Honda Civic SiR EG6 (Shouji Shingo)
Mazda RX-7 FC (1st and 5th Stage, Ryosuke Takahashi)
Mazda RX-7 FD (1st, 2nd and 5th Stage, Keisuke Takahashi)
Mitsubishi Lancer Evolution III (Kyoichi Sudo)
Toyota Sprinter Trueno GT-Apex AE86 (2nd Stage onward, Takumi Fujiwara)
There's also a selection of challenging touge roads for your satisfaction:
Mount Akina 2017
Irohazaka
Mount Myogi
Akagi Mountain Pass
Shomaru Pass
Once you've got your mods, you may want to take your experience to the next level by opting for a GPU upgrade for your PC so that you can enjoy the incredible VR potential that Asseto Corsa has to offer.
It's also possible to find mods for Takumi's car in GTA V, or you can download a custom livery in Forza Horizon 4 or Need for Speed Payback.
Alternatively, if you're desperate to get behind the wheel wherever you go, then mobile drifting games such as FR Legends will provide a fantastic alternative.
If you want the most incredible possible Initial D gaming experience, you'll need to get yourself to Odaiba, Japan. Life goals!
---
Best Initial D AE86 Videos
In this section, we'll cover some of the most memorable races for Takumi and his AE86 throughout the Initial D series, alongside some memorable and amusing videos.
Takumi's AE86 vs Bunta's Impreza
Takumi unknowingly went up against his old-school-cool, undefeated former-downhill racing Champion father, Bunta Fujiwara, the original owner of Takumi's infamous AE86.
After helping his son master his skills with the daily tofu run, Bunta proved to Takumi that he still has what it takes by beating his son on the touge while test-driving his new purchase - a 1998 Subaru Impreza WRX STI Coupe Type R Version V (GC8).
At the time of the face-off, Takumi had no idea that his father was behind the wheel.
Final Stage AE86 vs AE86 Battle
The end of an era. Takumi and Shinji's title fight for the ultimate Eight-Six continues. The battle spans over four episodes before the series ends, with both drivers pushing their Hachi Roku's to their limits.
Road-legal Initial D AE86
If you're reading this, we've got no doubt that you'll agree that this is the dream right here. Well, maybe not in the UK quite so much, but thankfully they've still got twisty downhills, too!
4AGE AE86 Drift
Check out this Initial D-inspired 4AGE getting thrown around on a track in Italy.
Keiichi Tsuchiya Initial D AE86
A match made in heaven - the Drift King, Keiichi Tsuchiya gets behind the wheel of a Takumi-styled AE86, before showing how it's meant to be driven at the track.
A Modern-Day Homage
Toyota recently paid homage to the almighty Initial D AE86 with their brand new 2024 GR 86 Trueno Edition.
Initial D AE86 Soapbox Race
We'll end our guide with this hilarious Initial D soapbox race; this AE86 doesn't seem to handle QUITE as well as we remembered!
If you're looking for more Initial D-related content, make sure you check out our in-depth guide to all of the characters in the series.
So, there we have it! We hope that we've covered everything you could want to know about Takumi's AE86 in this guide.
Thank you for reading our Initial D AE86 guide.
If you enjoyed this article, please share it with the buttons at the bottom of your screen. If you've found this information useful, then please take a moment to share it with other drifting, anime, AE86, and JDM enthusiasts. We appreciate your support.
---
Photography credits
We thank the following entities for the use of their photography in this article: