Forza Motorsport 7 Vs Forza Horizon 4
Forza Motorsport 7 vs Forza Horizon 4 – Both games in Forza's hugely-popular racing franchise target entirely different markets. In this guide, we will help you choose which suits you the best.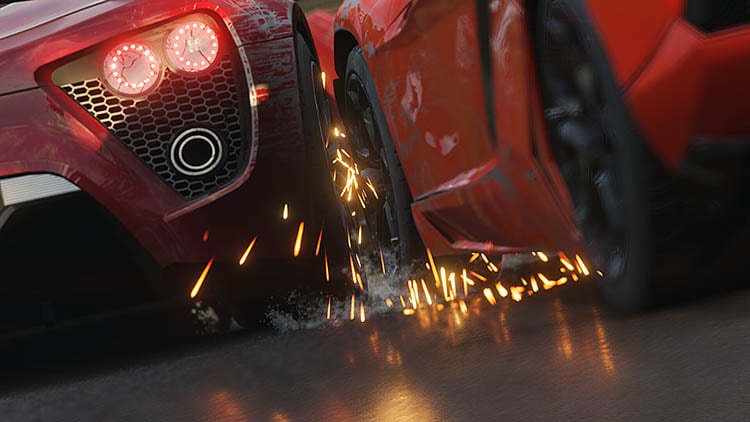 ---
Introduction
Since you've found your way here, we're going to guess that you're not entirely new to the Forza series and probably know the fundamental differences between Forza Motorsport and Horizon.
However, if you're coming from the likes of other racing games, such as Gran Turismo or Project CARS, it may all feel a little confusing.
Since they both fall under Xbox Games Studios' immensely-popular Forza franchise, you may be thinking that these games must be near-identical, but that's far from the reality.
Forza Horizon 4 typically appeals to the younger generation arcade-style racer fanbase. It offers an exciting open-world adventure across the stunning British countryside.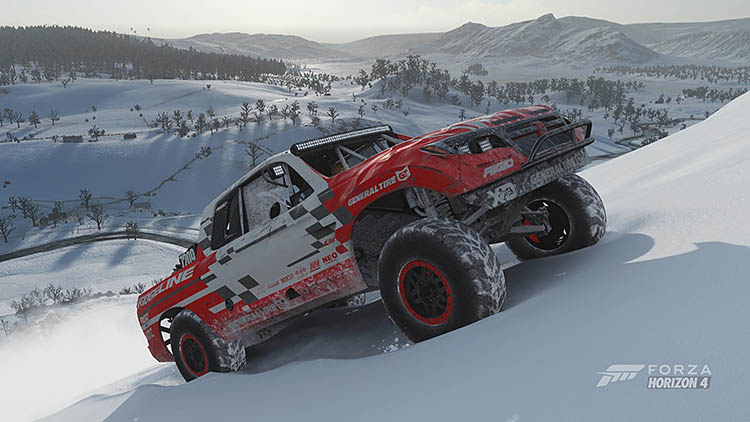 This open-world game aspect allows you to free-roam the streets to your heart's content, shredding your tires on (or off) the B-roads as you desperately attempt to avoid hitting the traffic and other obstacles on your street-drifting adventures.
Whether you want to drift, fly over jumps, hit the dirt roads, or test your rallying ability, Horizon 4 has it all.
Forza Motorsport 7, on the other hand, is a straighter-faced racing simulator that makes you strap on your helmet firmly before handing you the keys to some of the worlds' most prestigious race cars and circuits.
Although this may potentially sound boring in comparison to the open-world carnage of Horizon, we can assure you that's not the case.
FM7 isn't the most hardcore racer out there. It provides a great introduction to sim racing with a splash of the arcade-style feel added into the mix.
It mixes the seriousness of track-racing with a platform that's easy to get to grips with, which allows FM7 to be the perfect opportunity to begin refining your lap times.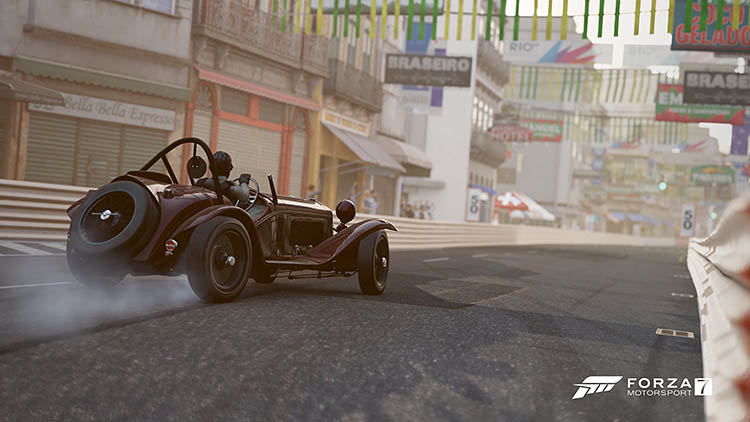 Do I Need A Sim Racing Setup?
Unlike some sim-racing games, where a wheel and pedal racing-sim setup would be vital, both FM7 and FH4 have been perfectly-adapted for controller gaming.
We'd go as far as to say they're the ultimate PC/console racing for enjoying on a controller.
If you're serious about your racing, then a wheel setup will always help, but it's not an essential addition, which makes them a great entry prospect for those of you on a budget.
One of the Forza series' main appeals over its rivals is the sheer amount of tuning and modifying you'll be able to carry out on just about any car in the game.
There's no secret that we love tuning here at Drifted, and we can spend hours thoroughly enjoying the potential engine swaps and aspiration upgrades right the way through to suspension and aftermarket wheels.
Once you've got the perfect upgrades, you can fine-tune every aspect of your favorite rides beyond imagination.
From gear ratios to every suspension tweak you can think of, Forza has it all in a convenient and finely-refined package.
Although both games received some harsh receptions from fans upon release with various bugs and issues, both Turn 10 and Playground Games have released countless updates along the way.
Over time, this has made for two perfectly-polished games, which have become the perfect choice for Xbox and PC gamers.
In this guide, we're going to put the two games head-to-head to discover their differences, which may understandably be leaving you stuck with which one you want to check out first.
Forza Motorsport 7 vs Forza Horizon 4 – Content
When it comes to content, this is one of the key differences which distinguish the two games, as they're hugely different in this regard.
Think of Horizon 4 (And all other Forza Horizon games) as a 'sandbox' style game, where you're given the choice of competing in the various game modes or being left to free-roam and cruise the stunning scenes of historic Britain and its countryside.
It's this aspect that provides the opportunity to head off-road in your self-created drift layout, or rally course, to do just about any antics imaginable behind the wheel of a car.
If you opt to participate in the in-game activities, there's a wide array of options to choose from.
Whether you're looking to compete against other street racers, head to the drift zones, set the highest speed on the 'speed traps' (speed cameras, to you and I), or participate in the story mode, Horizon has a wide variety of choices to keep you entertained.
If you're impatient when it comes to grinding the cash and finding your favorite cars, make sure you check out our Horizon 4 cheats and money glitch guides!
We've even exposed the in-game barn find locations, which will help you find some rare classic cars.
Horizon 4 also features seasons for the first time, and since Britain is known for its harsh winters, you'll get to experience the ever-changing conditions each week in the game.
Open-World vs Tracks
Although there's no shortage of things to do in Horizon 4, it can sometimes get a little overwhelming and complicated when figuring out what you want to do next to advance in the game.
The map may be the smallest in the Horizon series yet, (since the previous game was set in Australia, that should come as no surprise), FH4 still provides plenty to do within a smaller region.
When it comes to content in Forza Motorsport 7, it's an entirely different scenario.
There's a vast selection of exact and detailed real-world tracks, alongside a variety of fantastic fantasy offerings.
Aimed more at progressing your way through a career or racing online, FM7 provides a more significant challenge, but one that we feel is far more rewarding once you've got to grips with the game.
Vehicles
While Horizon 4 has an incredible list of over 724 vehicles, FM7 somehow manages to blow this out of the water with 830 cars.
Both games are pretty impressive compared to the 334 that PlayStation provides with Gran Turismo Sport!
Weirdly, after early controversy, Toyota is still not featured in FM7 but can be found in FH4, despite Toyota's odd reasoning.
For the hardcore sim racers, you'll soon notice that not only does FM7 feature a larger variety of vehicles, but they're far superior when it comes to the driving aspect, too.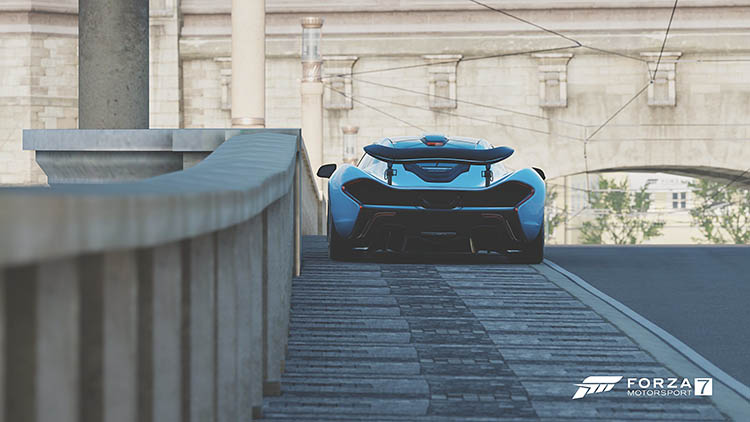 The FH4 cars have a more arcade-like touch for mass-appeal, and this leaves most of the vehicles in the game handling similarly, where each vehicle has its unique vibes and quirks in FM7.
From open-wheeled F1 racers to NASCAR, GT cars, and Indy cars, there's a massive selection to go through in FM7.
You even get the opportunity to drive trophy trucks on a, erm, flat circuit. Yeah, we don't get it either!
Playability
Although this may come as somewhat of a surprise – we've found the playability of FM7 more addictive than FH4, which is partly down to the 'Career' mode, 'Rival' events, 'Leagues', and superior 'Multiplayer' lobbies.
There's an endless list of production cars, and they feel so much more defined than they do in FH4, which is perfect for the true motoring enthusiast.
Whether you want to get behind the wheel of a 1930's race car, or an F1 car, FM7 has it all, and there's a great selection of short-track to endurance events to enjoy them on.
When it comes to comparing the two, content-wise, Forza Motorsport 7 is a far closer match for Project CARS 2.
Forza Motorsport 7 vs Forza Horizon 4 – Physics
When it comes to physics, FM7 will be far better suited to the more serious gamers and automotive enthusiasts. At the same time, Forza Horizon 4 will be ideal for those looking for pure entertainment.
We're not saying that FH4 is for kids to enjoy, but the younger generation is undoubtedly the target market here.
At the same time, Playground Games haven't gone all-out with creating a Need For Speed-style arcade game, and you won't merely be able to bounce off the walls and win the race.
However, FH4 lacks the 'realistic' element that FM7 provides, where each car has its unique challenges and difficulties, and you'll need to take time to learn and mastering each one.
Whether you're looking for a racing/drifting simulator or an arcade-style game may well be the deciding factor between the two games.
If you're lucky enough to own both and opt to switch between the two at some point, you're likely to realize just how different they feel.
Forza Motorsport 7 vs Forza Horizon 4 – Graphics
Visually, both games are stunning.
Although the car models are slightly superior in FH4, we wouldn't let this be a deciding factor when deciding which game will be best suited for your needs.
Both games are capable of 4K, 60FPS gameplay, and if you've got a capable PC, we can assure you it looks incredible.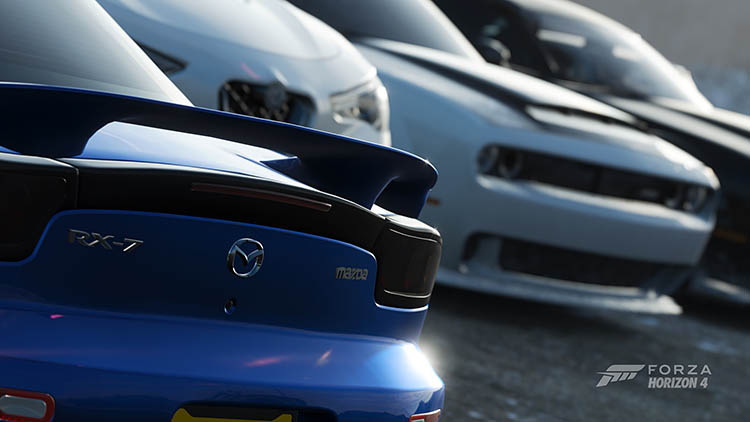 Although VR isn't fully supported in either game, our Forza Horizon 4 VR guide will help make the most of the potential for those with a VR headset.
If you're considering upgrading your PC to get the most out of either game, we highly recommend checking out our gaming GPU guide.
Forza Motorsport 7 vs Forza Horizon 4 – Online
When it comes to playing both games online, we've typically preferred the experience that FM7 has to offer.
With a wide variety of different races on offer, from competitive to casual, the highly-refined online experience from FM7 makes even large multiplayer lobbies a joy to play – assuming the other racers behave themselves!
There are also several options to choose from when it comes to drifting in the game, which works on a point-based system, where you earn points for speed, angle, and style.
While this is great for refining your skills, it's the open lobbies we enjoy most, where points become pretty much irrelevant, and it's all about drift trains and tandems with the homies.
Our limited online experience with FH4 found that it appealed to a more immature audience, where you were likely to get rammed into every three seconds out on the shared open world until you inevitably smashed into a large-trunked tree and the chances of victory dashed.
Don't get us wrong, FH4 is enjoyable and entertaining online, but we'll take FM7's drift trains any day!
Forza Motorsport 7 vs Forza Horizon 4 – Drifting
Forza Horizon 4 is incredibly enjoyable for drifting. Thanks to the arcade-style gameplay, it's not only easier but also provides more variety with the ability to throw down lines anywhere you can imagine on the map
With the ability to carry out 'streeto' drifting as the British traffic goes about their daily lives, it'll be sure to keep you entertained for quite some time.
We've provided several guides on how you can get the most out of your FH4 drifting experience and refine your skills to perfection.
We recommend starting with our how to drift guide, before choosing your perfect drift car.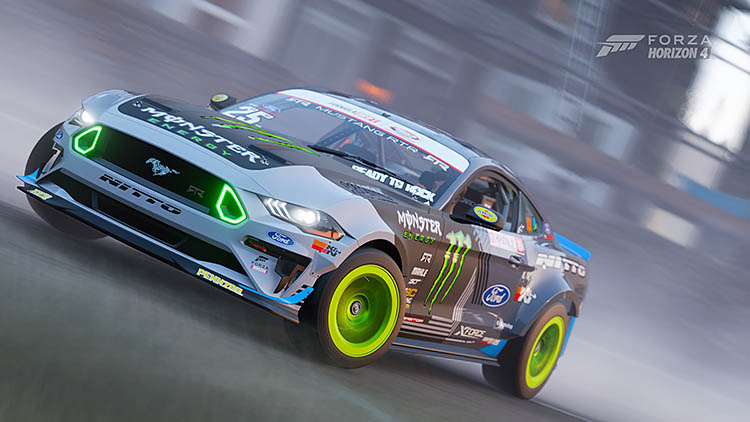 From there, feel free to take a look at our base drift tune before checking out the various engine swaps, and learning how to tune your car to match your needs.
Although FH4 is awesome fun for drifting, the points-based scoring system and online tandem/drift train opportunities that FM7 provides have improved long-term playability when it comes to drifting, in our opinion.
Despite being more challenging to get to grips with initially, once you've got the hang of drifting in FM7, it's a gratifying experience that'll repeatedly keep you coming back for more.
Forza Motorsport 7 vs Forza Horizon 4 – Racing
There's no question that FH4 provides a much wider variety when it comes to racing since you'll be dealing with the varied surfaces and terrain that comes with the open-world driving experience.
We find that it's a 'brains-off' racer, where you don't need to put much thought into what you're doing, which is great for those lazy evenings where you want to have some entertainment.
Although this can be fun, and there's certainly a time and a place for it, as motorsport enthusiasts, we find the initial excitement gets a little stale quickly, especially with various cars having a similar feel.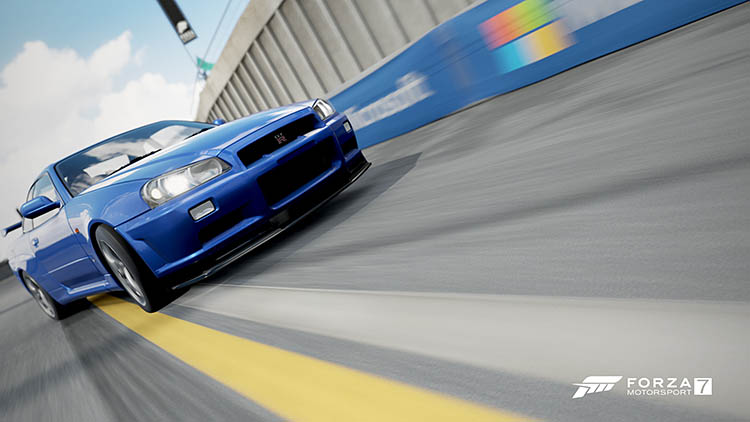 When it comes to the gritty, serious racing aspect, it'll probably come as no surprise that FM7 will provide a much more realistic racing experience.
Whether you prefer arcade racing mayhem or the feel of learning to adapt to various cars and motorsport disciplines on real-world race tracks will decide which game will be best suited to your tastes.
If you're looking to master racing in Forza Horizon 4, make sure you check out the fastest cars, and fastest drag cars in the game, to launch your way to the top of the leaderboards.
Forza Motorsport 7 & Forza Horizon 4 – What's Next?
In the past, both games in the Forza franchise would release in alternate years, ensuring fans got their fix on an annual basis.
However, Forza Horizon 5 was the most recent game in the line-up, and that launched way back in 2021, which has understandably left fans a little surprised that there's not been a new FM version since.
One of the primary considerations for this is Microsoft's next-gen console launch, the Xbox Series X.
As you can probably imagine, things aren't too simple when it comes to the launch of a new console, and although it seemed logical to have a Forza title as a day-one release, that, unfortunately, didn't happen.
But, fear not, as a brand new Forza Motorsport game is right around the corner, set to release in the latter part of 2023!
As you may have noticed, this surprisingly isn't titled Forza Motorsport 8, but goes back to the game's original roots with it returning as 'Forza Motorsport'.
Naming theories have led to many rumors that a significant change should be expected from this version, with many hoping for a substantial revamp to revolutionize the series.
What better opportunity to do so than with the brand-new console?
Despite Microsoft remaining tight-lipped about Forza Motorsport, it's great to have confirmation that a new game is imminent, even if we're yet to hear more about Forza Horizon 6 just yet. The latest rumors put the release date well into 2024.
Either way, we've got no doubt that FH6 news will soon start to flow after the FM release, and we cannot wait to see what the next generation of both games has to offer.
Final Thoughts
When it comes to comparing the two games, the cars, customization, graphics, and audio are mostly equal, and we wouldn't let these become a deciding factor.
They've also both had an extensive list of bug-fixes throughout their life-span, enabling them to provide a flawless experience, which many complained about previously.
Another thing that we like about both games is that they're both enjoyable for all ages. You don't need to be an experienced sim racer to pick up the controller and soon get to grips with either game, even if Forza Motorsport will require more of a learning curve in the process.
As controller-friendly racers, we feel that both games sit above two of their rivals, Assetto Corsa and Project CARS 2.
However, if we were looking for a serious racer to enjoy on the steering wheel, we would be checking out either of the above, and Assetto Corsa will undoubtedly make for the ultimate drifting simulator with a proper setup.
With that said, Forza Motorsport 7 can still be a serious racing game, and you're likely to learn a lot from the setups, tunes, and races. However, we'd see it more of an entry to the likes of serious sims, such as Assetto, than a direct rival.
When it comes to a hard day at work, where you want to kick back on the couch with a controller rather than cramming into your racing sim, both FH4 and FM7 will be perfect.
Forza Motorsport 7 vs Forza Horizon 4 – Conclusion
If you decide you want to get a little more serious and finally beat your buddy's lap time that they've been boasting about for months, you can still do so with FM7.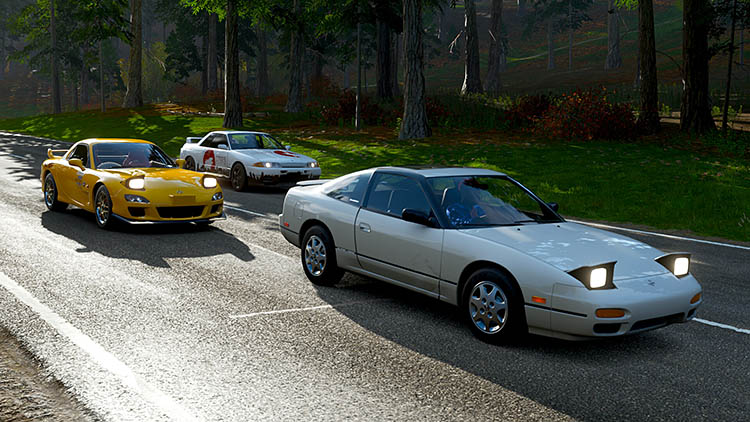 With FH4, you can free-roam the open-world of paved roads, dirt roads, and off-road and enjoy smashing your way through the British countryside. For this, FH4 is the perfect brains-off racer where you want to chill and have light-hearted fun.
So, to put it simply – if you're looking for a free-roam arcade racer, look no further than Forza Horizon 4.
If you want a semi-serious racing simulator best enjoyed on a controller with a minimal investment that features some of the ultimate tracks from around the world, be sure to check out what Forza Motorsport 7 has to offer.
Now that they're no longer the latest games on the market, you can often pick them up impressively cheap or 'free' on Xbox Game Pass.
For this reason, we've opted to own both games, and although we find ourselves enjoying the playability of FM7 more, we still find ourselves reaching for FH4 from time to time.
So, there we have it! We hope that we've covered everything you could want to know about Forza 7 vs Horizon 4 in this guide.
On the other hand, if you want to learn more about FH4's successor – the highly reviewed Forza Horizon 5, check out our Rarest Cars, Fast Travel, Drag Cars, Best off-road vehicles, and Widebody Kit articles on the game.
Thank you for reading our Forza 7 vs Horizon 4 guide.
If you enjoyed this article, please share it with the buttons at the bottom of your screen. If you've found this information useful, then please take a moment to share it with other Forza and racing game enthusiasts. We appreciate your support.
Photography credits
We thank the following entities for the use of their photography in this article:
We also have a more elaborate comparison between Forza Motorsport vs Horizon, go check it out!