Ultimate WORK Meister Wheel Guide
Looking to cop arguably the freshest wheels on the market? Or just browsing for some wheel porn? We've got you covered! This is this ultimate Work Meister guide.
One of the biggest names in the history of automotive wheels, Takeshi Tanaka, founded Work Wheels in 1977 in the motherland – Japan.
Tanaka-San's theory behind the name was "If you work hard, anything can be achieved. For example, if you want to make money, you have to work hard. That's why I chose the name 'Work' for the company."
To this day, despite the sad passing of Tanaka-San in 2015, Work as continued to thrive from his legacy whilst remaining at the forefront of providing stylish safe and quality wheels with the company's impeccable consistency to car enthusiasts across the world.
Enjoy this great video from 'JDM Concept' as they give us a unique behind-the-scenes insight into the inpsiring creation of these incredible wheels.
Equip were the company's first ever product line, and over 40 years later, they are still producing those ever-popular wheels today, mostly for period-correct vehicles.
However, since then, the company has evolved with modern-day styling and Meister's are now undoubtedly one of Work's most sought-after offerings.
The Meister brand was born from the concept of a sports wheel with a racing pedigree for use on both the street and the track, it was also Tanaka-San's personal favorite. The name was inspired by the DTM (Deutsche Tourenwagen Meisterschaft) German Touring Car Championship, which was immensely popular in Germany at the time.
There's no doubt that Work are best known for their industry-leading 2-piece and 3-piece options which so many tuners love, allowing them near-infinite possibilities when it comes to building custom rims to their exact sizing and specifications.
When you think of the 'Meister' range, S1 probably immediately springs to mind, but there are actually six style choices within the Meister range alongside the S1, namely – M1, M1R, CR01, S1R, and L1.
With the trend for super-wide body kits, such as the RWB Porsche, being stronger than ever, Work have a huge range of options for tailoring your Meister wheels to your exact specifications.
That way, you have the perfect wheels to fit your car with the ultimate style and fitment to match. No dodgy 10″ spacers here!
With sizes ranging from 7J all the way up to a mind-blowing 16J, there really is something for everyone.
Just make sure you do your research to ensure you have the perfect measurements. Needless to say – ordering the wrong sizes can end up being a costly mistake!
What makes Work Wheels so ridiculously good?
When companies boast about having 'forged' wheels, this often only applies to the center section of the wheel.
Having a forged center with unforged rim barrels becomes pretty pointless, therefore Work opted for a low-pressure cast center disk and a thicker forged barrel to give them the strength advantage over their competition.
Instead of a hollowed barrel design which is frequently seen on cheaper wheels, Work integrate a full material rim edge which makes them a far superior design. For this reason, they are far more likely to bend instead of breaking like the cheaper options are notoriously known for.
2-piece or 3-piece Meisters?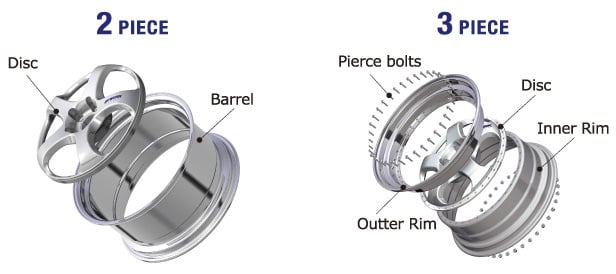 2-piece Meister's feature a solid disk face welded to a barrel, should you be unfortunate enough to damage the wheel, you are able to separate the two and just replace the part necessary.
3-piece are generally the best choice for a multi-piece wheel. It is, of course, a 3-layer construction, consisting of the disk face connecting to both the inner and outer rim barrel and held together with bolts.
All three parts are completely customizable to build the perfect rim, and should you damage a single part (i.e the outer lip), that is hopefully the only part which will need replacing.
---
Show me the Meisters!
We've explained exactly which fitment you will need below this section, so if you're unsure then make sure you check this before purchasing!
Our comment: This is the legendary Work Meister S1 3-piece wheel, quite possibly the holy grail of JDM wheels!
---
Our comment: For those of you with smaller cars that want the holy grail JDM wheel, this 15″ offering could well suit your needs.
---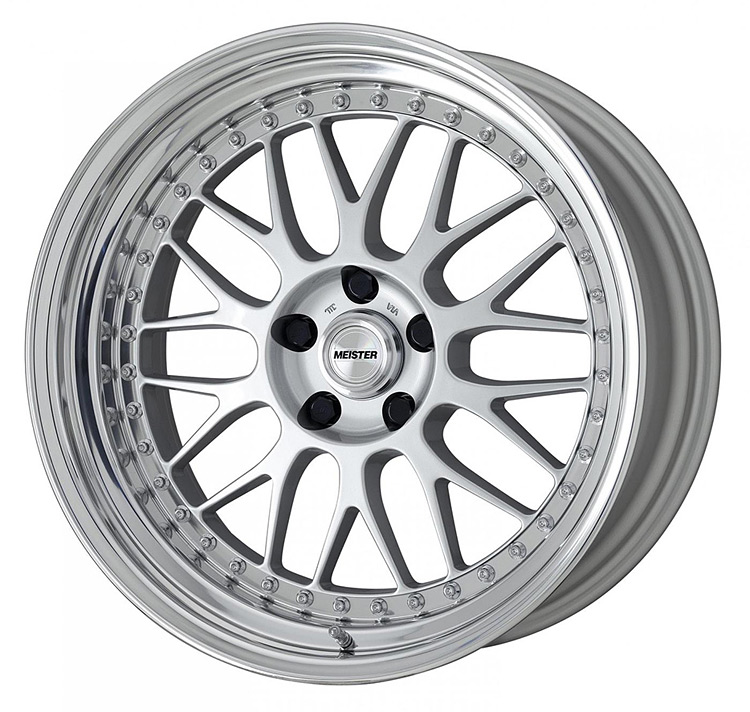 Our comment: This is one of the latest releases in the Meister series and it incorporates a clean mesh design into a 3-piece wheel.
---
Our comment: This is one of the latest releases in the Meister series and it incorporates a clean mesh design into a 2-piece wheel.
---
Our comment: The Work CR01 range pays homage to the past with this retro alternative for the perfect nostalgic look.
---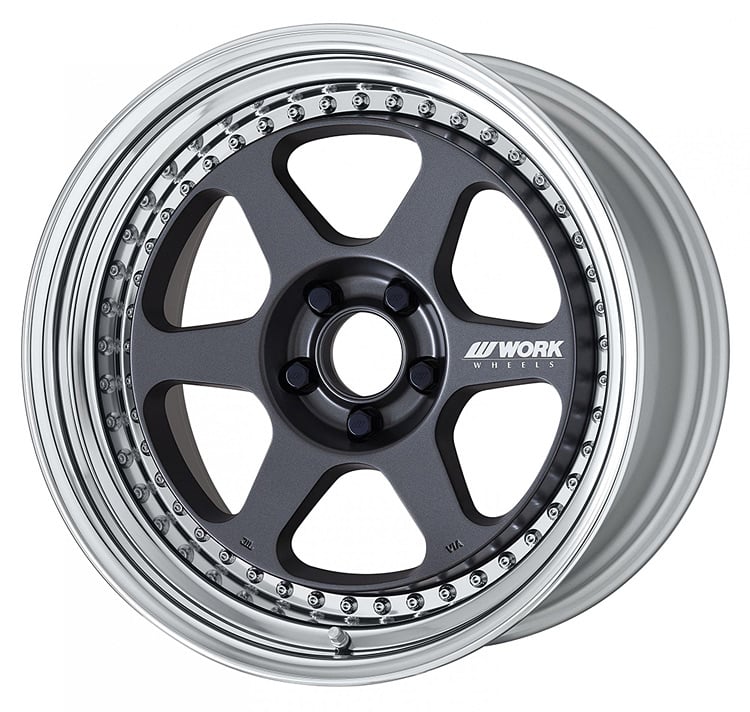 Our comment: The Meister L1 is one of the rarer choices in the Meister lineup, but still looks incredible. If you fancy something different, these are a great choice.
---
Our comment: The Meister S1R is the modern 2-piece update to the legendary S1.
---
Need help choosing the perfect fitment for your Meisters?
After you've chosen your ideal style, you'll want to choose your wheel diameter. This is entirely based on the car that you own and what kind of style you're looking for.
We highly recommend a Google search for your car with various sizes to see what is best for your needs.
PCD (wheel pattern) is set by your manufacturer (assuming it hasn't been modified) and is the distance between each wheel stud. For example, 5-stud Japanese cars would often be 5×114.3. Make sure you check this as it's hugely important.
Width is of course how wide the wheel is and 'J' refers to inches.
You'll need to make sure that your car has enough clearance for the coilover when deciding both the width and the offset. You'll also want to consider tires at this point to ensure wheel arch clearance.
Offset, or 'ET' is one of the more complex aspects for those that aren't familiar. If you have an offset of 0, the center disk will be sat in the center of the width of the wheel. Whether you go negative or positive from the center, this is a millimeter measurement in either direction.
In this case, the negative offset would push the disk further into the wheel, a -10 offset would shift the disk 10mm further in, creating more dish. +10 would move 10mm outwards from the centre, therefore creating less dish.
As well as looks, you will want to consider your width/offset choice to ensure you have enough clearance for brake disks, especially on those with upgrades.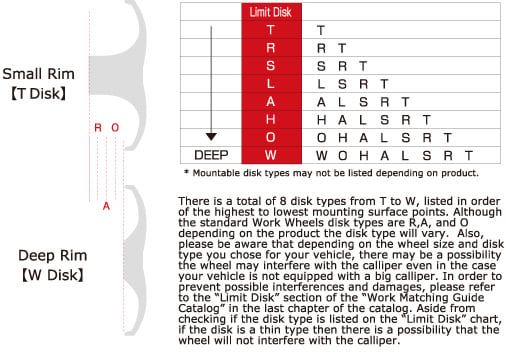 For additional style and brake caliper clearance, Work offers a crazy eight different variations of disks to suit your needs, ranging from T to W. T would have the most substantial concave, whilst W would be the flattest.
'R', 'A' and 'O' are the most common choices available for general use.
Don't forget that part of the beauty of choosing Work Meisters is that you can have a different fitment at the front and rear of the car!
Additional Meister porn!
We hope you've enjoyed our guide to choosing the ultimate Work Meister's for your car. We highly recommend that you take a look at these videos before you go!
If you liked the Cayman above, you're going to love this video!
There's a huge range of colours on offer from Work. Their latest being 'Asterism', check it out here if you're after something unique.
Sit down and pay tribute to the legend that is Tanaka-San in this fascinating interview.

Photography credits
We thank the following entities for use of their photography in this article: