The Cars In The Fast And The Furious: Tokyo Drift
Whether you love it or hate it, Tokyo Drift quite possibly played THE most significant role in bringing drifting to the public eye, and today we're going to look back at the movie's most memorable cars.
---
Introduction
During its launch in 2001, The Fast and the Furious caused quite a stir in Hollywood. With a budget of just $38 million, it would become the 386th highest-grossing movie of all time in the US and Canada, scooping $206 million in Worldwide box office earnings.
The series gave the general public a greater understanding of the car tuning scene, potentially even accepting what we know and love a little more.
It undoubtedly also converted some of your average Joe into lifelong car enthusiasts.
Before the movies, tuners were often seen as annoying kids with stupid cars and loud exhausts that posed a constant danger to the general public – Mustang drivers; we're looking at you! (Sorry, not sorry!)
As far-fetched and off-topic as the storylines sometimes became, it helped bridge a gap between petrolheads and the general public in some strange "accepting it because it's Hollywood-esque" way.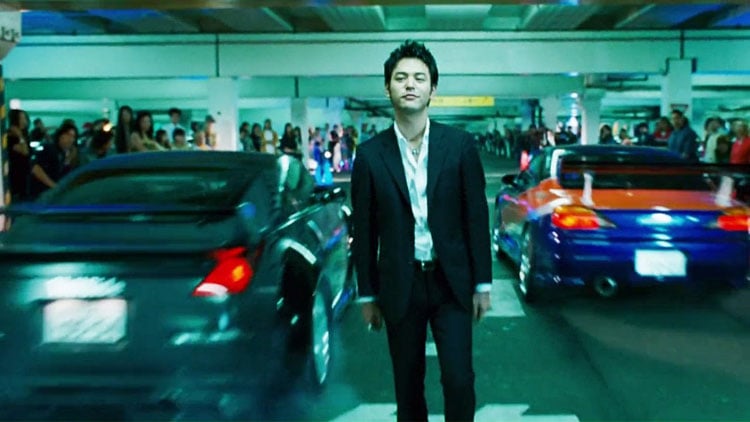 When '2 Fast 2 Furious' joined the line-up in 2003, they proved that there was a substantial amount of interest in the series, but up until then, the movies hadn't been overly focused on the drifting aspect.
For the third movie in 2006, that all changed. Fast and Furious: Tokyo Drift was born.
With drifting having a massive following in the United States, there's no doubt that the popularity of Formula Drift would've played a prominent role. Still, the popularity of drifting in Japan, popular games like Drift Hunters and Madalin Stunt Cars 3, and the JDM tuning scene would've contributed.
This was also screenwriter Chris Morgan's attempt to revive the series primarily for petrolhead enthusiasts. It would be the first film in the series to start its tradition of shooting in exotic locations – and where better than Tokyo?
Undoubtedly the birthplace of drifting, and arguably, still the home of the most impressive drifters and cars on the planet.
Adding some of the biggest names in drifting on board, such as the Drift King Keiichi Tsuchiya, they created a drift-orientated Hollywood blockbuster for the first time.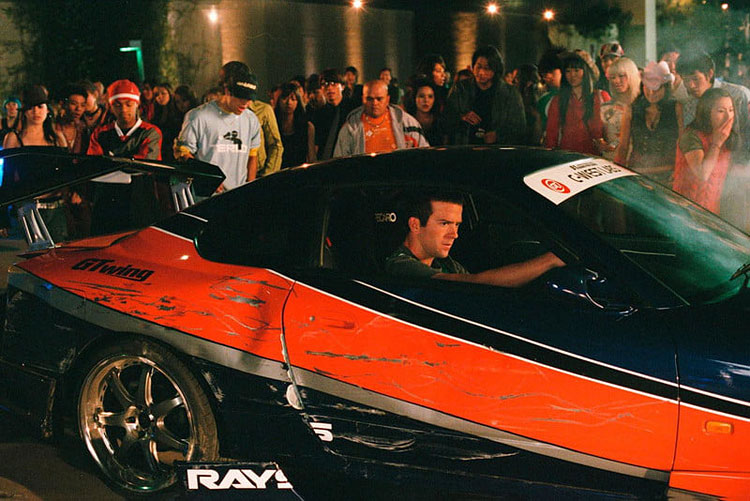 Not only would Tsuchiya offer his expertise, but it would also include stunt driver appearances and technical input from the likes of U.S. drifting legends Rhys Millen, Samuel Hubinette, Tanner Foust, Rich Rutherford, Calvin Wan, and Alex Pfeiffer.
After the movie's release, some enthusiasts would argue that the movie didn't capture the essence of the spirit drifting, but let's be honest, there's no shortage of facepalm moments throughout the entire Fast and Furious series…
It's not perfect, but we still love it, and it always keeps us returning for more!
The Fast and the Furious series series has become Universal's biggest franchise of all time, and the eighth-highest grossing film series ever.
Us enthusiasts aren't the only people enjoying it either, as the Fast and the Furious series has become Universal's biggest franchise of all time and the eighth-highest-grossing film series ever.
As of April 2023, the nine Fast and the Furious movies have generated over $6 billion worldwide gross revenue.
It doesn't stop there, either. The series will continue on May 19, 2023, with the launch of Fast X, despite the devastating loss of the main character, Paul Walker.
Given the popularity of the series, it was later turned into a Live show, where fans could witness the action first-hand. We popped along for the ride in our Fast & Furious Live review.
The Fast and the Furious: Tokyo Drift featured many cars, from JDM legends to muscle car classics.
Over 200 cars were used for the Tokyo Drift movie alone and shipped worldwide.
If you're wondering how they required that many cars, there were eleven Nissan 350zs, which were shipped in directly from Japan because they required right-hand drive cars, given that it was based in Tokyo.
Three would later be sacrificed for the greater good, written off in crash scenes.
On top of that, they also purchased ten Mitsubishi Lancer Evolution IXs, most of which were converted to rear-wheel drive for their participation in the drifting scenes.
Almost all the cars had to be purchased second-hand since they were out of production then. This included the likes of Nissan Silvia's, Mazda RX7, and even Toyota Chasers.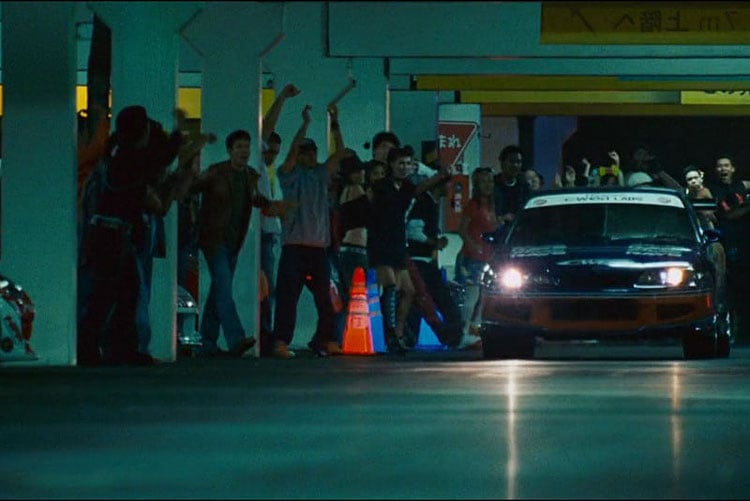 Despite the Hollywood budget, many cars were purchased from the used market due to ceasing production, yet they still spent over $7 million on cars for use in the film alone.
As you can imagine, a vast amount of that budget would've been used for modifying each car to ensure that they were ideal for their role in the movie, sometimes even using entirely different chassis', which we discussed in-depth in our Paul Walker Skyline article.
We're sure you're here as you want to take a look back at some of the crazy cars which were made for the Tokyo Drift movie and also to find out a little more about them. You've visited the perfect place.
Let's take an in-depth look at our favorite cars from the movie!
---
FAQ
What are the most popular Tokyo Drift cars?
Some of the most memorable cars from the Tokyo Drift movie were "Mona Lisa," a JDM Nissan Silvia S15, the Nissan 350Z (Fairlady Z33) driven by D.K., and the Veilside Mazda RX-7. One of the few non-JDM cars was the 1967 Ford Mustang, but even that was powered by the JDM Nissan Skyline RB26 engine!
What was Hans car in Tokyo Drift?
Han's car was arguably one of the most memorable in the Tokyo Drift movie – a widebody VeilSide Fortune-kitted Mazda RX-7 FD with Andrews EVO-V wheels. We cover the complete list of aftermarket upgrades included on the car above.
What car does DK drive in Tokyo Drift?
In the movie, Takashi (also known as Drift King, or D.K.) was best known for his widebody Nissan 350Z (a JDM Fairlady Z33). Han's Z looks fantastic with the Ver. 3 widebody body kit from VeilSide, along with VeilSide Andrew Evolution V Series wheels. DK's car undoubtedly helped the 350Z become one of the most sought-after JDM drift cars.
---
2001 Nissan Silvia S15 Spec-S – "Mona Lisa"
We'll start the list with one of the most familiar cars in the Fast & Furious franchise – the Mona Lisa. Despite not getting much screen time, the car earned a colossal following from the movie.
Interesting fact – two of the staff members here at Drifted own S15's, so it's only right that an S15 topped our list!
Despite the C-West styling and somewhat 'unique' color scheme not quite being to our tastes, there's no doubt that it's an iconic car of the series, and it certainly gave S15s a significant worldwide following.
Han mentioned that Mona Lisa was his favorite car before handing over the keys to his associate Sean Boswell as he went head-to-head against D.K. in a car park race. Despite having a lesson in drifting before the race begins, Sean soon crashes the car into the pillars of the underground parking lot.
Following Han's passing in the movie, Reiko later re-discovers the damaged Mona Lisa when Han's team is looking for spares to fix up Sean's father's 1967 Ford Mustang Fastback in his race against Takashi.
Modifications
The original car used for the movie was a Spec-S S15, which meant it had the naturally aspirated SR20DE engine under the hood. This is common for drift cars in real life, too.
Since the value of the SR20DET-powered S15 is priced much higher, the non-turbo Spec-S model is a much more affordable candidate for an engine swap.
That was also the case with the Spec-S in the movie, which featured a straight-six RB26 Skyline GT-R engine.
Notable styling modifications on the car's exterior alongside the C-West DRFT kit were the C-West GT (BGW) rear wing and Ganador wing mirrors.
We caught glimpses of Recaro seats with Takata harnesses for the interior, which would be a common choice in Japan.
Additional modifications included a Sparco steering wheel alongside Auto Meter gauges, an aluminum instrument cluster, a custom roll cage, and the signature NOS bottle.
They didn't hold back with the wheels, opting for genuine Volk Racing grey GT-7 rims, which were 19 x 8.5″ on the front and 19 x 9.5″ on the rear. These were wrapped in Toyo Proxes T1R, 235/35/ZR19 fronts, and 255/30/ZR19 rears.
If you've ever dreamed of owning the Mona Lisa S15, you can make your dreams come true!
This Hot Wheels model of the real thing will make the perfect gift for any Nissan Silvia fan.
If you're keen to get behind the wheel and try the Mona Lisa S15, you can enjoy it in many of your favorite VR racing games.
Check out this video of well-known YouTuber Goosiest shredding tires in the parking lot in CarX Drift Racing.

---
2003 Nissan Fairlady Z (Z33) – D.K.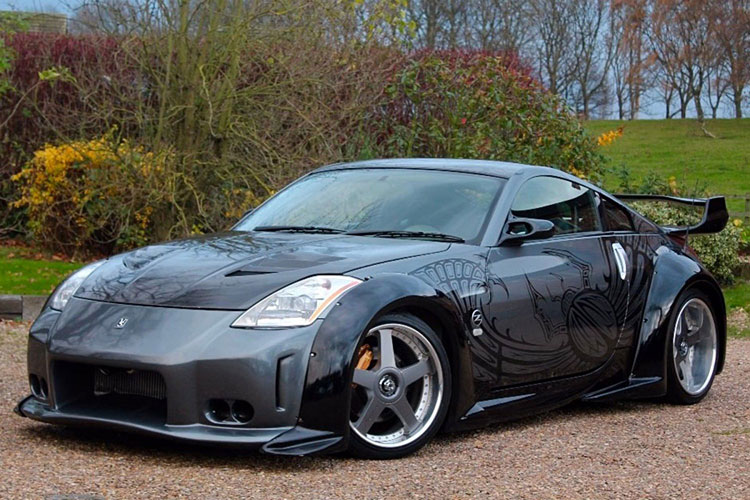 Takashi, also known as Drift King (or D.K.), shows off his Nissan Fairlady Z, the Japanese model of the Nissan 350z, for the first time in the race against Mona Lisa, where Mona Lisa gets destroyed, and D.K. takes the win.
The next time the car is seen is when D.K. confronts Sean, warning him to stay away from Neela. Takashi, who has Yakuza ties in the movie, later chases Han for money issues and Sean for stealing Neela.
The car eventually ends in the movie when D.K. races Sean down Suicide Mountain to decide who stays in Tokyo. In a typically suspenseful F&F race, D.K. is in the lead before he takes the Z33 over a cliff edge, landing on the car's roof.
It's easy to see how they got through eleven of them!
Modifications
In our minds, this is undoubtedly one of the best-looking F&F cars so far. VeilSide body kits are generally known for being somewhat excessive, but the Ver. 3 widebody aero suits the Z33 well and is surprisingly subtle, especially with the chosen color scheme. They've also fitted a VeilSide carbon fiber hood and Ganador wing mirrors.
For the engine, they opted to keep the VQ35DE, but it includes a twin-turbocharger kit from Australian tuners APS, with Magnaflow providing the twin-exhaust setup. This was rumored to provide around 460 horsepower at the wheels.
RS*R lowering springs improved the stance, removing the gap between the car and the VeilSide Andrew Evolution Vs wheels. These were 19 x 9 fronts and dishy 19 x 11 rears with Toyo Proxes TR1R 245/35ZR19 and 285/30ZR19 tires.
For the interior, they opted for Sparco seats, harnesses, and steering wheel alongside a custom cage. Again, this surprisingly subtle set-up kept the car simple and realistic.
Suppose you're looking to get your very own D.K. Nissan 350Z, then this 1:24 scale die-cast model will make the perfect addition to your collection.
---
1997 Mazda RX-7
Han certainly wasn't short of money, and his selection of cars proved one of which was this incredible VeilSide Fortune kitted RX-7.
After Sean Boswell totals Han's favorite car, Mona Lisa, he opts to get behind the wheel of the RX-7 instead.
When D.K. confronts Han, he flees in the RX-7 before a street race through downtown Tokyo and the Shibuya District breaks out.
D.K. ends up (somewhat ridiculously) driving backward in front of Han, firing into the windshield of the RX-7. Han then bumps him out of the way and drives away when Deckard Shaw T-bones him.
Following this, the car lands on its roof and explodes into a massive ball of flames, writing off the RX-7 and killing Han.
Modifications
This RX-7 was built by VeilSide themselves for the 2005 Tokyo Auto Salon. Universal then purchased it and changed the original red/burgundy color scheme for the movie.
The VeilSide Fortune kit is scarce and one of the most sought-after body kits out there, completely transforming the looks and lines of the RX-7 yet still managing to look surprisingly impressive.
Besides the front glass, the Fortune kit changes every panel on the car, including the roof!
This is an insanely wide kit, and it's almost a foot wider than the original car, with 5-6″ added on each side.
VeilSide opted for their Andrews EVO-V wheels, but these aren't your typical sizes due to the insane width of this thing. Despite 9″ wheels fitting up front, they needed a whopping 12″ to fill out the rear fenders.
Behind the wheels are the huge Rotora brakes and four-piston calipers. A'PEXi N1 coilovers were installed to eliminate the arch gap.
Despite completely revamping the car, VeilSide didn't stop there with the modifications. Under the hood is the original Rotary engine, but with an upgraded HKS T04Z turbocharger strapped to it, cooled by an HKS intercooler, with the gases fired out of a VeilSide titanium exhaust. Tasty.
The interior also had many changes, including a high-spec Alpine audio setup and VeilSide D1 race seats. It's also got an 8-inch dash screen in case you want to watch the car in the movies while sitting in the car… I guess?
Although the car was totaled in the movie, this appears to have been CGI, as we've been told that the original car is still doing the rounds these days and looking as impressive as ever.
If you're interested in getting your version of Han's Mazda RX-7, then you're in luck as there are RC drift car and die-cast options available.
Strapped for cash but you still want to brap the limiter in an RX-7? Then pick one of our awesome drift games and take your own FD3S out for a spin!
---
1967 Ford Mustang Fastback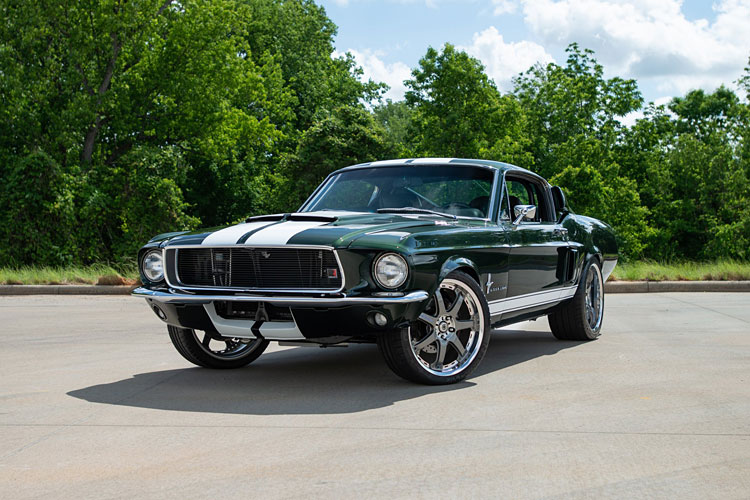 This is the first non-JDM car on our list, but fear not if you're not already aware, it has a pleasant surprise under the hood!
This fastback was owned by Major Boswell (Sean's father), who initially found it on an army base.
Sean awoke one day to find his Dad working on the car, which was in serious disrepair.
When Sean challenges D.K. to a race, Sean and his friends get to work restoring the car, eventually taking the RB26 from Han's totaled S15.
After completing the restorations, Sean uses the car to race D.K. down the mountain, where he's never been beaten. After several near-death moments, D.K. sends his Nissan 350z over the cliff edge before crashing the car onto its roof in front of Sean at the bottom of the mountain.
Modifications
There was certainly no shortage of RB26s in these movies, and the Mustang would be no exception!
It took two months to install the Nissan GT-R RB26 engine with a 5-speed manual transmission into the Mustang bay, rumored to be around 500 hp and a 0-60 time of 6.7 seconds.
The engine choice was certainly a decision that triggered the Mustang AND JDM purists. Sorry to say chime in on a controversial subject, but we kinda like it!
For the transmission, a 5-speed 1998 Skyline GT-S gearbox was used and bolted to a Currie Enterprises 9-inch Ford rear end, keeping the required rear-wheel drive drifting layout.
Global West provided control arms and springs, with KYB providing shocks.
They opted for JDM styling with the wheels (uh-oh, I can hear triggered purists again), fitting a set of 19-inch Volk GT-7s, which are 9″ fronts and 10″ rears and wrapped In 245/35ZR19 and 275/35ZR19 Toyo Proxes T1R's.
Behind the wheels lies an impressive 4-piston Wilwood brake kit, which provides more than enough braking force.
There's nothing much to write home about on the interior; some subtle styling changes have been mostly kept basic and stock.
Two duplicate Mustangs were apparently built for the movie, and apparently, every Mustang they used during filming managed to avoid being destroyed and were later sold at auction.
Let's face it, the chances of most of us owning a '67 Fastback anytime soon are pretty slim, but thankfully Hot Wheels once again have you covered with this Limited Edition die-cast model.
---
2004 Mazda RX-8
Neela's RX-8 didn't make many appearances in the movie, but one of the main scenes it was involved in was something of a die-hard tuner's wet dream (sorry, but it's true!)
As the stunning Neela confidently and calmly drifts her way up the touge, expressing her love for drifting while, in perfect tandem with her street crew, she explains her history with the mountain to Sean.
This car is also seen near the movie's end, where Dominic Toretto and Sean Boswell go head-to-head.
Modifications
It's a surprise to see that a 'chick car' in a franchise like this not being too ridiculous, but despite the Veilside D1-GT body kit being a little over-the-top, it's not too bad and even features a Team Burst-style fade in blue to black, it's just missing the stickers. Well, and a bit of style.
It also has other VeilSide extras, such as a painted carbon fiber hood and a GT wing.
Under the hood, the 1.3 13B Rotary engine added a GReddy turbo kit, an aftermarket engine management system, and a Tanabe exhaust.
Suspension mods included Tein coil springs, a Cusco rear sway bar, and a Cusco LSD for even rear-wheel power distribution.
Volk Racing GT-AV 19″ rims were wrapped in 245/35/ZR19 and 255/30/ZR19 Toyo Proxes.
Popular JDM modifications, Takata harnesses, and a Nardi steering wheel were on the inside.
---
2006 Mitsubishi Lancer Evolution IX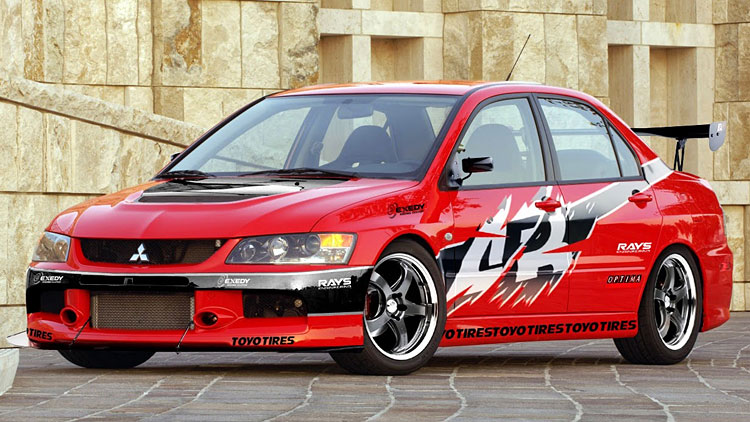 Further proof that Han wasn't short of money was when he handed Sean Boswell a brand-new Evo IX after he wrote off Mona Lisa during a race against D.K.
Sean would use the RWD Evo IX to hone his drifting skills, which he soon picked up and mastered, winning every race he competed in, even beating Morimoto, a D.K. business partner.
After attempting to escape D.K. through the streets of Tokyo, the Evo was the next car to be crashed by Sean Boswell before Han is T-boned in the RX-7.
Modifications
Rhys Millen's team got to work on this Evo, converting it to RWD specifically to make it drift in a typical way for the movie. This is surprisingly simple in an Evo and requires disconnecting the front differential.
RMR (Rhys Millen Racing) made subtle changes to the 2-liter turbocharged 4G63 engine, such as an RMR air intake and downpipe, but nothing drastic.
An APR body kit, rear wing, and side mirrors were fitted for the added style, and Rays once again came through with the goods, opting for 19″ G-Games 99B's, which are 8.5″ wide, once again wrapped in Toyo Proxes T1R's.
The stock Recaro seats are kept alongside the JDM Takata harnesses and a Sparco quick-release steering wheel.
---
2002 Nissan Fairlady Z (Z33) – Morimoto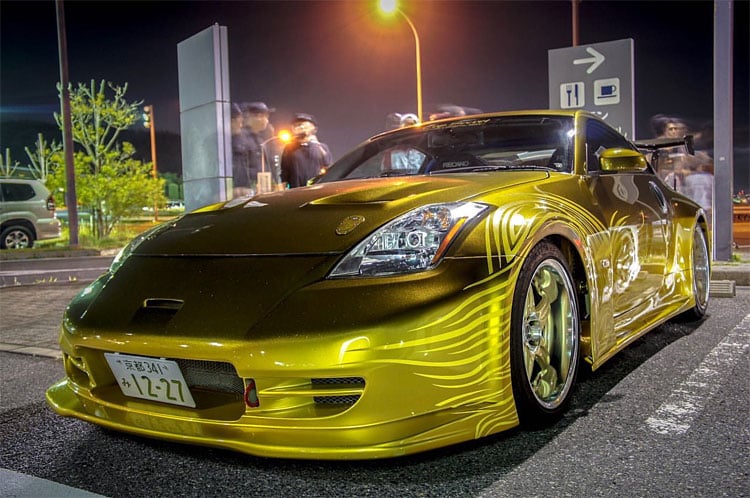 D.K.'s sidekick, Morimoto's Nissan 350z, is seen for the first time as he goes up against Sean in his brand-new Evo IX in the parking garage and subsequently loses the race.
The car reappears when D.K. and Morimoto chase Han, Neela, and Sean. Morimoto hits Sean's Evo on the driver's side before Sean pushes him into the oncoming traffic, where he fails to avoid a head-on crash and becomes the latest victim of the F&F death toll on the streets of Shibuya.
Modifications
This was reported to be completely stock mechanically, and the upgrades were purely cosmetic changes to make it look more impressive.
These included a Top Secret G-Force widebody kit, which makes it 2″ wider on each side.
A Top Secret FRP hood and a carbon fiber rear wing are alongside that.
Volk GT-Cs are the rim of choice, with 18 x 9″ fronts and 18 x 10″ rears. Once again, they're wrapped in Toyo T1Rs (you're probably getting the hang of that bit by now!)
This car has a rather nice interior with stylish Recaro fixed-back bucket seats.
There's also a NOS bottle, but it appears it's purely there for show. After all, which F&F car would be complete without a big blue NOS bottle?!
---
1971 Chevrolet Monte Carlo
This 1971 Monte Carlo was once again owned by Sean Boswell (he sure does get to drive a wide variety of cars, right?).
After insulting douchebag Clay's knowledge of his Dodge Viper SRT-10, Sean receives a baseball bat through the rear window of his Monte Carlo. They go head-to-head, which isn't a huge surprise, but this time, they're racing to win Clay's girlfriend, Cindy.
Sean keeps up with Clay's Viper after navigating through a construction site. He's forced to drive through a partially built house (as you do) before catching up with Clay. Sean then takes the lead, and Clay decides to ram his shiny Dodge Viper into Sean repeatedly after being wound up by Cindy, eventually forcing both cars off the road.
Clay then gets into a nasty crash with a concrete cylinder as he and Cindy meet their demise, and Sean wins the race. When crossing the finish line, he loses control of the Monte Carlo before flipping several times, and that too joins the list of destroyed cars.
Sean is then arrested and informed that the Monte Carlo has been crushed.
Nine stunt cars were used, with eleven cars overall, for the 1971 Monte Carlo scenes in the movie.
Modifications
Despite not being a drift car, the Monte Carlo had a pretty extensive list of modifications!
According to the crew responsible for the cars, two out of nine of the Monte Carlo's had a 560 hp 509 engine block.
For the leading cars, it was even more impressive. It may have looked ready for the scrapheap, but don't let the appearance fool you; these were built for drag racing and featured an 800 hp engine under the Fiberglass Trends hood.
The Bill Mitchell-built 632 cubic inch block provides a ridiculous 10.3 liters of displacement, utilizing eight cylinders to fire 800 hp.
With fancy carburetors, fuel cells, NOS, and a colossal spec list of supporting mods, this is the true definition of a sleeper.
A Richmond T-10 4-speed transmission shifts through the gears as the KYB shocks and Global West control arms, springs, and weight jacks plates enable it to go around corners, while Goodyear Eagle slicks (I know, different tires, right?!) keep it firmly gripped to the ground.
The remaining seven cars were either stuck with small-block V8s or had no engine.
It might not be a drift car, but it's something different!
you can once again get your hands on a miniature version of the real thing with this Hot Wheels die-cast model.
---
Conclusion
If you're like us, you most probably have the urge to go back and watch Tokyo Drift all over again now!
At least you can approach the cars with more knowledge and perhaps respect, knowing that some of them feature some rather impressive upgrades and modifications.
In our Paul Walker article, which we highly recommend checking out, we reveal some somewhat awkward modifications of what can be done behind the scenes in Hollywood.
Warning, R34 or JDM purists will want to look away now!
We know that The Fast and the Furious: Tokyo Drift isn't the perfect movie for hardcore drift fans, but we're grateful for its appeal to your 'average Joe' in bringing drifting to the mainstream.
With some of the biggest names in drifting involved with the project, they certainly gave it a reasonable effort!
Are you looking to add good racing movies to your watchlist? Check out our ultimate NASCAR movie list here.
Photography credits
Drifted would like to extend thanks to the following sources for the use of their images: