Ultimate Sleeper Cars Guide
Nothing beats pulling up at the lights in your beater before shaming the guy in the fancy ride with his date riding shotgun. We checkout the best sleeper cars.
---
Introduction
We often get asked what qualifies as a 'sleeper car', and although you'll often get varied opinions, I think we can all agree that the 19" chrome rims and neon underbody glow on your buddy's stock Civic won't quite qualify.
In our opinion, sleeper cars either look factory or close to OEM specification, but with a ridiculous amount of power to match.
With some sleepers, you may even wish to 'downgrade' the looks. If it left the factory with a sportier bodykit, why not replace it with your model's poverty-spec trim for the perfect disguise?
Although the ultimate way to achieve sleeper potential is via some cleverly disguised upgrades, there are plenty of cars that rolled out of the factory as a wolf in sheep's clothing, which is what we'll be focusing on in this guide.
Many cars on the market, both past, and present provide unsuspecting amounts of power with an utterly unassuming exterior, which is hopefully a better match to your Grandma's grocery getter than what lies under the hood.
With older sleepers, it's common to make the car look naturally neglected or degraded, and the 'care-free' look to the tired bodywork adds to the essence of sleeper cars.
With some obvious exceptions, most sleeper cars aren't the kind of ride we'd expect you to be out polishing every weekend.
After all, you've got more important things to do, like kicking ass at the lights.
Where 'ricers' will likely focus on "all show and no go," sleeper cars flip that right around, instead opting for "all go and no show".
Don't make the mistake of thinking that you'll be leaving all tuner cars standing, though.
After all, pulling up next to a sleeper Civic with an unsuspecting 2JZ engine swap will most likely leave you with your tail between your legs!
---
The Best Sleeper Cars
In this guide, we won't be looking at the full-blown blatantly high-powered OEM cars since you'll be able to tell a mile off what you're getting yourself in for.
We're opting for the best discreet, subtle, unsuspecting choices out there, and we'll be exploring the cheapest budget offerings, right the way through to some of the modern-day choices for those who still appreciate the luxuries they have to offer.
These are the cars that'll get you laughed at when you pull up at the lights signaling that you're ready.
But you're sure to get the last laugh once the lights change, perhaps even with the added flip of a finger or a cheery wave goodbye.
Without further ado, let's take a look at the best sleeper cars of all time in no particular order.
We're sure any of these will provide the opportunity to leave the local ricers in your dust, with some even offering the opportunities to bring six buddies along for a chuckle.
Chevrolet SS
Although our list isn't in any specific order, Chevrolet's SS has to be up there with the best sleepers of all time.
Crammed into a package that looks no different to your average family highway cruiser, the sleeper sedan SS cleverly disguises its 6.2-liter LS3 engine under the hood, throwing out 415-horsepower in stock form.
This power gets put to the ground with an option of a six-speed manual, or automatic transmission, enabling you to shift from 0-60 in 4.5 seconds and throw you a quarter of a mile in just 12.9 seconds.
If that's not quick enough, then take a look at the Lingenfelter variant, which is boosted by a supercharger, providing a laughable 0-60 of 3.7 seconds and an 11.9-second quarter mile.
We dare you to tell us that the SS hasn't got you tempted!
Saab 9-2X Aero
Swedish manufacturer Saab is known for releasing a wide variety of sleepers over the years, but the 9-2X could quite possibly be the best package of them all.
The 9-2X was their first attempt at reaching out to the AWD market, and they had a trick up their sleeve.
If you're thinking, 'That looks strangely similar to a WRX', then there's a reason for that!
We present to you – the Saabaru.
It's not too commonly known, but GM owned Saab in the early 2000s. At the same time, they also owned 20% of Subaru.
With this collaboration, the 9-2X was born, featuring the much-loved 2.5L turbo boxer engine capable of 230 hp and 235 lb/ft torque.
With a choice of a four-speed auto or five-speed manual gearbox combined with a full-time AWD system, the 9-2X can make for the perfect winter sleeper.
Even with snow on the roads, we doubt this unique powerhouse wagon would struggle to get near its 6.0-second 0-60 and 14.5 quarter-mile times.
Jeep Grand Cherokee SRT
Although it takes a lot to impress us with modern-day SUVs, Jeep did so in style here.
It features a classy exterior, but it's still not too suspecting. I mean, you certainly wouldn't expect it to have a whopping 475 hp and 470 ft/lb torque under the hood.
Despite weighing in at 5,000 lbs, that doesn't stop it from leaping to 60mph in just 4.4 seconds before achieving an equally-impressive quarter-mile in 13 seconds flat.
GMC Syclone
You were waiting for it, weren't you? What sleeper list is complete without the Syclone?
Although you won't be surprising the car guys with this one, this throwback to the 90s reminds us that this 4.3-liter 14 PSI turbocharged V6 hits 60mph in under 5-seconds.
While 280 hp isn't too impressive by modern-day stats, the AWD system combined with 350 lb/ft torque pushed the pick-up to a 14.1-second quarter-mile and helped it become one of the most desirable sleepers of all time.
VW Phaeton
Although you're more likely to stumble across the Phaeton in Europe, it's far from popular anywhere in the world.
As you can probably imagine, its W12 engine didn't exactly make it the ideal choice to appeal to the masses.
However, let this present the perfect opportunity for those looking for a fantastic sleeper by getting your hands on this insane piece of German weaponry.
Not only will the 6-liter, 335 hp W12 powerplant provide a 0-60 of 5.5 seconds, with a quarter-mile of 15.4 seconds and a top speed of 155 mph, but this luxo-barge also provides premium comfort in the process.
Kia K900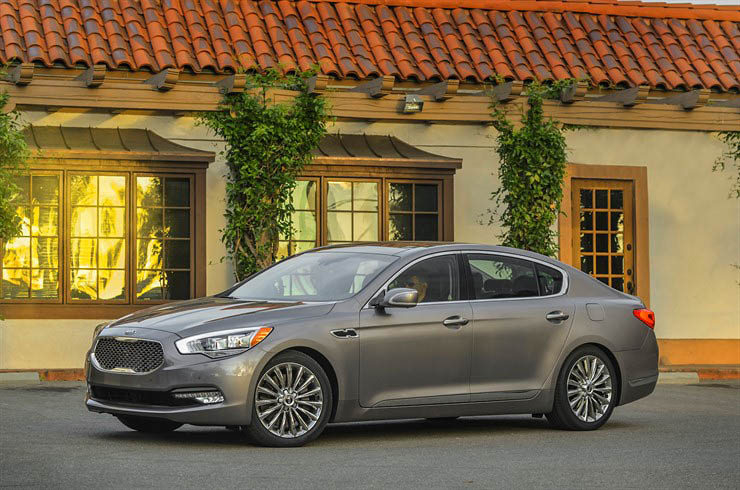 Once seen as a joke in the motoring world, Kia has been releasing some absolute weapons on the down-low in recent years.
If you've not been keeping up with the Korean manufacturers' latest moves, we highly recommend doing so.
Take a look at this model, for instance. You'd expect it to house a modest 120 hp, and eventually, it might manage to drag its sorry butt to 60mph.
Wrong.
The 2016 V8-powered sleeper has none other than the mighty V8 under the hood, casually pushing out 420 hp with 376 lb/ft torque and a 0-60 speed of 5.5 seconds and a quarter-mile of 13.9.
If you go for the 2019 V6, it gets even more impressive, with a 5.1 0-60 and a 13.7 quarter-mile.
With the recently-announced 2021 model, they're pushing that even further with a 3.3-liter turbocharged V6 and AWD drivetrain, providing a ridiculous 5-second flat 0-60 and 13.6-second quarter-mile.
We bet you didn't expect that!
Volvo V70 R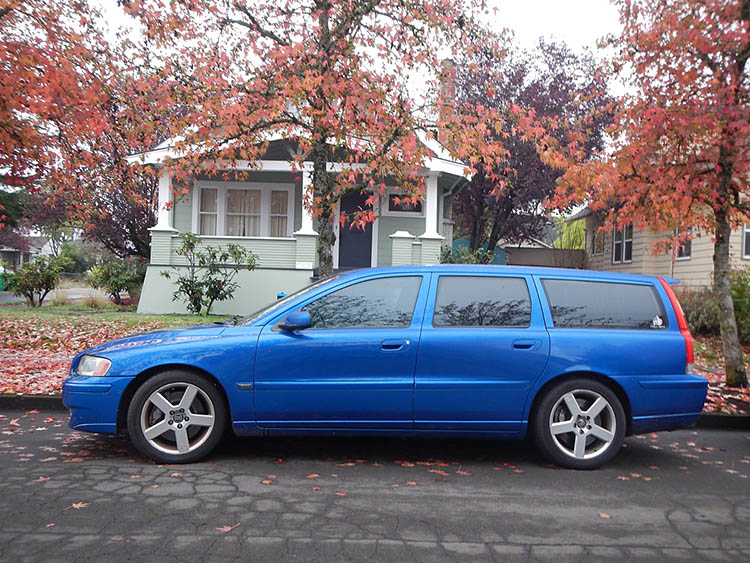 For many, the V70 R is the sleeper of all sleepers.
Despite looking arguably dull on the outside, it packs an incredible package underneath.
Its 20V, 2.5-liter turbocharged inline-five powerplant is capable of 296 hp alongside 295 ft/lb torque.
But not only that, it features an AWD drivetrain, along with electronic shock-valve control developed by Öhlins and Monroe for making it the perfect candidate for the twisties.
The best part of the V70 R? It'll enable you to bring six buddies along for the rider as you go ricer hunting.
With a 0-60 of 5.4-seconds and a limited top speed of 155 mph, it should come as no surprise that so many feel this is the ultimate sleeper.
Ford Taurus SHO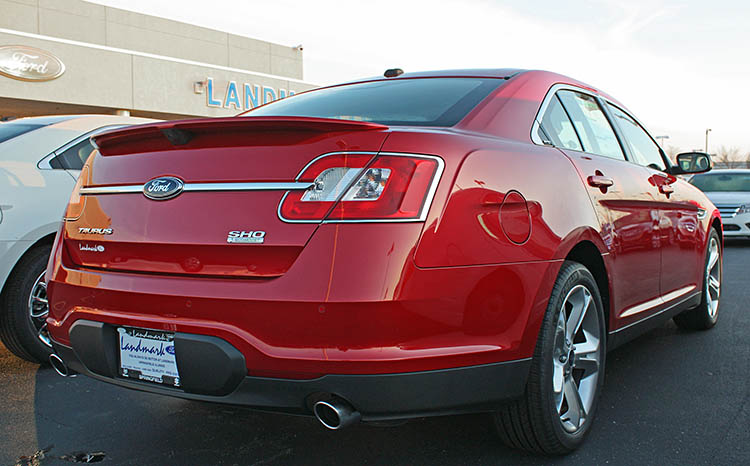 It's not often that Ford come out with sleepers, but they've continued to impress with the 'SHO' models over the years.
Referring to 'Super High Output', these limited-edition models are built on an AWD platform, weighing in at a whopping 4,358 lbs.
However, they figured out an ideal way to shift that weight with their modern 365 hp, 350 lb/ft torque twin-turbo EcoBoost V6 engine.
Besides an embossed "SHO" logo on the rear bumper, many of these models look almost identical to a stock, base-model Taurus.
The result of this epically disguised package, which looks perfect for a mom on the school run? 0-60 mph in 5.2 seconds, and a quarter-mile time of 13.7.
At least the kids would be at school on time, huh?
BMW 335i
BMW's 3-series came out with a choice of 335i (petrol) and 335d (diesel) variants for their E91/E92/E93 models, which were seriously impressive.
With a 5.1 second 0-60 and 14.4-second quarter-mile, the twin-turbocharged 335i is a serious contender for a far cheaper alternative to the M3.
We love the SE coupe model as a sleeper, which keeps an effortless design combined with the ultimate performance.
Not only are both variants fantastic in stock form, but some simple ECU tuning can unlock some insane power potential with stock internals at a ridiculously reasonable price.
Subaru Forester XT
On the exterior, the Forester is another dull-looking Crossover that you'd expect to see used as the stereotypical family wagon in the movies.
However, add the letters 'XT' onto the end, and you've got yourself an entirely different weapon.
Its 2.5-liter turbocharged four-cylinder boxer engine pushes out 210 horsepower for a 0-60 of 5.3-seconds, enabling it to beat a Porsche Boxter stood at the lights even keeping up with the Porsche Cayenne Turbo, which released in the same year.
There's nothing more satisfying than upsetting Porsche owners in your dull as hell crossover!
Many Subaru owners see the XT as the last of the real Subaru sleepers, making it extremely desirable in the used market.
If you know, you know!
Cadillac CTS-V Wagon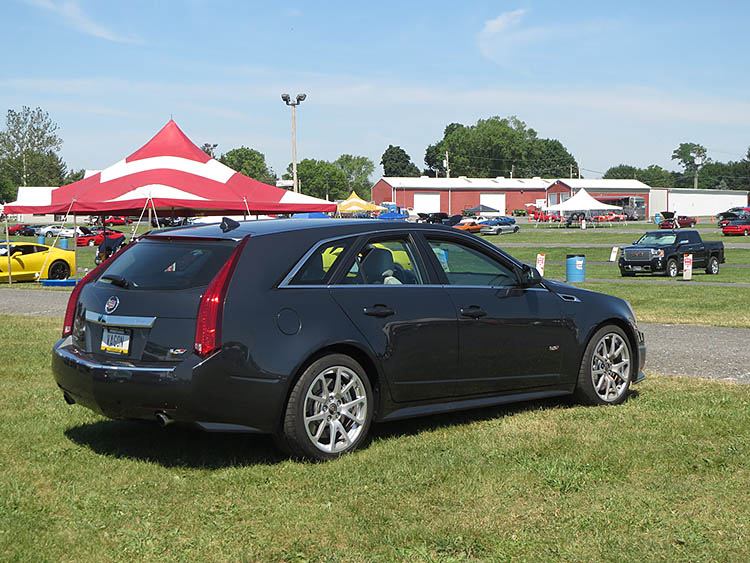 Although the CTS-V is nothing to get excited about on the outside, this certainly gets us excited when it comes to sleepers!
Weighing in at 4,450 lbs, it's certainly not the lightest car on our list, and you're probably thinking it's going to be far from the quickest, too.
In its purest form, the CTS-V performs a 0-60 launch in a laughable 3.9 seconds, which is capable of laughing off a Porsche 911 at the lights as you cruise to victory in your comfortable wagon.
After hitting 0-60 in no time at all, it continues to throw the power down before reaching the quarter-mile at 12.3-seconds, once again proving that this thing is completely bonkers.
How does this thing shift so damn fast? Well, that'll boil down to the 556 hp supercharged V8.
However, this wasn't enough. Cadillac has since topped that with a 6.2-liter, supercharged LT4 with an incredible 640 hp.
With a 200 mph top speed and a 0-60 in 3.6 seconds, it can be yours for just $87,000.
And, needless to say, that price tag is the reason we'd opt for the older version.
Pontiac GTO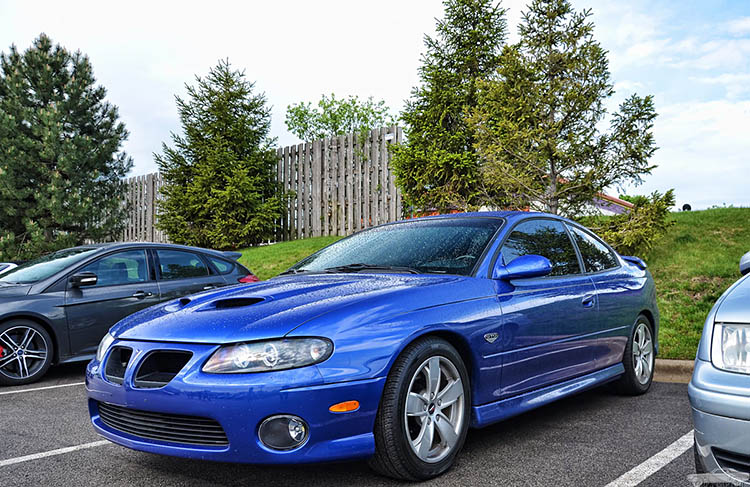 Known as the GTO in the US, the much-loved Holden Monaro in its much-loved Aussie homeland, and the Vauxhall Monaro in Europe, this is yet another impressive untamed beast.
The GTO often divides opinions when it comes to looks, and it's certainly unique, but either way, we feel it's quite unsuspecting.
If you're not a 'car guy', then chances are that you wouldn't expect to see an LS1 small-block Chevy V8 under the hood.
Recent-model GTO's can often be found for extremely reasonable value on the fun-to-cost ratio, and with 350-horsepower and 365 lb/ft sent to the rear wheels, they're epic fun for hooning.
When it comes to putting the power down, it's capable of 0-60 in 5.3 seconds, with a 13.6-second quarter mile and an eventual top speed of 159 mph.
Lotus Carlton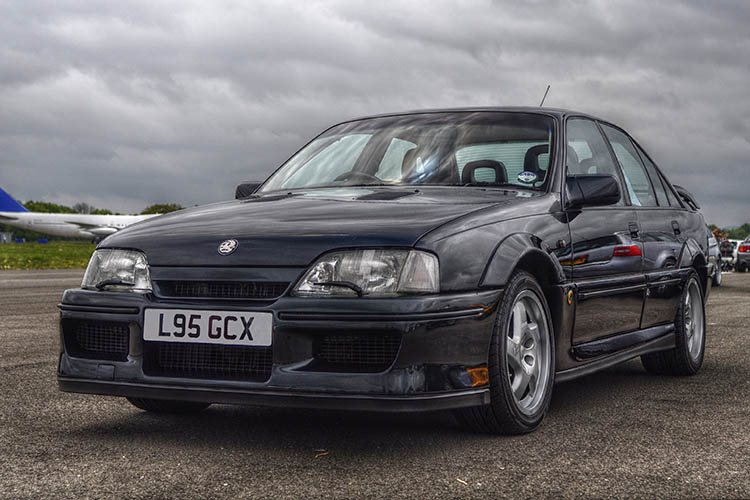 They're certainly not common in the US, but the old-school-cool Lotus Carlton is one of Europe's most desirable sleepers.
If you could sum up the English car scene of the 90s in a box (quite literally), then the Lotus Carlton is the penultimate package.
Lotus took the everyday family car, the Opel Omega/Vauxhall Carlton, put it on a diet of steroids, and then topped it off with more steroids.
Only 320 Lotus Carlton's were ever built, spanning between 1990 and 1992.
Its output of 377 hp and 491 lb/ft torque were almost unthinkable at the time, as was the 0-60 time of just 5.2 seconds.
Reaching 100 mph took just 11 seconds, and it managed to outpace both the Lamborghini Countach and the Ferrari Testarossa with its twin-turbo, straight-six engine, which provided a ridiculous top speed of 177.
Need we say more on why we've included this in our list? Man, we miss the craziness of the 90s era.
Toyota Rav4 V6 AWD
Despite there being many mediocre offerings of the Rav4 out there, the 2GR-FE-powered V6 offering caught the sleeper community's attention.
With the Camry's 3.5-liter V6 under the hood, it's capable of hitting 0-60 in 6.3 seconds, with a quarter-mile of under 15.
Toyota hasn't stopped there, either, and their 2021 Hybrid model will reach 0-60 in 5.4-seconds with a 14-second-flat quarter mile.
Mercedes S600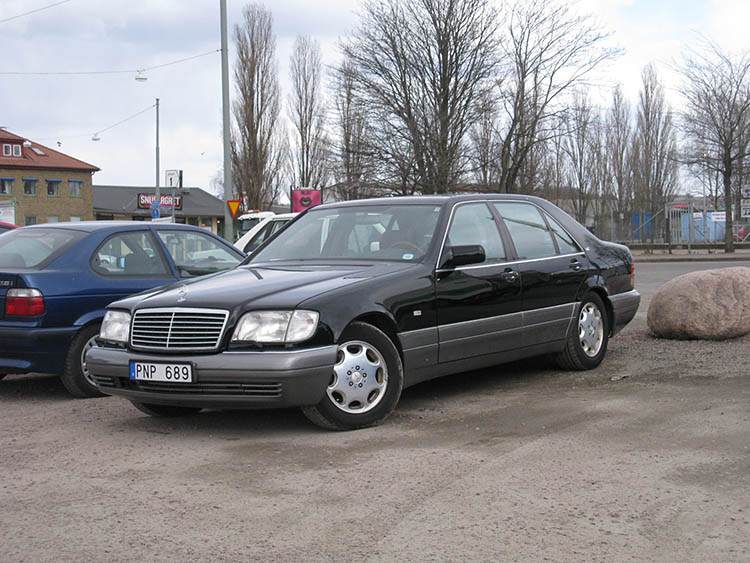 When you pull up to an S600 at the lights, you'll probably be thinking, 'Damn, that thing is baller', but you probably won't expect it to smoke you in the process.
In fact, the S600 was Michael Jordan's weapon of choice, which should confirm the baller suspicions.
Despite being around $125,000 when new, we've seen S600's pop up on the market for less than $15k. However, we'd be willing to bet that the annual maintenance costs would probably be about the same.
Don't be fooled by its 4,610 lb weight, as it's Biturbo V12 engine will catapult you to 60mph in 4.5 seconds, and not stop for breath before reaching the quarter-mile at 12.8 seconds.
If you're looking for the comfort of a La-Z-Boy on wheels, combined with supercar-destroying power, look no further.
Jaguar XJR
The Jaguar XJR resembles something that your Grandfather would've once dreamed of owning, but like many cars on our list, it can be purchased on the used-car market for a price-tag that some teenagers would be able to afford.
With the 2004 model reaching 60mph in 4.9 seconds with an eventual quarter-mile time of 13.4, they're certainly more impressive than one would expect.
Since then, they've gone to produce even more power, with the 2016 models setting an incredible 3.8-second 0-60 and a quarter-mile of 12-seconds-flat with 550 hp and 502lb/ft torque.
Next time you pull up next to an XJR at the lights, you may need to reconsider whether revving will be a good idea or an embarrassment!
Lexus LS400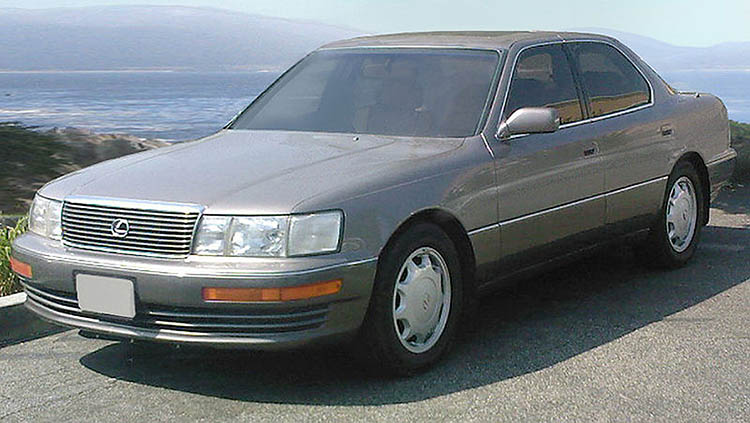 When the LS400 hit the market in the 90s, Toyota/Lexus wasn't messing about, and it proved to be a game-changer for the luxury car market.
The 90s were a hugely exciting era for the JDM scene, and Lexus built the LS400 to target the Mercedes S-Class directly, and Lexus' engineers went through a ridiculous nine hundred before finally releasing this gem to the market
This is one of the most refined, comfortable luxo-barges out there, and with some now clocking over a million miles, they're still immensely reliable despite being at the forefront of modern-technology upon release.
The LS400 is a true testament to Japanese engineering, and the final model to roll out of showrooms will provide you with supreme comfort for highway cruising, along with a 0-60 of 6.2 for causing an upset at the lights when you eventually come to a stop.
Mercedes-Benz E55 AMG
Okay, so the E55 AMG probably won't cause a surprise among too many car guys, but it's still subtle, and to some extent, unsuspecting, so we figured it deserved the final spot on our list.
When introduced, it was the world's fastest production sedan on the planet, with 469 hp and 516 lb/ft torque firing out of its epic supercharged 5.4-liter V8 powerplant.
They even released an even more unsuspecting Wagon variant, capable of outpacing a 911 Carrera S 0-60 and a Ferrari 612 on the quarter-mile.
Not only that, but it provided more cargo space than the Porsche Cayenne Turbo!
Although its $85k price-tag didn't make it quite so appealing to the masses, earlier models are fetching less than $10k in the current market.
What. A. Bargain!
---
Conclusion
There we have it! We hope that we've covered everything you could want to know about the best sleeper cars in this guide.
We've dug pretty deep into the memory bank to bring you our ultimate list of sleeper cars.
There's something for everyone in this guide, from luxo-barges to crossovers. We've even thrown some surprising SUVs into the mix.
At the same time, we've explored some of the options that you'll be able to walk into a showroom and purchase right now, or you can pick up on the used car market with a 90% discount on the RRP.
There are some incredible choices out there no matter what your budget, but if you're going for a high-performance car, then we do recommend speaking with owners clubs to find out the real costs of running some of these epic machines.
While some may leave you positively surprised, others may leave you considering a bank loan every time an issue arises, which could well be more frequent than you'd like.
We're sure that once you've carried out your research, you'll be able to pick up an absolute bargain, which will be ready for leaving the local ricers in your dust without needing to carry out a single upgrade.
If we've missed off your favorite sleepers in this guide, then drop us a line, and we'll check them out to see if we feel they're worthy of hanging with the greats.
Thank you for reading our Best Sleeper Cars guide.
If you enjoyed this article, please share it with the buttons at the bottom of your screen. If you've found this information useful, then please take a moment to share it with other motoring enthusiasts. We appreciate your support.
---
Photography credits
We thank the following entities for the use of their photography in this article: