7 Best Drift Cars For Beginners
We present the seven best drift cars for beginners. From Nissan to BMW, we'll show you the perfect platform to get started on your drifting adventure.
With so many potential platforms to choose from when picking your first drift car, getting the right car can be a challenge. We have written this guide to show you which cars we think are solid choices for a beginner's drift car.
Seven of the best drift cars for beginners
New to drifting? Check out our drifting tips for beginners.
---
Model year: 1992 – 1995
Engine displacement: 3 litres
Power output: 282 bhp
Drivetrain configuration: RWD
The BMW M3 is the mainstay drifting car for many countries around the world, this is especially true in Europe where the number E36 and E46 models on track even out-number the s-bodies. With solid German engineering underpinning every aspect of the car, high performing naturally aspirated engines and great looks it is no big surprise that this is a great drifting platform.
The E36 offered 3.0 litre straight six engines which ran through five speed manual transmissions and limited slip differentials. In European trim the engine produced 282 bhp as standard. E36 examples are plentiful and relatively cheap for the performance that they offer. This would be a good low cost entry into the drifting world.
Browse BMW E36 articles
---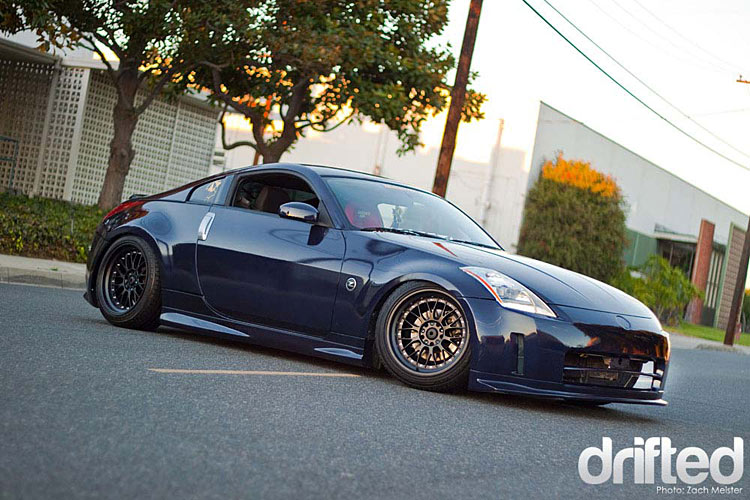 Model year: 2002 – 2009
Engine displacement: 3.5 litres
Power output: 287 bhp
Drivetrain configuration: RWD
The Nissan 350z was released in 2004 to rave reviews, this car was the latest in the 'Z' car lineage and carried many of the traits that made the cars before it a great success with sports car fans of the period. The 350z was built by Nissan in the classic sports car drivetrain configuration of front engine and rear wheel drive.
As standard the cars came with a bullet proof 3.5 litre V6 engine producing 287bhp at the flywheel which was put to the tarmac through a six speed manual transmission and a limited slip differential. These mechanical assets make the Nissan 350z a perfect beginners drift car; a potent and tough power plant mated with a manual gearbox and a limited slip differential ensure that as you learn the ropes and increase your drifting abilities this car should see you through until you feel ready to substantially increase your car's power level.
If you end up loving this platform there are forced induction options available for the V6 engine (depending on your budget) so the Nissan 350z could well be your perfect partner.
Browse Nissan 350z articles
---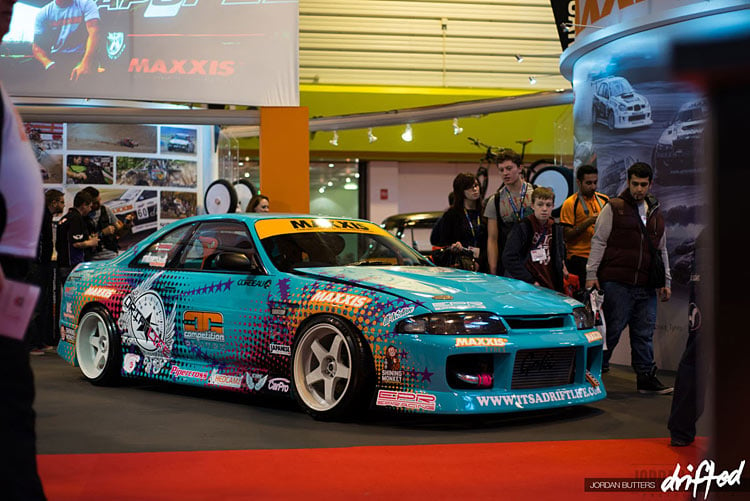 Model year: 1993 – 1998
Engine displacement: 2.5 litres
Power output: 280 bhp
Drivetrain configuration: RWD
The Nissan Skyline is a high performance sports coupe with a lineage going as far back and as equally impressive as the Nissan 'Z' cars. The model we have picked for this guide is the R33 GTS-T, this model was built between 1993 and 1998 and offers some great features for the aspiring drifter.
The R33 GTS-T uses a 2.5 litre straight six engine mated to an efficient turbo charger. The power is fed through a five speed manual transmission and into a limited slip differential. This engine package produced a healthy 280bhp from the factory and there is proven power potential of up to 400bhp with just bolt on modifications.
As standard there is plenty of power to hone your skills plus the potential is there if you want to up the power. There are many Skyline owner's clubs available to help you out if you want to do your own mechanical work or face problems, which is always a bonus. There is also very strong aftermarket support for the R33 so you can customise it to your heart's content. A good solid choice.
Browse Nissan Skyline articles
---
Model year: 1998 – 2005
Engine displacement: 1.8 litres
Power output: 140 bhp
Drivetrain configuration: RWD
The MX-5 is a classic Japanese take on the iconic drop-top Italian sports car concept. The original model was unveiled in 1989 and went on to become one of the best-selling sports cars ever. The NB designation refers to the second generation of the model, this version received many improvements over the original including a useful hike in power output.
We recommend the 1.8 litre option as the four-cylinder engine offers 140 bhp on tap, which is plenty for any drifter starting out. The car offers solid and reliable mechanicals throughout and is naturally aspirated. This means that improving the power output will be challenging without spending out on forced induction and the supporting modifications needed to run it.
Great aftermarket support and active enthusiast communities mean it should be a good platform to adopt. Prices are very reasonable. Please note: Drifted's own Dan H's MX-5 NA pictured, not an NB (sorry but I love Dan's car!).
Browse Mazda MX-5 articles
---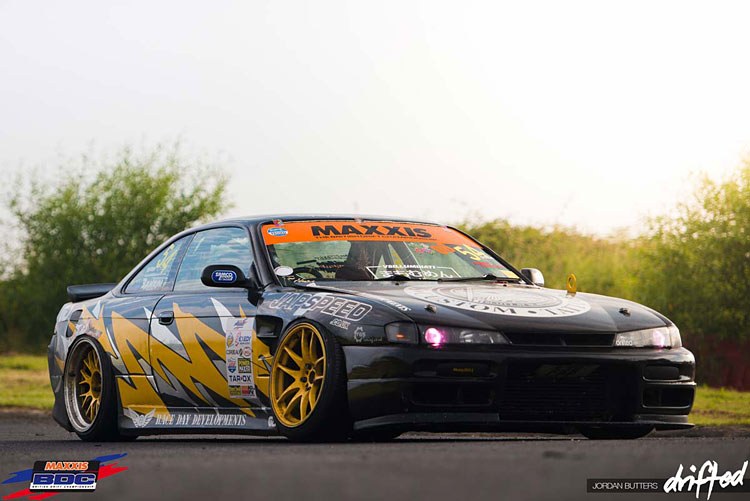 Model year: 1994 – 1998
Engine displacement: 2.4 litres
Power output: 155 bhp
Drivetrain configuration: RWD
No drift cars list could ever be complete without at least one generation of Nissan's 240sx being mentioned, this car (after the expensive AE86) is the recognised face of drifting with hundreds of the cars around the globe being used from grassroots to pro level competitions.
We have picked the S14 variant as there are plenty still available (the S13 is becoming rarer and more sought after thus more valuable), they offer a solid engine package and great looks. The 240sx S14 houses a 2.4 litre naturally aspirated engine that produces 155 bhp, this is fed into a five speed manual transmission and put onto the tarmac through a limited slip differential as standard. The lightweight chassis means you do not need a lot of power to get the 240sx loose at the rear end and the natural balance will help you learn faster than with many other cars.
The aftermarket support for this platform is huge so you can pick up a standard example, learn the ropes and this car can grow with you by introducing upgraded aftermarket parts – if you want it to. A great option for the drifting beginner, highly recommended.
Browse Nissan 240sx / 200sx articles
---
Model year: 2000 – 2006
Engine displacement: 3.2 litres
Power output: 343 bhp
Drivetrain configuration: RWD
The BMW M3 E46 was the more powerful and better looking younger brother of the E36. The engine performance was increased to an impressive 343 bhp out of the box. Everything that applies to the E36 above also applies to this car with the exception that they are on the higher end of the price range.
The E46 is a staple part of the drifting landscape with one powering Michael Essa to a Formula Drift win in recent years. If you can afford to stretch to an E46 M3 you will not be disappointed.
Browse BMW E46 articles
---
Model year: 1992 – 1996
Engine displacement: 2.5 litres
Power output: 280 bhp
Drivetrain configuration: RWD
The Toyota Mark II has been active in the drift scene in Japan and Asia since the early nineties however in the West these cars have been a rare sight on our roads. As these cars have gotten older and more affordable they are seeing their way across the ocean and are popping up on our shores in increasing numbers.
In most markets these cars are at a price point lower than the E46 M3 mentioned in this guide and they offer many benefits the beginner drifter would do well to consider. Packing a potent and highly tuneable straight six 2.5 litre 1JZ-GTE turbo charged engine the JZX-90 is not lacking for power or for tuning potential.
The transmission was a five speed manual and it featured a limited slip differential as standard. This big, luxury four door sedan offers an easy road into drifting with a well-balanced chassis and fast engine response. If you can get one in your country, this would be our pick of the bunch!
Browse Toyota Chaser articles
---
Can't wait to get started drifting? Try our free to play drifting games.
But where is the S13?
So the S13, arguably the "go-to" car for many drifters.. While it has been omitted from this list, Nissan's S13 does indeed make a great beginner's drift car. As we had already included the talented S14 it seemed a little too much of the same to include it's older brother. For detailed information on the S13 check out our 7 Reasons Why The Nissan S13 Is The Best Drift Platform For Beginners article.
Got an S13 already and wondering what to mod first? Try hooking it up with a fresh set of suspension. Don't know which coilovers to buy? Check out our S13 coilovers guide.
An off the wall alternative to the drift cars we have mentioned already could be this truck. The truck is a mid 90's Nissan that shares a similar floor-plan to the 240sx and also shares the KA engine and running gear. Truck drifting yeah!
Maybe you aren't quite ready to look at your first drift car and instead want to learn more about drifting? If so please take a look at: What is drifting?
If you feel that I have missed any specific car please let me know in the comments section below!
Subscribe to Drifted
If you like this article why not subscribe to Drifted and we will email you our freshest content for free!