6.0 Powerstroke – Everything You Need To Know
Whether you're looking for a unique engine swap or the ideal engine for your tow rig, the 6.0 Powerstroke is a worthy contender.
---
Introduction
Although many of you might be confused by the idea of fitting a diesel engine into your drift car, it's certainly not a new concept.
In an age where we're witnessing an ever-increasing number of electric drift cars, some diesel fans are seemingly keen to balance out the equation with their combination of black and white smoke clouds.
If you're still struggling to grasp the diesel drifting concept, check out this drift Nissan Skyline R32 6.0 Powerstroke swap.
Now we've got your attention!
Ford's 6-liter Powerstroke engine was the second variation in their Powerstroke line, which came after the highly-acclaimed 7.3L Powerstroke, designed for their E-Series Vans and Superduty trucks. (And seemingly the occasional R32 Skyline drift car!)
With its predecessor's popularity, the 7.3L, the 6.0 Powerstroke had big expectations to meet with diesel enthusiasts.
Did it live up to the hype? We'll be checking out the pros and cons of this engine in this guide. Spoiler - it's not short of either!
Although many engines we review here at Drifted will power on for endless miles with frequent maintenance and servicing intervals alone, the 6.0L Powerstroke is likely to need a little more care and attention than most.
Whether you want a 6.0 Powerstroke for your drift car, or tow rig, let's look at whether it's going to be an ideal choice for your needs.
---
Ford Powerstroke History
Powerstroke engines have earned themselves a highly-regarded reputation within the diesel industry over the years.
Produced by Ford and Navistar International (until 2010,) the Powerstroke has found its home in the Ford F-Series and Super Duty Trucks and the E-Series, Ford LCF commercial Truck and Ford Excursion.
The hugely popular 7.3L Powerstroke was the first engine in the line, introduced as a replacement for the 7.3L IDI V8.
Based on the Navistar T44E, the 7.3L Powerstroke was an entirely new engine, with the only similarities being the matched bore and stroke dimensions, which provided equal displacement.
Like its predecessor, the 7.3L Powerstroke was designed for use in the Ford F-Series and Econoline ranges.
As government emissions standards became stricter, Ford and Navistar ventured back to the drawing board several times in an attempt to keep the 7.3L Powerstroke dream alive.
After several efforts, they concluded that introducing a new engine would propose a better solution to keeping up with their Cummins and Duramax rivals, and the 6.0L Powerstroke was born.
---
6.0 Powerstroke Info & Specs
As the 6.0L Powerstroke arrived in-place of the much-loved 7.3L Powerstroke engine halfway through 2003, Ford opted to completely transition to the innovative new 6.0L powerplant, which continued using its predecessor's HEUI fuel injection system.
This new Navistar International manufactured engine would be the smallest displacement to date for the Ford heavy-duty truck line at 365 cubic inches.
It came as a surprise to many that despite losing 1.3L of displacement, the 6.0 pushed out superior power figures.
Utilizing a variable geometry turbocharger for the first time, this provided the best throttle response times of all their engines. With the top-spec models achieving 325 hp and 570 lb/ft torque, it certainly didn't disappoint.
The 6.0 Powerstroke varies from its predecessors because it can reach its optimal power higher up the rev range. For the 6.0, peak power arrives at around 500 rpm later than typical diesel V8 engines.
Compared to its predecessor, the 6.0L was far more advanced and managed to keep both the Powerstroke fans and the emissions inspectors happy.
After initially having 560 lb/ft torque in the earlier engines, despite no significant updates during its lifespan, software changes and other minor updates eventually provided an upper power figure of 570 lb/ft torque at 2,000 rpm from 2005 onwards.
However, rather unsurprisingly, emissions standards once again increased further down the line, which meant that Ford would eventually have to phase out the 6.0 Powerstroke, with the final engines leaving the factory in 2010.
With the 6.0 Powerstroke arriving when diesel manufacturers were being forced to push the boundaries due to ever-increasing emissions standards, the 6.0 is often well-known for its reliability issues.
Although these issues have earned the 6.0 Powerstroke a somewhat negative reputation among diesel enthusiasts, there are preventive measures to be considered, which we'll explore later in our 'Bulletproofing' section.
6.0 Powerstroke Specs
Production: 2003-2010
Engine Design: Turbocharged V8
Fuel: Diesel
Cylinder Head Material: Cast Iron
Block Material: Cast Iron
Bore: 95mm (3.74")
Stroke: 105mm (4.134")
Valvetrain: Single Cam - Pushrod (32 Valves)
Displacement: 6.0L (365 cu/in)
Weight: 966lbs (With fluids)
Compression Ratio: 18.0:1
Peak horsepower: 325 hp at 3,300 rpm
Peak torque: 560 lb/ft at 2,000 rpm (2003-2004), 570 lb/ft at 2,000 rpm (2005-2010)
6.0L Powerstroke Towing Ratings & Specs
These make for excellent engines for those that are considering purchasing as a tow rig.
For the 2007 model year, the maximum conventional tow capacity is 15,000 lbs for Dually trucks and 12,500 for SRW trucks.
With a 2WD Dually, the maximum fifth-wheel capacity would be 19,200 lbs, which are impressive figures that rank the 6.0L Powerstroke above its closest rivals.
We have provided these as a guideline, and we recommend checking your specifications, as this varies between model year, box length, and cab size, to ensure the correct figures.
---
6.0 Powerstroke Upgrade & Tuning Potential
For a 6.0L engine, the Powerstroke provides some impressive power figures, and it doesn't fall short when it comes to towing, either.
But, let's face it, we all know that these engines are capable of so much more than what Ford provided them with from the factories.
When it comes to tuning, you're going to want to ensure that you're starting with a decent base. Given that the 6.0L's potential isn't the world's best-kept secret, these engines are often tuned and somewhat neglected when it comes to maintenance.
The 6.0 Powerstroke is known for its reliability issues. Without the correct preventive measures, you'll only be asking for problems if you start chasing down huge power figures on a ropey engine.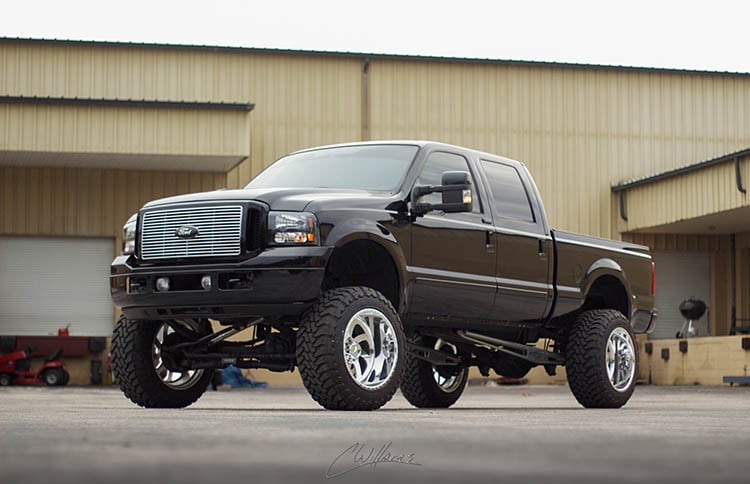 Given that these trucks are likely to have had a hard life, you'll only be accelerating any potential issues from rearing their ugly head sooner rather than later.
With that said, many enthusiasts have managed to achieve 430 hp and 800 lb/ft torque by spending less than $1k on these engines, which provides pretty crazy value-for-money.
Thankfully, unlike the 7.3 Powerstroke, the 5R110 TorqShift automatic transmission is far more robust, and it's not likely to face too much stress before you begin going beyond the 500 hp range, which should be a consideration when figuring your goals.
Whether you've got a $1k budget, or you're willing to splash out $10k on building the ultimate 6.0 Powerstroke, we've got a variety of options to consider.
So, let's explore the true power potential and what is required to achieve each target.
While the danger-zone for these engines begins flashing around the 800 hp mark, going into the quadruple horsepower numbers is an eventual possibility if your wallet is thick enough.
In fact, how does 1,910 hp sound? We hope that should be adequate for most purposes!
Stage 1 Tuning (Approx $1k)
Although you won't be competing with the 1,910 hp build above anytime soon, a $1-1.5k budget is likely to enable you to achieve some respectable power gains for the cost, with 400-430 hp being a realistic expectation.
You'll want to keep a close eye on the factory head bolts and the EGR system, even with these upgrades.
Programmer
SCT devices are usually the best bang-for-the-buck choice for these engines.
An X4 Powerflash from a reputable tuner that's pre-mapped with a custom tune is likely to be your best bet.
Many tuners will provide pre-flashed programmers, which you'll be able to purchase directly from them.
While pre-mapped X4's can be picked up for as little as $399, you'll also want the optional EGT sensor kit if you use your vehicle to tow.
Exhaust
A 4" turbo-back system (3 ½ " downpipe, single exit) will be the perfect answer to your exhaust needs.
If you have long-term big power goals, it may be worth opting for a 5" exhaust right away.
Aluminized exhausts can be had for a little over $250, but expect to pay a bit more for a long-lasting stainless steel alternative.
Cold Air Intake
If there's one thing 6.0 Powerstrokes enjoy, it's fresh air. Breathing mods will be essential to getting the air flowing freely and achieving the best power gains, whatever your goals.
Gauges
These are worthwhile considerations that will enable you to keep an eye on the various problem-areas of the 6.0 Powerstroke.
Stage 2 Tuning (Approx $2,500)
With this stage, you can open up around 430-450 hp, and there are a couple of considerations on how this can be achieved.
Firstly, the primary Stage 1 mods above are going to be essential.
Injectors
Since the stock injectors are 135cc, they'll begin reaching their limits at this point, and most tuners opt for a 155cc upgrade, which generally costs around $1,500.
With the uprated injectors, you'll also earn fuel economy gains alongside improved horsepower and torque figures and eliminate the stock injector issues in the process.
Spring Fuel Regulator Kit
This simple and cheap mod will replace your stock regulator spring, which will allow increased fuel pressure to your expensive injector purchase.
The $70 Ford Blue Spring Fuel Regulator Kit is the usual choice for this mod.
Other considerations at this stage could be an intake elbow for cooler air intake temps and an off-road EGR delete.
Stage 3 Tuning (Approx $5,500)
This stage will get you closer to 475 hp alongside the above mods.
We would recommend upgrading to ARP head studs at this point, as a head gasket failure would likely become imminent.
It's recommended to have a highly-regarded mechanic carry out the work, which unfortunately requires extensive labor.
With the head studs replaced and a fresh OEM head gasket fitted, you're ready to get one step closer to the 500 hp mark.
Turbocharger
You'll be pushing the boundaries of the stock turbo at around 475 hp. It's likely to be running on borrowed time by this point, so we highly recommend upgrading before the imminent failure occurs.
If you're not expecting to go beyond 500 hp long-term, then the $1,200 Garrett GT3788VA PowerMax can be an ideal upgrade, which is thankfully a straight swap for the stock unit.
For those looking to go up to 700 hp eventually, the Fleece Cheetah FWM is another straight-swap with increased potential but will require 190cc injectors.
Regulated Return System
At $700, it's another item that isn't cheap, but providing additional fuel throughout the heads will become essential.
Cold Air Intake
If you didn't opt to go for the CAI and elbow upgrades separately, consider replacing your CAI with the S&B unit, which can provide up to 20 hp gains and provide optimal airflow to your Powerstroke.
Further considerations can be to bypass the coolant lines to reduce hot spots in the cylinder head.
Stage 4 Tuning ($7,500-10,000)
If you're happy to splash the cash with building an epic 6.0 Powerstroke, then a budget of up to $10k would need to be a reasonable estimate. At this point, you can expect to reach over 500 hp.
With the previous upgrades installed, these will need to be your next considerations for Stage 4.
When going beyond the 500 hp bracket, transmission upgrades may need to become an additional consideration.
Injectors
Depending on your eventual goals, 175cc or 190cc should become a consideration at this point. Expect to pay around $2k if you decide to go with the 175cc's.
Turbocharger
You'll need to have a good think about your eventual goals before choosing your turbo.
While the Fleece Cheetah FWM is capable of 700 hp, the Irate Diesel Kit or the Elite PowerMax-SSX can be considerations if you plan to stay at around 500-550 hp.
Expect to pay around $2k for a 550 hp turbo, with a bigger budget in mind with higher eventual power goals.
Fuel Supply System
The 225 gph Titanium series FASS kit is the most common choice here, and if you're going with large injectors, it'll be vital.
Expect to pay up to $800 for the kit, along with the 75 psi regulator spring.
Some owners have also opted for the ITP Diesel fuel return system alongside the AirDog 100 gph fuel system.
A further consideration at this point could be an oil bypass system, which will prevent oil contamination.
With these various stages, you can begin to build a plan to suit your power goals, whether it's a rational 400 hp target or high-powered goals that stretch beyond 550 hp.
---
Which Vehicles Have The 6.0 Powerstroke engine?
The 6.0 Powerstroke engines are found among Ford's medium and heavy-duty vehicle ranges between the 2003-2010 model years.
Although the 6.0 Powerstroke never left the factory under the hood of any cars, this hasn't stopped V8 enthusiasts from swapping the engine into their rides.
Whether you're after a 6.0 truck or wanting to find a powerplant for a swap, these Ford vehicles feature the 6.0L Powerstroke under the hood:
Ford E-Series Vans (2004 - 2010)
Ford Excursion (2003 - 2005)
Ford F-Series Trucks (2003 - 2007)
---
6.0 Powerstroke Reliability & Common Issues
Oh boy. As much as we hate to see this section, we all knew it was coming.
It doesn't take long into your Powerstroke research when you stumble upon a "Is the 6.0 Powerstroke really THAT bad?" discussion.
The ever-controversial reliability subject with the 6.0 Powerstroke is often the first port-of-call for potential owners after hearing the many horror stories online.
With Ford forced to abide by the ever-increasing tension from emissions laws, it enabled them to provide this impressive engine while (somewhat) keeping the polar bears happy.
Let's be honest; every engine has its downsides – it's just that the 6.0 Powerstroke kinda, erm, has a few of them.
While Cummins fans will tell you to scrap the 6.0 idea and go with their 5.9, the fact is that with the right preventive measures, many have proven that the Powerstroke can be equally as reliable.
Unfortunately, many people would rather spend money on tuning than maintenance before driving their truck like a racecar, which is where most problems lie.
If you're looking to jump right into 'bulletproofing' your 6.0L Powerstroke, you'll want to check out the next section, but for now, we'll have a look at the common issues to consider.
6.0 Powerstroke Cylinder Head Issues
One of the main issues is the TTY (torque-to-yield) head bolts combined with overly-happy drivers keen to tap into the power gains easily sourced from the engine.
Unlike the earlier engines, the 6.0 only has 4 head bolts per cylinder, where the 7.3L featured 6.
With a failed EGR system, your cylinder head could warp or crack eventually with the increased temperatures and the head bolts' lower yield point.
The best preventive measure here, which should be essential for tuning, would be to upgrade to ARP head studs and a fresh OEM head gasket.
If you're opting for significant power gains further down the line, ensure sure you also get the heads O-ringed simultaneously.
Oil Cooler Issues
Ideally, you want to keep an eye on the temps here, as the oil cooler is prone to clogging up over time.
Ensure that the difference between the ECT and EOT to be less than 15 degrees. If it's higher after 15 minutes at around 65 mph cruising speed, you'll want to replace or upgrade the oil cooler.
If the oil temperature gets too hot, it can eventually lead to the dreaded head gasket failure.
As well as upgrading the oil cooler, it's worth ensuring that the oil and coolant aren't ever getting mixed and sticking with premium engine oil at Ford's recommended servicing intervals.
EGR Valve Failure
This electronic valve controls the flow of exhaust gases to the intake manifold and can get restricted or clogged due to carbon build-up.
Although the black smoke might be considered cool initially, it can cause damage if it's not fixed.
Cleaning the EGR valve alongside every other oil change is the recommendation to ensure longevity.
Although some may opt for an EGR delete, these aren't road-legal and will likely cause you to fail emissions testing.
EGR Cooler Issues
The EGR cooler cools the exhaust gases that are recirculated back into the intake manifold to improve emissions. When failed, coolant can enter the intake manifold, leading to white smoke from the exhaust.
Long-term issues will lead to build-up followed by excessive temperatures, causing severe engine damage and potential hydro-lock in the long-term, so it's well worth getting checked.
The earlier 2003 model year engines utilize a round EGR cooler, which is more reliable than the later models.
HPOS (High-Pressure Oil System)
These high-pressure systems are prone to internal engine oil leaks from deteriorating or failed O-rings.
Although the snap-to-connect fittings were revised for the later model years, the earlier (05-07) variants have been reported to have a 100% failure rate.
If you're suffering from no start, hard start, or loss of power issues in your 05-07 6.0 Powerstroke, this should be the first port of call.
FICM (Fuel Injection Control Module)
Controlling the fuel injectors, the FICM can become damaged by low voltage in your truck's electrical system.
When issues surface, rough idle, loss of power, and starting problems are common.
Long-term FICM problems can lead to injector damage, so it pays off to install a gauge in the car monitoring the voltage levels to ensure they're not getting too low.
If FICM issues occur, it's well worth opting for an improved aftermarket alternative.
For those looking to ensure the lifespan of your 6.0L Powerstroke, you'll want to read on.
---
What is Bulletproofing?
As you would've noticed, the 6.0 Powerstroke doesn't come without its problems, but many owners will tell you that the answer to resolve these will be by 'Bulletproofing' the engine.
With bulletproofing, you'll undertake preventive measures to ensure your engine's lifespan and keep on top of future maintenance, ensuring that the oil is replaced with premium choices at regular intervals.
A company named 'Bulletproof Diesel' produced a kit which replaced all the parts which suffered from common problems.
If you're hunting down a 6.0 Powerstroke, buying one pre-bulletproofed can be a great idea, assuming the work was carried out by professionals but is likely to come with an inflated price tag.
Bulletproofing involves replacing or upgrading the following parts with common issues:
Head studs
FICM module
EGR cooler
Oil cooler
Water pump
Expect to pay around $2-5k for parts if you're capable of doing the job and $10k+ for a shop to undertake the work.
It's certainly not cheap, but with these preventive measures, you can be confident with running up to 500 hp reliably from your tuned 6.0 Powerstroke, and it'll certainly help with the resale value.
---
Conclusion
It can certainly be hard to see past the issues with the 6.0 Powerstroke engine.
However, assuming you're willing to carry out the recommended preventive measures, they can offer fantastic reliability.
On the other hand, if you intend to fit a few basic mods before cranking up the power figures to infinity on the stock engine, you can guarantee it'll become a ticking time bomb.
While the holy grail of 6.0 Powerstroke engines would be a pre-bulletproof later (06-onwards) model, many have run earlier engines with routine premium oil changes with minimal issues.
The key to longevity here is to keep on top of the maintenance using premium products and keeping an eye on the temperatures to ensure no underlying problems are boiling below the surface.
When treated right, the 6.0 Powerstroke is a fantastic consideration. With incredible torque figures alongside the potential to unlock over 500 hp, it should be a strong contender for your next engine choice.
If you've got the budget, the engine has been proven to be capable of almost 2,000 hp.
Combined with the highest-rev capabilities of any small-block diesel to roll off Ford's production line, the 6.0 Powerstroke will provide heaps of enjoyment.
Want proof? Check this out!
For those terrified by the potential issues, the older and cheaper, lesser-powered 7.3L Powerstroke could also be a consideration.
With fewer emissions restrictions for the 7.3L engine, it has a reputation as the more reliable alternative. However, you'll miss out on the higher-revving, high-power, improved economy benefits of the 6.0.
So, there we have it! We hope that we've covered everything you could want to know about Ford's 6.0 Powerstroke engine in this guide.
Thank you for reading our 6.0 Powerstroke guide.
If you enjoyed this article, please share it with the buttons at the bottom of your screen. If you've found this information useful, then please take a moment to share it with other Ford, diesel tuning, and V8 enthusiasts. We appreciate your support.
---
Photography credits
We thank the following entities for the use of their photography in this article: