Ryan Tuerck – Everything You Need To Know
Known for some of the most outrageous drift builds we've ever seen and landing podium spots worldwide – this is the ultimate Ryan Tuerck guide.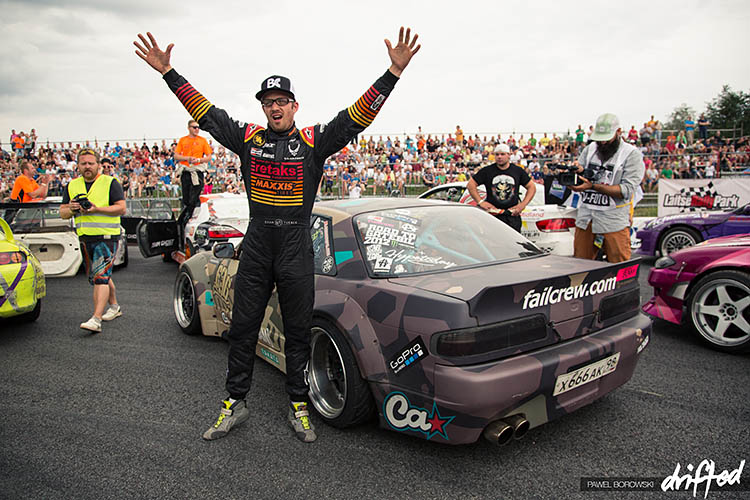 ---
Introduction
Whether you know Ryan Tuerck for his Formula Drift success or his mind-blowing viral videos, there's no doubt that he's attracted his fair share of attention on the internet in recent years.
As well as one of the most popular, Tuerck is also one of the highest-regarded drivers in the Formula Drift series.
After his motorsport journey began on two wheels, he would later opt to switch two wheels for four as he entered the world of drifting at sixteen years old.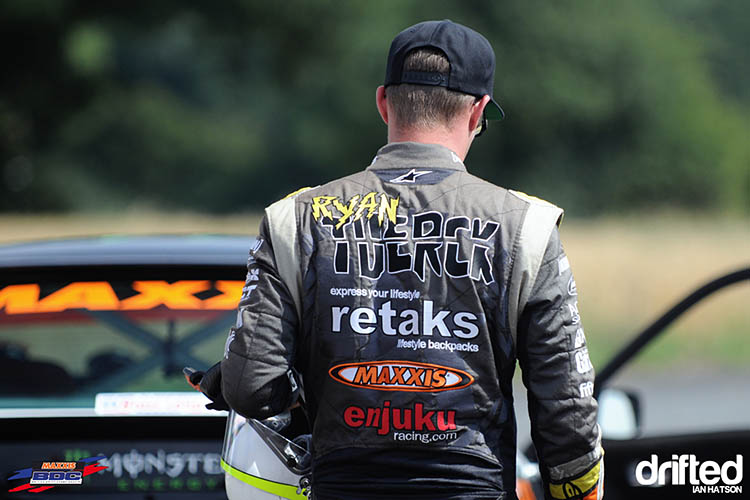 Known to his friends as Ryan "Hampshaa" Tuerck, his chilled out, natural charm and talent in front of the camera have earned the social influencer a well-deserved ever-growing fanbase.
Having featured on a wide variety of series', such as his very own Tueck'd, Gumout Blackout Motorsports series, and Network A's Drift Garage, he's certainly had his fair share of media coverage.
With his awesome "Tuerck'd" Youtube series' featuring a variety of just about everything drift-related imaginable over the years, it's deservedly attracted viewers from far and wide.
His main claim to fame is going viral with several mind-blowing builds, combined with impressive video production. Tuerck's ever-growing fanbase soared with over 80 million combined views worldwide for the Ferrari 458-engined Toyota GT86 – the GT4586.
We find it hard to believe you could've missed it, but if you somehow did, make sure you check out this insane video as Ryan rips up the streets (and body panels) of his GT4586 on the touge.
Even if you've already seen it, we're willing to bet you're ready to watch it again!
Now THAT's how you break the internet – Kim Kardashian, take note!
With fourteen career podiums under his belt, he's still yet to capture the lucrative Formula Drift title, and with a wild Papadakis Racing Toyota GR Supra build in the works, could this finally be his year?
We're looking into everything there is to know about the hugely popular drifter, taking a look at his history before going on to look at what the future has in store.
---
Ryan Tuerck's Early Life & Career
Ryan's love of drifting began at sixteen, learning the art of drifting in a 1990 Ford Mustang on the snow-clad winter roads near his New Hampshire home.
After realizing his love of four wheels, he would later become one of the most recognizable faces in the drifting scene.
But, it didn't start there. Ryan's adventures began on two wheels at just nine years old when his father bought him his first dirt bike. By the age of ten, he would find himself competing in motocross.
With his natural talent behind the wheel (well, handlebars), he impressed throughout his amateur career with countless podiums before going on to land 7th overall in the national rankings.
At sixteen, he went on to earn his professional license from the American Motocross Association (AMA). By seventeen, he found himself on his way to Canada to participate in the Canadian Nationals Championship, where he took 5th place in the 125cc Championship.
Despite the beginnings of a thriving motocross career, qualifying for Unadilla and Budds Creek, Ryan had to stop for personal reasons.
But, they say everything happens for a reason, and it was around this time that Ryan was learning how to slide his 1990 Mustang in New Hampshire. On closed roads, of course!
Unbeknownst to Ryan at the time, the art of sliding was a real sport, and drifting was receiving soaring popularity in the US.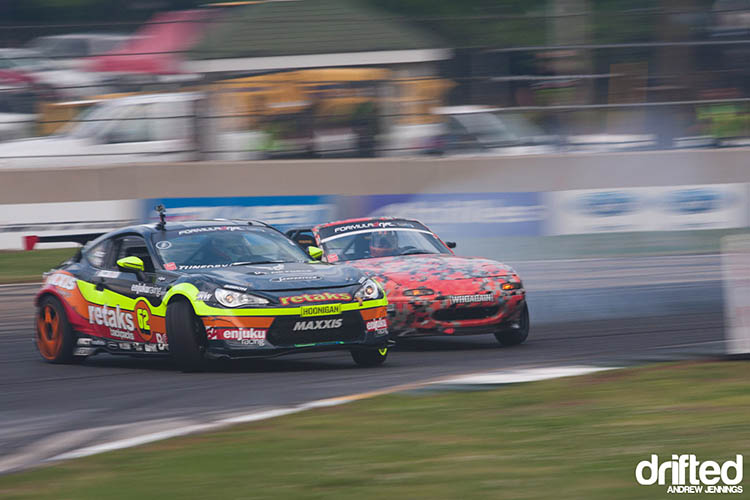 It would turn out that his parking lot antics would pay off as he became keen on improving his drifting skills.
After a year of drifting the somewhat chunky fox body Mustang, it was time to upgrade to a Nissan 240SX S13 – also known as the Nissan Silvia 180SX to our non-US visitors.
With his highly-refined, lightweight chassis, it was time for Ryan to show off his talents finally. After upgrading the suspension, he also fitted a 2-way LSD alongside essential engine upgrades and began attending events.
In 2003, he would attend his first 'real' drift event at Raceway Park in Englishtown, NJ. Right away, he met who would later become his future Drift Alliance teammates – Chris Forsberg, Vaughn Gittin Jr, and Tony Angelo, forming a group known as "Blood Masters".
Little did they know at this time, but they would soon become some of the biggest names in drifting!
Alongside his new-found drifting buddies, Tuerck's passion for motorsport was re-ignited.
After proving his talent behind the wheel in battles, he began pouring his hard-earned cash into improving his 240SX.
Thankfully, the KA24DE engine later found itself replaced by the awesome Toyota 1JZ, and Ryan Tuerck's engine swapping antics were underway!
Before joining the Formula Drift series, Ryan competed in the Drift Mania Canadian Championship, where he won two titles, before managing to participate in a couple of events in the FD series in 2005.
After impressing during his appearances, Ryan had several sponsors keen to come on-board, which enabled him to compete in his first Formula Drift season in 2006 alongside his Drift Alliance teammates.
Having completed a successful rookie season, Ryan opted to move to California with his Drift Alliance teammate Tony Angelo. Together, they formed "Team Snakebite" for the 2007 season, with Ryan eventually landing 15th place in the overall season rankings.
With his thriving drifting career underway, it was time for a new start for the 2008 season as Ryan received backing from Gardella Racing, driving their 2007 Pontiac Solstice GXP.
As he got to grips with the new ride, he captured the #1 spot in the opening round of the 2009 series in Long Beach and again at Irwindale Speedway later that year, eventually taking second place in the series standings.
Ryan's success continued throughout 2010, as he once again landed runner-up in the series rankings.
With Gardella Racing retiring their Solstice in 2011, Ryan captured Mobil 1 and Red Bull's attention, eventually piloting their Chevrolet Camaro for the 2011 series. With a less successful season, he ended up in 15th overall.
For the 2012 series, it would be all change once again, this time parting ways with Gardella Racing, instead opting for Retaks, where he would finish fifth overall, landing the 'Best Style' award, much to his fans' delight.
After achieving the 'Best Style' award once again in 2014, he earned 'Fan Favorite' for 2016 and 'Comeback of the Year' in 2019.
For the 2020 season, Tuerck landed himself yet another event win before going on to finish half the season in podium positions and fourth place in the overall series rankings.
Appearances
Alongside his Canadian and US drifting careers, Tuerck has also traveled further afield to compete, much to his European fanbase's delight.
British Drift Championship (BDC)
In 2013, Ryan would make a surprise addition to the British Drift Championship line-up, with an appearance at Lydden Hill.
With his sponsors Maxxis Tires in collaboration with Team Japspeed, he would pilot their 2JZ-powered Lexus IS300.
Drift Allstars
After his appearance in the BDC, he would return to Europe to get behind the wheel of the awesome Fail Crew PS13 in the Drift Allstars series.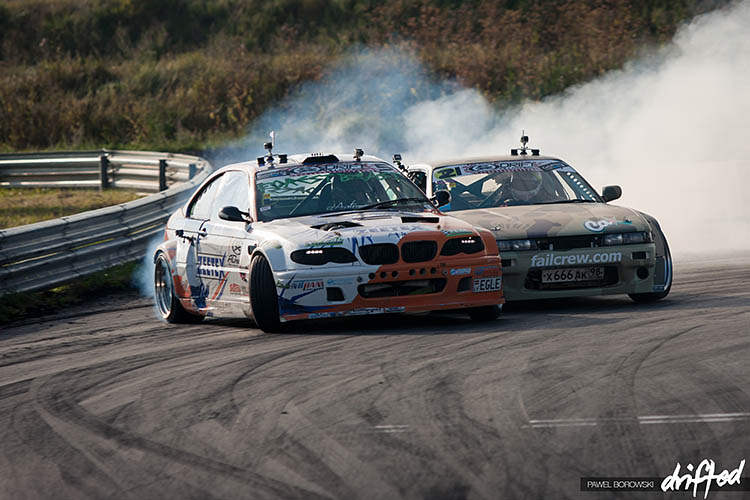 With initial issues halting play, Fail Crew opted to put Tuerck behind the wheel of the tried-and-tested Brown V1.0 car instead of the new arctic camo PSV8 V2.0.
Up against an insanely strong line-up of drivers such as (soon to be) FD Champion James Deane, Tuerck soon got to grips with the car before blowing his mind (as well as his fellow competitors) by landing the top spot on the podium!
Chris Forsberg 370Z Mall Drifting
Despite Tuerck being well-known for his own legendary viral videos, many fans didn't realize that he featured in his teammate Chris Forsberg's "mall drift" video as the devil chase driver in the red car.
If you've not already seen this video (somehow), then we recommend checking it out right away!
---
Ryan Tuerck's GT4586
It's certainly not every day that you hear of a Ferrari-swap, and that's why the internet is still in disbelief to this day at the GT4586 build.
With a combined view count of over 80 million views, the epic GT4586 deserves every one of them.
The idea was born from a long-term dream of Ryan's, which was to fit a Formula One engine into a street chassis before shredding tires as we'd never seen before.
After adding up the costs, Tuerck was forced to conclude that the dream project would remain precisely that – a dream.
… Until his primary sponsor, Gumout, decided that they wanted to build something never seen before, and Tuerck had the opportunity to present his vision to them.
Although it was proving too expensive, even for them, they believed in the project, and they went on to double their budget to make it work.
Alongside Huddy Racing, they ended up ripping the engine out of a Ferrari 458, which was $250k when new, to go into his $26k Toyota GT86.
Most people won't get it, but from a drifters' point of view – HELL YES.
Before we knew it, Tuerck's dream was born – the GT4586.
As the car set the internet alight, it received more interest than any drift build we've ever witnessed, which we hope made the project worthwhile for everyone involved.
If social media attention was the goal, they certainly achieved it.
You know you've got something special when the cops treat you with respect and politely ask you to rip the tires after getting pulled!
---
Ryan Tuerck's Other Cars
Although the GT4586 gained the most attention, Tuerck has another trick up his sleeve with another insane build currently underway.
2021 Toyota GR Supra
Toyota's GR Supra may have been met with a mixed initial reaction by JDM fans worldwide, but when you swap just about every component, the grips become somewhat irrelevant.
Not to end the game with a Ferrari swap, Tuerck is still keen to follow through with his F1 engine dreams, and the GR Supra could well provide the perfect platform.
So, which engine is he going for?
None other than an 11,000 rpm F1 heritage V10 built by British engine builders 'Judd Power'.
The V10 has featured in various F1 cars for the past decade in different guises, but Tuerck opts for the modern GV4 variant.
Weighing in at just 145kg, the 4.0L V10 provides 730 hp, revs to 11,000 rpm, and can safely rack up nearly 2,000 miles between rebuilds. That should certainly last a while in a drift car!
Sure, 2JZ A90's are great to see, but there's no shortage of them appearing, so we're looking forward to watching the progress of this epic build, clad in an HGK carbon fiber body.
Known for building some of the most incredible-sounding V10's on the planet, we have no doubt this build is going to be yet another mind-blowing build for Tuerck.
Toyota Corolla
Although it was another fantastic build, the Corolla has been somewhat overshadowed by the ridiculous list of cars that Tuerck has driven.
Formerly driven by his new teammate, Fredric Aasbo, the proven platform from his sponsors Papadakis Racing saw him retire his self-prepared GT86 in favor of the Papadakis Corolla.
With the turbocharged four-cylinder Toyota 2AR engine providing 1,000 hp and 850 ft/lb torque to the lightweight chassis, there's no surprise that it's a recipe for success, even if the short-wheelbase design doesn't seem like the natural platform.
In his first season with the new team and car in 2020, Tuerck would reach the podium four times and win in Texas with an overall third place in the final season rankings.
Toyota GT86
After the GT4586 stole the limelight somewhat from the competition build, Tuerck's FD GT86 introduced for the 2019 season met a devastating start at Round 1.
But, thankfully, there was a backup plan. Enter the 2JZ-powered FRS.
Nissan 240SX
Many of you will also remember the car which started it all, the 240SX, that would eventually receive a 1JZ boost.
Chevrolet Camaro
During his short-lived, pre-Rockstar days, many old-school Formula Drift fans are likely to remember the Red Bull Camaro.
Current Street Car
As well as the Toyota GR Supra he's currently building, Tuerck is lucky enough to have a second *cough* BMW Supra as a daily driver.
---
Ryan Tuerck Facts & FAQ
We've covered everything there is to know about Ryan's impressive career, but here are a few frequently asked questions about the man himself.
Ryan Tuerck's Age
Born on April 10th, 1985, Ryan is 36 years old.
Where Does Ryan Tuerck Live Now?
Ryan was born in Derry, New Hampshire, and now resides in Los Angeles.
Ryan Tuerck's Net Worth
Fans have asked us this several times, but good luck figuring it out!
Online 'fact' websites claim anywhere from $100,000 to $76 million, so you may as well pluck a number out of thin air!
Either way, we're sure Ryan is comfortable, and he's got some fantastic sponsors that have his back along the way to continue bringing impressive builds to his fans.
Is Ryan Tuerck Married?
Our female readers are likely to be disappointed here.
Although 2020 wasn't an easy year for any of us, even the world's best drifters weren't an exception!
Thankfully, despite restrictions, Ryan was able to tie the knot with his girlfriend, now wife, Shannon Casey, on September 19th, 2020.
However, the newlyweds didn't manage to go ahead with the reception they had planned, opting to postpone the official celebrations for late 2021.
---
What's Next for Ryan Tuerck?
Although Tuerck always has several builds and ideas on the go, the Toyota GR Supra is top priority right now as they continue making rapid progress for the 2021 Formula Drift season.
We can't wait to see (and hear!) the carbon-clad V10 Supra shredding tires. We do not doubt that it's going to be yet another fantastic build once complete.
With his ever-growing sponsor list, which currently consists of Gumout, Nitto Tire, Mobil 1, Rotiform, Rockstar Energy, BC Racing, and Toyota Racing Development (TRD), planning big things, we can't wait to see what the future has in store.
Could this finally be the year that Ryan Tuerck finally claims his first Formula Drift title?
So, there we have it! We hope that we've covered everything you could want to know about Ryan Tuerck in this guide.
Thank you for reading our Ryan Tuerck guide.
If you enjoyed this article, please share it with the buttons at the bottom of your screen. If you've found this information helpful, then please take a moment to share it with other Ryan Tuerck and Formula Drift enthusiasts. We appreciate your support.