Chris Forsberg – Everything You Need To Know
We're exploring the past, present, and future of Chris Forsberg's highly decorated drifting career and his insane builds that have shocked the scene.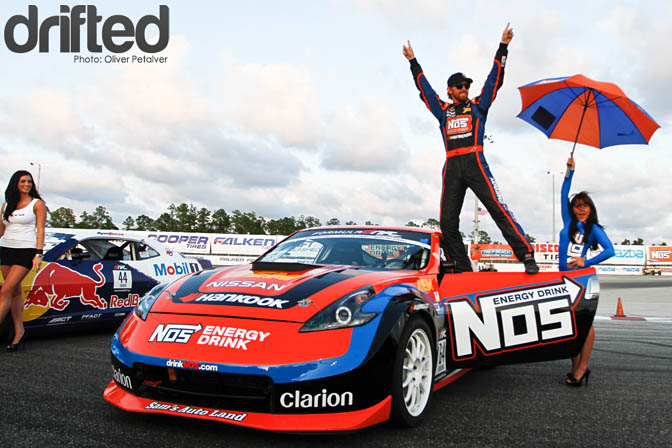 ---
Introduction
There's no question that Chris Forsberg is one of the most recognizable faces in the Formula Drift line-up, and his inspiring Z-car drift builds over the years have helped the Nissan 350Z and 370Z earn their deserved spots in the drifting history books.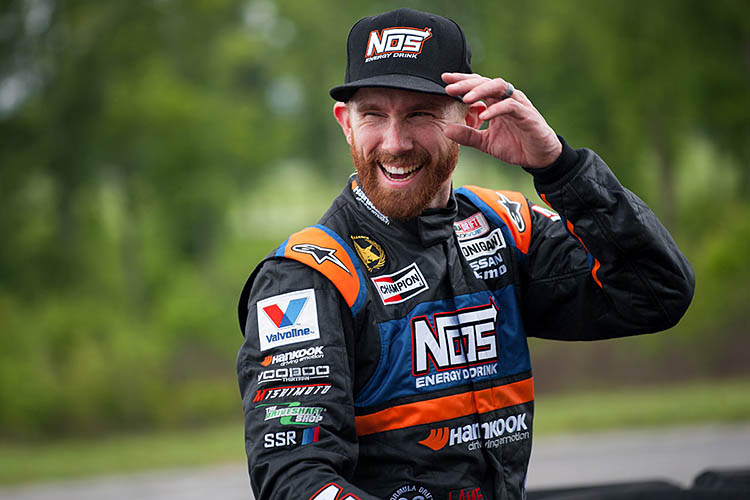 Born in Doylestown, Pennsylvania, the self-taught drifter has become one of the most feared competitors in the sport, having competed in every round since 2004, earning the most head-to-head battle wins, and the most podium finishes in FD history along the way.
With three Formula Drift titles under his belt in 2009, 2014, and 2016, Chris also collected 'Driver of the Year' (twice) and 'Hardest Charging Driver' titles along the way, as well as being awarded the 'Best Drifting Style' title most recently in 2020.
He also joins the list of just five drivers that have ever won both Formula Drift and Japan's D1 Grand Prix events, alongside Daigo Saito, Mitsuru Haraguchi, Toshiki Yoshioka, and fellow American Vaughn Gittin, Jr.
Forsberg was indisputably the most successful driver in FD history with his three title wins before James Deane's recent arrival to the series.
Deane shook up the competition by landing three consecutive titles to equal Forsberg's record before moving on to the Russian Drift Series for the 2021 season, leaving Forsberg the opportunity to recapture the crown.
---
Chris Forsberg's Early Life & Career
Born on April 6th, 1982, it would be an early introduction to the world of motorsports that began Forsberg's soon-to-be lucrative drifting career.
After being introduced by his Uncles to his first drag racing event at Maple Grove Raceway in Pennsylvania at just ten years old, Chris would soon find himself in awe of the sideways capabilities of the flat track bike events.
With Chris being a fan of drag racing and amazed by the bikes thrown down sideways, drifting provided the best of both worlds by combining the four-wheeled, high-power drag racing with the two-wheeled high-adrenaline sideways action of the bikes.
Having spent countless hours enjoying the likes of the Initial D series and the JDM drifting magazines/DVD's, Chris began craving some Jap-based, rear-wheel-drive sideways action.
Chris Forsberg's First Car
At 17, he decided it was finally time to get behind the wheel, copping himself a highly sought-after 1988 Mazda RX-7 FC.
Enjoying his new ride, as with any young drifter, he soon began racking up the points on his license after several unfortunate encounters with the local cops, and he soon found himself with a suspended license.
Unable to hit the road, this is where the exciting building element of Forsberg's drifting career began to take shape. Before he knew it, he'd spent countless hours scouring the Japanese Yahoo! Auctions for lucrative FC parts.
Introduction to Grassroots Drift Events
After learning from the errors of his ways on the streets, Chris had found other enthusiasts with like-minded interests, and they decided to host their first drift event.
The parking lot at Old Bridge Township Raceway Park in Englishtown, NJ, set the stage for the first event in 2003. After a successful trial, the President, Mike Napp, later provided permission to host frequent drift events at the track.
Forming Drift Alliance
With the grassroots events increasing in popularity, Forsberg would frequently rub doors with some of the stand-out drivers at the events - two of which happened to go by the names Ryan Tuerck and Vaughn Gittin Jr.
Little did they know at the time, but as the trio formed their 'Drift Alliance' crew, they would later be battling it out against one another for the ultimate rewards at the highest levels of world drifting just a few years later.
Getting Started with Professional Drifting
In the same year as hosting his first events, Forsberg also judged both Hyperfest and US Drift events, and it was around this time that D1 Grand Prix announced that they were heading to the US for a driver search.
Not wanting to pass up the opportunity, both Forsberg and Tony Angelo prepped their cars to the highest standard possible before loading a rental truck and heading to Irwindale Speedway in their efforts to impress.
Despite their admirable efforts, neither Forsberg nor Angelo would make it past the qualification process. Still, it was a valuable lesson and insight, also earning some lifelong friendships along the way.
It may seem like the world's best drifters have had an easy ride, but everyone has faced setbacks along the way. It's how you get yourself back up and recover from them that counts, and this made Chris even keener to prove himself than ever.
---
Chris Forsberg's Professional Drifting Career
Having proven himself on the grassroots scene but having a taste of what professional drifting had to offer with his D1 Grand Prix driver search, Chris opted to try his hand at the brand-new Formula Drift series in 2004.
2004
Chris Forsberg would shock the competitors in this brand-new competition by landing second place on the podium at the first-ever Formula Drift event at Road Atlanta.
Proving this wasn't a fluke or beginners luck, he would secure another podium at Round 2 in Houston, Texas.
Despite being a privateer at the time, Chris would later break Samuel Hubinette's impressive year-long undefeated streak at Irwindale Speedway with his SR20-powered Nissan 350Z.
That's not all, either. Forsberg continued to cause upsets as he took another shot at D1, becoming the first American to beat a Japanese driver by knocking out Kazuhiro Tanaka of Team Orange.
Overall, you could say it was a pretty successful first year of professional drifting!
2005
After an incredible first year in FD, it's no surprise that the sponsors came knocking, with Forsberg opting to pilot the Team Falken Password JDM Nissan Silvia S15 for the upcoming season.
With Chris having an incredible year, he would come up against soon-to-be Champ Rhys Millen in the season's final round.
After an intense initial battle, the judges could not decide a winner, and a one-more-time was called.
As Rhys Millen threw down his Pontiac GTO, it would prove too much, and suspension issues helped hand Forsberg his first well-deserved FD event win.
2006
After ending 2005 on a high, taking the win against eventual title-holder Millen in the season's final battle, the expectations were higher than ever for the 2006 FD season.
Forsberg's impressive victory didn't go unnoticed, and his 350Z caught the eye of Nissan North America, who offered Chris a sponsorship deal for the season.
A new convertible car would be the weapon of choice with Nissan on-board, while the V8-powered Nissan VK56DE from their Titan line would feature under the hood.
Unfortunately, the VK56DE and chassis combination didn't meet the initial expectations, and Chris reverted to his original SR20DET-powered 350Z for several rounds, and it became one of his less-impressive years.
2007
Determined to improve on the forgettable previous season, Forsberg concluded that a fresh start was required.
Opting to start his team, with Chris acting as team manager, he joined forces with Maxxis Tires, where Chris Forsberg Racing would begin to see success.
With sponsor Maxxis Tires promising to match their FD earnings, it propelled their performances, and the team finished the season in second place overall.
2008
Capturing the eye of even more sponsors, NOS Energy Drink was on board for the 2008 season, and a successful start saw Chris land another event win at the opening round at Long Beach.
2009
The year it all changed for Chris, as he became the first driver with a non-professional motorsport background to land the Formula Drift title.
As well as taking the Championship, he also became the first driver to win both this and the Tires.com Triple Crown bonus prize in the same season.
2011
A fresh start was on the horizon as the team showcased their brand-new Nissan 370Z build for the first time.
They still managed an impressive third-place overall using the factory steering lock, brakes, and gas tank.
2013
Another excellent year for results, with Forsberg eventually capturing second place overall.
2014
After a couple of years spent refining the 370Z build, reducing weight, and improving reliability, the team showed they've still got what it takes for the 2014 season.
Holding the top points position from the first to the last round, it was the perfect season and a well-deserved second title for Forsberg Racing, despite losing their NOS Energy Drink sponsorship deal.
With over 150 hp added, including a nitrous upgrade, both the car and driver were looking more competitive than ever.
2015
Despite no main sponsor, Forsberg opted to continue with his FD dreams, landing third place and earning three consecutive top-three overall season finishes.
2016
Another memorable year for Forsberg, where he once again landed the Formula Drift title, surprising many since he didn't win any races.
Despite this, consistency paid off, and with four second-place finishes and third place in two events, it was enough to clinch the crown.
Alongside his success in the US, he opted to compete in the Formula Drift World Championship in Okayama, Japan, where we would also bag the prestigious title.
2017
Chris moves the team back to California for the season, with Nameless Performance taking over the team management and vehicle maintenance.
Scrapping their V8 plans, they instead opt for a VQ35HR twin-turbo.
Despite hoping for the best, the new setup doesn't work as intended, and with multiple engine issues and several features in the backup car, Forsberg ends up in 11th place overall.
2018
Following a disappointing season, Forsberg opts to return to managing the team and rebuilding the car to make it more competitive.
It still didn't go entirely to plan, but they still bagged a win at Round 3, landing fourth place overall in the season rankings despite the issues.
2019
With the frustrations of previous years, it's back to the drawing board, and the VQ would be replaced with the VR38DETT powerplant for the upcoming season.
Although it resulted in a sixth-place finish overall, the VR38DETT proved its capabilities in the reliability department after many years of disappointment, as the team set about refining it to perfection.
2020
After a rocky start, things looked up with a podium finish at Round 5 and a win at Round 6.
However, the unfortunate reliability issues soon resurfaced. During the next two rounds, an engine failure put an end to the title hopes, with a borrowed car eventually providing fifth place overall.
2021
Can this finally be Forsberg's year? There's only one way to find out!
Formula Drift Success
At the current time, Chris Forsberg has the most podium finishes in Formula drift and the most wins in head-to-head competition.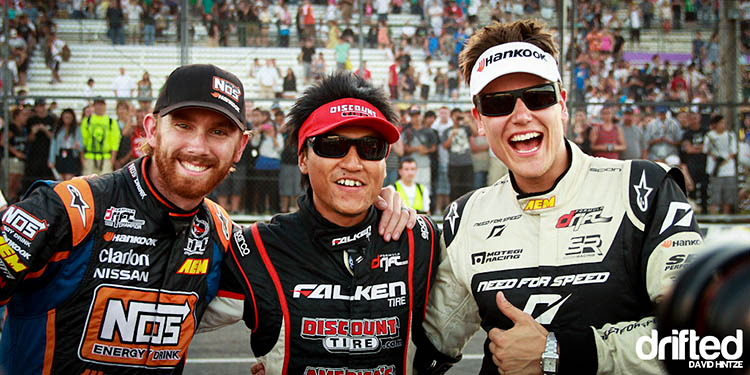 That's not all; Forsberg also has six consecutive podiums, the highest recorded in the Formula Drift series to date.
---
Chris Forsberg's Cars & Builds
Although Chris Forsberg is best-known for piloting the Nissan Fairlady Z family, such as the 350Z and 370Z, he's also driven and helped build some crazy rides over the years.
1998 Mazda RX-7 FC
Despite being best-known for his Z-car builds, Forsberg started in an RX-7 at just 17-years old before buying his first Z-car in 2003.
Having sold the car, he later purchased it back In 2008, before later donating it to his brother in 2016. Here's the clip for them firing it up for the first time in twelve years.
Nissan 350Z
Forsberg's 350Z's will need no introduction, as they're the cars that helped him earn legendary status in Formula Drift.
After starting as a privateer in his SR20DET-powered 350Z coupe, he later drove both the convertible Sears Auto Center and NOS Energy Drink 350Z's.
Using both the SR20DET and VK56DE V8 powerplants, Forsberg was behind the wheel of 350Z's from 2004 to 2010.
Falken Password JDM Nissan Silvia S15
In-between his various 350Z's, Forsberg also piloted another SR20DET powered car for a year - this time the Nissan S15.
Nissan 370Z
After six years behind the wheel of the various 350Z builds, Nissan decided it was time to upgrade Chris Forsberg with their latest and arguably greatest model to date - enter the 370Z.
The 370Z would take on three different guises, initially continuing with the V8-powered VK56De, before opting for the VQ35HR twin-turbo for the 2017/18 seasons.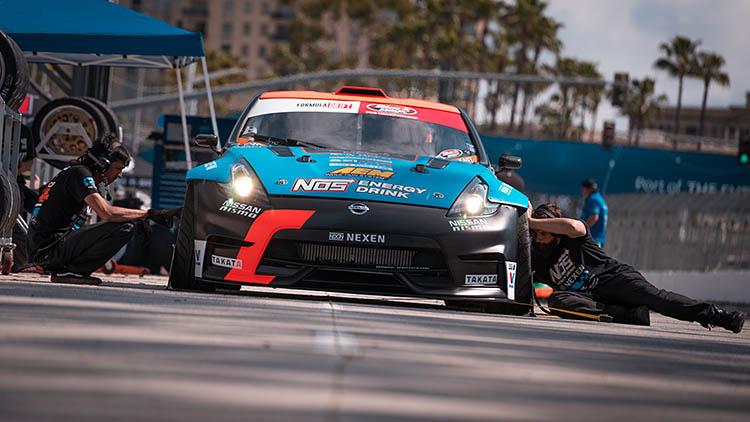 After little success with the VQ35HR, the team opted for the highest-regarded Nissan engine to date - the mighty VR38DETT from the R35 GTR, complete with 1,270 HP.
But, that's not all!
Although many of you may not be aware, Forsberg also has a 370Z rally car.
And, it doesn't finish there, either.
There's no question that Forsberg feels that the Z-car is the ultimate platform, and having already built several drift cars, and more recently, a rally car.
He's now going one step further – this time with a race car – enter the 370Z GLTZ.
Built during the recent pandemic, this Forsberg Racing NISMO Parts USA 370Z build will see 2011 GT Academy champion Bryan Heitkotter behind the wheel in the 2021 Gridlife Touring Cup (GLTC.)
Keen to push the boundaries of the 370Z once again, it's yet another motorsport discipline where the team at Forsberg Racing are eager to prove they have what it takes to compete with the best.
1975 Nissan 280Z
Another of Forsberg's legendary builds is the RB-powered old-school-cool Nissan 280Z.
As his personal "forever car", this holds a special place in both his heart and his garage.
Copped for just $4,000, he's since turned it into one of the most desirable wide-body builds of all time, with a 500 hp RB25 lurking under the hood.
It may be his personal show car, but he's still not afraid to push it to the limit.
2006 Infiniti M56 "La Flama Blanca" (The Party Car)
One of the most incredible builds to date is Forsberg's Infiniti M45 with a 500 hp VK56DE 5.6L V8 powerplant under the hood.
Known as the party car due to having four seats, it's the perfect weapon for showing off his skills at car shows.
Altima VR38 - The Altimaniac
Just when you thought it couldn't get any crazier than the M56, the Altimaniac came along.
This tube-frame chassis four-seater party car provides 1,300 hp and is capable of up to 2,000 hp!
Once again, utilizing the VR38DETT, this insane build is one of the most ridiculous things we've ever witnessed, and we love everything about it.
Other Insane Builds
As well as all these crazy builds, let's not forget other projects that Forsberg has been involved with over the years.
On Motor Trend's "Drift This" series, he teamed up with Ryan Tuerck to bring some of the most unthinkable builds we've ever seen.
From a turbocharged LS UPS truck…
to this utterly insane 35 ft Escalade limo.
---
What's Next for Chris Forsberg?
It's already been a fascinating career for Chris Forsberg, and we've got no doubt that the team at Forsberg Racing has got plenty of tricks hidden up their sleeves.
With the imminent arrival of the Nissan 400Z, we feel it's only a matter of time until Chris is behind the wheel of the first drift build, partly thanks to his lucrative Nissan sponsorship deal.
Having seen that a 'Proto' model is already lurking in the garage, could they already be up to something?
We can't wait to find out!
Having appeared at drift events across the globe, as far as the likes of China, New Zealand, El Salvador, and Costa Rica, we've got no doubt that he'll soon be making appearances on the world stage once again when the world returns to "normality"!
Perhaps he may be interested in appearing in more motorsport disciplines, having already competed in Baja 1,000, and Battle BROyale in a Cam-Am Maverick X3.
Chris has been exploring the racing simulator world of eSports on the Assetto Corsa Competizione platform during the pandemic.
Driving alongside their Gridlife driver, Bryan Heitkotter, in the Forsberg Racing Nissan GT-R GT3 NISMO, Forsberg's interest in racing seems to be growing.
We do not doubt that his drift career will remain at the forefront of his interests, but we're also keen to see him prove himself in other forms of motorsport.
There's certainly no shortage of fun and exciting content coming from the guys at Forsberg Racing, so we highly recommend following their latest antics on their YouTube Channel and Instagram.
So, there we have it! We hope that we've covered everything you could want to know about Chris Forsberg in this guide.
Are you a Chris Forsberg fan? We've got a treat for you with this free wallpaper!"
Thank you for reading our Chris Forsberg guide.
If you enjoyed this article, please share it with the buttons at the bottom of your screen. If you've found this information useful, then please take a moment to share it with other drifting enthusiasts. We appreciate your support.