Ultimate LS1 Turbo Kit Guide
Keen to tap into the untouched potential that your LS1 V8 has to offer? We're putting the best off-the-shelf turbo kits on the market head-to-head to decide which is best for your needs.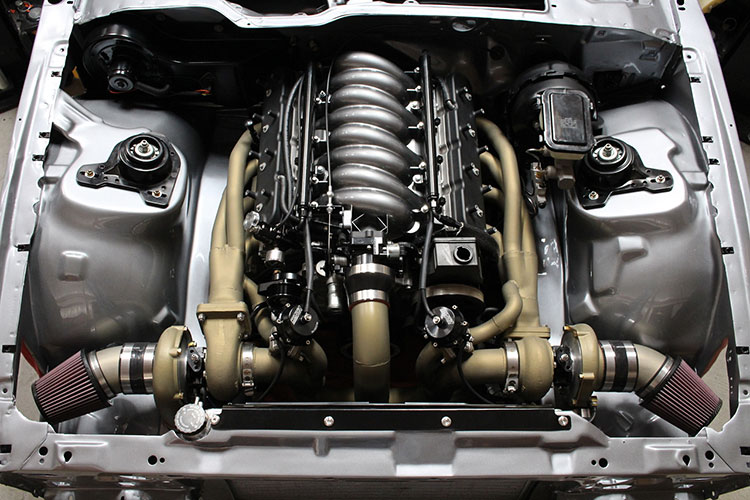 ---
Tired of your homies calling your LS a junkyard engine, but if they called it a ridiculous junkyard engine with a big-ass turbo strapped to it, then you'd be over the moon? You've come to the right place!
Jokes aside, the LS1 has some serious untamed potential lying in wait. Whether you're looking to buy an off-the-shelf turbo kit, use a knowledgeable tuning shop for a custom build, or wanting to carry out a budget turbo conversion by yourself, this guide will help you decide what's best.
GM initially introduced its small-block engine way back in 1955, and even then, it didn't take long to become a hit with automotive enthusiasts, particularly in the drag racing scene.
Following the success of the small block, after a successful re-launch with the LT1 in 1992, GM opted to take it to the next level as rival manufacturers started unleashing the crazy beasts of the 90s era.
Interested to know more about how the LT1 stacks up against the LS1? We've put them head to head in our LT1 Vs LS1 guide.
When 1997 finally arrived, GM was ready to unveil the redesigned from the ground up, lightweight, all-aluminium LS1 engine which they'd been preparing for several years.
When Chevrolet announced the Corvette C5, it would be the first car to feature the LS1 under the hood.
It was undoubtedly the perfect combination to put the U.S. car scene back on the map at a time where the rest of the globe was rolling out some incredible machinery.
This lightweight, small-block V8 instantly became a game-changer in the tuning world, as people quickly realized the true capabilities that were just waiting to be unleashed from this impressively small and light package.
Not only was the weight a serious advantage, but it also had the added benefits of warming up and cooling down far quicker than its cast-iron brother, the LT1.
With 345hp and 350ft/lb torque in stock form, it was certainly no slouch. Also, if you're lucky enough to have got your hands on a post-2000 LS1, then chances are you'll have 350hp and 365ft/lb torque. That'll come as a welcome surprise if you're not already aware!
Even though it came with a decent amount of power, who can resist keeping it stock when your buddies have already started freeing up the sleeping horses and causing an upset on the street, or the track?
There's no secret that plenty of LS parts are interchangeable between the various engines that they went on to produce in the following years after the LS1 initially hit the market.
You can check out our LS1 Vs LS2 guide to see some of the changes that were made between the two engines.
This benefit adds to the convenience of sourcing parts and also tapping into the easily-access tuning potential that it has to offer.
But what if you want to achieve the most impressive power gains that the LS1 is capable of providing, by strapping an epic turbo kit to unleash the inner beast? Let's take a look.
Should I Turbocharge My LS1?
Before we jump into the world of strapping a turbo on your LS1, we're going to ensure that it's the route you want to go down, although turbos are INSANELY fun, the LS-platform does have a few cheaper tricks up its sleeve.
First off, what kind of power levels are you really hoping to achieve?
For example, as we spoke about previously, the LS is notoriously easy to squeeze some substantial gains out of without needing to go down the turbocharged, or even forced induction route, even if they won't provide nearly as much fun.
If you'd happily settle for around 500hp of N/A power at the flywheel, you're not going to need to go down the turbo route, and it could save you a lot of time and hassle.
A simple mod list like the following would be enough to help you hit these figures:
LS6 intake manifold (which is already included on some 2001-onwards cars)
Long tube headers
Ported stock throttle body
Uprated camshaft
Uprated exhaust
Underdrive pulleys
Dyno tune
Cold air induction kit
Alternatively, there are also various supercharger options available if you're looking for more subtle power delivery.
Not sure what the difference is between a turbocharger and a supercharger? We've written our Turbocharger Vs Supercharger article just for you.
However, if those kind of performance figures aren't enough, and you can't resist the awesome sounds and neck-whipping power delivery that only a turbo kit can provide, then don't worry, we've got you covered.
We've compiled a list of the best off-the-shelf, bolt-on (or almost) kits that are available to buy on the market right now.
Trust us, we've given it a shot at creating our turbo kits in the past, and it's not something that we'll be considering again anytime soon!
So, unless you're an experienced fabricator, or lucky enough to have your best buddy that's talented in the fab department and owes you a few favors, this is likely to be your best bet.
Several of the commonly-used kits over the years are now discontinued (some for the better). Although these may well pop up on the used market, we're only going to take a look at what's available to get your hands on right now.
Are you a 350z owner that's considering an LS swap, or know someone needs to V8-swap their Z? We've got you covered with our 350z LS Swap guide.
We think you will enjoy this YouTube video from Hackshop Garage that shows them adding a turbo to the side of their LS1 V8 VY "Ute".
---
Our comment: On3Performance has received mixed opinions on their LS1 turbo kit, but a lot of owners have come away satisfied with their long-term results.
There's no question that you could piece together an On3Performance LS1 turbo kit for a reasonable price, as it's one of the cheaper options in our guide.
With a combination of mixed feedback from both their products and their approach to handling issues with customers, it does boil down to the all-too-common phrase in the car world, 'you get what you pay for.'
We think that customer satisfaction is paramount at Drifted, and On3Performance hasn't got the best reputation went it comes to post-purchase experiences.
Unlike the other kits in our guide, this requires a pump for the oil on the turbo, but On3Performance has recently added an optional 'gravity drain kit,' which is compulsory if you wish to maintain your turbo warranty.
If you've managed to source yourself a cheap On3Performance kit and you're capable of making some adjustments if necessary, then it may be worth considering.
Alternatively, if you find a bargain-price used kit on the market in good condition that's already modified to fit perfectly, then it could be an ideal solution.
Manufacturer description: "We have worked on this design for a long time now and pleased to now offer this kit to the public. If you want to have serious power potential and have a system that looks absolutely killer under the hood, look no further."
"This kit offers a lot of our newest design products and cannot be happier with the results to this point during our testing stages."
---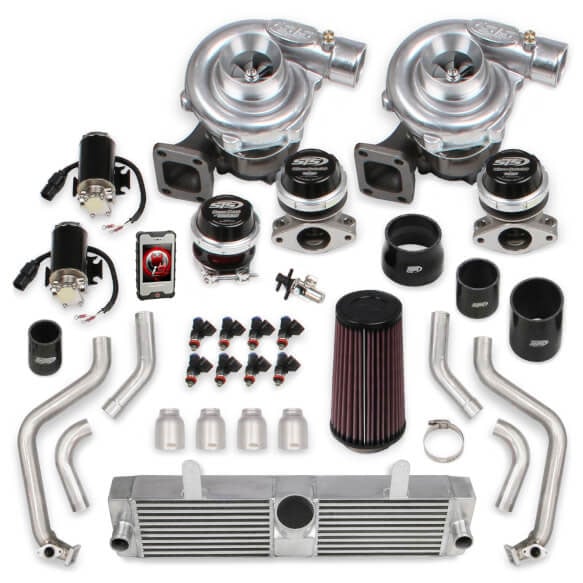 Our comment: STS offers a wide variety of popular rear/remote mounted twin-turbo options for the LS engine, for those of you that are looking for a convenient alternative.
They have an excellent reputation within the LS community, and certainly one of the biggest fan-bases out there.
If you're not already familiar with their rear-mounted turbo kits, then you may be surprised to hear that they sit at the rear-end of the car rather than the usual mounting position that we're used to seeing under the hood.
As you've probably guessed, this comes with certain advantages and disadvantages. The main advantage is that it can be far easier to access the system should you need to carry out any maintenance or repairs.
Squeezing turbos under the hood can sometimes be a challenge, especially in some of the tighter engine bays, so having the turbo's at the rear of the car is far more convenient.
As for the disadvantages, the main downside is the spool from the gases having to travel such a substantial distance compared to front-mounted turbos. This generally makes them more ideal for cars with auto transmission due to being able to keep the revs higher between gear changes.
On top of that, the kit also sits a little low at the back, especially for lowered car owners.
Being fully exposed at the rear can also mean it has more chance of collecting rain/debris, but STS has since provided water/dirt shields and dry socks in an attempt to correct this.
The final advantage/disadvantage can be positive or negative, depending on your approach to tuning. The kit is visible from the rear of the car, which doesn't make it ideal if you're going for the sleeper look, but if you're looking for attention, then it may be perfect.
There are some mixed reviews on the quality/fitment of the kits, so again, we would expect to make some minor tweaks, but the overall feedback is hugely positive.
Although the price seems high compared to some of the other alternatives, this kit is ready to run, where almost all of the others will require multiple additional components.
Manufacturer description: "STS Turbo systems overcome the challenges of traditional turbo installations by mounting the turbos at the rear of your car. This allows you to retain stock exhaust manifolds, catalytic converters, and mid pipes."
"Stock intake and throttle body can also be retained if desired. Relocating the turbos to the rear helps avoid adding additional heat under your hood and you won't have to worry about clearance or interference issues with the belts, pulleys, or accessories in the engine bay."
"You'll also get better weight transfer since the turbos are in the rear and not adding additional weight to the front of your vehicle."
---
PTK LS1 Turbo Kit
Manufacturer: PTK
Fitment: 98-02 LS1 F-body, 97-04 Corvette C5
Turbo configuration: Single & twin turbo
Value for money:

🔥

🔥

🔥

🔥

Purchase links: Discontinued
Our comment: Another great off-the-shelf turbo kit choice for your LS1 comes from PTK, with their single, or twin-turbo systems for your LS1.
These are another highly-regarded company with an excellent reputation for both quality and customer service.
Some owners have recommended adding a turbo brace since the turbo flange section can crack at the v-band flange. It may also need some additional minor adjustments to fit perfectly, like almost all of the kits out there.
We've been informed of some ground-clearance issues on lowered cars, but this may have been rectified in time. We'd recommend speaking to them with regards to this if you do have a lowered car.
This setup is popular, and often replicated within the cheaper 'eBay kit' community, so it's worth checking that it's a genuine PTK kit if you're planning to cop one on the used market.
The PTK LS1 turbo kit is great all-rounder, whether you're looking to purchase a new or used setup.
Manufacturer description: "Almost all kits can be customized with different Intercooler and Turbo. Also fuel components can be added as well as Coating to the headers."
"Complete kits come coated with Silver 2000deg coating on hot and cold parts. Also fuel components can be added as well. Call us for pricing."
---
Our comment: Huron Speed has the best reputation on the LS turbo-kit scene, and it's easy to see why.
Not only are their kits incredibly well-built, with a wide variety of choices and upgrades to choose from, but their customer service is undoubtedly superior to their rivals.
Frequently hanging out on the owners' clubs, and helping absolutely anyone they can with their needs, while confidently explaining anything enthusiasts need to know goes a long way with us.
Their latest kit, the V3, shows that they've listened to any feedback and criticisms over the years, and you'll be able to make your purchase with confidence that any 'niggles' are resolved.
Their kits are often on backorder due to their soaring popularity, but they're undoubtedly worth holding out for if you can.
It's worth considering that if you see one pop up on the used market, it may be worth finding out which version it is and ensuring that any issues it may have had are already rectified.
It's certainly not the cheapest option in our list, but sometimes it's worth spending a little extra cash to ensure you're getting the best quality available, along with their valuable lifetime warranty.
If you're looking for a cheap, budget option, then this probably isn't the ideal choice for you.
Manufacturer description: "We pride ourselves on our Customer Service. We have dedicated our work day to provide our customers with the very best service from getting their products to them timely as well as answering any and all questions promptly. With our model, e-mail works best for communication and we typically respond nearly immediately 7 days a week, morning, noon and night! You will not find or receive better service anywhere else, guaranteed!"
"All Huron Speed Turbo Systems come with a lifetime warranty on all piping against defects, welds, cracking, etc. to the original purchaser. Any questions? No worries we have you covered for life."
---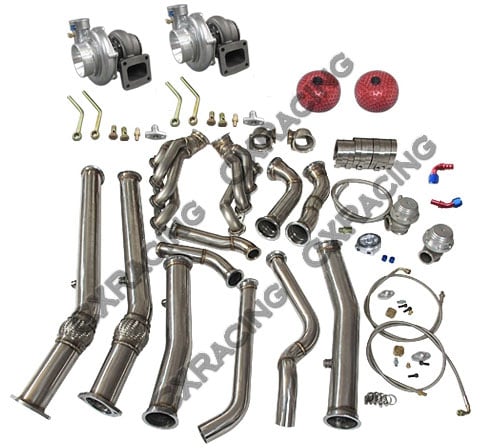 Our comment: Before we start hearing cries of 'Oh, not that Chinese junk!' hear us out.
When CXRacing came onto the scene, they were mostly a slightly superior 'eBay turbo kit' brand. Over time they've listened to the feedback of customers and realized that there's a gap in the market for decent, cheap turbo kits.
We've reviewed multiple turbo kits for various cars from around the world here at Drifted, and the feedback we're repeatedly getting is that CXRacing isn't so bad after all, especially not for the price.
Sure, they're not going to provide you the quality or the customer service that you're going to get from Huron Speed, but you'll get a consistent quality kit at an absolute bargain price tag.
You may need to make some slight adjustments, but no more than some of the expensive alternatives on our list.
Their hot side piping is also commonly used in custom/DIY kits since it's often cheaper and far more convenient than fabricating them yourself or at a local shop.
Two considerations that frequently pop up are that the gaskets aren't the best out there and that the wastegate flange could do with an upgrade or a custom job.
We honestly would not dismiss CXRacing, particularly for those of you that are on a budget. This could easily work out cheaper than doing the job yourself with a local fabricator, or even a buddy.
We highly recommend considering saving the time and effort by opting for the convenient (piping) route. (Excuse the pun!)
Manufacturer description: "This is CXRacing's newest product. All parts are developed from ground up in our R&D Center in USA, Designed and built for improved performance gains, with excellent fitment and easy installation."
---
Our winner
Our winner is the Huron Speed Products LS1 Turbo Kit.
To pick our winner from this choice of LS1 turbo kits, we looked at a number of criteria; quality, popularity, customer support, and price point.
Based on these criteria, we have chosen the Huron Speed Turbo Kit to be our winner.
Huron Speed consistently go above and beyond to provide for their customers, and their constant kit revisions also prove that they're willing to accept they're not perfect, but that they're eager to rectify and improve.
Customer support goes a long way, and Huron Speed has absolutely nailed this aspect in every regard.
Not only that, but they're also consistently producing the best quality and best fitment kits, with the ultimate optional extras to ensure that you're able to provide your LS1 with the most exceptional aftermarket upgrades.
Although they have now discontinued their 98-02 LS1 F-body kit, their 97-04 Corvette C5 turbo kits are still available to purchase.
Huron Speed has won this time around, but two other companies also stand out as well worth checking out.
Firstly, STS. Although the kit isn't perfect for everyone, STS has produced something entirely different for the LS turbo market, which is a fantastic example for those of you who are looking for a convenient and reasonably priced setup and aren't chasing huge horsepower figures.
On the other hand, CXRacing has once again blown us away (see what we did there?) with their exceptional value-for-money, which makes their kit a real bargain.
If you're not keen on a specific part of their kit, then just order what you need and use custom parts for the rest.
Thank you for reading our LS1 turbo kit guide
If you enjoyed this article then please share it with the sharing buttons at the side and the bottom of your screen.
Information and photography credits
We thank the following entities for the use of their information and photography in this article: