Ultimate Cheap Drift Cars Guide
You don't need to have a huge budget to enjoy what drifting has to offer. Join us as we take a look at the best cheap drift cars on the market right now.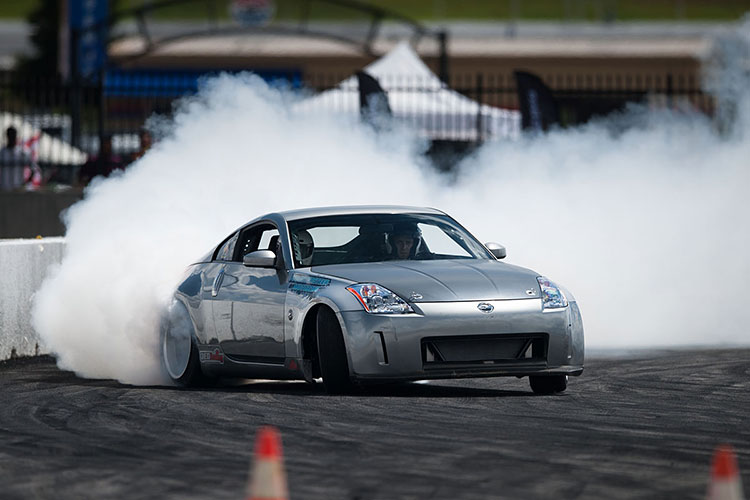 Here, you can click on a particular section within this article. Otherwise, scroll down to check out our cheap drift car selection!
---
Introduction
If you're anything like us, you probably spend far too much time consuming drifting content on YouTube. Who doesn't love all that tire smoke and the sweet tune of screaming engines?
We've been guilty of this since the early days of watching the seemingly endless 90's JDM content in the dial-up internet file-sharing platform days, so we can certainly relate.
Since then, there's no doubt that the drift scene has changed significantly over recent years.
Just a few years ago, you were likely to be able to find an ex-loved low-mileage BMW E36 from your friends' grandma with full history with a price tag of a few hundred bucks in the window.
Fast forward a few years to the present day, and supply and demand within the drifting community have applied what has become known as 'drift tax,' or for the more desirable cars, 'scene tax'!
For those of you that aren't aware, (drift or stance) scene tax refers to the continual escalation of potential drift-car platform prices.
Simply put, if it's got a semi-decent engine in the front, and it puts the power down at the rear wheels, you can count on the price being higher than it most likely would've been just a few years ago.
One of the positives of cheap drift cars is that they're often cars that were potentially destined for the graveyard, but instead, they were given a new lease of life and possibly their most enjoyable (or more likely, painful) years!
Let's be honest here.
The cheaper a car is, the more inclined we are to genuinely push it to its limits, whether that limit is the redline, walls, your buddy's door, or all three!
Over the years, this has led to a decline in the number of cars available. Some have been damaged beyond repair, while others have become perhaps too rusty to justify repairing.
At the same time, the drifting scene has grown at a phenomenal rate, with more people looking to take up the sport than ever before. And let's be honest, we don't all have Formula Drift-style budgets to throw at our builds.
Let's not forget the latest bunch of affordable Japanese performance cars that have arrived on the scene.
Due to all these reasons, we're going to take a look at the current market to help you decide which chassis is going to be best for your needs and budget, as we compare the cheapest drift cars available.
---
Budget Drift Car Essentials
We know you're keen to get searching and see the cars on offer, but we want you to consider some of these essential items to unleash your future cars' full potential when you're considering your budget.
Therefore, before you get too carried away by looking at cars, here are some basic features that will make your drifting experience live up to your expectations.
Welded/2-Way Differential
We won't go deep into the subject of diff options here since we've already created the perfect guide to explain everything you need to know in our Limited slip differential vs open differential article.
Although you may not be aware, having an LSD in your car will completely transform its capabilities when it comes to drifting.
Welded differentials are where you open the case and simply weld the parts solid internally so that they can no longer function as normal.
This will allow for both rear wheels to spin at the same time and allow you to execute a far more impressive and consistent drift.
Welding your diff, or fitting an aftermarket alternative, avoids the embarrassing 'one-wheel peel,' followed by an inevitable trip face-first into the wall and a lot of embarrassment.
Hydraulic Handbrake/Hydro/E-Brake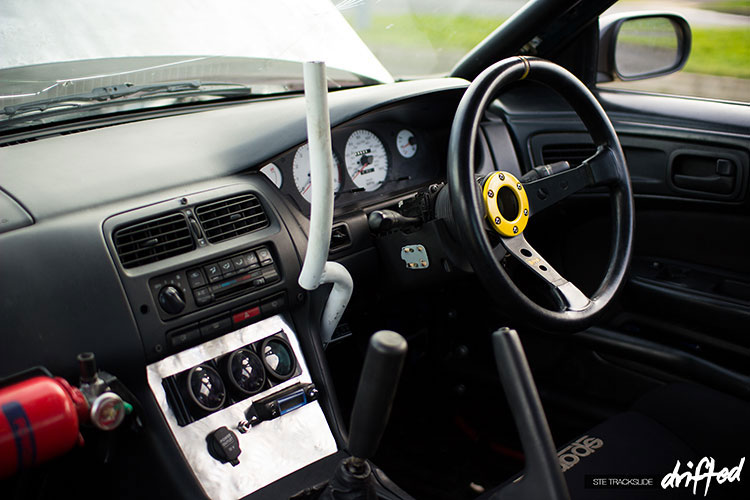 Whatever name you decide to give it – get one!
I know that we all like to think we'll get behind the wheel and be the next Drift King where a simple clutch-kick and a brake pedal is all we need, but a hydro is an extremely helpful tool to have in your drift car, regardless of your skill levels.
There's a huge range of options on the market to suit any budget, and we've compared all of the best choices available in our Ultimate Hydraulic Handbrake Guide.
Bucket/Racing Seats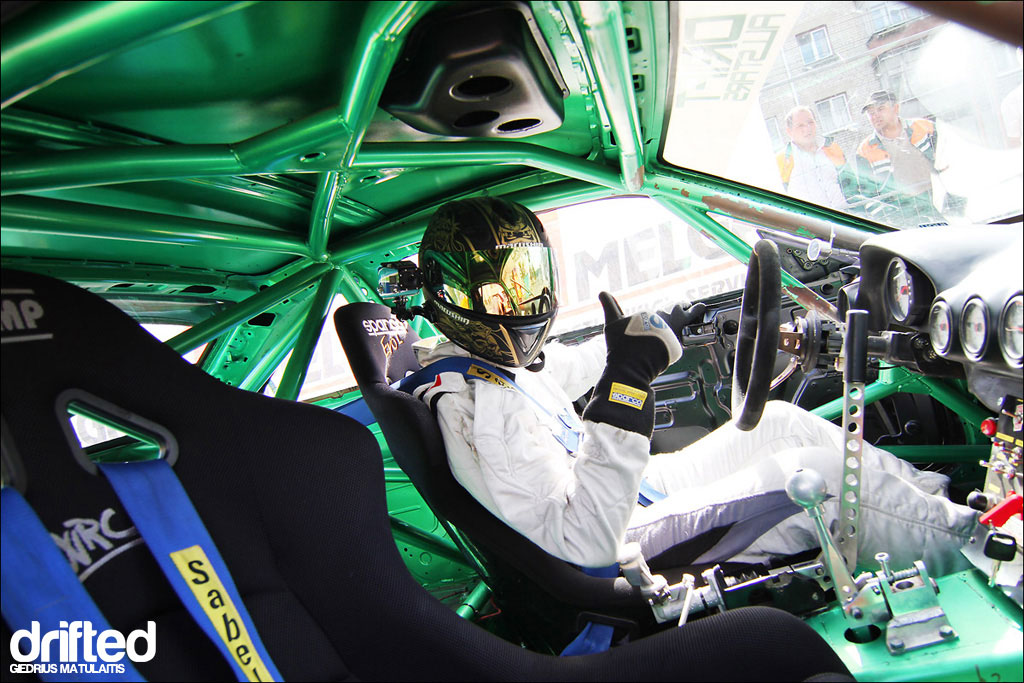 It's potentially arguable that these are 'essential', but once you've mastered the basics and you head to your first real drift day at the track, you'll likely regret your decision if you don't fit a racing seat.
Perhaps you've got yourself a luxury barge for drifting with some nice leather seats that you don't want to part with? Believe us when we say that the only benefit you'll see is a faster trip into the passenger seat mid-corner!
Bucket/racing seats not only offer increased safety, support, and additional protection, but the various subframes on the market can also offer an improved seating position.
If you're on a budget, you could just replace the driver's seat for the time being and give your passengers the option of either flying around the car or waiting until you can afford to upgrade theirs!
We've also compared the cheapest alongside the best bucket seats in the market in our Ultimate racing seats guide to help you choose the perfect seat for your needs.
Fire Extinguisher
Don't be that "it'll never happen to me" guy, that later has to beg his buddies for GoFundMe payments on social due to thinking that their cheap drift car wouldn't need a fire extinguisher.
These can be had for very little money, and since drifting often pushes a car to, and sometimes beyond its limits, this is a necessity.
As you've probably guessed, we've got a guide for the best choices here, too. So, take a look at our Best car fire extinguishers article and grab yourself a bargain.
Roll Cage
If you're practicing in an open parking lot, then this probably isn't going to be essential, unless you severely lack in the talent department and likely to hunt down that single lamppost!
However, once it comes to tandems with the homies, or putting your skills to the test as you scrape the walls at your local track, we'd highly recommend fitting a roll cage.
These can improve handling, but also increase the safety and structural integrity of your car. A crash that could potentially write off your cheap drift car could be saved with a roll cage. Oh! and did we mention that it would save your life in the process as well?
There are often off-the-shelf options, or if you know someone that's good with a welder, then they may be able to fabricate one for you.
If you're a 350z owner or considering copping one soon, you're in luck, as we've created a Ultimate 350z roll cage guide just for you!
Tires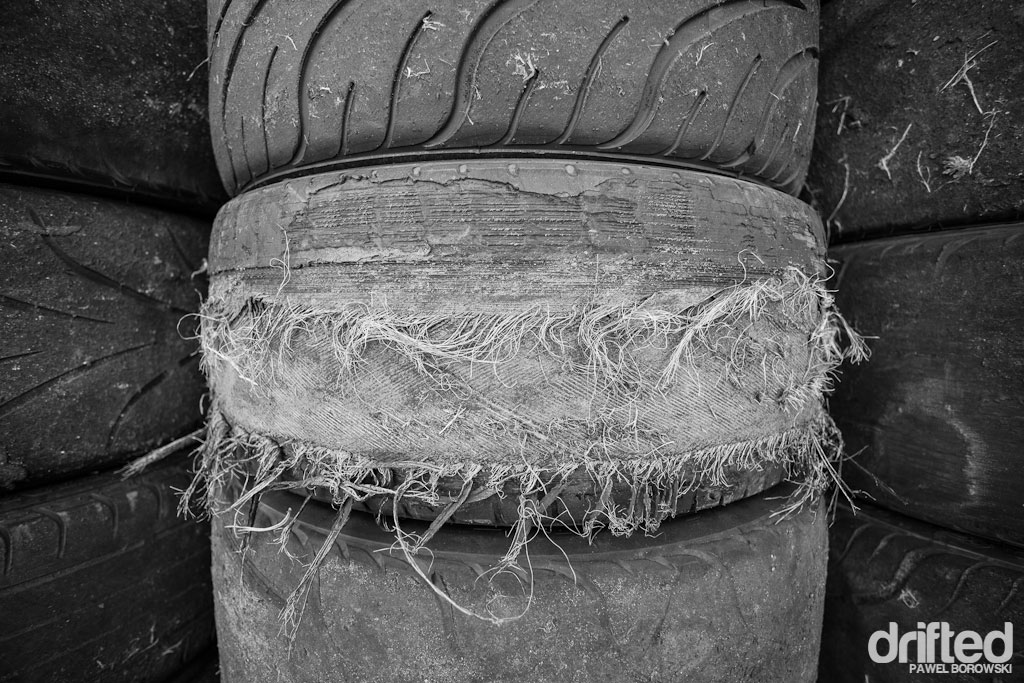 Drifting is all about burning rubber, so it's important to pay attention to the tires you use.
You'll soon become very familiar with these black circles, and the good news is that most of the cheap drift cars in our list will only require some part-worn street tires to get you started.
Although semi-slicks are dominating the tire game in competitions, they'll provide too much grip for a low-powered car, which will leave you struggling to spin up the rear wheels.
Skills!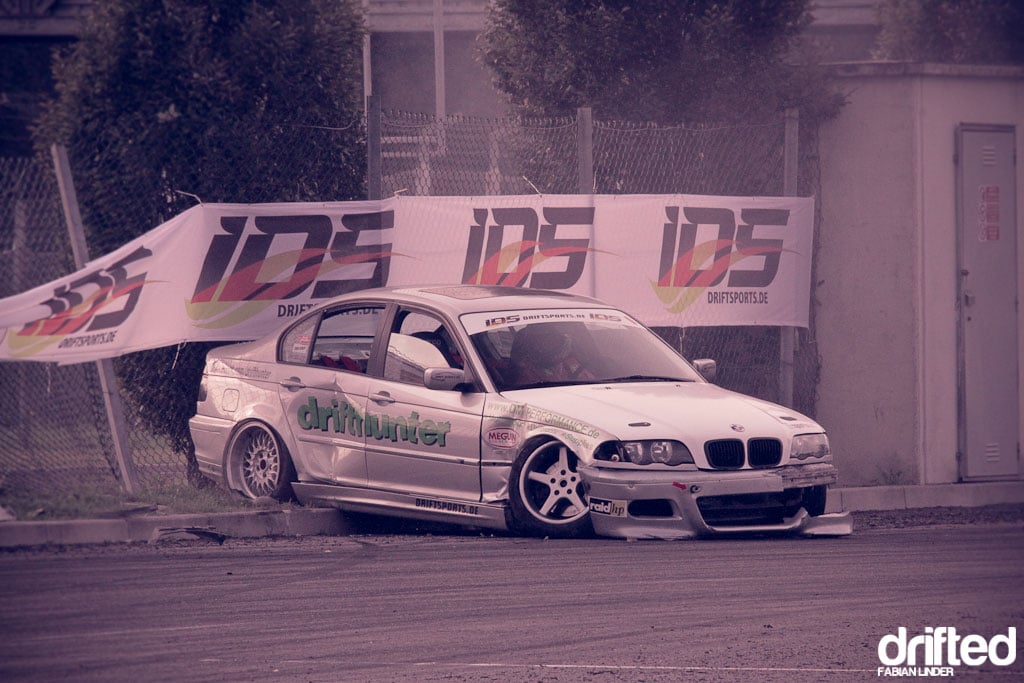 As a complete beginner, you're likely to be lacking in skills. So, we highly recommend taking a look at our 'How to Drift – The Complete Guide' article, which will be the perfect place to (clutch)kick-start your drifting career!
And don't get discouraged – we all have to start somewhere!
Also don't forget that Drifted.com is here to guide you through your journey in drifting.
Additional Safety Gear
With more tracks than ever requiring additional safety gear, you'll most probably need to consider upping your safety game before you know it. Check out our handy guides below to up your safety (and style) game!
Before you start complaining about us boring you with safety equipment, let's take a look at the best cheap drift cars for your needs!
---
Cheap Drift Cars
Everyone's idea of a 'cheap' drift car budget is different, but in this guide, we'll begin by focusing on some of the cheapest drift cars that money can buy.
After that, we'll take a look at the slightly higher-budget cars, for those of you that are willing to spend the money picking something a little more modern or exciting.
Without further ado, let's get started!
Nissan 350z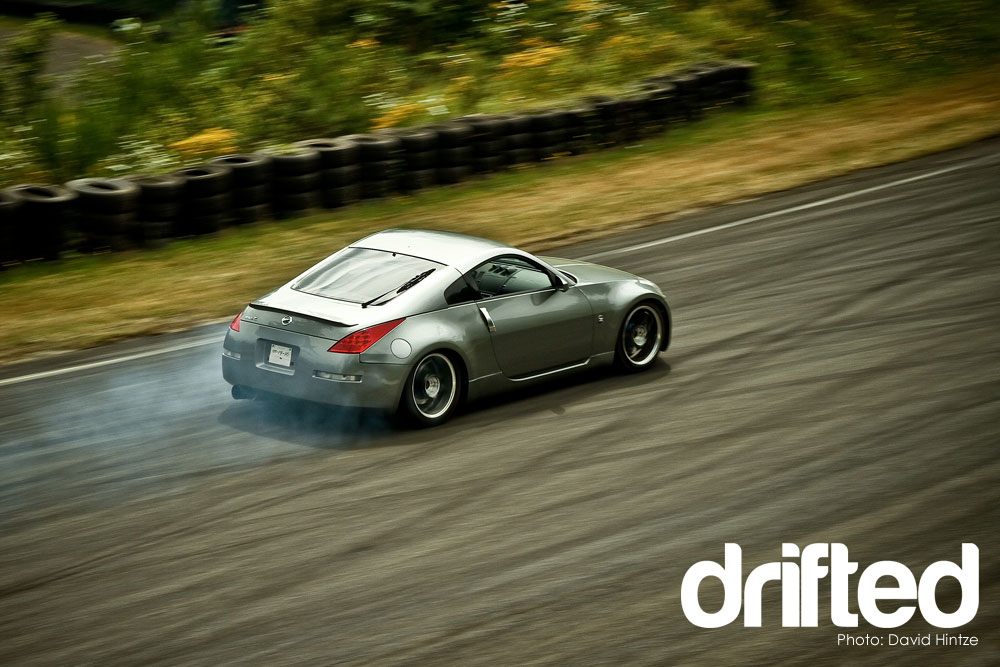 The 350z has found itself as one of the most popular cars at Drifted in recent years, and it's clear to see why.
It may not be the cheapest option out there, but the combination of stunning looks and an opportunity for roof-down skids makes it easy to see why this is such a common choice.
There's no question that The Fast and the Furious: Tokyo Drift helped boost the popularity of the 350z, but it undoubtedly deserves its spot on our list.
With plenty of power being produced from the stock 3.5-liter VQ35DE V6 (or later-model VQ35HR), an LSD in most trims, and a solid six-speed manual gearbox, the 350z was born to drift as soon as it left the factory.
Not only is the 350z capable of proving itself when it comes to drifting, but it's also an excellent choice for a daily driver, and far more reliable than most of the alternatives in our list.
With its drift-ready capabilities, modern styling and interior, and modern-day conveniences such as AC, the 350z could well be the ultimate choice.
The only real downsides that are worth considering with the 350z is the lack of rear seats. If you often need to carry back-seat passengers, this is going to be far from ideal!
With the introduction of the Nissan 370z, prices are now more impressive than ever, so this could well be the perfect time to grab yourself a bargain.
If you decide to grab yourself a 350z, make sure you head over to our 350z tuning guides section, and we'll help you choose the perfect upgrades for your Z!
Lexus IS/Toyota Altezza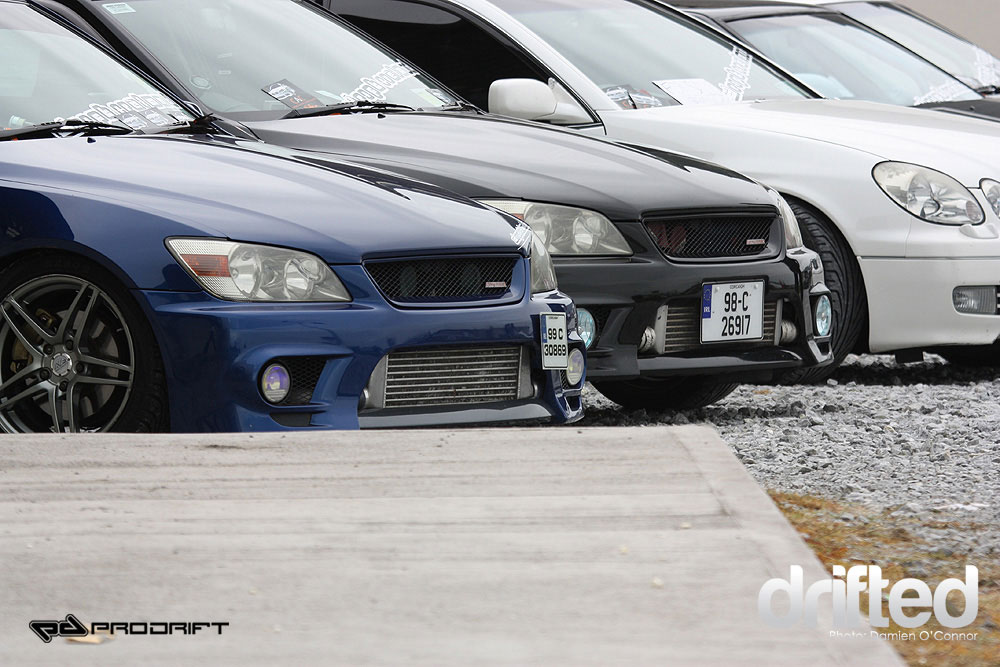 The Lexus IS was sold on the U.S. market, whilst the same car was sold in Japan as the Toyota Altezza.
Although Lexus is typically known for its luxury conveniences rather than their drifting abilities, this is a fantastic chassis that can be had for a bargain. The luxury comfort is likely to be a thing of the past once you've slammed it on coilovers and fitted a bucket seat!
If you're on the lookout for an IS, then we highly recommend looking at the IS300, which provides capable power in stock form from the naturally aspirated equivalent of the infamous 2JZ engine.
If you're thinking of upgrading the power further down the line, then we've put the best turbo kits on the market head-to-head to help you build the perfect NA-T 2JZ.
We'd personally avoid the tempting automatic options on the market unless you can conveniently source the conversion parts for a manual swap, as you may well end up regretting it further down the line.
With the right modifications the IS, particularly the IS300, has excellent potential at a bargain price and is one of the strongest contenders in our list.
BMW 3-Series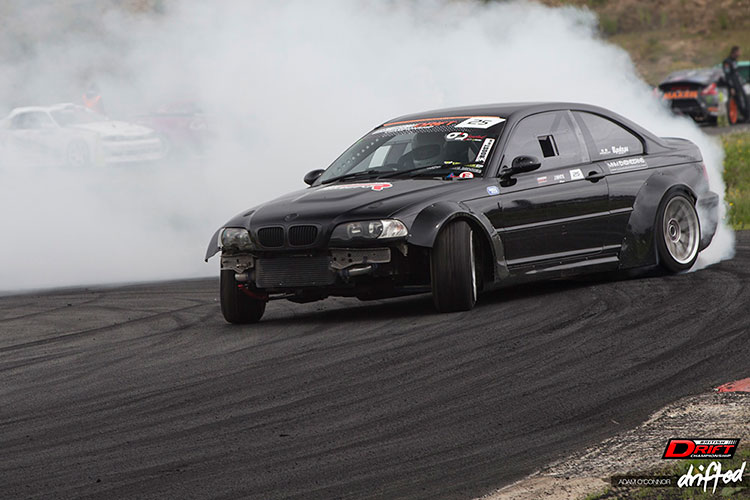 The BMW 3-series, particularly the E36, has become the love/hate car of the drifting scene over the years.
With immense popularity in its prime, there was once a huge selection of various E36's available on the market at bargain prices, and drifting enthusiasts ensured that they'd live their final years mostly spent on the limiter.
There's no question that this is one of the best value for money choices, and OEM and aftermarket parts are easily sourced, but we've personally grown a little tired of seeing bashed-to-hell missile E36's over the years which has made them a bit of an eyesore.
Admittedly, once you're behind the wheel and enjoying what this fantastic chassis has to offer, that'll most likely soon be forgotten. But don't expect the photographers to be climbing over one another to get photos of your beat-to-hell E36!
Over time, the E46 has become more reasonable than ever, which will certainly make it a tempting proposition to some. Thankfully it didn't lose its impressive ability at hanging sideways during the generation switch.
If you're lucky enough, you may even be able to find a reasonable E9x series that could do with a few simple repairs, depending on your budget. Although these are much more modern, they're still very capable with the right modifications. Expect your pockets to empty a little quicker than you'd like, though!
Although the most desirable option in each generation is undoubtedly the M3, these are constantly increasing in value, and we doubt you're likely to pick up a bargain these days.
Make sure you opt for the straight-six engine variants. Weld the diff, grab a bucket seat and hydro, and you'll be good to go.
With five seats, and the ability to be a comfortable and reliable daily driver, BMW's 3-series will certainly tick the box for most people. It's usually somewhat lacking the originality factor for us, though!
Make sure you check out our E36 tuning guides if you decide to make this your weapon of choice!
If you're looking for something a little more original, make sure you also consider the slightly chubbier 5-series! After shedding a few lbs, it could potentially be a serious bargain contender.
Mazda Miata/Mazda MX5/Eunos Roadster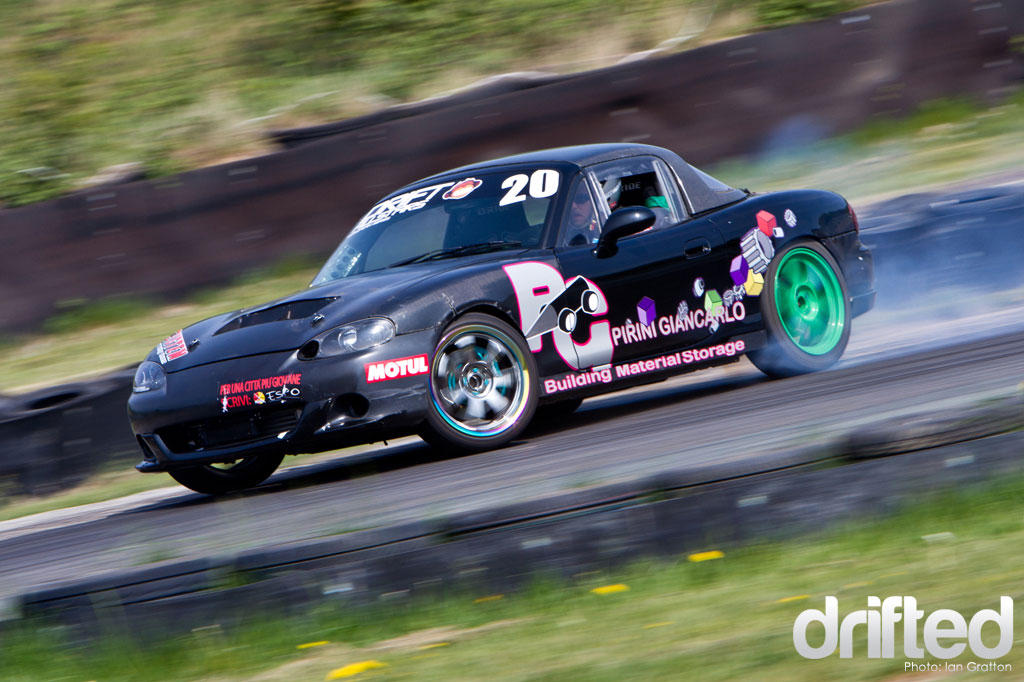 Yep, you guessed it – the Miata returns!
Although it probably doesn't come as a surprise, this small and humble two-seater roadster is not only a bargain, but it'll also provide you with heaps of fun for a fantastic price.
They're not the most powerful cars in our list, nor are they particularly easy to drift due to the short-wheelbase layout, but they're definitely up there with the very best when it comes to the all-around drifting experience.
We personally like the early 1.8L variants for a budget drifter, and there are plenty of supercharger and turbocharger variations for each generation on the market if you think you may have a few extra bucks to splash later on.
If you keep it stock, expect a lot of clutch kicking and foot-to-the-floor, balls-to-the-wall type driving, and in return, you'll be rewarded with the biggest, cheesiest grin that you've ever experienced!
One of the main downsides with these can be rust, so depending on which state you're purchasing from, we highly recommend taking a thorough look underneath in case it may have some imminent costly repairs looming.
We've compared a huge selection of aftermarket parts for the Miata, so make sure you take a moment to plan your future upgrades.
Infiniti G35
The G35 is another popular choice at Drifted, and just by looking at it, it's easy to see why.
Although they're not likely to be the cheapest choice in our list, there are some bargains to be had out there if you look closely. With the introduction of the G37 further down the line, this has helped suppress their prices.
The G35 is near-identical to the 350z, and it's a little more friendly if you're looking for a daily driver since Infiniti has loaded it with luxury comforts.
If you've spotted a bargain G35 out there in the wild, we highly recommend grabbing it as quickly as you can!
Our Ultimate Infiniti G35 Guide outlines everything you need to know about this fantastic car, and if you decide that it's the ideal choice for you, then we also have a huge selection of aftermarket upgrades to consider!
Mazda RX-8
Although it's far newer than some of the earlier model Miata's, the RX-8 can usually be picked up for an absolute steal of a price!
If you're wondering why then the simple answer would be – 'Rotary!'
We LOVE rotary engines, but they certainly aren't the most convenient or reliable engines to live with on a daily basis. For drifting, they are incredible when they work correctly, but repairs can, unfortunately, become both inconvenient and costly.
We've written more information on the rotary engine in our Ultimate RX-7 Guide if you're keen to know more.
For this reason, we wrote this RX-8 motor swap article to summarize the potential that can be had from this incredible chassis.
Perhaps you've found a bargain shell with a dead engine? Or one that's had an LS-swap?
If this is the case, you could well be on to a winner! Although they can be a handful, they also have a lot of potential, and there are plenty of aftermarket upgrades available for the car.
Mercedes C-Class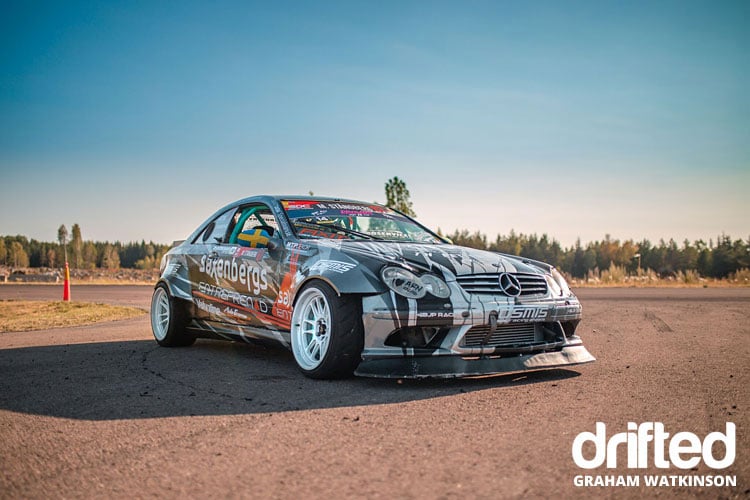 Although this may seem like an unlikely choice, but that's the beauty of it!
Most drifters aren't looking for C-Class Merc's, which means that they're not suffering from price-inflation, and you'll also have the benefit of having an awesomely rare drift car, win-win!
Our recommendation would be the 2.3-liter four-cylinder M111 engine found in the C 230 Kompressor, which is capable of 191hp and 207 lb/ft torque if you can get your hands on one.
If you want to be truly unique, then go down the diesel route and strap a giant lorry turbo to it in true Euro-style.
These are certainly not one of the most common cars out there, but use that to your advantage and grab yourself a bargain!
Ford Mustang
Okay, we're going to hold back on the jokes here. If you're looking to shock the crowd, then why not consider purchasing yourself a Mustang?! (Sorry, we couldn't resist).
Jokes aside, the Fox Body Mustang's are extremely cool in their own right, providing a true dose of 'Merica, whilst also providing the rarity factor when it comes to drifting events.
There's no doubt that the Mustang has had a huge amount of success in Formula Drift under the likes of Vaughn Gittin Jr, and more recently, Chelsea DeNofa.
Whilst their FD-spec wheelie-poppers are a far cry away from your current budget, that doesn't mean there aren't cheaper alternatives to be had.
We highly recommend trying to get your hands on one of the V8 options, but the V6's can often produce capable power to be kept sideways too.
If you can deal with being the victim of endless jokes at the track, you could use their reputation to your advantage in order to bag yourself a bargain!
Pontiac GTO
While we're on the subject of larger muscle cars, why not consider opting for a Pontiac GTO?
Sure, they might not be the best-looking cars on the grid, but this long-wheelbase chassis can be had for a reasonable price, with a more than capable powerplant lurking under the hood.
Based on the Holden/Vauxhall Monaro on International markets, this features the awesome LS1 or LS2 engines in stock form, which are capable of 350, and 400hp respectively.
Those of you with a good memory may well remember Rhys Millen taking the Formula Drift Championship in his Pontiac GTO build back in 2005 if you're looking for some GTO inspiration.
These are certainly not the lightest choice in our list, but the power potential is there, and with some weight-saving and suspension mods, you could well be onto a winner.
A murdered out GTO could also make quite a nice sleeper for the street, if that is your thing.
Nissan 300ZX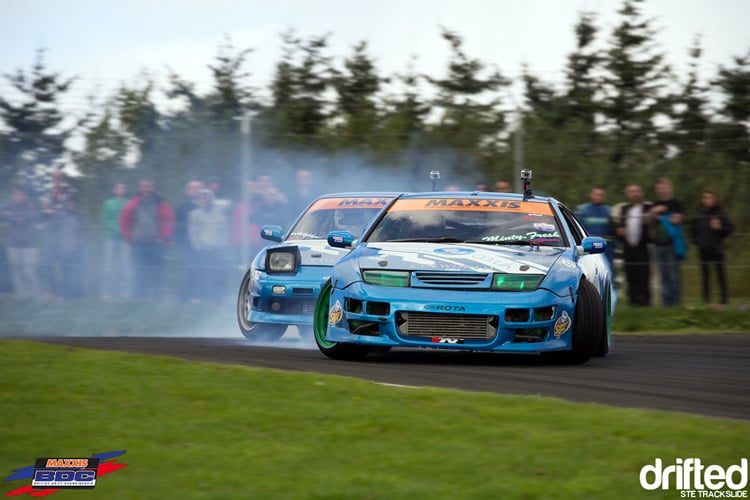 If you've considered a Nissan 300ZX for your next cheap drift project but perhaps been persuaded otherwise by your buddies or someone on social media telling you it's a bad idea, we'd recommend reconsidering.
While the 300ZX isn't a traditional choice for drifting, it is the perfect opportunity to bag yourself a bargain since you won't be paying the "scene tax" that comes with more desirable models, such as the Nissan Silvia (180SX/200SX/240SX).
With 283 hp produced from the twin-turbocharged VG30DETT 3.0L V6 powerplant in stock form, we've seen several builds that achieved the 500 hp region while maintaining reliability.
If you're looking for a cheap drift car that'll turn heads on the streets, and stand out at the track, then the 300ZX is one of our favorite cars for proving the naysayers wrong as you rub doors before leaving them lost in your smoke cloud.
While it might not be as agile and nimble as some of the other choices on our list, it's a more than capable chassis for most circuits.
Lexus GS300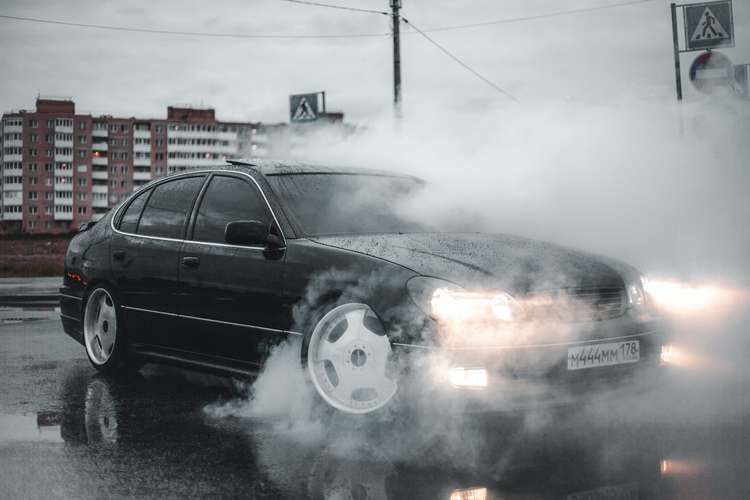 Want to take the whole family drifting? Look no further than our next choice – the comfortable yet powerful Lexus GS300.
Coming from Toyota's posh cousin, there are no doubts about the comfort of the GS300. And that's the beauty of it too! Who doesn't want to drift around corners while sitting on comfortable leather seats?
But, let's be serious for a second. If you want to build the ultimate drifting machine out of a Lexus GS300, you might want to consider stripping some of this weight out. And that means saying goodbye to that gorgeous wood trim pieces.
The third generation of this sedan came with several engine choices, all of which are fan favorites – the 2JZ-GTE, 2JZ-GE, as well as the 1UZ-FE to be exact! Check out our tuning guides on each of these engines to learn how you can extract every inch of performance out of them.
---
Higher Budget Alternatives
You've probably noticed that we've missed quite a lot of the 'obvious' choices in this guide, and that's mainly due to the drastic changes in the market over the years.
With the soaring desirability, yet decreasing availability, many of the most-loved drift cars, particularly on the JDM market, have found themselves outside of the budget drift car range.
Or, you might be interested in the current crop of JDM sports cars that have recently hit the market.
Taking all this into consideration, some of you may have a budget that can stretch just a little bit more.
And, whilst some may seem expensive initially, have you considered the cost of buying yourself a pre-built, fully specced drift car, compared to the time, effort, and money that it'll take to build your own?
Sometimes it's worth spending that little extra cash initially if you can afford to do so, particularly if the car already has some expensive goodies attached to it!
Here are some additional considerations if none of the above cars are tickling your fancy so far:
Nissan Silvia 200SX/240SX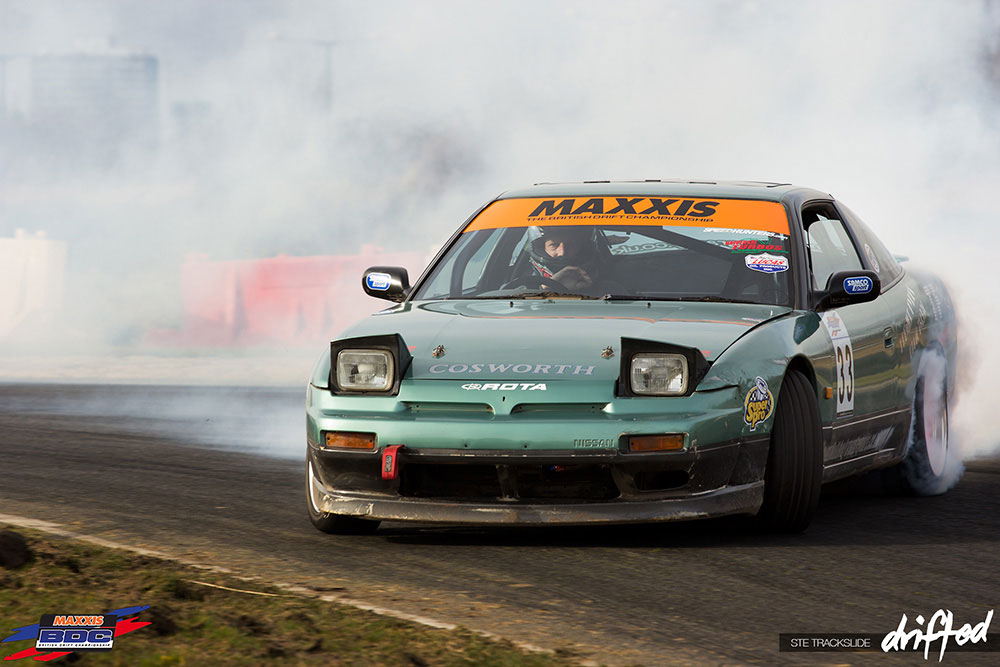 It's quite possibly the most iconic drift chassis of all time, but the prices have soared in recent times. There may still be some cheap S12 options out there if you can get your hands on one.
Nissan Skyline R33
The R33 is the cheapest and possibly the most common variant of Nissan's Skyline family, if you're able to take the 'boat' jokes on the chin, then these can be a potential winner.
Lexus SC/Toyota Soarer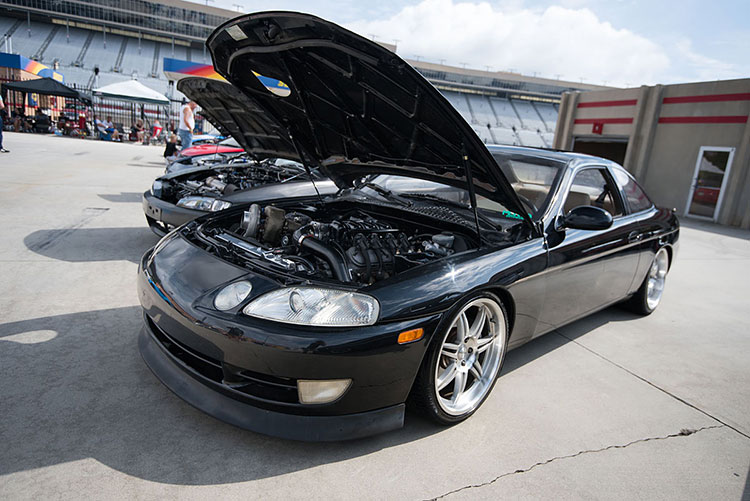 There are still the occasional bargains floating around for these awesome 1JZ-powered drift weapons, so keep your eyes peeled.
Honda S2000
A stunning modern-day two-seater roadster with a revvy V-Tec engine. It's not the most refined platform for drifting by any means, but if you're willing to stretch your budget, it'll definitely provide heaps of fun.
Toyota Corolla AE86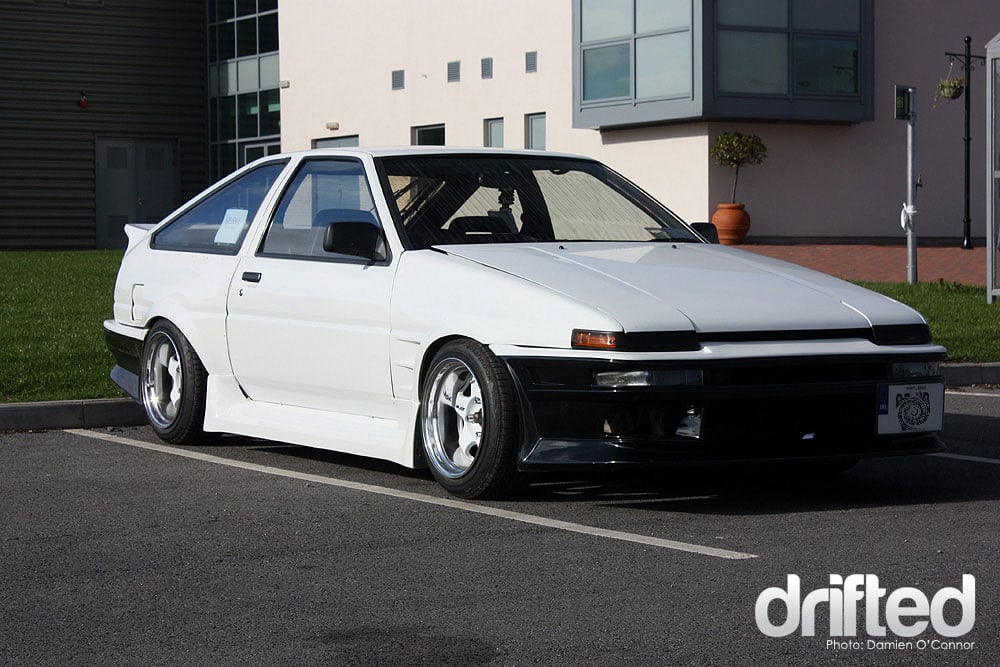 What's not to love about the humble AE86? We doubt you'll be able to get one for a bargain now, and it will need some upgrades if it's still in stock form. It could be a great investment for the future, though.
Subaru BRZ/Toyota GT86/Scion FR-S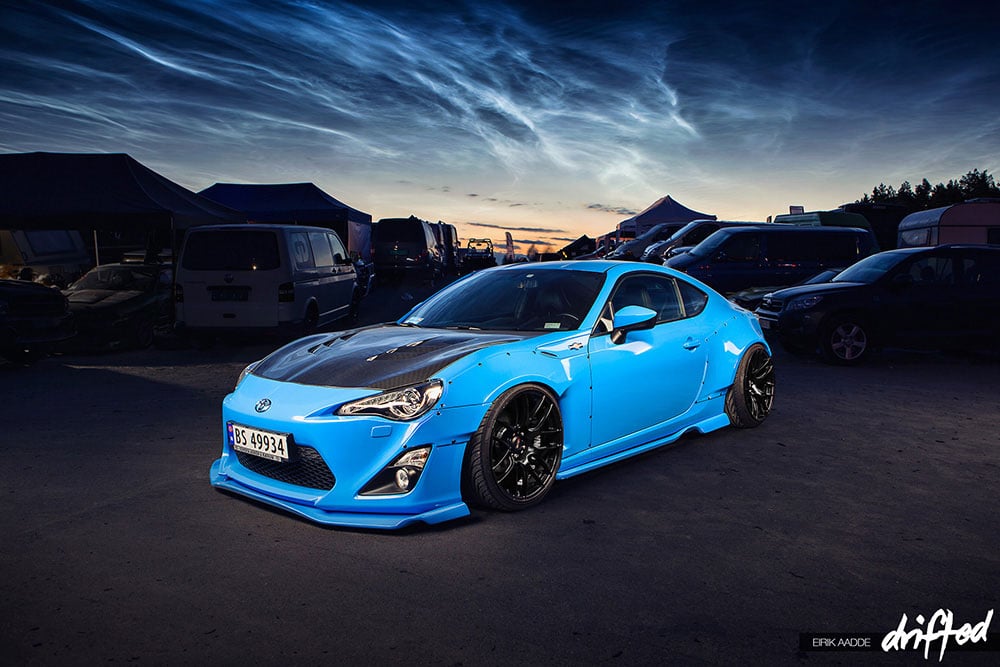 Prices are dropping on the modern-day AE86's, and these are well worth keeping an eye on, as they could one day become a cheap drift car. There's already a huge array of modifications to choose from if your budget allows.
Mazda RX-7 FC & FD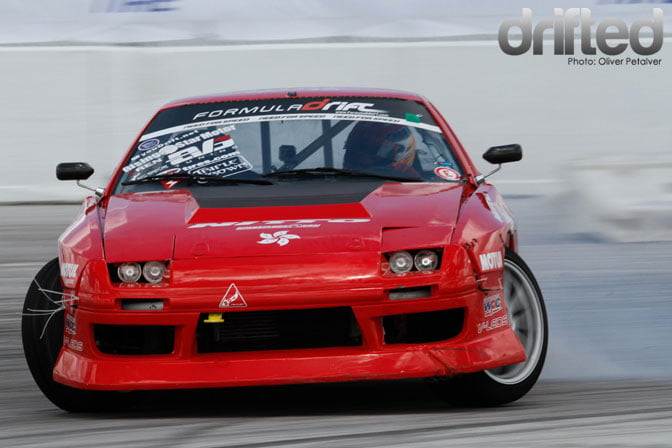 Although the RX-8 can sometimes be had for a bargain, the RX-7's have sealed their places in the history books, and often come with a premium price tag. If you're lucky enough, you may be able to find a cheap FC, but we don't expect the FD's to go down in price in the future.
Toyota JZX/Chaser/Cresta/Cressida
We absolutely adore these luxury barges from Toyota, and if you can get your hands on any of them, then you certainly won't be disappointed. Some of them even came with the highly sought-after 1JZ engine from the factory.
Toyota Supra (Mk3)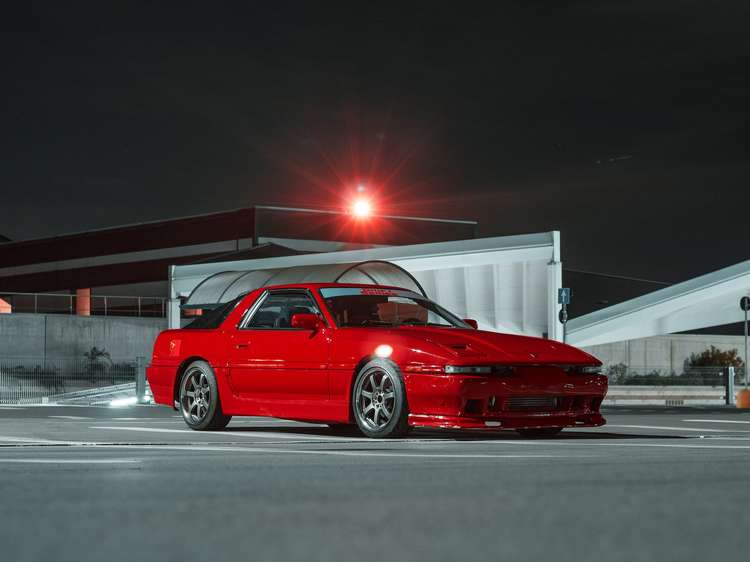 You'll have to shell out a bit more cash if you want to have the legendary "Supra" nameplate on your drift car. But, with Mk4 prices skyrocketing, you'll have to settle for the slightly older, yet equally capable third generation.
Chevrolet Camaro (Gen 5)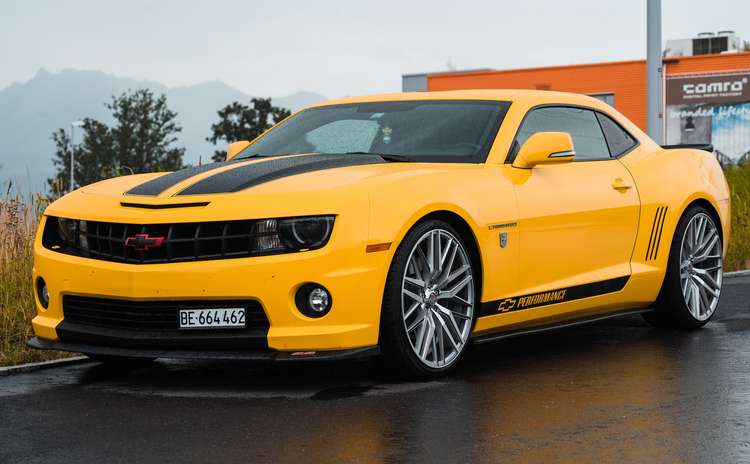 Muscle cars make perfect drift cars, and the fifth-generation Chevy Camaro offers a great mix of price and performance. With abundant aftermarket support for this platform, you'll have one of the baddest muscle-shaped drift machines on the block.
Pontiac Solstice GXP
If you want to stick with the American roots but want something more nimble, the Pontiac Solstice GXP makes the perfect case for itself. You can pick one of these for cheap, and have the perfect Miata-eater when you are done with some modifications.
---
Conclusion
We hope you've enjoyed looking through some of the best cheap drift cars on the market in this guide. Although prices can fluctuate somewhat on the market, we feel that the prices for these cars shall remain fairly consistent for the foreseeable future.
Don't let anyone tell you that drifting on a budget can't be fun. This is the best way to learn.
After all, there's no worse feeling than buying the car of your dreams, only to realize that you don't have as much talent as you hoped on your first outing at the track!
Our primary consideration when buying a cheap drift car would be the condition.
Sometimes, it's not worth saving a couple of hundred bucks if the car has likely been bounced off the limiter for several thousand miles, but at the same time, it may already have all the parts needed to head straight to the track.
One of the main positives with a modified cheap drift car is that you could potentially drive it into the ground and then swap your modifications over to a cleaner chassis later, which you hopefully don't intend to wreck quite so quickly!
We hope you've enjoyed this guide and that it'll help you choose the perfect cheap drift car to enable you to keep drifting fun!
If you're into building your own, the Toyota 3SGTE can be a fun project to play with!
Photography credits
We thank the following entities for the use of their photography in this article:
Thank you for reading our Cheap Drift Cars guide!
If you enjoyed this article, then please share it with the sharing buttons at the side and the bottom of your screen.