The Keiichi Tsuchiya AE86 Trueno
We peek under the hood of the iconic Keiichi Tsuchiya AE86 and reveal exactly what makes this car so special.
History of Keiichi's AE86
Keiichi's drifting exploits have proven an inspiration for sideways enthusiasts around the world for coming on three decades. His green racing suit, his AE86 and his signature aggressive driving style are the key components of his iconic brand. You can read more about Keiichi's life and racing career here, however this article is focused solely on his personal Toyota Corolla AE86 – the car that started it all..
His green racing suit, his AE86 and his signature aggressive driving style are the key components of his iconic brand
Keiichi purchased his Toyota Corolla Trueno in the mid-eighties, allegedly building up his funds by working multiple jobs (one as a club bouncer!). With the keys in hand he worked during the day and practiced his driving skills at night. His chosen stomping grounds being the mountain roads of Japan.
After Keiichi had worked hard to make his way into the racing scene of Japan he took extra effort to build close relationships with his race engineers and while driving for Toyota (TRD) he built a great relationship with Mr Sakurai of Toyota's Racing Division.
This fantastic video from back in the nineties shows just how potent Tsuchiya-san can be behind the wheel of his AE86 with just a 1600cc naturally aspirated engine. It is rumored that the on road driving antics shown on this video cost him his domestic racing license after a run in with the Japanese authorities.
Tsuchiya specified "total balance" over outright power for his own AE86 build
Working with Mr Sakurai, Tsuchiya specified "total balance" over outright power for his own AE86 build, all areas of the car's performance were to be improved and only afterwards was power to be added.
When Mr Sakurai passed away Keiichi reluctantly needed to find a new home and engineer for his beloved Trueno, he selected TEC-ART of Saitama, Japan. TEC-ART's is at top of the Toyota Corolla scene and was the natural choice at the time.
TEC-ART took Mr Sakurai's already highly developed platform and recommended a slew of upgrades to increase overall performance. These upgrades are detailed in the sections below.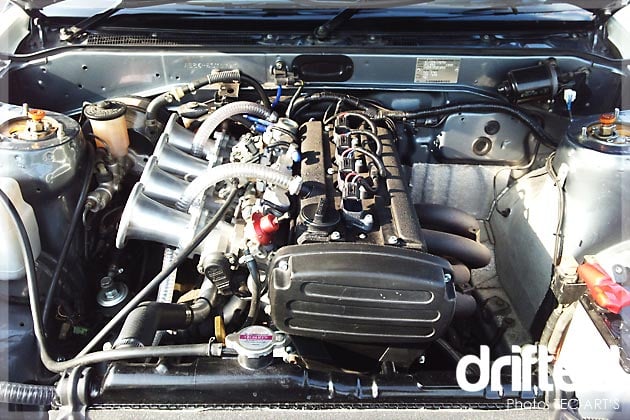 AE86 Engine specification
The engine was given a total overhaul with a staggeringly long upgrade list, everything from the engine mounts to the cylinder head assembly were touched.
7A-G 5 valve (AE111 head)
Power Output: 217ps @ 7200rpm
Torque: 22.9kgm @ 4200rpm
AE111 cylinder head ASSY
7A-FE engine block ASSY (Used 7AG engine and used 20-valve engine)
TEC-CAM264 (264-9.0Mm) [TEC-ART'S × TOMEI] collaboration products
TODA strengthening valve spring
82deg forged piston Koizumi Shokai made
TEC-ART'S 7AG dedicated I-beam connecting rods
Crank shaft: 7A genuine "balancing"
Crank cap bolt (ARP strengthening bolt)
Crank metal & connecting rod metal: NISOM Tasu TRD
Various parts WPC / DLC processing
Oil pan spacer (TEC-ART)
Large capacity Carl funnel (TEC-ART)
Leveling injector (TEC-ART)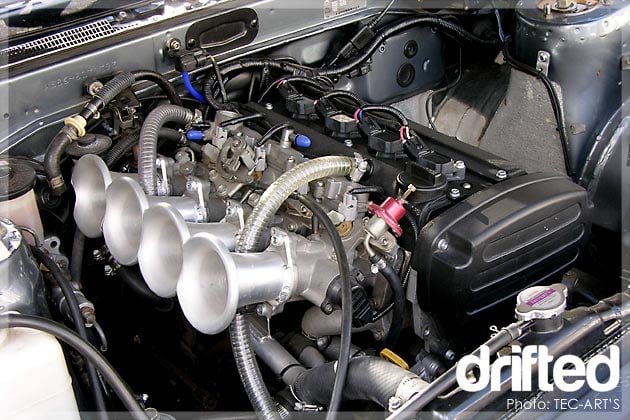 IMPULSE made 5-valve water around KIT
Aluminum pulley set (TEC-ART)
Water pump adapter
Super alternator (TEC-ART)
Planetary starter (TEC-ART)
other processing: combustion chamber processing (combustion chamber volume adjustment and correction) block shakeout etc..
MOTEC M84 set
Direct ignition KIT (TEC-ART)
Engine harness production
The current car settings (with horsepower measured at the chassis dynamometer)
Mount: TRD strengthen engine mount
Mount: TEC-ART'S made mission mount bush SET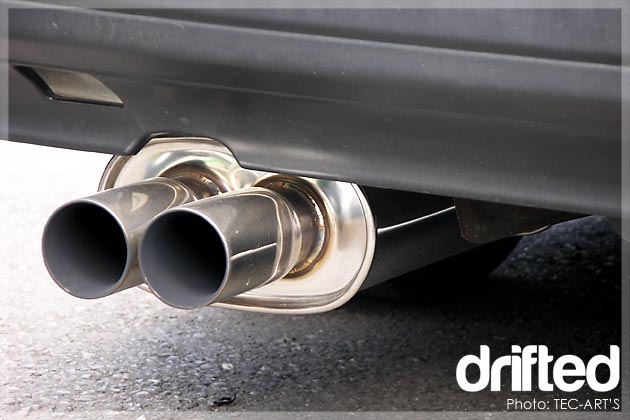 Strengthening fail-pump (SARD made )
EX manifold (Type-F)
Street Premium muffler Tsuchiya version muffler (serial number)
2-layer radiator (Type-R) electric fan set)
Oil cooler (electric fan set)
Present car Settings (MOTEC chassis Settings horsepower measurement) at dyno
Engine harness production
TEC-ART's made EX manifold (Type-F)
Street Premium Muffler
AE111 genuine catalyst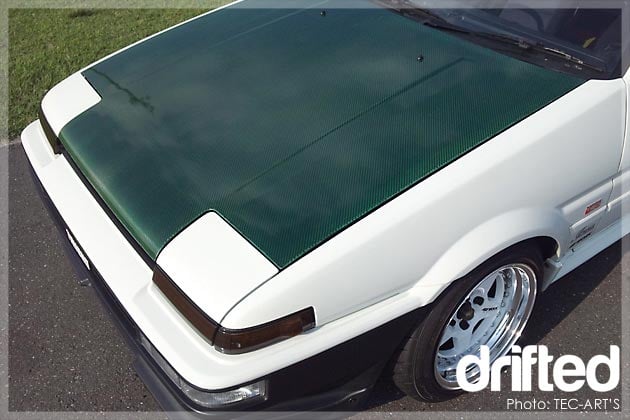 AE86 Drivetrain
To get the new found power onto the ground TEC-ART's opted for their own single plate clutch kit and a hybrid 2-way rear differential.
TEC-ART'S made 7AG dedicated carbon single clutch KIT (pro – spec 2)
TEC-ART'S made N2 Cross mission + TRD 2WAY + 4.7 Final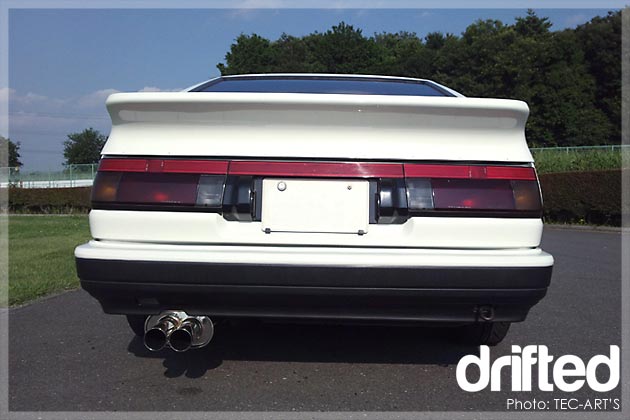 AE86 Cooling System
TEC-ART'S made of 2-layer radiator TYPE-R + electric fan 2 groups set
Setrab made oil cooler (W360 × H265) + electric fan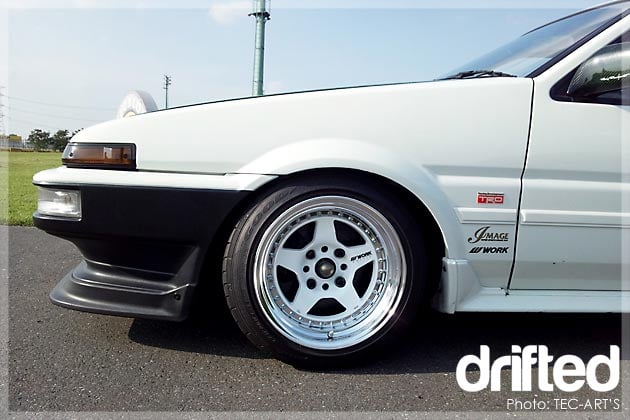 AE86 Wheels & Suspension
Keiichi's AE86 has worn many different sets of wheels over the years however it is currently on a set of MEISTER CR01 by Work. TEC-ART's own brand suspension dampers have been fitted all round for enhanced body control.
TEC-ART'S made by TEC-DAMPER TYPE-Aragosta (Street type front / 8k rear / 9K)
Nagisa Auto made pyro tension rod and Pirorowaamu
TEC-ART'S made Pirro control arm
TRD stabilizer (front) + genuine stabilizer (rear)
WORK MEISTER CR01 8.5j / off + 3/15 inch (front)
WORK MEISTER CR01 8.5j / off + 3/15 inch (rear)
GOODYEAR RS SPORT 195-50-15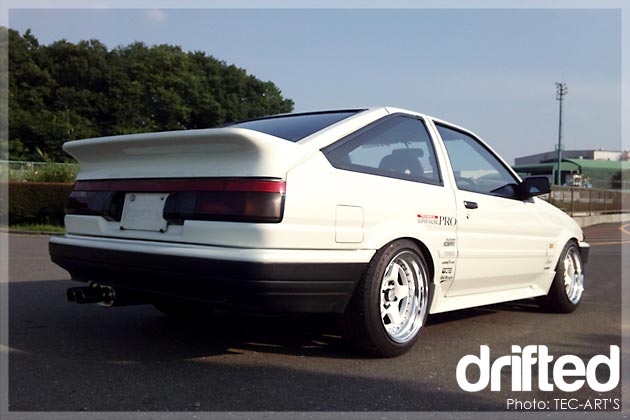 AE86 Brakes
The car's braking power has been increased by DIXEL rotors and calipers all round with ENDLESS brake pads.
DIXEL made slit disk rotor SD + full overhaul caliper (processing for MZ20) (front)
ENDLESS made brake pad CC-Rg (front)
DIXEL made slit disk rotor SD + full overhaul caliper (TEC-ART'S) (rear)
ENDLESS made brake pad CC- Rg (rear)
TEC-ART'S made original stain mesh hose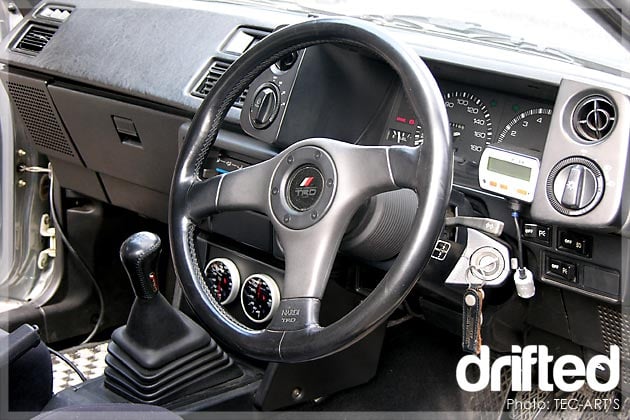 AE86 Interior specification
The interior has only been lightly modified; three performance gauges, a TRD wheel and shifter plus a pair of custom BRIDE seats complete the cockpit.
Water temperature gauge
Oil temperature gauge
Oil pressure gauge
Driver's seat BRIDE GIAS II (Keiichi Tsuchiya KING version)
Passenger's seat BRIDE STRADIA II (Keiichi Tsuchiya KING version)
TRD Steering & Shift Knob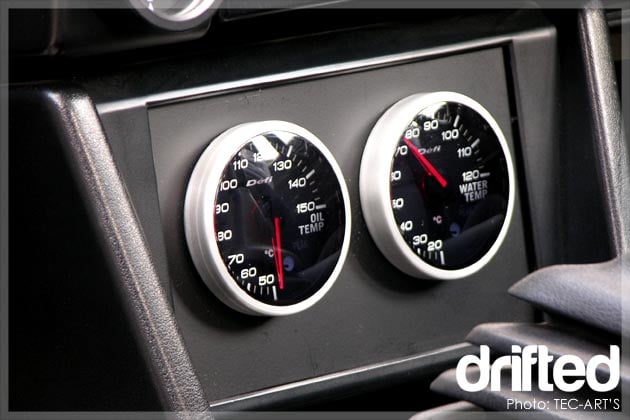 Want an instant hit of AE86 drifting action? Try our drifting games section. We just added six new 3D drifting games.
The finished Keiichi Tsuchiya AE86
So what does all of these extensive modifications add up to? Watch the video below to find out, as Keiichi battles a Nissan Skyline R34 GTR!
TEC-ART offers the full 'Tsuchiya Keiichi' AE86 menu to owners of the car, if you have the cash and want the best drop them a line. The TEC-ART website is here: http://www.tecarts.com/.
Want to jump behind the wheel and slay tyres with your own AE86? You can do that and much more by playing Drift Hunters.
Now that you have boned up on Keiichi's AE86 why not take a look at his life story?
Just as Keiichi-san has his iconic AE86 so Daigo Saito has his JZX100. Check out our Daigo Saito JZX100 feature.
Thank you for reading this article, I hope you enjoyed it. If you have any questions drop a comment below.
Subscribe to Drifted
If you like this article why not subscribe to Drifted and we will email you our freshest content for free!