Ultimate G35 Vs G37 Guide
Are you faced with the difficult decision of choosing between a G35 or G37? We're putting the two head-to-head and settling the differences in this guide.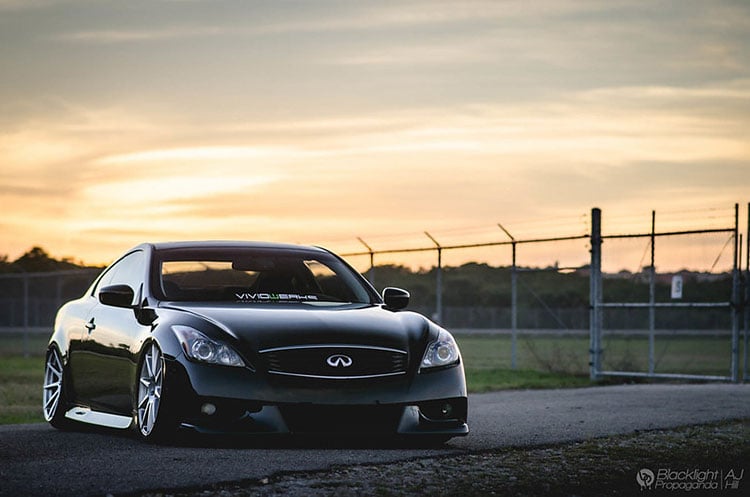 ---
G35 vs G37 – Introduction
When Nissan created its premium/luxury brand, Infinity, they aimed for the higher-end luxury car market, targeting a more 'sensible' consumer than the likes of the typical Z-car owner.
Style and comfort became the forefront of their agenda as they prepared to compete with Toyota's luxury brand, Lexus.
At the same time, they were also setting sights on their new-found, typically-chosen German rivals in the marketplace.
When the G35 first entered the market, it immediately landed the Motor Trend Car of the Year for 2003, before then being nominated for the North American Car of the Year.
It also landed its spot on the Car and Driver Ten Best list for two years running in 2003 and 2004.
In the present day, the least likely cars are quickly becoming the most tempting for younger enthusiasts to modify for drifting, and the G-series is no exception.
Let's face it; there's nothing more exciting than seeing the least likely car being thrown down sideways at the track, and there's certainly no shortage of Z-cars at any event.
When both the G35 and the G37 were initially released, they came with a more substantial price tag than your typical Nissan and were intentionally far less appealing to the younger generation.
However, with prices continually decreasing over time, and having now reached bargain territory, they're quickly becoming a more viable opportunity than ever for those that want a fantastic drift chassis with a powerful engine at an irresistible price.
For those of you that have an interest in the 350Z or 370Z, but fancy something a little different – the G-series presents the perfect opportunity.
The Z-car's popularity within the tuning scene has helped lay the perfect foundations for G35 and G37's, thanks to the many similarities and interchangeable parts between the two chassis'.
If you like the Z-car performance, but fancy something a little different, or more luxurious, then the G-series could be the perfect answer to your needs.
Don't be fooled by its luxurious and stylish looks either; the G-series is a wolf in sheep's clothing.
They may look subtle and sensible, but both the G35 and G37 have proven their abilities as being a fantastic weapon of choice in Formula Drift over the years.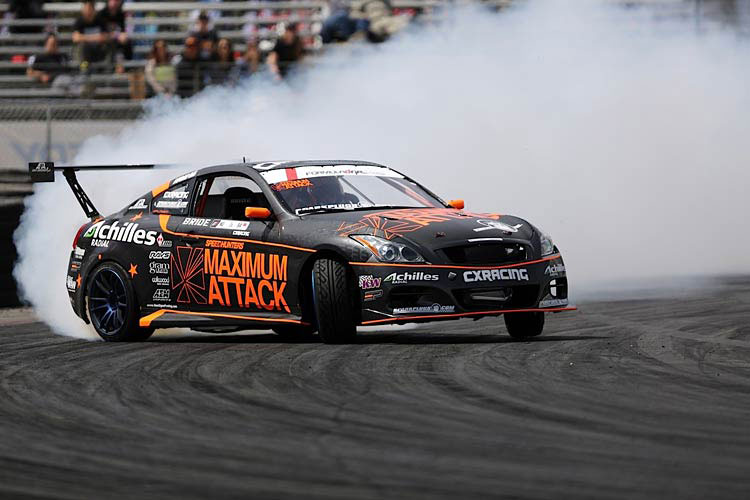 Underneath the stylish, elegant design sits a near-identical base to the Z-car, with the G35 being just 8" longer than the 350Z's wheelbase, and the G37 being around 12" longer than the 370Z.
Sure, they may weigh a little more because of this, but weight reduction is easy enough to achieve.
With various luxuries such as eight-way power leather heated seats and a Bluetooth stereo, it's clear that weight wasn't the top priority in mind when Infiniti was creating the G-series.
Swap those out for some lightweight bucket seats, and you'll already be well on your way to some decent weight-loss, with the bonus of not ending up on your passengers' lap when you throw it down sideways!
With both cars based on the same front-midship "FM" platform, Nissan opted to move the engine towards the rear of the engine bay to allow for optimal weight distribution.
Infiniti's G35 had the fantastic V6, VQ35DE engine under the hood, before later being superseded by the superior VQ35HR in the Sedan models, which was identical to what Nissan had provided the 350Z owners.
Later on for the G37, they'd opt for the highly-regarded VQ37VHR powerplant, the highly-tunable modern-masterpiece, more commonly found in Nissan's 370Z.
This mighty 3.7-liter V6 is capable of punching out 330 hp and 270 ft-lbs of torque in stock form, and the G-series engines had reached their prime.
There's no question that both G-series were gifted with an excellent drivetrain, and handled incredibly well as soon as they rolled out of the factory.
It can be tough to choose between the two, and we can understand the challenges that come with deciding which car provides the perfect all-around package for your needs.
Whether you're looking for a sensible daily driver, a stance car to scrape on the chassis rails, or the perfect car to throw down sideways at the track, the G-series ticks all the right boxes. But which one is the ultimate choice?
Both cars certainly have their perks and differences.
And, most importantly for us here at Drifted, they thankfully also both have fantastic tuning potential, with an impressive range of off-the-shelf upgrades available.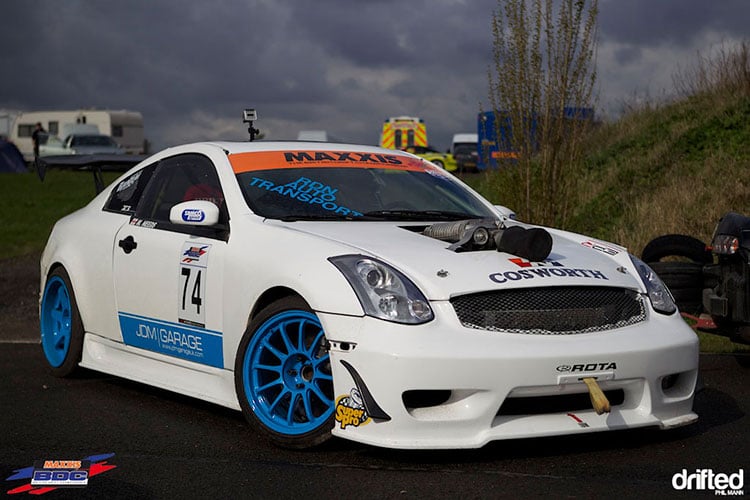 Now that both the G35 and G37 are on used marketplaces at incredible value for money, we know that it's not an easy decision to pick a clear winner between the two.
For that reason, we've decided to put the G37 and G35 head-to-head in this guide, so stick with us to find out which one is the perfect choice for your expectations!
---
Which is better? G35 or G37?
As you can probably imagine, you'll find a lot of differing opinions between owners on both sides when it comes to this question.
For that reason, we're going to break it down by each category to simplify the comparison.
Engine Performance
One thing is for sure – that the main difference between these two cars is their engines. And, although you'd probably think there's no reasoning for argument there, you'd be surprised.
On paper, the G37 is the clear winner here.
Throughout the various revisions from its 2002-2007 model years, the G35 initially produced just 260hp with the VQ35DE, before later achieving its maximum 306hp with the later VQ35HR engine.
Check out this video by the Dust Runners Automotive Journal Youtube Channel to learn more about the references between the two VQ35 variants.
However, fear not, as further potential was able to be unlocked with various engine upgrades.
From the day the G37 first started rolling out of the showrooms, it was capable of producing 328-horsepower from the fantastic 3.7-liter VQ37VHR, with plenty more tuning potential available.
What's interesting, though, is that despite the evident differences in power on paper, you'd be surprised if you got behind the wheel of both, as they have very different power delivery methods, which offer a significantly different driving experience.
This is due to the G35 having more aggressive gearing than the G37, which is a lot more evident in the lower power range.
Many owners think suspect Infiniti tweaked this for the revised model since it had initially made the G35 feel too 'sporty,' more like the 350Z, rather than appealing to the 'sensible' market that Infiniti was targeting with the G37.
For this reason, the G35 can feel quicker, even with less power, since it feels more like a 'raw' driver's car, where the G37 is more refined, with its "swell" power distribution.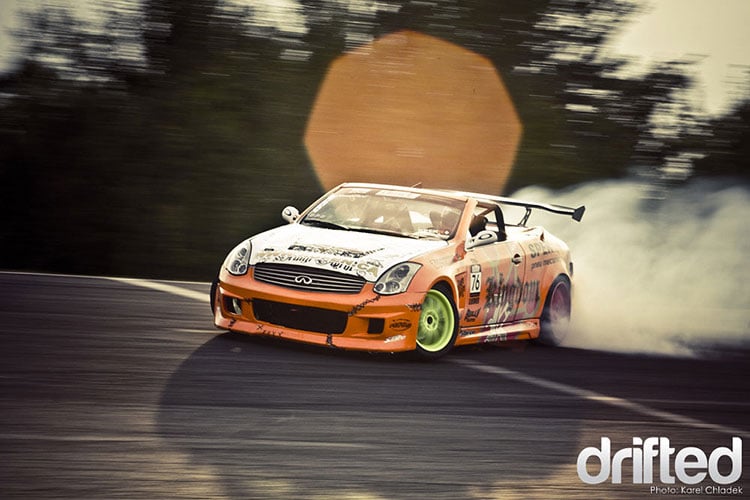 The positive of the G37's VHR is it has an almost VTEC-Esque appeal when the superior power delivery eventually arrives somewhat later in the power range.
The G37 is also more substantial in the weight department, especially with the AWD models, since the transfer case alone weighs around 180lbs.
There's also the transmission considerations, with the G37's 7-speed transmission being significantly bulkier than the five or six-speed manual transmission in the G35.
Of course, this additional weight would cause a noticeable difference when planting the power down, especially when the heaviest G37 could potentially weigh around 3-400lbs more than the lightest G35 with its modern-day additions.
So, although the G37 wins this round when it comes to statistics, the G35 could well be the better choice for those of you seeking a 'raw' driving feel.
However, if you're after a more subtle, refined power delivery, then the G37 is likely to be the better option.
Design
As you can probably guess, this is always a heated debate among owners, since it boils down to personal preference.
It'd be a pretty dull world if we all had the same tastes, right?!
Side-by-side, the two cars do look somewhat similar. It could be argued that the G35 coupe has the classic 'G-series' look, where the G37 perhaps brings a little too much modern styling to the table.
We prefer the look of the G37 front, but we feel that the G35 rear has a timeless shape about it. But, please don't send us hate mail!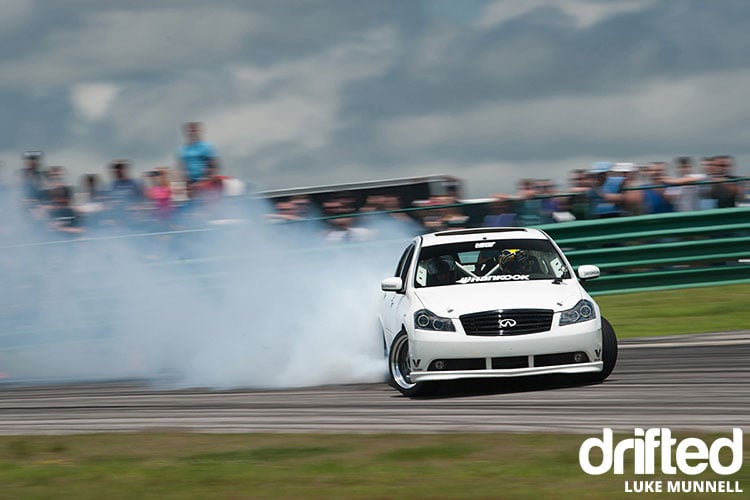 We'd almost say that it's a similar scenario to the engines. The G35 has the looks of the more aggressive older sibling, where the G37 perhaps has a more sensible, eloquent look to it.
When it came to weight, the lightest G35 was 3,497lbs, compared to a chunky 3,807lbs on the heaviest automatic-transmission G37's.
It certainly seems that Infiniti had done more in-depth research when it came to appealing to their target market when it came to the looks, and power delivery, of the G37.
Interior & Entertainment
Okay, so, as you've probably guessed, there's finally a clear winner in this department.
Well, assuming you're not planning to strip out the interior for your drift missile!
For those of you that have been in a G35, you'll know that it's not exactly the most modern of interiors.
Japanese cars were well-known for having interiors that are a little outdated even when new, back in those days.
Let's just say, if you were to try and use a G35 navigation system these days, you're likely to give up hope almost immediately and swap it out for an iPhone-compatible head unit.
As soon as you enter the G37, there's no question that you'll immediately realize that it's a far superior, modern, and comfortable place to be than the G35. The two are worlds apart in this regard.
Not only does it look better, but the sound system is dramatically improved, with iPhone compatibility, the leather is far better quality, and it once again just proves that Infiniti went out of their way to target the correct market this time around.
We don't mean that in a mean way, either. I mean, let's face it, who doesn't like a well-refined, modern interior?
Well, unless you'll be stripping it out and going for lightweight seats, of course.
Reliability
Both the G35 and the G37 are fantastically reliable.
There were a few minor niggles with the G35, which Infinity later ironed out when it came to the G37.
Some G35 owners have reported excessive oil consumption, timing chain tensioners, and various other minor issues.
However, let's not forget that these cars have been around for a long time now.
There's no doubt that some of them have probably had pretty harsh lives during that time, too!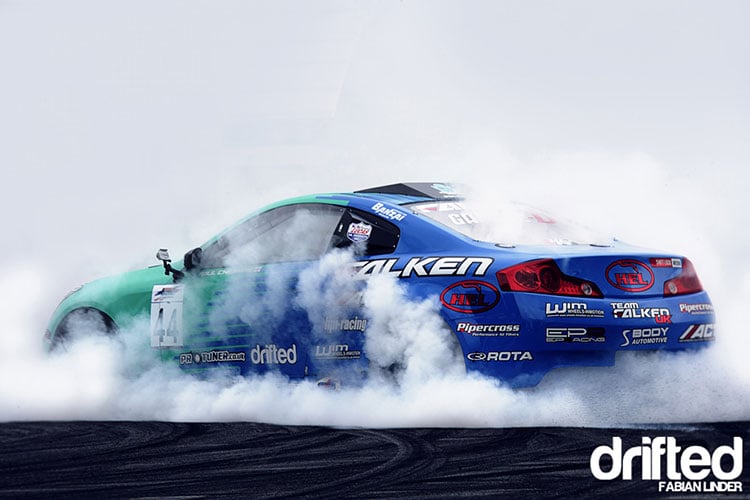 If you're looking for ultimate reliability, then the G37 is going to be the better choice.
The G37 provides newer chassis, a refined and improved engine, and given the general G37 market appeal, it's less likely to have lived its life frequently bounced off the rev limiter!
With that said, you really can't go far wrong with either.
There are many cases of both cars running on several hundred thousand miles with nothing more than typical maintenance repairs.
Convenience & Practicality
In all honesty, there are no significant differences in this department, besides the additional luxuries that come with the G37.
The main advantage would be that the G37 comes with a slightly larger boot/trunk, but it still certainly isn't anything mind-blowing in terms of storage space.
Price
When the G35 was initially released, it had a price tag ranging from $32,250-$34,750.
With the G37, a brand new model would've set you back between $33,250-37,000.
Given what you get for the price, especially when compared to the German rivals that they were targeting at the time, the G-series was incredible value for money, even when new.
Thankfully, mostly due to Infiniti targeting a niche market, both models can be had for absolute bargains on the used market.
The G35 has managed to retain its value impressively well, whereas G37 prices seem to be reaching new lows.
Due to the G35 having more of a following on the tuning scene, if you look carefully enough, you can often snap up a G37 for less than a G35!
That's an incredible amount of car for the money!
---
G35x vs G37x
As you've probably guessed, let's just say that neither of these is going to be ideal when it comes to drifting!
However, for those of you that aren't aware, the 'x' model uses an ATTESA E-TS all-wheel-drive system, which can be fantastic when it comes to winter fun.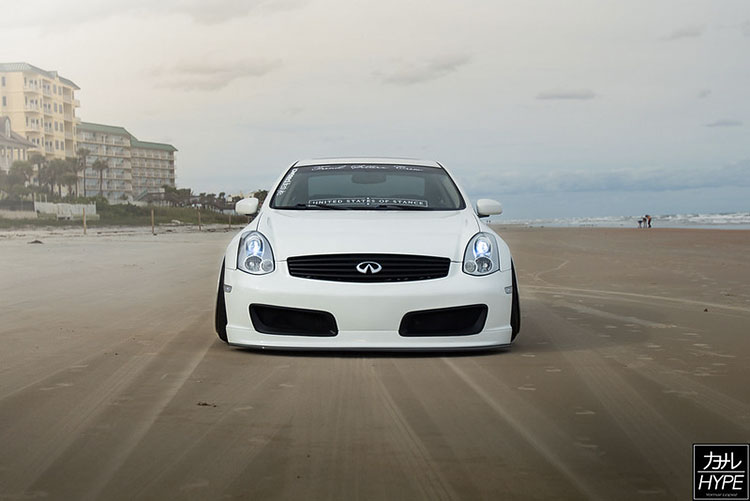 If you're looking for a sensible everyday driver, both the G35x and G37x can be great choices.
There are minimal differences between the two outside of what we have just covered in our previous chapter.
The main changes are that the G35x has a 5-speed automatic transmission, compared to the revised 7-speed automatic in the G37x.
When putting the transmissions head-to-head, this seems to come down to personal preference. The 7-speed has shorter gearing than the 5-speed, which in turn provides slightly improved MPG.
---
G35s vs G37s
Both the G35 and the G37 also came with a 'Sport' model. Although it wasn't groundbreaking, there were subtle differences between the cars, which certainly could make them more appealing than the stock alternatives.
With the G35s, Infiniti offered the 5-speed automatic transmission with wheel-mounted paddle shifters or the 6-speed manual.
It also came with uprated suspension, a revised bumper and side sills, sports seats, uprated front brakes, and a viscous limited-slip differential.
Alongside those, it also featured a staggered wheel setup, which ran 245/45/18 rear and 225/50/18 front tires.
For the G37s, they included uprated suspension, a revised bumper, sports seats, a viscous limited-slip differential, uprated brakes, and additional sway-bars, to improve handling.
Unless you can get hold of a cheap 's' model, we'd personally carry out the necessary upgrades ourselves, adding our unique personal touches to the car along the way.
We'd much prefer to run aftermarket G35 coilovers or G37 coilovers than opting for Infiniti's uprated sports suspension, for example.
---
G35 vs G37 Tuning Potential
There's certainly no lack of tuning potential with either of these cars!
Whether you're looking to simply improve the breathing performance of either car or unlock the true potential that their impressive powerplants have to offer, we've covered everything you could need to know in our Tuning Guides.
So, whether you're looking at going all the way with forced induction, or looking to improve the ride height and stance, make sure you check out the following articles as we dive deep into building the ultimate G-series.
G35 Tuning Options
G37 Tuning Options
---
G-Series vs Z-cars (G35/G37 vs 350z/370z)
Whether you're considering a G35 or a G37, it's hard to ignore the immensely similar Z-cars, the 350z, and 370z.
As you would've already noticed in our guide, we speak about the minor differences between them, and it's hard not to compare them when you're deciding which future ride is going to be perfect for your needs.
Sure, the 350z/370z is the more popular, and obvious choice, when it comes to drifting.
Nissan created the Fairlady with the drifter in mind. When they designed the 350z, they undoubtedly aimed their market towards those enthusiasts who wanted a light(ish) two-seater, raw driver's car.
On the other hand, the G35/G37 has been crafted for the everyday gentleman who wanted a sensible, comfortable, reasonably-priced stylish bargain.
With both cars sharing the same engines (mostly), it certainly doesn't make a choice any more simple.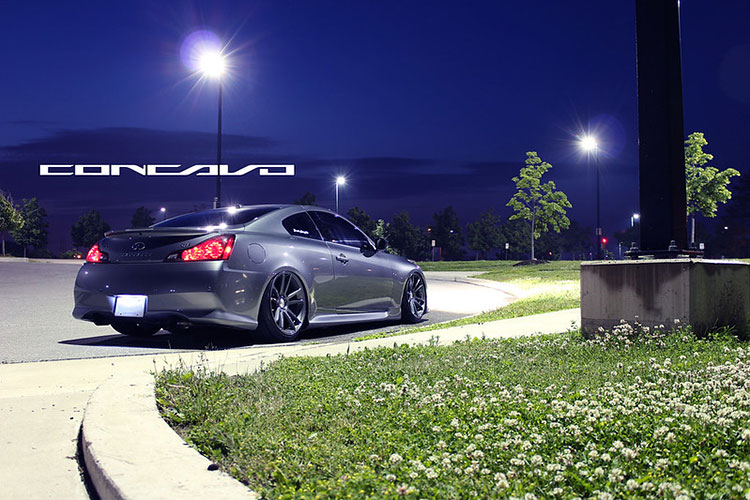 We would say that the main deciding factor between the two mostly boils down to which car(s) you prefer the look of since the weight issues of the G-series can be worked on and much improved.
There's also the convenience of rear-seats that the G-series provides, where a rear strut on the Z is the closest you'll get to having company in the rear.
The G-series also has the added alternative of an AWD variant, which could be particularly useful in areas that see a lot of snow throughout the year.
Driving a 350z/370z in the snow, on the other hand, wouldn't be quite so convenient!
Whether it's a G-series or a Z-car, if one pops up at a bargain price and you intend to modify it, then most of their differences become irrelevant.
For example, if you're looking to strip out your G35's interior, then it's going to look (and rattle) like a race car regardless.
Yes, the Z-car is lighter and built with a more race-oriented pedigree in mind, but don't let that be the ultimate decider when it comes to making your decision.
A stripped-out G35/G37 with a forced induction upgrade and the necessary supporting modifications will provide you with FAR more fun (and ridiculous noises) than a stock Z-car!
---
G35 vs G37 Conclusion
We feel that we've covered most of the questions which seem to be on the mind of potential G-series owners.
Both cars certainly have their quirks, and you definitely can't go far wrong with either.
It may simply boil down to personal preference when it comes to looks. We're firm believers that you should be buying a car that makes you turn around (at least once) when you're walking away from it!
If you're looking for something modern, comfortable, sleek, with additional luxuries, then the G37 is likely to be the logical choice for you.
However, if you're a genuine driving enthusiast, and you're looking for that raw driving feel at a bargain, we'd suggest booking in a G35 test drive.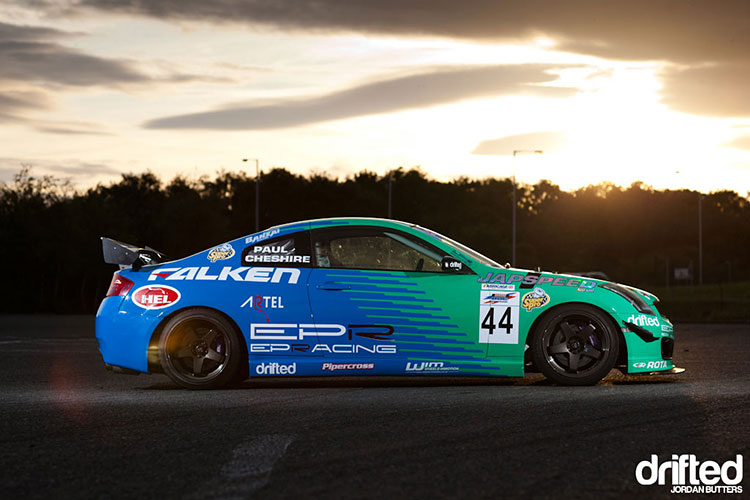 Although the G37 wins the power wars on paper, Infiniti's minor alterations from the 370Z's engine have made the power delivery somewhat disappointing compared to the G35.
However, for those of you that are going down a turbo kit route, this kind of considerations will be entirely irrelevant when it comes to perfecting your tune.
When it comes to budget, the G35 is still generally the cheaper car when it comes to market prices (with some exceptions).
For that reason, we would personally be saving our money to build an epic G35 with the massive array of modifications on the market rather than a near-stock G37.
With that said, there are some stunning G37's out there, but you'll need to have slightly deeper pockets when it comes to modifying.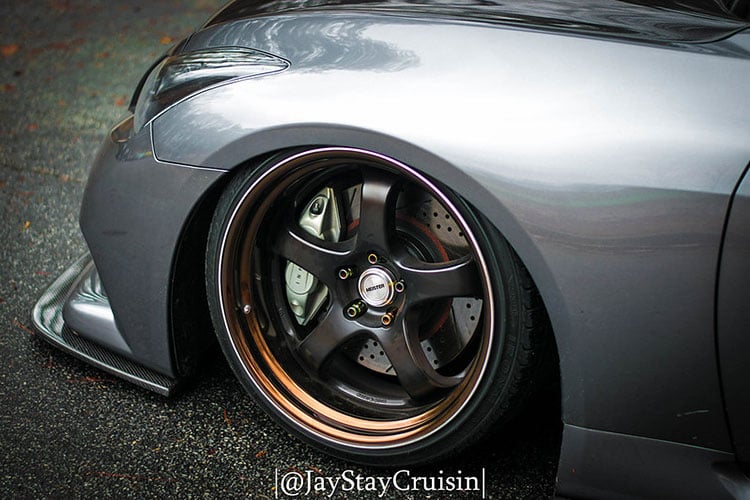 Perhaps with the increased popularity of the G35, and with a large chunk of them slowly but surely being turned into missiles, it could be time for the G37 to shine?
The choice depends entirely on your needs, and it may well be worth getting into the driver's seat of both to see what appeals to your personal preferences.
While you're there, we highly recommend also taking a ride in the 350Z and 370Z if rear seats aren't essential for your needs.
Looking to boost your G37's performance? Try our G37 headers guide.
Thank you for reading our G37 vs G35 guide.
If you enjoyed this article, then please share it with the sharing buttons at the side and the bottom of your screen.
Information and photography credits
We thank the following entities for the use of their information and photography in this article: