Infiniti G37 Coilover Guide
We review the most popular Infiniti G37 coilovers available on the market today, from budget to pro. This is the ultimate G37 coilover guide.
---
In a hurry? Here is our G37 Coilover summary
| Budget Choice | Drifted Choice | Premium Choice |
| --- | --- | --- |
| | | |
| BC Racing BR Series G37 Coilovers | KW Variant 3 G37 Coilovers | HKS Hipermax III G37 Coilovers |
| 🔥🔥🔥🔥🔥 | 🔥🔥🔥🔥🔥 | 🔥🔥🔥🔥🔥 |
| Buy Now | Buy Now | Buy Now |
It could be said that when Nissan's Luxury car brand, Infiniti, released the G37 to the market, adjustable suspension probably wasn't their main priority. Sure, you may well have the more-refined suspension from the 'Sport' package, but let's be honest, we know there's far more potential.
Drivers such as Robbie Nishida and Charles NG demonstrated just how the G37 can be driven in Formula Drift, so what's stopping you from utilising the most that this car can offer?
With the G37 at a more affordable price-point than ever, there are serious bargains to be had now that someone has taken a hit with the deprecation on your behalf.
Whether you're into stance, looking for more refined handling, hitting the track or purely want the adjustability that coilovers have to offer, we've created this guide just for you.
---
Let's take a look at our Infiniti G37 coilover selection
To read more about any of these products simply click on the coilover name or photo.
Our comment: The Tein MONO Sport coilover kit is a highly regarded offering from the popular JDM suspension manufacturer. This setup is likely to provide you with a slightly firmer ride than it left the factory with but providing substantial handling gains.
Tein have produced an optional-extra electronic dampening device, which connects exclusively to Tein coilovers. This allows you to adjust the 16-level stiffness inside the car to give you the perfect setting for street cruising or track racing at the touch of a button.
Manufacturer description: "The main concept of MONO SPORT is to provide driving pleasures to all drivers. All the different needs and demands are carefully analyzed to come up with the most suitable settings for each and every vehicle models. For cars often running on circuit, the settings are focused more on sport driving. MONO SPORT offers not only the precise steering feel that strongly appeals to sport-minded drivers, but also the flexible movement."
"MONO SPORT is set up to let the drivers enjoy the runs on circuits and/or winding roads and everyday driving on streets with the damping force adjusted. For cars requiring comfortable ride more than anything, touring settings are applied to provide and maintain the finest ride comfort which are often lost when the vehicle is lowered and/or larger tires/wheels are used. MONO SPORT offers the finest and most comfortable ride feel that makes even a long-distance driving seem like a breeze."
---
Manufacturer: KW
Levels of damping adjustment: 14
Construction type: Monotube
Spring rate front: Progressive spring (listed as 230lbs/in)
Spring rate rear: Progressive spring (listed as 230lbs/in)
Fitment: Infiniti G37
Value for money:
Purchase link: Buy your KW V3 coilover kit at EnjukuRacing.com
Our comment: Despite being one of the more expensive options on our list, they say that quality comes at a price and the KW coilover kit certainly lives up to that.
G37 owners have been stunned by this offering from KW for some time and the ability to provide great road comfort whilst also setting impressive lap times on the track leaves no questions on why owners are so impressed.
Manufacturer description: "Ready for a driving experience as unique as your car? A KW Suspensions Variant 3 coilover set offer you the independent compression and rebound damping setup you need."
"State-of-the-art technology from motor sports for more performance on the road. The separate and independently adjustable rebound- and compression damping allows for an individual suspension setup for different uses and preferences. The unique patented system with its two-stage valves allows a rebound damping adjustment (comfort) and a compression adjustment (driving dynamics) in the low-speed range while the high-speed range which controls the driving safety, is fixed."
---
Manufacturer: ARK
Levels of damping adjustment: 16
Construction type: Monotube
Spring rate front: 12kg/mm
Spring rate rear: 11kg/mm
Fitment: Infiniti G37
Value for money:
Purchase link: Buy ARK DT-P coilovers at Enjuku Racing
Our comment: ARK have entered the market with two coilover variants, the DT-P, which are mostly track-focused alongside the ST-P which is street orientated.
Created from the Team ARK motorsports division alongside Formula Drift experience, the DT-P are a great option if you intend to hit the track. We've heard great things about the coilovers and ARK's customer service which may well make these an even more appealing offering.
Manufacturer description: "ARK Performance DT-P monotube coilover systems are fully adjustable with 16 levels of dampening to fit your street or track needs. Our suspension systems are engineered and designed based on knowledge from our Team ARK Racing motorsports division and Formula Drift experience. The DT-P system offers pillow ball top mounts which are more performance oriented and allow for better adjustment of camber. "
---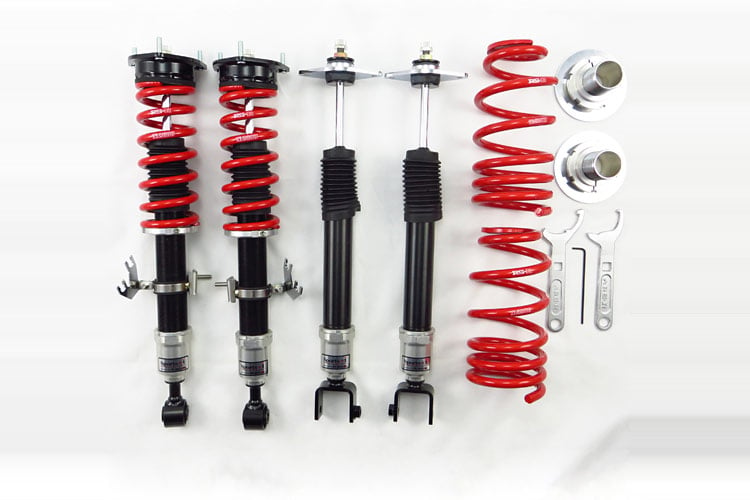 Manufacturer: RS-R
Levels of damping adjustment: 36
Construction type: Monotube
Spring rate front: 8kg/mm
Spring rate rear: 8kg/mm
Fitment: Infiniti G37
Value for money:
Purchase link: Buy RS-R Sports*i coilovers here
Our comment: RS*R have brought a fantastic offering to the market with a unique approach. Quality and comfort have been their main goal and they've undoubtedly achieved that. If you're after the handling advantages of a coilover but want to maintain a comfortable ride, these are the coilovers for you!
Manufacturer description: "Spirited weekend track drives do not have to sacrifice daily driving comfort or performance. Designed for the performance enthusiast in mind, the RS-R Sports-I coilover system provides a comfortable ride for everyday use, yet is sufficient enough for those effervescent track days."
"Why spend all day at the track dialing in your suspension when you should be on the track enjoying the experience. Damper and camber adjustments should not be a definitive factor, nor should you spend all day adjusting your suspension settings at the track. Drive to the track, on the track and drive home in comfort. Enjoy driving again with the RS-R Sports-I coilovers."
---
Manufacturer: BC Racing
Levels of damping adjustment: 30
Construction type: Monotube
Spring rate front: 10kg/mm
Spring rate rear: 8kg/mm
Fitment: Infiniti G37
Value for money:
Purchase link: Buy your BC Racing BR here
Our comment: BC Racing offer what could quite possibly be the best budget coilover kit available. If you're planning to spend less than $1k, this all-round kit could well be the perfect choice for you.
These offer a firm, but not crashy ride which is still ideal for street use and are more than capable for the money when you head to the track. BC also offer their higher-end 'ER' series coilovers which are a competitior for the KW V3's if you're intending to do mostly track use.
Manufacturer description: "The BR model is perfect for street driving and occasional road course duty. With easily accessible adjustment knobs for fine tuning your compression/rebound and separately adjustable ride height, having a performance coilover system couldn't be any easier. You choose how low or high you want your vehicle, no preset ride height here, and our patented concave lower locking ring keeps it locked in."
"All of our systems come with pillowball mounts to provide the most feedback possible from your suspension and to sharpen your steering response. BC's available front and rear camber plates also allow you to get the perfect alignment setup without compromise. All this while providing a strong, attractive looking coilover system."
---
Our comment: This entry-level option may suit those on a budget who are purely looking to improve their ride height and handling. We found that the build quality and finish was reflected in the price and would personally recommend forking out that little bit extra to purchase the BC BR coilovers that are closer to our mid-range offerings.
Manufacturer description: "Megan Racing EZII Series coilover system is aimed towards the more budget oriented enthusiast to offer the most basic essentials from an after-market coil-over setup, yet makes no compromises for quality and performance."
---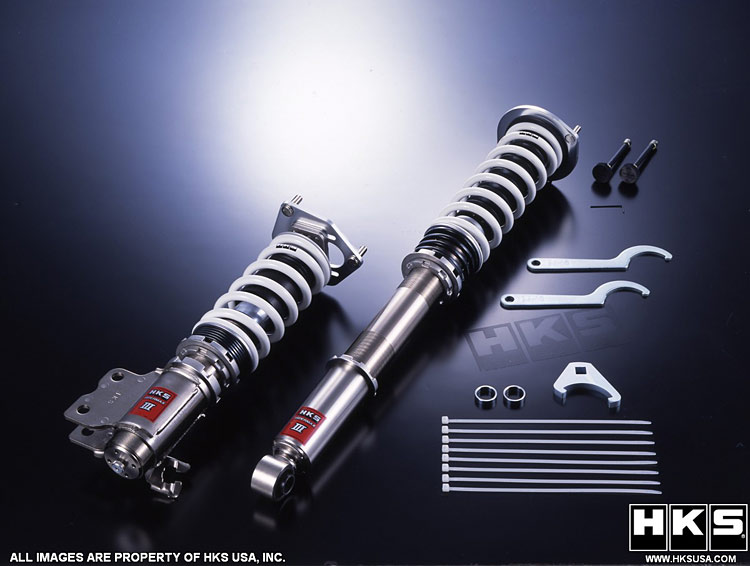 Manufacturer: HKS
Levels of damping adjustment: 30
Construction type: Monotube
Spring rate front: Range of options available
Spring rate rear: Range of options available
Fitment: Infiniti G37
Value for money:
Purchase link: Buy HKS Hipermax III G37 Coilovers from FRSport
Our comment: Legendary Japanese tuning company HKS bring their hand with the highest price tag of our list. This option combines fantastic ride comfort which is close to stock comfort levels and fantastic handling alongside the typical quality you would expect from HKS.
These are a serious competitor for the KW V3's and this may just boil down to personal preference, especially if you're keen to maintain the JDM aspect on your car.
Manufacturer description: "With the Hipermax III suspension series, the driver gains increased wheel control with improved performance of all vehicle dynamics and increased driver command in all conditions. Hipermax III combines track-quality control with excellent ride and handling characteristics at real-world street speeds. "
"HKS' all-new Hiper Linear Piston Fluid Channel System damping system creates a positive relationship between piston speed and damping force, making it possible to produce a suspension that provides track-level control and feedback with exceptional ride quality at the same time. In addition, the Hipermax III is shock-body adjustable (most applications) to allow vehicle height adjustment without affecting spring rate and piston stroke. With the Hipermax III's range of adjustability, precise corner balancing can be achieved. Chrome-plated cylinder shafts provide excellent durability and newly-design rubber upper mounts reduce harshness."
---
Our winner
Our winner is the highly acclaimed KW Variant 3 coilover.
It was a close call between the superb HKS Hipermax III and the KW V3's, but with no way of faulting the hugely popular KW's, they're undoubtedly the best bang for your buck purchase on our list but either option certainly won't disappoint!
For those with a serious budget who are looking to get the best lap times available, we have no doubt that the KW V3's will be the ulimate choice. HKS Hipermax III and the BC Racing ER's are undoubtedly fantastic alternatives if there's any reason you would prefer to not go with the KW offering.
Runner-up
Another set of coilovers which really stood out during our research of this article were our budget-offering – BC Racing BR's. At under $1k, we struggle to believe you will be able to find a better coilover out there for the money. If you're still intending to make further upgrades to your car and looking for a cheaper alternative, we have no doubt that the BR's will be perfect for your needs.
Thank you for reading our Infiniti G37 coilover guide!
If you enjoyed this article then please share it with the sharing buttons at the side and the bottom of your screen.
Since you have a G37, have you considered upgrading the exhaust system? Our G37 exhaust guide will give you all the information you need to pick your dream exhaust setup. Our G37 intake guide will get your engine breathing more freely and add a fantastic induction roar!
Got your G37 sitting just right but looking for a bump in power? Forced induction is your friend. Try our G37 Supercharger guide.
Do you have the G37's older brother – the G35? Want to know which coilovers to buy? Try our G35 coilover guide.
Looking to boost your G37's performance? Try our G37 headers guide.
Photography credits
We thank the following entities for use of their photography in this article: