Ultimate Infiniti G37 Intake Guide
Looking to extract the maximum performance potential while also upgrading the soundtrack from your G37? In this guide, we're going to take a look at the best cold air intakes for your VQ engine.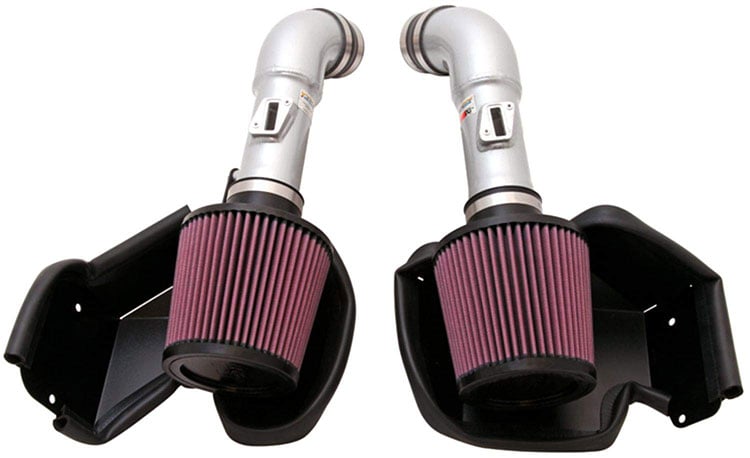 ---
In a hurry? Here's our G37 Intake summary
| Budget Choice | Drifted Choice | Premium Choice |
| --- | --- | --- |
| | | |
| Takeda Stage-2 PRO DRY S G37 Intake System | Stillen Gen 3 Ultra Long Tube G37 Intake | HKS Racing Suction Reloaded G37 Intake |
| 🔥🔥🔥🔥🔥 | 🔥🔥🔥🔥🔥 | 🔥🔥🔥🔥 |
| Buy Now | Buy Now | Buy Now |
Despite playing a large role in Nissan's luxury vehicle division, Infiniti's G37 has also taken the aftermarket tuning world by storm and provides an epic alternative to the Nissan 370z platform for those that prefer to travel in luxury and comfort. (Right?!)
Although some of you may well be enjoying the perks of luxury travel, there's no question that producing a few extra horses under the hood is always a bonus.
With a CAI, you'll be bolting on a brand new intake to your V6 VQ powerplant to allow for maximum airflow, improving both the sound and performance departments. If bling is your thing under the hood, there are also super shiny options for you too!
There's a wide variety of products on the aftermarket intake scene for G37's, and we'll be covering the full scale of the intake selections on the market in this guide to help you find the perfect option for your needs.
If you're worried about how difficult it's going to be to fit your intake, take a look at this guide from 'George Nava', as he installs the 'Drifted Choice' Stillen Gen 3 kit.
Although this kit provides the best performance gains, it's also the trickiest to fit, so if you're looking for something easier, then there are plenty of alternatives available.
Another highly sought-after choice comes from Takeda, and unlike the Stillen, their option requires no trimming inside the bay to fit. 'RoviraES' compares the stock intake to his shiny new Takeda in this video.
Since you're considering a CAI, why not take a look at our other tuning guides here at Drifted? We've put some of the most popular G-series upgrades head-to-head to help you build the perfect G37!
An aftermarket exhaust is going to be the perfect compliment alongside your brand new CAI. Combining these two bolt-on modifications will completely transform the sound and performance of your G-series. To complete the look, you'll want to grab yourself a set of coilovers to slam your G-series with the pimpin' ride height it deserves!.
If you're planning on going wild with your build, then forced Induction is undoubtedly going to be the perfect route. We've put the best supercharger and turbo kits head-to-head to help you achieve the craziest power gains imaginable from your VQ engine!
---
Infiniti G37 intakes
For now, let's take a look at the best cold air intake kits on the market for your G37.
To find out more about any of these products, simply click on the product name or photo.
Manufacturer: Jim Wolf Technology
Fitment: Infiniti G37 Coupe
Value for money:

🔥🔥🔥🔥
Our comment: JWT has released some fantastic products to the G-series market, and their Dual Pop Charger Intake System has become a popular choice over the years.
This kit is one of the 'short ram' options, which means that it places the intakes a little closer to the engine than we'd like, which means it's somewhat limiting the true potential of the cold air gains directly from the front of the car.
There are options available to reduce the downside of this, such as heat shields and reflective tape. However, we prefer the long tube options to get the most impressive gains.
Despite that, this kit has gained plenty of delighted fans over the years. You can expect some noticeable sound improvements, especially when paired with an exhaust, to allow the engine to scream!
As for performance, there may be a few additional horses ready to be unleashed, JTW claims 6.5-10hp, but the main gains are going to be in the looks and sound department for this kit.
Manufacturer description: "In 2007 Nissan drastically improved the VQ intake system by adding an extra throttle, so the question was, is there any room for improvement? After a full year of testing JWT got the answer, "YES", but only with the most efficient Pop-Charger Venturi inlets and hood-sealed heat shields."
"In addition to a 6.5 to10 WHP improvement, the tone of the engine due to the dual 6" venturis is definitely the most beautiful sound ever heard from a VQ engine!"
---
Our comment: This is undoubtedly up there with the best kits on the market and features a unique design that utilizes just one large filter instead of the typical dual-design.
Takeda claims that this intake produced 15hp and 16ft/lb gains with 35% increased airflow over the OEM factory intake.
The main reason that many people opt for this kit over the 'Drifted Choice' Stillen G3's is that there is absolutely no cutting involved, even though the cutting is extremely minimal with the Gen 3's, so they're well worth looking at.
Many Gen 3 owners claim that the bending in the pipes to avoid the cutting means that the Gen 3 is capable of increased airflow over this option.
Although many internet forum wars have happened over both of these kits, the primary decision you'll need to make between the two is whether you're willing to carry out some trimming to your OEM parts in exchange for the ultimate performance.
Manufacturer description: "This Takeda performance air intake system uses a unique dual flange filter design engineered to maximize surface area and flow. In recent testing this Takeda "Attack" cold air intake produced 15 horsepower and 16 lbs. x ft. torque, while outflowing the factory intake by 35%."
"The placement of the unique single air filter specifically designed to fit flawlessly in the area in front of the radiator guarantees a supply of cool, high pressure fresh air for maximum power gains. The Takeda philosophy of "no cutting or drilling" is maintained with this intake system, as flexible high resistance silicone couplings are used to pass through existing openings in the radiator core support. Whether for street or race, this is the ultimate intake system for the G37."
---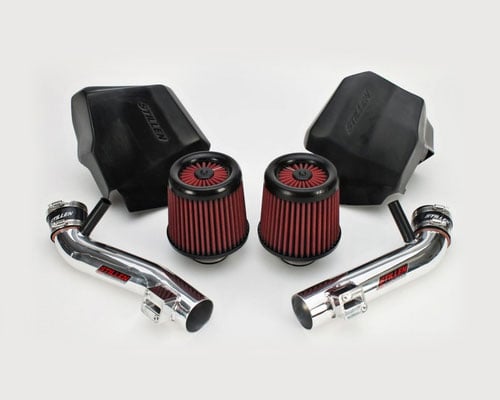 Our comment: Stillen provide arguably the best G37 kit on the market with their Gen 3, but unfortunately, their Gen 2 falls a little short of the mark.
After undertaking over 50 revisions of their product in the quest to build the perfect intake, which they feel they have achieved with their Gen 3 kit, this went on to supersede the Gen 2.
This upgrade meant that the Gen 3 has longer piping which reaches to the coolest point at the front of the car. Although this Gen 2 kit is classed as a 'Long Tube', it's closer to the short ram options compared to the Gen 3.
The positive of this is that you're not required to remove your front bumper, and should you need to access the filters, then this makes it far easier to do so. However, this does come at the expense of performance, where the Gen 3 will undoubtedly provide several extra horses.
Although this CARB-legal kit is impeccable quality, we'd instead reap the benefits that the Gen 3 offers.
Manufacturer description: "For those With a Dual Throttle Body G37 owners who want improved performance with a show quality shine, we've introduced our Gen 2 Long Tube Intakes.We replaced the restrictive factory air boxes with two (2) AEM dry filters. "
"These filters are designed with an integral velocity stack and attach to our newly designed polished aluminum long tubes. Replacing the factory intake tubes with the STILLEN design adds additional horsepower, and a great look for the engine bay.The filters sit inside custom-fitted urethane intake boxes, which ensure no hot engine compartment air gets sucked into the intake tract."
---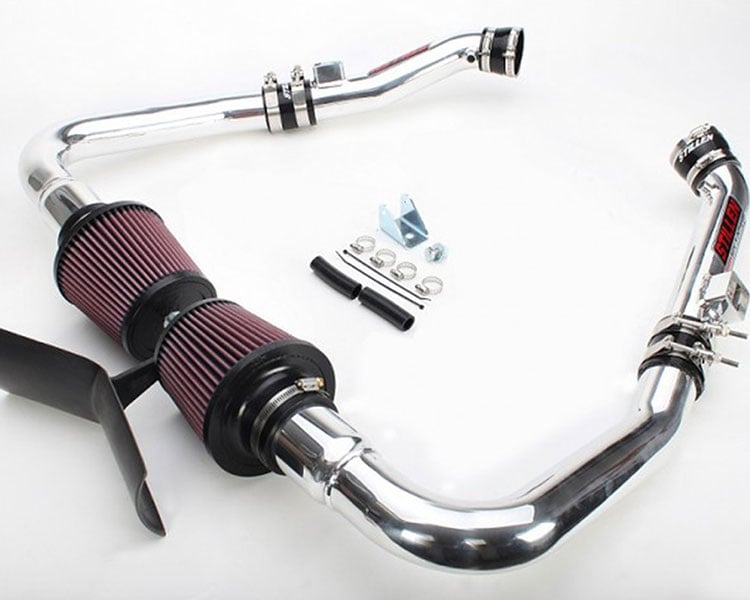 Our comment: You've heard us speaking about Stillen's Gen 3 kit throughout the guide so far, and quite rightly so, as this is arguably the most exceptional choice available for your G37.
Yes, it requires minimal trimming to ensure the perfect fit, and if that's not something that you're willing to do, then an option like the Takeda above is likely to be perfect for you.
Stillen claims 17.5hp gains from this CARB-legal kit on the G37, which is the highest 'proven' (dyno) gains out there.
Thousands of delighted owners have verified that this is the best choice on the market right now, and it also looks fantastic when installed, combined with the typical quality we've come to expect from the industry-leaders over the years.
Having tested more than 50 different variations before coming up with their final design, this shows the attention-to-detail that goes into providing such an impressive product for the market.
In our opinion, this is the ultimate product for performance improvement, and we do not doubt that it'll leave you grinning from ear-to-ear.
Manufacturer description: "STILLEN's continuing dedication to getting the maximum performance from each vehicle has lead to the introduction of the new Generation 3 Ultra Long Tube Intake. This intake has a radically new design that provides dramatically better power than any intake on the market for the VQ37 equipped vehicles. STILLEN's R&D team went engineered and dyno tested more than 50 variations before being satisfied that this system is the best that can be made for the VQ37 engines."
"The new Gen 3 Ultra Long Tube Intake places two large K&N filters in front of the radiator. Strategic placement of the filters allow for optimum cold air flow and easy filter removal for cleaning. It features additional polished tubes that pass through the front core support, larger air filters than the Generation 2 unit. On some applications such as the G37 a urethane splash guard is included in the kit to help protect the filter. This is only necessary on vehicles with larger grill openings from the factory. All kits feature a system of varied diameter tubing and steps to maximize air velocity."
---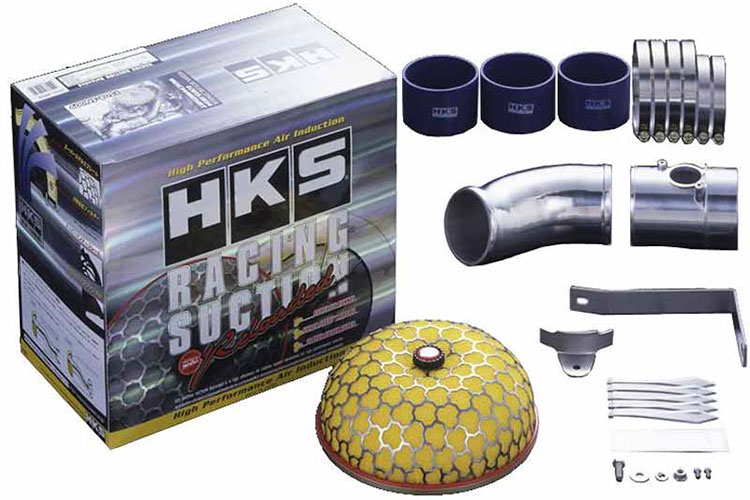 Our comment: For those of you that love your premium JDM goodies, HKS offers their Racing Suction Kit to the premium end of the market.
This kit does come with a fairly substantial price tag, and due to the location of the filters, you're unlikely to experience the same gains as you would from the Gen 3 kit above.
If you're looking to show off your parts under the hood, then this is one of the better options out there.
Other benefits from this HKS kit is that it looks fantastic, requires no trimming, and is convenient to install.
It'll certainly earn you some JDM scene points, but we'd personally be looking to add some heat shields to this setup to avoid sucking in the warmer temperatures.
Overall, a brilliant alternative option for the market, but we feel that more can be had for your buck with Stillen's Gen 3.
Manufacturer description: "Opt for the high-end intake kit from HKS : the Racing Suction. It replaces the stock intake hoses and air filter for maximum filtration without compromise, removing the original air filter box. Installation is simple as it is "plug & play/bolt on", without any modification necessary."
"Each kit comes with a high performance "mushroom" filter (up to 30% increase in air flow), hoses and aluminium brackets specially adapted for your vehicle, and all necessary accessories for installation (joiners, clips, bolts, etc.). The rigid aluminium hoses are designed to offer minimal pressure loss and help your boost pressure increase quicker. Indeed, the stock rubber hoses often contract with the vacuum created by the compressor, severely reducing performance."
---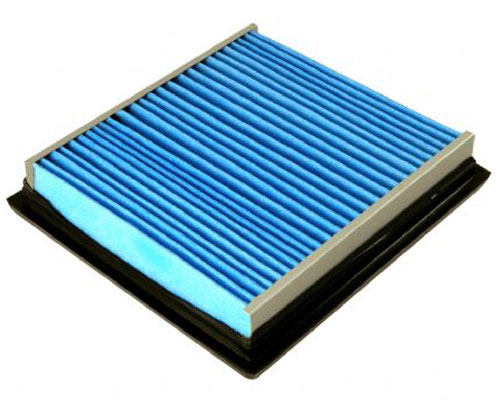 Our comment: Cosworth is certainly no newcomer to the tuning scene. You're most likely going to recognize them from their Ford tuning days, but let's just say that these guys know a thing or two when it comes to maximizing performance!
Although this is a panel filter rather than a full kit, this is the perfect upgrade for those of you that wish to keep the OEM look and feel to your car, simply by upgrading the stock airbox filters.
Cosworth claim that these filters can provide up to 10% reduced restriction over your stock filter, which will undoubtedly offer a noticeable increase.
For an OEM intake, Nissan/Infiniti did a decent job and it provides sufficient airflow for basic everyday needs, even if it does provide some restriction.
Although you'd reap further benefits by opting for a full aftermarket kit, this panel filter is a worthy alternative for those of you that want to keep the OEM look and don't fancy spending too much cash.
Manufacturer description: "Cosworth Performance Air Filters are constructed from a proprietary synthetic, non woven single layer, pleated polyester filter media that requires no oiling. For an OE like fit, the filter housing is injected molded from High Impact Polystyrene or Polypropylene Each Cosworth air filter has been engineered to fit the vehicles original air box providing a true cold air supply to the engine."
"Cosworth Performance Air Filters also provide increased air flow when compared to original equipment air filters."
---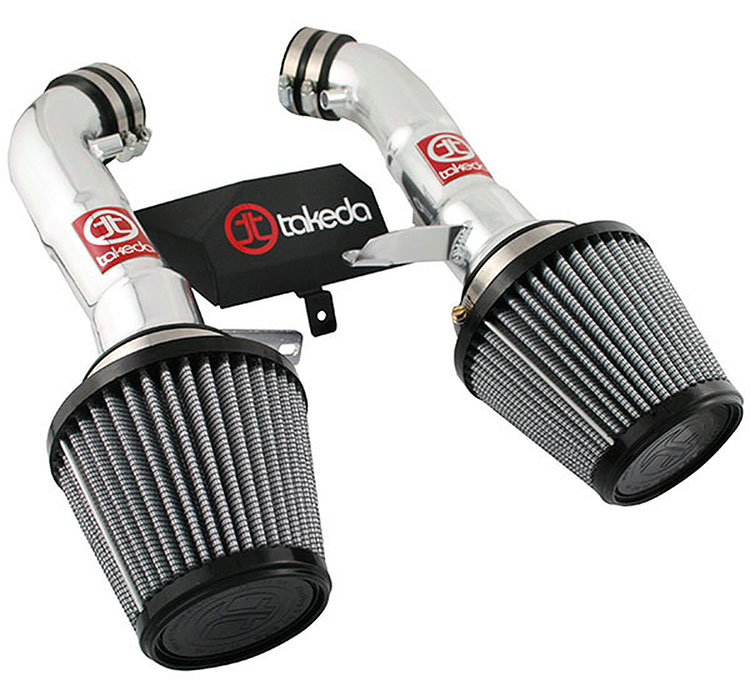 Manufacturer: Takeda
Fitment: Infiniti G37
Value for money:

🔥🔥🔥
Our comment: Having previously reviewed the hugely popular Takeda intake above, they also offer this short ram intake for those of you that are looking for looks and convenience over performance.
Similarly to the previous short ram intakes we've reviewed, these are once again not going to be capable of providing the same cool air as the long tube options on the market.
However, if a short ram ticks the right boxes for you, then this kit would undoubtedly look good under the hood, and Takeda are known for their excellent quality. In that case, it could be a perfect choice!
Manufacturer description: "The Takeda Retain Intake is a short ram air intake intake system. In recent testing this intake produced 9hp and 8lbs. x ft. of torque. Takeda intakes are constructed out of lightweight clear-coat anodized tubing for maximum air flow and a great style."
"Each intake uses a large 360 degree high flow PRO Dry S air filter for maximum flow, filtration and convenience. The PRO Dry S air filter requires no oils and cleans with simple soap and water. Takeda intakes come complete with all tubing, filters, couplers and hardware for an easy installation. Complete installation in 40 minutes or less."
---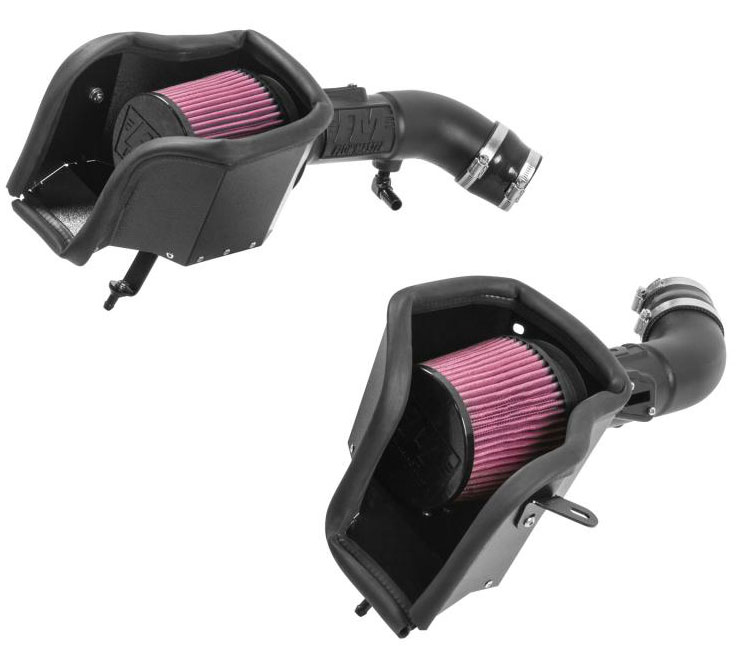 Manufacturer: Flowmaster
Fitment: Infiniti G37
Value for money:

🔥🔥🔥🔥
Our comment: Flowmaster has put an extensive amount of research into providing one of the best, and most popular short ram options on the market.
With substantial heat shields, this means that you get the convenience of a short ram kit with the maximum potential cooling available.
If you've made it this far in our guide, you'll know that we're relatively biased towards long-tube CAI's for their performance gains, but as far as short ram kits go, this is one of the best on the market.
Manufacturer description: "Take the performance of your vehicle to the next level with the addition of Flowmaster's new Delta Force Performance Air Intake system for 2008-13 Infiniti G37 with a 3.7L V6 engine. The Delta Force system contains an ultra-trick looking, custom molded black Cross-Linked Polyethylene (XLPE) high-flow intake tube, black anodized aluminum fittings (when applicable), high quality reinforced silicone couplers and all stainless steel hardware."
" Other features include a large diameter high-flow conical shaped 8 layer cotton gauze air filter, which traps more dirt than typical 6 layer designs, a custom-fit black powder-coated air dam with attachment brackets to securely mount the system in place along with soft bumpers to eliminate any metal to metal contact under the hood. The Delta Force Air Filters are serviceable with our new Delta Force cleaning kits which will help outlast your vehicle. Delta Force Performance Air Intakes are NOT currently legal for use or for sale in the State of California."
---
Our comment: AEM offers something a little different with their kit, which sits somewhere in the middle between short ram and long tube, which they claim is capable of providing up to 15hp gains.
This fantastic looking kit is one of the most popular options on the market, mostly for owners that don't want the inconvenience of trimming or having to remove the bumper for filter maintenance.
One of the best features of this setup is that it utilizes AEM's Dryflow filters, which can be used up to 100,000 miles without requiring any servicing.
This is a great alternative worth considering for owners that are looking for convenient installation, significant performance gains, and great looks combined with low maintenance.
Manufacturer description: "The 21-821DS Performance Cold Air Intake System produces horsepower and torque gains by replacing the restrictive air filter and air intake housing. This air intake system was designed, tuned and dyno-tested to fit specific Infiniti G37 models. This system replaces both the left and right side intakes."
"The AEM Dryflow synthetic washable air filter does not require oiling and can be used up to 100,000 miles before servicing is needed (depending on driving conditions). The heatshield is a two piece design and also utilizes the factory air ducting. The intake tube is constructed from mandrel bent aluminum and has a durable gray powder coat finish. This air intake system was developed to accommodate the mass air flow sensor and PCV hose."
---
Our comment: Injen's SP kit typically gets mentioned within the Top 3 CAI's for the G37, alongside Stillen's Gen 3 and the Takeda Stage 2 kits.
Like the Takeda kit, this one doesn't require any trimming, so if that's likely to put you off, this could be a great choice.
Another beneficial aspect of this kit is that the filters can be removed for servicing without the need to remove the front bumper, unlike Stillen's Gen 3.
If you're not keen on working on your car, or the inconvenience of removing your bumper once a year, then this could make the Injen a tempting prospect.
This kit is yet another fantastic option, which quotes 15hp performance gains and is capable of giving the 'Drifted Choice' Stillen Gen 3 a run for its money!
If you find the black tubing a little dull, there's also a polished alternative.
Manufacturer description: "Is your engine choking for air and in need of some additional horsepower? If so, Injen has exciting news for you! The SP series of cold air intakes from Injen Technology will allow your engine to breathe deeper and enhance the performance that you've been craving. The SP series of cold air intakes is Injen's flagship system in their lines of traditional aluminum cold air intake systems."
"Injen Technology is the world's first tuned air intake system and holds four patents on the tuning process of an intake system – something no other manufacturer can claim. The SP series of cold air intakes feature many of Injen Technology's patented tuning process, including MegaRam (MR) Technology, Air Fusion, and many other innovations that keep Injen Technology at the forefront in the performance aftermarket."
---
Our comment: One of the largest manufacturers in filters and intakes delivers the final option in our guide.
Unfortunately, they've opted for the short ram method, but you can rest assured that this is one of the best short ram choices, and also comes at a fantastic price.
If you're looking for improved looks and sound, these look incredibly tidy under the hood. Unfortunately, like the other short ram intakes, we don't recommend it this kit if you're chasing the highest-possible performance figures.
Manufacturer description: "The restrictive factory air filters and air intake housings are replaced by the K&N Typhoon air intake system which is designed to dramatically reduce air flow restriction as it smoothes and straightens air flow. This allows your engine to inhale a larger amount of air than the factory air intakes."
"More air means more usable power and acceleration throughout the engine's RPM range. The 69-7078TS air intake comes with dual black rubber topped K&N high-flow air filters and heat shields that install into the previous air box spaces. Air is directed through the intake tubes into the engine's throttle bodies for a guaranteed power gain."
---
Our winners
We have picked our G37 intake winners for recommended, budget and premium price points.
Our Drifted G37 Intake Choice
If you've read the whole guide, this certainly isn't going to come as a huge surprise! Stillen have truly knocked it out of the park with this Gen 3 kit, and you're going to be hard-pushed to find a superior air intake for your G37.
Our Drifted G37 Intake winner is the Stillen Gen 3 Ultra Long Tube Intake Kit.
It does come with one small downside, which is the trimming required. However, this is minimal and can be carried out in very little time with the simplest of tools.
Given the power gains on offer, we think that this is more than worth the effort, however, if keen for ultimate performance gains, yet desperate to not have to trim your G37, then our budget winner is likely to be the best for you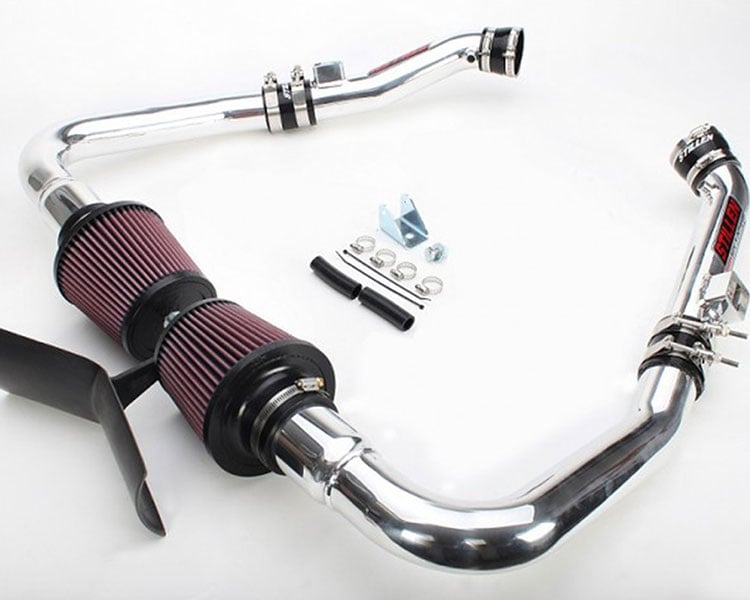 Our Premium G37 Intake Choice
HKS is one of the biggest JDM brands on the market, and this fantastic looking kit is an outstanding upgrade for those of you that are looking to grace your G37 with JDM goodness.
Our Premium G37 Intake winner is the HKS Racing Suction Kit.
Although it won't provide the same performance gains that can be achieved from the Stillen Gen 3 kit, it's still a worthwhile upgrade over the stock intake.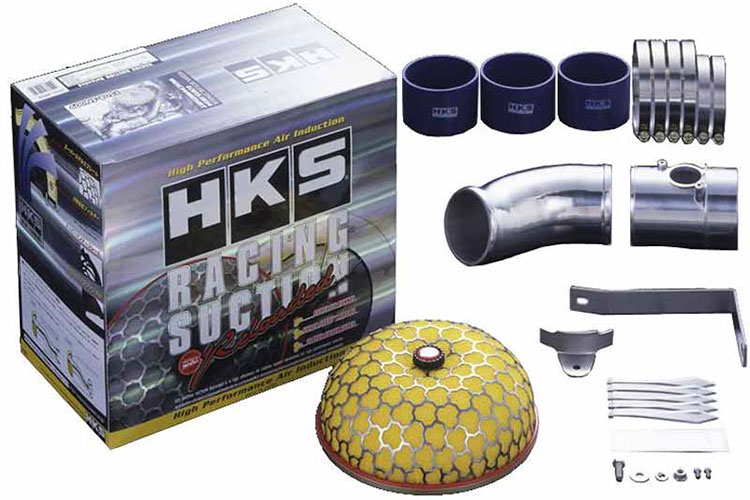 Our Budget G37 Intake Choice
If the Stillen Gen 3 didn't exist, the Takeda intake would undoubtedly be our top choice. Not only is it fantastic quality, great looking, and features a bargain price tag, but the fact that it needs no trimming to fit is a huge bonus.
Our Budget G37 Intake winner is the Takeda Stage-2 PRO DRY S Intake System.
If you don't mind sacrificing a couple of potential freed horses under the hood for the sake of trimming, then this is the perfect kit for you.
Thank you for reading our Ultimate Infiniti G37 Intake guide!
We hope that this guide has given you the confidence to find the perfect product for your G37. Whether you're looking for improved sound and some engine bay bling to show off at the stance meets or on the quest for maximum performance gains, there are plenty of brilliant options available!
Photography credits
We would like to thank the following sources for the use of their images:
If you enjoyed this article, then please share it with the buttons at the side and bottom of your screen. Find this information useful? Please post a link to it on your car owners' clubs. We appreciate your support.