VQ37VHR – The Ultimate Motor Guide
Looking to learn more about one of Nissan's greatest modern engines? Our complete VQ37VHR motor guide will provide everything you need to know.
---
Introduction
Nissan's VQ engine line-up is often regarded as one of the most impressive in the modern-day market.
When they showed off their brand-new VQ37 VHR engine for the first time in 2008, it was the start of big things for this epic powerplant which resided under the hood of various models, most commonly the 370Z and Infiniti G37.
Alongside the launch of the VQ35's successor, the unique Nissan Variable Valve Event and Lift technology, more commonly known as the VVEL system was also unveiled, which formed the perfect combination and set the standards that are still receiving praise ten years later.
With the Japanese manufacturer initially introducing the VQ-series back in 1994, they've won numerous awards for the engine in its various forms along the way.
With the initial release of the VQ37VHR, they opted for a redline of 7,500rpm and 332bhp, which would later be shown to be capable of far more.
Utilizing their brand-new VVEL (Variable Valve Event and Lift) technology, this provided improved throttle response, improved economy and low-down torque over its predecessor, the VQ35.
As time went on, Nissan tweaked the VQ37 until it reached its maximum factory potential to date, at 350hp, which is only available in the 370Z Nismo Edition.
This is quite a substantial improvement over the VQ35HR, which only ever managed to achieve 306hp in its final iteration.
However, it's a drop in the ocean when compared to the untapped potential that the aftermarket tuners have unleashed.
As with the rest of the VQ line-up, Nissan once again retained the lightweight V6 aluminum engine block construction to keep the weight as low as possible. This made the VQ37 engine around 14 kg lighter than its predecessor.
They opted for a new head and intake design this time around, as well as a higher compression ratio.
With a displacement increase from 3.5L to 3.7L, and a newly-increased compression ratio of 11:1. It features a cylinder bore and piston stroke of 95.5 mm (3.76 in) and 86.0 mm (3.38 in) respectively.
With the base models of this DOHC engine capable of producing from 330 PS (242 kW, 325 HP) at 7,000rpm, it's the 370Z Nismo that takes the crown as the highest-powered factory-produced model and is capable of achieving up to 355 PS (261 kW, 350 HP) at 7600rpm and 276 lb-ft (374 nm) of torque at 5200 rpm in stock form.
Check out this fascinating video where you can see a moving cut model of a VQ37VHR, which was the most advanced engine of the VQ series at the time. Here, you can see exactly how this perfectly-refined engine works:
VVEL Technology
With Nissan's brand new Variable Valve Event and Lift (VVEL) system being introduced in the VQ37, this was their modern technology to rival BMW's Valvetronic and Honda's SOHC i-VTEC.
VVEL would enable Nissan to remove the need for throttle butterfly valves, which in turn improved both the torque curve and fuel consumption at both the top and lower end of the rev range.
Nissan claims that the VVEL provided the VQ37 with a 32% quicker response.
This video allows you an in-depth insight into exactly how the fascinating VVEL technology works:
---
VQ37VHR Tuning Potential
When the VHR was first released, a lot of skeptics had their doubts on whether owners would ever be able to release a substantial amount of aftermarket tuning potential with these sophisticated engines, but in the present day, there are a vast range of modifications for owners to choose from.
In fact, the highly sought-after powerplant has slowly made its way to the best engines list for many gearheads, and as tuners got increasingly daring with upgrades, it was clear that the block was actually capable of handling quadruple figures.
Many owners agree that once you go past 650whp, you'll need to look at upgrading your stock internal components such as the rods, pistons, camshafts, piston rings, water pump, and oil cooler, but that's still some impressive power figures from a stock factory engine!
So far, from what we've seen, no-one has pushed yet pushed the VQ37 past the 1200whp mark, so who knows exactly what this bulletproof engine is capable of?
---
VQ37VHR Forced Induction
With plenty of options available when it comes to supercharging or turbocharging your VQ37, it mainly comes down to personal preference to decide which method is best for you.
If you're seriously considering doing so, you'll want to take a look at our Turbocharger Vs Supercharger - Who Wins? guide to see which is the ideal path for your needs.
Whether you feel your car has the perfect power delivery and you'd just like to give that curve a kick up the ass, or whether you'd prefer to go full-retard and light up the wheels, forced induction will undoubtedly provide the perfect solutions for your needs.
Turbochargers are capable of producing far more power relative to their size and improve the efficiency of the engine by only using exhaust gases. Unlike superchargers, turbos will provide you with an intense power surge once they're on boost.
ProCarMechanics.com explain how turbochargers work more in-depth here:
"A turbocharger uses the exhaust stream for its energy. The exhaust will run through a turbine that will itself spin the compressor. The turbine spinning can be as much 150,000 RPM (Rotations Per Minute)."
"To put that in layman's terms, the turbocharger is able to have an RPM speed that can be almost 30 times faster than an ordinary automobile engine."
"It does take a little while for the turbine to produce the boost, and can result in the car lunging forward when the turbocharger kicks into action. The size of the turbocharger can impact power with a smaller one producing more boost faster."
"A turbocharger is particularly effective at high altitudes where other engines experience difficulty. Because the air is less dense a normal engine gets a smaller amount of air."
"Turbocharged engines do not suffer a dramatic reduction in power since the turbocharger is more capable of pumping thinner air."
Now that you have an understanding of Turbocharging, Redline360 come to the rescue to explain Supercharging a little more in-depth:
"A supercharger is a unit that bolts to your engine and connects with a belt between your crankshaft and the supercharger unit. As the engine spins, it spins the supercharger and makes the supercharger force air into the engine."
"The size of the pulley that spins the supercharger determines how much boost you will make. A smaller pulley means the supercharger will spin faster so it will make more boost."
"The supercharger is limited by its efficiency, so if you over boost the supercharger, it will blow hot air into your engine and you will not make as much power (amongst a myriad of other problems)."
"Since the engine needs to literally spin the supercharger, it is not as efficient as you need to use horsepower to make horsepower."
If you'd prefer to have it explained in video format, then you'll want to check out this video:
VQ37VHR Turbocharger Options
Interested in a turbo? In our 370Z Turbo Kit Guide, the Fast Intentions turbo kit came out on top, and you can take a look at their fantastic setup, here.
Fast Intentions have come up with a completely new design as they push the limits with their Twin Turbo kit. Not only have they managed to conquer the 1000WHP barrier with their insane Stage 3 kit, but their setups have also won over many owners with their impressive and reliable turbo options.
Here's what Fast Intention say about their kit:
"In 2012 when we took on this project, our goals were clear cut. 1) Address and fix the flaws that the current TT systems on the market had. 2) Create the most reliable and efficient TT system. 3) Raise the power and torque threshold of the VQ37VHR engine."
"We are proud to say that we've far exceeded our expectations. Throughout the design process of our TT system, we have adapted and utilized 3D C.A.D. software "Solidworks" to create specific oil and cooling components."
"This entire TT system is manufactured in the U.S.A."
If you're a G37 owner, we'd highly recommend taking a look at our G37 Turbo Kit Guide, in which the AAM Turbocharger Kit took the win.
Check out what AAM has to say in the product description of their kit here:
"The all new AAM Competition Infiniti G37 Twin Turbocharger System is the latest Forced Induction kit to hit the market. With innovative features, cutting edge technology, reliable operation and of course maximum power, the AAM Competition Infiniti G37 Twin Turbocharger System is the best forced induction system available for your Infiniti G37."
"Don't settle for yesterday's technology in today's world. The AAM Competition Infiniti G37 Twin Turbocharger System sets a new standard for forced induction systems."
Looking for some turbocharged inspiration? Watch this 950BHP AAM twin turbo 370Z in action!
VQ37VHR Supercharger Options
Alternatively, if you've decided that a supercharger is best for your needs, then we have no doubt that the STILLEN setup will be a perfect choice to add to the cart. If you're after more information on superchargers, you can check out our 370Z Supercharger and G37 Supercharger guides.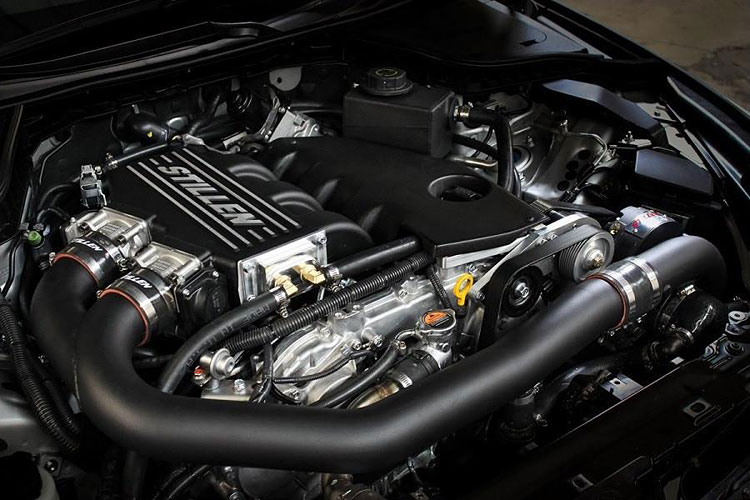 We love these quotes from STILLEN. If you're not sold on a supercharger already, then let them try to capture your imagination!
"Looking to extract more horsepower and torque from your 370Z, G37 or Q50? How does around 380HP at the wheels grab you?"
"Add a dose of torque, better-than-stock heat management and airflow, 50 state emissions compliance and near stock fuel economy at low RPM. Now you've got the formula for superchargers done the STILLEN way."
"We're talking driveable horsepower too, suitable for daily drivers, canyon carvers and track days."
"What does 'driveable' mean? Take an unsuspecting passenger for a low RPM cruise around town in your STILLEN supercharged Nissan 370Z, Infiniti G37 or Infiniti Q50. Keep a light touch on the gas pedal and they might be fooled into thinking there's a bone stock motor under the hood."
"They won't suspect a thing….until you hit the town limit sign and crack the throttle wide open."
"Scenery gets blurry-in-a-hurry as the centrifugal Vortech blower spins up to hyper speed with a tell-tale hiss. The STILLEN designed and built intake manifold sucks in cubic yards of cool air."
"The remapped ECU fuel management module jacks the boosted fuel pump to inject the precise amount of high octane cocktail into the maelstrom."
"Your right foot is orchestrating a symphony of controlled violence that delivers a linear, bottomless powerband. If you can peel your head off the headrest to sneak a glance at your passenger you'll see instant enlightenment and heavy G's at work."
Think that superchargers aren't capable of enough power? Think again! Here's the first supercharged VQ37 to achieve over 700hp! We're pretty sure that should be enough power to keep most of you satisfied!
---
VQ37VHR Bolt-On Modifications
For those of you that aren't looking to break big-power records, but would like to squeeze a little more out of your VQ, we've also written some guides to help you find the best bolt-on parts to extract that much-needed extra power from under the hood.
Exhausts
An exhaust system is always one of the first things to change on a car due to a low price point and ease of fitting, combined with freeing the additional power and giving your beast a far more impressive sound and look.
Infiniti cars may well have had the luxury, upper-class mindset when they built the G37, but that hasn't stopped car tuners across the world from putting their own unique twist on it.
Make sure you take a look at our full Infiniti G37 Exhaust Guide to check out all of the available options on the market!
Alternatively, if you're a lucky 370Z owner, we've also made a Nissan 370Z Exhaust Guide specifically for you that covers all the best choices on the market, including the high flow stainless steel options.
Test Pipes
Test pipes are an extremely simple and cheap bolt-on modification that can potentially offer around 10hp gains, there's certainly not many mods on the market that can make these kinds of gains for a couple of hundred bucks!
We've compiled yet another article to help you find the perfect test pipes for your needs, exclusively for 370Z owners in our Nissan 370Z Test Pipes Guide.
Headers
It's the 370Z owners that strike lucky again with getting a headers guide, but once you've completed the simple bolt-on mods such as a cat-back exhaust, there are even more precious horses desperate to be unleashed from higher flowing headers than Nissan provided from the factory.
However, make sure to keep an eye out for fitment issues, as fitting headers to VQ37's is known for being notoriously difficult. If you're inexperienced with basic tools and planning to do this on axle stands, you may want to reconsider. On average, we expect this job to take an experienced mechanic with the right equipment around 6 hours.
If you're experienced and capable, still expect many enjoyable hours of cussing and torn knuckles. It'll no doubt be worth it in the end!
You can view all of the available options in our Nissan 370Z Headers Guide.
---
VQ37VHR Reliability & Common Issues
Now that many VQ37VHR engines have reached the age where reliability issues can often begin surfacing, a few considerations are likely to be of interest.
Exhaust Issues
High engine temperatures can cause the VQ37's catalytic converters to degrade with the higher-mileage engines and eventually fail over time.
Suppose this sounds familiar, and you're considering investing in a new cat. In that case, we highly recommend ensuring that your head gasket and radiator are in good condition, as these could be a likely cause of the problem and could potentially lead to something much more severe. Early VQ37s were notorious for having a poor gasket design, but this issue was fixed after the 2013 model year.
Alongside the catalytic converter issues, the 370Z's exhaust is prone to rust, particularly in areas known for using salt on the road in the winter months, so it's worth checking your exhaust alongside your annual maintenance.
Fuel Starvation
There has been a growing number of 370Z owners reporting issues with their cars stuttering and stalling, especially those that have frequently been drifting or pushing their Z's to the limit on the track or road.
If this is the case, and you're frequently pushing your Z harder than what you'd expect from a typical daily driven car, we highly recommend upgrading the fuel system.
The most popular choice is the Nissan 370Z Radium Fuel Hanger Surge Tank (FHST), which eradicates the fuel starvation issues on the Nissan Z34 Chassis.
If you're interested to know more about how fuel surge tanks work, we highly recommend checking out this informative video from Radium:
Are The VQ37VHR Reliability Issues A Dealbreaker?
We certainly wouldn't see these minor VQ37VHR issues as a big deal.
Thankfully, with factory or aftermarket options for the exhaust and Radium coming through with the goods on the starvation issue, there are easy fixes for both problems.
No engine is without minor faults, and with loads of VQ37VHRs pushing well into six-figure mileage, only having such minor issues is highly impressive.
---
The VQ37VHR in Drifting
In late 2016, Chris Forsberg announced that he would be using the VQ37 engine in his 370Z for the 2017 Formula Drift season.
The Nameless Performance team responsible for this thing calls it a twin-anti-lag setup as it has two turbos both of which have WRC-style anti-lag on them, which certainly makes for a unique sound!
Moving from a V8 to the VQ37 motor gave Forsberg an opportunity to return the factory engine back under the hood of his 370Z, which is becoming increasingly rare in competitive drifting, summarising just how impressive this engine truly is.
His twin-turbo setup was paired with Nameless Performance turbo manifolds, a Nameless Performance AntiLag kit, and a pair of Turbosmart wastegates which shoot flames out of the hood between shifts. With more than 40 pounds of boost pressuring the entire system, the setup pushes more than 1,000 horsepower and 800 lb-ft of torque to the rear wheels.
In the 2018 Formula Drift season, The best-finishing American driver was Chris Forsberg, as he captured fourth place, which was a true testament to the twin-turbo VQ37 setup which had powered his season.
---
VQ37VHR Engine Swaps
You know that you've managed to get the right engine from the factory when barely any owners are looking to swap out their VQ37 for something else. However, numerous owners of other vehicles have begun swapping VQ's into their cars for reasonably-priced power gains.
A Honda S2000 might seem like an unlikely car for a VQ, but it didn't stop this owner from going ahead with fitting one!
We LOVE this crazy Datsun 240Z twin-turbo build, we just wish it wasn't a slideshow video and it contained more burnouts!
Your car doesn't have to be Japanese to have a VQ37VHR heart, and this E46 BMW 3 Series proves it!
---
Which cars left the factory with the VQ37VHR engine?
Nissan 370Z
Nissan Fuga / Mitsubishi Proudia
Infiniti G37
Infiniti FX37
Infiniti EX37
Infiniti M37
Infiniti Q50/QX50
Infiniti Q60/QX60
Infiniti Q70/QX70
---
Thank you for reading our VQ37VHR motor guide
We hope that you've gained a wealth of knowledge and can head to the local meet armed with the knowledge that you know what you're talking about! Your VQ will undoubtedly serve you well for many years to come. If you feel the need to upgrade eventually, be safe in the knowledge that there are heaps of modifications waiting to be carried out!
If you enjoyed this article then please share it with the buttons at the side and bottom of your screen. Find this information useful? Please post a link to it on your cars owners club. We really appreciate your support.
Photography credits
We thank the following entities for use of their photography in this article: