KA24DE – The Ultimate Motor Guide
We're taking an in-depth look at Nissan's legendary KA24DE engine, explaining its history, and how to unleash the true potential that the KA can achieve.
Undoubtedly, those of you in the drifting scene, particularly in the U.S., will be familiar with the KA24DE engine.
It's lesser known worldwide, but many owners and enthusiasts across the States have grown to love this restricted beast. It's deservedly earned a substantial following over the years.
Nissan's KA24 family began its life back In 1988 as a replacement for the outdated Z24 engine, initially known as the KA24E.
This tame offering, found in the 1989 and 1990 240SX, would soon be replaced by the superior KA24DE, which owners would soon discover to be an underrated and underperforming powerplant.
Numerous changes were made between the two engines. The DE revealed a 16-valve DOHC setup (unlike the KA24E, which had a SOHC 12-valve engine) with larger diameter inlet valves, modified pistons, and crankshaft, with a compression ratio of either 9.0:1 or 9.5:1.
This allowed the DE to rev to the 6,900rpm redline instead of the 6,500rpm from its predecessor.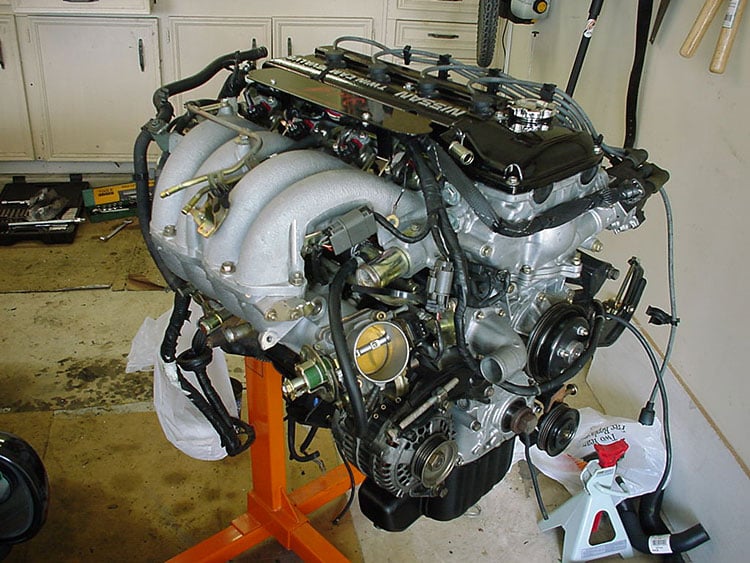 Additional design improvements of the dual cam engine include a knock sensor, larger diameter girdled main bearings in the Japanese block, different oil pan (not interchangeable between Japanese and Mexican blocks), and different oil pickup (front pickup on Japanese block and side on Mexican block). Dipstick location (toward the rear of the block on Mexican and mid-block on Japanese) and piston oil squirters.
This meant the KA could now produce an additional 15hp, totaling 155hp. Peak power is being pushed out at 5600 RPM, and peak torque at 160 lb-ft at 4400 RPM.
It may seem adequate power numbers for a naturally aspirated 2.4-liter engine, which handed it a ratio of slightly more significant than 1hp per cubic inch.
Still, there wasn't anything to yell from the rooftops about in stock form.
The KA24DE is an excellent candidate for a stroker kit. You can find out more in our stroker engine article.
Although the power figures are pretty disappointing, especially by today's standards, the DE was initially intended for use in light trucks and SUVs.
Not only was it lacking in power, but while the cast-iron block was great for reliability, it wasn't quite so impressive on the weight-saving aspect!
Nissan fitted an iron cylinder block partly to save money, enabling them to offer an incredible chassis at an affordable price point to the masses.
The engine was named after the "24", which denotes the displacement of 2.4 liters. The "D" signifies that the valvetrain is a dual overhead camshaft, while "E" indicates electronic fuel injection.
"T" can also be used regarding upgraded turbocharged applications, which we'll discuss later in our guide.
We're not gonna lie; we found this parody video amusing. Are you guilty of any of these?
---
KA24DE History
The KA24DE was utilized in various Nissan cars and trucks, which they were initially intended for.
Most KA24DEs that eventually resided in the US were built in Aguascalientes, Mexico, except for the 240SX, 1994-97 Altima (re-badged Bluebird SSS), and the FWD U13 Bluebird. These were manufactured in Fukuoka, Japan.
The KA is a testament to the reliable and durable Japanese engines of the 90s. It'll undoubtedly serve you well if it receives regular service intervals and uses high-quality engine oil.
There are some differences between the blocks built in Japan and Mexico. The Mexican blocks (featured in all DEs except those in the 240SX) implemented a distributor and oil pump drive similar to the L series; from the crank nose. They also used a single-row chain for the upper timing assembly.
In addition to this, they also removed the rearmost cam journal in the Mexico head. The crank rides on individually capped bearings with a slightly smaller diameter than the Japanese block, with shorter, slightly lower compression pistons in cylinders with thicker walls than the Japanese DE.
They retained the knock sensor and piston oilers.
If history and KA24DEs are your things, we've got the perfect combination with this KA-swapped Datsun 510!
---
Nissan 240SX
The Nissan 240SX was introduced to the North American market by Nissan in 1989, which replaced the 200SX and would continue to be sold there until 1998.
As you probably know, the 240SX is closely related to other S vehicles: the Japanese-market Silvia, 180SX, and the European/Australian-market 200SX.
The 240 was known for sharp steering and handling (thanks to front MacPherson struts and a rear multilink suspension) and was also relatively light-weight (2700 lb), which made it great fun to drive.
Despite the modest power output, relatively low vehicle weight, and good aerodynamics, its gas mileage was mediocre.
These engines are the primary difference between the North American 240SX and the world-market Silvia/180SX/200SX.
The KA24DE did not come in turbocharged form from the factory. Meanwhile, the SR20DET, which the rest of the world was provided with, did.
The U.S. version was regarded as a highly capable sports car which many say would have been the perfect all-rounder with a slightly improved engine.
Further differences between the 240SX and 180SX/200SX include a standard limited-slip differential on overseas and Canadian models, available digital climate control in Japan, and manual seat belts standard in Japan and Canada vs. automatic restraint seatbelts in America.
Want to know more about limited slip vs. open differentials? Make sure you head over and check out our Limited Slip Differential vs Open Differential guide.
Alongside the DE upgrade, 1991 was also a substantial year for the 240SX, with numerous changes undertaken by Nissan.
Its original matte silver teardrop wheels were replaced by polished aluminum 7-spoke variants, which had improved brake cooling properties.
The nose was smoothed out by getting rid of the non-functional slots.
A new "LE" hatchback trim package was added, which included a leather interior. An optional sports package including ABS, a limited-slip differential, and Nissan's HICAS four-wheel steering was now available on hatchback models.
Although the last 240SX to roll out of Nissan's factories was July 23, 1998, they still produced the KA24DE until 2008 after continued production in the Nissan Navara/Frontier.
From 2004 onwards, the engine was replaced with a modern alternative, the 2.5L QR25DE.
Considering simplifying your KA? This guide will give you all you need to know:
---
KA24DE N/A Upgrades
Thanks to the enormous following that the 240SX has in drifting, it's quickly become one of the most popular tuner cars in the US. A naturally aspirated build can reach 200whp (230bhp), which isn't cheap.
This build requires full bolt-on supporting mods, ported and a polished head, bigger cams, and possibly a higher compression ratio.
Before any tuning to your KA, we highly recommend ensuring that the engine and its components are in good condition. There's nothing more frustrating than spending money on a damaged engine.
If you decide to stay on the intended naturally aspirated path, there are a handful of simple modifications you can carry out to extract some extra ponies.
Firstly, you'll want to install a cold air intake for maximum breathing efficiency, followed by a 4-2-1 header with the most free-flowing exhaust system available.
Combine this with a lightweight flywheel and a tuned ECU, and you should be capable of achieving around 175hp, 20hp more than the 155hp that it left the factory with.
If you're considering spending hard-earned cash on upgrades, you'll undoubtedly want to make the most of your suspension, so check out our 240SX Coilover guide!
Are you concerned that your stock KA won't be capable of drifting? Let these guys prove you wrong!
---
Turbocharging the KA24DE (KA24DE-T)
Whack a turbocharger onto your KA, and you'll see this underperforming powerplant burst to life as it finally has the opportunity to show its true colors.
With the KA24DE, Nissan built an incredible foundation for a turbocharged four-cylinder engine.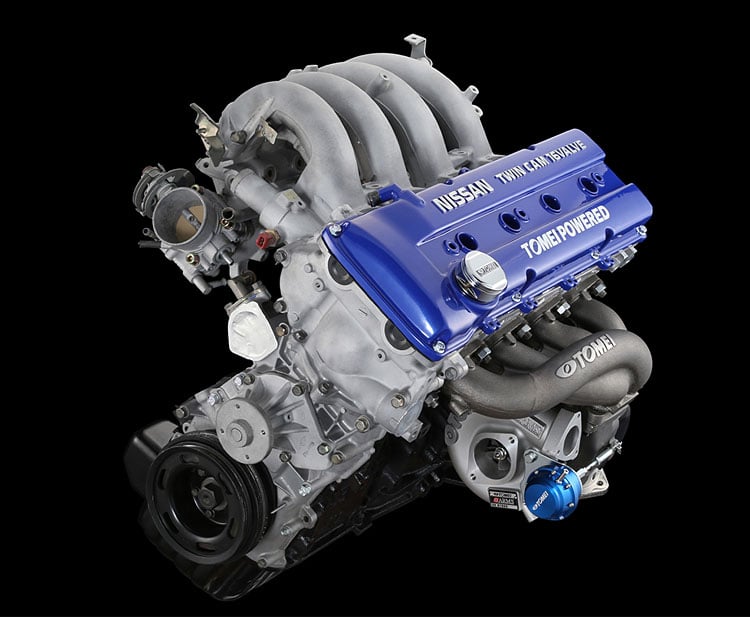 With the large displacement providing the turbos with the capability to spool far quicker, the KA24DE's connecting rods and crankshaft are also quite strong.
With proper tuning and a well-engineered turbo system, 300 horsepower can be achieved on the stock internals. Beyond 300 horsepower, you'll want to upgrade some of the internal engine components.
Stock vs Turbo KA24DE dyno runs:
It may seem strange that Nissan never offered a turbocharged KA. Still, thankfully, many tuners have discovered a convenient route to converting the stock KA block into a turbocharged KA-T weapon.
This is the most sensible option for substantially increasing the engine's power since the stock internals are incredibly robust and easily capable of handling boost.
You have to check out this crazy 950+HP 240 KA-T build!
Although many people use an eBay turbocharger or the SR20 turbo with a custom-made turbo setup, the better option is to use an off-the-shelf kit.
Something like this offering from Tomei is ready to bolt on and boost and can eventually achieve in excess of 400hp! Further tuning will need to be considered for reaching these kinds of numbers, though.
We've written a complete guide on the best kits available specifically for the 240SX KA24DE conversion, which you can find in our KA24DE Turbo Kit Guide.
---
KA24E vs KA24DE
There seems to be quite a bit of confusion regarding the differences between the KA24E and the KA24DE.
As you may suspect, these engines are mostly very similar, but a few major differences separate them, and the most significant change is the cylinder head.
With the KA24E featuring a single overhead cam and just three valves per cylinder, the KA24DE is a dual overhead cam engine that utilizes four valves per cylinder. If you didn't already know, any engine's most significant power gains are found in the cylinder head.
Design improvements in the dual cam engine include a knock sensor, larger diameter girdled main bearings (in the Japanese block), an adjusted oil pan design, upgraded oil pickup, relocated dipstick, and piston oil squirters.
With these changes came more power and torque without hindering the engine's reliability. As soon as the DE hit the market, it was far superior to the E, which is no longer particularly sought after.
---
SR20DET vs KA24DE & T
Well, we couldn't ignore this argument, could we?! Now, it's not particularly fair to compare the high-revving, turbocharged legendary SR20DET with a stock KA24DE, but let's remember there's also the KA24DE-T!
It's easy to envy the JDM equivalent, equipped with the turbocharged SR engine, offering out-the-box forced induction from the factory. At the same time, the USDM variant received the torquey, yet somewhat uninspiring, KA24DE engine.
Here's another KA24DE shredding its tires at the track for inspiration!
Many felt short-changed by Nissan's decision to provide the US-bound 240SX with a truck engine. However, as time went on, more tuners researched and developed the KA24DE, and finally, owners began to appreciate the potential this powerplant had to offer.
When a group of highly regarded people in the tuning scene were asked for their opinion on this question, there were some surprising outcomes. Kenji Sumino, of the legendary powerhouse, Greddy, prefers the KA:
"I built my first KA in 1996 because I wanted to be different and believed it was a better-designed engine to make big power. I still believe this true to this day."
He's not the only one; Clark Steppler of Jim Wolf Technology agreed with him and stated, "Although the SR20DET surpasses the KA24DE in many areas, the KA can be improved to match or surpass the SR.
The size of the engine and deck height makes it an easy choice when making big power."
They both make some valid points and let's not forget the infamous motto, "There's no replacement for displacement"! The KA's head is designed for superior flow over the SR and is only limited by the head studs and head gasket, both of which aftermarket alternatives exist.
This has led many experts to continue discussing whether the KA24 could potentially be the best motor that Nissan has ever produced:
One of the most significant advantages the KA24DE engine has over the SR20 is its iron block. Iron is significantly stronger than aluminum, although it does suffer a substantial weight penalty.
Nothing is better than a solid cast-iron block to contain the extreme pressures in the combustion chamber.
Conversely, the SR undoubtedly still takes the win regarding off-the-shelf parts.
A few years ago, part development for the KA was little to none, but many tuning houses have fought for the cause with the ever-popular KA over time.
You can find almost anything to build a solid performing KA. But, still, to this day, it's unfortunately only a fraction of what is available for the SR.
Let's not forget that SR was designed to handle forced induction as Nissan intended. The overall reliability of an unmolested SR may well be worth considering if you can find one at a reasonable price, which is becoming increasingly unlikely.
Although the KA is superbly built, a lot have been poorly maintained. The overall stresses of a boosted setup may push this typically reliable stock KA beyond its limits.
That said, we love something different here at Drifted, and while a KA24DE-T isn't the most unique build in the world, it's undoubtedly a lot rarer than the SR20DET.
Dsportmag.com provided this great and simple comparison guide of the two engines to help make up your mind:
KA24DE Strengths:
The iron block is stronger than aluminum
Greater displacement equates to more low-end torque
Affordable and readily available since it is a USDM-spec engine
Superior bucket-over-shim valvetrain
DOT, CARB, and EPA-compliant engine
SR20DET Strengths:
Designed for forced induction from the factory - respectable horsepower capacity in stock trim
Variable cam timing on the intake camshaft (1995 and up)
Short stroke allows high RPM
Massive aftermarket support
Lightweight aluminum block helps chassis weight balance
Coil-on-plug ignition system
KA24DE Weaknesses:
Low factory horsepower
Not initially designed for racing applications—internals need to be reinforced for forced-induction duties
Aftermarket support and development are limited due to the lack of initial popularity
Distributor ignition
Long stroke limits redline
SR20DET Weaknesses:
Aluminum block and alloy sleeves are not as strong as iron
It would require resleeving to increase the bore beyond 87 mm
Lacks low-end torque
The valvetrain is weak and often fails in stock form
The balance between response and power limits peak power
Turbocharger sizing determines peak output capacity; however, too big and response suffers; too small and peak power is limited
Not DOT/CARB/EPA compliant for street use; off-road use only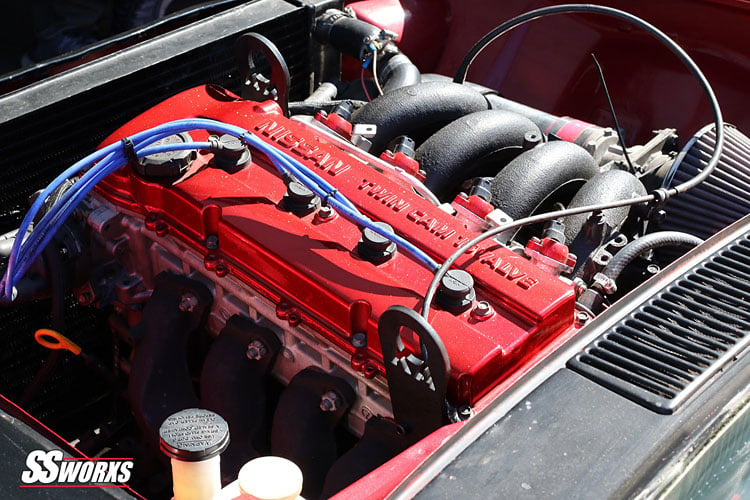 ---
Which cars left the factory with the KA24E/DE?
Nissan 240SX
Nissan Altima
Nissan Pathfinder
Nissan Xterra
Nissan Bassara
Nissan Bluebird
Nissan Caravan
Nissan Hardbody
Nissan Navara
Nissan Pintara
Nissan Prairie
Nissan Presage
Nissan R'nessa
Nissan Serena
Nissan Stanza
Nissan Terrano II
And rather surprisingly…
Many non-240SX owners have decided that the KA24DE is the perfect choice for their car. Take a look at these awesome swaps!
---
Additional 240SX-related articles
Thank you for reading our KA24DE engine spotlight guide
We hope we've provided you with everything you wanted about the KA24DE. If you have any further questions, feel free to contact us on Facebook and we'll happily update our guide!
Don't forget to check out our KA24DE-T Guide for everything you need to know about turbocharging your KA with a convenient off-the-shelf kit!
---
Photography credits
We thank the following entities for the use of their photography in this article: