Ultimate KA24DE Turbo Kit Guide
We review the best KA24DE single and twin turbo kits available on the market today. This is the ultimate 240SX KA24DE turbo kit guide.
---
In a hurry? Here is our KA24DE Turbo Kit summary
| Budget Choice | Drifted Choice | Premium Choice |
| --- | --- | --- |
| | | |
| ISR KA24DE Turbo Kit | Tomei ARMS KA24DE Turbo Kit (turbo only) | Nice Time Racing KA24DE Twin Turbo Kit |
| 🔥🔥🔥🔥 | 🔥🔥🔥🔥🔥 | 🔥🔥🔥🔥 |
| Buy Now | Buy Now | Buy Now |
We recently had a Drifted fan ask us whether it's worth heading down the turbo kit route with his KA24DE 240SX. As usual, we tried to dive into the web for guides, but to our surprise, there was very little recent information.
It's no real secret that the 2.4-liter naturally aspirated KA24DE is a little anemic at best. It's a low-revving, low-redline engine, which, being honest, also falls pretty low on the excitement aspect too.
This is where we introduce one of the kings of automotive tuning – the much-loved turbocharger.
Check out this awesome Formula Drift spec 240SX with a 600hp KA24DET burnout to see the potential of what a fully-tuned KA is truly capable of:
We want to point out that when we mention "KA" in this guide, we are not referring to the earlier-model KA24E engine.
For the single slammers out there, I'm afraid to say that we'd highly recommend upgrading to the dual cam KA or an alternative powerplant to get the best power gains.
One of the main questions when carrying out a KA24DET upgrade is, "Why not just swap out for an SR?"
Well, SRs aren't exactly the perfect answer, either. They, too, can suffer from reliability issues, and not everyone wants to carry out an engine swap when they've already got a perfectly good KA sat in the engine bay.
Not to mention the scene tax, which is not only being piled onto the SR that makes it an even more expensive option than ever.
If an SR is the route you'd prefer to go down, then sure, it could be the easiest method for you, and let's not forget that it's an engine that Nissan built for this chassis on the JDM market. However, remember that the KA can provide more torque than the SR if you're willing to put the time and effort in.
Sure, the SR is a higher-revving, convenient solution, but there's something a little special about having a different engine for the masses.
We'll put the SR20DET to one side and focus on the task, turning your KA24DE into a turbo-powered KA24DET.
In the early 2000s, owners built their own DIY turbo kits to help the KA24DE achieve its maximum potential. There are still several guides online that explain precisely how to do this. Still, we prefer to take the less-risky alternative of simply buying a tried-and-tested off-the-shelf kit with the proper research and development carried out.
With many of the older forums and website links now down or images lost in the Photobucket fiasco, we decided it would be a great time to revisit this subject and update it with the latest turbo kits for your KA24DE.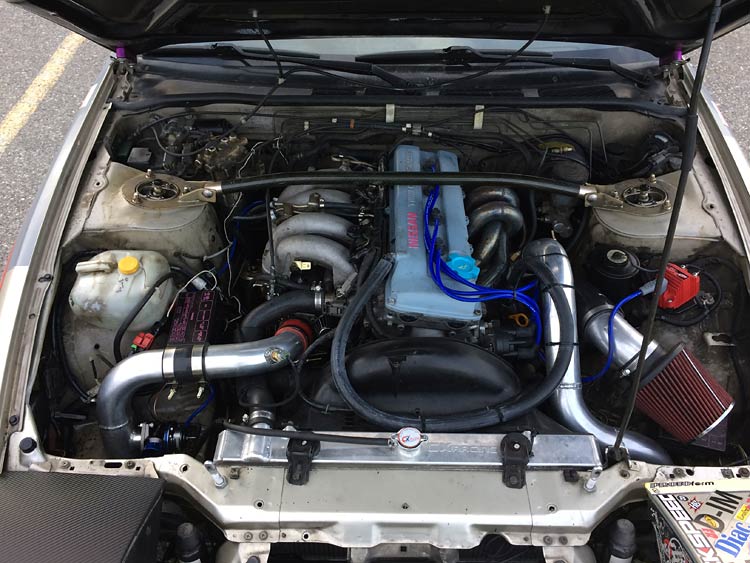 Turbocharged KA24DEs, also known as the KA24DET, have frequently proven they can handle 10-12PSI without breaking a sweat on stock bottom ends.
If you go far beyond that, you're potentially risking an almighty 'KA-boom.'
A typical boosted setup can keep you in the safe upper region of around 250whp, and sure, your buddy might have achieved 400whp+. Still, we're talking long-term reliability rather than impressing on the dyno.
As always with forced induction, ensuring you have a healthy, well-maintained engine as a base is a good idea.
Carrying out a compression test will give you a good idea of what you're working with and give out early warning signs it's plagued from the start. There's nothing worse than throwing big money at a tired engine.
While the KA bottom end is 'overbuilt' for naturally-aspirated needs, this is a blessing in disguise for those going KA-T.
The downfall is that, unlike the SR, its pistons are only designed for natural aspiration (N/A).
This is fine for those going for a basic KA-T setup. However, if you're hunting down significant power above 1 bar, you'll want to upgrade pistons and rods to forged aftermarket units.
For this guide, we will keep things simple and look at a sensible-powered, off-the-shelf kit to kick your KA24DE engine up the ass, which it should've come with from the factory.
Chris Forsberg and Ryan Tuerck took on the task of doing a KA24DET build and turned it into a series, check out the first episode here:
It's always important to remember that you can't simply bolt a turbo to a car and expect substantial performance gains. You will want to consider the additional costs that come with these kits. Some won't provide fuelling or engine management.
Chances are your cooling system will need some upgrades. An uprated radiator alongside the front-mount intercooler will be ideal to compensate for the increased engine heat. Oil cooling is also ideal for keeping on top of this, and a relocation kit could be an excellent investment.
The final consideration is, have you got an adequate exhaust? You'll need at least a 2.5″ setup to expel the additional gases generated, but we'd generally recommend going with a 3″ to be on the safe side.
Now that you have a little more of an understanding of what you're taking on, it's time for us to show you how to wake up your KA24DE and unleash the power it should've left the factory with!
---
Let's take a look at our KA24DE turbo kits
To read more about these products, click on the turbo kit name or photo.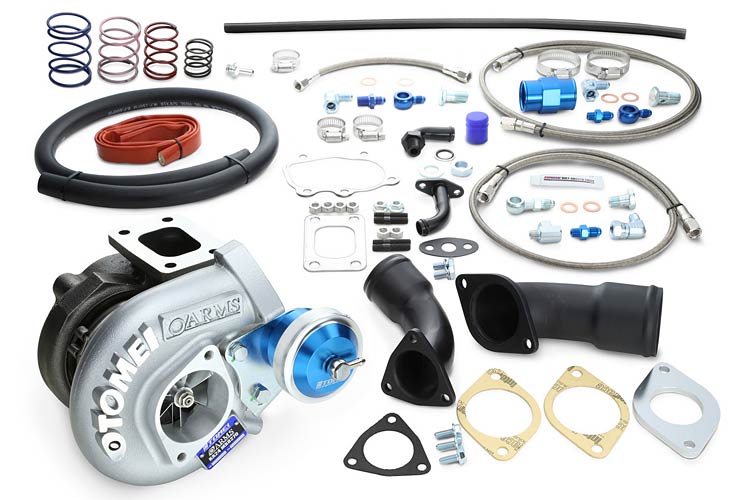 Our comment: TOMEI has invested much R&D into their new ARMS turbos. With their typically high standards, they bring a stunning bolt-on kit to the KA market.
They aimed to provide torque, response, and usable power in a single, convenient package.
Tomei has given owners two choices for turbos.
Firstly, the M8270 is made for big horsepower and can handle over 450hp. It begins to kick in a little later but then continues to provide an impressive amount of power to the redline. This kit is more suited for drag racing and high-powered setups. If you're using it for drifting, be prepared for sudden boost surges.
The M7960, however, is designed to provide lower to mid-range torque and is more suited to over 400hp. This turbo provides much more bottom-end response on a lower-powered car to achieve the maximum potential. With its more linear power curve, this is ideal for drifting, auto-x, and street/track use.
Although this is a turbo kit that comes at a great price, it'll only provide the basics, and you'll need to consider basic additions such as a manifold, cooling, and engine management on top.
With that being said, it's still a fantastic package.
Tomei has gone out of their way to provide you with every part you'll need to turn your KA into the perfect package in their KA24DET turbo guide.
Manufacturer description: "The new Tomei ARMS MX-Series Turbocharger improves upon Tomei's original M-Series turbocharger design by introducing a new lightweight billet wheel, multi-rate billet actuator, and the very same ARMS technology Tomei is known for!"
"With over 20 years since its initial debut, Nissan enthusiasts are continuously looking for high-quality performance parts to tune their KA24DE. At TOMEI, we wanted to see more users enjoy tuning their engines, so we continued developing new products. After many years of testing and production, Tomei has all components available to turbocharge your KA24."
---
GReddy KA24DE Turbo Kit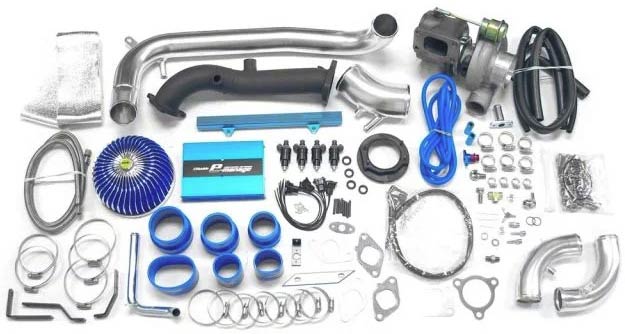 Manufacturer: GReddy
Fitment: Nissan 240SX
Turbo configuration: Single turbo
Value for money:

🔥🔥🔥🔥🔥

Purchase link: Discontinued
Our comment: As you can see, there's a pretty hefty price difference between these two JDM tuning legends. However, there is quite a bit of difference between the two kits.
TOMEI provided the basics with their kit, whereas GReddy has concentrated more on fueling and engine management, providing you with a pre-tuned ECU.
Although it's in the higher price range, you won't need much more than a front-mount intercooler to begin shredding the streets.
Given that the front mount intercooler is rather expensive, we'd recommend sourcing an alternative front mount and piping, as you can usually trust the cheaper kits on the market to provide a decent solution.
Manufacturer description: "GReddy Turbo Kits for naturally aspired motors provides instant horsepower gains with less time and money while still providing room for upgrading for even more power! GReddy turbo kits are designed for optimal response and performance while maintaining daily drivability, comfort, and reliability."
"Each GReddy turbo kit is designed based on a completely stock engine so each kit will come with all the necessary basics such as manifold, turbocharger, downpipe adapter, piping, hardware, and heat shields. Some kits even include pre-tuned piggyback ECUs or fuel pressure risers."
---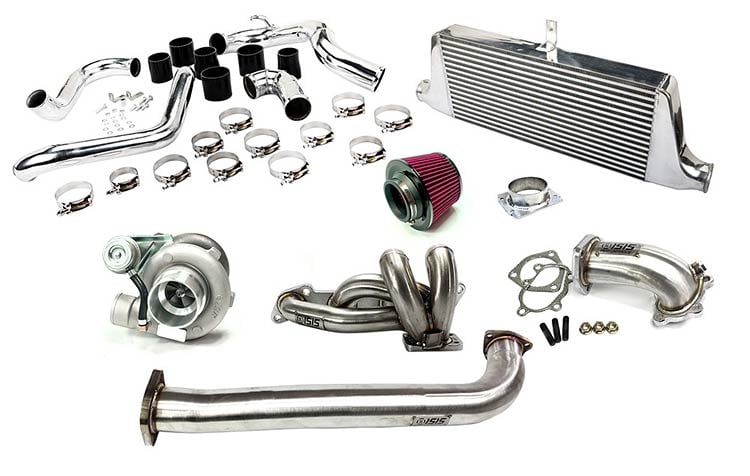 Our comment: ISR was previously (somewhat awkwardly) known as ISIS before another group decided to take over the name.
Thankfully, they came to their senses and rebranded as ISR. They bring a fantastic all-around package at a very reasonable price to the market.
That said, it comes with a turbo which is probably a bit on the large side for the engine. This means that not only is it a squeeze in the bay, but it also has more lag than the previous offerings.
There are mixed opinions on the quality of their turbos, so it may be worth discussing alternative options with Enjuku. Perhaps you could consider buying the kit without the turbo and find a more suitable one for your needs?
This will need a MAF, oil feed and drain lines, injectors, and an ECU, but it does come with a manifold and an intercooler kit. On the whole, it's an excellent kit for the money.
Manufacturer description: "Finally an Inexpensive KA-T kit! The Nissan KA has become a wildly popular engine for turbo upgrades. This is due to the engine's heavy duty iron blocks and 600cc cylinder size, which provides robust torque. Plus, the KA is a lower-priced engine. With the Nissan 240sx KA24DE turbo kit, you'll get a dramatic boost in engine power without having to break the bank."
---
Full Race KA24DE Turbo Kit
Manufacturer: Full Race
Fitment: Nissan 240SX
Turbo configuration: Single turbo
Value for money:

🔥🔥🔥🔥🔥

Purchase link: Discontinued
Our comment: There are many variants to the Full Race kit, and if you begin adding up the options, you'll see the price inflate pretty quickly!
Their kits are a work of art, and quality certainly comes at a price.
If you've got big bucks to spend and you're looking for an awesome twin-scroll setup that can be customized to maximize the potential of your needs, you'll want to get in touch with Full Race to see what they can offer.
Unfortunately, the kit has now been discontinued. However, if you can find one on the used market, we'd certainly make this a consideration if the price was right.
Manufacturer description: "Full-Race Engineers designed the Twin Scroll RWD Turbo Kits to deliver power levels normally seen from moderate-large turbochargers, but with drastically improved throttle/boost response, earlier spool times and significant power/torque gains."
---
Our comment: CXRacing shows its hand with an extremely reasonably priced product. CXRacing state that this kit keeps the stock fuel injectors and ECU and allows you to boost at 7psi with around 230whp.
They're undoubtedly proud of their fit-and-go style kit, but we recommend at least upgrading some simple parts like injectors and an ECU to get the most out of the setup and reach around 350hp.
Despite the setup not being the highest quality in our guide, it certainly has the potential to build from. If you're looking for a DIY build, it's worth getting this kit without the turbo and wastegate (an option on their website) and using some higher-quality items. This will give you an excellent value-for-money kit.
Their manifolds have been known to crack with prolonged use, so if you were to go over some welds and maybe add bracing and better gaskets, you could well be on to a winner for a bargain price—a great cheap and convenient base for those that don't want to spend huge amounts of money.
Manufacturer description: "This is a Bolt on kit, from manifold to Downpipe, Catback, intercooler, Piping. Not like other kits offered, they are just parts and have not tested. Our kit was developed in the US and fully tested, bolt on fit."
---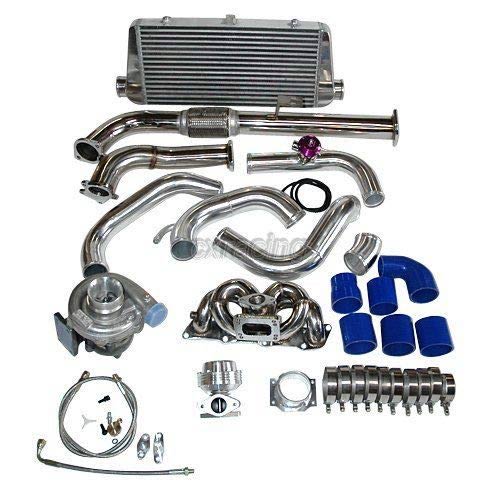 Our comment: XS Power have turned up with the cheapest product in our various turbo kit guides, but unfortunately, they seem to get the same, primarily negative, feedback every time.
Their reputation certainly isn't the strongest, but many owners have purchased this reasonably priced option and run it without issues.
Others have reported problems within a few hundred miles. Maybe they're pushing it too hard, but it seems more like a quality control issue.
For the money, we would advise going with CXRacing, as they have a better product with a better reputation and many happy owners.
---
Our comment: It's not every day you see a brand-new turbo kit design for the KA24DE, which is why we were equally surprised and stoked to see this revolutionary offering from Nice Time Racing.
Given that this is the only twin-turbo offering available for the KA24DE, it will be perfect for owners looking for something different.
It has a stainless steel manifold and downpipe, a twin inlet intake (inc. K&N filter), and a 2-1 hot charge pipe.
Alongside the massive power potential of the kit, it fits with no modifications. Retaining the factory A/C, power steering, distributor, and brake booster is a real bonus.
While this all sounds incredible, it does come at a price, especially when you factor in the fact that you'll also need to purchase two T2 turbos.
Since this kit is still new on the market, we're yet to hear any real-world feedback before giving it a 5-star rating. If you've fitted this kit to your KA24, we'd love to hear from you.
It is excellent to see a company willing to push the KA24DE to its true potential. We'd talk to them beforehand to ensure you have sufficient supporting mods for the setup and get the most from it without sacrificing reliability.
Alongside their twin-turbo setup, they also have many other single-scroll and twin-scroll options in their store, as well as several parts which will be helpful for those considering building a custom turbo setup.
---
Our winner
Our winner is the TOMEI Turbo Kit.
To pick our winner from this choice of KA24DE turbo kits, we looked at several criteria; quality, popularity, upgrade potential, and price point.
We have chosen the TOMEI Turbo Kit as our winner based on these.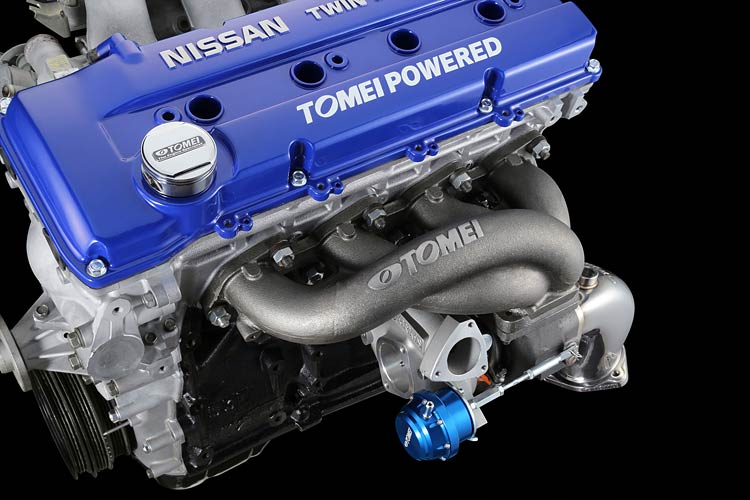 TOMEI has gone above and beyond to deliver the ultimate product for KA24DE owners.
The level of R&D they put into such a niche product is awe-inspiring. Although it might not be the cheapest, you can count on it being impeccable quality and providing fantastic reliability.
Sure, you'll need to fork out some additional parts to go with this basic kit, but we have no doubt it'll serve you exceptionally well long-term.
Full Race and GReddy are two brilliant alternatives in the upper price range. However, if you're looking for a cheaper setup, we highly recommend checking out what CXRacing offers.
Thank you for reading our KA24DE turbo kit guide
If you enjoyed this article, please share it with the sharing buttons at the side and bottom of your screen.