Best RX-8 Turbo Kit Guide
Are you considering a turbo upgrade for your RX-8? This guide will help you choose the best RX8 turbo kit for your needs and budget.
---
In a hurry? Here's our RX-8 Turbo Kit summary
| Runner-Up Choice | Drifted Choice | Premium Choice (AUS) |
| --- | --- | --- |
| | | |
| RX8Performance Turbo Kit | GReddy Street Turbo Kit | Mazfix Gen 1 RX-8 Stage One Turbo Upgrade |
| 🔥🔥🔥🔥 | 🔥🔥🔥🔥 | 🔥🔥🔥🔥 |
| Buy Now | Discontinued | Buy Now |
There's no question that very few cars on the market will provide the same bang for your buck as Mazda's RX-8.
The front-engine, rear-wheel-drive layout and a limited-slip differential from the factory sound like the ideal opportunity for any aspiring drifter.
Top that off with the potential 238-horsepower from the incredible-sounding screaming rotary powerplant and an impressive redline of 9,000rpm.
It also has some unique features when it comes to styling, such as the rear suicide doors, which they've managed to incorporate to keep the 'sporty' styling.
The overall package begins to sound perfect, especially considering how much of a bargain they've become in recent years.
But we all know that 238hp isn't enough to satisfy you for too long, especially if you plan to drift your RX-8.
Sure, they handle insanely well in stock form in the twisties, but when it comes to straight-line power, you'll often be left deflated if you decide to go head-to-head against a higher-powered rival.
So, why not bolt on a turbo kit so that you can create the perfect sleeper so that you can cause an upset on both the streets and the track?
Unfortunately, it's not so straightforward regarding the 1.3L Renesis rotary that Mazda opted for this time.
Although a bolt-on turbo conversion sounds like the perfect answer in the real world, there's a fair bit more to consider.
The Renesis engine has the highest compression of any Rotary engine to date.
Although the RX7 featured twin-turbos in factory form, the 10:1 compression from the RX-8's Renesis engine enabled Mazda to use it's full-potential in naturally-aspirated form, which doesn't make it the most convenient engine when it comes to forced induction.
This is why many owners have opted for an engine swap, with the 13B-REW being the most popular choice, alongside more commonly found, cheaper alternatives such as the GM LS and Honda K24 engines.
With that said, it's far from impossible.
It just takes a little more expense, effort, work, and risk than it would on a lower-compression engine.
Part of the added expense comes down to the ECU, which controls almost everything in the RX-8, so standalone management isn't easily adapted. For that reason, you'll need to consider a piggyback ECU.
One of the first considerations that come to mind with the RX-8 is, 'Why didn't Mazda do something crazier with the Renesis?'
Let's face it; the Japanese auto giants gave us the insane RX7 FD in their previous generation from a rotary, fitted with twin turbos and capable of ludicrous power.
Mazda probably would've done it if it were as simple as bolting a cheap turbo kit and then achieving silly power from your RX-8 while maintaining reliability.
But, this time, they seemed to target the daily driver market, possibly proving that the Rotary engine still had long-term potential and could be far more reliable than its predecessors.
They also had stronger emissions laws to consider, and the Renesis side-port engine was developed to address this.
Where the ports were straight out of the rotor housings in pre-RX-8s, they opted for a similar design on both the exhaust and intake ports this time.
Many owners have adjusted the porting, but this often comes with downsides, likely to outweigh the benefits.
Mazda probably would've done it if it were worth doing.
The RX-8 is arguably well-tuned in stock form considering, and there isn't a wide range of bolt-on modifications that will provide impressive power gains.
Sure, there are the usual aftermarket exhaust upgrades, and breathing mods, which could free up a couple of horses, and maybe sound even better.
But what if you're hunting some serious power figures?
You're unlikely to see more than a few horsepower increase from a N/A engine, but several RX-8s out there are achieving over 450hp after a turbo upgrade.
For that reason, it hasn't stopped many RX-8 enthusiasts from going ahead with their turbo upgrades, achieving the full potential that the Renesis truly has to offer.
Some have later gone on to admit that it's been the most fun that they've ever had in a car.
It's certainly not as cheap or convenient as some other engines, but if you have a personal attachment to your RX-8, want to do something different, and don't mind spending cash on building something unique, then why the hell not?
After all, the beauty of tuning is that you get to choose what YOU want to do to satisfy your needs, and the more unique and crazy, the better!
Before we begin turbocharging your Renesis engine, we want to remind you that reliability is vital here.
The last thing you want is to add the stresses of forced induction onto an engine already on its way out.
Since the Renesis happily revs its way to 9,000rpm, the chances are it's already had a pretty heavy life.
Therefore, we recommend a compression test immediately to ensure an optimal foundation.
Once you've established that you've (hopefully) got a reliable engine, it's time to consider which RX-8 turbo kit will be perfect for your needs.
One of the first considerations will be whether you're looking for a top-mount or low-mount kit.
Top mount kits are often known for causing issues with the oil metering pump due to heat, which can end in tears.
However, thinking ahead with the likes of heat wrap can help to eliminate these problems. We don't recommend deleting the OMP on a streetcar.
The benefit of a top mount is that the piping route is much more convenient.
Low-mount kits also come with their issues.
You'll often need to bang out the firewall, the chances are that getting to the turbo won't be too convenient, and you'll be restricted with turbo size due to space. The intercooler piping can also often cause a headache.
The main benefit of low-mount kits is that there's less heat within the engine bay.
Regarding the maximum boost on a stock engine, we wouldn't recommend going beyond 11PSI. Anything beyond that, and you'll likely turn your friendly Renesis into a ticking time bomb.
You may think we're excessively skeptical of forced induction on the Renesis engine, but we prefer to be realistic.
We know firsthand how gutting it can be to spend vast amounts of time, money, and effort on something that doesn't go to plan.
Although many people have had tremendous success with the Renesis engine long-term with forced induction, many others have failed.
Perhaps down to a lack of preparation and trying to cut corners, so it's best to be careful.
If you're not yet entirely set on turbocharging, there's often a heated debate between RX-8 owners as to whether supercharging is the better option for forced induction.
Not sure about the difference between turbocharging and supercharging? Ensure you head to our Turbocharger vs Supercharger - What's Best? Article.
Another popular alternative to turbocharging is to bypass the Renesis engine entirely.
Given the bargain prices RX-8s can be purchased for these days, they're a fantastic chassis for an exciting engine upgrade.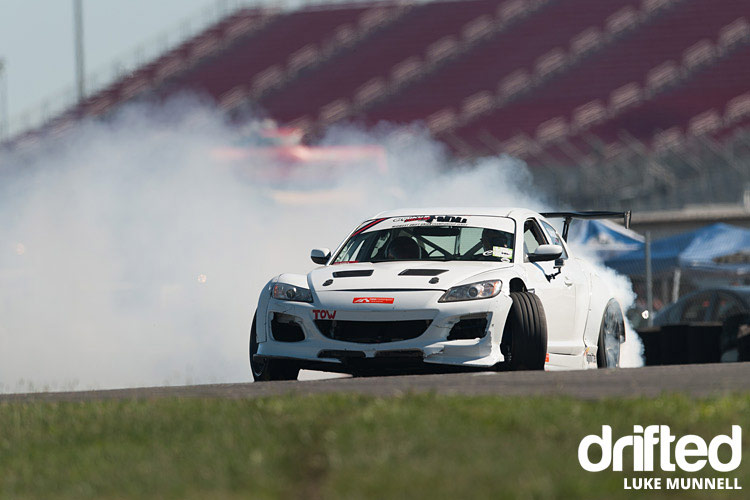 Some people opt for crazy swaps, but the most common exchange is the 13B from the RX7, and there are several off-the-shelf kits on the market to make this a convenient option.
However, with RX7 prices increasing, the chance of picking one up cheap is less likely than ever.
You'll also still suffer from the headaches that come with rotary engines.
For that reason, V8s often find themselves as the weapon of choice.
Not only are they far more convenient to source at a bargain price, but their superior reliability and ease of spares also make them an ideal choice.
Not to mention that they're also far more convenient to turbocharge.
We've compared some of the most popular V8 engines in our LS1 vs LS2 and LT1 vs LS1 guides.
We also looked at the likes of the 1UZFE and 1JZ if you fancy something different.
While we're talking about 'different,' take a look at this crazy triple-turbo RX-8!
With that said, let's look at some of the best off-the-shelf RX-8 turbo kits available on the market!
Now that we've outlined the positives and negatives let's look at our RX-8 Turbo Kit selection.
---
RX-8 turbo kit selection
Click on the product name or photo to learn more about these turbo kits.
GReddy Street Turbo Kit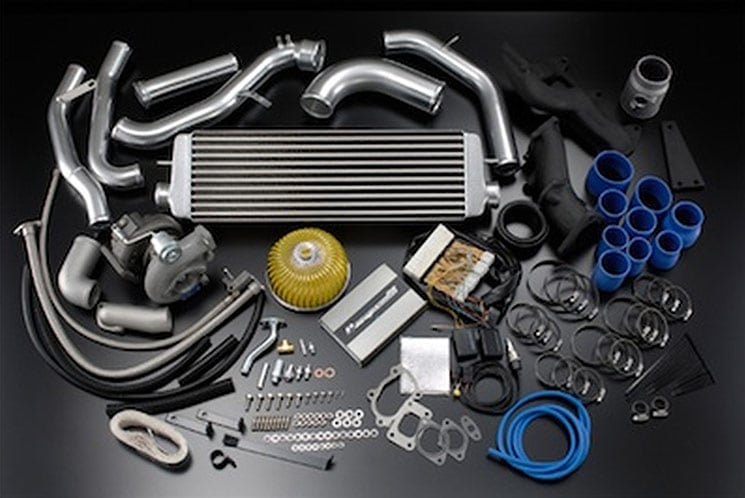 Manufacturer: GReddy
Fitment: Mazda RX8
Value for money:

🔥🔥🔥🔥

Purchase link: Discontinued
Our comment: We begin our list with the most popular off-the-shelf turbo kit for the RX-8 with JDM tuning legends, GReddy.
However, since it's the most popular kit out there, a tremendous amount of support and parts will be easy to get your hands on, so we don't think it's fair to rule it out just yet.
Although the GReddy kit is the most popular, it's still imperfect. Therefore, BNR and MazdaManiac have off-the-shelf upgrades, which can make the kit damn near perfect if you're willing to spend a little extra cash.
The main issues seem to have been with the turbo, which many owners state is undersized for its purpose.
It's also said to have an inadequate bearing housing and a weak actuator spring and is limited to around 270 RWHP.
If you plan to go beyond this power, you'll need to consider upgrading the turbo and the intercooler.
Here's an excellent write-up on unleashing the ultimate potential from your GReddy turbo kit over on RX8Club.com.
For FAQs, you can also visit this article on RXClub.com.
The typical install time for the GReddy kit seems to be around 10-12 hours.
So, although it's not perfect, this kit can be the ideal choice if you can get one second-hand, especially if you're prepared to buy a brand-new uprated turbo to go with it.
If you're able to snap one up in good condition, this could potentially end up being a real bargain.
Manufacturer description: "It takes a tremendous amount of money and time to successfully increase the power of a naturally aspirated engine. With a GReddy bolt-on turbocharger kit you can obtain instant horsepower gains with less time and money while still having the potential for upgrading."
"Unlike most turbo kits on the market today, GReddy kits are designed specifically for driveability and reliability, as well as performance. Since they are based completely on stock engines, these kits come with all the necessary basics, including fuel enrichment."
GReddy RX-8 Turbo Kit Features
GReddy Spec Mitsu T618Z Turbo
GReddy Cast-Iron Manifold
GReddy Cast-Iron Downpipe
Ext. Type T Wastegates
GReddy 31v Front Mount Intercooler
Polished Aluminum Intercooler Piping
Pre-Programmed GReddy E-manage
GReddy E-Manage Harness
GReddy Airinx AY-SB
Necessary Piping & Hoses
Oil Lines
All Necessary Hardware & Fittings
Install Instructions & Wiring Diagrams
---
Our comment: This low-mount turbo kit from RX8Performance has extremely impressive owner reviews and is undoubtedly a serious competitor to the GReddy package.
Although its implementation isn't as widespread, it's gained much attention from owners and enthusiasts.
With each kit being hand-built, RX8Performance has listened to the market feedback, building a kit that requires minimal hassle and modification to fit, capable of achieving 330-350whp.
It's hard to find long-term testing online, but the initial feedback seems fantastic, and it certainly looks the part.
The owners that have fitted it have often praised the great response and assistance from RX8Performance, but there seem to be mixed opinions on their history, which may be worth researching.
With the lack of real-world use and questionable history of the company, we couldn't give the full marks in the rating.
We highly recommend further research if this is likely the ideal kit for your needs, as it could be the best on the market.
Manufacturer description: "Over the years we have turbo-charged a wide variety of rotary powered vehicles, so when we set out to design a new turbo system for the RX-8, we had some important criteria we wanted to achieve. A turbo system that would be responsive and produce power over a broad range yet be completely capable of producing 330-350rwhp."
"The challenge was to design a system that was well mannered as a daily driver yet contain the high quality components and headroom required to withstand the rigors of competition and track use! We also knew this would need to be offered as a true, complete bolt-on package to the consumer."
RX8Performance Turbo Kit Features
Precision Turbo CEA Billet wheel 6266sp dual ball ceramic bearing turbo. V-band in and out, .82 A/R
Precision Turbo 46 mm wastegate and spring kit allowing 17 different boost level combinations
Tig Welded 11 Gauge 100% Stainless Steel manifold
Tig Welded 3-inch Stainless Steel downpipe with v-band wastegate port
Bead-rolled 6061 Aluminum charge tubes
Synapse Blow-Off valve with recirculation fitting, hose, and clamps
Large Bar and plate front mount Intercooler
Adjustable Intercooler mount to accommodate aftermarket bumper covers
High-Quality Reinforced Silicone Couplers
Stainless Steel T-Bolt Clamps
3.5-inch Cold Air intake with Maf Air Straighter
Passengers side motor mount bracket and mounting hardware
Braided stainless steel oil feed and return lines with hardware
Required fasteners
2.5, 2.75, or a 3-inch flex section for your mid-pipe or catalytic convertor is included
Required check valves for the JAM, OMP, and PCV systems. Hard fitting locations are determined during the build process of your order to suit your specific needs.
---
Our comment: We've traced very little information from those who purchased the SFR turbo kit, but everything we could find was positive.
It certainly looks to be a great kit, and with a highly-regarded reputation from SFR's other products that we've seen in the past, their package could well be worth considering.
We've seen claims of 367whp achieved from this kit, but we couldn't find much regarding the long-term results.
Manufacturer description: "The good news is that there is hope. The Speed Force Racing single turbo system for the RX-8 is the answer. Now you can have the performance you always wanted out of your RX-8. Turn that anemic performing Renesis motor into a fire-breathing turbocharged 326WHP Rotary that screams to 10,000 rpms with 9 psi of intercooled boost."
"Now you dont have to worry about being left at the stop light by every econobox that has an intake and exhaust on it.The days of cringing every time a Mustang or Camaro pulls up and flexes its v-8 muscle are long gone. Now you have something up your sleeve. Now you can show off the power of the rotary motor as you proceed to leave them in the dust.If you want more then performance then your prayers have been answered.Now you have the show quality looks to match when you pop the hood."
SFR Turbo Kit Features
Turbonetics T60-1 Turbo
Turbo Mounting Plate
304SS Stainless Turbo Heat Shield
321SS "Ultimate Flow" Turbo Header
3.5 – 3″ Cold Air Intake
K&N air filter
Tial 46mm Dual-Port Wastegate
1.6″ 304SS Wastegate Dumptube
3″ 304SS Downpipe
Bell Front Mount Intercooler
2-2.5-3″ Aluminum Intercooler Piping
Tial 50mm Blow off Valve
Battery Relocation Line w/ Cables
Thermotec Header Wrap
Stainless Steel Radiator Hose
Silicone hoses (red, blue or black)
Stainless Steel Hoseclamps
3-AN Teflon Lined Oil Feed w/ Fittings
10-AM Oil Drain w/ Fittings
All Necessary Hardware & Fittings
---
Our comment: The Mazfix is one of the highest-regarded systems on the RX-8 scene, but it comes with one slight issue. Mazfix is based in Australia, and this kit is provided on a drive-in, drive-out basis.
We appreciate that this won't be convenient for most of you, but since Drifted has a worldwide fanbase, we didn't feel it was right to leave one of the best options off our list.
These rotary specialists are sure to make you feel at home, and the owner is even known for letting you take a drive in their pre-built RX-8 to let you decide precisely what you want from your build.
In many ways, Mazfix seems to be the perfect option; it's just a shame that they'll be based so far away from most.
If you're in Australia, look no further!
Mazfix Turbo Kit Features
Massive 200kW at the wheels (approximately)
Street legal. Comes with Mod Plate / Certificate
Double ball bearing turbo with an internal wastegate, now with upgraded billet front wheel
Quality Hiflow Intercooler
Quality pipework
Bolt-up exhaust - No cutting or modifications to standard exhaust
Retuned Factory ECU
Completely reversible and unboltable
Uses standard exhaust and air intake or can be upgraded
Fully Installed and Tuned
Drives like a standard RX-8, EXCEPT when you put your foot down
Fuel economy similar to factory, unless using boost
Please Note: We highly recommend the RX-8 Clutch Upgrade, as the standard clutch won't keep up with the massive increase in torque
---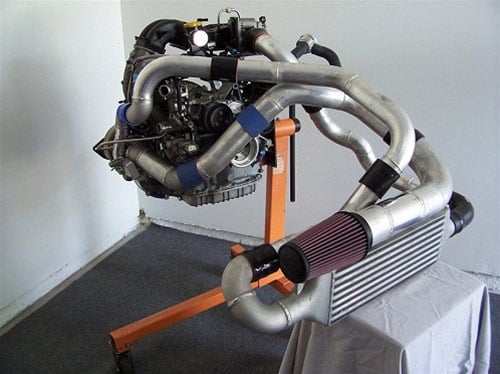 Our comment: There's no question that Turblown has pulled two great-looking kits out of the bag here, but, unfortunately, that seems to be where the positive feedback ends.
We struggled to find many positive opinions on the company; the negatives outweighed the positives.
There are a couple of decent builds using their kits, but the company's reputation leaves much to be desired after some alleged shady dealings.
They claim to be able to produce up to 475hp from their kits, but apparently, the reliability is a mixed bag.
We'd recommend proceeding cautiously if you're considering a Turblown kit, but we also advise you to do your own research.
Turblown RX-8 Turbo Kit Features
T4 57 Trim Garrett To4E turbocharger offers extremely fast spool and a top end that never runs out of airflow
Our 3 into 1 custom made 321SS turbo manifold outperforms log style manifolds offering better response and a broader torque curve
Custom steel motor mount bracket to accommodate our free flowing turbo manifold
TiAL MVS 38mm v-band waste gate and an open dump tube
3″ 304SS downpipe that employs a 3″ flex bellow for engine movement
Custom Stainless oil & coolant feed/return hard lines are included to eliminate heat-related failures OF commonly used rubber hose
Custom fabricated front-mounted intercooler using a genuine Garrett Core. It includes T-bolt clamps with high-quality silicone couplers
Oil metering pump block-off kit & relocation bracket
Coolant surge tank relocation bracket
Protective 3M Gentex wiring harness thermal sleeve
Custom aluminum thermostat upper and lower hard line assembly is included to prevent heat-related failures of the turbo system by eliminating vulnerable stock rubber counterparts. A new lower radiator hose is included
Ambient air intake system featuring a recirculated blow off valve that is designed to ensure proper mass air flow sensor operation and the highest possible flow characteristics
Walbro 255lph drop-in fuel pump and fuel injector modification service are included. This service satisfies fuel requirements for 400whp and requires core injectors up front for modification
---
Our winners
Now we have looked at all the best RX-8 turbo kits available today, which products are our top picks?
Best RX-8 Turbo Kit Choice
In the context of these turbo kits, we are choosing the GReddy Street turbo kit as the winner.
GReddy Street Turbo Kit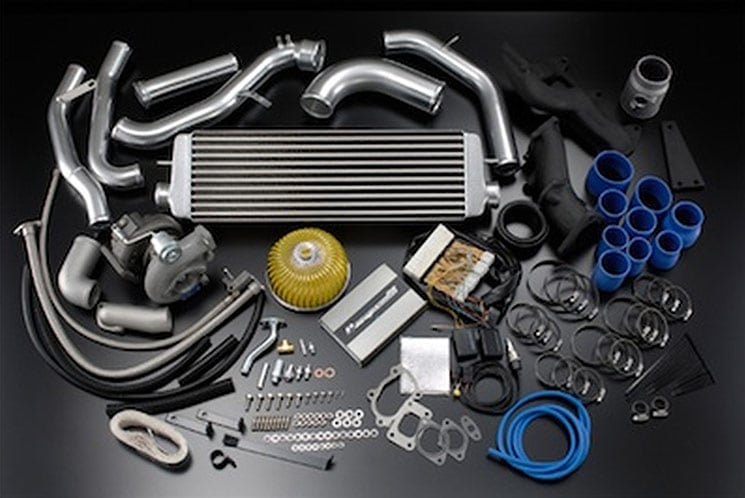 We completely understand if you disagree with our choice since the GReddy kit isn't perfect.
As you can see, this certainly hasn't been the easiest turbo kit decision we've made throughout our various turbo guides.
Although the GReddy kit is by far the most popular among RX-8 owners, the fact that it's since been discontinued is far from ideal if you want to purchase a brand-new turbo kit.
Therefore, we'd recommend checking out the best available option on the market, the runner-up choice RX8Performance Turbo Kit.
Our RX-8 Turbo Kit winner has to go to the GReddy Street Turbo Kit
The fact that the turbo seems to suffer from issues is also a concern, but since upgrades are available to turn it into a fantastic all-arounder, this would be the preference if finances allow it.
However, there will undoubtedly be more parts floating around to still make it the best choice for some time.
We highly recommend checking out our runner-up if the turbo issues are a concern.
Despite the lack of long-term reviews, the feedback we've read on the company and its products so far has been excellent, so they could be the better choice.
Runner-Up RX-8 Turbo Kit Choice
We can understand if this kit appeals more to you than the GReddy turbo kit, especially since it's readily available off the shelf. Still, given the lack of long-term results at present, we're sticking with our initial vote.
There's no question that first impressions of the RX8Performance kit have been fantastic, and if you feel this could be the perfect kit for you, we'd highly recommend doing some additional research.
Thank you for reading our RX-8 Turbo Kit guide!
We hope you're confident in choosing the perfect turbo kit to compliment your Renesis engine, and you can finally hunt down the power goals you'd dreamed of achieving!
If you enjoyed this article, please share it with the buttons at the side and bottom of your screen. Find this information helpful? Please post a link to it on your car owners' clubs. We appreciate your support.
Ever wondered what's the difference between RX7 and the RX8? You have to check the full comparison of both cars' features! Know which one's the best car and why.