RX7 vs RX8 – What's Best, And Why?
Welcome to the world of the Rotary Revolution where we compare a JDM legend against one of the most affordable sports cars on the market right now.
The history of these two cars goes back to the 1960s, with the development of the Wankel engine, or Rotary engine.
The Wankel engine is based on a straightforward design. It had a triangular rotor that rotated in an ellipse-shaped chamber, and the rotor's movement around the elliptical chamber was responsible for intake, compression, ignition, and exhaust cycles.
The rotary engine, as it was called, was first produced in Germany, so how did Mazda get a hand in this technology?
Mazda had been around since 1931, producing vehicles like auto rickshaws for moving consumer goods, and when the Wankel engine was invented, they, along with other companies, were extremely interested.
Mazda rushed to develop this tech and, in doing so, created one of the best sports cars Japan and the rest of the world had ever seen.
RX7 vs RX8 – Specs
Starting this discussion, the RX-7 and the RX-8 are two very different cars. Even within each variant, there are a lot of different versions for different markets, and all this can be pretty confusing.
Mazda RX-7 History
Here's where it all began for Mazda's soon-to-be legendary family.
Mazda RX-7 FB
First off, the RX-7 FB was launched in 1978 as a replacement for the RX-3 Savanna. This was a sporty take on the RX-3 with a bigger rotary powerplant – the 12A which used two rotors spinning 180 degrees opposite to each other and produced 101hp.
The RX-7 has gone through a lot of changes over three generations. And it is worth mentioning, that all models had rotary engines!
The first generation of the RX-7 had a design similar to the Lotus Elan, with a long sloping hood and the infamous pop-up headlights.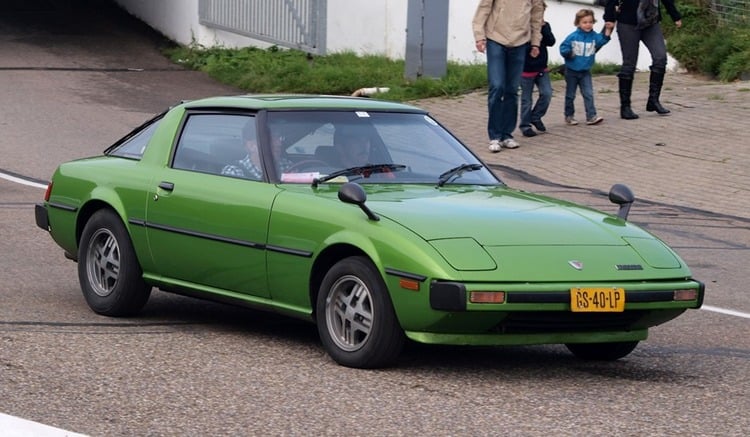 A turbo version was also introduced(producing 120hp initially and 165hp for later models), and Mazda sold 470,000 units!
You can tell that the car was a huge success. People loved the little rotary engine sports coupe, which could rev higher than other engines, and even had a warning buzzer at redline.
The FB had MacPherson struts in the front with a live axle in the back. It also had disc brakes for the front and drum brakes in the rear which any mechanic would be familiar with.
The steering was a very simple worm and roller system rather than the more complex rack and pinion, and all these things actually made the car sell more.
Mazda had gotten the weight distribution absolutely spot-on. It was a perfect 50-50 ratio, and 80 percent of this model sold in the US. The US model had the 13B – a bigger engine than the 12A and disc brakes all around. Fuel economy was 29 MPG on highways, and 19 MPG in the city.
The new RX-7 had a sporty look, and if you want a 1985 model (because that would be one sick classic build!), you can get one for around 20,000 dollars. And if you're wanting to check out other options, our guide on 1990s JDM cars will definitely help you!
Mazda RX-7 FC
The second-gen Mazda RX-7 FC used inspiration from Porsche, and the overall car had a square shape to it, compared to the previous model. The pop-up headlights were still included in the design and a convertible was also available.
Compared to the previous model, this had a better suspension, with an independent suspension setup featuring two new pieces of tech; auto adjustment suspension (AAS for short), and dynamic tracking suspension system (DTSS).
When a G-force was applied, a particular front bushing design caused tire toe-in. Toe-in combined with negative camber in the rear is the objective for many rear-wheel-drive racers, as you will learn later in my book. Mazda was unquestionably on the correct route.
The engine of the FC had also been upgraded. The earlier two-piece apex seals were replaced by newly designed three-piece apex seals. These new seals were also just 2 millimeters broad, compared to 3 millimeters wide on 1985 and older engines.
An extra injector was added to the intake to enable the new engine to create greater power while gaining better gas mileage. The oil-injection mechanism has also been updated. It would now be squirted into the primary intake manifold and the trochoidal chamber.
The shape of this new RX-7 indicates that it spent considerable time in the wind tunnel.
The Turbo variant was the car that RX-7 enthusiasts had been anticipating. The Turbo II engine propelled this high-performance vehicle. Nobody knows where the term "II" came from, although Mazda historians believe it denoted that this was the second-generation RX-7.
With over 180 horsepower on tap, this car had the potential to fly, but it was terribly thirsty. However, enthusiasts were prepared to accept 17 miles per gallon (or less, depending on how eager you were) in exchange for this kind of performance.  Check out Simon's daily driver FC RX-7, to get a taste of how pretty this car is capable of looking.
Mazda RX-7 FD
When Mazda introduced the dynamic third-generation car in 1993, representing the pinnacle of RX-7 design and development, media and auto enthusiasts were stunned. The body was a work of art, and the 13B power plant had been nearly overhauled.
Despite being a 13B at heart, the new engine featured twin Hitachi turbochargers. The 13B REW engine featured a large turbo intercooler and dual oil coolers located in each front corner of the car in the "R" version.
Exhaust gases were used to power the turbos, which were initially sent to the primary turbo for faster off-the-line performance. Mazda designed it so that even at low rpm, some exhaust gases were diverted to the secondary turbo, keeping it "spooled up" and ready to kick in when needed.
During the first year of production, three versions of the RX-7 were available: the base model (if you can call it that), a touring package (more comfortable: massive Bose stereo system, leather, etc.), and the R1 (stiffer suspension—more of a pure sports car).
Other notable changes include the addition of subframe connectors to help prevent the power plant frame from cracking and to reduce wheel hop. Both the five-speed and automatic tranny models' electronic control units (ECUs) were redesigned.
Additional upgrades were introduced with the 1994 model. The list for that year includes redesigned turbocharger housings, clutch-facing material (for longer life), water pump seal, water level sensor, upper radiator hose, radiator cap (lower pressure), filler cap, and body.
The thermostat gasket, throttle body coolant sensor, air separator tank coolant hose, high-temp fuel hoses, fan relay control module (allowing cooling fans to run for 10 minutes after shutting down the engine), and a smaller ABS control unit were added. The rear subframe was also modified.
Mazda introduced the R1 in the first year of manufacture for individuals who want even more performance. One may generally be identified by its rear wing; however, many third-generation owners purchase aftermarket parts to replicate the R1's look and performance.
The R1 is built for performance, including a strut tower brace (a popular option) and two oil coolers. The seats are also devoid of leather because, as most racers know, a leather seat will not keep you in position as firmly as a fabric seat under high Gs.
The suspension was stiffened as well. The R2 was Mazda's high-performance vehicle the following year. It's essentially identical to the R1, except the springs and struts aren't as rigid. We have a full tuning guide for the RX-7 if you're interested.
Mazda RX-8
The RX-8 had a lot to live up to. The FD RX-7 was a complete hit – it had both the engine power and the looks, and the RX-8 being a successor, just had to be better.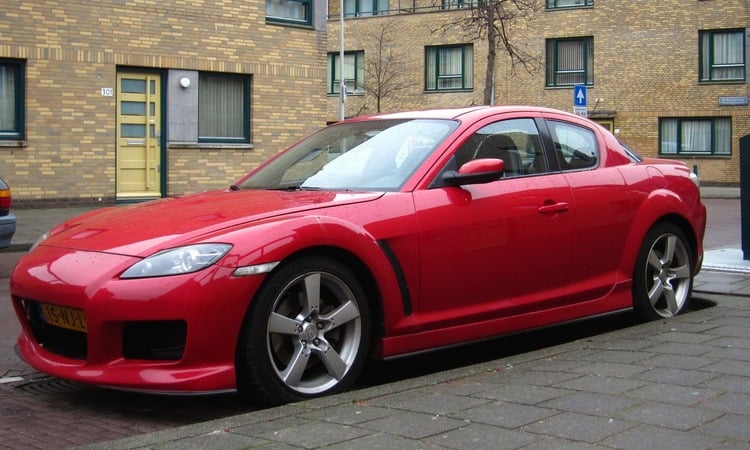 However, Ford had purchased 80% of Mazda's shares, so the car was inevitably 'different'.
Ford tried to fix a lot of the problems that the RX-7 had. Rather than being a sports car with two seats, it now had four doors. This meant that it was longer and it was heavier. So that perfect weight balance was off now, ruined.
Ford also tried to overcome the heat and emissions problems. Since rotary engines have oil injectors that keep them lubricated from the inside, oil used to burn as well along with fuel.
So Ford got rid of the turbo. Without the turbo, the RX-8 got very little torque, maxing out at 160 pound-feet. However, the rotary engine will rev well over the 9000rpm range, and 0-60mph will take around seven seconds.
The RX8 is surprisingly comfortable, with plush seats and low noise levels at steady speeds, making it a good cruiser on the motorways and freeways. It also features unique styling, on both the exterior and the interior, with a sports-car look all around.
The majority of the vehicles manufactured were from the first generation, which ran from 2003 to 2008. Although certain upgrades were made along the way (for example, to the starter motor or ECU), the largest alterations occurred with the second-generation automobiles debuting for the 2009 model year.
These are distinguished by redesigned front and back designs, as well as available 19-inch alloy wheels. More crucially, they had modifications to improve handling and torsional stiffness, as well as a lower final drive ratio for improved acceleration.
All RX-8s used the same basic engine, called a 13-B Renesis engine, which had two 654 cc rotors and a nominal capacity of 1308 cc, so you won't be winning any car brawls!
From the start, the Renesis unit was available in two forms; a Standard Power variant (commonly known as the 190), with four intake ports and a five-speed manual gearbox, generating 189bhp, and a High Power version (often referred to as the 230), with six intake ports and a six-speed manual transmission, producing 228bhp.
The 230 is frequently chosen because of its higher revving nature and superior (six-speed) transmission, but the 190 should not be neglected. Its higher torque makes it simpler to drive in normal settings, and some experts believe it is a better foundation for adding a supercharger.
RX7 vs RX8 – Engine
The Wankel engine had lesser moving parts, was cheaper to manufacture and was smaller in size. Plus, the power-to-weight ratio on these engines was 3:1 in comparison to the conventional piston engine.
Both the RX-7 and the RX-8 used rotary engines, but both are very different when compared side by side. We're going to focus on the stock layout in this section, but keep tuned in for much sicker builds later on.
The RX-7, particularly the FD model, has one of the best rotary engines ever built to date. The 13B-REW came with the RX-7, and this was sequentially twin-turbocharged. It produced 250hp-280hp and was instantly a favorite amongst racers and drifters.
This was an engine developed specifically for higher power output. The RX-8, on the other hand, had an engine designed for reduced emissions and improved fuel economy and has two key differences.
Firstly, the exhaust ports ran not peripherally but through the side. The ports could be made bigger and this increased both efficiency and airflow. Even the intake port could be redesigned to give more fuel efficiency.
However, this caused a great reduction in power. The peripheral intake and exhaust ports on the RX-7's 13B results in engine behavior rivaling a properly built race engine with pistons.
This is because the intake port area has a noticeable increase when it runs along the outside of the motor. This is comparable to using bigger valves and a long-duration camshaft in a piston engine.
The largest amount of overlap, which is most beneficial for power production at the higher end of the powerband, is provided by having both the intake and exhaust ports on the edge of the housing.
The RX-7 has both intake and exhaust ports running peripherally, while the RX-8 has them on the sides.
RX7 vs RX8 – Tuning & Upgrades
The vehicle that made the Rotary engine seem cool was the RX7. It matches the power output of engines nearly twice its size with a displacement of just 1400cc.
With that being said, the best performance mods and upgrades for both the RX7 and RX8 include:
Intake Systems
Air velocity intake devices may frequently enhance horsepower by 3-7 percent. Units like the bespoke system for a 1993-1995 RX-7 are one of the simplest and most affordable methods to gain a real performance boost.
Third-generation RX-7 owners have various possibilities of intakes to choose from. They range in price from around $200 for smaller to over $500 for larger units.
The difference in horsepower between the lower- and higher-priced systems may be as little as 2 to 3 horsepower, depending on what other modifications are included. For that extra $300, there will most likely be even less change in net horsepower.
Exhaust Systems
An efficient exhaust manifold connected to a header is essential for a high-performance exhaust system. In this example, we have a redesigned turbo exhaust manifold for a third-gen RX-7.
It is significantly lighter and flows far better than the original manifold. Horsepower varies based on previous changes, but on a factory car, expect a 2-5 percent improvement in power.
Racing Beat provides its popular road race header intended to fit the 12A and both the four and six-port 13B for the early RX vehicles, as well as 1979-1992 non-turbo RX-7s. This unit is of high quality, with 2-inch O.D. pipe and 1/8-inch thick walls.
Headers for complete racing engines with peripheral exhaust ports are also available. A header is difficult to surpass in terms of horsepower per dollar.
The exhaust on some heavily modified RX-7s exits slightly below the back of the passenger side door. This saves weight, reduces back strain, and prevents flames from blasting into the front end of any automobile in pursuit when the driver takes his foot off the throttle.
Engine Modifications
The one thing that all rotaries, from the 10A to the triple rotor 20B, have in common is that skilled intake and exhaust porting may release the engine's ultimate power. Porting is a word that applies to all types of engines, whether piston or rotary.
The term "port" simply refers to a hole in your engine's intake or exhaust. Remember that an engine is just an air pump. The more effectively air flows into and out of an engine, the more power it can produce.
Porting is the process of opening up a hole or exactly matching that hole to the hole on the part you intend to attach to it. This is an excellent modification to do and will increase your engine's airflow, leading to higher power figures.
Lightweight and oversize engine pulleys can reduce drag on a rotary engine, and give you a little bit more power by decreasing rotating mass. They are inexpensive and relatively easy to install.
Racers frequently utilize a device, known as an accusump, to maintain pushing oil into the engine even when subjected to severe g-forces while racing. Without one of these, a long, high-speed sweeper might take the oil out of touch with your sump, resulting in engine death due to oil deficiency.
ECU Modifications
A Programmable Management System (PMS) like the one from Racing Beat analyses the engine's control unit's stock fuel injection and spark timing signals and modifies them to the settings you specify through terminal or PC laptop programming.
This enables fuel and timing modifications for idle, partial throttle, and wide-open throttle. Two user-programmable switches allow the PMS to engage power adders such as nitrous oxide, with two phases that must be triggered sequentially.
The PMS can also monitor your OEM engine control unit and allow you to alter the engine's timing and fuel curves. It regulates the timing in 1-degree increments and the fuel in 2% increments.
For more info and a complete catalog for RX8 upgrades, we recommend heading over to our RX8 tuning guides.
RX7 vs RX8 – Handling
The Mazda RX-8 is deserving of the title that it's often branded with – the "best handling sports car ever".
Although some argue that it could handle better, they've likely not tapped into the potential that it has to offer.
For those of you disagreeing, we highly recommend checking out our guide on coilovers to replace your factory springs with lower, stronger springs to get the most out of the chassis has to offer.
First and foremost, the suspension on both these vehicles is designed for this ride height, and they already have a low stance. Second, when you use powerful springs, you lose road/tire compliance. We've been active in the sports car scene for a long time, and We've realized that shocks and sway bars are excellent instruments for fine-tuning suspension.
The steering in the RX8 is incredible, which is probably the FD's weakest point. It does sound like Mazda's marketing, but with the RX8 you think it and the car does it.
Unlike the FD a slight roll is felt in the RX8. It probably would not be noticeable to most people, but after driving the FD (which has none) you can feel a slight body roll. Don't get us wrong, the RX8 does feel glued to the ground, and the steering is both effortless and precise.
But, as you hit the gas in an RX8 going around a turn, you would give up on the throttle before the car would lose grip.
Considering its insanely cheap price tag on the used market, few cars are capable of providing the driving experience that the RX8 has to offer for the money.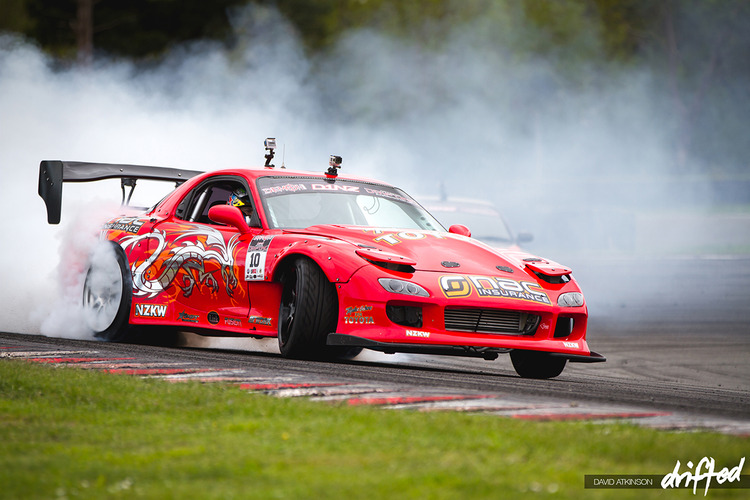 It is hard to judge which really outhandles the other. From owner experiences, it is safe to say that the FD has higher limits, but you have to work harder to reach them. The RX8 is much easier to drive and more willing.
RX7 vs RX8 – Transmission
Nowadays, most individuals enjoy driving cars with automatic transmissions. While some continue to value manual driving as a superior experience. When comparing the Mazda RX8 with RX7, transmission type is still another significant distinction.
Both 4 and 6-speed automatic gearbox variants and 5- and 6-speed manual transmission models are available for the RX8. There are 4 and 5-speed manual and 3 and 4-speed automatic transmissions for the RX7.
It's safe to say that manual variants give more control. And this is true for both cars.
RX7 vs RX8 – Weight
When comparing cars, the weight of the vehicle is a crucial factor. The majority of vehicles' performance is greatly impacted by weight. A manual gearbox Mazda RX8 weighs roughly 1370 kg, while an automatic transmission weighs about 1380 kg.
The weight of the Mazda RX 7 with an automatic or manual transmission is roughly 1100 kg. Again, this is why it does do better in the turns, but nevertheless, the RX8 feels more planted. It is a tough competition between the two, but we're going to give the RX7 a win here because it feels more balanced.
Conclusion
The RX8 is a much cheaper, and easier car to buy, but we think there's no match for the racing feel and performance that an RX7 puts out. With that being said, whether you are for an RX7 or an RX8, be sure to know what your true purpose will be.
For better daily drivability, the RX8 should be bought, while if you're looking for an ultimate sports car for the track, the RX7 should be your car of choice. Both cars drift, both cars are RWD, and both cars will undoubtedly have you pulling the handbrake before flooring it to experence the rotary goodness!