Ultimate K24 Turbo Kit Guide
If you want to maximize the power potential of your K24, a K24 turbo kit is the ultimate way to unlock maximum gains. In this guide, we're checking out the best turbo kits available.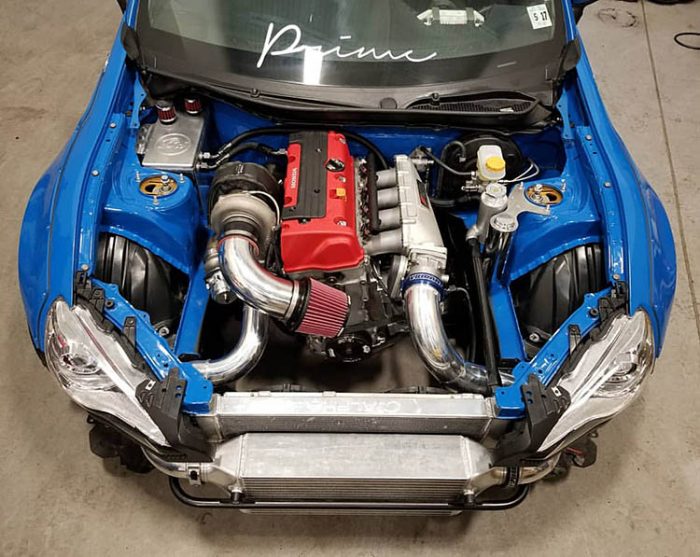 ---
In a hurry? Here is our K24 Turbo Kit summary
| Budget Choice | Drifted Choice | Premium Choice |
| --- | --- | --- |
| | | |
| CXRacing K24 Turbo Kit | Humble Performance K24 Turbo Kit | Full-Race K24 Turbo Kit |
| 🔥🔥🔥🔥🔥 | 🔥🔥🔥🔥🔥 | 🔥🔥🔥🔥 |
| Buy Now | Buy Now | Buy Now |
---
Introduction
Now and then, we're feeling nice, and we decide to give the Honda fanboys some lovin'. Today is a day just like that!
In this guide, we'll be going through the best (and worst) turbo kits available for K24 owners and providing our recommendations on what's likely to be the perfect setup for your requirements.
With their impressive reliability and power potential, the K-series engines have proven an ideal choice for FWD and RWD builds.
Not only that, there have been some amazing off-road-focused K-series builds as well!
We recently looked in-depth into the selection of Honda's most popular engines frequently used for RWD swaps, such as the K20, K24, and B16.
As unlikely as it may seem, Honda's K24 has repeatedly proven to be a solid choice for various RWD builds in almost every motorsport discipline.
While the K24 might not be the logical choice for an RWD build due to the potential conflict between drivetrain components and their FWD nature, it can be an immensely underrated engine swap if you're willing to put in the effort.
Over the years, we've seen Honda's K24 engine find its way into almost everything imaginable, from standard grocery getters you always see on public roads to drifters and even mid-engine race vehicles explicitly designed for track use.
While V8 swaps have become the go-to choice in motorsport competition vehicles and even games such as Madalin Stunt Cars 3, this has left the prices heading sky-high, where other options, such as the K24, can be found for just a few hundred bucks.
Sure, other choices, such as GM's LS engine, offer impressive reliability and power potential and can also handle forced induction efficiently.
But the Honda K24 also ticks all these boxes at a fraction of the initial cost.
If you're curious to see how the K24 fares against what some gearheads consider the pride of the USA – the almighty LS, check out this great video from Speed Academy:
A wide range of K24 engines can be found in popular cars, such as Honda Accords and CR-Vs, making them highly convenient and cheap to source.
They're also an ideal choice for off-the-shelf upgrades and aftermarket part support.
With ever-increasing off-the-shelf aftermarket mounting and wiring options available for the K-series, it's undoubtedly emerging as an underdog in the engine-swap world.
So, whether you're looking for a cheap and reliable drift car engine swap or a fully-boosted setup that'll help you smash ¼ mile records, the K24 should undoubtedly be a contender.
After its initial launch in 2001, the K24 powerplant debuted in the Honda CR-V with the original K24A1 variation.
Although Honda continues production today with the K24Y and K24Z variants, these modern-day versions aren't going to be ideal candidates for a turbo swap.
The K24's design resembles its predecessor, the 2-liter K20. It features additional bonuses alongside the more significant displacement, such as an enlarged bore and stroke, friction-reducing technology, and electronically controlled ignition timing.
---
Honda K24 N/A Tuning Potential
There's a great selection of off-the-shelf products when it comes to upgrading the K24 engine, and some incredible power figures lie in wait if you're willing to put the time and money into unleashing its potential.
The highest output in stock form comes from the sought-after K24A2, which produces 205 hp and 164 ft/lb torque out of the factory with the Acura TSX. We get that it's nothing to write home about, but what if we want to aim higher?
Generally, the recommendation to get the best basic setup with the K24 is to buy any K24A cylinder block, along with a K20A2, K20A Euro R, or KA20A Type R head, commonly known as the "K20/K24 Frankenstein". Check out the video below if you are a car nerd like us and want to learn all the differences between the K20 and K24.
Remember that this only applies to the K24A series engines. The K24Z isn't compatible due to the pistons making contact with the K20's cylinder head.
Although it may seem odd to use K20 parts, the K20 features superior valve springs and camshafts to the K24. If you opt for this route, you'll also want to consider replacing the K24's water pump with the K20's.
If you go further with race bearings, high-compression pistons, rods, studs, an uprated flywheel, fuel injectors, an ECU upgrade, and a K20A2 oil pump, you're likely to get about 260 horsepower.
Suppose that's not enough, and you're keen to reach 300hp without looking at the forced induction route; it's achievable with a little more work.
Reaching the 300 hp mark would require additional internal porting, uprated valves, cams, a throttle body, a CAI, and uprated manifolds with a high-flowing exhaust setup.
For the finest N/A K24s available, you can consider turn-key crate engines, capable of 340 hp at 9,000 rpm, through to drag racing setups capable of under 9-second quarter-mile times.
---
Honda K24 Forced Induction
Since the K24 can handle forced induction well, it'll come as no surprise that many owners opt to go down the turbocharged route with their build.
If you intend to go beyond 400 hp, then a turbo kit will likely provide the best option for the money.
Are you looking for some inspiration for your drift build? Check out this K24-powered Honda S2000 shredding tires in Formula Drift.
Or how about this Acura Integra with a turbocharged K24 under the hood explicitly built for time attack racing?
Thankfully, the K24 is one of the most convenient engines for forced induction and can often be one of the cheapest and most convenient engines to modify.
With the stock internals capable of handling up to 400-500hp, it's easy to see why so many people opt for the K24 when it comes to engine swaps.
There's certainly no shortage of turbocharged K24s out there, but there's also a decent amount of supercharged ones like this K24 Civic with a supercharger bolted on top.
Deciding which forced-induction route you want to take isn't always easy, so we highly recommend checking out our turbocharger vs supercharger guide before you commit to your choice.
Once you've decided that the turbo kit will be best for your needs, it's time to choose from the best options on the market.
The K-series engine can have impressive figures, and some enthusiasts have achieved over 500hp from the stock block.
Although this is the case, you must consider swapping out several parts when hunting down significant power.
Just remember that making tons of power affects the vehicle's drivability.
With considerations such as an uprated/aftermarket transmission, there are chances that your ride will no longer make for an enjoyable, reliable, daily driver.
Traction will also be a serious consideration when putting significant power down, especially if you opt for a turbo kit on your FWD car.
Much of the K24 turbo kit information online is outdated, and many options are no longer in production, so we'll help you explore the best choices currently available.
You're most likely aware that turbo upgrades are no joke, and with an incorrect setup, you'll soon need to start planning the inevitable funeral for your currently healthy engine.
Sure, custom builds can sometimes be the way forward, but unless you're a skilled mechanic, an off-the-shelf kit will likely save you a lot of hassle and some money along the way.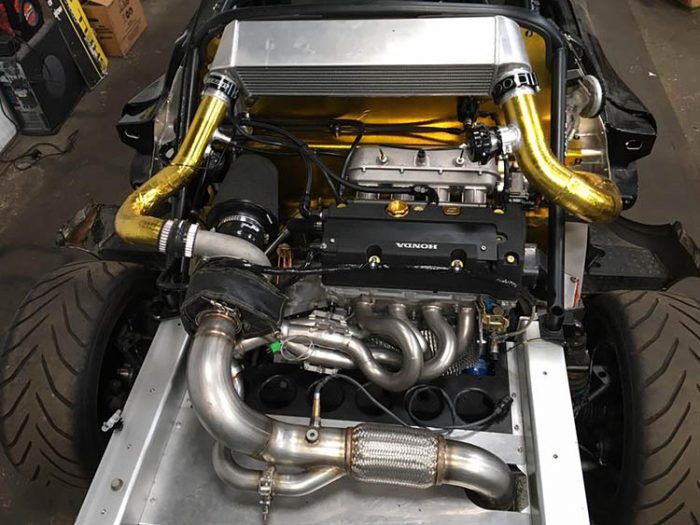 Whether you're looking for the ultimate K24 setup, the world has ever seen or a simple budget build that can be put together over a few beers on the weekend with the homies, we'll cover them all in this guide.
Therefore, we always recommend that you decide what your end goal is likely to be when choosing the best turbo kit for your specific needs.
Are you merely wanting some sensible additional power on your daily? Or are you planning to build a dedicated track weapon requiring a trailer to take to events?
Forced induction puts much strain on any engine, especially older ones that have perhaps not been well cared for. Unfortunately, many Honda K24s fall under this category.
As always, we highly recommend ensuring that the base engine you intend to turbocharge is running healthily, and the best way to do this is with a compression test.
A compression tell will tell you whether the head gasket, valves, and piston rings seal the engine as intended.
It's also worth considering going with uprated internals to save the inevitable tears once you've started bouncing off the limiter later on, especially for big-power builds.
Once that all checks out, let's move on and decide which turbo kit will be best suited for your goals to get your turbo k series build underway!
---
Best Honda K24 Turbo Kits
Despite many of the recommended Honda K24 turbo kits getting discontinued over the years, we've found several choices currently available on the market for you to pick the ideal option.
Whether you're looking for a complete off-the-shelf solution or hoping to find some K24-specific parts to finish your DIY K24 turbo kit project, there's something for everyone on our list.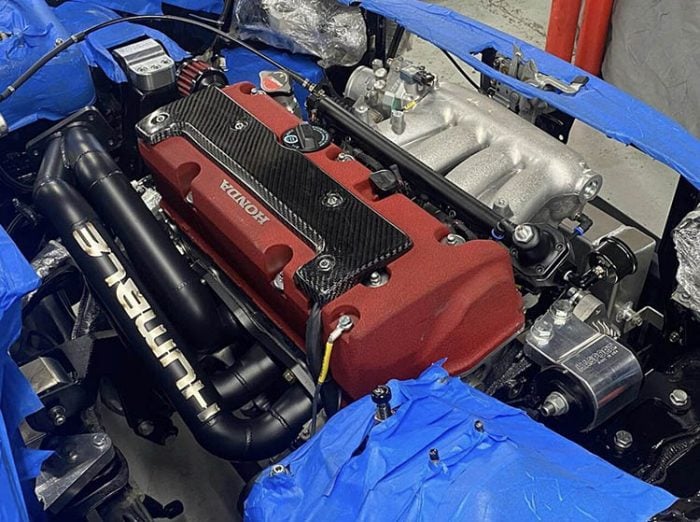 Manufacturer: Humble Performance
Value for money:
Our comment: Providing the ultimate solution for K24 owners are these impressive kits from the guys at Humble Performance.
On Version 3 of their highly-regarded K24 turbo kit, they've ironed out the niggles over the years to bring the most advanced option to date.
Humble Performance provides two kits. One has a clutch kit (rated for 600 hp), a fuel system, and a tune. The other is without.
For those that wish to source their clutch, fuel system, and tune, it may be a consideration to go with the budget kit.
If you're looking for nothing but the best for your K24, then the COMPLETE kit will be the ultimate choice for your needs.
Manufacturer description: "We developed the Budget Killer Combo as a way to get the easiest, stress free setup in your hands to make 500+HP on a Stock K20/K24".
"The only thing you'll need to provide is a K swapped car with EGK2 or EKK2 Mounts with an RBC intake manifold (stock TB preferred) or RSX with an RBC intake manifold (stock TB preferred)".
Kit includes:
Turbocharger (Premium upgrades available)
Turbo manifold
Intercooler
Wastegate
Oil lines
Downpipe
Wastegate dump tube
Intercooler piping specific to your chassis
The COMPLETE kit also includes:
Clutch & flywheel rated for 600HP street use
DW stainless steel fuel injectors for ethanol up to 700HP + DW fuel pump rated for 800HP
HP budget turbo kit V3
KPro Basemap + remote tuning session OR in-house dyno session
---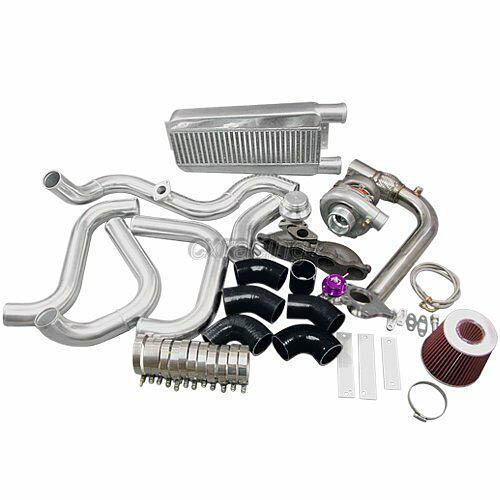 Our comment: CXRacing has earned itself a negative reputation among some enthusiasts. But, CXRacing's newest products have been completely redesigned in recent years and now offer impressive quality for the price.
They offer three options with their kit, one of which comes without an intercooler, and two that include the intercooler kit in with the package, with a choice of blue or black silicone hoses.
Although this won't be as impressive as the Humble Performance kit above, it provides excellent value for money, coming in at a fraction of the price.
Manufacturer description: "All parts are developed from the ground up, designed and built specifically for the Honda K24 engine".
"This is one of the most complete kits available, with the most competitive cost".
Kit includes:
Manifold: Cast Steel Manifold, T3 Turbo and 38mm Wastegate Flanges, Bolt On Fitment for T04E Turbo
Downpipe: 2.5″ Stainless Steel Pipe – Connects to Factory Exhaust System
Turbo: T04E Turbo and Wastegate. T3 Flange to Manifold, 5 Bolt Hot Side Downpipe Flange, .50 A/R Compressor, .63 A/R Turbine, 3″ Inlet & 2″ Outlet, 1/8 NPT Oil Inlet, 350 WHP Swaps, 5~20 PSI Working Pressure, 38mm 8 psi Wastegate
Intercooler Kit: (Full kit only) – Bar & Plate Intercooler, with Mounting Brackets. Piping Kit with Hoses, Clamps, and BOV. Bar and Plate Core Size: 20″X6″X3″, 2.5″ Inlet and Outlet, 2.5″ Piping kit with Silicon Hoses and BOV
Turbo Oil Line Kit with Oil Pan Plug Adapter
3″ Air Intake Pipe and Air Filter
---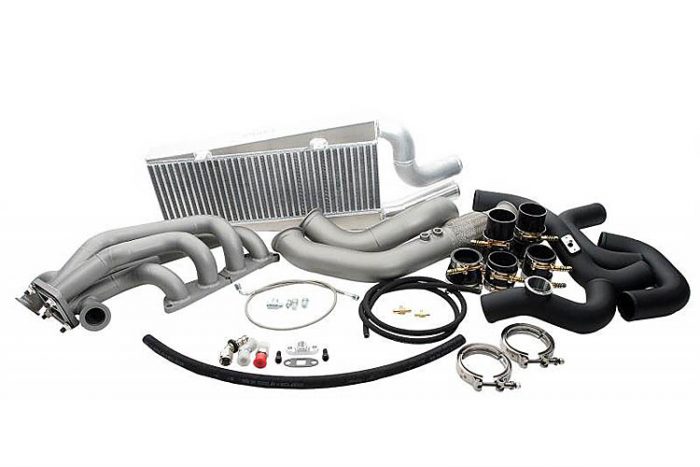 Our comment: If the 600 hp kit from Humble Performance wasn't enough for your needs, how does potentially achieving double that with 1,200 hp sound?
That's right, this insane kit from Full-Race comes at a price, but the incredible quality and fitment justify this that they provide.
Full-Race manifolds use robotically TIG welded runners for the ultimate strength and precision, ensuring the best durability possible.
While the ProStreet kit provides an ultra-responsive 300 WHP setup, the Twin Scroll setup is the ultimate choice for those hunting down massive power goals.
Manufacturer description: "Full-Race K Series Twin Scroll T4 Turbo Kit supports power levels from an ultra responsive 450whp to a 1200whp+ monster".
"The twin scroll K series turbo kit retains all accessories such as PS and AC on both K20 and K24 applications".
Twin Scroll T4 kit includes:
Full-Race K-Series T4 Twin Scroll Turbo Manifold
Lifetime warranty on Manifold, DP, IC pipes
Full-Race K-Series V-band 3″ Downpipe
Full-Race K-Series Vertical Flow Intercooler
Full-Race K-Series Charge Piping aka Intercooler pipes
Full-Race K-Series Kit Box aka hardware, lines, fitting, gaskets
$100 credit towards any Brewed Motors Base map/tune; just let us know what ECU you are using
Full support for Garrett Gen 2 GTX30 and GTX35 framed turbos
Full support for Borg Warner EFR series T4 twin-scroll turbos
---
Manufacturer: RXRacing
Value for money:
Our comment: RXRacing offers two options in their K24 turbo kit lineup. The 485 hp "Street Demon" kit provides an incredibly comprehensive package of everything you need for your turbo build.
If you're looking for a simple manifold, wastegate, and turbo kit setup to go with your DIY project, then the cheaper option of the two may be worth considering.
It's the 485 hp package that caught our eye here, though. Although it's somewhat of a "Chinese" turbo kit, there's no question that you get a lot for your money here. Who can say no to some cheap performance?
While the quality won't be up to the standard of the other choices in this guide, it provides a budget alternative and may provide an ideal solution if you're stuck on your custom build and require some specific parts.
Since it comes with a universal intercooler piping kit, it will require custom work to ensure a perfect fit.
Manufacturer description: "The most complete turbo package available for the price. This package has all new quality parts that are capable of producing well beyond 485 horsepower at 25+ PSI with supporting modifications and a built motor".
"This is the most complete package available compared to others at an affordable price. On a stock motor the kit will create give the motor a 50-100 horsepower gain on a low boost setting of 8 PSI. This kit may allow you to keep your air conditioning and power steering for a great street setup".
Kit includes:
Hybrid Turbo Charger – .57 compressor wheel trim mapped for low & high boost setups
Turbo Exhaust Manifold – Cast construction for a long lasting street setup
Front Mount Intercooler – Large design cools down the turbocharged air efficiently
Universal Intercooler Piping Kit
Turbo Oil Line Install Package
Aluminum Battery Box Relocation Kit
Blow Off Valve
Slim Cooling Fan
Fuel Pressure Regulator
Catch Can
Billet Aluminum High Flow Fuel Filter
10 Meters Heat Wrap
Stainless Downpipe
Radiator Hose Sleeving Kit
High Flow Intake Filter
High Flow Breather Cap
Wastegate Positioning Adapter
Wastegate Dump Tube
Coolant Sensor Bung
---
Our winners
It's time to look at our favorite K24 turbo kit picks, whether you're looking for the best all-rounder, a budget, or a premium option.
Our Drifted Choice goes to the Humble Performance Kit
Our K24 Turbo Kit winner is the Humble Performance kit
Providing the best overall package, this revised kit from Humble Performance, which is now on its 3rd version, provides the ultimate combination of value and quality.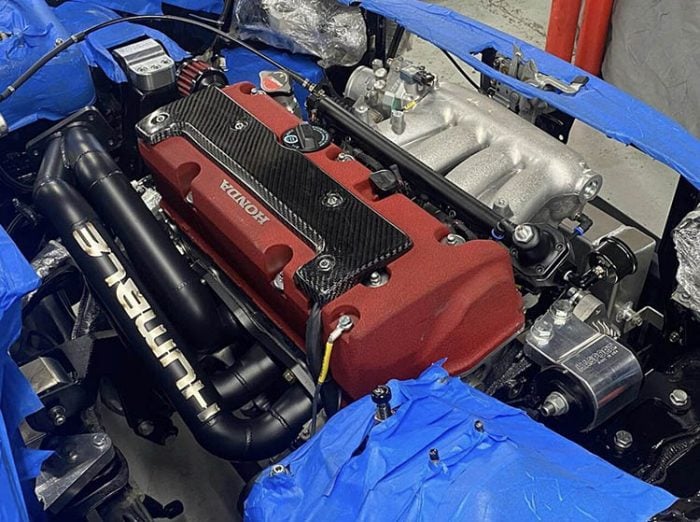 Our Premium K24 Turbo Kit Choice
Our Premium Choice is the Full-Race K24 Turbo Kit
If your budget allows, the Full-Race turbo kit is the ultimate choice, with incredible quality and durability.
With options ranging from an ultra-responsive 300 WHP setup to an insane 1,200 WHP alternative, there's something for everyone with these fantastic kits.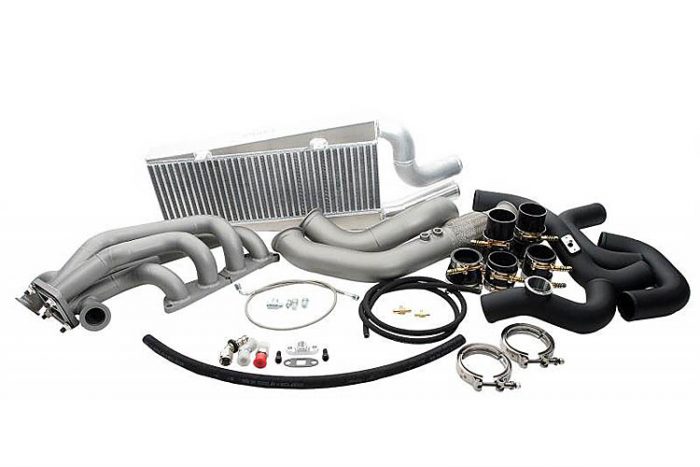 Our Budget K24 Turbo Kit Choice
Our Budget Choice is the CXRacing K24 Turbo Kit
Leaving their negative reputation in the past, CXRacing comes through with the goods for providing excellent value for money, and their K24 turbo kit is no exception.
While the RXRacing alternative is incredible value for money, we'd much prefer the tried-and-tested CXRacing kit if the funds allow it.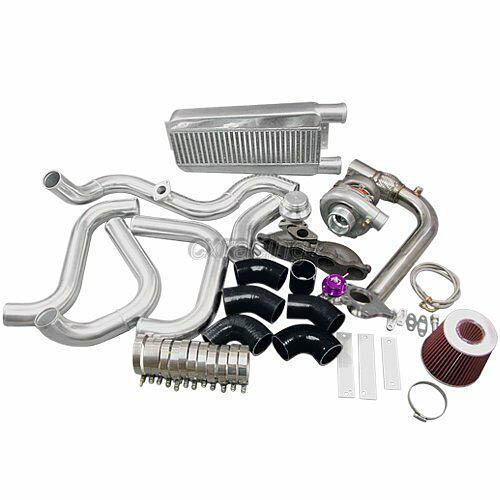 Thank you for reading our K24 turbo kit guide.
Finding the perfect brand-new off-the-shelf turbo kit for the Honda K24 engine can be somewhat challenging, but we hope that we've provided you with the ideal choice to suit your needs.
---
Photography credits
We want to thank the following sources for the use of their images:
If you enjoyed this article, please share it with the buttons at the bottom and bottom of your screen. Find this information helpful? Please post a link to it on your Honda owners club. We appreciate your support.