Ultimate Honda B16 Guide – Everything You Need To Know
When talking about JDM engines, it's hard to ignore the legacy of Honda's B-series family. In this guide, we'll cover everything you need to know about Honda's coveted B16 engine.
---
That's right – we're back with another article to keep the Honda fanboys happy.
In all honesty, though, we're also here to provide another impressive, high-revving, and affordable Honda engine the appreciation that it deserves.
Sure, we may be die-hard drifters at heart, but we still have a massive amount of respect for engines that aren't typically found in drift cars, especially when they tug at our JDM heartstrings.
Let's face it, as much as we love the tail-happy fun RWD cars offer; the chances are that we've all either owned or had a heap of fun in an FWD pocket rocket in our lifetime. If you haven't, let me tell you, you're missing out. The pleasure of driving does not solely rely on horsepower alone.
Check out this awesome video of a simple B16 enjoying some twisty Touge roads to get you in the mood, as we take an in-depth look at Honda's wild B16 engine.
Spoiler alert: It even gets a little sideways towards the end!
---
Introduction
In 1989, Honda launched the first generation B16 engine to the marketplace in the Integra XSi, and the CRX SiR, which later went on to birth a further six generations throughout its eleven-year lifespan.
The B16 was the first engine to integrate Honda's soon-to-be-legendary VTEC (Variable Valve Timing & Lift Electronic Control) system within an inline-4, lightweight aluminum block.
With the typically-exceptional build quality that we expect from Honda, combined with the ridiculous 9,000-rpm redline in stock form, it's no wonder that the B16 became one of the most legendary JDM engines ever produced.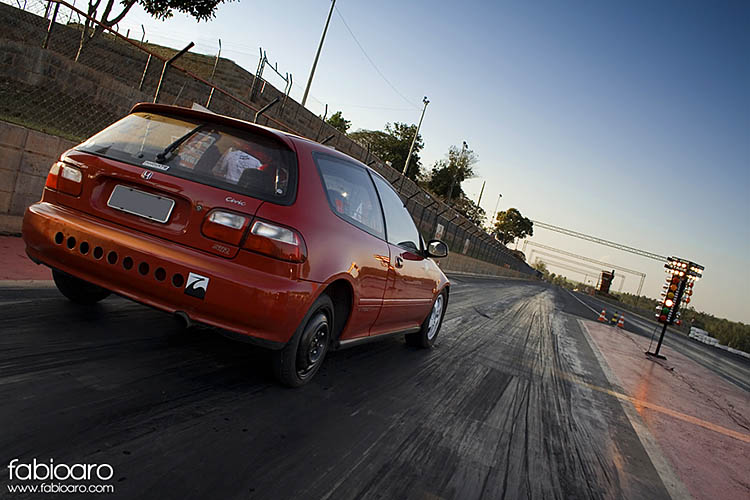 Rise In Popularity
It wasn't until Honda later integrated the later B16A2 engine into the 1999 Civic Si that the B16's popularity began soaring, as this was the first time that the B-series sold in the US other than in the Del Sol, which wasn't, erm, quite as desirable.
One of the most impressive aspects of the B16 was its horsepower-to-liter ratio.
Despite the first generation having exactly 160 hp (100hp-per-liter), Honda continued their research and development into the B16, enabling them to later squeeze out an insane 185 bhp from the highly-desirable B16B engines in stock form.
Imagine if some of the huge-displacement American V8 engines were capable of achieving that kind of horsepower-to-liter rato!
Oh, and that's before we even get started talking about modifications, upgrades, and the true potential of what these tiny powerhouses are truly capable of achieving.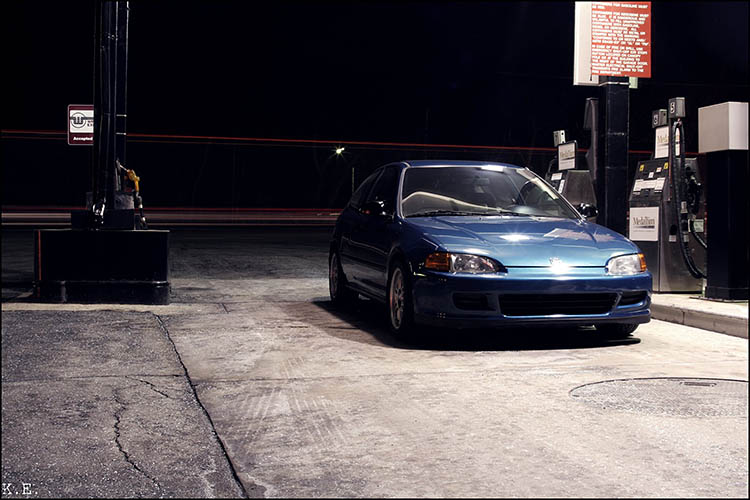 It was the VTEC technology, combined with their crazy redlines that enabled Honda to produce such an epic engine.
It was a brave feat for a stock engine, especially considering it makes for an immensely reliable and convenient daily driver.
We've already shown our appreciation for Honda's K20 and K24 engines in our recent guides.
However, this time, it's the B16's opportunity to prove why it's gone down as one of the most impressive engines of all time, which earned the Civic its spot in our Best Tuner Cars, Best Project Cars and Best JDM Cars of the Nineties lists.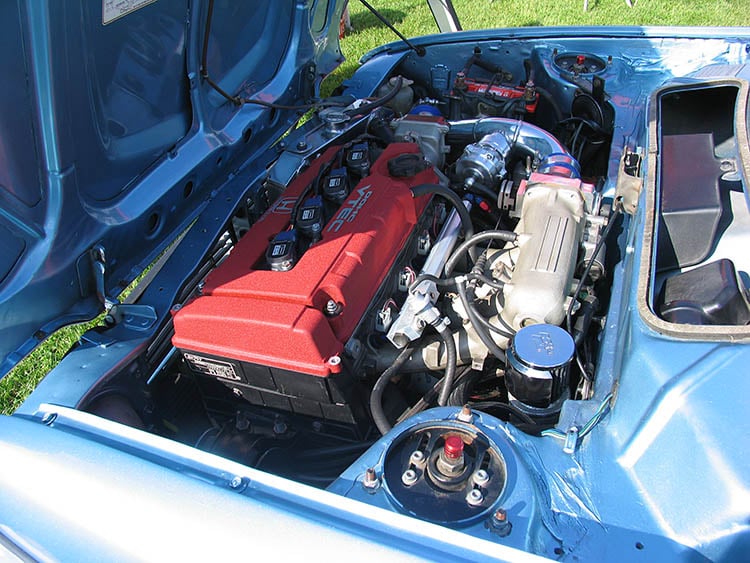 We'll take a look at the history of this untamed beast, before unveiling how you'll be able to unleash its true potential.
If you think that the figures we've mentioned so far are impressive, you haven't seen anything yet.
---
Honda B16 Generations & Specs
Are you interested to know more about a specific generation of the B16 engine? In this section, we break down each variant of this high-revving engine and its details.
B16A (First Generation)
The B16A SiR 1st Gen was the first-ever B16 engine, which hit the market all the way back in 1989. It was also the first engine to come with Honda's legendary Variable Valve Timing & Lift Electronic Control System or as it's more commonly known, VTEC.
With a displacement of 1.6L (1,595cc), this early engine also perfectly hit the 100-horsepower-per-liter ratio.
Featuring a compression ratio of 10.2:1 and VTEC engagement from 5,500rpm, a redline of 8,000rpm, and an 8,200rpm rev-limiter, this first-generation powerplant was a revolutionary game-changer at the time.
After VTEC engagement at 5,500rpm, it achieved peak horsepower at 7,600 with a respectable 160hp, and peak torque came at 7,000rpm, with 111lb/ft.
B16A (Second Generation)
The B16A SiR 2nd Gen was the Japanese equivalent of the B16A.
For this generation, they installed new pistons, which changed the compression ratio to 10.4:1, and also used a less dynamic intake camshaft, with an increased throttle body size of 60mm.
Although VTEC still kicked in at 5,500rpm, with these upgrades, the 2nd Gen achieved peak power with 170hp at 7,800rpm, with an increased redline of 8,200rpm.
B16A1
Created for the European market, the B16A1 had a reduced compression ratio with 10.2:1, alongside peak horsepower of just 150 at 7,600rpm and 111lb/ft torque at 7,100rpm, with a rev limiter of 8,200rpm, and VTEC, which kicked in at 5,200rpm.
B16A2
With different camshafts, the B16A2 continued with the 10.2:1 compression ratio, thankfully returning to better power figures, with 160hp at 7,600rpm and 111lb/ft torque at 6,500rpm.
The DOHC VTEC kicks in later at 5,600rpm and continues to the redline of 8,000rpm, before hitting the limiter at 8,200rpm.
B16A3
Honda created the B16A3 for the Honda Del Sol, with a return of the 10.4:1 compression ratio, once again providing peak power of 160hp at 7,600rpm, and 111lb/ft torque at 6,700rpm.
Honda equipped the B16A3 with DOHC VTEC, which kicks in at 5,600rpm and continues to party to the redline at 8,200rpm, before hitting the limiter at 8,500rpm.
B16A5
Produced for Civic SiR's equipped with automatic transmissions, the B16A5 was capable of increased power, with 174hp at 7,800rpm, but torque remained at 111lb/ft at 6,300rpm.
The compression ratio remained the same at 10.4:1, and the redline was at 8,300rpm.
B16A6
Based on the B16A2, the B16A6 was produced specially for the Middle East and South African markets.
With a compression ratio of 10.2:1, this was capable of achieving 158hp at 7,800rpm and 118lb/ft torque at 6,400rpm, with VTEC kicking in from 5,500rpm. This engine came paired with the S4C transmission.
B16B (Type R)
The B16B is the most desirable of all B16 engines and was a revised and improved equivalent of the earlier B16A SiR 2nd Gen.
For this, they opted for a de-stroked equivalent of the Integra Type-R B18 engine, which provided a new height of 212.4mm.
This additional space allowed for an upgraded crankshaft, pistons, and longer, lightweight connecting rods, which provided a rod-to-stroke (RS) ratio of 1.85:1.
Alongside these internal upgrades, they also adjusted the intake ports, increased the throttle body to 62mm, upgraded the fuel injectors, added an improved exhaust system, and also installed a lightweight flywheel.
That's not all - the B16B also had upgraded camshafts, lightweight intake valves (which featured thinner stems), and reinforced valve springs.
With this significant revision, and a new compression ratio of 10.8:1, Honda pushed out their most impressive power figures to date, with 185hp (sometimes stated as 187hp), at 8,200rpm and 118lb/ft at 7,500rpm.
VTEC kicked in a little later at 6,100rpm on this engine, but it was worth waiting for before it continued to the redline at 8,400rpm, before hitting the limiter at 9,000rpm.
Interested in learning more about Honda's VTEC engine lineup? Then, you should check out our D16 engine guide.
---
What Hondas Have The B16 Engine?
With so many variants of the B16 on the market, we know it is hard to identify which cars have which engines. Don't sweat it, we're here to help!
B16A (First Generation)
1989-1993 – Honda Integra XSi
1989-1991 – Honda CRX (EF8)
1989-1991 Honda Civic SiR (EF9)
B16A (Second Generation)
1992-1993 – Honda Integra (DA6, DA8)
1992-1994 – Honda Civic (EG6)
1992-1993 – Honda Civic Ferio (EG9)
1992-1995 – Honda CR-X del Sol (EG2)
1996-1998 – Honda Civic (EK4)
1996-2000 – Honda Civic Ferio (EK4)
B16A1
Honda CRX (EE8) (EDM)
Honda Civic (EE9) (EDM)
B16A2
1992-2000 – Honda Civic (EG6/EG9 & EK4) (EDM)
1992-1997 – Honda Civic del Sol (EG) (EDM)
1996-1997 – Honda Civic del Sol (EG2) (USDM)
1996-1998 – Honda Civic (EK4) (AUDM & NZDM)
1999-2000 – Honda Civic (EM1) (AUDM)
1999-2000 – Honda Civic (EM1) (USDM)
1999-2000 – Honda Civic (EK4 sedan) (Philippines)
1999-2000 – Honda Civic (EM1) (CDM)
B16A3
1994-1995 – Honda Del Sol (USDM)
B16A5
1996-2000 – Honda Civic Si-RII (EK4) (JDM)
B16A6
1996-2000 – Honda Civic (SO3, SO4) (Middle East & South Africa)
B16B (Type R)
1997-2001 – Honda Civic Type R
---
Honda B16 Tuning & Upgrades
When it comes to tuning the B16 engine, the sky's the limit, and you'll be amazed by what these small engines are capable of providing that your pockets are deep enough!
The best way to approach tuning is to have the end goal in mind.
So, ask yourself: What do you intend to build?
Do you want a reliable, fast road car, a daily commute, a weekend track toy, or a full-blown race car that you'll most likely trail to the events?
As you've probably guessed, there's a huge selection of modifications available for the B16 engine, and Enjuku Racing will be able to provide many of the aftermarket parts to help your B16 reach its full potential.
There's no question that Honda did a great job with achieving over 180hp out of these engines, but we can easily extract a few more horses with some simple bolt-on mods.
As always, we'd ensure that you're starting with a healthy B16 before carrying out extensive mods, and we would ideally like to see around 170-190PSI across the board during a compression check.
There's nothing more frustrating than pouring massive amounts of time and money into an engine, just to find out that you've been attempting to polish a turd.
Now that you know you've got a solid base - let's begin looking at the upgrades on offer, from simple to extreme.
As you've probably guessed, the first convenient upgrades to consider would be the following:
4-1 exhaust manifold - One of the common swaps is from the B18C, but it's often easier to buy a new aftermarket equivalent that archives better results.
Uprated exhaust system - Opt for a larger bore to get the gases flowing, and also to make your B16 sound a little more impressive.
Cold air intake - Another vital upgrade, but make sure you buy a decent CAI, as some of the cheap options on the market are likely to suck in hot air, which certainly isn't what you want.
Remap - If you're planning to stick with these upgrades, then a good tune here can help make your B16 more efficient, and use the new upgrades to the best of its potential.
These are the simplest mods, but if you're looking to take things further, you can take a look at some additional upgrades, such as:
Cams
Ported/polished head
Uprated fuel pump
High-flow injectors
Sports pipes
From there, things get a little more serious, and costly:
Forced induction (turbocharging/supercharging/twin charging)
Pistons
Heads
Valves
Race cams
Lightened flywheel
Throttle body
Bearings
Head studs
Valves/guides/springs/retainers
Spark plugs
Uprated oil pump
Oil cooler
ECU upgrades
Before undertaking forced induction, figures of around 200whp aren't uncommon, which makes for a fantastic naturally-aspirated fast-road setup.
When you begin to approach the 230-250hp power bracket, you'll likely start encountering issues, unless you're prepared to spend big money on internals.
Before you begin chasing significant power figures, 230-250hp B16 is more than enough power for a reliable, daily fast-road setup.
Beyond that, you're likely to encounter both traction and reliability issues.
If that doesn't phase you, then some owners have found that the actual limit to a street-able setup is around 400-500WHP. After that, you're unlikely to be capable of much other than spinning up the tires.
With this kind of power, we would expect a full-weight Civic to be capable of running an approximate ten-second quarter-mile time.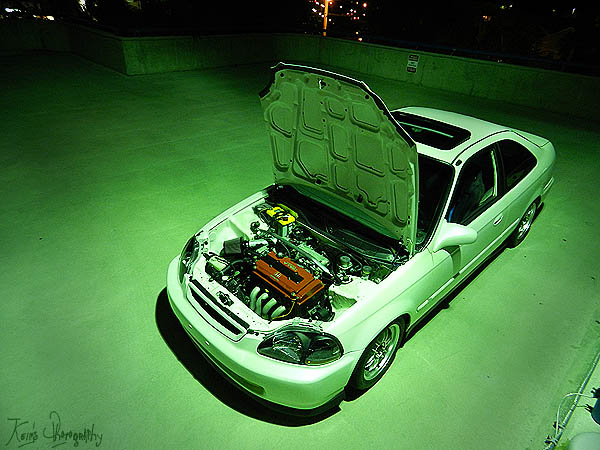 When you start to look at crazy power figures (and budgets), a full-blown sleeved block, forged bottom-end, B16 engine with a big turbo kit can eventually be capable of over 800WHP.
With that, however, you can expect some severe turbo lag and horrific reliability, and you can forget driving it to and from events, also.
If enormous power is your end goal, then you may be better off considering a higher displacement base, such as a B20, or a K20.
Unfortunately, 'there's no replacement for displacement' also counts for the B-series, and a more substantial block would undoubtedly make life a little easier.
However, the humble B16 is still capable of huge figures if you're willing to put in the extra work to make it possible.
If you're considering the forced induction route, then make sure you check out our Turbocharger vs Supercharger guide before spending your hard-earned cash.
---
Honda B16 Common Issues & Maintenance
If you're already fairly clued up when it comes to Honda's B16 engine, then it'll most likely come as no surprise that there are very few common issues, especially on well-maintained stock engines.
Of course, strapping a gigantic turbo onto your B16 and bashing it off the limiter every drive isn't going to do you any favors, but we wish you luck finding an engine that'll happily take that beating.
With that said, some B16 engines are now over 30 years old, and you can expect that someone, at some point during its life, has probably had a little too much 'VTEC, yo'.
For this reason, we always recommend carrying out a compression test if you're looking to purchase a B16. A compression of around 170-190PSI across the board on a warm engine is ideal.
We've seen many B16's venture over the 300,000-mile mark with the correct maintenance, which we're sure you'll agree is pretty impressive!
Some of the older B16 engines can be known for burning a little more oil than you might expect. If you're pushing the car hard, this comes as no surprise. Simply keep a frequent eye on it, and top up whenever necessary.
B16's take kindly frequent oil and filter changes, so we'd recommend doing this as often as possible, it's likely to reward you for doing so in the long run.
Idle issues are one of the more common faults, but this can be something as simple as a vacuum leak, or a faulty TPS or IAC valve.
The only other real issue we've heard of is leaking around the camshaft seals.
Assuming your B16 ticks all the right boxes, you're likely to be left with one of the most reliable engines ever created.
---
Honda B16 vs B18
Ah, yes, the age-old question that has been the starting point of many internet wars over the years.
Putting e-beef aside lets put these two engines head-to-head and form an unbiased opinion on which is likely to be best suited for your needs.
Honda's B16 and the B18 engines are quite different, and, as you've (hopefully) guessed, this mostly comes down to the difference in displacement, with the B16 being 1.6L and the B18 1.8L.
Where the most popular engine in the B16 family, the B16B, is capable of a high-revving 185hp, there's no real argument that it somewhat lacks in the torque department, with just 117lb/ft, in contrast to the 197hp, and 131lb/ft torque from the B18C.
If you opt for the earlier B16, you'll be even lower – just 160hp, and 111ft/lbs torque on offer in stock form.
So, the B18C reigns supreme over the B16 in stock form, right?
But, once you take into account the popularity of the B18, you'll realize that if you don't already own one, then you're likely to pay the premium if you think it's the ideal choice, and B18C's are likely to come at a price.
For the additional cost that you may need to put into a B18, an upgraded B16 may end up being more sensible.
B16 parts are cheaper, and there are a lot of tuning options available. If you're keen on a 1.8L displacement further down the line, then you can bore out your B16.
Another consideration is the car that you're planning to fit your new powerplant. Where a B16 may be ideal for a lightweight chassis such as an EG, it may become a little sluggish when it's weighed down by an EK, which is where torque works in your favor.
---
Other B-Series Engine Options
If you're planning a colossal power build, then the B18 or B20 may save you the initial hassle. Still, for the costs of a sensible project, you're likely to be able to build or buy a turbocharged B16, which would likely defeat a stock B18, while remaining in a similar price bracket.
Alternatively, you could opt for a B18B, which is likely to be far cheaper than the B18C, and add the essential bolt-on mods alongside uprated cams and valvetrain to achieve around 150whp and 140lb/ft torque.
On the other hand, a B20 could also be a consideration, with the higher-compression engines making around 140-150hp in stock form. With bolt-on mods, that could realistically reach somewhere in the region of 160-165hp.
Realistically, the B-series engines all have their positives. The chances are that if you already own a decent B-series engine, then you're probably better off just upgrading what you already have.
If you're looking to purchase, then it's all about weighing up the pros and cons to work out which route is the most effective to achieve your power expectations.
---
Conclusion
There's no question that the B16 is an insanely impressive engine, especially for its size.
Not only is it capable of crazy horsepower-to-displacement figures, but it's also amicable when it comes to tuning, especially if you're not hunting down big power figures.
Turbo-swaps are, of course, always a temptation, and where some owners will argue that the B18 or B20 engines may be better suited to forced induction, B16s are often sourced cheaper and can work out more cost-effective once you've added up the work.
If you're concerned that you may regret not opting for a more substantial displacement further down the line, then fear not, as you can always bore out your B16 to 1.8L if necessary.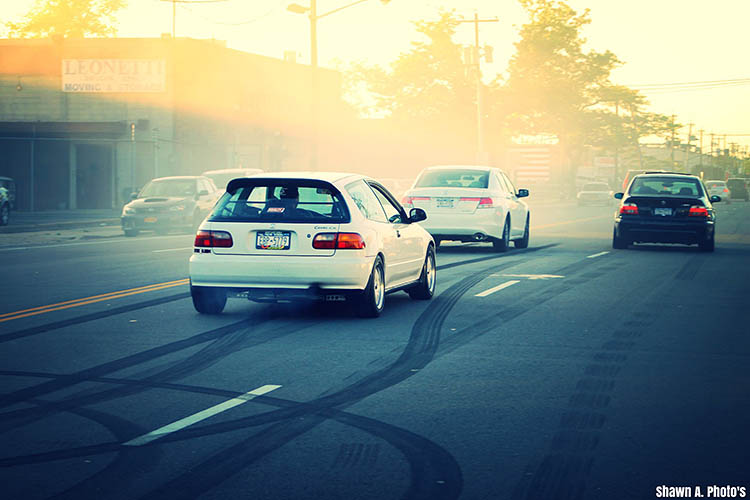 When it comes to reliability, there are very few engines out there that can match the B-series family.
Although they're going to be fairly old now, they're aging like a fine wine, and assuming as it hasn't bounced off the redline every day without any oil changes, then we have no doubt it'll serve you well.
If you're concerned about the potential condition of an engine, then a compression test is likely to inform you if there are any significant concerns.
We hope you found answers to all your Honda B16 questions with this guide, but if not, then drop us a line, we'd love to hear your thoughts and feedback.
Are you interested in going down the Honda route, but can't resist the temptation for some tail-happy fun? Make sure you check out our Honda S2000 Tuning Guides.
Want to learn more about other legendary Japanese powerplants? If so, remember to check out our articles about the RB25DET, 1JZ-GTE, 2JZ-GTE, and the Mazda 13B.
Thank you for reading our Honda B16 guide.
If you enjoyed this article, then please share it with the buttons at the side and bottom of your screen. And if you found this information useful, then please take a moment to share it with other Honda, or JDM enthusiast sites and pages. We appreciate your support.
---
Photography credits
We thank the following entities for the use of their photography in this article: