The Best First Cars For Car Guys/Enthusiasts
Whether you're after a sensible budget option, a tuner-friendly long-term project, or anything in-between, we provide an ideal choice for your needs in this guide.
Introduction
We aren't living in the 1960s anymore when cars were purely made for transportation.
First cars are often the most memorable vehicle you'll own in your life, and it's incredibly exciting to get behind the wheel for the first time.
Whether it's a fancy street cruiser or a beat-up grocery-getter, you're sure to be blown away by the whole experience.
In this day and age, kids grow up with cars. It'll likely soon become their home as much as a house is, and the modern-day media approach gives car enthusiasts the ability to learn about cars way before when they were legally or financially allowed to buy a car with the likes of racing games, and YouTube.
Now, what are the main priorities when it comes to buying your first car?
It should be cheap, fun, and useful.
When it comes to choosing a car for a car enthusiast, cheap doesn't mean low in quality. The fun doesn't mean insanely fast or dangerous, and useful certainly doesn't translate to SUVs or pickup trucks.
You can choose a car with all these factors in mind, and only then you'll be proud of your choice for your first car.
Buying a first car shouldn't only mean buying a cheap car only for transportation, it should be a vehicle that makes you turn around in the car park with pride, and we're now going to check out some of the top picks that we'd consider.
Best First Cars for Car Guys
We'll get you started with some low-budget, FWD options. But, fear not – the more exciting rear-wheel-drive selection soon follows!
Volkswagen Golf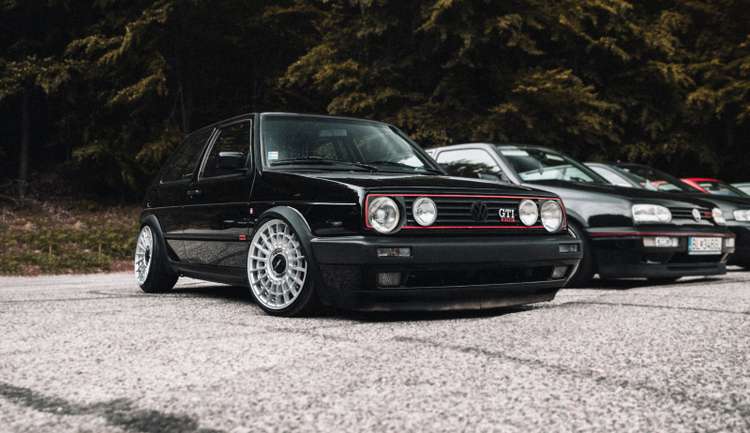 The VW Golf is a car that we all see at least once a day. This legendary car has been a favorite of car guys since its launch in 1974.
The price of a Volkswagen Golf is between $1,000 – $20,000 for the high-up GTI models. They're very fuel efficient and have an MPG of 32 on average. It can be higher or lower than this number depending on the model or the engine.
They come with diesel engines, gasoline engines, hybrid engines, and even recently, electric motors.
The engines have provided anything between 108 to 328 horsepower in recent years, which is plenty of power for a pocket rocket.
There are models you need to be more careful about when it comes to deciding to purchase, but in general, no matter which generation it is, this car offers a lot more than it looks.
A first and most important reason why this would be a good first car for car enthusiasts is Golf's popularity. These cars are everywhere, so there's a lot of information and spare parts regarding these cars, making repairs super cheap.
They are amazing for modifications, as well. You can make anything you like out of them. They can be daily drivers, transformed into sports cars, and much more.
Plus, the vast variety you have in choosing your model, the power of the engine, the budget, and many more criteria can help you to choose the right one for yourself.
Honda Civic
The JDM FWD enthusiast's top pick – the Honda Civic, has been blessing the roads of this planet since 1972.
The Honda Civic is the definition of a first car, even if the Type R models have become a highly-regarded hot hatch in recent years.
Honda Civics are simple, cheap, utilitarian, and available.
Kids of the previous generations had only one goal in mind, to turn the Honda Civic, the simplest car there is, into a beast.
For this reason, the Honda Civic is an amazing starter car, it is excellent for learning how to fix a car if you're into that, because of how simple the older models were. The simplicity of the Honda Civic's engineering makes it a great choice as a first car.
Civics range from $1,000 up to $40,000.
The Honda Civic is a great rival against any other car when it comes to reliability. They have passed the test of time and abuse performed by ignorant owners with flying colors.
The engines can produce anything from 100 HP up to 300 HP. If you're interested in getting a powerful one you can go for the performance model Type R.
If you want a city-friendly one, you can go for the Honda Civic Si model, which is a hatchback. It gives you a ton of room and adds up to the utility aspect.
Great cars in general. They are reliable and cheaper than other similar varieties and there is no fear of them breaking down. They're like working boots. You wouldn't mind them getting scratched or muddy!
Ford Mustang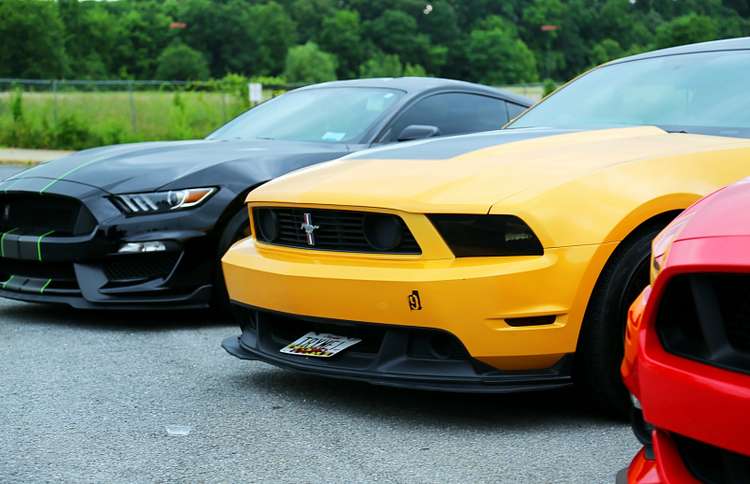 For those of you that feel you're ready for rear-wheel-drive in your first car, the Mustang may well be the ultimate pick.
However, you'll need to be careful, as they pack a serious amount of power under the hood, and they're not going to be cheap to insure or run, either!
If you don't know already, the Ford Mustang was first introduced to the market in 1964. It's the face of Ford and any model in the lineup will be a fantastic choice for any car guy.
It's no lie to say that Mustang came to create the breed of American muscle cars.
When it comes to buying a Ford Mustang as a first car we'd often recommend the 4th and 5th generations for the best bang for your buck.
There are many more models of Mustangs but since they are either too classic or too expensive, we'd suggest you stick with the in-between, which would be those built between 1994 and 2014.
The engines of these Mustangs had a capacity of between 3.8 L up to 5.8 L in stock form. These engines produce up to 550 HP and start from 300 HP.
One thing to consider is that these are very powerful cars which use a lot of petrol, and they're not very kind to your wallet when it comes to saving fuel.
But look at the bright side. The reason why you might find some of these absolute monsters for a very low price is that they chug lots of fuel.
Ford Mustang has its own personality, it's one of those cars that you will get some sort of love from, which makes you not easily like any other car. It's an amazing car for cruising or daily driving.
It's not so spacious, but it works and comes mostly with 2 doors and a variety of different colors and trims.
Ford Mustang is a playground for endless modifications and different engineering. You can do whatever you want with them.
To be honest, they might not be as reliable or sturdy as a Honda or a Toyota, but they do have a high value of dollar per horsepower.
You might be able to buy a 500 HP Mustang for only $2,000. That's 4 dollars a horsepower, and that right there is what we are looking for in a sports car as a first car.
Mazda Miata
The Miata is an icon, one of the most unique cars ever created. For many first-time drivers, its low power, high fun ratio could well be the perfect mix.
They can be described as very fun to drive. These cars are fun to drive and since they are lightweight, you can maneuver them very easily.
The humble Miata came to life in 1989 in Japan and judging by its achievements, it's enough to say that it's the best-selling two-seat convertible sports car in history.
In the present day, there are over a million of them out there in the wild. That means a thriving spare part market, and lots of reasonably-priced upgrades and mods to consider.
Many, if not all, of us, have dreamed of swapping a V12 monster into a Miata engine just to see if it fits. As a matter of fact, when it comes to Miata, it is not the question of whether it will work. The question is whether it will fit.
Their engines have a variety of capacities such as 1.6 liter and 1.8 liters which can make anything between 116 HP to 180 HP.
Miata has a small cabin useful enough for two people, but trust us – those two are going to have a lot of fun!
To summarize, the Miata is a fun car. Perhaps not-so-useful in the rain with the top down, but easy to control, and unique.
If you can laugh off being labeled as a 'hairdresser' by your buddies, this could well be a perfect pick.
Nissan 350Z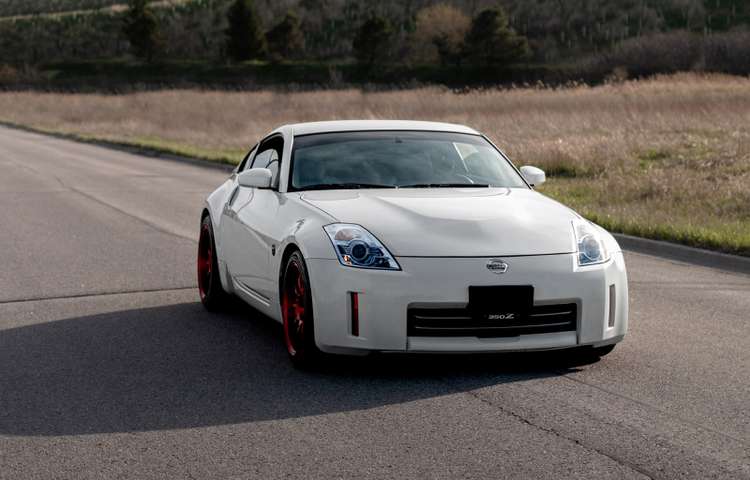 Nissan's 350Z, also known as the Nissan Fairlady Z, was manufactured by Nissan as a 2-door, 2-seater sports car from 2002 to 2009.
The fifth generation of Nissan's Z lineup had a huge impact on the market and it was a success from the beginning. $26,800 was the price Nissan asked for the 350Z's 287 horsepower.
For the early 2000s, this car was the ultimate pick for car enthusiasts, and many will agree that it still remains so today. The styling of the car inside and out is exciting, even by today's standards.
350Z has ever since been appealing to all car lovers, and it is a fact that you can't mention 2000s drift or sports cars without mentioning 350Z.
Despite not being the lightest, it's certainly a quick car compared to most potential first car picks. It can go from 0 to 60 mph in 5.4 seconds and has a top speed of 156 mph – not that you'll want to reach that anytime soon!
When it comes to modifications, I am sure that you have enough room to explore with your Nissan 350Z, a car built for enthusiasts and car guys.
The interior space is not that great, but it's enough for daily usage and shopping. However, the car has plenty of modern gadgets inside to keep you safe and bring you comfort.
While the Nissan 350Z is a predecessor of the 370Z model that came later on, so if you want a more performance-focused model, 350Z can be your choice, and if you want a more modern and luxurious version, you can also consider the 370Z.
Generally, a great car for its value. A much cheaper alternative to cars with similar specs, and definitely a much more reliable and worry-free car.
Toyota GT86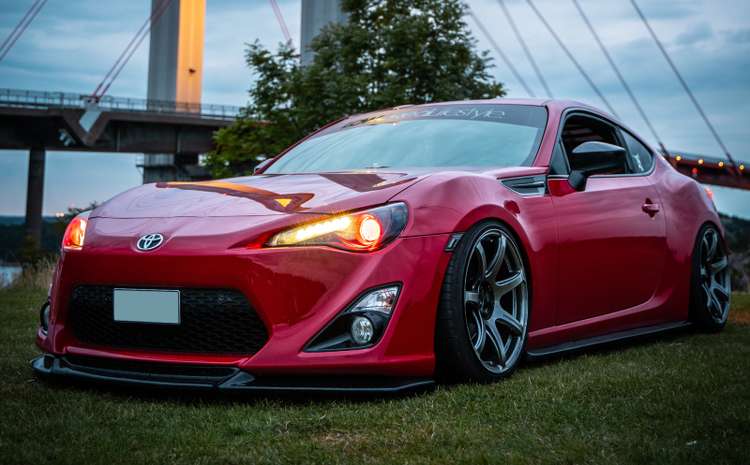 The GT86 is Toyota's most fun car. This factor is very important when it comes to choosing your first car, and a fun car comes with a lightweight body, rear-wheel-drive, and a pretty good engine.
The Toyota GT86 design is certainly appealing to the car community and if you see it in the streets it looks like a very expensive luxury sports car, but it is in fact one of the cheapest, most accessible coupes on the planet.
GT86 comes with a 197 HP engine that goes from 0 to 60 mph in 8 seconds. It's not the fastest, but at such a low price, it's worth the money.
When it comes to practicality, we can agree that this car isn't intended to be purchased solely for its practicality. However, there is enough space to carry bags or do daily shopping.
Overall, you get to drive this car to experience the feeling of being in a sports car without having to spend a lot of money. Toyota made that a possibility with the help of Subaru. It's also worth mentioning that it's not an exclusive car because Subaru and Scion have identical offerings on the market.
Since its launch, modified versions of this chassis have conquered drifting podiums across the world, but thankfully, they're far more reasonably powered and sensible in stock form, making them an ideal pick for first-time buyers.
Acura RSX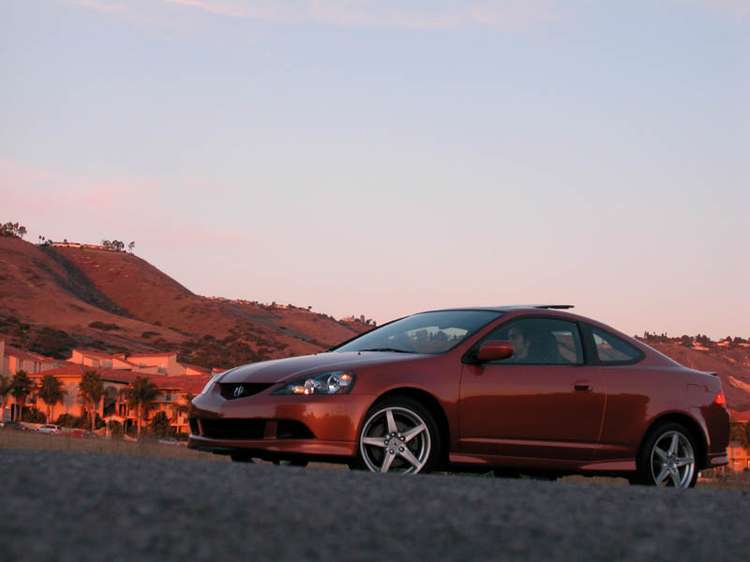 Acura's RSX is the successful sports coupe that was introduced into the lineup to replace the Honda Integra.
Many Japanese brands that have luxurious offspring of their own sometimes upgrade the cars that they have on their normal brand to the fancy lineup.
This mix of good build quality, and performance with delightful luxury, helped Acura RSX to be one of the best sport coupe cars of Honda.
When you have a car like this, you can use it daily and take it to the track too. It's both a classy car and a drift car, ready to set the track on fire.
The Acura RSX comes with a 2.0-liter engine, and depending on the model, it can create 150 to 201 horsepower. These engines also come with a great potential of tuning.
It's available both in manual transmission (six-speed, five-speed) and automatic transmission (five-speed). Depending on your intended usage of the car, you can choose the right transmission.
The MPG on average is 25/32 based on different trim levels and engines, which makes the fuel economy pretty efficient.
Since Acura is a company owned by Honda Motor Corporation, it has the same great reliability.
The Acura RSX is considered a car above average and worry-free. Only occasional maintenance and keeping it fresh is enough for it to do what it's been created for.
Concluding Thoughts
As you can see, there's a vast selection of first cars for car guys, and if you're a drifting enthusiast like us, let's face it – you're likely to go for one of the RWD options!
While this can be hugely tempting, it can often be a good idea to learn the basics of driving in a sensible, practical daily driver so that you're not going to be too upset if you get a few scrapes and bumps along the way.
A low-cost, low-powered option is likely to be friendly on the wallet, even if it's not the most exciting thing in the world.
However, suppose you've already had plenty of practice behind the wheel with something like a VR racing setup and feel confident with taming a RWD car. In that case, you may be ready to enjoy the ultimate options available!
Rear-wheel drive cars don't have to be crazy expensive. For example, you can get an older Mazda Miata or Nissan 350Z with a bargain price tag. They're guaranteed to provide insane amounts of fun for the money.
Alternatively, if money isn't an issue, a modern-day Nissan 370Z or the various "Toyobaru" BRZ/GT86/FR-S chassis' can be a perfect car for upgrading to become a track weapon over time.
We hope we've provided a suitable choice for your needs.
Now, it's time to get your license and head to the streets for the first time!