Ultimate Miata Engine Swap Guide
Want to know the best Miata engine swap out there? Join us as we explore the best options available to increase the humble roadster's performance.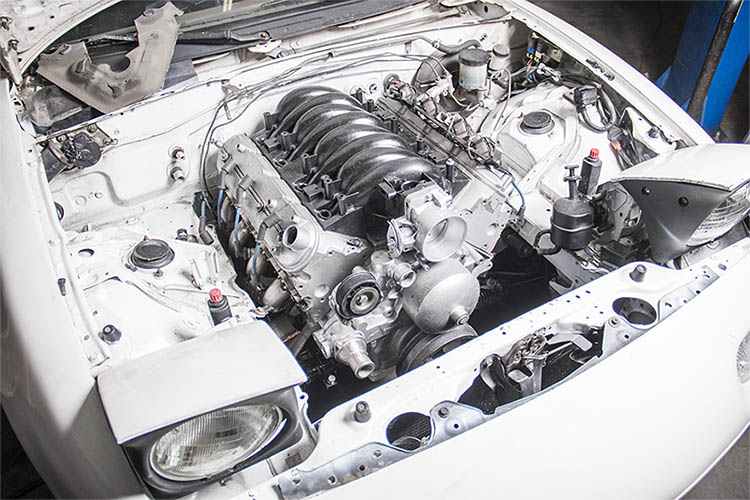 ---
Introduction
Mazda's Miata is a tuner's dream, and we receive endless requests for new articles from enthusiasts looking to build the ultimate Miata - and believe us - there's certainly no shortage of them!
We've compiled a selection of tuning guides to help you make the most out of your Miata, and our ultimate Miata mods guide also provides the top products that we feel are the perfect upgrades.
It's easy to see why so many favor the Miata. Although it may get dismissed as a 'hairdresser's car', an engine swap provides the perfect chance to leave the haters in your dust (or smoke) on both the twisties and the straights as you comb your way to victory.
Jokes aside, whether it be the original NA Miata or the updated NB Miata, this car provides one of the most incredible handling platforms alongside one of the most affordable price-points, making it appealing to the masses.
After its initial unveiling at the 1989 Chicago Auto Show, it was a complete game-changer in the two-seater roadster line-up, and with a showroom price of just $14,000, they were pretty damn hard to resist.
But let's be honest, although the Miata has insane handling capabilities. Its straight-line speed leaves little to be desired.
Even if straight-line racing isn't your thing, if you begin wanting to flick out the back end, you'll soon realize that lower-powered variants will feel a little gutless.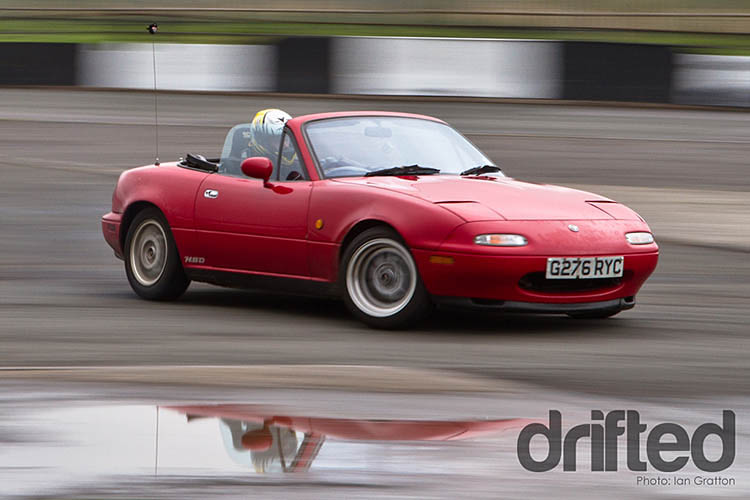 With the earlier 90-98 Mazda Miata MX-5 NA editions featuring just 115 hp from the 1.6L powerplant, it's certainly not enough to keep the tail wagging in stock form.
Although Mazda addressed the less displacement issue with the later-added 1.8L engine with 133 hp, drifters and tuners alike will soon be lusting after more. Luckily, the Mazda MX-5 Miata offers endless possibilities for you to make it your own.
Mazda made the Miata a sensible alternative to the RX-family. However, with the complications surrounding the far more exciting rotary engine, these roadsters offer the perfect chassis to build your uniquely crazy Mazda.
Not to mention, the Miata has probably the best aftermarket part catalog in the car industry. There are even complete engine swap packages specifically designed to this fun roadster.
Want to do one of the craziest Miata engine swap builds the world has ever seen? Then, you've come to the right place!
---
Forced Induction or Engine Swap?
For some, the appeal of forced induction will understandably be a consideration.
Since we've already written turbocharger and supercharger kit guides, enthusiasts often ask whether forced induction or an engine swap is the better choice.
For many Miata owners, going down the forced-induction route with their already-healthy engine could well present a better choice than opting for an engine swap.
With some Miata's reaching over 500 hp with a boosted setup, we certainly wouldn't be ruling it out as a possibility.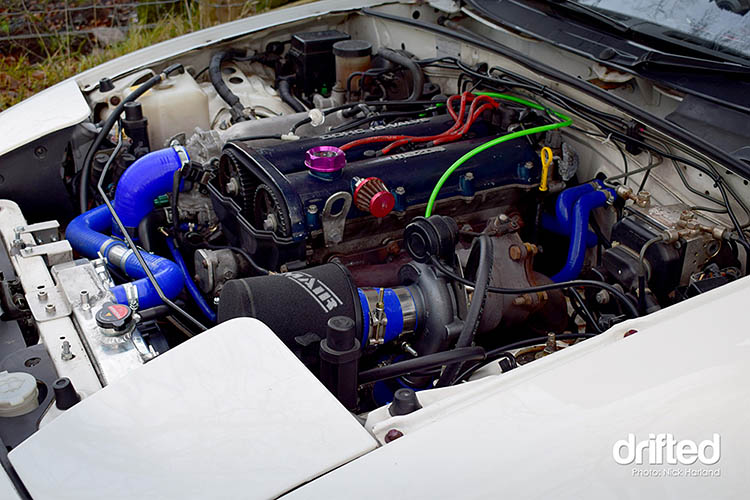 Given the added complications that can come with an engine swap, a boosted setup can often be a more convenient and cheaper option.
There's no need to buy mounts or have custom fabrication, nor do you need to think about additional elements such as electrical components.
With that said, engine swaps open up a whole new realm of possibilities and endless potential to explore.
For those who have perhaps blown your Miata engine or feel that it's seen better days, it could be the perfect opportunity to fit an insane powerplant and build the ultimate sleeper Miata.
But, before you make your decision, you're going to want to take a look at our next consideration.
---
Miata Engine Swap Cost
For many of you, you're likely wondering whether it's more viable to replace your blown Miata engine or swap it out for something a little more exciting.
Since replacement Miata engines can be picked up conveniently with the asking price often falling below $2500, keeping things simple by upgrading from a 1.6 Mazda BP inline engine to 1.8L could be the most reasonably-priced possibility.
Oftentimes, you can find even better deals at the local car parts auction.
However, let's face it, the majority of you will be here on the hunt for crazy power with intentions of building a tire-slaying Miata.
Unfortunately, engine swaps aren't quite as convenient as Forza Horizon, and Need For Speed will have you believe, so you're going to want to consider a few things first.
If you head to Miata owners clubs, you'll soon see that just about every swap imaginable has been carried out, with some costing way more than others.
But, unless you're a mechanical genius with an endless pocket of cash, you're likely to have some limitations.
Some swaps are more common than others, and while several offerings have off-the-shelf Miata basic swap package kits for everything you could need, others will require you to do the hard work yourself.
When it comes to engine swaps, you're going to need to consider things such as wiring, and fabrication, neither of which are simple.
One option is to hire a skilled professional to do the work – in which case; it certainly won't be cheap, either.
So, off-the-shelf kits are going to be the best choice for those that are less skilled. Otherwise, you'll quickly end up with a budget that's likely to spiral out of control.
You're also going to need to consider additional components such as the transmission if you're searching for significant power since the earlier models are only capable of handling around 250 hp before issues are likely to arise
With this said, the cost of swaps can vary, with cheaper engines and convenient kits costing just a few thousand bucks, through to a full conversion which could potentially cost you up to $49,995 - which certainly won't meet everyone's Miata budget requirements!
We're exploring a vast range of options in this guide, so the cost will depend on the swap you choose and how much labor you're likely to need to fork out.
Projects like this are where skilled buddies can be hugely helpful – better stack up on the beers right away!
Now that you understand the positives and negatives that can come with an engine swap – let's look at our powerplant considerations.
---
Best Miata Engine Swap
Although we'd love to tell everyone to fit a 1LR-GUE engine into their Miata, we're keeping things (sort of) sensible and providing a wide range of options to consider.
Whether you've got a minimal budget or deep pockets, are looking for an off-the-shelf kit, or wanting to try something a little more unique, there's something for everyone in this selection.
LSx V8 Miata Swap
It'll come as no surprise to see that the LS-engine has made its way here.
After searching for Miata swaps, it won't take long to be bombarded with LS-builds.
Although Flyin' Miata used to offer an eye-watering priced drive-in, drive-out swap for the Miata, there are now many options to choose from when it comes to LS swap kits, which is why it's become such a tempting proposition for many. Let's be real, this is one of the most popular engine conversions in the world!
Sure, it's not going to be the cheapest swap by any stretch of the imagination. If you want to do things properly, we expect that even for just the parts, you're likely to need to save beyond $15,000 with a used LS-block, assuming you're capable of doing the job yourself.
YouTuber Taylor Ray attempted to prove otherwise by attempting to keep his build under $10k, but we'll let this video summarize how that went.
In all fairness, we expected the budget to go way beyond this. However, it proves that even when trying to prove a point to the masses, a budget LS build will be challenging.
Miata LS Swap Kits
If you're looking for off-the-shelf kits, then there are a wide variety of options available, which all use tried and proven components.
CX Racing offers some of the cheapest LS-conversion parts on the market, and their transmission mounts, diff mounts, and swaybar spacers will help with the LS-swap puzzle.
If you're interested in all of the bargain-priced CXRacing swap parts, make sure you check out their eBay Store.
Flyin' Miata also offers NA, NB, and NC conversion parts.
LFX Miata swap kits are another popular choice.
V8Roadsters are another highly-regarded alternative for all your LSx swap needs, as well as MiataRoadster, and LSXEverything.
As you can see, the support for the LS-swap is insane. Although it's not the cheapest option, it's going to be an awesome swap for just about every motorsport discipline imaginable, from drifting through to drag racing.
Typically, LS1 and LS3 engines are the most popular, and with the potential to head down the turbocharged route, you're certainly never going to need more power than an LS engine can provide in Miata!
The final result?
Nissan SR20DET
Nissan's SR20DET certainly needs no introduction here at Drifted. Most commonly found under the hood of the Nissan Silvia, the SR20 has heaps of tuning potential.
It's not unknown to see this iconic JDM legend hit breaking the 1,000 hp when it comes to upper power potential, but even in stock form with bolt-on mods, you can expect to get nearer 300 hp.
Given the SR20's desirability in the US, since the USDM Nissan 240SX didn't get treated to the SR, prices can often be on the higher side, which might make it a less tempting option.
However, if you have a spare SR lying around, there are convenient Miata SR20 swap kits out there for easy installation.
For our European visitors, there's also the JapTuning SR20 swap kit.
Other potential Nissan possibilities include the RB20DET, RB25DET, and the 2UZ-FE for those keen to stick with the JDM roots.
Toyota 2JZ
While we're on the subject of JDM, how could we possibly leave the holy grail of Japanese powerplants off our list?
Sure, the 2JZ-GTE is going to be way out of budget for most Miata builds, but the 2JZ-GE is well worth considering.
With a potential 800 hp on offer with the addition of a turbo kit, transforming the naturally aspirated 2JZ-GE with an NA-T turbo kit upgrade provides the perfect opportunity for bargain performance.
The GE engine is commonly found in the likes of the IS300, GS300, and SC300, making it far more common than its rarer 2JZ-GTE counterpart, located in the Supra and Aristo.
If this sounds tempting, make sure you also check out what the 1.5JZ could offer.
GM Ecotec
One of the more commonly found Miata swaps is the General Motors Ecotec engine.
With the 2.4L LE5, provided with models such as the Chevy Cobalt and Pontiac G5/G6 being the most popular choice, EcotecMiata produces a high-quality off-the-shelf swap kit for convenient installation.
For those that are brave enough to undertake an engine swap without the helping hand that a kit provides, the Ecotec has the potential to be one of the most reasonably-priced Miata engine swaps available.
Sure, the 200 hp/200 lb/ft torque that the Ecotec provides is nothing too crazy. Still, the smooth torque curve makes this reasonably-priced, conveniently sourced engine is understandably a tempting proposition to many.
The Ecotec is often seen as a rival contender to Honda's K20 when it comes to Miata swaps, but it probably isn't going to provide quite the same level of excitement, nor does "Ecotec just kicked in, yo" have the same appeal!
However, since we've seen excellent condition Ecotec engines popping up for sale for as little as $500, it could present the perfect budget swap opportunity if you've got the skills and some useful homies.
If you're hunting more power, then the M52 supercharger can be modded to fit, and there are also turbocharging possibilities, both of which could potentially provide up to 300 hp, which is plenty to provide ear-to-ear grins in a Miata.
It is worth considering whether the swap is worthwhile for those of you with a healthy BP engine, though, since they're capable of 220 hp with far less fuss than fitting an Ecotec powerplant.
Dodge Hellcat
If sixth-gear burnouts in a Miata are your thing - look no further!
Hellcat engines aren't going to be within budget for everyone, but for those seeking utter ridiculousness, this 6.2L, 700 hp Miata should provide a nice dose of inspiration.
Suzuki Hayabusa
The Hayabusa became the fastest production motorcycle in 1999, with an incredible top speed of 194 mph.
The 1,299 cc inline-four motorbike engine has since found its way into several lightweight cars, and it could be the perfect match for the Miata.
Although there are a few builds that have surfaced online over the years, we feel that there's still room for potential when it comes to building the ultimate MiataBusa.
With some twin-turbo offerings pushing out over 350 hp, these popular Mini engine swaps aren't going to be the cheapest offering.
Still, with a potential 11,000rpm on offer, this incredibly light motorbike engine could present a perfect opportunity for a unique Miata build.
Mazda 13B
Let's face it, deep down, we all know that a rotary Miata would be incredible, even if they're a pain in the backside.
Admittedly, it's typically rotary owners swapping out their rotaries, rather than tuners looking to install them, but when maintained correctly, they're incredible engines.
The rotary's size (along with the obvious reliability concerns) are the primary considerations with this swap.
Thankfully, Lucky7Racing also provides an off-the-shelf 13B mount kit for the Miata for those that are looking to keep their engine swap build within the Mazda heritage.
There are fewer engines that sound more incredible than a rotary out there, so if impressive redline capabilities and BRAP BRAP noises are a temptation, the rotary should be on your considerations list.
It's not all fun and BRAPS with the rotary, though.
With the need to carry out frequent rebuilds, combined with disappointing fuel economy, they're not going to be too tempting for many.
On a positive note, this means that rotary's often pop up for surprisingly affordable prices, and you're likely to be able to grab yourself a bargain 13B to build the ultimate baby RX7.
With the most ridiculous 13B builds achieving 1,300 hp, the possibilities are endless, and the noises shall be glorious!
Honda K-Series
Honda K-Series inline four swaps are hugely common in lightweight two-seaters, and you get the bonus of triggering the Honda haters by screaming 'VTEC YO' each time you drive your Miata. Win-win!
Both the K20 and the K24 engines are the perfect match for the Miata, fitting like a glove and keeping in-line with the Miata ethos.
Thankfully, KPower Industries offers an off-the-shelf Miata K24 swap kit.
Naturally aspirated K-series motors are capable of up to 300 hp in naturally-aspirated form and offer a potential redline of 9,000 rpm.
Given that these lightweight, high-revving engines are ideal for such a wide range of swaps, they're often a bit more expensive than some of the offerings in this guide, but we wouldn't expect the price to be too crazy.
With immense aftermarket support and forced induction opportunities, the K-Series is a fantastic choice that could potentially reach up to 600 hp with extensive upgrades.
Honda J-Series V6
For those looking for a V6 swap, the J-Series is often a popular choice. If you sweep through the Miata forums, you're bound to find owners who swear by this swap.
Thankfully, as with most of the popular swaps, there's an off-the-shelf kit to go with your Miata, and this time it's Minitec coming up with the goods.
Since the J-Series Honda engine can be found in such a wide variety in the Honda family, engines are easily sourced and exceptionally reasonably priced.
With over 300 hp in stock form, the J-Series is similar to the Miata's stock engine weight and provides impressive low-end torque.
Although it's possible to have spare change from around $10,000 with this swap, you may be pushing the stock gearbox beyond its limits with 300 hp on offer, which may need to become an additional consideration.
Overall, an excellent, reasonably priced, easily sourced option, with the added bonus of annoying the Honda haters.
GM LFX V6
Another popular alternative to the above J-Series V6 is the 3.5-liter GM LFX.
Commonly found in the Chevrolet Camaro and CTS, this is another fantastic candidate for those interested in a V6 and seeking a sensible 300 hp-range with your build
V8Roadsters this time provides a whole range of off-the-shelf parts to help with the conversion, and with the commonly-found LSX being readily available, it's a tempting prospect.
Although it's slightly heavier than the BP engine, the additional length helps to even out the weight distribution, and despite being taller, it still fits snugly in the bay without the need to chop your hood to pieces.
Overall, it's an excellent option, and with a 7,200 rpm redline, it fits the Miata ethos far better than some of the big-power V8 torque monsters out there.
Jaguar 3.0-liter AJ30 V6
Still want to go down the V6 route but want to be more "Bri'ish?" Fear not, Roketeer – a UK-based tuning firm has got you covered!
You might have already come across this engine swap thanks to YouTuber Alex Kersten if you are subscribers of the Car Throttle and Auto Alex channels. His Miata, which he affectionately calls "Phil" comes with this powerplant under the hood.
Rocketeer refers to this engine as the MXV6, and it is based upon the aforementioned Jaguar V6. It makes around 230 horsepower, which is more than enough to make the lightweight MX-5 plenty fast. The 220 lb-ft of torque naturally helps, too!
The base Jaguar engine was conceived when Jaguar was under the ownership of American automotive juggernaut Ford. So, it is safe to say that this is one of the most reliable engine swaps on this list.
If you are interested, Rocketeer will happily provide everything you need for a direct swap for just $7,995.
That includes everything from a carbon fiber intake manifold, the front subframe, mounting brackets, and a bespoke clutch. However, you'll have to source the engine by yourself.
Toyota 1GZ-FE V12
You probably think we're kidding, but nope. Our searches for unique Miata swaps turned up this beauty.
The best thing about this swap? It's just an everyday guy that decided it'd be a good idea to whack a V12 into his Miata engine bay.
Oh, and those damn sexy headers!
We love the work and effort that's gone into this build. As you probably guessed, it's not the most straightforward swap out there, and we'd quite happily see this be the only one, as the work is fantastic.
Amusingly, the owner has also established that there's still room for twin turbos in the bay, so we can't wait to see how crazy this could get.
If you love this awesome project as much as we do, then make sure you follow That V12 Miata Bruh on YouTube.
---
Conclusion
There's an incredible variety of options out there when it comes to finding the perfect engine swap for your Miata build.
Although the stock engines respond well to forced induction, we can understand the temptation to go with something more unique, with even more potential further down the line.
Since Miata's are incredibly affordable, they provide an incredibly exciting chassis in stock form. With some off-the-shelf handling upgrades and an engine swap, they've got the potential to be some of the most exciting cars on the road.
There's no end to the potential that this humble two-seater roadster has to offer, so feel free to go wild with your build.
If you've built a unique Miata in your own original design, and you'd love for us to feature it in this guide, then make sure you drop us a line. We're always interested in sharing epic builds with our huge worldwide fanbase.
So, there we have it! We hope that we've covered everything you could want to know about the best engine swaps for your Miata in this guide.
Thank you for reading our Miata engine swap guide.
If you enjoyed this article, please share it with the buttons at the bottom of your screen. If you've found this information useful, then please take a moment to share it with other Miata enthusiasts. We appreciate your support.
---
Photography credits
We thank the following entities for the use of their photography in this article: