Toyota 2UZFE – Everything You Need To Know
The 2UZ-FE doesn't get as much attention as the 1UZ-FE, leaving this hugely underrated high-torque powerplant a tempting proposition for petrolheads.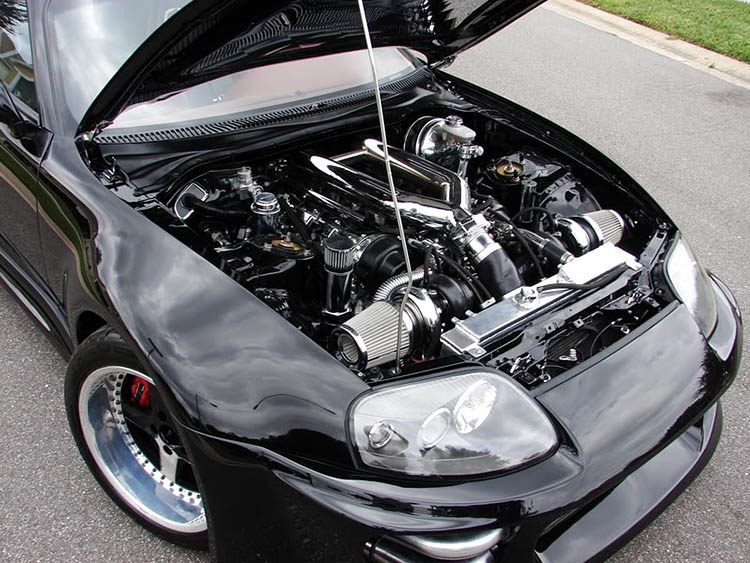 ---
Introduction
As its older brother, the 1UZ-FE, steals the limelight, Toyota's 4.7-liter 2UZ-FE has become the diamond in the dirt.
With the 2UZ being the second engine in Toyota's legendary 'UZ' family, they opted to switch things up for this generation, making the 2UZ far less undesirable for many tuners.
Toyota built the 1UZ for cars such as the Lexus GS400, the Toyota Ariston, and the Toyota Soarer.
However, for the 2UZ, their aim was different. Instead of cars, they would provide a heavier, more reliable engine with plenty of torque for their SUV and truck lines.
As you've probably realized, this doesn't look like an ideal combination for your lightweight drift car.
While the 1UZ could push out 300 hp with its later VVTi variation, the 2UZ equivalent only managed to achieve 271 hp.
Torque is where the 2UZ excels. With 315 lb/ft on tap at 3,400 rpm compared to the 310lb/ft at 4,000 rpm from the 1UZ, you can see that there are benefits to be had from both of these impressive engines.
Although it's easy to look at the negatives, the increased displacement and increased torque that the 2UZ provides are certainly a bonus, but that's not all. The 2UZ has far more to offer.
---
2UZ-FE Engine Specs & Information
Toyota's 2UZ-FE engine is the second-born in Toyota's 'UZ' family and is a 4.7 L (4,663cc) water-cooled, naturally aspirated V8 with a pre-2007 compression ratio of 9.6:1 and 10.0:1 for post-2007.
Production began in 1998 by the Toyota Motor Corporation, before it came to an end in the US in 2011, with the Hong Kong market continuing production until 2012.
Engine code breakdown:
2 - 2nd Generation (UZ) engine
UZ - Engine family
F - Economy narrow-angle DOHC
E - Multi-Point Fuel Injection
The 2UZ-FE utilizes eight cylinders in a V-arrangement with a bank angle of 90-degrees with a firing order of 1-8-4-3-6-5-7-2.
Toyota's decision to opt for a cast-iron block came as a surprise to many, with both the 1UZ and the later 3UZ-FE engine featuring aluminum blocks. The cast-iron block was not only cheaper to produce but also provided improved reliability.
Given that the 2UZ had been designed with pickups and SUVs in mind, reliability was a more significant concern than weight, and at 255kg (562lbs,) it certainly wasn't light, either!
Besides the cast-iron block, the 1UZ and 2UZ are very similar in both design and dimensions, with the significant differences being the increased bore and stroke.
Paired with the cast-iron block are aluminum-alloy cylinder heads with a cross-flow type intake and exhaust layout and pentroof-type combustion chambers. These have 32 valves (4 per cylinder) and steel solid valve lifters, which require periodic valve adjustments.
The 2UZ operates the same as the 1UZ when it comes to camshaft rotation, with the intake camshafts being driven by a timing belt while a gear on the intake camshaft engages with a gear on the exhaust camshaft to drive it. The valvetrain design is the same for the 1UZ and 2UZ.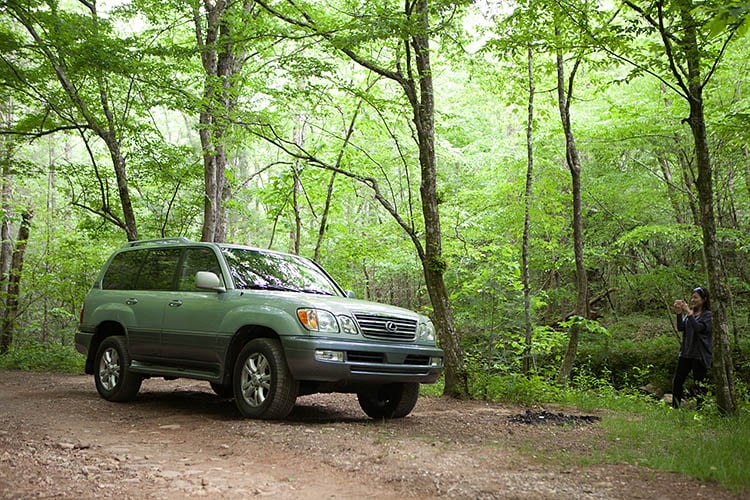 Inside the 2UZ are forged and sintered connecting rods and high temperature-resistant aluminum alloy pistons with full-floating piston pins.
For engines beyond the 2007 model year, Toyota made a significant change to the 2UZ-FE with the integration of VVTi (Variable Valve Timing-intelligent System,) which provided an impressive increase in horsepower, torque, and fuel efficiency.
While pre-2007 versions of the engine featured a cast-aluminum intake manifold, they would replace this with a plastic manifold for the post-2007 variations, which many enthusiasts swap out for superior aftermarket alternatives.
They also made adjustments to the pistons, which were now lighter, and introduced oil jets inside the cylinder block to cool them.
With all these changes, the compression ratio went from 9.6:1 for pre-2007 models to 10.0:1 for the later VVTi variants.
With these upgrades, the 2UZ-FE would receive a power increase of 52 additional horsepower and 22 lb/ft torque.
4Runner engines (made in Japan) are often the most sought-after for US buyers, which provide stronger internals and block. They also feature a smaller manifold to the US engines due to engine bay restrictions, and they also feature an electronic throttle.
From 2008 onwards, the 4.7-liter 2UZ would become gradually phased out, with Toyota's newer 5.7-liter 3UR-FE and 4.6-liter 1UR-FE engines taking its place.
Toyota 2UZ-FE Engine Specifications:
Production years: 1998-2011 (2012 in Hong Kong)
Cylinder block material: Cast-Iron
Cylinder Head Material: Aluminum
Fuel type: Gasoline
Fuel system: Fuel injection
Valvetrain: DOHC, 4 valves per cylinder
Stroke: 84mm (3.3 in)
Bore: 94mm (3.7 in)
Compression Ratio: 9.6:1 - 10.0:1
Displacement: 4664cc
Power: 271-282 hp, 315-325 lb/ft VVT-I / 230-232 hp, 300-311 lb/ft Non VVT-i
Engine weight: 562 lbs (255.5 kg)
Engine oil capacity: 6.4L (0.4L – oil filter)
---
Which Cars Have The 2UZ-FE engine?
Since Toyota produced the 2UZ-FE with SUV's and trucks in mind, it won't come as a big surprise that there aren't any cars on this list.
Thankfully, enthusiasts were keen to prove its capabilities further down the line, and it became a consideration for cars such as the Toyota Supra, which we'll cover later.
These are the cars that left the showroom with the 2UZ-FE engine under the hood:
Lexus GX470 (2002-2009)
Lexus LX470 (1998-2007)
Toyota Land Cruiser (1998-2011)
Toyota 4Runner (2002-2009)
Toyota Tundra (1999-2009)
Toyota Sequoia (2000-2009)
The 2000-2003 Toyota Tundra and Sequoia and the 1998-2003 Lexus LX470 received optional extra bolt-on supercharger kits from Toyota Racing Development (TRD.)
---
2UZ-FE Modifications & Tuning Potential
Much like the 1UZ, off-the-shelf aftermarket parts are nowhere near as convenient to source as the likes of the 2JZ.
But, if you're determined enough, you're sure to find plenty of upgrades to unleash the true power potential of this underrated engine.
Thanks to their similarities, most of the parts of the 1UZ will also fit straight onto the 2UZ.
As you've probably guessed, although the weight of the 2UZ is its downfall, the cast-iron block is pretty much bulletproof when it comes to handling substantial horsepower figures.
This not only means that you could potentially use the 2UZ's cast-iron block alongside the 1UZ's components to get the best of both worlds, but it also means that the aftermarket selection for most parts will fit both engines.
Given that the 1UZ's aluminum block can handle over 1,000 hp, it's anyone's guess what the capabilities of the significantly stronger 2UZ cast-iron block could be.
We've heard of figures around the 1,500 hp mark still being a safe bet, which ridiculously impressive.
As you've probably guessed, this makes the engine perfect for forced induction.
However, it's worth mentioning that although Toyota squeezed additional power out of the 2UZ with the addition of VVTi, they also used thinner connecting rods, which could be a potential weakness.
2UZ-FE Forced Induction
Firstly, you'll want to check out our Turbocharger Vs Supercharger – Who Wins? article to help you decide which forced-induction method is ideal for your needs.
Toyota knew that the 2UZ was capable of handling forced induction, which is why they provided several models with an optional bolt-on TRD supercharger upgrade, which would now provide up to 350 hp.
However, when TRD opted to discontinue the kit, many enthusiasts began speculating that this was due to multiple engine failures, even at the recommended 'safe' boost levels.
Many believe that this is due to the US-built 2UZ engines were built with a different metallurgical formula in the rods, which leaves them far more prone to fractures or cracks than the stronger Japanese (JDM) 2UZ's used during testing.
The belief that the JDM 2UZ's were provided with superior internals from the factory has led to the 4Runner 2UZ's being the 'holy grail' for those looking to carry out an engine swap. Although we're yet to see any proof, we have no reason to doubt this could be the case.
Since 4Runner 2UZ's are hard to source, the most popular and convenient option is to go with the 2002-onwards engines, but you'll want to ensure that you replace the plastic manifold if you intend to run forced induction.
When it comes to fitting an aftermarket supercharger, you'll need to ensure that you have breathing mods such as a cold air intake and exhaust alongside additional supporting mods such as fuel injectors.
With these simple yet essential bolt-on upgrades, the 2UZFE can effortlessly push out around 375 horsepower with a low-boost setup, with 6psi being the safe-zone for reliability.
Suppose you're willing to put in additional work. In that case, over 450 horsepower with a little more boost isn't uncommon.
For a fully-built engine (which certainly won't be cheap), four-figure horsepower numbers could undoubtedly become a possibility.
If you're keen to unlock the full potential that the 2UZ has to offer, you'll want to take a look at some of the awesome twin-turbo setups that are floating around online:
---
2UZ-FE vs 1UZ-FE
Although there are some vital differences between the two engines, they're also incredibly similar.
Toyota built upon the tried-and-tested 1UZ-FE, and then perhaps cut the costs with the cast-iron block, but at the same time also made it more reliable while increasing the displacement from 4L to 4.7L.
Along with the reliability improvements, further benefits in the low-end torque department made this the perfect engine for their truck and SUV range, but not so great for cars, especially with the horsepower decrease.
Although the weight gain made it far less desirable for engine-swappers looking for a lightweight bargain, the cast-iron block favored those aiming for substantial power figures from their builds.
So, if you're looking to carry out minimal upgrades, the 1UZ could likely be the better consideration. If you're looking at crossing the four-figure horsepower bracket, then the cast-iron 2UZ may well be the better choice.
---
2UZ-FE Reliability & Common Issues
Given that the 1UZ-FE had incredible reliability and that the 2UZ-FE improves upon that thanks to the lower power output, combined with a cast-iron block, it should come as no surprise that the 2UZ is ridiculously reliable.
Toyota is well-known for producing some of the world's most reliable engines. The bombproof combination of the 2UZ will allow it to clock hundreds of thousands of miles when maintained correctly.
In each of our previous engine guides, we've mentioned every engine has issues, but with the 2UZ, we've, rather impressively, struggled to find any significant flaws.
That doesn't mean that you can get away with not maintaining your 2UZ, but it does mean that if you're willing to keep up with the necessary general maintenance, we'd expect to see your 2UZ last beyond 300,000 miles.
Typical maintenance will include oil changes at the recommended intervals, alongside occasional valve adjustments. Full-service history is always desirable when buying any engine used to ensure that servicing was carried out at the correct intervals.
The essential replacement part that you'll need to consider is the toothed timing belt, which should be done at 50-60,000 mile intervals, but if there's no history of a change done for several years, we'd recommend doing so.
If the timing belt breaks, then you run the risk of the pistons hitting the valves, which, as you can imagine, isn't going to be ideal!
As we mentioned in our forced induction section, the JDM 4Runner engines are typically the most desirable on the market if you're looking for the ultimate 2UZ.
Many enthusiasts believe that the JDM motors used superior metals to the US variants. Others believe it to be an urban legend.
VVTi engines are unsurprisingly the most popular due to the power upgrades and improved fuel economy, and these can usually be found in the post-2005 model years.
Forced induction will, of course, add additional strain to the engine. Still, despite the rumored issues with the TRD supercharger kit, we've heard of very few reliability issues when running a low-boost setup.
---
2UZ-FE Engine Swaps
Although the 1UZ-FE is the popular choice when it comes to engine swaps, many have opted for the 2UZ-FE as their motor of choice, and it certainly hasn't disappointed.
Are you considering fitting a 2UZ-FE into your old school Toyota? Make sure you check out this epic old-school-cool 1971 Toyota Celica twin-turbo swap ripping on the dyno!
If you're considering a 2UZ for something more modern, here's something that's bound to upset the 1JZ & 2JZ fanboys.
SUPRA POWER.. Wait.. What?!
Could this be the perfect match? Time for 2UZ-powered Toyota Altezza skids.
Here's another old-school swap, this time with a 2UZ in a Corolla. We love the way this thing shreds tires so effortlessly!
What better way to end our engine swaps section than with a 1,000 twin-turbo MKIV Supra throwing it down sideways and pouring out huge smoke clouds over Europe?
---
Conclusion
Due to its added weight and lower horsepower output compared to its younger brother, the 2UZ-FE often gets left behind in the shadows.
Despite the fact it could do with going on a crash diet, the 2UZ is still an impressive engine that should be a serious consideration for many enthusiasts, especially those opting for a big power build.
When it comes to reliability, the 2UZ is up there with the very best, and if you're willing to invest some cash into building a high-horsepower setup, then we do not doubt that the block will be good for going way beyond the 1,000-horsepower bracket.
Sure, its podginess makes it more ideal for trucks and SUVs, as Toyota intended, but as the videos above prove, it certainly has plenty of potentials, and thanks to the lack of interest, it should be easy enough to find one for a bargain.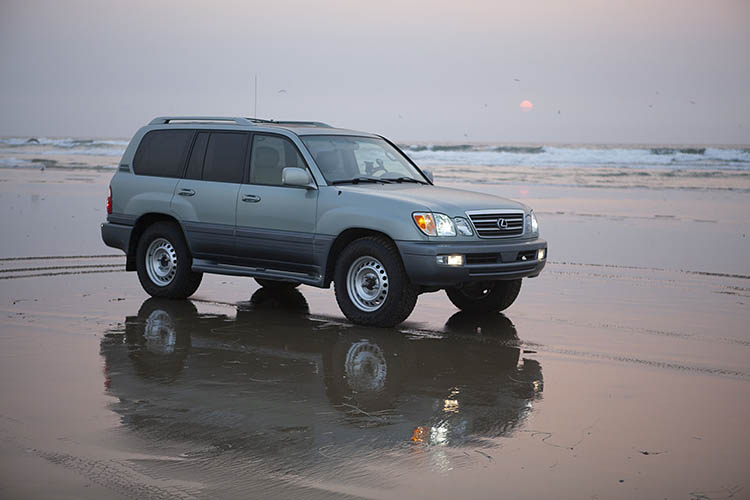 Suppose you're considering a car with a 2UZ already fitted. As long as the servicing and maintenance have been carried out at the correct intervals, we'd expect to see the 2UZ go way beyond 300,000 miles.
If you're not entirely sold on the 2UZ-FE idea, then make sure you check out our other engine guides, where we've broken down everything you need to know.
We explore the Toyota family with the 7M-GTE, 1MZ-FE, and 2GR-FE.
Willing to consider a Nissan engine? Why not check out the VH45DE.
So, there we have it! We hope that we've covered everything you could want to know about the Toyota 2UZ-FE in this guide.
Thank you for reading our 2UZFE guide.
If you enjoyed this article, please share it with the buttons at the bottom of your screen. If you've found this information useful, then please take a moment to share it with other Toyota enthusiasts. We appreciate your support.
---
Photography credits
We thank the following entities for the use of their photography in this article: