Toyota 2AZ-FE – Everything You Need To Know
We're taking an in-depth look at everything you need to know about Toyota's 2AZ-FE engine, from engine swaps to tuning potential and engine issues.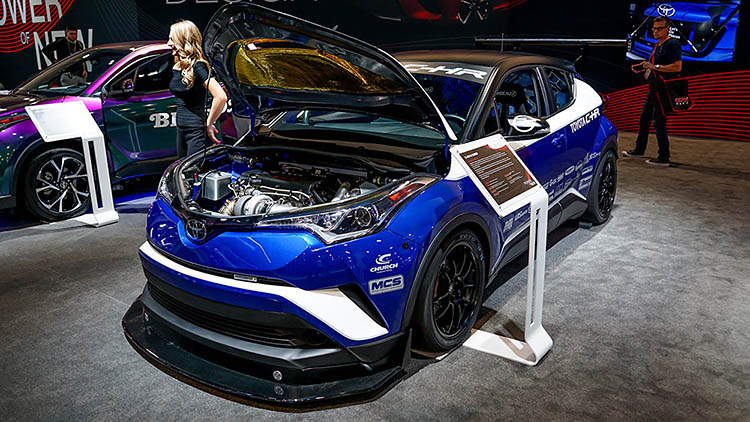 ---
Introduction
Toyota introduced the 2AZ-FE engine in 2000 as a modern-day replacement for its rather antique 2.2-liter 5S-FE engine, which had been in production since 1980.
The replacement 2.4-liter inline-four 2AZ-FE is part of the AZ engine family and is remarkably similar to the 2.0L 1AZ but features a more substantial displacement of 2,362cc.
Although designed as an economical and efficient engine, Toyota certainly didn't build the 2AZ-FE to become a modern-day 2JZ-killer, despite packing some serious power potential alongside being impressively small and lightweight.
Toyota produced the 2AZ-FE for twelve years, up until 2012, while only undergoing slight modifications.
Its small, lightweight, efficient, and economic benefits perfectly fit the Toyota and Scion family's smaller car and crossover ranges.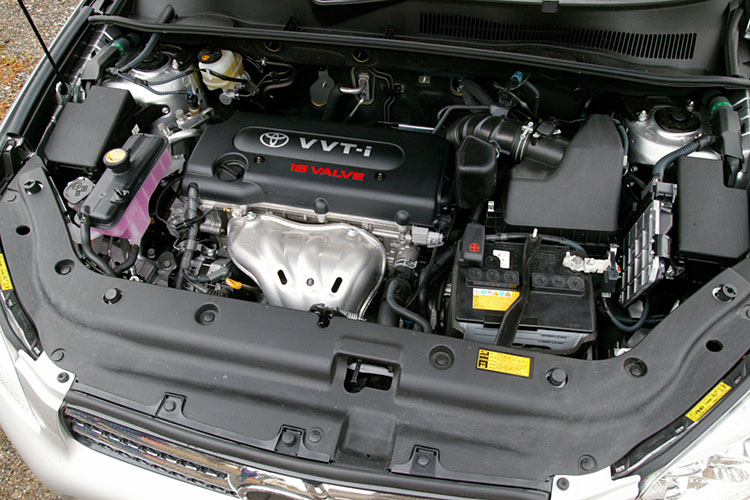 Although this engine has numerous positives, some 2AZ-FEs suffer from fundamental flaws, which we'll be taking an in-depth look at in this guide.
Despite its issues, Toyota produced over 3.5 million Camry's using the 2AZ-FE engine alone. It also featured in many additional Toyota and Scions throughout production.
After producing several million 2AZ-FEs, Toyota introduced its successor in 2008—the more fuel-efficient 2.5-liter 2AR-FE engine.
This guide will explore everything you need to know about the 2AZ-FE engine.
Whether you're looking to buy, lucky enough to have your hands on one, considering an engine swap, or planning to unleash its tuning potential, we've covered it all.
---
2AZ-FE – Specifications & Information
Toyota built the 2AZ-FE engines at various locations worldwide to cater to the local markets.
For North America, the engines were built at the Toyota Motoring Manufacturing Kentucky (TMMK) plant. Toyota's Kamigo and Shimoyama Plants provided the engines to the JDM market.
The introductory 2AZ-FE engine featured a compression ratio of 9.6:1 and produced 160 hp at 5,600rpm, with 162lb/ft torque at 4,000rpm.
Later variations provide between 149-170hp and 138-165lb/ft torque depending on the model and year.
Admittedly, this still isn't very impressive, but as you may have guessed, we'll show you how to unlock the full potential of what the 2AZ-FE offers later in this guide.
Although the 2AZ is a larger displacement equivalent of the 1AZ engine, Toyota still kept the size incredibly compact. It's just 24.6" (626mm) long, 23.9" (608mm) wide, and 26.8" (681mm) tall!
Not only is it impressively small, but Toyota worked hard to keep the weight down by providing the 2AZ with an aluminium cylinder block and sleeves. They even went as far as including a magnesium valve cover to keep the weight down.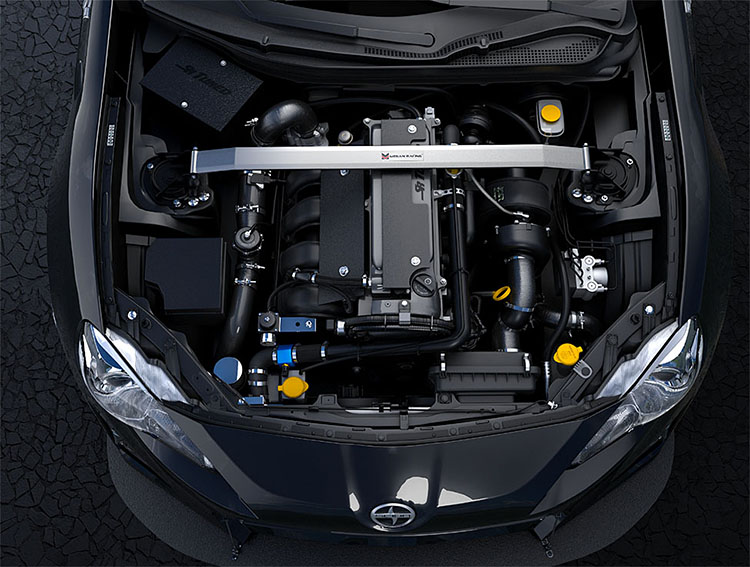 One of the main modifications from the 1AZ engine was modifying the cylinder block to fit the crankcase with an increased 96mm piston stroke, with the cylinder bore enlarged to 88.5mm in diameter.
Despite the differences to the 1AZ, it features the same aluminum DOHC 16-valve cylinder head, VVT-i (variable valve timing system) on the intake camshaft, a timing chain, an electronic throttle body, and no hydraulic lifters.
They also kept the two balancing shafts inside the crankcase, ensuring minimal engine vibration.
Toyota made a minor revision to the 2008 model year engine, which provided improved power and torque figures.
Compression increased from 9.6:1 to 9.8:1, and slightly more aggressive camshafts provided an improved redline of 6,500 rpm.
Although the Camry, Corolla XRS, and Scion xB only achieved 158hp with the upgrades, the Scion tC managed 161. However, the Toyota Rav4 received the most significant gains, providing an output of 177hp.
2AZ-FE Engine Code Breakdown
As always, Toyota's engine codes can get a little confusing. Here's the meaning of each character in the engine code:
2 - 2nd Generation engine
AZ - Engine Family
F - Economy narrow-angle DOHC
E - Multi-point fuel injection
2AZ-FE Engine Specifications
Horsepower (Model/year dependent): 149hp, 160hp, 162hp and 170hp
Torque (Model/year dependent): 138 lb/ft, 161 lb/ft, 162 lb/ft, and 165 lb/ft
Cylinder block material: Aluminum
Cylinder head material: Aluminium
Compression ratio: 9.6:1 or 9.8:1 (Post-2008)
Valvetrain: Dual Over Head Cams (DOHC), four valves per cylinder
Stroke: 96mm
Bore: 88.5mm
Weight: 305lbs (138kg)
Displacement: 2,362 cc
2AZ-FSE (2000-2009)
A later addition to the 2AZ family provided a direct fuel injection system alongside an increased compression ratio of 11.0:1.
The new engine provided 161hp at 5,800rpm and 170lb/ft torque at 3,800rpm. The 2AZ-FSE was only ever provided in the Toyota Avensis.
2AZ-FXE (2008-2018)
The 2AZ-FXE was a later-released variant of the 2AZ family and operated by the Atkinson cycle, with a further-increased compression ratio of 12.5:1.
It featured the same bore and stroke as the other engines in the family. However, Toyota produced new camshafts and pistons specifically for the FXE for their hybrid vehicles.
Despite producing just 147hp and 138lb/ft torque, Toyota designed the FXE to improve efficiency. Combined with the electric hybrid motor, it could produce 211hp and 108lb/ft torque.
Toyota went on to include the 2AZ-FXE engine in these hybrid cars in their range:
Toyota Alphard Hybrid
Toyota Estima Hybrid
Toyota Camry Hybrid AHV40
Lexus HS 250h
Toyota Sai
---
Which Cars Have the 2AZ-FE Engine?
Thankfully, it shouldn't be too challenging if you're looking to track down a 2AZ-FE for an engine swap.
The 2AZ-FE was a hugely popular engine, with millions of Camry alone being sold with the 2.4L powerplant, but it also came in a wide range of other Toyota and Scion vehicles:
Toyota Alphard
Toyota Avensis
Toyota Blade
Toyota Camry
Toyota Camry Solara
Toyota Corolla XRS
Toyota Estima
Toyota Harrier
Toyota Highlander
Toyota Ipsum
Toyota Kluger
Toyota Matrix S (USA)/XR (CA)/XRS
Toyota Previa
Toyota Rav4
Toyota Tarago
Pontiac Vibe
Scion xB
Scion tC
Toyota MarkX Zio
---
2AZ-FE Tuning & Upgrade Potential
There's no question that the tiny 2AZ-FE takes kindly to forced induction. So much so that Toyota provided a TRD supercharger as an optional extra on the Scion tC until 2009.
Although Toyota designed the 2AZ with economy and efficiency in mind, not performance, it's capable of far more than Toyota provided from the factory.
Sure, it won't match the 2JZ or even the 1JZ's power potential. Still, with suitable performance mods and upgrades, it'll provide an impressive power-to-weight ratio for those looking to swap it into alternative small or lightweight cars.
Enjuku Racing offers a wide range of rods, valves, springs, retainers, and stroker kits, which could potentially provide a 2.61L displacement.
Although the optional extra TRD supercharger only provided around 250hp in the Scion tC. The piston oil squirters' implementation is the perfect complement to providing forced induction to the engine.
Plenty of upgrades are available for the 2AZ-FE, and breathing mods, combined with cams, are the typical early upgrade stages.
From there, you'll want to consider fuelling upgrades, such as injectors, a fuel pump, and perhaps even a port and polished head.
After that, it's time to consider forced induction and perhaps even the stroker kit upgrades.
For those looking to tune their 2AZ-FE while still maintaining reliability, around 280-300hp is typically the safest bet. Owners rarely go beyond 350hp on stock internals, which usually ends in tears.
As always, the tune will play a significant role in how well your engine deals with power upgrades, but it's usually the pistons that are the first to go when attempting significant power on stock internals.
If you're serious about tuning your 2AZ, then with a decent forced induction setup with an aftermarket bottom end, you can safely achieve over 400hp from this impressively compact setup.
For those who are willing to invest the time and money, the 2AZ-FE is capable of eventually going on to achieve beyond 650hp reliably, as proven by 16-year-old European drifter Stavros Grillis:
Grillis isn't the only drifter that has achieved colossal power from the 2AZ, either. Formula Drift driver Tony Angelo pushed out 750hp and 700lb/ft torque in his Scion FR-S build way back in 2013:
If you're curious to know what a fully built, big turbo Camry street car build sounds like, be sure to check out this video:
It wasn't only the drifting and street scenes that realized the 2AZ-FE was an epic platform for tuning, either.
TRD opted to take matters into its own hands by producing the most insane C-HR on the planet, the C-HR R-Tuned.
With Dezod forged internals and a Garrett turbo, they pushed out over 600hp and 550lb/ft torque from over 23PSI of boost to finally make this incredible crossover.
Check out the C-HR R-Tuned setting a fast lap at Willow Springs International Raceway in just 1:25.22:
If you want to check out a boosted 2AZ-FE project, we highly recommend the SR Tuned Scion FR-S build on Facebook, Instagram, and YouTube.
They've developed a bolt-on plug-and-play kit for the 1st generation GT86 platform, with several owners running their setup.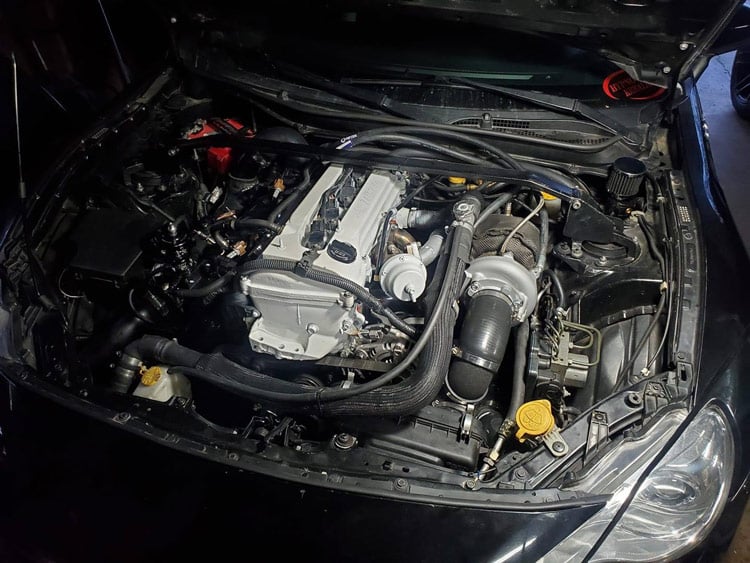 The guys at SR Tuning have kept the weight at 2,822 lbs, with a factory front-to-rear balance and a near 50/50 balance left to right.
With a base power output of 314 hp and torque at the wheels on stock internals, this kit presents a fantastic opportunity for those considering a swap on their GT86/BRZ/FR-S.
---
2AZ-FE Reliability & Common Issues
We expect quite a few of you will probably end up straight to this subject. It has unfortunately become a common trend for the 2AZ-FE.
Despite being incredibly lightweight, efficient, and reliable, the 2AZ-FE has unfortunately earned itself a somewhat terrible reputation.
2AZ-FE Oil Burning Issues
Yep, you guessed it – the dreaded oil-burning issues!
Around 45-50,000 miles, these engines have become notorious for burning excessive oil consumption at around a quart every 1,200 miles. The issue seems to lie with an incorrect piston ring design.
The 2AZ-FE is known for having issues with the cylinder head bolts, where the back three middle bolts wear out. This leads to coolant leakage from the rear of the engine, which can also cause overheating and warped mating surfaces.
Despite resolving the issues with a re-designed cylinder block in 2007, many earlier 2AZ-FE owners have been highly frustrated with Toyota's resolution to this hugely widespread problem.
Toyota hasn't been entirely silent on the subject, either. After acknowledging these drastic issues, there was a technical service bulletin in 2011, which has never resulted in a recall.
With over 1.7 million 2AZ-FEs being sold before rectifying the issue in 2007, we're guessing that this must be a considerable concern for Toyota, who have offered free inspections to look at the situation.
Several class-action lawsuits are still underway regarding the issue, and in 2015, Toyota North America extended the warranty.
If you want to see more about this issue, check out this fascinating 2AZ-FE teardown video, where The Car Care Nut pulls apart a 300,000-mile Camry to check out the wear and tear over the years.

Carbon Build-up
This issue isn't anywhere near as frequent, but carbon build-up in the head is another issue that may occur under specific scenarios.
You'll likely notice this when you experience a loss of power or flat spots when driving.
Fear not, though, as carbon build-up is conveniently fixed, and we certainly don't see it as a significant issue.
Carbon build-up is typically down to a lack of maintenance but can also occur when a car hasn't been driven hard enough for some time or with frequent high rpm. You've got our permission to bounce your 2AZ off the redline now and then!
2AZ-FE Oil Leak
Oil leaks often occur over time as any engine ages since the materials used in the gaskets and seals will gradually deteriorate. This is a problem with all cars, not just the 2AZ-FE, but it's always worth keeping on top of.
The main seals, valve cover gaskets, and timing cover are typically where owners have reported leaks. It's always recommended to keep on top of these and replace the parts before the situation worsens, especially since these engines enjoy a little drink of oil!
Additional Considerations
Although it has flaws, the 2AZ-FE is an otherwise excellent engine, with very few reported issues.
As with every engine, general maintenance, such as frequent oil changes, is vitally important and shouldn't be overlooked.
There is very little to think about with maintenance, but valve clearances must be adjusted every 60,000 miles.
With the proper care and maintenance procedures, we've often seen 2AZ-FE engines continue running flawlessly beyond 200,000 miles.
We've even heard of them reaching over 300,000, and if you're lucky enough to reach that point, we'd recommend congratulating it by treating the engine to a head gasket and timing chain as preventive measures. With the right maintenance and preventive measures, the 2AZ FE can push out incredible mileage figures.
---
2AZ-FE Engine Swaps
We've already witnessed the insane C-HR R-Tuned, but thanks to its lightweight and compact size, the 2AZ is often a popular choice for swapping into less-likely cars, too.
The 2AZ has become a popular swap among MR2 owners over the years. It's one of the few engines compact enough to fit while still providing enough power potential to warrant the swap.
This MR2 looks incredible, and the 2AZ is the perfect modern-day touch to finish it off.
From the older-style MR2 to the new-school FR-S. There's no doubt that the FR-S is underpowered from the factory, but most owners will typically opt for a turbo or supercharger kit to extract the power potential.
Not this owner! Well, he's still opted to go down the forced induction route with his FR-S build, but the 2AZ certainly isn't the typical choice of powerplant.
He's clearly struggled to fit the 2AZ under the hood, but regardless, it still looks epic, and we bet it's heaps of fun, too.
There's no doubt that the lightweight AE86 is the perfect car for a 2AZ swap. But, it's not every day that you see an AWD-swapped setup with a BC stroker kit and a GTX3576R strapped to it.
The outcome? 500rwhp and 500rwtq!
Oh, and it's pink, what more could you want?!
While we're on AE86s, let's take a little more time to appreciate the incredible AE86 drift build from Stavros Grillis.
---
Conclusion
There's no question that the 2AZ-FE is a seriously underrated engine.
Weighing in at 138kg (305 lbs), with a 2JZ weighing in at 230kg (507 lbs) for comparison, it is insanely lightweight.
With its longest dimension of just 26.8", it's ridiculously tiny, too.
It's one of the most impressive engines out there for its size. For those of you looking to go for a lightweight build, very few engines out there can compete in size and weight.
Unfortunately, the earlier issues with the engine have earned the 2AZ a negative reputation over the years, with many opting for alternative swaps.
However, millions of 2AZ-FE engines are out there, with over 3.5 million Camry's alone sold on the market. Toyota included it in many other Toyota and Scion models over the years.
For those of you planning a big-power build, you'll be able to rectify the issues and build up the bottom end.
With this combination, you'll be provided with one of the smallest, lightest blocks out there, with the potential ability to push out over 650hp reliably!
If you're looking to carry out a swap but are concerned about the potential issues with the 2AZ-FE engine, then fear not, as there's a huge selection of engines to consider.
We've covered a vast selection in our comprehensive engine guides, so be sure to check out some of the alternatives.
So, there we have it! We hope this guide covers all your 2AZ-FE engine questions.
Thank you for reading our 2AZ-FE guide.
If you enjoyed this article, please share it with the buttons at the bottom of your screen. If you've found this information helpful, then please take a moment to share it with other Toyota, 2AZ-FE, and drifting enthusiasts. We appreciate your support.
---
Photography credits
We thank the following entities for the use of their photography in this article: