Toyota 2GR-FE Guide – Everything You Need To Know
Today, we take a deep dive into one of Toyota's lesser-known performance engines; The 2GR FE. In this guide, we detail the specs, cars, tuning potential as well as the common issues with this powerplant.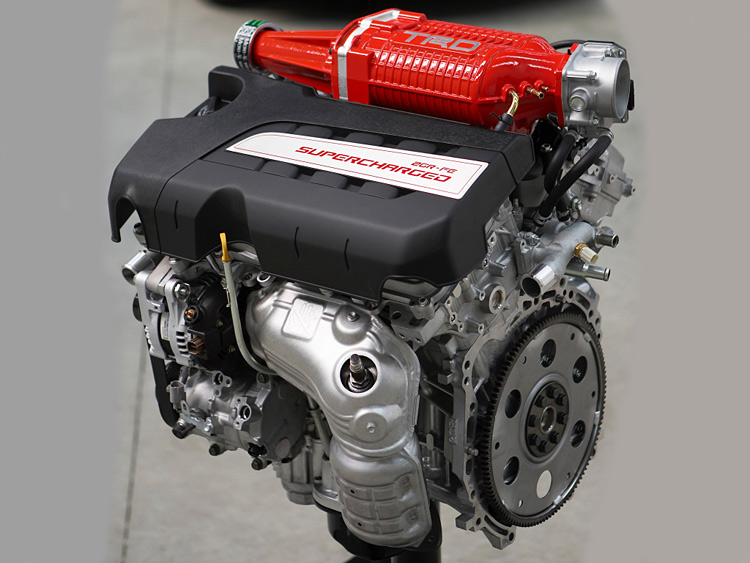 In a hurry? You can click on a particular section within this article. Otherwise, scroll down as we look at Toyota's 2GR-FE engine.
---
To whet your appetite, here is a video of a full carbon fiber-bodied, supercharged 2GR-FE powered Lotus Evora!
Introduction
Having already covered some of Toyota's most common engine platforms, such as the 1UZ and the 2JZ in our guides, we opted to look at one of their modern offerings, this time with the lesser-known 2GR-FE.
It certainly may not be the first engine swap that comes to mind for many car enthusiasts, but the 2GR-FE has gained notorious popularity within certain scenes. It has become among the most popular choices for Toyota MR2 and midship Lotus owners.
In the modern-day, where manufacturers aim for smaller displacement engines whilst generating as much power as possible with forced induction, the 2GR has maintained the much-loved traditional route.
Its 3.5L six-cylinder all-aluminium design helps to keep the weight down, which makes it a popular choice for small, light cars.
Check out this fascinating exploded animated video showing exactly how the 2GR-FE works:
Given its naturally aspirated design, you probably assume it comes with disappointing power figures. However, with a reported output of 295-314hp and 248-260ft/lb torque being produced in stock form, it's certainly capable of shifting!
Not only is it light with an impressive amount of power to match, but it's also earned notoriety for its reliability and is undoubtedly an engine built to last.
We will look at this underrated powerplant in our guide and provide you with everything you'll need to know. Whether you're looking to carry out an engine swap or purchase a car with the 2GR sitting snug in the bay waiting to be used to its full potential, we've got you covered!
---
A brief history of Toyota's GR series
Let's take a look at the history of Toyota's GR engine series:
1GR-FE
First released in 2002 for the Toyota 4Runner/Hilux Surf as well as the Land Cruiser Prado, the 1GR-FE is a 4.0L engine designed for longitudinal mounting in both RWD and 4WD vehicles.
With an output of 236hp and 266ft/lb torque in its original stock form, it utilized Toyota's VVT-i variable cam timing system on the intake cam and a compression ratio of 10.0:1. Its service weight, including fluids, is 166kg (366lbs).
In a later revision, they took the power output to an impressive 285hp and 289ft/lb torque with the addition of Dual VVT-i timing.
Both revisions are still being used today, with some minor alterations on the VVT-I engine, which is still used in the Toyota Hilux.
With the Hilux being the only car to still use the traditional VVT-i, over seven models in the Toyota/Lexus family are still running the dual-VVT-i version in the present day.
Toyota Racing Development (TRD) produced a supercharger kit for the 1GR-FE, available on the TRD models of the Tacoma, 4Runner, and FJ Cruiser, but this was later discontinued.
2GR-FE
For the 2004 model year, the 2GR-FE was released to the market, and unlike the 1GR, the 2GR was created for transverse mounting.
With Toyota opting for a 3.5L displacement this time, the bore from the 1GR-FE remains at 94mm, but the stroke is reduced to 83mm from 95mm.
Output for these engines varied depending on the vehicle, so it's worth checking if you're looking to source one. Power figures were generally quoted as between 295-314hp with 248-260ft/lb torque.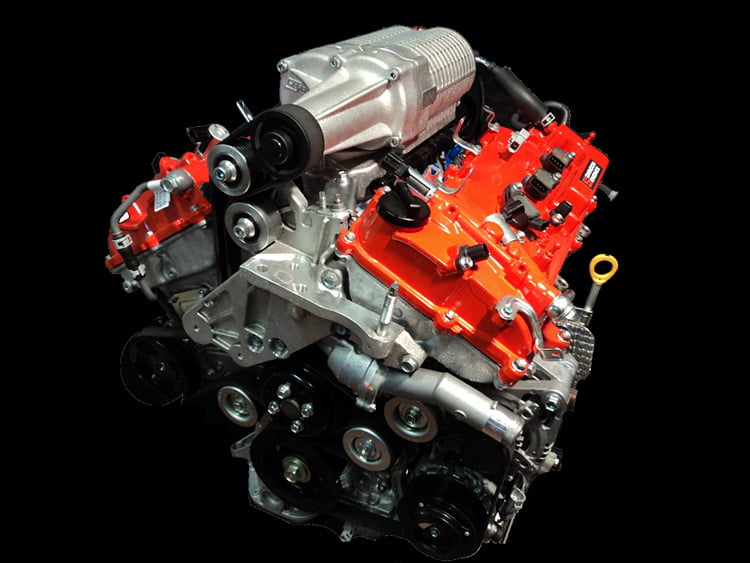 Similarly to the 1GR-FE, the 2GR-FE features an open-deck cast aluminium alloy cylinder block, and spiny-type cast iron cylinder liners. Inside there's a forged steel crankshaft with five counterweights and forged connecting rods.
The valves are driven by roller-follower rocker arms, low friction roller bearings, and a unique concave cam lobe design to increase valve lift over the traditional timeless lifter-type system of the 1GR. This increases the overall cylinder head height to accommodate the slightly taller roller rocker system.
Each cylinder head is comprised of three pieces. The valve cover, the camshaft sub-assembly housing, and the cylinder head sub-assembly, are all made of aluminium alloy.
As with the later 1GR-FE engine, they have utilized the modern Dual VVT-I system again. This helps to increase the power and torque whilst still managing to maintain ideal efficiency.
The 2GR is 3kg lighter than the 1GR, with a service weight of just 163kg (395lb).
Several superchargers were created for the 2GR-FE, and Toyota Racing Development (TRD) once again offered its version in the 2007-2009 TRD Aurion. Lotus utilized the supercharged 2GR-FE in their Evora S and Exige S, and Bolwell is still using their Sprintex supercharged 2GR-FE in the present day on the Nagari 300 models.
2GR-FSE
The 3.5L 2GR-FSE engine was released in 2005 and is most commonly found in the JDM Toyota and Lexus models.
This updated version features Toyota's D-4S twin injection system, combining direct and traditional port injection. Direct injection lowers the tendency to knock and increases performance by reducing the charge intake temperature.
Twin injection typically requires separate low and high-pressure fuel systems. Still, Toyota worked around this with new cylinder heads that featured high-pressure direct fuel injectors positioned at the intake valves' outer side.
Given its ability to provide better cooling by using these methods, they increased the compression ratio up to 11.8:1, which meant that the 2GR-FSE engine could produce 304-314hp at 377-380ft/lb torque in stock form.
With these additions, the weight increased to 174kg (384 lbs) but would become a highly appreciated engine, earning itself a position in Ward's 10 Best Engines list for 2006, 2007, 2008, and 2009.
There was only one Supercharged variant of the 2GR-FSE, found in the 2009 Toyota Mark X +M Supercharger, capable of producing 355hp!
2GR-FKS
The 2GR-FKS was the evolution of the 2GR-FSE and the most recent in the GR engine family. It was released to the market for the 2015 model year.
Keeping with the 3.5-liter V6, this succeeded the 2GR-FSE in their Lexus cars before also finding its way under the hood of several modern-day Toyotas.
Featuring the latest in Toyota's technologies, the 2GR-FKS can switch from Otto to an Atkinson cycle to improve fuel economy, thanks to the VVT-iW on the intake camshafts. This combines the D-4S system from the 2GR-FSE with the simulated on-demand Atkinson cycle.
Several changes were made, including the coil-on-plug ignition system and the exhaust manifolds, which were integrated into the cylinder heads, and the EGR circuit is now cooled.
Once again, various power figures were achieved for this engine depending on the model, with the Tacoma producing just 278hp at 265ft/lb torque, yet the Lexus RX 350 capable of a far more respectable 295hp and 267ft/lb torque.
The Lexus IS350 and GS350 win this time, though, producing 311hp at 280ft/lb torque.
Toyota later released a 2GR-FXS model, a hybrid version of the 2GR-FXS, found in the Lexus RX 450h and the Toyota Highlander.
If you want to know more about the GR family, there's also the 3GR, 4GR, 5GR, 6GR, 7GR, and 8GR! We may create separate guides for these engines in the future. However, for now, we will move on to the specs of the 2GR-FE.
---
2GR-FE Engine Specs
Featuring an open-deck V6 design with an all-aluminium cylinder block and cylinder heads, which helped save weight, increasing fuel economy. Toyota incorporated its DOHC design alongside 4-valves per cylinder, providing increased power and efficiency.
The 3.5 L (3,456 cc) 2GR's open deck does wonders for the cooling efficiency, whilst the dual VVT-i (Variable Valve Timing with intelligence) system increases the power and torque. Later updates to the engine also utilized the new direct fuel injection system, allowing for increased power gains.
Power figures: Output for these engines varied depending on the vehicle, so it's worth checking if you're looking to source one. Power figures were reported to be between 295-315 hp (227-236 kW) with 248-260 ft/lb torque.
Materials: The 2GR-FE features an open-deck cast aluminium alloy cylinder block and cylinder head.
Service weight: 163 kg (395lb).
Stroke: 83mm
Cylinder Bore: 94mm
Compression ratio: 10.8:1, 11.8:1, 12.5:1 13:1.
---
Which cars came with the 2GR FE?
Although it's not one of the most commonly found swaps, the 2GR-FE has frequently found itself being used for a wide variety of purposes. It has become a popular choice among various generations of MR2 owners looking to modernize their power.
Given that Lotus fitted supercharged variations to their Exige S and Evora S models, it proves how well suited this can be for lighter mid-engine cars.
Some popular Japanese vehicle models that utilize this engine include the Toyota Sienna minivan, The Toyota Venza,  the Toyota Harrier and The Toyota Avalon. We have included a complete list of vehicles down below.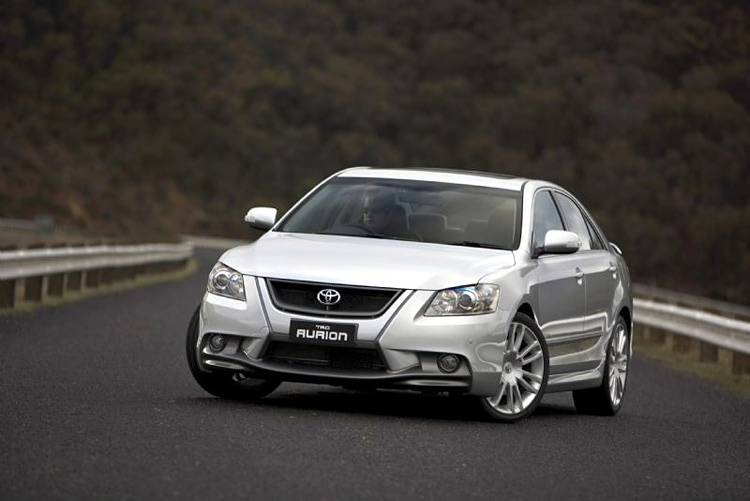 VVT-i engine cars:
2002-2009 Toyota 4Runner / Hilux Surf (GRN210/215)
2007-2011 Toyota Land Cruiser (GRJ200)
2002-2009 Toyota Land Cruiser Prado (GRJ120/121/125)
2004-2015 Toyota Tacoma (GRN225/245/250/265/270)
2005-2015 Toyota Hilux (GGN10/20)
2005-2006 Toyota Tundra (GSK30)
2006-2009 Toyota Tundra (GSK50/51)
2005-2015 Toyota Fortuner (GGN50/60)
2006-2009 Toyota FJ Cruiser (GSJ10/15)
2015-present Toyota Hilux
Dual VVT-i engine cars:
2009-present Toyota 4Runner (GRN280/285)
2009-2017 Toyota FJ Cruiser
2010-present Toyota Tundra (GSK50/51)
2012-present Toyota Land Cruiser
2012-present Lexus GX 400 (GRJ150)
2012-2017 Toyota Aurion (GSV50)
2015-2017 Toyota Alphard/Vellfire (GGH30/35)
2006-2019 Toyota Estima/Previa/Tarago (GSR50/55)
2014-present Toyota Land Cruiser 70
2015-present Toyota Fortuner
2009-present Toyota Land Cruiser Prado (GRJ150/150R/155)
---
Differences Between the 2GR-FE and 2GR-FSE
There's no doubt that the 2GR-FE is an impressive lump capable of far more power than it left the factory with, so why is the 2GR-FSE often seen as the superior alternative?
With the 2005 launch of the successor to the 2GR-FE engine, the 2GR-FSE, the main addition between the two was the D-4S twin injection system. This combined both direct injection with traditional port injection. The inclusion of these two components not only provided increased power but also improved the economy at the same time.
In a world driven by the need to keep up with continuously tightening emissions laws, we're all for manufacturers squeezing more power whilst also keeping the emissions lower, especially if it doesn't involve going down the soul-destroying battery route!
Direct injection engines usually require an in-engine mechanism, such as swirl pots, to increase air turbulence in the engine. Still, in the FSE port, injection has been included to improve the air-fuel mixture inside the cylinder.
This is achieved by a dual-fan spray pattern for the new Toyota injector designed specifically for this engine. This gives off a dual-fan spray pattern perpendicular to the piston travel with wide dispersion in the cylinder. This aids the air/fuel mixture, improving power, efficiency, and emissions.
The FSE is heavier than the 2GR-FE (174kg vs 163kg), and both have been quoted as capable of producing up to 314hp (360 Nm), so the FE is seemingly the winner when it comes to the power-to-weight ratio.
They're both undoubtedly fantastic engines, with the FSE being the more impressive choice. There's certainly a valid reason that the 2GR-FSE found itself on the Ward's 10 Best Engines list for four consecutive years.
If you're unsure which one suits you best, chances are, depending on your location, that the 2GR-FE will be the far more convenient option when it comes to sourcing.
With the FE, it was traditionally found in cars that will be far cheaper on the current market, a lot of which were available in the U.S. With the FSE, you're mostly limited to the higher-end Lexus and Toyota models, most of which were purely sold on the JDM market, such as the Toyota Mark X.
---
2GR FE Upgrades and Tuning
With power figures of up to 314hp quoted from the 2GR-FE, it's certainly not a slow, naturally aspirated engine in stock form, but its potential certainly doesn't end there.
Not only are there convenient upgrades to unleash even more power, but it's also a highly reliable engine when upgraded, provided it's well-maintained and tuned correctly.
Although trying to squeeze more power out of the engine in stock form is likely to be expensive with little power gain for the money, you can buy uprated pistons and camshafts, along with breathing mods such as cold air intakes and a full-exhaust system.
With tuning, you can expect to achieve a maximum of around 320-330hp with these upgrades depending on the engine's power output from stock.
If you're like us, and you're looking for real gains for your money, supercharger kits are likely to be the best option off-the-shelf. TRD and HKS have developed kits for the 2GR, and with stock internals, this should enable you to achieve more than 350hp.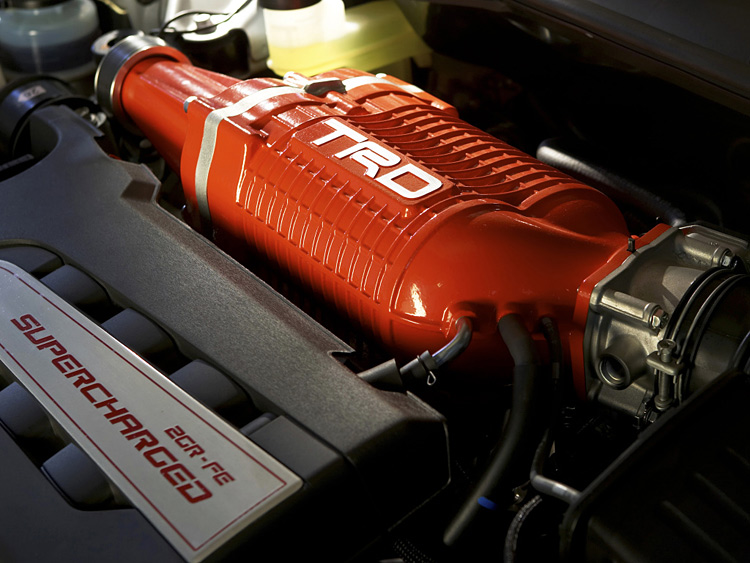 If you're not looking to run an off-the-shelf TRD or HKS kit, the ROTREX superchargers are also commonly used and can safely run around 6psi of boost, which will see gains of around 40hp and 40ft/lb torque on a stock engine.
Of course, further power gains are waiting after that with the usual breathing modifications such as an air filter and exhaust.
If that's not enough, you can consider upgrading the supercharger, throttle valve, injectors, pistons, and engine management. You're likely to run into considerable costs with doing so, but it'll undoubtedly be a solid platform to achieve impressive numbers.
Turbocharging is also an option, and we've heard of over 800hp+ being produced using a stock bottom-end 2GR with extensive supporting modifications on a twin-turbo setup running 18psi of boost, which is highly impressive!
Don't believe us? Then, have a listen to this tuned 2GR-FE powered Toyota MR2

---
2GR FE Common Issues
There's no doubt that the 2GR-FE is a testament to the solid, reliable engines which the Japanese are notorious for creating, and it had very few significant problems during its lifetime.
Many owners have reported over 200,000 miles of trouble-free motoring from a well-maintained engine, and since it uses a timing chain, you won't need to worry about replacing the timing belt frequently.
Despite its reliability, nothing is perfect, and we've had to dig deep to find some problems that you may want to look out for when purchasing.
If you're noticing an oil leak, the chances are the culprit is the oil tube in the VVTi system. This was made from an iron-rubber-iron component that can sometimes perish over time. This was a common issue with pre-2010 Toyota engines, and there are now all-metal replacements to resolve the issue.

Squealing or load rattling from the idler pulley is another issue that may need to be addressed. However, Toyota has also resolved this issue by creating a heavy-duty equivalent should you ever need to replace it.
There are reports of an engine noise that sounds almost like grinding after startup. This is usually caused by the VVTi system, which may require repair, so we advise listening out for this if you intend to purchase a 2GR-FE.
If you're noticing low revs at idle, this has an easy fix of simply cleaning the throttle body, and this is advised to do every 30,000 miles to avoid the issue surfacing.
It is a good idea to upgrade components like water pumps, ignition coils, etc., as these are also known to fail in this engine.
These are all minor niggles in the grand scheme of things, and chances are you won't even encounter them during your ownership. We always advise considering preventive measures, such as upgrading to the improved OEM Toyota parts, to begin with.
If you take good care of it, a Toyota 2GR-FE will serve you reliably for around 200,000 miles or 320,000 km.
---
What's Next for Toyota's 2GR Engine?
Since the release of the 2GR-FE, Toyota has continued to develop the awesome 2GR range through to the present day.
With the supercharged 2GR-FE most recently finding its way into the Lotus Exige Cup for their new 2018 model, it's far from the end, even for the FE. The stock powerplant is also still being used in several production cars, such as Toyota's Estima/Previa/Tarango range in the present day, and Lotus are still using it in the Evora.
With Toyota still using the 2GR-FSE in several production cars, such as the IS350, it looks as though they may head towards integrating the 2GR-FKS into more of their range soon.
Many of their most recent releases, such as the 2017 Toyota Camry and 2018 Lexus RC 350, have already begun using the FKS. Despite the hybrid FXS being introduced, which is based on the FKS engine, it would appear that we're not yet going to see a true replacement for the FKS anytime soon.
---
Conclusion To Our 2GR FE Guide
Although the 2GR-FE is far from the most common engine swap, we always like to see different builds. JDM fans more traditionally opt for alternatives such as RB25DET's, 1UZFE's or 2JZ's. Those who like to cause more controversy may add an LS engine.
2GR-FE swaps seem to be most commonly found in MR2 builds, and tuning shops were also swapping them into Lotus Elise's and Exige's way before Lexus realized it was a winning combination.
There's no doubt that the 2GR-FE has fantastic power potential for a naturally aspirated engine, and if you have a little extra cash to spare, convenient supercharging options are available.
We've even witnessed extensive builds achieve over 800hp on the stock bottom end, albeit with extensive internal upgrades. And being a reliable Toyota powerplant, your mechanic will surely love you for having it!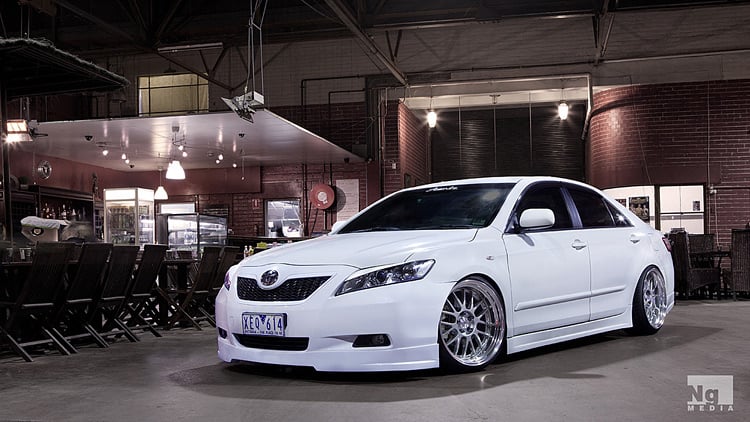 With its smooth yet impressive power band and impeccable reliability, it's easy to see why enthusiasts are opting for swapping these engines into their midship cars. We can imagine they're heaps of fun, particularly with a supercharger strapped on.
As well as the impressive power and reliability, they can also sound pretty damn sexual! Make sure you head to our additional content below to check out some of our favorite sounds.
If you feel that the 2GR-FE is your engine choice, we always love to see crazy engine swaps that our fans have carried out, so feel free to drop us a line and show us your build. Who knows, we may even end up featuring it!
---
Additional 2GR FE Related Content
We've selected some of our favorite 2GR-FE YouTube picks for your viewing pleasure!
When we said that the 2GR-FE had the potential to sound sexual, we weren't lying!
Want to see a 2GR-FE pushed to the limit? This one hits 8,000 RPM!
Check out the TRD Supercharger in action on this MR2.
A crazy Celica drag build. We'd love to see more of this!
Interested to see some of the best engines Toyota has to offer? This is an excellent guide.

You can check out everything you need to learn about Toyota's 1MZ-FE engine here!
If you're looking at other Toyota engines, check out our 2AZ-FE and 1GZ-FE engine guides.
Photography credits
Drifted would like to extend thanks to the following sources for the use of their images: