Ultimate Forza Horizon 4 Best Drift Car Guide
Are you looking for the best drift cars in Forza Horizon 4? Look no further; we're listing our favorite cars in this guide.
---
Forza Horizon 4 has deservedly earned its spot as the best selling Xbox racing game of all time, and we're going to be looking at the best drift cars in the game, whether you're just getting started or competing with the pros.
Turn 10 has provided the answer to every motorsport enthusiast's dreams with this incredible, open-world driving experience.
In its first week, over 2 million copies had left the shelves, and by August 2019, over 12 million fans across the globe were enjoying tearing up the streets of the UK and throwing down their best drifting skills.
There aren't many racing games out there that promote 'streeto', but Forza Horizon 4 welcomes it with open arms - and we're certainly not complaining!
We always welcome the thrill of putting your skills to the test on the street without the real-life fear of damaging your car, potentially getting busted – or even worse, losing your license.
You're certainly not limited to just drifting within the game; it caters to any motorsport fan, whether you're into drag, grip, top-speed runs, or going for a simple cruise and enjoying the stunning elements that the British countryside has to offer.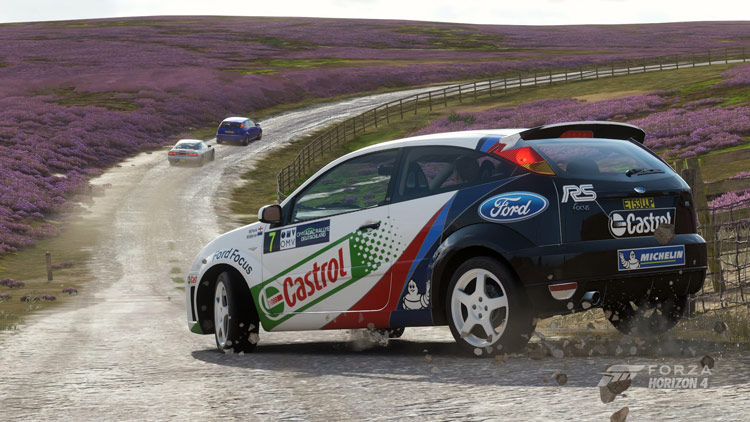 Thanks to the decision from Turn 10/Playground Games to host the game in the UK, this has provided many twisty, winding roads, which make it fantastic for showing off your drift skills.
They've also encouraged this by placing 'Drift Zones' across the map, which enables you to earn Skill Points in the game, with extra bonuses on offer for exciting driving.
Now, not everyone gets behind the wheel of a car and has the ability of Keiichi Tsuchiya, so we've created this guide to help you find the perfect ride to help you get the most out of your drifting talent in Horizon 4.
Although it's not quite the simulation-experience you can expect from its more intense sibling, Forza Motorsport 7, FH4 is still impressively realistic, which makes it fantastic for learning how to drift.
If you're not looking for something quite so realistic, Madalin Stunt Cars 3 can make for a great free alternative that you can enjoy anywhere.
With Forza Horizon 5's release date not looking like it'll be launching anytime soon, this is the perfect opportunity to improve your drifting skills before the game arrives.
---
Introduction to drifting in Forza Horizon 4
Thanks to its similarities to real-world drifting, throwing your car down sideways in Horizon 4 is remarkably similar to the genuine experience.
Therefore, if you want to master drifting in Horizon 4, we highly recommend heading over to our How to Drift guide, which will provide an in-depth explanation to get you started in the basics of drifting.
Alternatively, if you feel you can relate better to an in-game tutorial, then make sure you check out this great video:
Once you've gained the vital knowledge when it comes to the four essential steps to carrying out the perfect drift, it's time to get behind the wheel (or controller) and put your new-found knowledge to the test.
Those of you that aren't entirely new to drifting won't be surprised to hear that we're only really interested in the rear-wheel-drive cars that the game has to offer.
Sure, there are some fantastic AWD cars in the game, and Forza rewards generously for these, but AWD drifting doesn't tick the right boxes for us.
Truth be told, although we have our personal preferences, which we'll be going through shortly, thanks to the in-game customization, you'll be able to drift just about any front-engined RWD car in the game.
Sure, some will be more capable than others, but if you have a real desire to drift a particular car, then don't be afraid to do so. There are many fantastic guides and tutorials online that'll show you how to do so.
One particular approach we've found useful when it comes to tuning is the 'ForzaTune' app, which features on Apple's App Store or Google's Play Store.
ForzaTune can provide an impressive base tune, which you can tweak according to your individual needs.
If you're just getting started, it may be better to learn how to drive a few of the cars in this guide first, since we've tried and tested each choice to ensure that they're ideal for beginners, all the way through to advanced drifters alike.
Once you've got the drifting bug, you may well find that you can buy a weird as hell car and realize that you match with it well, which is where ForzaTune will undoubtedly be helpful.
We've seen some crazy builds during our online adventures over the years. With the combination of an excellent setup and impressive driver skills, they've often embarrassed the most competitive rivals.
Before we show you our Forza Horizon 4 drift car selection, let's look at what you'll need to do to achieve the best out of your car.
Step 1 - Pick your weapon of choice
We'll be showing you our favorite cars shortly, and we highly recommend opting for one of these choices to begin.
Sure, some may suit your driving style better than others, and that's the reason why we recommend going through each of them one at a time to find the perfect ride for you.
For example, some drifters prefer the rapid transitions that short-wheelbase cars have to offer, while others prefer the predictableness and stability of a longer-wheelbase car.
With beginners, although the temptation can be to jump straight into the Formula Drift/Hoonigan cars, we would go with something low-powered, to begin with, until you gain more confidence behind the wheel.
For advanced drivers, these typically provide the best in-game turn-key package, as they are well-tuned, but we would expect most drivers would need to take a little time to adapt, as they're high-powered and often snappy.
Step 2 - Upgrades & Modifications
Assuming you're not entirely new to the game, you would've undoubtedly carried out some upgrades by now.
These include:
Engine Mods
Brakes
Suspension
Drivetrain
Wheels/Tires
Aero
Thankfully, this is quite a bit cheaper and more convenient than real life. A simple click of the controller is often more enjoyable than the swearing and bleeding knuckles that usually comes with carrying out upgrades to your drift car.
There's a vast array of modifications and upgrades that you're able to carry out, even engine swaps, so you'll want to make sure that you've got enough money left after buying your car.
Although it can be tempting to download a pre-made drift tune from another gamer, which can be great for learning, as you progress in the game, you'll undoubtedly want to carry out some changes, but unfortunately, these files are locked.
For this reason, it's always best to learn how to upgrade the car yourself, so that you can tweak your car and make it perfect for your needs.
This fantastic tutorial will help you gain an understanding when it comes to building an excellent in-game setup:
For your first car, although it can be easy to want to upgrade everything to 'Race' spec, we recommend settling for around 300hp, which is plenty for a fast-road setup.
If you go chasing high power figures when you're a beginner, you'll most likely not have the ability to control it properly. However, lower-powered cars are much more predictable, making them ideal for getting started.
We typically go for drift suspension, weight reduction, anti-roll bars, race-spec brakes, and max out everything in the drivetrain section.
With the suspension, you'll want it nicely slammed to ensure a low center of gravity, but make sure you don't end up bottoming out on the bumpy British roads.
When it comes to tires, you'll want a decent amount of grip in a lower-powered car and a lot of grip in a higher-powered car. Don't opt for slicks (race tires), though, as they're not ideal for drifting.
With wheels, weight is mostly irrelevant. Don't go with anything too big, and always remember - style is essential when it comes to impressing on the streets!
Step 3 - Tuning
Tuning can be the difference between the perfect setup or an absolute disaster, which will leave you driving like your typical Mustang owner and crashing into just about everything (and everyone).
If you've carried out the essential upgrades, but your car isn't drifting quite how you'd like or expect, then chances are you're going to need to carry out some tweaks in the tuning department.
Tuning is where you'll be adjusting the advanced setup of the car to ensure you're reaching your true potential.
Since this is an in-depth subject, we'll take a deeper look in a future guide. But for now, we highly recommend checking out this video on YouTube:
Step 4 - Hit the streets
Once you've got yourself an ideal car and carried out the necessary upgrades and tuning, you'll be ready to hit the streets to show off your newly-acquired skills.
Don't worry if things don't go to plan right away; we've all started somewhere, and drifting often takes an insane amount of practice to master.
Just ensure that you've got manual transmission enabled to begin with, and once you feel confident with that, you can move on to integrating the clutch.
You may think that a clutch is pointless, but it's a huge help when it comes to car control with drifting, whether you're looking to kick the back end out or maintain your drift.
We recommend heading to the skid pan just outside of the festival, to begin with, where you'll have the opportunity to master the art of car control.
Although a steering wheel setup is always the best way to enjoy racing games, some gamers find it easier to learn how to master the basics using a controller before moving onto a sim setup.
Remember to try the various camera angles if you're struggling. Your buddy might be best with an external camera angle, where you may be more accustomed to the more realistic interior view.
Once you've nailed when it comes to drifting in Forza Horizon 4, we can promise that it'll be worth the hours you invested with practicing. We don't feel there's a better way to enjoy a car than throwing it down sideways!
Now that you're ready to get started – let's take a look at what we feel are the best drift cars in Forza Horizon 4.
---
Best Drift Cars in Forza Horizon 4
With a huge selection of over over 700 cars in FH4, it can often become a real challenge to choose which car is going to be the ideal choice when it comes to drifting, so we've shortlisted some of our favorites.
Sure, we do not doubt that we've missed off some great cars, and thanks to Forzas' ability to carry out RWD conversions, this provides an endless selection of possibilities when it comes to picking an ideal option, allowing you to transform the least likely vehicles into the perfect drifter.
We've spent many hours testing out these options, and we can guarantee that there's a perfect platform for beginners, right the way through to advanced drifters.
For those just getting started with drifting in Horizon 4, we recommend avoiding the Hoonigan/FD cars, as these are better suited to experienced players.
Nissan Silvia (240SX/S14/S15)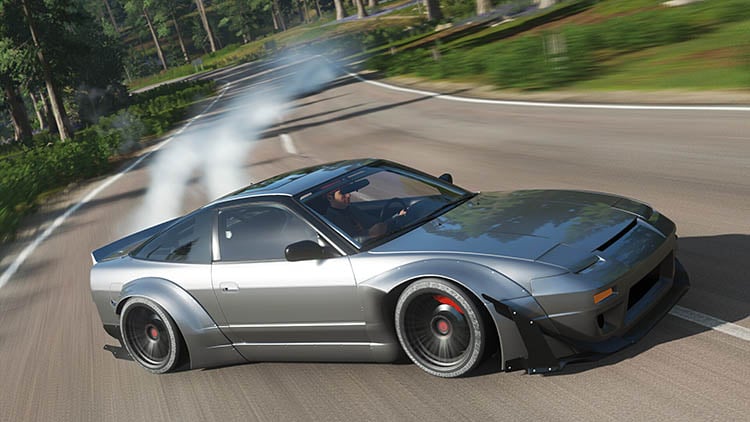 This JDM legend needs no introduction. Indisputably one of, if not the, most highly-regarded drift chassis of all time - the Nissan Silvia.
Known in the US as the 240SX (S13/S14), you really can't go wrong whether you're opting for the S13, S14, or the S15.
The s-chassis are best-known for their impeccable handling and the more desirable, highly tunable SR20DET engine.
However, thanks to the in-game upgrades, you'll be able to opt for alternative powerplants, such as the Nissan Skyline RB26, to achieve those colossal power goals.
If you're lucky enough to own a 240SX in the 'real-world', then make sure you check out our 240SX tuning guides.
You really can't go wrong with any Silvia generation. Although they vary slightly between the models, you will be best choosing your favorite model rather than worrying about which one technically the best chassis.
There are three Formula Drift 240SX's to choose from, at 300,000 CR each. However, if you're open to building your setup from scratch, then the 240SX/S14 are available for just 25,000 CR, with the S15 slightly more at 35,000 CR.
Many newcomers to the game opt for the Silvia as the perfect platform to get you started with drifting in Forza Horizon 4.
Hopefully, one day, we'll get to witness the Nissan Silvia S16 in the game!
Nissan Fairlady (350Z/370Z)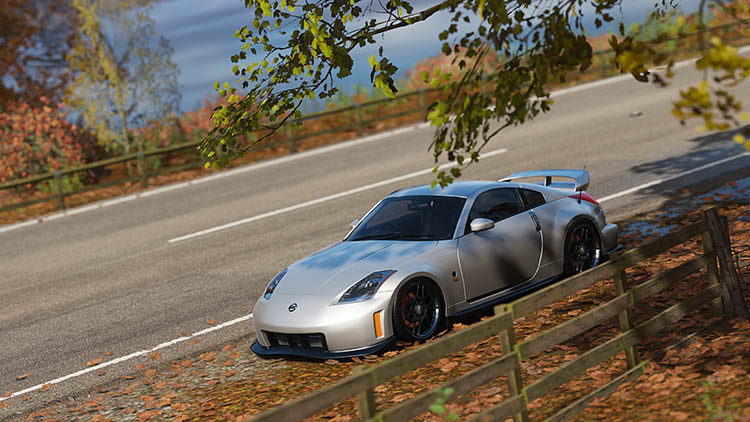 Nissan's 350Z has earned its place as one of the most popular cars in the US tuning scene and has proven its popularity here at Drifted, with us providing many tuning guides to our 350Z fans.
In recent years, as they become more affordable, the Nissan 370Z has also seen a surge in popularity.
If you're stuck deciding which model will be best for your needs, then make sure you check out our 350Z vs. 370Z guide.
You can locate the 350Z in the game as its JDM name – the Fairlady Z.
At just 35,000CR for the 350Z, and 40,000CR for the 370Z, these are a real bargain, and well worth giving a try.
Although the 350Z/370Z's are known for being slightly underpowered and also somewhat overweight, some engine upgrades (or engine swap) and weight reduction will make them a fantastic contender for the best drift cars in the game.
We recently took a look at what the future potentially has in store for the Fairlady Z, as we took an in-depth look at the confirmed 400Z rumors.
Hoonigan RX-7 FC (Twerkstallion)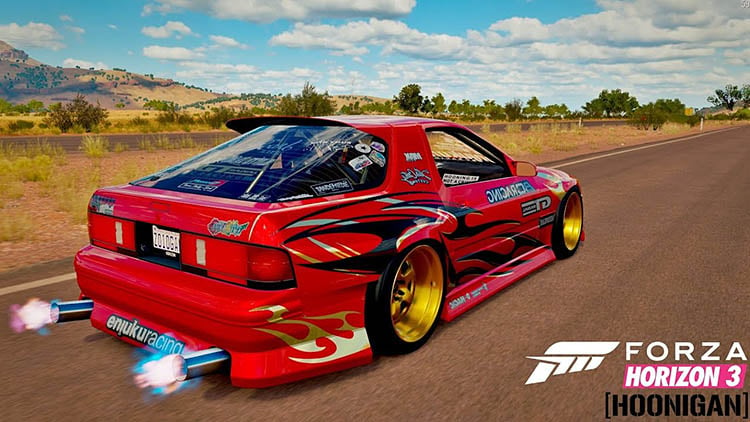 Let's face it, as drifting fans; we've all enjoyed seeing Hert's Twerkstallion RX-7 over the years, so, as you can guess, we were delighted to see it introduced into the game in the Hoonigan car pack.
The Twerkstallion is a surprisingly reasonable 50,000CR; however, this pre-tuned car falls under the S1 class and isn't an ideal choice for beginner drifters due to its high-power, short wheelbase combination.
Once you've got to grips with the basics of drifting, it's one of the most rewarding cars in the game to drive and also looks and handles incredibly well without any tuning necessary.
Mazda RX-7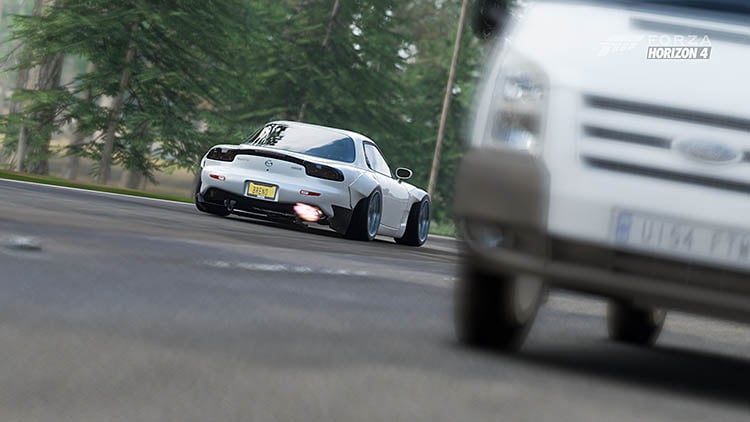 Although we've already mentioned the Twerkstallion, we didn't want it overshadowing the stock RX-7 alternatives that the game has to offer.
With prices starting at 25,000CR for the Savanna RX-7, they go on to 250,000CR for the 'Hard-to-Find' GSL-SE variant.
Thankfully, the FD that we know, and love, will set you back just 35,000CR, or 30,000CR for the Spirit R Type-A.
There's a reason that the RX-7 FD made its way into our Best Drift Cars for Beginners guide, and it's a fantastic chassis for beginners and advanced drifters alike.
With a longer wheelbase than the FC, the RX-7 FD is going to be the best choice for beginner drifters in Forza Horizon 4.
Dodge Viper SRT10 (Formula Drift #43)
Although there are numerous Dodge Vipers in FH4, it's Dean Kearney's legendary Formula Drift Viper that has specifically earned its place on our list.
Frequently known for topping the FH4 leaderboards, this car certainly isn't the ideal choice for beginners. However, for advanced drivers that are looking to achieve maximum points, this is arguably the best pre-setup car in the game.
It'll set you back 300,000CR, but once you've mastered the art of drifting and got a suitable amount of seat-time in the game, this will almost feel like pocket change, and it'll soon reimburse itself in rewards as you begin topping the leaderboards.
Mazda MX-5 Miata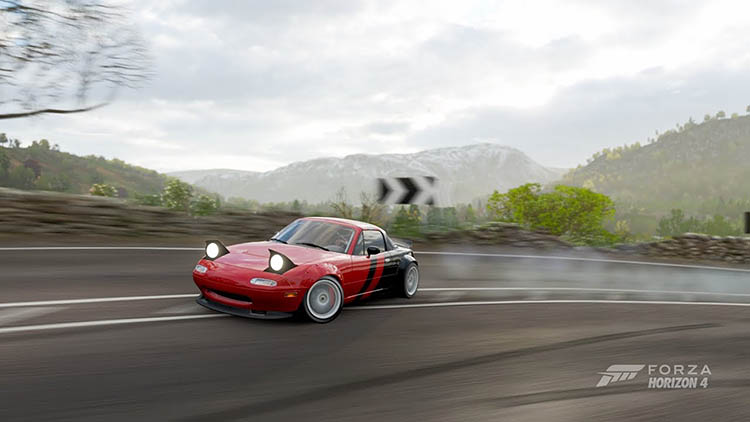 At just 25,000CR, the Mazda Miata is one of the cheapest cars out there, and it offers the perfect introduction for those of you that are looking to master short-wheelbase drifting.
You won't need to push tremendous power through this, as it's lightweight enough anyway, so for beginners, keep the power down and use your Miata to master the art of drifting.
Once you've got the hang of it, these can also make for an epic amount of top-down fun with a big-power setup.
Ford Mustang RTR
There are three RTR Mustangs in FH4, two of which are Formula Drift cars of Chelsea DeNofa, and Vaughn Gittin Jr, with the third being the 'Spec 5/S5′ street-spec model.
All three cars will set you back a rather steep 500,000CR, so these aren't the ideal choice for those of you just getting started.
If you've got the cash to splash, then they're the typically challenging FD-spec setup, which makes for enjoyable wheelie-popping fun with their super-soft suspension setups once you get the hang of it.
Highly recommended, but you'll most likely need to save up a little cash and ensure that you get some practice in beforehand to enjoy them to their true potential.
Nissan Skyline/GT-R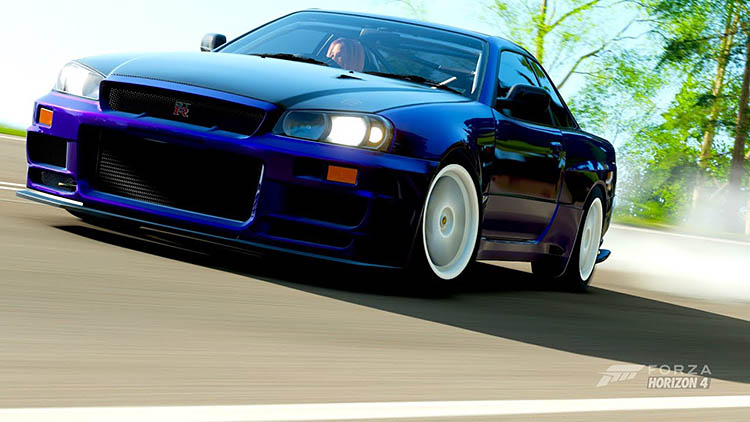 There are various Nissan Skyline models in the game, from the iconic Hakosuka to the R31, R32, R33, R34, and also the R35 GT-R.
With the R33 priced at a reasonable 37,000CR, the most expensive offering is the GT-R LM FE at 1,350,000CR, but that isn't going to be quite so ideal for drifting.
The R34 GT-R V-Spec II is a reasonable offering at just 63,000 CR - we wish they were that fairly-priced in reality!
From the Hakosuka to the R35 GT-R, they've become entirely different chassis, but they're all incredible to drift in their own right.
Although they may not be the perfect choice for beginners, once you've got the hang of drifting, they'll suit intermediate or advanced drifters perfectly, but make sure you remember to opt for RWD!
BMW M3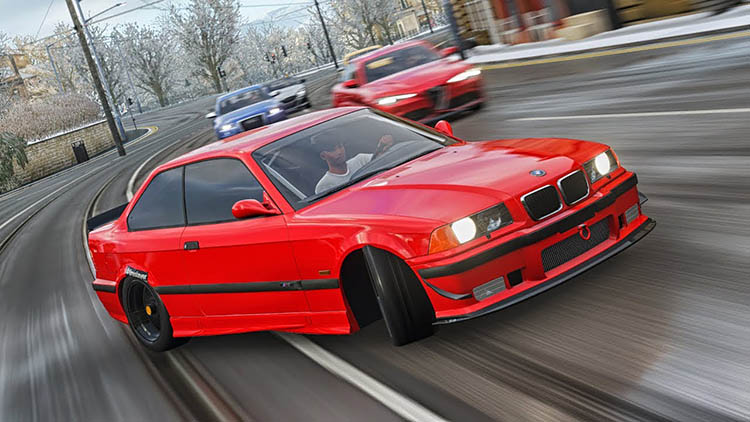 The BMW M3 is unquestionably one of the most famous European drift cars in the US, from the E30, right the way through to the E92 and the GTS.
Prices start at just 33,000CR for the E46 M3, with the M3 GTS the most expensive at 250,000CR.
As you've probably guessed, all of the M3 variants make for a fantastic choice for drifting, whether you're a beginner or a pro.
If you fancy going down a slightly different route, the BMW M4 also features in the game.
Toyota Sprinter Trueno GT Apex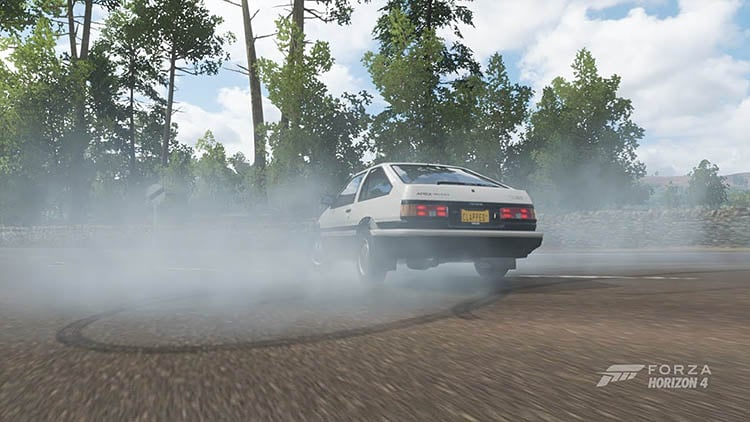 Forza Horizon fans rejoiced when Toyota finally returned to Horizon 4, bringing their old school legends alongside future classics to the game.
Thanks to the twisty, flowing roads that the UK has to offer, they're not too dissimilar to the touge mountain roads of Japan, which is where the much-loved AE86 earned its reputation.
As the Drift King Keiichi Tsuchiya's weapon of choice, the humble AE86 has also earned itself worldwide popularity with the Initial-D series.
Although Toyota had initially removed themselves from Forza Horizon 4, they thankfully made a return with a later update, which has allowed the awesome AE86 to make a return to the game.
The AE86 is a fantastic car for beginners, but be prepared for it to set you back 250,000CR. For that reason, it's not going to be an ideal choice for those of you that have just begun playing the game. However, if you have some cash reserves, it could be a fantastic choice.
The AE86 has become one of the most legendary drift cars in the world, and it blends perfectly with the tight and twisty B-roads in the UK for this game.
Love AE86's as much as we do? Make sure you check out our Best AE86 Drift Builds.
---
Conclusion
It was extremely tough narrowing down to just a few of our favorite drift cars in Forza Horizon 4, but we've tried to include a wide range for you to choose.
It's so easy to get tempted with the crazy-powered cars, but they will undoubtedly be frustrating for those of you that are just getting started.
Learning the techniques of drifting requires time and patience, but it's ultimately hugely rewarding in the long run.
Watching videos of experienced players on drifting games online can substantially improve your drifting knowledge, so we'd highly recommend doing so if you're struggling to get the hang of it.
It can sometimes be ideal to buy a pre-built tune on the Storefront, to begin with, but it may become frustrating when you improve your skills.
You'll likely get to the point where the car begins to hold you back, but you're not able to tweak it to suit your specific needs.
Perhaps you want to change something simple like the tire pressures, the suspension, or the gearing, but the setup file will be locked.
For that reason, it's always best to gain an understanding of the in-game tuning functions, and these will undoubtedly be useful to know when it comes to real-world knowledge, too.
Our recommendation is to try a variety of cars, tunes, and setups. Get some focused seat time in, and don't feel disappointed if you end up spending hours and hours doing donuts in the practice areas to get the hang of it.
Practice indeed makes perfect when it comes to drifting, and there's so much to learn and so many different scenarios that you'll need to approach before you truly master the art.
We have faith that you'll soon get there with the assistance of this guide. Good luck!
For those that feel like you're running out of unique cars for drifting, we highly recommend getting your hands on the barn finds for the ultimate exclusive drifters.
Once you've got the garage of your dreams, why not purchase yourself the perfect houses and castles to match?
Some of these in-game cheats will help you top up the bank balance if they seem a little expensive!
Once you feel like you've mastered drifting in Horizon 4, why not give Forza Motorsport 7 a try? We've put the two head-to-head in this guide.
When you've got to grips with drifting in the game, make sure you then head over to our Forza Motorsport 7 Top 10 Drift Cars guide.
Want to build a drift car for Forza Horizon 4? Here's our Forza Horizon 4 drift tune guide.
Looking to try Forza Horizon 4 on your VR rig? Then read our VR guide.
Find out how you can earn crazy amounts of credits with our Forza Horizon 4 money glitch guide.
After that, why not check out the best drift cars in Forza Horizon 5's impressive roster of cars?
Thank you for reading our Forza Horizon 4 Best Drift Cars guide.
If you enjoyed this article, then please share it with the buttons at the side and bottom of your screen. If you've found this information useful, then please take a moment to share it with other Forza and Xbox enthusiasts. We appreciate your support.
---
Photography credits
We thank the following entities for the use of their photography in this article: