Chelsea DeNofa – Everything You Need To Know
Known for his aggressive driving style and down-to-earth attitude, Chelsea DeNofa continues to cause an upset for the best drivers in Formula Drift.
---
Introduction
After an introduction to the world of motorsports at an early age, Chelsea DeNofa has continued to prove his capabilities against the best drivers that Formula Drift has to offer.
Best-known for his past BMW builds, his recent RTR Mustang collaboration with Vaughn Gittin Jr has provided Chelsea the opportunity to compete on a level playing field.
With his BMWs of the past causing no-end of reliability issues, becoming part of the RTR team has enabled Chelsea to concentrate on proving his abilities.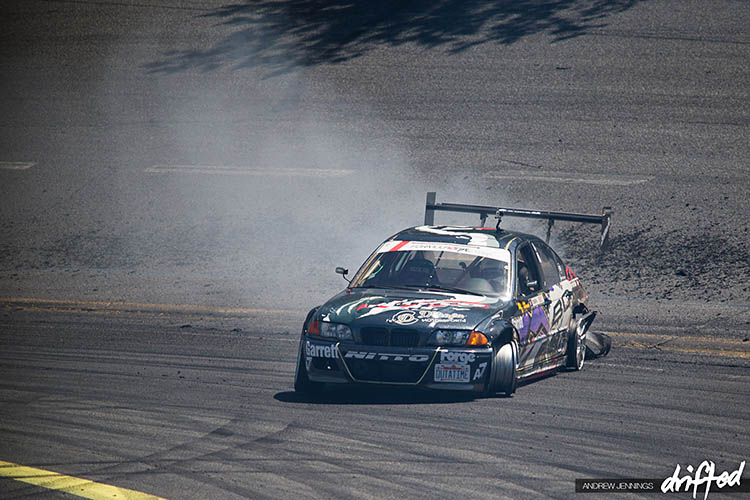 As he gets to grips with the Mustang, he's now looking more competitive than ever.
Combining aggressive driving techniques with flossy, show-stopping reverse entries that only the likes of Forrest Wang could compete with, alongside his highly likable personality, it's no surprise that Chelsea has become a fan favorite over the years.
Having won Formula Drift's "Hardest Charging Driver" awards in 2014, 2018, and 2020, alongside "Best Drifting Style" in 2019, there's absolutely no doubt that DeNofa knows how to put on a show.
With James Deane's recent historical Formula Drift feat now complete, the FD competition was left shaken up, and it's the perfect opportunity for Chelsea to prove his worth alongside the most significant drivers in the series.
Combining his abilities in road racing, stunt driving, and his in-depth knowledge of drifting provides the perfect package, and he's certainly not shy when it comes to showing off his impressive abilities.
We're going to look at where it all started for Chelsea before taking a look at his previous rides, his drifting career so far, and what his exciting future has in store.
---
Chelsea DeNofa's Early Life & Career
Born on April 6, 1988, in Doylestown, Pennsylvania, DeNofa had involvement in extreme sports from a young age, which undoubtedly assisted his determination to become one of the most significant drivers in Formula Drift history.
DeNofa's BMX Career
As soon as he could ride a bike, Carmen DeNofa, Chelsea's father, would encourage him to take up BMX racing in Bucks County, PA.
Carmen DeNofa was the joint-founder of the brand 'Roadkill BMX', and Chelsea became a factory rider for Roadkill, receiving the opportunity to tour the country competitively until 2004.
Progressing to Drifting
Chelsea's first real taste of drifting came when he had the opportunity to get behind the wheel of his father's Alfa Romeo Spyder.
After soon realizing that it wasn't the ideal weapon of choice, he got his hands on something far more suitable for the task at hand - the ever-popular Mazda Miata.
At 15 years old, Chelsea's drifting career began before he was legally old enough to drive in the US, thanks to his Mom driving his car to his first major event in Miami so that he could participate.
After competing in various regional series' in the Miata, he decided it was time to move on to something a little different, which is where the BMW's he's best known for piloting came into the equation.
The First BMW
With his first BMW starting life as a daily-driven E36 M3, he soon realized that it had far more potential when the "accidental" sideways moments happened on the streets, and this soon turned into his favored choice for the track.
As you've probably guessed, just one year later, Chelsea transformed the E36 M3 into a competition-spec turbocharged track slayer.
Over the years, Chelsea hasn't just had a keen interest in driving, and he's also known for competing in racing events, where he's achieved an SCCA Pro racing license and is also a professional stunt driver.
There's no question that his main interests lie within the drift scene, and he began to compete in more events, such as NOPI Drift and D1GP USA. In both 2010 and 2011, he would earn back-to-back wins in the Xtreme Drift Championship.
The School of Drift
In the present day, Chelsea has put his skills to good use by teaching other aspiring drifters how they can go from grassroots to pro, providing one-to-one tuition at his company – The School of Drift.
No matter what your level of skill, the drift school provides a variety of experiences and classes. Whether you wish you bring your car or get behind the wheel of the selection of drift school cars with Chelsea's guidance from the passenger seat, there's something for everyone.
Thankfully, he also provides one of the most useful YouTube guides on how to master the art of drifting. Make sure you check out his full "How to Drift" series, where he provides epic tutorials like this one:
As well as The School of Drift, Chelsea has also run a "Drifting Clinic" when on his travels, where he attends events without driving, purely to assist other drivers with reaching their potential.
Assisting up to 20-drivers at a time, he assists future drifters with their car setups, and as he puts it, "to make everyone suck less!"
His proudest moment to date with the Drifting Clinic is that every driver he's taught has managed to link the entire track with style by the end of the session. We look forward to seeing these talented young guns causing an upset in FD shortly!
Tying the Knot
Drifting aside, Chelsea has also recently married his long-term girlfriend, who also happens to be called Chelsea. Congratulations to both Chelsea DeNofa's!
Last weekend I became the second best looking Chelsea DeNofa! The wedding was unreal, the happiness was something I had never experienced in my life, and having everyone there reinforced the love between us. My wife's dress literally made me cry, our ceremony made us laugh, … pic.twitter.com/A29mZrwDJ2

— Chelsea DeNofa (@ChelseaDeNofa) March 17, 2020
What's the first thing you do after the wedding? That's right - drifting!
---
Chelsea DeNofa's Professional Drifting Career
Alongside his success in BMX and having raced in several series after earning his SCCA Pro racing license, Chelsea has also shown off his drifting skills in more than ten countries, appearing on podiums in the European country of Latvia and twice in Australia.
As his cars have become increasingly competitive over the years, which has become an essential requirement to keep up with the ever-increasing power figures of FD, so has his talent.
After taking the "Hardest Charging Driver" award in 2014, he went on to land his first Formula Drift win at the challenging fan-favorite Long Beach track in 2016, before reliability issues in the much-loved E46 hindered the rest of his season.
With his reliability issues in the BMW holding him back, DeNofa decided it was time to get serious for the 2017 season, and he required a car that would match his abilities.
After creating a bond with Vaughn Gittin Jr. over the years, he opted to reach out at the end of the season to chat about his future plans.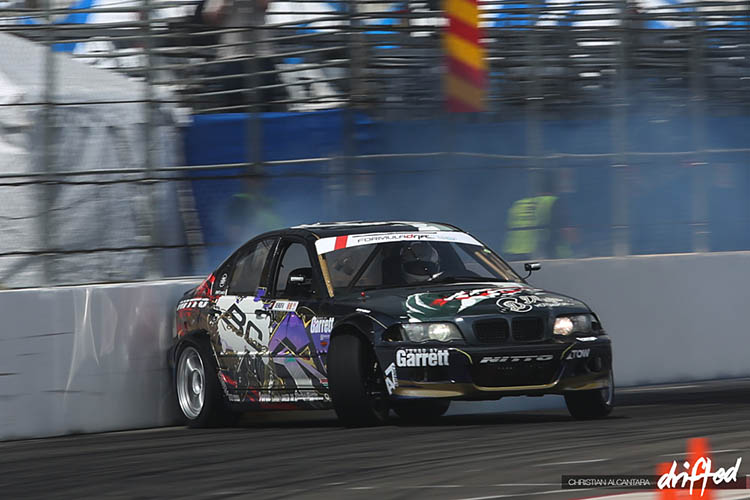 So, heading to his trailer at Irwindale, he asked Vaughn what it would take to become a driver on the team for the 2017 season.
Initially taken aback, Vaughn knew that Chelsea's mechanical issues were holding him back, and the two began working on their upcoming partnership for the 2017 season.
Before we knew it, the 2017 RTR Motorsports Formula Drift Team of Vaughn Gittin Jr. and Chelsea DeNofa was born.
Joining the RTR team not only meant that he would finally have a reliable car but also that he would receive the experience that comes with joining one of the longest-running teams in FD.
With his former program, he was required to carry out most of the work on the car and look after the business and logistics that came with the complications of participating in a major motorsports series.
These complications took their toll, which meant less seat time than ever while dealing with the various issues.
Becoming part of a tried-and-tested team with a proven reliable, competitive setup meant that he could finally focus on getting behind the wheel and doing what Chelsea does best - pushing his car to the limit!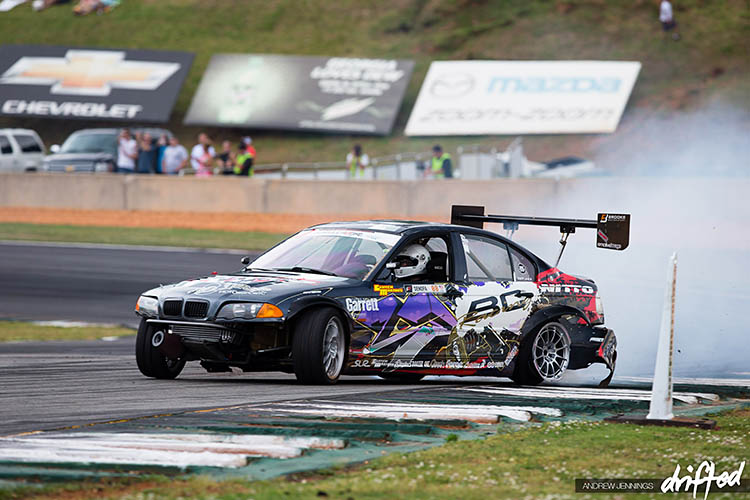 The positive impacts of this were immediately apparent, and after getting to grips with the car, Chelsea once again earned the "Hardest Charging Driver" award in the 2018 season.
He also earned a second-place finish at St. Louis and a third-place at Irwindale in the 2018 season, alongside picking up awards.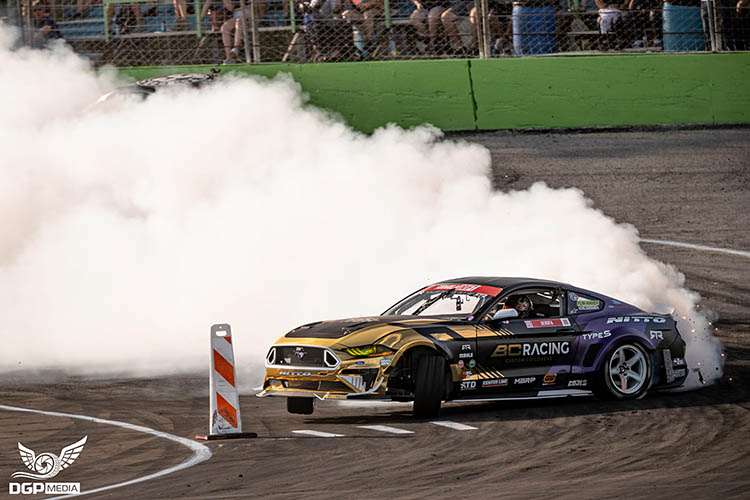 For 2019, he captured the "Best Drifting Style" award and took his second-ever win at Texas.
In the 2020 season, he was once again awarded "Hardest Charging Driver", alongside taking the win in St. Louis.
His most impressive success to date came after finishing 2nd place overall in the 2020 Formula Drift rankings. His fellow RTR driver Vaughn Gittin Jr landed the top spot, sealing the ultimate season for the RTR team.
During one of his most memorable events yet, he stood out head and shoulders above the competition to capture the win at Orlando for Round 2 of the 2021 season.
The future for Chelsea and the RTR team is certainly looking exciting!
Despite his Formula Drift success, Chelsea never forgets his humble beginnings, and he's known for frequently attending grassroots drift events to rub doors with drifting enthusiasts across the globe.
---
Chelsea DeNofa's Cars & Builds
Let's face it, we all know which car the Drifting fans will be most interested in, so let's get started.
Ford Mustang RTR
The incredible wheelie-popping Mustang RTR should need no introduction, so we'll once again remind you of its capabilities with this video.
After several unsuccessful seasons with just about every issue imaginable on his 3-Series BMWs, Chelsea opted to join Vaughn Gittin Jr's RTR Motorsports team in 2017.
Known for their wheelie-popping antics, the highly refined Mustangs have proven their capabilities in recent years, and given Chelsea and Vaughn's recent success, it's safe to say that they appear to have found the winning recipe!
Chelsea stated that the Mustang is far easier to drive than the previous BMWs, especially when you want to pick up speed.
He also stated that it almost feels like driving the BMW on "easy mode", despite feeling remarkably similar to the BMW, making it easy to adapt to the new chassis.
Check out this video of him clocking 154.66mph sideways!
If you're keen to get behind the wheel of Chelsea's RTR Mustang, it comes fully licensed in Forza Horizon 4, Forza Motorsport 7, and Torque Drift.
There are also mods to download here for those who prefer Assetto Corsa.
BMW 3-Series E36/E46
Many will know Chelsea for his early E36 and E46 builds, such as the "Stancer Dancer", which he ended up giving away to fans of his YouTube channel.
Between himself and his drift school, they've certainly had their fair share of 3-Series' over the years!
Keen DeNofa fans will also be familiar with his S54 M3-swapped 3-Series compact 318ti.
Although it was his E36 builds that fueled his early successes, he later transitioned to the E46 chassis, and you certainly knew you were in for a treat when you saw him warming up the tires.
Mazda RX8
Fans that have been following DeNofa since his early days will also remember his Mazda 20B-powered RX8.
Mazda Miata
As well as his competition cars, many of you probably won't know that he recently built a turbocharged Miata!
Amusingly, Chelsea ended up buying his grandma's car before whacking on a turbocharger, creating what he thinks a Miata should be – fun to drive, reliable, comfy, and fast.
Toyota JZX100
Not quite so well-known is the JZX100 missile car that he shreds at Ebisu. Check out this epic footage of 120 mph entries, drift trains, and door-rubbing tandems with drivers such as Charles NG, Robbie Nishida, and many more.
---
What's Next for Chelsea DeNofa?
With his recent events being some of his most impressive yet, we're expecting huge things from Chelsea and the RTR team in the upcoming seasons.
Being one of the youngest old-school drivers in the FD roster, there's still plenty of years behind the wheel left to continue progressing and capturing podiums.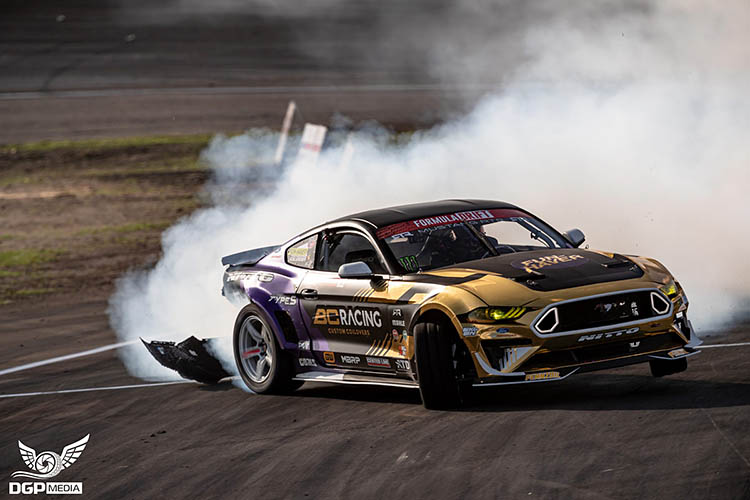 Having landed second behind his teammate, Vaughn Gittin Jr. last season, will 2021 finally provide the chance to land his first ever FD title?
One thing is for sure; we've got no doubt that he'll continue to keep drifting fun!
If you're keen to show your support for Chelsea, you can purchase his official merchandise over at the Fun Haver website.
We also highly recommend following his YouTube channel, where he not only shows what he's been up to but provides some of the best free tuition for aspiring drifters.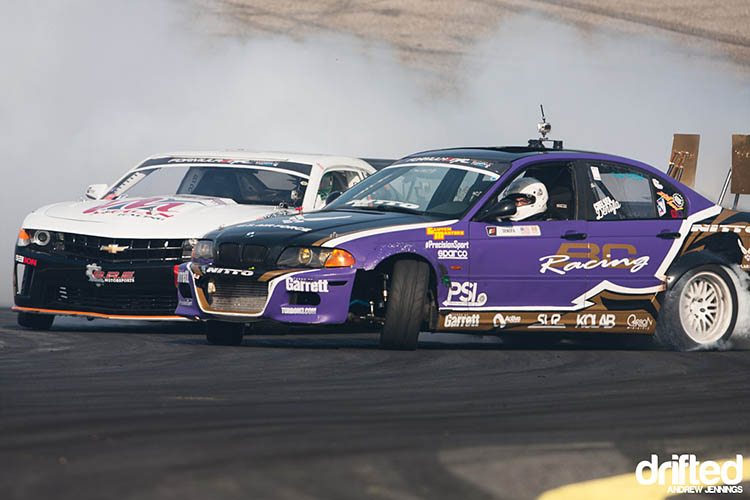 He's also active on Instagram and Twitter for those that wish to follow Chelsea on social media.
So, there we have it! We hope that we've covered everything you could want to know about Chelsea DeNofa in this guide.
Thank you for reading our Chelsea DeNofa guide.
If you enjoyed this article, please share it with the buttons at the bottom of your screen. If you've found this information useful, then please take a moment to share it with other Chelsea DeNofa, and Formula Drift enthusiasts. We appreciate your support.
---
Photography credits
We thank the following entities for the use of their photography in this article: