Ultimate Assetto Corsa Content Manager Guide
Content Manager unleashes the true potential that Assetto Corsa has to offer. In this guide, we'll explain everything you need to know.
---
Introduction
We've invested a shameful amount of hours playing just about every drifting simulator ever created, and we feel that Assetto Corsa provides the perfect package when it comes to drifting.
Although some gamers will disagree, instead insisting that the likes of Forza Horizon or rFactor are superior, there's a reason that so many real-world professional drifters have chosen AC as their platform of choice for getting seat time during the COVID-19 pandemic.
We won't argue that Forza Horizon is perfect for a chilled-out evening with the homies.
However, there's nothing quite like getting behind the wheel of your racing rig before strapping on the completely unnecessary harnesses, pointlessly putting on your racing shoes, and sliding on your racing gloves in preparation for tandems and battles. (Just us, then? Awkward!)
With the majority of the world currently unable to compete at events, or perhaps even legally allowed to leave your house, sim racing provides the perfect opportunity to bring the track into the comforts of your home, whether you're a drifting or racing fan.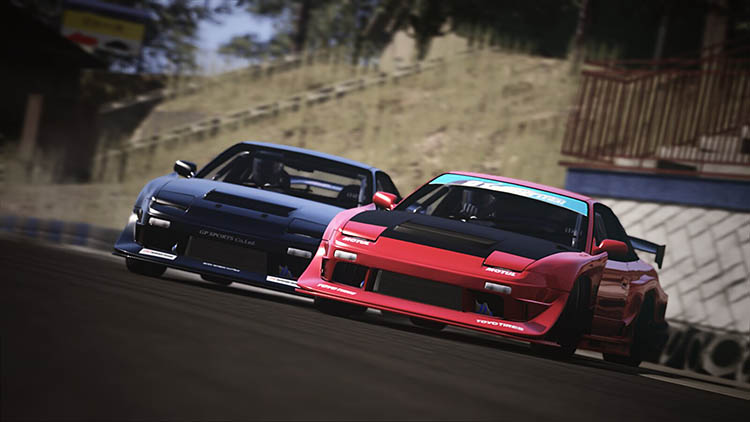 Once you get started with AC, one of the first things you'll undoubtedly be doing is installing mods into the game.
Mods are third-party add-ons created by various online communities, which bring an incredible amount of additional content to the game.
Thankfully, this means you'll be able to drive just about every car you've ever dreamed of at just about every worthwhile drift location in the world.
When it comes to AC mods, drifting fans will be spoiled for selection!
If you've ever thought to yourself, "Damn, I wish they included [insert track or car here] in the game"? We're willing to bet that mods have got you covered.
So, if you're planning to throw down Naoki Nakamura's PS13, or Daigo Saito's JZX100 over the jump at Ebisu Minami with no consequences, Assetto Corsa's mods will have the perfect solution, in all its VR-ready glory.
But, what does all this have to do with Content Manager?
Content Manager provides the perfect all-in-one solution for keeping all of your Assetto Corsa mods in one place, with a convenient, user-friendly interface.
---
Do You Need Content Manager?
CM is an alternative launcher to the original game, which provides an enormous number of additional options and extended functionalities.
Content Manager still has plenty to offer for those who are happy with what the game provides in stock form and aren't interested in modding, thanks to many additional elements such as graphics enhancements.
However, since you're on Drifted, we're going to guess that you're into modding - and this is where both Assetto Corsa and CM come to life.
Although CM isn't vital, it's highly recommended to get the most out of Assetto Corsa.
---
Content Manager Requirements & Features
Once you've installed Content Manager, the chances are that you'll barely scratch the surface of what this launcher is truly capable of – however, it's still incredibly convenient to have, even if you're only looking for a practical way to store your mods.
Believe us when we say that your growing list of mods will soon get out of hand, which becomes a bit messy in the traditional game.
Information from the official website and ACStuff.
System Requirements
Installed Assetto Corsa
Windows Vista, 7, 8, 8.1 or 10
.NET 4.5.2
Visual C++ Redistributable 2015 (x86)
DirectX Runtime June 2010
DirectX 10/11 for 3D-related functions
Content Manager Features
Quick drive & career mode
Online mode: Favorite and hidden servers, player tagging, missing content download
Real conditions
Integrated RSR Live Timing, SRS and World Sim Series
Flexible filters
Content rating, driving statistics, best times from various sources
Race results history
Custom Showroom with various effects and features
Ambient shadow updating
Livery plates generation with fully customizable rules
Car setups, Quick Drive, controls presets and replays sharing
Extra commands to bind to joysticks, such as un-pause or go-to-pits, plus hardware steering lock option for some devices
Support for Custom Shaders Patch: auto-install, auto-update, UI for settings
Management for cars, car skins, showrooms, fonts, weathers and other types of content
Repair tool for obsolete car mods or mods with common errors
Content installation, built-in web-browser to find and quickly install new mods
Car previews updating, using either Custom Showroom or AC Showroom
Livery editor
Weather editor
---
How to Download Content Manager
Firstly, you'll want to make sure you have the original Assetto Corsa game installed.
Unfortunately, Xbox and Playstation gamers won't be able to take advantage of what Content Manager offers, as mods are only available on the PC platform.
If you scroll down to the bottom of the Content Manager website, you'll find the 'Direct download' and an alternative option to download from their Google Drive.
Is Content Manager free?
Although they have a 'Lite' version, Content Manager relies on donations of any amount, and we feel that the developers deserve every cent.
While you could donate as little as $1 to support the hard-working developers that have brought this fantastic software to us, we prefer to be generous to assist with future development.
Once you've donated, you'll receive an email with your unique app key - this will unlock the full version.
We don't know the developers, nor do we make a single dime from them. We're only interested in helping drifting fans make the most of their AC experience.
---
How to Install Content Manager
We'll provide a written guide, but if you prefer to watch in video format, then check out the excellent Content Manager installation video from HokiHoshi below.
Once you've downloaded the file from the CM website, you'll need to use your favorite ZIP software (we recommend WinRAR) and extract both the 'Content Manager.exe' and 'Manifest.json' files to a folder of your choice - we used a newly created 'Content Folder' manager in the desktop.
In the 'Assetto Corsa root folder:' box, check that it's found the correct directory for your Assetto Corsa installation. If it's wrong, click 'Change' and choose the valid directory.
With 'Your Steam ID for online:' we would expect this to fill automatically, but you can click the drop-down box or 'Change' if necessary.
The rest of the choices are self-explanatory, and the plugins are optional, and we didn't feel the need to install any of these.
However, we recommend installing both Custom Shaders Patch (CSP) and Sol, which we'll cover next.
Custom Shaders Patch
Custom Shaders Patch is another worthwhile addition and provides many visual upgrades to the game. The best part? It's completely free!
Alongside the dynamic weather, our favorite feature of the patch is the 'Particles FX' add-on which provides fantastic smoke-effects for drifting compared to AC.
Custom Shaders features
Weather FX: fully scriptable dynamic weather engine
Dynamic lights as part of Lighting FX
Particles FX (smoke, sparks, grass)
Various physics extensions
Optimizations and fixes
Car extensions: reverse lights, turning signals, working odometers and more
How to Install Custom Shaders Patch
With Content Manager installed, head to 'Settings' and then click 'Custom Shaders Patch', which will provide you with an option to install.
Alternatively, you can download manually from the ACStuff website. Click the highlighted 'recommended version' to begin the download.
When the ZIP file has been downloaded, you can drop this directly into Content Manager, and you'll notice by clicking on the 'Sandwich' button (three lines) at the top of the CM app that it's ready to install.
Once installed, you can click the 'CUSTOM SHADERS PATCH' button at the top of the CM app to view the wide range of settings.
From here, you can choose from the available versions, and we recommend going with the latest one. Once clicked, this will begin downloading. If you happen to have any issues, you can always 'Reinstall current version' or 'Delete patch' before trying another.
If you're keen to gain a comprehensive understanding of how to make the most of all the features that Custom Shaders Patch has to offer, this is the perfect video for you:
How to Install Sol
Alongside Custom Shaders Patch, we recommend installing 'Sol', which you can download within the donated premium version of CM or from Race Department if you prefer to do so manually.
Sol (or 'Sun' in Portuguese) is a fantastic dynamic weather and lighting system for AC and works perfectly alongside the Custom Shaders Patch.
At this point, you should have now installed the following recommended upgrades to get the most out of your Assetto Corsa experience:
Content Manager
Custom Shaders Patch (CSP)
Sol
On top of these visual upgrades, we also recommend checking out the following add-ons:
The LUT Generator provides improved force feedback to your steering wheel set up by checking the motor in the wheel to ensure that it's providing the force feedback correctly.
For those of you that are suffering from wheel issues, it'll most likely resolve them, especially for G29/G920 users.
If you feel there's no issue with you're setup, we're still confident that it'll significantly improve your wheel experience, and the change is entirely reversible if you decide it's not for you.
Keen to try the LUT generator? We recommend this installation guide:
Although this isn't essential, it'll likely improve your wheel experience on models such as the Logitech G29/G920.
It will display how much FFB your wheels' motor is applying, allowing you to change the settings so that you don't experience 'clipping', which is similar to lowering audio levels to ensure they don't max out.
If you're looking to install both, make sure you check out this helpful guide:
---
Install Mods Using Content Manager
Welcome to the moment you've been waiting for - it's time to download your dream cars and tracks!
We'll warn you now, you're going to have a tough time choosing which cars you want, and we can pretty much guarantee you'll have more vehicles than you know what to do in no time.
For that reason, we recommend keeping things simple and downloading car packs one-by-one to see whether they work for you.
This way, it'll keep things exciting and save you from getting overwhelmed, where you're likely to forget half the cars you like and completely forget to try out the other half.
Finding the Perfect Mods
We weren't kidding when we said that there's a wide range to choose from, which is why we've created an entirely separate guide to help you find your ideal drift car.
So, make sure you head over to our Best Assetto Corsa Drift Car guide for all the information you need to know.
For the ultimate list of third-party cars and tracks cars, you'll need to check out this incredible spreadsheet from Assettocorsadrifting.com.
This Google Sheet gets continually updated with all the latest tracks, cars, guides, and add-ons you could ever need.
Make sure you bookmark this, or save it in your Google Drive, as we feel it's the ultimate AC mods resource, and best of all – it's completely free!
Importing Mods into Content Manager
Once you've downloaded the zip file containing the cars and tracks that you wish to import, this is where Content Manager makes it far more manageable than using the traditional manual method.
All you need to do is navigate to the folder containing your ZIP file and then drag and drop it into the Content Manager window.
Thankfully, you're able to drag and drop large packs, too, if you wanted to install multiple mods at once.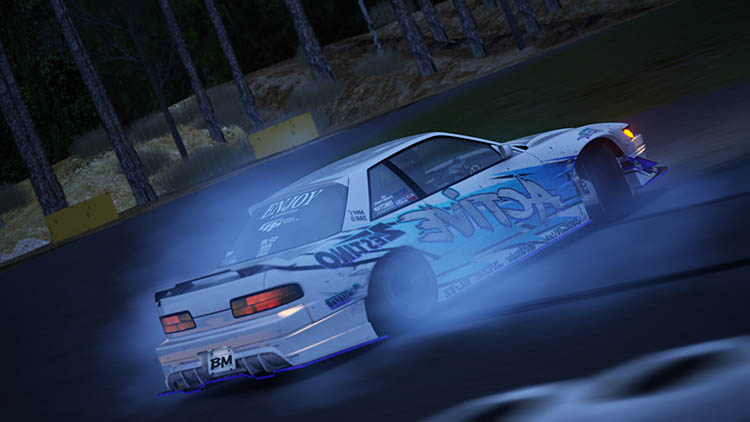 Once dropped, click the 'Sandwich' icon (three lines) at the top, and you'll see 'Downloads:' at the bottom, containing the car(s) or track(s) that you've just imported.
At this point, you'll need to click 'Install', where you'll then see CM doing its job of extracting the files.
When complete, you'll receive a notification that the mod has been 'Successfully installed'.
You can then navigate to the cars, or tracks within CM, depending on what you opted for, and it'll now show up in the list for you to choose.
Thankfully, it is that simple!
---
Content Manager Presets
Another bonus that many overlook with Content Manager is that it allows you to create custom presets in Assetto Corsa for just about every purpose imaginable.
Presets can be a huge timesaver and can be applied automatically for a wide variety of tasks.
Here are some that we've integrated:
Creating a controller settings preset
These steps will allow you to update or create a new controller preset in Content Manager
Open Content Manager
Go to 'Settings > Assetto Corsa > Controls'
Change settings as required, or choose an existing setup
Click the 'Save preset' button in the bottom right
Choose a name for the preset
Click 'Save'
Creating a copy of an existing controller settings preset
These steps will allow you to create a copy (or backup) of your current controller settings preset in Content Manager
Open Content Manager
Go to 'Settings > Assetto Corsa > Controls'
Choose the preset you wish to copy from the drop-down list
Click 'Save preset' at the bottom
Choose a different name, and click 'Save preset'
You can now make additional changes without adjusting the original preset
Assign controls to a specific car
These steps will allow you to assign controls to a specific car in Content Manager
Open Content Manager
Click 'Drive' from the upper menu
Choose the car you wish to save custom controls for
Tick the 'Car-specific controls' box
Creating a video settings preset
These steps will allow you to create a custom video settings preset in Content Manager
Open Content Manager
Go to 'Settings > Assetto Corsa > Video'
Make your required adjustments
Click 'Save preset' at the bottom
Name the preset, and then hit 'Save'
Creating a copy of an existing video settings preset
These steps will allow you to create a copy (or backup) of your current video settings preset in Content Manager
Open Content Manager
Go to 'Settings > Assetto Corsa > Video'
Choose the preset you wish to copy from the drop-down list
Click 'Save preset' at the bottom
Choose a different name, and click 'Save preset'
You can now make additional changes without adjusting the original preset
If you're looking for an in-depth guide on creating your own custom presets, this video will provide all the answers you'll need:
---
Conclusion
Content Manager isn't a vital necessity for Assetto Corsa, but it does provide many features and conveniences that offer a much-improved experience over the original game.
Whether you're looking to improve, or fine-tweak the game, create custom presets, or looking for an improved way of going through your ever-growing car and track collections, Content Manager will undoubtedly provide everything you could need.
If you're looking to get the most out of what Assetto Corsa has to offer, we highly recommend opting for a VR setup, which provides a mind-blowing, fully-immersive perspective to the game:
We hope that this guide has provided all the answers you were looking for regarding Assetto Corsa's Content Manager. If you feel we've missed anything, then feel free to drop us a line.
Thank you for reading our Assetto Corsa Content Manager guide.
If you enjoyed this article, please share it with the buttons at the bottom of your screen. If you've found this information useful, then please take a moment to share it with other Assetto Corsa and sim racing enthusiasts. We appreciate your support.
---
Photography credits
We thank the following entities for the use of their photography in this article: