Best Assetto Corsa Drift Car Guide
Assetto Corsa is arguably the best drifting simulator out there. We show you how to find the ultimate Assetto Corsa drift car packs, from beginner to pro.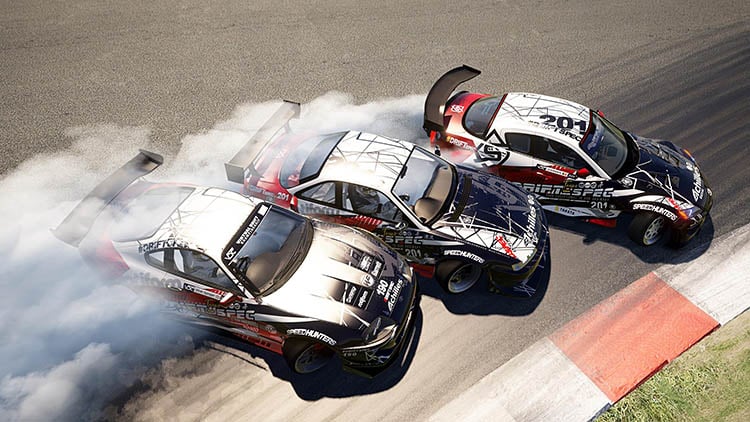 ---
Introduction
Assetto Corsa has repeatedly proven to be the ultimate simulator for virtual drifting.
Although some gamers will disagree, instead insisting that rFactor or Forza Horizon are superior, there's a reason that so many professional drifters have chosen AC as their platform of choice for getting seat time during the COVID-19 pandemic.
We thoroughly enjoy arcade-style drifting games, such as Forza Horizon, for a chilled-out evening in front of the TV.
However, there's nothing quite like stepping into your sim rig, strapping on unnecessary harnesses, pointlessly putting on your racing shoes, and sliding on your racing gloves.
When you're unable to compete at events, or maybe you're not even legally allowed to leave the house, sim racing provides the perfect opportunity to bring the race track into the comforts of your home.
Not only is Assetto Corsa the most realistic simulator out there, but it also has the most impressive online mod community.
Thankfully, this means you'll be able to drive almost every car you've ever dreamed of at just about every worthwhile drift location in the world.
Want to throw Naoki Nakamura's PS13, or Daigo Saito's JZX100 over the jump at Ebisu Minami with no consequences? AC has got you covered.
Whether you want to explore the ultimate racetracks, such as Meihan or Nikko, or head to the retired, much-loved Forza Motorsport track, Fujimi Kaido, anything is possible.
---
Assetto Corsa on PC/Windows vs Xbox/PlayStation
For those of you hoping to enjoy the best of what Assetto Corsa offers on the Xbox or PlayStation consoles, we're afraid you'll likely be left disappointed.
Since you can't install mods onto consoles, you'll struggle to even scrape the surface with achieving Assetto Corsa's true potential unless you move over to the PC platform.
Although it may be disappointing to some, PC gaming is superior in just about every way and even provides the chance to enjoy free online games such as Madalin Stunt Cars 3. So, once you've taken the initial plunge, it'll undoubtedly be worthwhile in the long run.
The Ultimate VR Sim Drifting Experience
To experience the best of what Assetto Corsa offers, you'll want to invest in a Virtual Reality (VR) headset, providing the closest thing you can achieve to the real-world experience.
For those of you who have yet to dive into the VR realm, we promise it's an absolute game-changer.
Check out this video to see what VR has to offer when it comes to drifting in Assetto Corsa:
Our recommended headsets for VR gaming are the Oculus Rift S, and the ultimate choice – the Oculus Quest 2.
VR provides a true testament to just how far PC simulator gaming progressed over the years, and it's mind-blowing once you experience it in person.
---
Assetto Corsa PC System Requirements
As we mentioned in our introduction, we ONLY recommend playing Assetto Corsa on the PC/Windows platform due to the lack of modification support on the Xbox/PlayStation consoles.
Thankfully, the required specs aren't too extreme, so your family PC may be up to the task already. However, should you need to upgrade, you'll want to check out our GPU guide.
Although you'll be able to run the game on the minimum specs comfortably, you won't achieve the ultra HD effects you're likely to see from the popular YouTube videos.
Minimum System Requirements:
Operating System: Windows 7 SP1, 8, 8.1, 10
Processor: AMD Athlon X2 2.8 GHZ, Intel Core 2 Duo 2.4 GHZ
Memory: 2 GB RAM
Graphics: DirectX 10.1 (e.g., AMD Radeon HD 6450, Nvidia GeForce GT 460)
DirectX: Version 11
Network: Broadband Internet connection
Storage: 15 GB available space
Sound Card: Integrated
Recommended System Requirements:
Operating System: Windows 7 SP1, 8, 8.1, 10
Processor: AMD Six-Core CPU, Intel Quad-Core CPU
Memory: 6 GB RAM
Graphics: DirectX 11 (e.g., AMD Radeon 290x, Nvidia GeForce GTX 970)
DirectX: Version 11
Network: Broadband Internet connection
Storage: 30 GB available space
Sound Card: Integrated
---
What is Assetto Corsa?
Assetto Corsa provides the ultimate simulator gaming experience for those looking to learn how to throw your car down sideways without the inconveniences of real-world drifting.
Thankfully, with a sim rig, you won't have to deal with repairing your drift car every weekend or the associated time and expense that come along with it.
Here's the official Steam description for Assetto Corsa:
"Assetto Corsa features an advanced DirectX 11 graphics engine that recreates an immersive environment, dynamic lighting, and realistic materials and surfaces. The advanced physics engine is being designed to provide a very realistic driving experience, including features and aspects of real cars, never seen on any other racing simulator such as tyre flat spots, heat cycles including graining and blistering, very advanced aerodynamic simulation with active movable aerodynamics parts controlled in real time by telemetry input channels, hybrid systems with kers and energy recovery simulation. Extremely detailed with single player and multiplayer options, exclusive licensed cars reproduced with the best accuracy possible, thanks to the official cooperation of Car Manufacturers".
"ASSETTO CORSA has been developed at the KUNOS Simulazioni R&D office, located just inside the international racing circuit of Vallelunga, allowing the team to develop the game with the co-operation of real-world racing drivers and racing teams".
---
Drifting in Assetto Corsa - Getting Started
Once you've got AC installed on your PC, you're ready to dive into the immersive world of Assetto Corsa mods as you prepare to find the ultimate drift car.
But, before you get ahead of yourself and end up punching the wheel out of frustration when you realize that sim gaming is a little harder than you anticipated initially, we recommend getting to grips with the basics.
Although sim drifting is incredibly realistic, the most significant difference is missing the 'feel' of what the car is doing for those transitioning from a real drift car.
Without feeling the traction to the road, or the weight transfer through the corners, it may be a struggle initially to adapt to using the cockpit view, but persistence pays off, and once you've put in a few hours, it'll all begin to make sense.
Learning to Drift
If you're entirely new to drifting, then you'll learn the basics before you begin hunting down the best drift cars in the game.
Although we understand it's impossible for everyone, we highly recommend purchasing even a basic wheel and pedal setup.
Two popular budget options are the Logitech G920 and the Thrustmaster TMX.
If you're looking for something better, then the Thrustmaster T300, along with the Thrustmaster e-brake and shifter is a fantastic choice.
When it comes to getting behind the wheel, our advice would be to keep things as simple as possible and begin with a low-powered rear-wheel-drive car, such as the Assetto Corsa in-game 'BMW M3 E30 Drift' setup, to learn the basics.
Here's an excellent tutorial to get you started:
If you prefer reading rather than watching videos, our How to Drift article will guide you through each process step, explaining the basics, before moving on to various advanced techniques.
It can be easy to want to hop into the most advanced drift cars immediately, but we assure you that it'll end with frustration unless you've already mastered the basics.
Even if you're a pro in the real world, you'll still want to adapt to sim racing, and starting from the ground up will provide the perfect opportunity to prove you've learned how the virtual cars handle.
Installing the Necessary Mods
Before we start installing the best cars in the game, you'll need to check out this incredible spreadsheet from Assettocorsadrifting.
You'll want to bookmark this right away, as it will be the most valuable asset when it comes to finding any mods imaginable when it comes to drifting in Assetto Corsa.
Head to the 'Guide' tab, and check out the various links within the 'First things you need to do' section.
You'll need to install the following:
Custom Shaders Patch (Free)
SOL – Night Drifting Mod (Free)
There are also additional guides in Section 1 for advanced hardware and wheel setups.
If you're keen to learn even more about the art of drifting, then there's plenty of awesome content in sections '2 – Learn to drift' and '3 – Advanced stuff' to keep you busy.
Importing Car Mods into Assetto Corsa
Content Manager is the most convenient way to import cars and other mods into the game, and they've done a fantastic job of creating it.
They request donations for the full version, but you can donate whatever you want, and we feel they've earned it with this brilliant tool.
However, you can also do it manually if you prefer.
This useful guide will walk you through the process, but we've also written it below for those who prefer to read the instructions.
Locate the installation folder for Assetto Corsa, which is likely to be along the lines of C:\Program Files (x86)\Steam\SteamApps\common\assettocorsa
Within this folder, navigate to the "content" folder. Any add-on mod content you download will be going in here. Car mods go in the 'Cars' folder, tracks go into the 'Tracks' folder, etc. We recommend frequently backing up your content here in case you run into any further issues.
Assuming your installation folder is as above, you'll want to drop the folder for your downloaded car(s) into the following location: C:\Program Files (x86)\Steam\SteamApps\common\assettocorsa\content\cars
Once loaded, you'll be ready to enjoy your new whip(s). If the car(s) are not showing up initially, try restarting the game. If that still doesn't work, ensure you've placed the files into the correct folder.
If you're still stuck, most car mods will include a readme.txt file; if you open that, it'll often provide additional instructions.
There are plenty of helpful Reddit posts and YouTube tutorials to walk you through any issues you might encounter. It's a straightforward process once you get the hang of it.
---
Best Assetto Corsa Drift Cars
If you're new to drifting or Assetto Corsa, we don't recommend diving in at the deep end by installing the best drift cars immediately.
We're hoping by now you've already gained plenty of sim-drifting knowledge and also had plenty of seat time in a low-powered drift setup to get to grips with how the cars handle in Assetto Corsa. If not, we've covered everything to get you started in the above sections.
Now that we've also shown you how to import cars and various other mods into the game, it's time to look at the ultimate drift cars for you to choose from in Assetto Corsa.
We'll start by stating that there's no 'one size fits all' solution for finding the perfect drift car in AC. We all have different styles and levels of experience.
Although one car might feel perfect to a pro drifter, those just getting started with drifting will probably find themselves spinning out in every corner.
Practice certainly pays off when it comes to AC, and although it can feel frustrating, it's well worth the reward once you've mastered it.
Many drifters have begun their careers with Assetto, and they could comfortably drift as soon as they got behind the wheel of a real-world drift car.
Best Assetto Corsa Beginner Car Packs
Although many experienced drivers in Assetto Corsa wouldn't typically go for these packs, we've found them to be a great introduction to transitioning to higher-powered cars within the game. However, they're a little more 'arcade-style' than the more serious cars.
They're easy to handle and consistent since they share the same setup. The positive of this is you'll feel like you've mastered the game pretty quickly as you'll soon be banging into your buddy's door on the online lobbies.
DTP Car Pack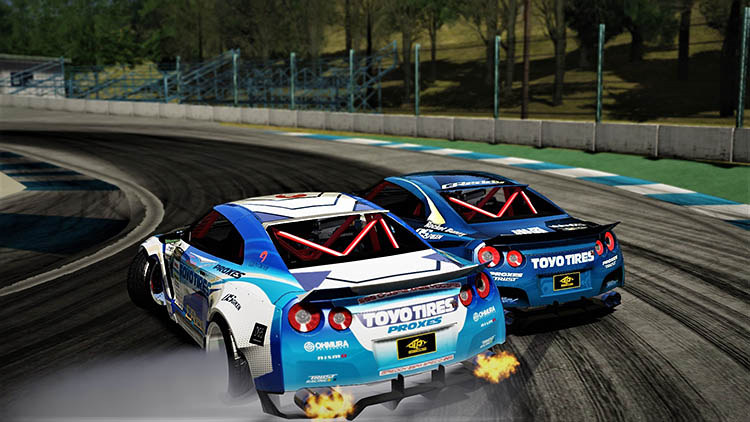 Preview:
Cars:
BMW 1M
BMW 1M No Hood
BMW E92 Liberty Walk
Dodge Challenger SRT8
Mazda RX7 FC 13B
Mazda RX7 FC LS7 Turbo
Mazda RX7 FD3S RB
Mazda RX7 GLS
Nissan 350Z Rocket Bunny
Nissan 370Z Pandem
Nissan R32 GT-RB
Nissan R35 GT-RB
Nissan Silvia S13 Missile
Nissan Silvia S13 Missile Streetcar
Nissan Silvia S13.4
Nissan Silvia S14 Zenki 326
Nissan Silvia S14 Zenki Missile
Nissan Skyline HCR32
Toyota AE86 Trueno Street
Toyota Aristo
Toyota GT86 V8
Toyota GT86 V8 No Hood
Toyota JZX100 Mark2
Toyota JZX110 Mark2
Toyota Supra 2JZ
---
Tando Buddies Car Pack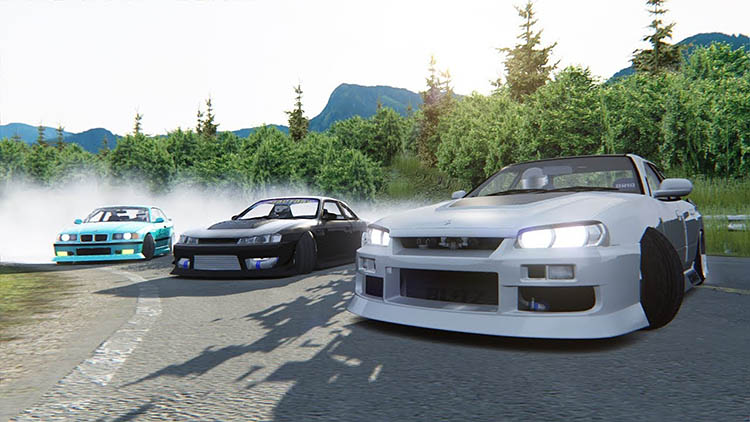 Download links: Original pack
Preview:
Cars:
Nissan 180SX
BMW 328i
Nissan 350Z Rocket Bunny
Toyota Cresta
Toyota JZX100
Nissan Laurel
Nissan S14
Nissan S14 Zenki Stock Hood
Nissan S15 Spec-R
Nissan Z32
---
Best Assetto Corsa Intermediate/Advanced Drift Car Packs
Once you feel you've mastered what the DTP and Tando Buddies car packs offer, you're likely to want more of a challenge, which is where these packs will provide the perfect opportunities for progression.
If you get good enough to consider competing in the various online sim racing leagues, then these are the cars you'll want to learn to master.
Although there's a vast selection of cars out there, we recommend settling for your ideal/dream drift car and then learning how to master it.
DCGP 2021 Car Pack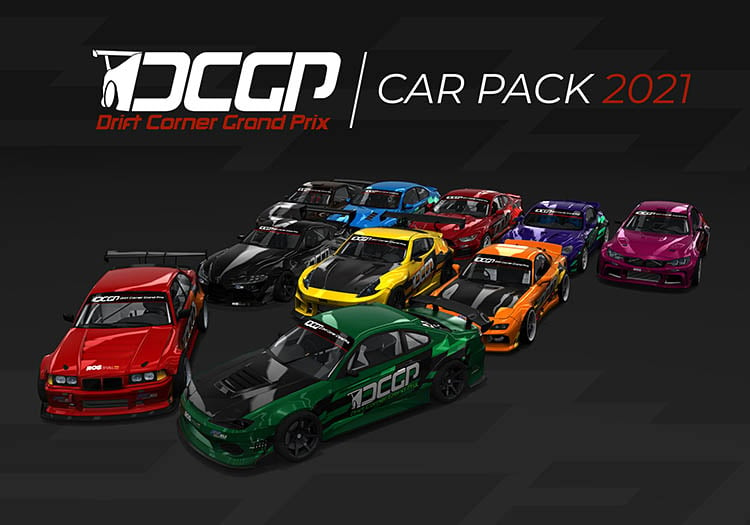 Preview:
Cars:
BMW E36
BMW E92 Eurofighter
BMW F82 Predator
Ford Mustang
Mazda RX7 FD
Missan 180SX
Nissan 370Z
Nissan Silvia S15
Toyota GT86
Toyota Supra
---
World Drift Tour (WDT) Car Pack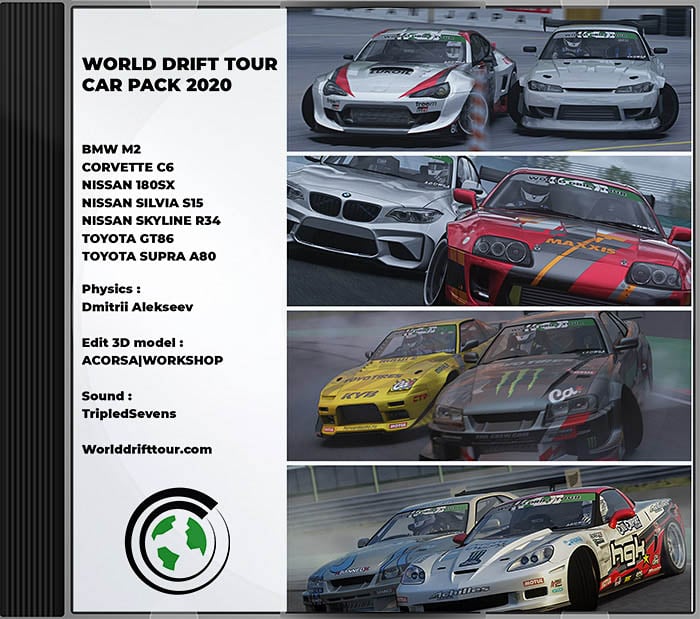 Download from the official website
Preview:
Cars:
BMW M2
Corvette C6
Nissan 180SX
Nissan Silvia S15
Nissan Skyline R34
Toyota GT86
Toyota Supra A80
---
World Drift Tour Street (WDTS) Car Pack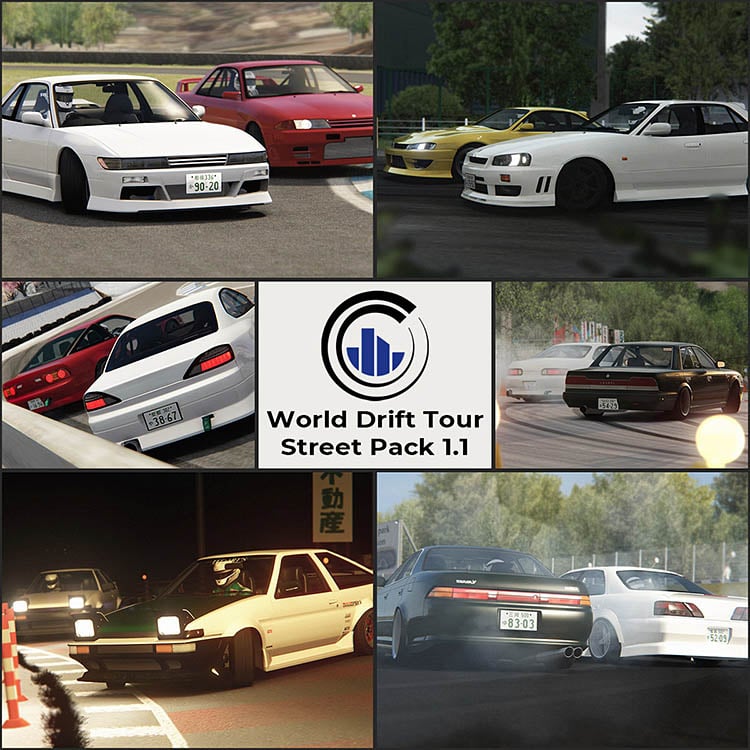 Download from the official website
Preview:
Cars:
Nissan 180SX
Nissan Laurel C33
Nissan Silvia S13
Nissan Silvia S14
Nissan Silvia S15
Nissan Skyline HR34
Nissan Skyline R32
Toyota AE86
Toyota Cresta
Toyota Mark II JZX90
---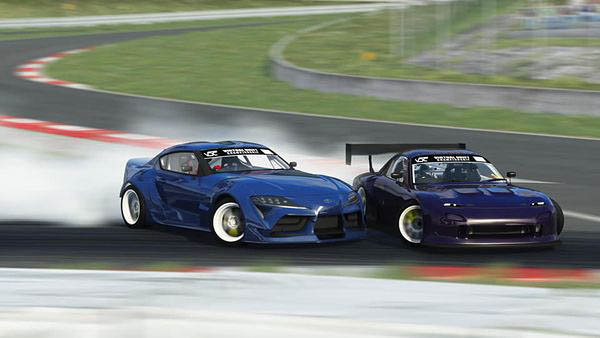 Preview:
Cars:
VDC BMW F22 M2 Eurofighter Public 2.0
VDC Chevrolet Corvette C6 Public 2.0
VDC Mazda RX-7 FD3S 20B Public 2.0
VDC Nissan GT-R DAMD Public 2.0
VDC Nissan Silvia PS13 Public 2.0
VDC Nissan Silvia RPS13 Public 2.0
VDC Toyota Supra A90 Public 2.0
---
Drift Workshop (DW) Street Car Pack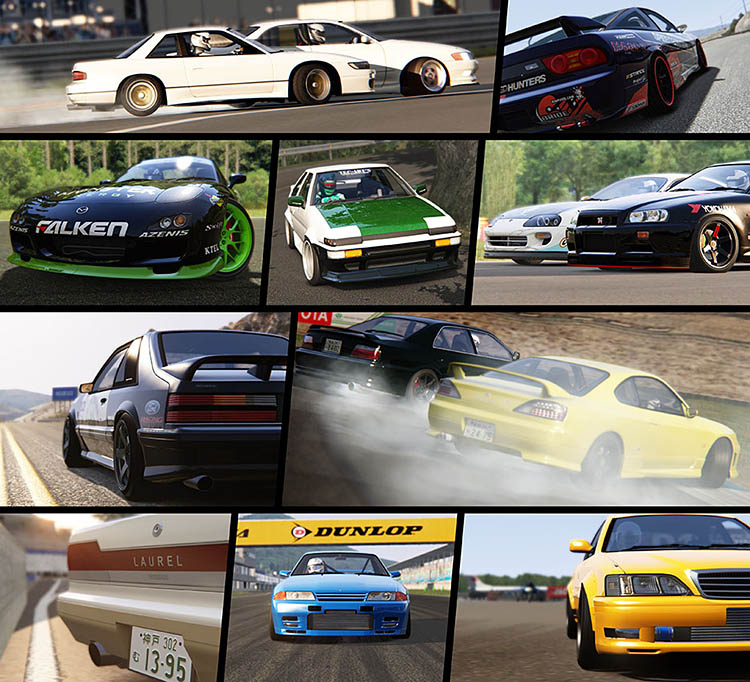 Preview:
Cars:
Nissan 180SX Type-X
Nissan Sileighty
Nissan Silvia S13
Nissan Silvia S15
Nissan Laurel C33
Nissan Skyline R32
Nissan Skyline R34
Toyota AE86
Toyota Mark II JZX90
Toyota Chaser JZX100
Toyota Cresta JZX100
Toyota Supra MKIV
Mazda RX-7 FD
Ford Mustang Fox Body
---
Street Heroes Car Pack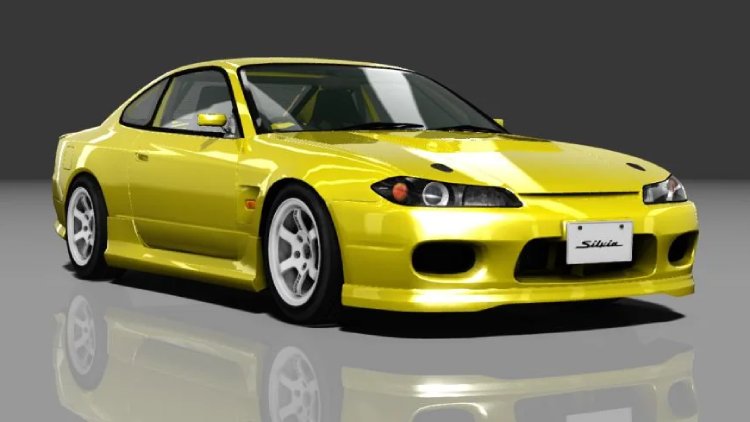 Download on Reddit:
Part 1
Part 2
Part 3
Preview:
Cars:
Street Heroes Nissan 180SX RPS13 '96 N/A
Street Heroes Nissan 180SX RPS13 Spec '90
Street Heroes Nissan 180SX RPS13 Spec '90 s1
Street Heroes Nissan 180SX RPS13 Spec '90 s2
Street Heroes Nissan 180SX S13 '96 N/A No Hood
Street Heroes Nissan 180SX RPS13 GP Sports S1
Street Heroes Nissan SILVIA spec-R (S15) Street
Street Heroes Nissan SILVIA spec-R (S15) Street S1
Street Heroes Nissan SILVIA spec-R (S15) Street S2
Street Heroes Nissan SILVIA spec-S (S15) Bakatina
Street Heroes Nissan SILVIA spec-S (S15) Bakatina S1
Street Heroes Nissan SILVIA spec-S (S15) Bakatina S2
Street Heroes Nissan SKYLINE GT Sedan (HR34)
Street Heroes Nissan SKYLINE URAS Street (ER34)
Street Heroes Nissan SKYLINE URAS Type-GT (ER34)
Street Heroes 日産 シルビア 246 Club (S15) '07
---
Clutch Gang Street Car Pack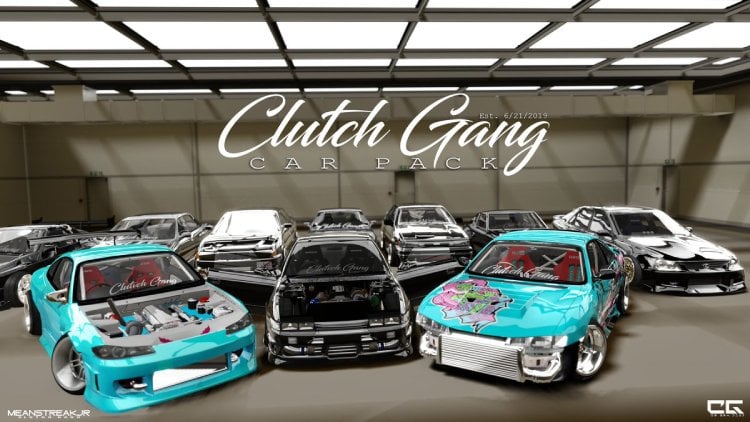 Preview:
Cars:
Nissan 350Z
Toyota AE86
Toyota AE86 Hatch
Mazda RX7 FD
Toyota GT86
Lexus IS300
Nissan 180SX
Nissan Onevia
Nissan Skyline R32
Nissan S13 Basher
Nissan S13 Missile
Nissan S14 Missile
Lexus SC300
Nissan Sil80
Mazda Miata
BMW E36
---
Conclusion
We've provided a comprehensive list of drift cars that'll undoubtedly provide the perfect solution for your drifting needs, regardless of your skill level.
We highly recommend getting started with the beginner cars before considering moving on to one of the various 'Street' setups, which will provide a familiar-middle ground.
Once you've adapted to those, you can step into the crazier pro-spec cars waiting to test your limits.
We've got no doubt that these cars will provide countless hours of fun, and we thank the entire Assetto Corsa modding community for their incredible contributions.
If you've got a pack that you feel should be featured in this guide, please drop us a line.
For those evenings where you don't fancy serious sim racing, then Forza Horizon 4 provides the perfect opportunity to chill and have fun in the British countryside.
We've also written guides to get you started by finding the best drift car, along with a base drift tune, and we'll then show you how to refine it to perfection.
So, there we have it! We hope we've covered everything you want to know about finding the best drift cars for Assetto Corsa in this guide.
Thank you for reading our Best Assetto Corsa Drift Car guide.
If you enjoyed this article, please share it with the buttons at the bottom of your screen. If you've found this information helpful, please take a moment to share it with other Assetto Corsa and sim racing enthusiasts. We appreciate your support.
---
Photography credits
We thank the following entities for the use of their photography in this article: