Forza Horizon 5 – Release Date, Trailer & More
Fans hoping to drift the streets of Japan will have to wait, as Horizon 5 is heading to Mexico. We explore everything you need to know in this guide.
---
Since the initial introduction for the soon-to-be immensely popular Forza Horizon series in 2012, Playground Games has continued the pattern of releasing a brand-new Forza Horizon to the market every two years.
Given that the current game, Forza Horizon 4, launched in 2018, it was understandable that fans were eagerly anticipating the launch of Forza Horizon 5, which historical trends have shown should have arrived in 2020.
However, since 2020 came and went without the launch of Horizon 5, it soon became clear that the wait would be a little longer this time around.
Thankfully, the wait is nearly over, with the official confirmation on the Forza website finally announcing that Forza Horizon 5 will officially be hitting shelves on November 9th 2021!
Forza Horizon has brought us some of the most incredibly stunning, endlessly enjoyable open-world racing games, combining and building upon the thrill of the circuit-oriented Forza Motorsport series, alongside the excitement and adrenaline of the likes of Madalin Stunt Cars 3, and the Need For Speed heritage. This time around, you'll be able to explore the very best of what Mexico has to offer.
More than capable of bringing your wildest drifting dreams to reality, Horizon enables you to tear up the streets in beautifully realistic real-world locations while rewarding you for crazy driving skills without the fear of losing your license.
As we look towards the imminent launch of the latest Horizon release in the franchise, it's looking more exciting than ever.
Although we've grown accustomed to the two-year launch pattern, Forza Motorsport has also followed the same theory since it first hit the marketplace in 2005. It continued to launch every two years until the most recent addition, Forza Motorsport 7, launched in 2017.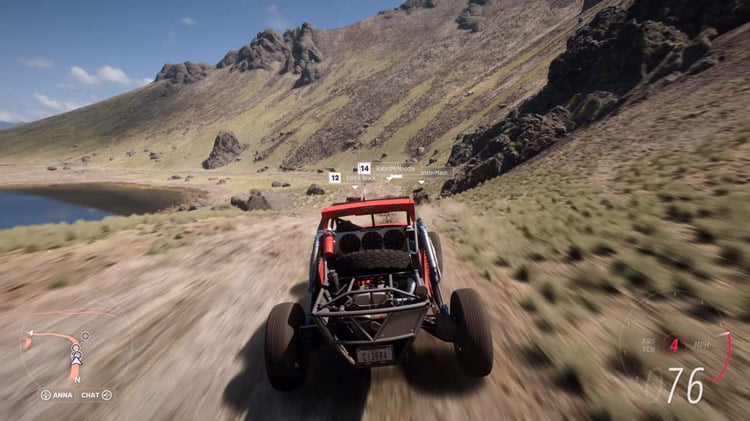 After the Xbox Series X delaying the launch of the highly-anticipated title, it's finally getting ready to hit the shelves in November.
Let's look back at what the history of this incredible series has already provided us.
---
Forza Horizon 5 Official Trailer & Gameplay Video
On 13th, June 2021, Forza finally launched the Horizon 5 trailer that fans worldwide had been eagerly awaiting.
At the same time, we were also treated to the first official gameplay demo.
---
Forza History
When Forza Horizon 4 first hit the shelves, it had an impressive 2 million sales in its first week before catering over 12 million fans enjoying the game by August 2019.
With the history of the Forza release dates being entirely predictable until recently, gamers assumed they knew precisely when the arrival of the next rendition was just around the corner, with the previous launch dates looking like this:
Forza Motorsport (2005)
Forza Motorsport 2 (2007)
Forza Motorsport 3 (2009)
Forza Motorsport 4 (2011)
Forza Horizon (2012)
Forza Motorsport 5 (2013)
Forza Horizon 2 (2014)
Forza Motorsport 6 (2015)
Forza Horizon 3 (2016)
Forza Motorsport 7 (2017)
Forza Horizon 4 (2018)
Forza Motorsport 8 (TBA)
Forza Horizon 5 (November 2021)
However, despite leaving fans hanging, we're confident that this hiatus means that both Horizon 5 and Forza Motorsport are going to be more polished and refined than ever, which we're confidently hoping will be well worth the wait.
---
Forza Horizon 5 Release Date
Although Playground Games have been tight-lipped until now, their official announcement has now confirmed that Forza Horizon 5 will officially be launched on November 9th, 2021.
You're able to order the game now for pre-order across Xbox Series X|S, Xbox One, or Windows 10 PC, and you can also add it to your Wishlist on Steam.
Gamers that opt for the Forza Horizon 5 Premium Edition Early Access can play the game from November 5th, 2021.
The game will also be available for Xbox Game Pass members and Standard Digital or Deluxe Digital Edition owners as part of the Premium Add-Ons Bundle for separate purchase.
Is Horizon 5 arriving before Forza Motorsport 8?
The confirmed release date means that there's a chance that the game may drop with, or before, the highly-anticipated Forza Motorsport game.
If you've not yet seen the epic official Forza Motorsport 8 trailer, you can check it out here:
At around the 0:59 mark in the official trailer, you can see what appears to be a Koenigsegg Regera drifting on the streets, which ties in nicely with Forza Horizon, but this could be their way of fitting FM8 into the theme of the video.
Or, perhaps Turn 10 Studios are looking to go down a different route this time by combining the two games in some way? Let's face it; the potential possibilities are endless, and we could come up with rumors and ideas all day long.
We honestly cannot wait to experience how insane these games look on the next-gen console.
There was also good news for Forza Horizon 4 fans, with confirmation during the Forza Monthly Twitch stream that owners will also get the next-gen Horizon 4 for free on their Xbox Series X through Smart Delivery.
With this, you can expect vastly improved graphics, superior performance alongside some exciting new additions.
---
Forza Horizon 5 Xbox One & PC Release Date
There's good news for both Xbox One and PC fans, as Horizon 5 will also be available for you to enjoy across these platforms with the same November 9th, 2021 release date.
Admittedly, the Xbox One won't be able to match the graphics capabilities of the Xbox Series X version, and you're going to need a high-end PC to achieve an equivalent experience.
However, not everyone needs to have pixel-perfect graphics, and hopefully, the gameplay, story modes, and challenges will make it a worthwhile investment.
This means you'll be able to enjoy Forza Horizon 5 on the following platforms:
Xbox Series X|S
Xbox One, Xbox One S, Xbox One X
Windows 10 PC
Steam
Xbox Game Pass
Available to stream on Android Phones and tablets with Xbox Cloud Gaming with the Xbox Game Pass mobile app.
Will Forza Horizon 5 support cross-play?
Forza Horizon 5 will support cross-play and cross-save across Xbox Series X|S, Xbox One, Windows 10 PC and Xbox Cloud Gaming.
While Steam will also have support for cross-play, cross-saving with Xbox is not supported.
---
Forza Horizon 5 on PS4/PS5?
As with all Forza games, there is almost zero chance that Horizon 5 will ever get launched on Sony's PS4, or PS5, consoles.
Microsoft owns the Forza franchise for those of you that aren't aware, and this is one of their significant assets – and a direct rival to Sony's Gran Turismo series.
For that reason, we wouldn't ever expect either game to appear on the rival competitors' console.
If you don't wish to buy an Xbox console to play the Forza Horizon series, fear not, as it's also available for the PC.
However, when it comes to Gran Turismo, this is only available on the Sony PlayStation.
For this reason, many racing fans have to decide which console best suits their needs based on the Forza/GT argument – based on this article, you can probably guess our weapon of choice!
---
Forza Horizon 5 Location
Update June 14th, 2021 - It's official, the beautifully diverse Mexico has become the confirmed destination for Forza Horizon 5, featuring the largest-ever open-world map of any Horizon game.
Where to visit in Mexico?
With the official trailer and gameplay video now launched, we've been treated to some of the locations that we'll soon have the opportunity to visit in the game.
From rainforests with Mayan architecture through to seaside towns along the coast, you'll get to take in some unusual sights, such as flamingos for the first time along the way.
Around the stunning cities are various colorful artworks from Mexican street artist Farid Rueda, which the game will reward you for admiring.
If you head to the bustling streets of Guanajuato, you'll be treated to incredibly vibrant architecture alongside the network of tunnels.
If you wish to head to the countryside, there is breathtaking scenery just about everywhere you go.
You'll be able to take in incredible views of the desert and canyons, where you can admire each individual needle on the millions of cacti thanks to the games' insane graphics.
Eventually, you'll reach the Gran Caldera volcano, with the peak features the highest point ever in a Forza Horizon game. From here, you can see for miles, all the way to the likes of Guanajuato.
With precision accuracy using photogrammetry data capture on-location atop an active Mexican volcano, a mind-boggling level of detail makes you feel like you're there.
We're not giving up on Japan just yet
As always, before the launch of each game in the series, the internet was typically alive with rumors and suggestions for the perfect location for the next game.
As you've probably guessed, Horizon 5 was no exception.
It came as a surprise to us, and most other fans, that Turn 10 opted for the UK, specifically Edinburgh, the Cotswolds, and the Lake District, for Forza Horizon 4.
For the first game, they ventured to the US state of Colorado.
For the second game, they hit up Europe for the first time, venturing to Southern France and Northern Italy.
For the third game, Southern Australia became the location of choice.
With the UK being the fourth location, just about every major continent has had its chance to shine in the game, except Asia.
However, as you've probably guessed, there have been all sorts of suggestions thrown into the mix. The UAE (Dubai) was also a popular concept, alongside places like Brazil, India, Hawaii, and even giving Asia its opportunity with Hong Kong or China.
Although Mexico has now become the officially confirmed choice for the game, we're still carrying out hope that we'll get to see Japan appear on a future Horizon.
With all these considerations thrown into the mix, alongside the vast popularity that the Forza Horizon series has earned among drifting fans, Japan seemed like the perfect choice for Horizon 5.
That's right, home of the touge, the birthplace of drifting, and unquestionably the perfect choice.
Alongside the tight and twisty touge roads, Japan also has vast rural areas of wilderness, perfectly-crafted highways, and stunning coasts.
It also has the perfect mix of modern cities and ancient provinces, providing the ideal perfect variety that a game like Forza Horizon needs.
Not only this, but Japan is also the spiritual home of the car tuning scene.
Let's face it, how many countries in the world can you comfortably drive a wildly tuned car? We're thinking along the lines of the Bosozoku and Onikyan.
With their millimeter-perfect ride heights gliding perfectly, these cars prove that the Japanese roads are capable of catering for even the craziest modifications.
When you buy a new car, what's the first thing you do? We're willing to bet that one of the first things is to head straight to the tuning shop to make your car as low as possible.
Given the size of Japan, this could allow for potential possibilities to feature an entire country for the first time, which we're sure you'll agree; would be insane.
We're not the only ones who think that the idea of Japan could be the perfect solution for a future game, in fact, in a Forza Reddit Group, they've come up with a concept map to show the potential that it has to offer.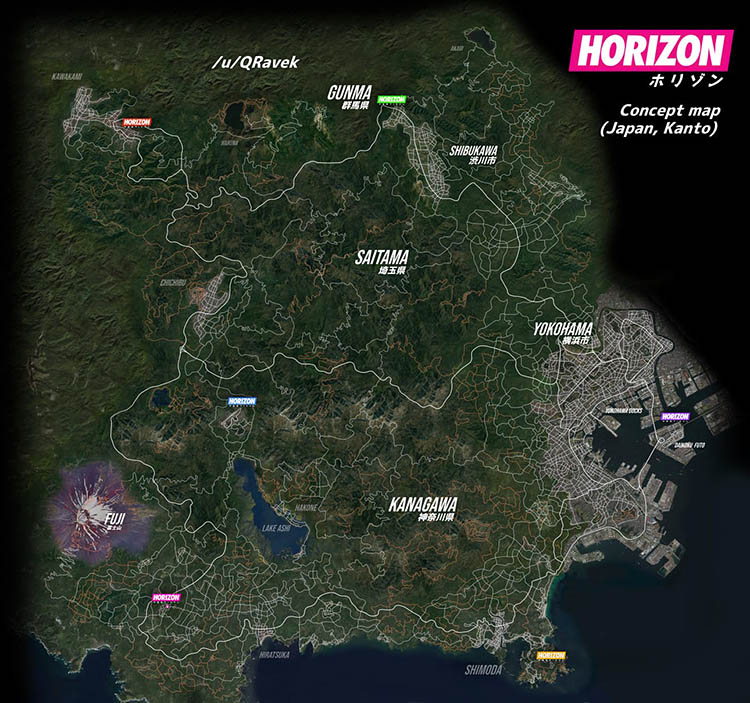 We can imagine drifting the touge in the middle of the night, with the Eurobeat compilation blasting through the in-car radio of our AE86 as we venture into the night sky with our buddies, Initial D style.
However, although Japan remains our dream location for obvious reasons, we're happy to settle for something a little unexpected this time around.
With Mexico setting the Forza Horizon 5 stage, it has generated a mixed response from the tuning enthusiast community.
There have been early concerns about the lack of tarmac among the drifting community.
There has been much focus on the desert and rainforest in the early trailers, with minimal teasers being provided when it comes to the roads we'll get to drive on.
We're personally cool with Mexico, as long as it means Playground Games just wanted a little longer to get Japan perfected before Forza Horizon 6! We can always hope, right?
---
Forza Horizon 5 Graphics
So far, there's no question that the main emphasis on the updates has been the graphics and lighting.
Giving the recent launch of the next-gen Xbox consoles, this comes as no real surprise.
For Xbox Series X owners, you'll get to enjoy Forza Horizon 5 in glorious 4K resolution at 30fps, where Xbox Series S players will get 1080p resolution at 30fps.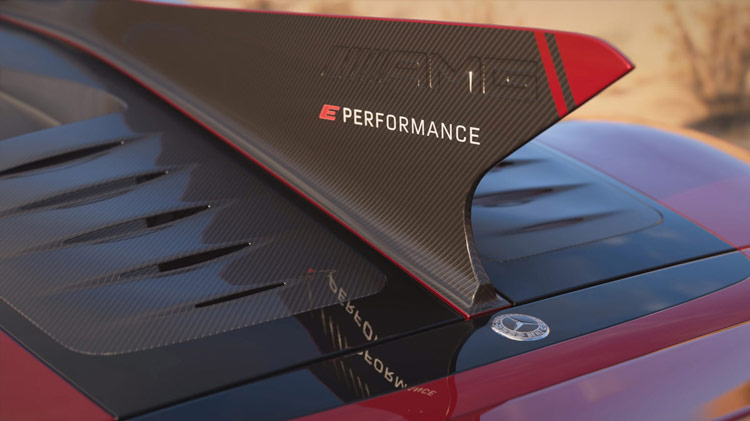 There will also be a 'performance mode' feature available on both platforms that will allow it to run 60fps.
Playground Games has pulled out all the stops here, and they've gone as far as to capture HDR images of the vibrant Mexican skies to provide ultra-realistic lighting effects in the game.
Incredibly, the entire game is captured this way, using the likes of photogrammetry data capture on-location, providing an insane never-seen-before level of detail.
When it comes to skies, they carried out 24-hour shoots of the Mexican skies using HDR camera rigs, providing 12K resolution imagery for the game, providing breathtakingly realistic lighting which dynamically changes every frame.
For those interested in ray tracing, this will be included in Forzavista mode.
---
New Features & Challenges
As you probably guessed, there will be some massive changes with features and challenges in the new game.
Tuning & Upgrades
Among our favorite confirmed new additions have to be the complete UX overhaul regarding vehicle customization, and we can't wait to hear more!
Playground Games has already confirmed more than 100 new rims, along with hundreds of new visual upgrades and thousands of new performance parts – great news for tuning fans!
Forza LINC
LINC is a brand-new feature, providing an AI assistant that tracks your status, helping you link up with other gamers you meet online to help each other progress and play together.
We're keen to hear more about this feature, and it's one of the major updates that makes Horizon 5 the most social and connected experience of any Horizon game to date.
Horizon Arcade
With this feature, you'll journey to Arcade markers across the map to participate in various challenges and mini-games with other players.
EventLab
An entirely new experience provides plenty of mini-games to enjoy in the gaming Stadium, where you can create your own races and even the fundamental rules of each game.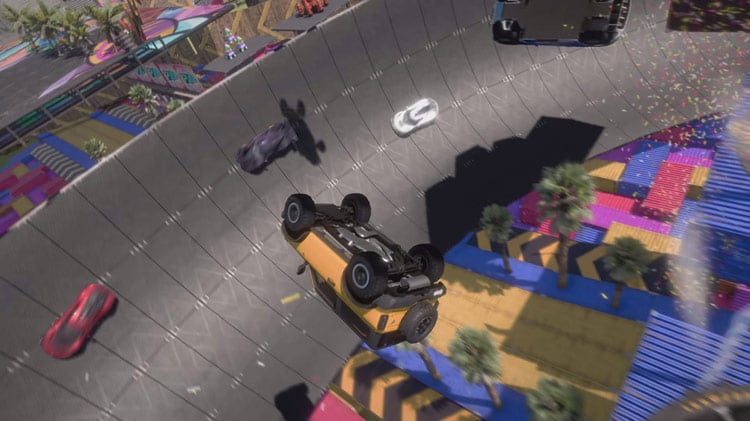 You may have noticed things like bowling pins in the trailer, which is all part of EventLab.
Gift Drops
With this feature, you can send and receive gifts to and from other community members. If you wish to help out a friend, you can create the ultimate ride before dropping it as a gift for another gamer to enjoy.
Additional features
Alongside these updates are many new features, such as Horizon Open, Horizon Tour, Project Gotham-like Kudos to encourage clean, friendly driving, and an enhanced Character Customizer. These all help to make Forza Horizon 5 the most sociable Horizon game yet.
---
Forza Horizon 5 Car List
With initial videos and teasers surfacing, there's an ever-growing list of vehicles that are being teased to fans, and here's a complete list of all the rides we've witnessed so far, with the new additions to the series highlighted.
Alumi Craft
2015 Alumi Craft Class 10 Race Car
Apollo
2018 Apollo IE (Intensa Emozione)
Ariel
BMW
2011 BMW 1 Series M Coupe
Chevrolet
2020 Chevrolet Corvette Stingray Coupe (C8)
2018 Chevrolet Camaro ZL1 1LE
2017 Chevrolet Colorado ZR2
Ford
2018 Ford #25 Ultra4 Bronco *NEW*
1975 Ford Bronco
2021 Ford Bronco *NEW*
2019 Ford Bronco R Concept *NEW*
2021 Ford Bronco Ultra4 4400 Race Truck - (Brocky) *NEW*
1932 Ford De Luxe Five-Window Coupe
1973 Ford Escort RS1600
2017 Ford F-150 Raptor
2011 Ford F-150 SVT Raptor
2019 Ford Ranger Raptor
2011 Ford Transit SuperSportVan
Funco Motorsports
2018 Funco Motorsports F9
Hennessey
2018 Hennessey Velociraptor 6×6
Hyundai
Jaguar
Koenigsegg
Lamborghini
2014 Lamborghini Huracan LP 610-4
2012 Lamborghini Aventador LP700-4
Land Rover
2020 Land Rover Defender 110 *NEW*
Local Motors
2014 Local Motors Rally Fighter
McLaren
2018 McLaren 600LT Coupe
2018 McLaren 720S Coupe
2019 McLaren 720S Spider
2018 McLaren Senna
Mercedes-AMG
2022 Mercedes-AMG Project ONE Forza Edition *NEW*
2022 Mercedes-AMG Project ONE *NEW*
2018 Mercedes-AMG GT 4-Door Coupe
Mercedes-Benz
2014 Mercedes-Benz Unimog U5023
2018 Mercedes-Benz X-Class
Mitsubishi
2008 Mitsubishi Lancer Evolution X GSR
Pagani
Penhall
2011 Penhall (The Cholla)
Polaris
2015 Polaris RZR XP 1000 EPS
Porsche
2018 Porsche #00 Macan LP Racing T1 Rally Raid *NEW*
1985 Porsche #185 959 Prodrive Rally Raid
1989 Porsche #65 911 (964) Off-Road (Desert Flyer) *NEW*
2019 Porsche 911 Carrera S
1973 Porsche Carrera 2.7 RS
2020 Porsche Taycan Turbo S *NEW*
Rimac
2019 Rimac C-TWO (Concept Two)
RJ Anderson
2016 RJ Anderson #37 Polaris RZR-Rockstar Energy Pro 2 Truck
Saleen
Subaru
1998 Subaru Impreza 22B STi
Zenvo
We'll keep this guide updated with the latest cars that are confirmed additions to the game, so be sure to bookmark this page if you're keen to see which vehicles you'll be able to enjoy in the game.
---
Will Toyota Feature in Forza Horizon 5?
Although we're now being treated to an ever-growing list of confirmed cars in Forza Horizon 5, we're yet to see any Toyota's make an appearance.
Those of you that are keen Forza fans and also have a love for all things JDM probably would've noticed a notable absence with regards to the likes of Toyota and Lexus in the previous Forza games.
In a somewhat weird boycott of the franchise, Toyota decided to have a sulk about the 'illegal street racing' promotion that has come with the Horizon, and also the Need For Speed series.
It's a rather depressing statement to come from a company that gifted us some of the most incredible tuning components, such as the glorious 2JZ engine.
Due to this, Forza Motorsport 7 and Forza Horizon 4 weren't allowed to feature any Toyota's at launch, in a rather bizarre move by the company, given their overwhelming in-game popularity.
The move angered the Forza loyalists as the cars continued to feature in the Gran Turismo Sport series.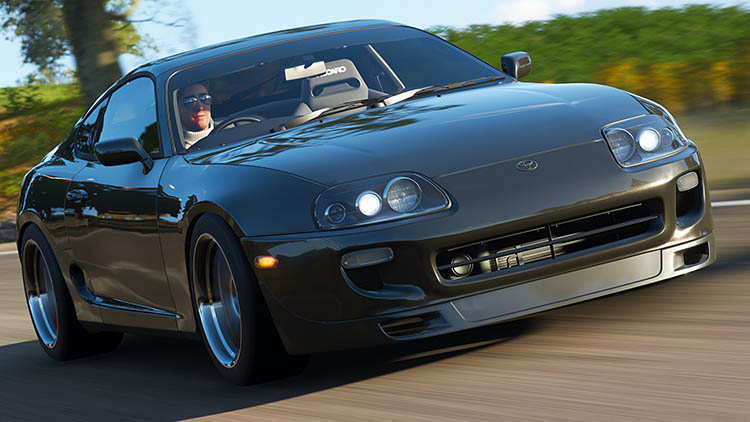 Not only that, but the brand new Supra also played a role in the Fast & Furious 9 movie.
If they want to stick with their reasoning, then surely re-enacting street racing in a real car is a little more dangerous than a video game?
With all things considered, it seemed pretty likely that Toyota had signed an exclusive deal with Sony, and that we'd have to accept that we wouldn't see their cars in the Forza franchise anytime soon.
After that came rumors that a Toyota exec had stated, "Home game machines are no good. Playing something that realistic makes the need for cars disappear".
A Japanese journalist concluded that Toyota had been blaming video games for a sharp decline in sales, as people were getting the experience they needed in the comfort of their home rather than going out and buying the 'real deal'.
Let's face it; it's a ridiculous suggestion. Although gaming is getting more realistic all the time, there's just no replacement for getting behind the wheel of your dream car, or perhaps even lucky enough to own it.
For us, that added fuel to the fire with the rumors of an exclusive deal with Sony, mainly since they'd kept the cars in the Gran Turismo series, which makes the comment void.
However, in another weird turn of events, Toyota opted to reverse their decision, which lasted from 2017 to 2019, as they decided to allow the legendary Toyota Supra MKIV to return to the Forza series.
Based on their previous comments regarding street racing, you'd assume this meant Forza Motorsport, right? Nope.
In yet another bizarre turn of events, Toyota went on to release fourteen cars into Forza Horizon 4, including much-loved classics such as the AE86 Trueno.
However, to this day, you're still not able to get them in Forza Motorsport 7.
It makes sense, right?
As far as we can conclude, for now, the future looks bright with regards to Toyota returning for Forza Horizon 5, but their return to Forza Motorsport 8 is yet to be confirmed.
---
Conclusion
Significant changes have been going on in the Microsoft/Xbox camp in recent months, and the XSX provides the ultimate platform for Forza Horizon 5, which is why we have no doubt it'll be worth the longer wait than expected.
Unsurprisingly, this means that the in-game graphics, so far, appear to the main focus this time around, but we're excited to get our hands on the game and get a feel for what the gameplay has to offer, too.
Although the game has taken longer to arrive than anticipated, it's undoubtedly going to become the most jaw-dropping driving game on the market.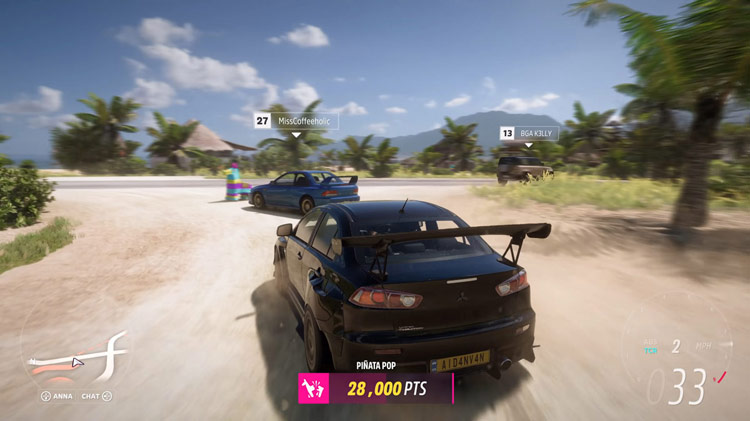 With Gran Turismo seemingly still not interested in targeting the arcade-style street-racing market, it gives Xbox a serious advantage when it comes to satisfying driving enthusiasts.
With its earlier trailer, it seemed the new Forza Motorsport 8 game, titled 'Forza Motorsport,' would be the first to arrive, given its earlier announcement and trailer. It's come as a considerable surprise to receive the Horizon release date before FM.
It'll come as a pleasant surprise to those that have not yet made the jump to next-gen to see that the game will also be coming to the Xbox One console, even if the graphics won't be on par.
Although new cars are continually emerging, we're yet to see any true JDM legends added to the car list just yet.
While many will be disappointed to see the Japan rumors fail to materialize, we're confident that this will still be an incredible game.
We can't wait to explore what the Mexican roads have to offer, along with the exciting new car features and additions - we'll be sure to let you know when we find some exciting mountain drift routes!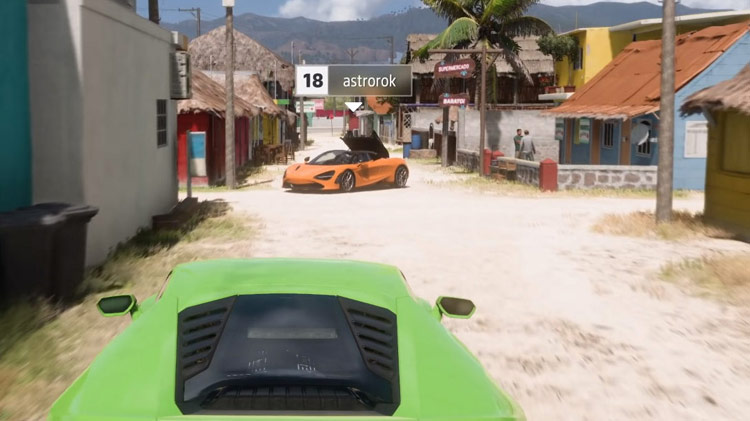 So, there we have it! We hope that we've covered everything you could want to know about the upcoming Forza Horizon 5 game in this guide.
Thank you for reading our Forza Horizon 5 release date guide.
If you enjoyed this article, then please share it with the buttons at the side and bottom of your screen. If you've found this information useful, then please take a moment to share it with other Forza enthusiasts. We appreciate your support.
If you're keen to learn how to drift in the Forza Horizon series, then we highly recommend checking out this guide.
For those of you that haven't got access to your Xbox console right now, we've got some awesome solutions waiting over on our Drifted Arcade, with a massive range of drifting games for you to enjoy, completely free.
Are you looking for the best drift cars in Forza Horizon 4? Here's a line-up of our favorite drift cars!
Want to fine-tune your new drift car in Forza Horizon 4? Check out our Ultimate Forza Horizon 4 Tuning Guide here!
Eager to know the latest news on the Forza series? Here's what we know about Forza Motorsport 8.
In the meantime, why not make the most of what Forza Horizon 4 has to offer by checking out the best mods in the game?
If you feel you've mastered drifting, why not give drag racing a try?
There are also plenty of different things to do while you wait, such as purchasing houses and collecting the rare barn finds hiding across the British countryside.
---
Photography credits
We thank the following entities for the use of their photography in this article: