Forza Motorsport 8 – Release Date, News & More
As Microsoft drops the '8' from the upcoming Forza Motorsport game, some profound changes are ahead for the Forza 8 release date, alongside its brand-new name.
---
Forza Motorsport Introduction
It's come as a shock to many gaming and motorsport enthusiasts that the latest game in the Forza Motorsport line-up is confirmed, and it's titled precisely that - Forza Motorsport.
We're unsure why Microsoft has opted to drop the '8' from the title.
However, given the mediocre response that the seventh game of the series received, it's no massive surprise that they're likely opting for a fresh start to attempt to reboot the series.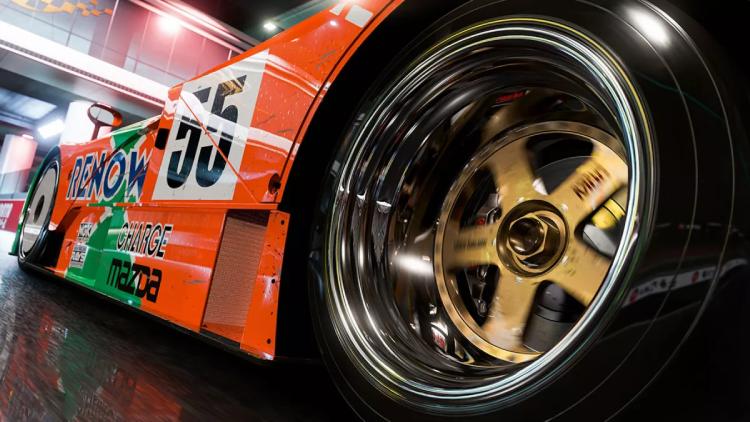 With the franchise using its traditional numbering system for over fifteen years, they reached the seventh revision before returning to the same name as the original game, which launched in 2005.
There's been no shortage of rumors online about what's to come in the new 'Forza 8', and Microsoft has been frustrating fans of the series by remaining tight-lipped before the announcement of the recent trailer/teaser for the game.
Forza Motorsport Official Trailer
"This is the most technically advanced racing game ever made!" said Chris Esaki, creative director of Turn 10 Studios. With those words, there's no question that it'll be the best-looking racing game ever released. But will the all-important gameplay live up to expectations?
With the Forza Horizon series' continued success, it's somewhat stolen the limelight from its simulator-based Motorsport sibling in recent years.
Where Horizon takes to the streets and allows for an immensely entertaining arcade-style open-world street drifting experience, Forza Motorsport sticks to some of the better-known tracks around the world for a more intense approach.
Before introducing Horizon, if you wanted to enjoy what Forza had to offer, then the Motorsport series was your only option.
As the series progressed, the visuals of both the cars and the real-world circuits undisputably became increasingly impressive, but the gameplay and excitement somewhat lacked the flair that enthusiasts loved from the earlier games.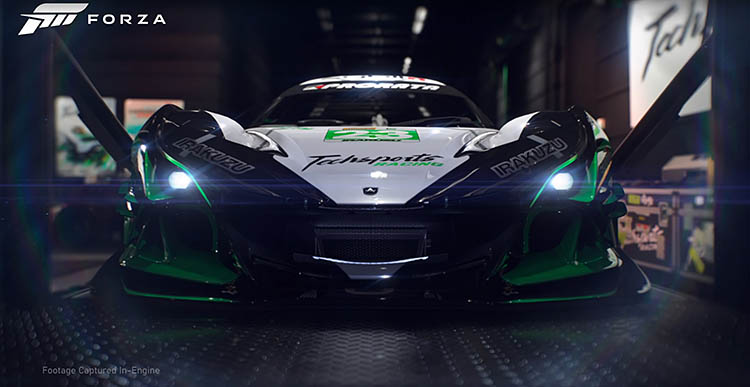 Many FM enthusiasts still believe that the fourth launch in the series, Forza Motorsport 4, was the best game that Turn 10 Studios created.
We feel that Microsoft has most likely heard these calls, and with the series somewhat losing its way after several disappointing revisions, it seems they're taking it back to the drawing board.
With the launch of the brand-new Xbox Series X, this new powerhouse presents the perfect platform for them to do so.
Since its 2005 inception, fans have been provided a biennial game from Turn 10 Studios, and with Forza Motorsport 7 releasing in 2017, many expected to have had the eighth game arrive by now.
However, it's not just the Forza Motorsport 8 release date that's skipped its typical release. Forza Horizon 5's release date is looking even further down the pipeline, with the last release in 2018.
A gap in releases often provides the perfect opportunity for a fresh start when it comes to games.
Rather than making minor improvements that we've witnessed in the most recent releases in the series, this presents an opportunity to carry out significant improvements.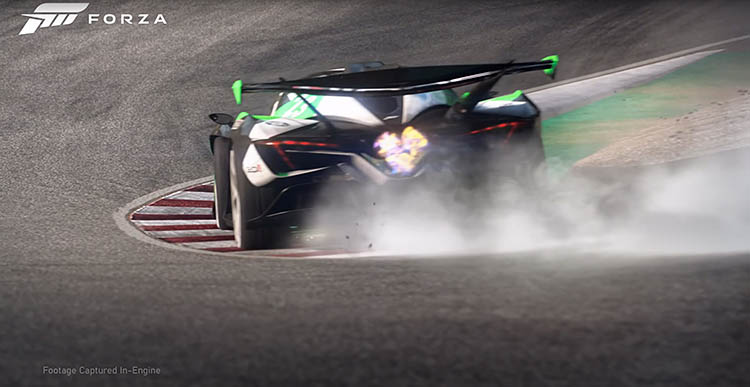 With the Creative Director of Forza Motorsport, Chris Esaki, confirming that the new Forza Motorsport game will "Go back to the series' roots", we genuinely hope that will be the case.
He continued to fire out more optimism for the fans, stating that the new game will be a "re-imagining of the franchise" and a "love letter to long-term fans of the series".
It certainly sounds like they're listening here!
With plenty of time to make something of the game, can they pull something extraordinary out of the bag?
Despite Xbox confirming that Forza Motorsport won't be a launch title for the Xbox Series X, likewise with Gran Turismo with GT7 on the PS5, the future of motorsport gaming certainly looks exciting.
---
Forza Motorsport 8 Release Date
Despite many rumors that Forza Motorsport was due for release in Spring 2023, the October 2023 release date rumor is now looking more likely. It certainly seems that we will see Forza Motorsport 8 launch before the end of 2023.
In April 2023, a leaked screenshot of Forza Motorsport in its pre-release test stages surfaced:
Allegedly leaked screenshot of Forza Motorsport in test stages
by u/gblandro in XboxSeriesX
Despite the leak providing very little info, the Twitch streamer whos name is featured on the image was keen to ensure it was taken down.
Given that the game is clearly in the test stages, it's exciting to see some progress, even if it's very little!
There have been few official announcements to date. Unsurprisingly, the Xbox-exclusive game was one of the most anticipated arrivals at the Xbox & Bethesda Games Showcase 2022, after the 2022 E3 events cancellations.
During the live stream event on Sunday, June 12, 2022, Dan Greenawalt and the game's director Chris Esaki provided us with the most significant announcements to date, highlighting the most exciting features of the brand-new Forza Motorsport game.
If you missed the showcase, don't panic – you can check out the incredible official gameplay video with exclusive, never-seen-before, live gameplay footage here:
Based on this fantastic preview, we will not dispute their claims that Forza Motorsport is going to become the most technically advanced racing game ever.
Now that you've checked out the in-depth details and updates that Forza Motorsport brings, its time to check out the mind-blowing on-track action:
Alongside the usual racing that the series is known for, if you skip to the 0:23 mark of the video, you'll see Chris Forsberg's Formula DRIFT Nissan 370Z in a drift battle against Fredric Aasbo's 2022 Toyota GR Supra.
We're thrilled to see Formula Drift cars in the preview, and we hope it's a promising sign that Forza Motorsport's drift mode will be the most advanced yet in the series.
Alongside the drifting and racing is the wheelie-popping drag racing, providing further optimism that the game will have in-depth offerings of multiple motorsport disciplines.
With significantly improved physics, raytracing, and vehicle damage alongside a stunning, fully dynamic day/night cycle with changing temperatures and grip levels, we're more optimistic that the new launch will play as well as it looks!
As we eagerly await the launch, the free online stunt game, Madalin Stunt Cars 3, has been keeping us entertained.
---
Next-Gen Forza Motorsport Features
Turn 10 Studios have suggested that the next-gen Forza Motorsport game will offer something "unexpected".
We're unsure precisely what they're referring to, but it's certainly one way to get the rumor mill heating up!
When asked for further information on the subject, FM's Creative Director Chris Esaki stated, "The overall product and where we're going with it is so vastly a different and amazing experience".
Whatever they're hiding up their sleeve, we sure hope it involves some hugely positive changes for drifting.
We, alongside every other FM fan on earth, it would seem, needs Fujimi Kaido back in our lives!
It probably won't come as much of a surprise that drifting hasn't been at the forefront of their announcements, but we do not doubt that it'll feature in their plans for the game.
In the meantime, here's what we do know.
Ray Tracing
There's no doubt that Microsoft and Turn 10 Studios are going to be focusing on graphics.
Although gameplay matters most to the fans, the creators have a point to prove by testing their brand-new console benchmarks, and FM will undoubtedly be the perfect racing game to flaunt these.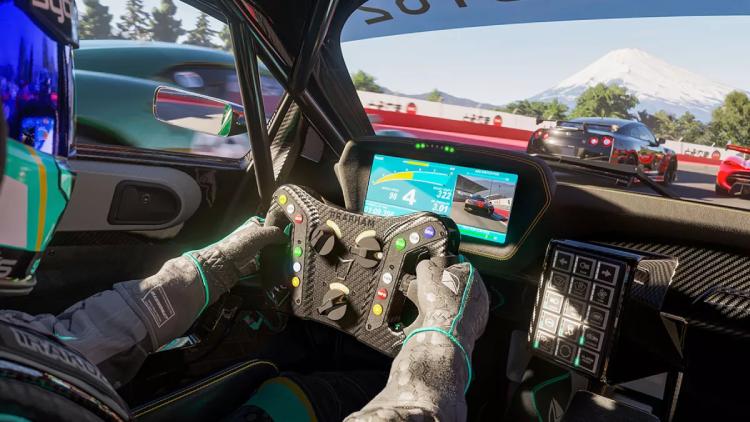 Although the initial rumors claimed 4K at 120FPS with ray tracing, Phil Spencer provided the truth during the games' introduction.
He confirmed that the game would receive native 4K resolution and ray tracing while running at 60FPS on the Xbox Series X.
This has been confirmed since then, with the Vehicle Art Director Gabe Garcia mentioning that the game has been optimized for a "cutting-edge ray tracing experience."
Not sure what ray tracing is? Check out this fantastic explanation of this exciting new technology:
Fantasy Tracks
Turn 10 is working on providing fantasy tracks to the game, which gives us hope that Fujimi Kaido or an entirely fresh touge track may be looming. We can hope!
Tire & Suspension Changes
There appear to be many changes in the pipeline regarding tire and suspension for the next-gen Forza Motorsport.
The team has been doing in-depth research into tire behavior, such as tire strength and structures, and how tires and their compounds interact under different scenarios.
There's also a lot of focus specifically on heat interaction with rubber, alongside its role with tire pressures and dynamic track temperatures.
Atmospheric pressure and air density are also said to play a role, which means that if we were to get a long touge track, it could alter the car's feeling as the altitude changes.
They've also confirmed that they're working on a new suspension model alongside the drastic tire changes.
These are hugely significant updates for drift fans since suspension and tires are two of the most critical factors.
We're also pleased to see that Turn 10 isn't focusing entirely on impressive visuals for the next-gen, and it appears they are taking a real quality-over-quantity approach, which is fantastic to hear.
Reworked AI
As far as we know so far, this is expected to use a similar approach to the highly-acclaimed Moto GP engine and hopefully resolve the AI gripes that fans have had from the recent games.
Improved Physics & Aerodynamics
With Forza 8, Turn 10 Studios promises in-game physics that will be better than "Forza Motorsport 5, 6, and 7 combined." Now those are some big shoes to fill.
There are undoubtedly many potential physics improvements that they can work on, especially when it comes to drifting. We're excited to see where this leads.
Reworked Sound
Audiophiles will be glad to hear that footage of the team filming new engine sounds has surfaced online. Hopefully, we can expect better-than-ever car sounds.
According to the Forza 8 Project Audio Director, this game will be the best-sounding Forza Motorsport title yet. Improved tire and suspension audio as well as native support for Dolby Atmos are just two out of the dozens of audio improvements set to make their debut.
---
Forza Motorsport 8 Wish List
As we look ahead to the upcoming Forza Motorsport 8 release date, we all have our wish list for the new game, but here are some of the things we'd love to see.
Tracks - Real-World & Fantasy
We've mentioned how desperate we are to see the return of Fujimi Kaido, but it's not the only thing that we'd love to see in the next Forza Motorsport game.
Turn 10 has dropped several hints that Fujimi may well make a return, and another former favorite, Sidewinder Proving Grounds, was also mentioned, but neither is yet confirmed.
Forza 8 brings the first South African track entry to the Motorsport series in the form of the legendary Kayalami circuit.
What is confirmed is that fantasy tracks will be making a re-appearance, so it does give some hope that New York and Rally di Positano may make a re-appearance.
As for real-world tracks, we hope to see the likes of legendary tracks such as Motegi and Tsukuba making their return.
Oh, and did we mention that there will be organic track evolution and a fully dynamic time-of-day system? This feature is set to make the environment more lively than any Forza Motorsport game ever before!
Career Mode Upgrades
Let's face it, the FM career mode is somewhat dull, and the Forza Horizon storyline is quite a bit more interesting to follow, so we're hoping they can improve on that for the next-gen.
An interesting in-game career mode akin to that of the Forza Horizon series will even make the Motorsport games more appealing to the more casual, arcade-style racing game fans out there.
With this entry, a "car building focused single player career" mode has been promised by Turn 10 Studios. We'll just have to take their word for it until the game hits the store shelves later this year.
We wouldn't be surprised if we saw a more in-depth approach to race-management, similar to what they achieved in the recent F1 games.
Rally Racing
Given that DIRT 5 has the upper hand with a launch-day release, it doesn't stop Forza Motorsport from building on that and perhaps even releasing an even better in-game rally experience than DIRT has to offer.
Motorsport has so much more to offer than merely racing around tracks, and Horizon has proven just how much the team is capable of achieving.
We feel that rally/rallycross would make an excellent addition to the game, and the use of Unreal Engine 4 provides the perfect platform for off-road racing.
While we're there, why not throw some epic trophy racing into the mix, too? As you can see above, the team behind the Forza Horizon series is more than capable of giving you an excellent trophy truck driving experience. Why not bring that to its Motorsport sibling?
Sim Wheel Improvements
Those of you with a sim setup will undoubtedly agree that Forza Motorsport is shocking on a wheel, especially for drifting.
Other racing simulators such as Assetto Corsa have killed FM in this regard, and it's time to play catch-up.
Oh, and for the love of God, please fix the shameful steering-lock when using the in-car camera – we're not drifting F1 cars!
Improved Crash Physics
Other racing titles such as Project Cars 2 did a fantastic job with this, and realistic crash physics can often provide one of the most satisfying video game elements.
It is not an exaggeration when we say that Forza Motorsport fans around the globe are hoping for more realistic crash physics in Forza 8. Let's cross our fingers and hope that Turn 10 delivers in this aspect.
The team behind FM claims that the new title will have damage physics that will be unique to each vehicle. They have paid attention to even the most minute of details, going down to the dirt accumulation over each recessed body panel.
Branded Tires
One of the joys of the likes of Assetto Corsa is that you can mod the tires for real-world tire brands, with replicated compounds and physics, which make them feel like the real product.
FM has introduced some genuine brands into the games over the years, and we feel this could be a fantastic area for growth, particularly with their enhanced focus on tires this time around.
Improved Smoke Physics
Let's be real, other than the ridiculously fast cars, burning tires and clouds of smoke are the two most essential elements in the spectacle of drifting. The same goes for video games like Forza Motorsport 8 too!
With drifting simulators, having impressive smoke physics is fundamental.
When chasing or tandeming, there's nothing quite like the element of mystery as you attempt to see through the smoke cloud of the car(s) in front.
Smoke enhancements are another popular Assetto Corsa mod, with many enthusiasts opting to implement natural-looking thick smoke clouds into their game.
More Upgrades & Aftermarket Brands
MOAR! We can never have too many car upgrades, and the more real-world aftermarket brands, the better.
We'd love to see a massive array of turbo and supercharger kits available, and we'd love for them to explore the true potential that the aftermarket tuning scene has to offer.
We'd love to be able to fit the real-world products that we own and use daily to our in-game replica drift cars.
We can't deny that they've done an excellent job with implementing some new brands, but there's still a long way to go, and there are so many potential opportunities out there.
Virtual Reality
Although this doesn't seem to be a priority for Microsoft, they're certainly missing out. There's so much to explore in the VR realm.
It's another aspect that Assetto Corsa has nailed, and so many gaming enthusiasts are using it to its full potential to provide the ultimate simulator racing experience.
We've moved on from clicking the left analog stick left and right, and we'd love to see this simulator game finally move with the times.
---
Forza Motorsport Car List
With this behind-the-scenes video, the Forza team has confirmed an unprecedented 500 cars at launch for the upcoming Forza Motorsport game, including 100 new additions to the Forza Motorsport series.
Better yet, with over 800 unique upgrades, you'll be able to customize each car to be your own.
These entries range from the latest, cream of the crop hypercars like the Koenigsegg Jesko all the way to monstrous classic muscle cars like the Cougar Eliminator. Here are a few that caught our eye:
Acura (2)
2018 #36 Gradient Racing NSX GT3 *NEW*
2020 #6 ARX-05 DPi *NEW*
Apollo (1)
2018 Apollo Intensa Emozione *NEW*
Aston Martin (1)
1958 DBR1
2017 #7 Aston Martin Racing V12 Vantage GT3
Audi (2)
2018 #44 R8 LMS GT3 *NEW*
2021 RS e-tron GT *NEW*
BAC (1)
2014 Mono
BMW (2)
2017 #24 BMW Team RLL M6 GTLM
2018 #1 BMW M Motorsport M8 GTE
Brabham (1)
2019 BT62 *NEW*
Cadillac (1)
2021 #31 Whelen Racing DPi-V.R *NEW*
Chaparral (1)
1966 #66 Chaparral Cars 2E
Chevrolet (3)
1969 Camaro SS Coupe
2020 Corvette Stingray Coupe *NEW*
2020 #3 Corvette Racing C8.R *NEW*
Dodge (3)
1969 Charger R/T Hemi
2014 #93 SRT Motorsports Viper GTS-R
2018 Challenger SRT Demon
Eagle-Weslake (1)
1967 T1G
Ferrari (1)
1967 #24 Ferrari S.p.A 330 P4
Ford (2)
1966 #2 GT40 Mk II Le Mans
1969 Mustang Boss 302
Formula Drift (2)
2018 #64 Nissan 370Z *NEW*
2020 #151 Toyota GR Supra *NEW*
Ginetta (1)
2019 #6 Team LNT Ginetta G60-LT-P1 *NEW*
Honda (1)
1967 RA300
Koenigsegg (1)
2020 Jesko *NEW*
Lamborghini (2)
2018 #63 Squadra Corse Huracan Super Trofeo EVO *NEW*
2020 Huracan EVO *NEW*
Lola (1)
2014 #70 Mazda Speedsource B12/80
Mazda (1)
1991 #55 Mazda 787B
McLaren (2)
1966 M2B
2019 Senna GTR *NEW*
Mercedes-AMG (1)
2018 GT3 *NEW*
Mercury (1)
1970 Cougar Eliminator
NIO (1)
2016 EP9 *NEW*
Nissan (2)
2019 370Z NISMO *NEW*
2020 GT-R NISMO R35 *NEW*
Porsche (2)
2017 #911 Porsche GT Team 911 RSR
2021 911 GT3 *NEW*
On top of these, if you're eager-eyed when you watch the trailer, you may notice the Donkervoort D8 GTO on a poster, and we're sure they wouldn't show it if they hadn't planned on including it in the game.
Here are some additional rumors that are expected to be included in the game, thanks to YoungRhombus on GTPlanet
– 1992 Lancia Delta HF Integrale EVO (seen in 23 July 2020 trailer, but posting here because of licensing issues
– Unknown Racing Truck (seen in 23 July 2020 trailer, looks like a MAN truck but is missing a logo)
– 2014(?) BTCC Ford Focus (Seen in supposed Alpha build leak on Reddit)
– 2018(?) McLaren 720S GT3 (Same as above)
To keep you entertained until the Forza 8 release date, we've listed all the cars in Forza Motorsport 7 to help you find your favorite vehicles currently featured in the line-up. If not, let's hope they'll appear in the new game!
---
Forza Motorsport Track List
So far, there are five all-new tracks confirmed for Forza Motorsport, including two brand-new additions to the Forza series:
Circuit Hakone (Fictional Circuit) *NEW*
Kyalami Grand Prix Circuit *NEW*
Circuit de Spa-Francorchamps
Maple Valley Raceway (Fictional Circuit)
Weathertech Raceway Laguna Seca
---
Forza 8 Common Questions
Since we've had so many questions about the upcoming Forza Motorsport title and the Forza 8 release date, we've put some of the most common ones here.
If you have any other questions about the game, drop us a message, and we'll respond and add it to this section.
Will Forza Motorsport 8 be on Xbox One?
There has been no official confirmation from Microsoft yet that the game will feature on the Xbox One console.
However, leaked images at the beginning of May 2022, shared on the r/GamingLeaksAndRumours subreddit, which have been verified as legit by the moderating team, stated the following:
Attached to the post, the Anonymous user also included the following screenshots:
The images, which date back to July 2021, will provide an exciting turn of events after no news regarding the cross-platform compatibility of the game up until now.
While many Forza Motorsport fans feared that they would have to splash out for the next-gen console, this gives hope that the Xbox One will share the title, despite the superior experience that will likely be available for Xbox Series X high-end PC gamers.
Will Forza Motorsport 8 be on PC?
The PC platform and the Xbox Series X are confirmed to be gifted with the next-gen Forza Motorsport game.
If you're planning to experience the game at its full potential, you may want to begin saving up for a GPU with ray-tracing capabilities.
Forza Motorsport 8 Price
There's no confirmed pricing yet, but we expect several game editions similar to the recent Horizon releases.
Based on current Xbox Series X game prices, we expect the standard edition's price to be around $59.99, with the VIP edition(s) in the $119.99-region.
Will Forza Motorsport 8 be on Xbox Game Pass?
There are many rumors that the game will feature on Xbox Game Pass on the day of release, so this may provide a tempting proposition to those who already invest in Game Pass or are considering doing so.
When Will Forza 8 be released?
The exact Forza Motorsport 8 release date is yet to be confirmed. However, it is safe to assume that the game will hit store shelves in the spring of 2023.
---
Conclusion
We've searched high and low to bring you everything you need to know about the upcoming next-generation Forza Motorsport game, which will be available on both the Xbox Series X and PC platforms.
With the game opting for a fresh start, based on an entirely new platform, and not conforming to the traditional naming process they've had since the series' initial launch in 2005, we're eagerly anticipating this exciting new release.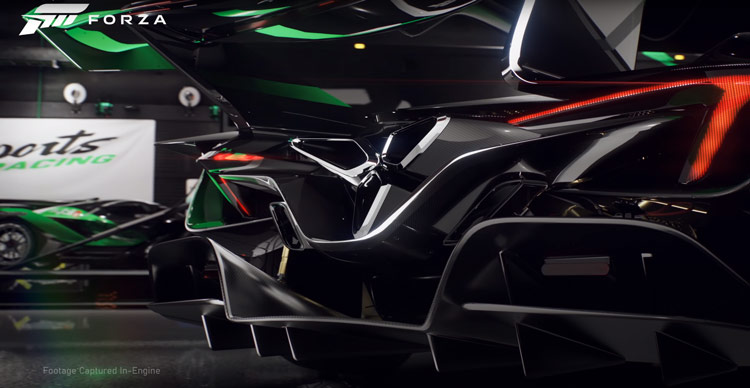 With the Fujimi Kaido rumors looking more likely than ever and the team working on other 'fantasy' tracks, the future looks exciting for the Forza Motorsport series.
On top of that, the in-depth focus on suspension and tire upgrades will undoubtedly leave drift fans rejoicing with the potential that lies in store.
Although we don't yet have a release date, we do not see this as a negative. With the current COVID-19 pandemic, combined with the Turn 10 team assisting with the Halo launch, we'd much prefer they spent time making this the epic reboot of the series that it deserves to be.
For those of you eager for a launch day racing game, DIRT 5 looks fantastic, and we're hoping it'll keep fans ticking over until we receive further updates on the progress of the 8th Forza Motorsport game.
While we wait for the new Forza launch, make sure you head over to our Forza Motorsport vs Forza Horizon 4 article to see which game is best suited to keep you occupied.
If you want to make the most of your Horizon experience, we highly recommend checking out our Forza Horizon 4 mods guide.
So, there we have it! We hope that we've covered everything you could want to know about the next-gen Forza Motorsport game, and the upcoming Forza 8 release date in this guide.
Thank you for reading our Forza 8 release date guide.
If you enjoyed this article, please share it with the buttons at the bottom of your screen. If you've found this information useful, then please take a moment to share it with other Forza, Xbox, and PC gaming enthusiasts. We appreciate your support.
---
Photography credits
We thank the following entities for the use of their photography in this article: