The 22 Fastest Cars In Forza Horizon 5
Are you looking to overtake your rivals in FH5? We're checking out 22 of the world's most exotic hypercars as we compare the fastest cars in Forza Horizon 5.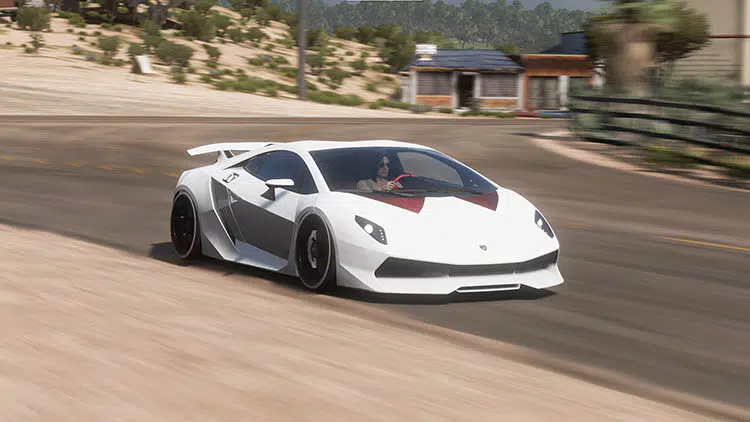 Humans have an undeniable thirst for thrills, and going fast is just one of many ways to get those adrenaline juices flowing.
It's the same reason people never get sick of going back to the amusement park to ride the same old roller coaster.
There's just something about going fast that triggers just the right amount of fight or flight response in humans to keep them coming back for more.
Most car enthusiasts yearn for pretty much the same thing. Whether it's the blurring scenery or the addictive hit of adrenaline from flooring the throttle on a relatively quick car, every car junkie will be grinning ear to ear as they get closer to the speed limit in their car.
Of course, we don't encourage you to try your luck and push the boundaries of what you and your car are capable of on public roads just to get giddy. Race tracks, drag strips, and, well, amusement parks exist for those types of thrills after all.
And there are other safer yet equally exciting ways to stimulate those hormones – video games.
With simulation racing games and equipment becoming more and more accessible to the masses, racing games such as Forza Horizon 5 should be challenging and stimulating enough to have you sweating even if you're just playing the game while sitting on your couch with your controller.
Forza Horizon 5 offers some of the most unique gameplay and content of any racing/car game on the market.
No other game will give you the ability to free roam and start races on the fly with some of the fastest machines on the planet, let alone give you the freedom to customize and upgrade almost every corner or component on your virtual vehicles to make them not only go fast but look the part as well.
Thanks to cross-platform compatibility, Forza Horizon 5 players can link up, socialize, and race against other players on the PC or Xbox series. So, if you're looking to go on those classic drag runs with your buddies as you did back in Forza Horizon 4, you can easily do that in Forza Horizon 5 even if you're playing with other players across different platforms.
Forza Horizon 5 is insanely popular among drifting fans as well, thanks to the generous number of Formula Drift machines found in the game.
Nothing's stopping you from purchasing a rear-wheel-drive JDM car from the 90s and slapping on some simple go-fast mods, and tuning it to make it drift-worthy all the same.
Forza Horizon 5 has its fair share of fast cars from manufacturers that put high horsepower, aerodynamics, top speed, and world records as the top priorities in their meeting agendas. Koenigsegg, Lamborghini, Pagani, you name it, almost every exotic car manufacturer can be found in Forza Horizon 5's expansive roster.
Curious about which of the fastest production cars on the planet will get closest to the speed of top fuel dragsters, we have scoured the game's Autoshow and come up with a list of the fastest cars in Forza Horizon 5 for you.
Fastest Cars In Forza Horizon 5
Cars going fast is like gravy on chicken. Okay so maybe that analogy wasn't as good as we thought it would come out on paper but you get the point - cars were always going to go faster and faster as tech improves, drivetrains get more efficient, and engines become more reliable.
Forza Horizon 5 had 534 cars at launch. Right now, that number is probably closer to 625 after a few DLCs and updates brought a few more cars into the game.
With that many cars in the game, a ton of players are probably wondering – What is the fastest car in Forza Horizon 5 right now?
Currently, the game has a good variety of cars, ranging from muscle cars, exotics, and JDM legends, to offroad beasts and one-off drift trucks, among many others. With the right tune and upgrades, just about any car can become one of Forza Horizon 5 fastest cars. Don't believe us? Check out this Drag Tuning Tutorial by CRILLA18 on YouTube to get a better idea.
However, if you take only the fastest cars in stock form from the Autoshow, you will end up with some of the most exotic and fastest production cars in the world.
Take out each one and run them all the way to their top speeds in one of Mexico's drag strips, and you'll get a good idea about which of the cars we have featured below will be the best cars in-game.
With that out of the way, below is a list of all 22 of the fastest cars in Forza Horizon 5 ranked from slowest to fastest. Of course, the cars listed below are anything but slow, but only one will be crowned the absolute fastest car in Forza Horizon 5.
22. Pagani Zonda Cinque Roadster – 205 MPH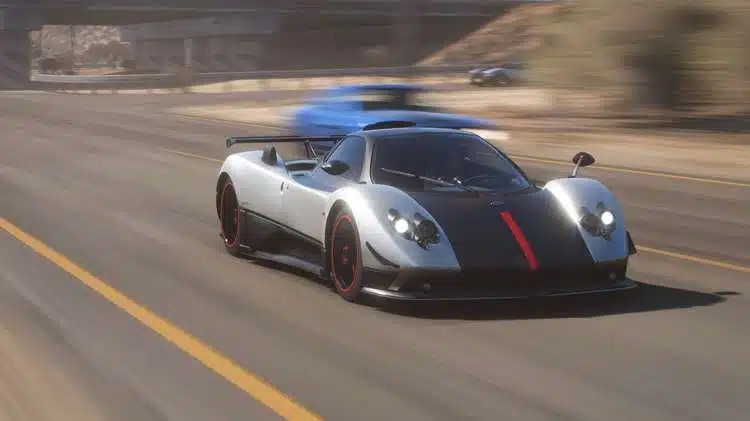 Boutique hypercar manufacturer, Pagani, has always been known for its cars' otherworldly designs and equally mind-blowing performance.
Similar to how Koenigsegg cemented its name in the hypercar space with the CC8S, Pagani first drew the motoring public's eyes towards the company with their AMG-powered Zonda back in 1999. The company would go on to improve the Zonda platform in small but significant increments throughout the years.
Towards the tail-end of the Zonda platform's run, Pagani would release an ultra-rare Zonda in the Cinque model that came in a coupe and roadster variant.
The Pagani Zonda Cinque produced 669 horsepower from its 7.3-liter Mercedes-Benz AMG V12 engine – enough juice to help it achieve its claimed 217 MPH top speed and 3.4s 0-62 MPH sprint.
In Forza Horizon 5, the Pagani Zonda Cinque will top out at 330 KPH, just 12 KPH lower than its real life claimed top speed of 342 KPH, which is good enough for number 22 on this list.
21. Mercedes AMG One – 217 MPH
Despite being the poster car for Forza Horizon 5, Mercedes' AMG One hypercar only manages to land at number 21 on this list - an indication of just how insanely fast the rest of the cars on this list will be.
The Mercedes AMG One is anything but slow - advanced aero and the 877 horsepower 1.6L Turbo Hybrid V6 will propel the AMG supercar all the way to its maximum 350 KMH top speed without breaking a sweat.
20. Lotus Evija – 221 MPH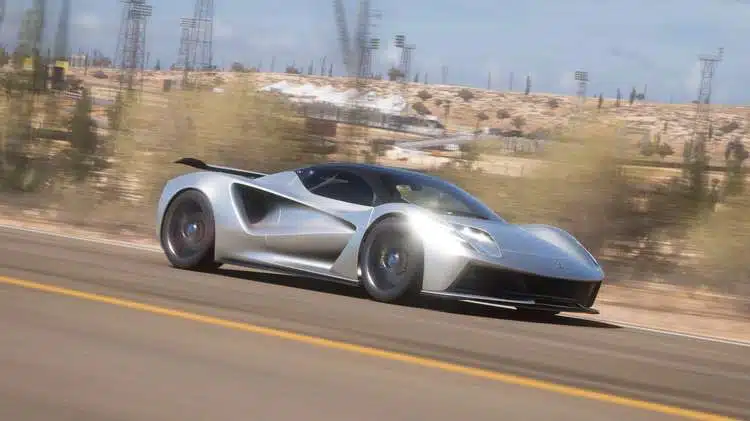 Back in 2020, Lotus produced 130 limited-run electric hypercars called the Lotus Evija. Unlike most of the vehicles found on this list, the Evija is one of few fully electric hypercars that can put its internal combustion-engined brothers to shame.
With 1973 horsepower from its 4 electric motors provided by Integral Powertrain, the Lotus Evija will sprint to a face-ripping 356 KMH top speed in Forza Horizon 5 - good for number 20 on this Forza Horizon 5 fastest cars list.
19. McLaren Senna – 224 MPH
If Playground Games takes a car and uses it in the promotional poster for the next Forza Horizon game, you can be sure the car will be one of the fastest cars in the game.
The McLaren Senna was Forza Horizon 4's poster car that appeared in countless posters and teaser trailers prior to the game's official release in 2018. With the game set in beautiful Great Britain, using a hypercar from an established British luxury automotive manufacturer made a ton of sense for Playground Games.
The McLaren Senna returns for Forza Horizon 5 and brings the same 4.0L twin-turbocharged V8 engine that produces 789 horsepower that gave it its mind-boggling top speed of 361 KPH in stock form, easily securing the number 19 spot on this list.
18. Lamborghini Veneno – 228 MPH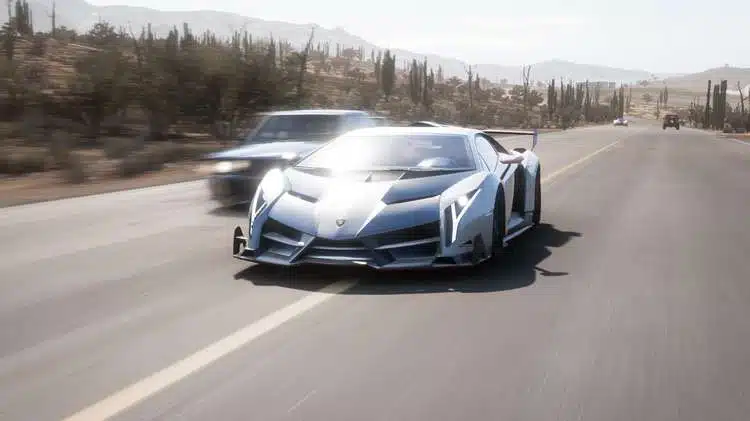 Lamborghini's V12 monstrosities cannot be faulted - it has given the performance vehicle world some of the fastest accelerating straight-line machines the world has ever seen.
How Lamborghini continues to find more horsepower from its tried and tested V12 platform without resorting to forced induction is beyond us; all we know is that the company somehow managed to give the Veneno 40 more horsepower than the Aventador at the same displacement.
With 740 horsepower on tap, the Lamborghini Veneno will sprint to a top speed of 368 KMH. If you can find a road long enough in Mexico, that is.
If you're looking to get your hands on the Veneno, it'll set you back a juicy 1,220,000 CR.
17. Lamborghini Centenario – 231 MPH
Car fans can thank Ferruccio Lamborghini for all the 20 cars featured on this list. Why all 20 when there are really only four Lamborghinis on this list? Well, Lamborghini has always bravely pushed the performance envelope as evidenced by some of its classic cars such as the Countach and the Miura, prompting all the other hypercar manufacturers to follow suit.
To celebrate the company's founder, Ferruccio Lamborghini's 100th birthday, the company released the Lamborghini Centenario LP-770 back in 2016.
The Centenario has all the ingredients that make it a fitting tribute to the company's founder - a classic 6.5L NA V12 that now produces another 30 horsepower on top of the Veneno's 740 horsepower to bring the total up to 770. Mid-engine and AWD also make it unmistakably Lamborghini.
The Centenario's throwback GT-style looks give it a more streamlined aerodynamic profile that greatly helps with top speed, which now goes up to 373 KPH in Forza Horizon 5.
16. Lamborghini Aventador SV – 240 MPH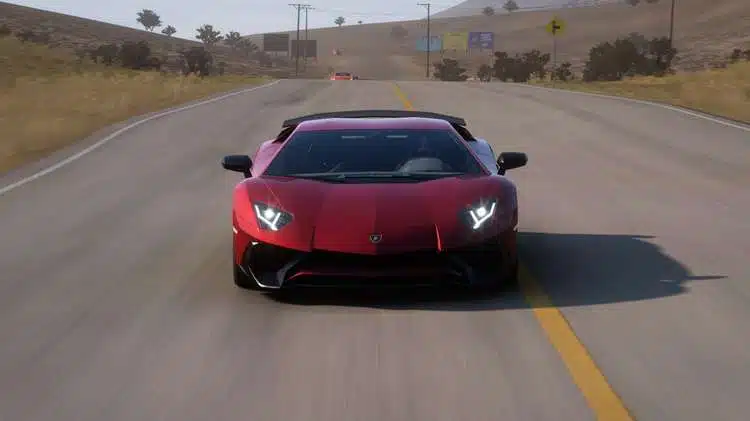 The SV in the Lamborghini Aventador SV's name stands for Super Veloce, which translates to very quick or very fast in Italian.
Lamborghini believes the "normal" Aventador wasn't fast enough on track for their liking, so they made a Super Veloce variant that comes with 40 more horsepower and a more aggressive aero package to help it clear corners quicker.
Weight is also reduced quite a bit from the base Aventador thanks to the extensive use of carbon fiber on various parts of the car. However, in Forza Horizon 5, the base Aventador's listed weight will be quite a bit less than the SV model for some reason (1575kg vs 1754kg)
Nevertheless, despite its more aggressive aero, the Lamborghini Aventador SV will run all the way to a top speed of 387 KMH.
15. Koenigsegg CC8S – 241 MPH
After eight years in development, startup hypercar company Koenigsegg released their first-ever production car, the CC8S, back in 2002.
For a startup company, it would be totally understandable if you released a car with a less-than-stellar performance back in the day. However, Koenigsegg begged to differ and came out with guns blazing with their CC8S.
The CC8S debuted with 655 horsepower from its 4.6 L supercharged Ford Modular V8. Its ultra-lightweight chassis (1165kg dry) gave it a then respectable power-to-weight ratio of 0.56 which helped propel the 2-door Targa top to a top speed of 390 KPH.
The CC8S' real-world top speed will be very similar to its top speed in Forza Horizon 5 - 388 KPH.
14. Porsche 918 Spyder – 244 MPH
The 918 Spyder was Porsche's response to McLaren and Ferrari's hybrid hypercars.
The Porsche 918 Spyder combined a 4.6L naturally aspirated V8 and two electric motors for a grand total of 887 horsepower and 829 lb-ft of torque mated to a 7-speed dual-clutch transmission.
With the help of Porsche's high-tech AWD system, the Porsche 918 Spyder will sprint to 100 KPH in 2.2 seconds with a top speed of 344 KMH.
In Forza Horizon 5, the Porsche 918 Spyder will push to a maximum speed of 394 KMH, making it the fastest Porsche in-game.
13. Aston Martin Valhalla – 245 MPH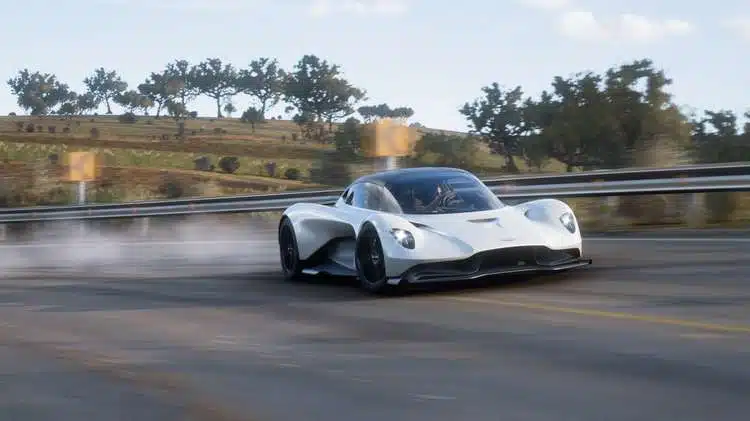 Whenever a car has a name derived from Norse mythology you can be sure it's a good one.
The Aston Martin Valhalla is a concept car released in 2019 as a collaboration between Aston Martin and Red Bull Racing (Yes, that Red Bull Racing Team)
Originally, the concept car was equipped with a 3.0L twin-turbocharged V6 that produced 1042 horsepower and 995 lb-ft of torque mated to an 8-speed transmission with AWD. However, Aston Martin has since swapped out the powertrain in favor of a much larger 4.0L twin-turbo V8 from Mercedes-AMG.
The Aston Martin Valhalla's streamlined bodywork helps it achieve a 395 KMH top speed in Forza Horizon 5.
12. Lamborghini Aventador – 247 MPH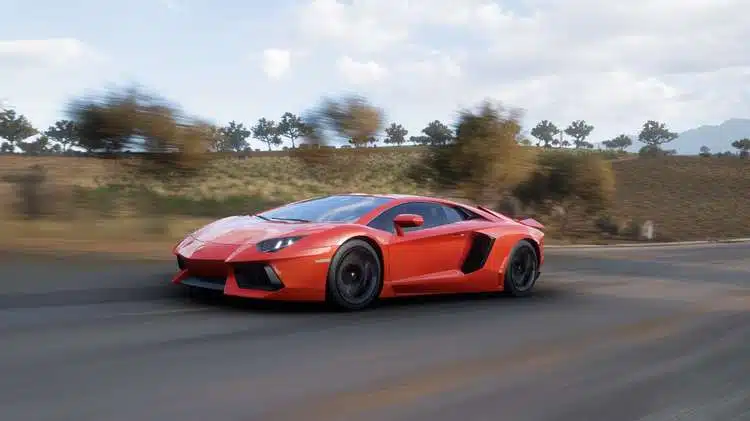 For some odd reason, the base model Aventador LP-700 will run at a higher top speed in Forza Horizon 5 compared to other higher-spec Lambos such as the Aventador SV.
The standard Aventador will run all the way towards its in-game top speed of 398 KMH, probably due to its less aggressive aero package and gear ratios.
Nevertheless, the LP-700 will run 11 KPH faster than the SV model on the same road conditions in Forza Horizon 5.
11. Koenigsegg Regera – 248 MPH
In 2016, Koenigsegg released a more luxury-oriented hypercar called the Regera.
The Regera features the company's proprietary Direct Drive System a pure EV mode, as well as a single-speed fixed-gear transmission that helps propel the Regera to 100 KMH in just 2.8 seconds.
The Regera's top speed is a brisk 400 KPH in Forza Horizon 5. Mind you, that number is, according to Koenigsegg, electronically limited, which means the Regera still has enough juice to push even higher.
All of this is even more impressive when you consider the Regera's relatively high curb weight of 1628kg.
Nevertheless, the Regera's high-tech drivetrain, 5.0L twin-turbo V8 with three electric motors, and aerodynamic chassis make it one of just a handful of cars that can breach the 400 KPH mark in Forza Horizon 5.
10. Zenvo TSR-S – 250 MPH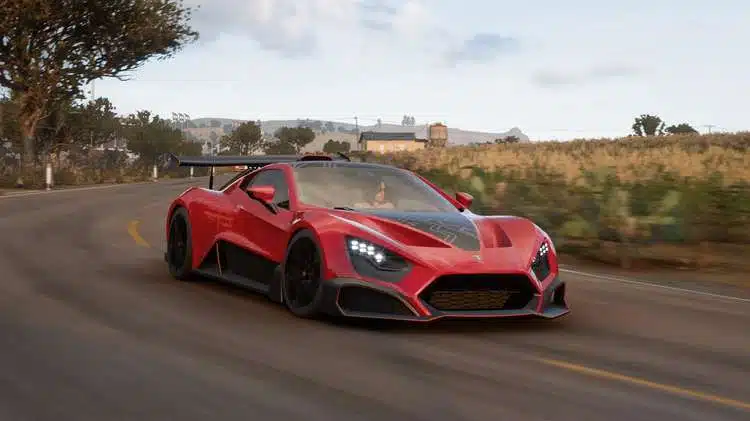 Zenvo turned heads and raised eyebrows when it launched its first-ever supercar, the Zenvo ST1, in 2009.
Back then, not a lot of manufacturers thought to combine the low-end immediacy you get from a supercharger with the unmatched top-end pull of a turbocharger in one engine. The result was a telepathic throttle response from basically anywhere in the rev range.
Fast forward a few years later, Zenvo is still making supercars that the world has never seen before. This time around, we have the high-tech Zenvo TSR-S, which features an active "centripetal wing" that tilts to the opposite side of the inner wheel while cornering.
Despite the focus on cornering performance, the TSR-S sports a mighty 5.8L supercharged V8 that produces 1177 horsepower mated to a 7-speed transmission. With a curb weight of just 1547kg, the TSR-S easily breaks the 400 KMH barrier with its 403 KMH top speed in Forza Horizon 5.
9. McLaren P1 – 253 MPH
Every now and then, McLaren will build a limited-run supercar where they can stretch their engineering legs and showcase everything they have learned from their F1 program.
The 2014 F1 season saw all teams switch to more efficient hybrid powerplants. A polarizing move for fans and teams alike, but one that gave birth to a new era of high-performance road cars as well.
The P1 was McLaren's hybrid hypercar designed to go head-to-head with the likes of the Ferrari LaFerrari and Porsche 918 Spyder. All three manufacturers went about hybrid powerplants in their own special way, but McLaren went for a 3.8L turbocharged V8 and one electric motor for a total output of 903 horsepower and 664 lb-ft of torque.
In Forza Horizon 5, the P1's powerplant is good for a 0-100 KMH run in 2.8 seconds and a top speed of 408 KMH, easily making it one of the fastest cars in the game.
8. Rimac Concept 2 – 261 MPH
The Rimac Concept 2 at number eight on this list is a good indication of the direction high-performance road cars are heading in the coming years - electric power.
The Rimac Concept 2 joins the Lotus Evija as some of the fastest all-electric cars in Forza Horizon 5. With 1887 horsepower from its four liquid-cooled permanent magnet synchronous electric motors, the Rimac will finish the 0-100 KMH run in just 1.85 seconds and carry on towards a lightning-fast 421 KMH top speed.
7. McLaren Speedtail – 265 MPH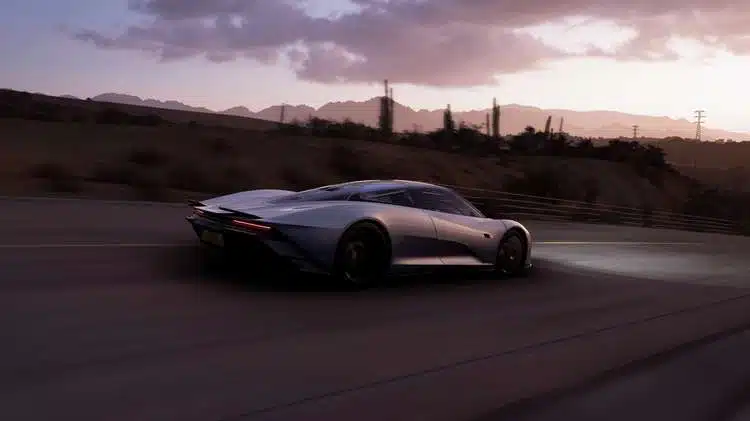 Two things matter most when aiming for maximum top speed - aerodynamics and power. In a rare marriage of both, the McLaren Speedtail was born.
McLaren wanted as little drag as possible from the Speedtail's chassis, so they opted for larger panel sections to reduce the car's panel gaps. The result is an ultra-low drag coefficient hypercar that will cross the 299 KMH barrier in just 12.8 seconds.
The Speedtail is officially McLaren's fastest production car to date. With 1036 horsepower and 847 lb-ft of torque from its 720S-derived 4.0L twin-turbo hybrid V8, the Speedtail will run to a maximum speed of 402 KMH. In Forza Horizon 5, that number will be closer to 427 KMH.
6. Hennessey Venom GT – 269 MPH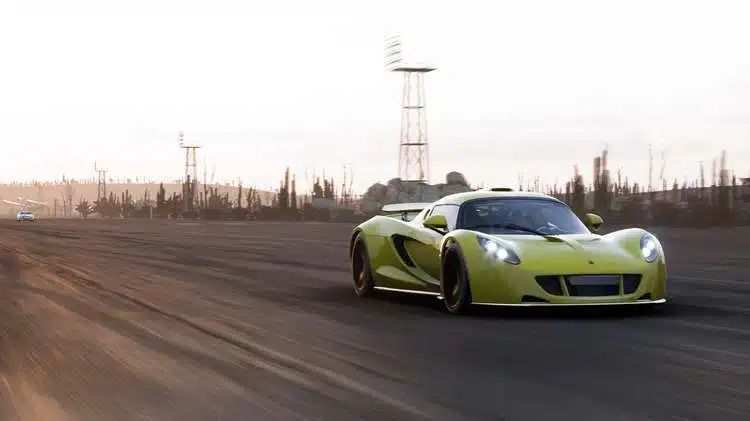 Hennessey had their eyes fixed on the Bugatti Veyron's 0-200 MPH time while designing their newest and fastest supercar.
The American company was no stranger to high-performance tuning. In fact, Hennessey Performance is one of the most respected tuning houses in the US, known for their work on various high-performance cars such as Ferraris, Porsche, Mustangs, etc.
They did the unthinkable in 2010 when they took the Lotus Exige platform and customized it to accept a twin-turbocharged V8 engine good for 1244 horsepower. The Venom GT weighed an equally impressive 1244 kg, which helped it achieve a top speed of 270.49 MPH (435.31 KMH).
Unlike most cars on this list, the Hennessey Venom GT's real-world top speed and in-game top speed are very identical. In-game, the Venom GT will run with a top speed of 434 KMH.
5. Bugatti Veyron Super Sport – 270 MPH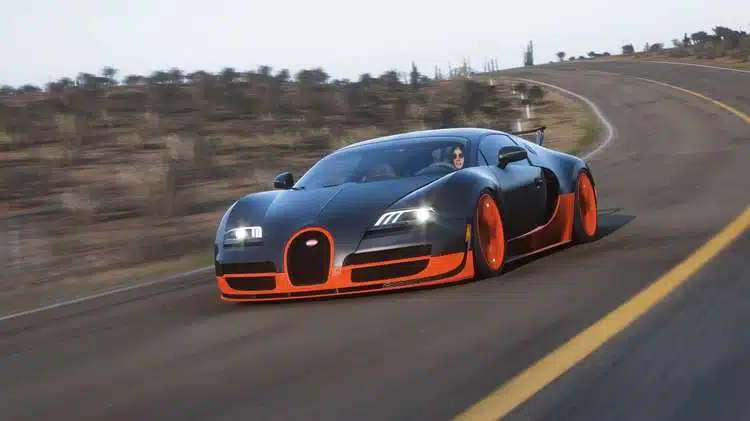 The Bugatti Veyron Super Sport needs no introduction - it held the world's fastest production car record from 2010 to 2017 before ultimately falling to the Koenigsegg Agera RS.
At full tilt, the Bugatti Veyron Super Sport will sprint to a top speed of 435 KMH in Forza Horizon 5 - barely beating out the Hennessey Venom GT when running at full speed on one of the game's highways.
Aside from its impressive top speed, the Bugatti Veyron Super Sport's equally impressive acceleration score will shock you - 0-100 KPH in just 2.4 seconds and 0-161 KMH in around five seconds. With 1183 horsepower to play with from its massive 8-liter quad-turbo W16 motor, the Veyron is easily one of the quickest cars off the line in Forza Horizon 5 as well.
4. Bugatti Chiron – 274 MPH
By 2016, the Bugatti Veyron was getting long in the tooth and was due for an update. Fortunately, a successor called the Chiron was already in the works.
The Chiron carries over the same 8.0-L quad-turbocharged engine found in the Veyron. Bugatti made some tweaks to the engine to help it produce 1500 horsepower - almost 300 horsepower more than the full-on Veyron Super Sport.
The result is an electronically limited top speed of 420 KMH and a 0-100 KMH time of just 2.4 seconds.
Forza Horizon 5's Chiron will run to a max speed of 442 KMH, making it the fourth-fastest car in Forza Horizon 5.
3. Koenigsegg One:1 – 277 MPH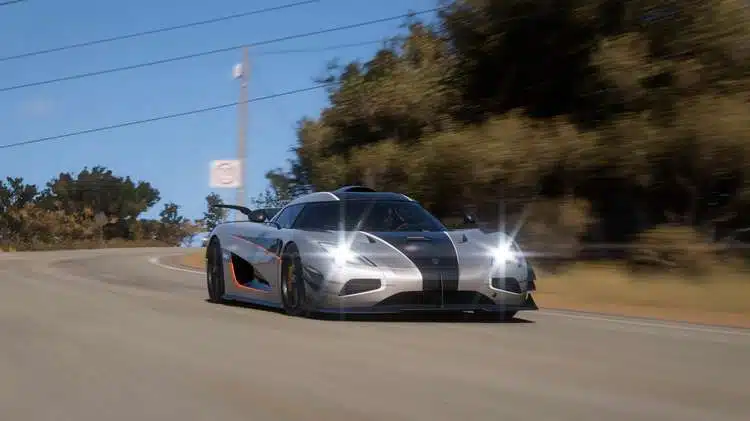 The Koenigsegg One:1 has to be one of the oddest names the Swedish high-performance company has given any of its cars. However, there's a good reason for this.
The name One:1 points toward the car's power-to-weight ratio of 1:1 - the holy grail of basically any performance car manufacturer. With 1360 PS and 1360kg of mass, the Koenigsegg One:1 has one of the highest production car power-to-weight ratios in history.
It does this by combining a 5.0L twin-turbocharged V8 engine with a high-tech F1-derived carbon fiber chassis.
The One:1 has a top speed of 446 KMH in Forza Horizon 5, which is good for number three on this list. Considering it has a 9.5 rating for handling, it's also extremely capable in the twistier sections.
2. Koenigsegg Agera RS – 280 MPH
A quick run through the Mexican highways and you'll realize that the Agera RS and the Agera RS-derived Koenigsegg One:1 will run at a similar same top speed of around 446 KMH in Forza Horizon 5. (Although the car will be rated at a 451 KMH top speed in-game)
This isn't too surprising since both cars feature pretty much the same powertrain and drivetrain layout. Alongside its flawless 10 Speed score, it also achieves 9.7 for Handling, ensuring incredible grip when cornering.
1. Koenigsegg Jesko – 286 MPH
The number one car on this list is probably also number one on every other Fastest Car in Forza Horizon 5 list out there - the Koenigsegg Jesko.
Named after the company's founder, Christian Von Koenigsegg's father, Jesko Von Koenigsegg, the Jesko is Koenigsegg's fastest production hypercar to date.
The Jesko features a redesigned 5-liter V8 turbocharged engine from the Agera RS that puts out a maximum of 1600 horsepower on E85. In-game, this number will be closer to 1280 horsepower, indicating that the Jesko is running on pump fuel.
Despite the lower horsepower output, the Jesko is the fastest car in Forza 5 bar none, and it isn't even close - the Jesko will run to a game-best 461 KMH, which is a good 8 KMH faster than the Agera RS. For perspective, 8 KMH is enough to make you look like you're cruising if we're talking about cars capable of hitting 400 KMH.
Not only does it top out the Speed scale with 10 speed rating, but it's also flawless in the corners, clocking up another 10 for handling. For this reason, there's no question that the Koenigsegg Jesko is the ultimate pick, whether you're looking to go fast in a straight line or tackle the apex with pinpoint precision.
If you're looking to go street racing on the highway against the best drivers in Horizon 5, the Jesko will undoubtedly need to be the next addition to your garage.
Conclusion
Car manufacturers such as Koenigsegg take top speed as a very serious business. Don't believe us? Take another look at the list above and count just how many cars from Christian von Koenigsegg made it to the list, let alone the top 5.
That said, it is impressive how car technology and horsepower have progressed in just two decades. Back then, cars such as the limited CC8S with 655 horsepower would be unattainable to most enthusiasts. These days, however, you easily can purchase an 840-horsepower Dodge Demon off the showroom floor and go as fast as 211 MPH like it's nothing.
The future looks very promising for fast cars as two very fast electric cars made the list as well, hinting at the performance capability that electric motors and battery packs can bring to the automotive landscape.
Nevertheless, people will always try to find ways to go even faster to wring every last juice of thrill from the human body. With Jesko's mindblowing 461 KMH top speed, it will only be a matter of time before we're pitting four-wheeled vehicles against jet fighters.
Hopefully, we won't need a special license to pilot these ultra-fast cars in the future.
So, there we have it! We hope that through this guide, we have given you a good idea and the necessary knowledge about the Fastest Cars in Forza Horizon 5.
Want to know the latest news on the latest addition to the Horizon franchise? Check out everything we know about Forza Horizon 6 here!
Thank you for reading our Fastest Cars in Forza Horizon 5 guide.
If you enjoyed this article, please share it with the buttons at the bottom of your screen. If you've found this information useful, then please take a moment to share it with other drag racing, drifting, and Forza Horizon 5 fans. We appreciate your support.