Is Forza Horizon 5 Cross Platform?
Want to know if you can play Forza Horizon 5 with other players on different platforms? We've got you covered in this guide.
---
Introduction
The Forza Horizon series continues to make waves and break records, as Forza Horizon 5 raked in an unprecedented number of awards since its release in November 2021.
Forza Horizon 5 stole the show in The Game Awards 2021 when it won three out of its four nominations. In the same year, Forza Horizon 5 also became the most successful Horizon game yet when it launched to ten million players in its first week, surpassing its predecessor, Forza Horizon 4.
It's not hard to see how Forza Horizon 5 became so successful just months after its initial release. There's the larger map, dynamic weather, new content, breathtaking next-gen graphics, and the impressive roster of vehicles that players can enjoy with even better visual fidelity.
Speaking of enjoyment, while you can have a ton of fun exploring what beautiful Mexico has to offer in single-player mode, Forza Horizon 5's online multiplayer mode is arguably the main reason so many players keep coming back to the Horizon series.
Online where most players will spend their time in Forza Horizon 5. So whether you're out drifting in Mexico's beautiful mountains or tearing up the asphalt at one of the game's drag strips onboard the fastest drag cars in the game, there's always something new and exciting to do around Mexico.
Like Forza Horizon 4, players can even share setups and tunes for their favorite cars, so they can get a good idea of what makes a great track, drift, or drag tune in-game.
There is a myriad of racing games on the PC, Xbox, PlayStation, and various other consoles, but the Forza Horizon series has always been great for implementing one thing that most other racing games just don't seem to have any interest in – cross platform online gameplay.
While you can also play online with friends in other games such as Assetto Corsa or Gran Turismo, you can't really hang out with your mates onboard your favorite cars outside of third-party maps and custom games.
With Forza Horizon 5, you can enjoy events such as Horizon Tour, where you can team up with random players from all over the world to beat challenges in-game. If you're not into that, you can simply meet up with your friends at a specific part of the map and start your own race, cruise, drift, off-road, or just about any motoring event on-the-fly through Convoys.
It's this seamless connection between car culture and the friendly, accessible nature of Forza Horizon that make it such a loved game by many car fans around the world.
With such a focus on online multiplayer gameplay that's as fun and accessible to as many players as possible, you're probably wondering if Forza Horizon 5 Cross Platform play is possible between players on different consoles, and whether you can play Forza Horizon 5 with your friends across varying platforms.
---
Is Forza Horizon 5 Cross Platform?
Yes, Forza Horizon 5 is cross-platform and supports cross-play. This means that you can play Forza Horizon 5 online with other players playing on a completely different platform to yours.
Forza Horizon 5 is only released on the PC, Xbox One, and Xbox Series X|S, which made it very easy for Microsoft to implement cross-platform play on all three platforms.
Typically, PC players can only play a game with others that are using the PC version, while console gamers can only really play with other gamers on the same console. But thanks to Forza Horizon 5's cross platform play compatibility, both console and PC gamers can have access to the game which can help make Forza Horizon 5's player base much bigger and help word on its unique open-world driving environment.
---
How to Play Forza Horizon 5 Cross Platform
With the glaring question out of the way, you're probably wondering how cross platform play works in Forza Horizon 5.
Don't worry. We have outlined all the basic things you need to know to get cross platform play up and running in Forza Horizon 5, so you can play online with your friends even if they're on a different platform to yours.
How to enable Forza Horizon 5 crossplay on Xbox
Before you can start enjoying the crossplay support capabilities on Xbox, you might want to check your cross-network play settings on your Xbox account first.
To do this, you have to go to Xbox Settings > Account > Privacy & Online Safety on your Xbox Live profile. After which, select Xbox Privacy, then select Custom > View Details and Customize. Finally, choose Communication & Multiplayer and change the "You can join cross-network play" option from Block to Allow (if it hasn't been enabled yet.)
This is admittedly a bit of a hassle if you're just looking to play Forza Horizon 5 online multiplayer with your mates. However, this is a necessary step that will ensure that you can see and invite your friends in Forza Horizon 5.
If you do not have Crossplay enabled on the Xbox, you might run into issues when adding friends into your Convoy in Forza Horizon 5.
How to add friends to your Convoy
You can think of Convoys as a sort of 'squad' or 'team' in Forza Horizon 5 that groups you and your friends into a small group where you can simultaneously drive around and do activities together around Mexico.
To start playing Forza Horizon 5 with your friends you first have to invite them to join your Convoy in-game.
To do that, you have to go to the pause menu and navigate to the Online Tab. After which, you have to select the Convoy tile and tap the Y button (Xbox) to manage your Convoy.
By managing your Convoy, you will get the option to Invite Friends, Find a Convoy, or Change Convoy Privacy.
Simply select the Invite Friends option, which will let you choose from your list of friends on Xbox Live.
After that, your friend/s simply has to accept your invitation to the convoy. You can now start doing events or cruise around Mexico with your friends in Forza Horizon 5.
---
Does Forza Horizon 5 Support Cross Save?
Like Forza Horizon 4 before it, Forza Horizon 5 also supports cross save, which means you can play on the PC or the Xbox using the same save game file that you have on your main device.
For example, if you mainly play on the Xbox and want to switch to the PC to try and crank up Forza Horizon 5's graphical settings as much as possible, you can simple login to the same account you used on the Xbox and continue your progress on your copy of Forza Horizon 5 on the PC.
All of your saved game data will automatically be saved on the cloud through Xbox Live. So whether you're on the PC or on your Xbox console, simply logging into your main Xbox Live account will let you play your Forza Horizon 5 save game file on any supported device.
---
Which Platform is Best for Forza Horizon 5?
For as long as the PC and Console co-exist in the gaming community, the question "which is better" will always be brought up in every generation.
Of course, the answer to this question all depends on which platform is more accessible to you and which one you're more comfortable with. Nevertheless, we have come up with a quick comparison between playing Forza Horizon 5 on the PC and Xbox below to help you decide better.
Forza Horizon 5 on PC
If there's one thing that the PC has going for it versus the console that would be its access to more powerful hardware.
PC gamers can simply swap out their current graphics card for a more powerful one to enjoy a more fluid gameplay experience in Forza Horizon 5. Not to mention the ability to crank up the graphical settings even further with more powerful hardware.
Game load times can also scale better on PC hardware, thanks to its access to faster storage devices, such as NVMe drives. In addition, PC gamers never have to worry about running out of disk space, due to the numerous extra storage slots in most modern motherboards.
Forza Horizon 5 isn't done pumping out new DLC that's at least a few gigabytes in size each. PC gamers will have no problem absorbing all of that into their large storage pool.
Forza Horizon 5 on Xbox
Despite not being as modular as the PC when it comes to hardware, consoles such as the Xbox are more efficient when taking advantage of the hardware available to them.
Consoles are simply more "optimized" and more focused versus the PC software-wise, as the PC has to handle as many other tasks as possible aside from gaming.
Because of this, consoles, while having relatively weaker hardware than their PC counterparts, will be able to provide similarly smooth and seamless gameplay with breathtaking graphics that are at least on par with what a similarly priced PC can pump out.
Another advantage that the Xbox possesses versus the PC is its portability. Want to play Forza Horizon 5 at your friend's house? Throw the Xbox into your bag and simply plug in your console to an extra TV at your mate's place.
That said, you can't go wrong with either the PC or console, as both will give you a similar experience and enjoy everything that Forza Horizon 5 has to offer. Both will have their pros and cons, and it's up to you to decide which one of these platforms will suit your use case better.
---
Is Forza Horizon 5 available on Playstation?
As much as Forza Horizon fans on the Playstation would want to play the game on their favorite console, Forza Horizon 5 is a Microsoft exclusive game, which means only players on Microsoft platforms (PC and Xbox) can play Forza Horizon 5.
The same goes for Forza Horizon 5 players who also wished they could try out the PlayStation-exclusive Gran Turismo anyway. Nevertheless, each platform has its own unique racing game that it can use to attract car fans and gamers to its ecosystem.
Playground Games doesn't seem to have any plans on bringing the Forza Horizon series to any other console just yet, leaving fans to wait and hope their favorite open-world racing game makes it to other popular consoles in the near future.
---
Is Forza Horizon 5 Cross Platform Xbox and PS4
Unfortunately, Forza Horizon 5 is only available on the PC and Xbox consoles, which means that cross platform play between Xbox and PS4 is impossible.
It's really a shame that PlayStation players will not be able to experience the exciting open-world driving experience that Forza Horizon 5 has to offer, as there is really no other game that can give racing and driving fans the amount of content and socialization that Forza Horizon can.
With thousands of players playing Forza Horizon 5 online concurrently, Playground Games definitely doesn't need any more players than they already have right now. Instead, keeping Forza Horizon 5 a Microsoft platform might even help players from other platforms migrate to the PC and Xbox platforms instead.
---
Is Forza Horizon 5 Cross Platform Xbox and PC
Yes! Forza Horizon 5 is cross platform between the Xbox and PC, which means that you can play the game on the Xbox One, Xbox Series X|S, and PC.
Forza Horizon 5 is also cross-play compatible, which allows players on supported platforms to play online together. This means that if you have a friend playing Forza Horizon 5 on the Xbox One or Xbox Series X|S, you can play with them online even if you're on the PC.
In addition, Forza Horizon 5 features cross-save support that will let you play your save games across different supported platforms by simply logging into your Xbox Live account.
---
Is Forza Horizon 5 worth playing in 2022?
Forza Horizon 5 is definitely worth playing even almost one year after its initial release.
Sure, Forza Horizon 5 has had a history of nasty bugs and money glitches that affected many players early in its life, but most of that has already been fixed by now. And while the game launched with fewer cars on its initial release than Forza Horizon 4, that number is quickly rising as DLCs and updates add more cars to the game.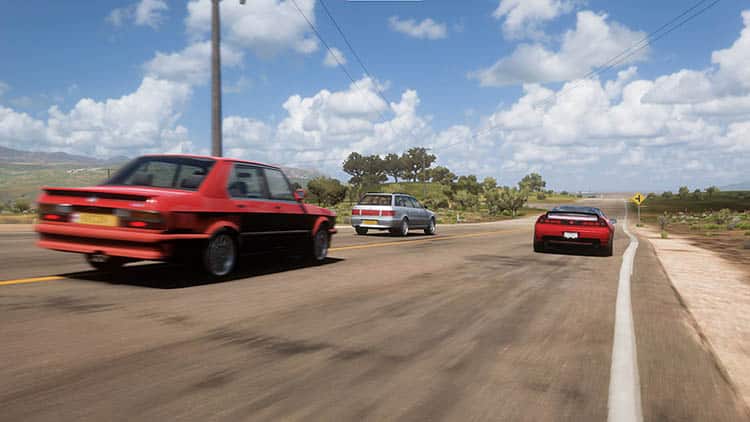 The game will only get even better from here, as Playground Games rolls out new content, DLCs, and updates continuously for Forza Horizon 5. You can expect even more cars, more tracks, more online events to play with your friends, and a more hassle-free experience with these consistent updates.
---
Conclusion
Forza Horizon 5's online multiplayer environment is virtually unmatched when it comes to its car culture, content variation, customization, and its online social environment, which is yet another reason why many feel it's still one of the best racing games out there.
While Forza Horizon 5's driving physics aren't as realistic as more serious simulator games like Assetto Corsa or iRacing, it doesn't have to be – Forza Horizon 5's charm can be found in its ability to give players a realistic-enough driving experience that's both challenging yet accessible enough for tons of players to enjoy casually.
Forza Horizon 5's cross platform, cross play, and cross save capability are a godsend to many fans of the Forza series, as this allows them to enjoy the game even when they are away from their main console.
While players can only really enjoy the game on one other platform (PC) the ability to play online with other players on a different platform is something that not many racing games can boast about.
Speaking of different platforms, you can't go wrong with the PC or the Xbox for Forza Horizon 5. Both platforms can deliver the best that Forza Horizon 5 has to offer in terms of visual fidelity and framerates. And while the PC can scale even better with more powerful hardware, the Xbox will still give you a very pleasing and playable experience all the same.
Forza Horizon 5 is turning almost one year old in November this year and is as solid a game as it ever was back when it was first released last year. If you didn't know, Forza Horizon 5 threw off a ton of players just a few weeks after its initial release due to some game-breaking bugs. The good news is that all of these have been ironed out since the start of 2022.
You don't have to worry about picking up the game late in 2022 as well, and you're not missing out on anything by playing Forza Horizon 5 one year after its release.
In fact, the game is as rich and playable as ever, thanks to the numerous updates and DLCs that Playground Games have continuously released to polish the gameplay experience and bring new content to the game. If anything, now is the best time to play the game to experience the full suite of cars, tracks, events, and content that Forza Horizon has on offer.
And, thanks to the Forza Horizon 5 cross platform capability, you can play the game with your friends on the Xbox One, Xbox Series X|S, or PC online with no problems at all.
So, there we have it! We hope that through this guide, we have given you a good idea and the necessary knowledge about how you can play Forza Horizon 5 cross platform.
Thank you for reading our Forza Horizon 5 Cross Platform guide.
If you enjoyed this article, please share it with the buttons at the bottom of your screen. If you've found this information useful, then please take a moment to share it with other drifting, drag racing, and Forza Horizon 5 fans. We appreciate your support.