Ultimate Drift Car Tow Strap Guide
Whether you're a drifter, racer, or simply looking to bag some scene points on the streets, a tow strap will be an ideal addition to your ride.
---
In a hurry? Here are our favorite Tow Straps:
| Budget Choice | Drifted Choice | Premium Choice |
| --- | --- | --- |
| | | |
| RaceQuip Adjustable Tow Strap | Sparco Tow Strap | Takata Tow Strap |
| 🔥🔥🔥🔥🔥 | 🔥🔥🔥🔥🔥 | 🔥🔥🔥🔥 |
| Buy Now | Buy Now | Buy Now |
---
Introduction & Tow Strap Considerations
When it comes to pulling off some subtle skids on the street or perhaps carving up the canyons in your stock ride, the OEM tow hook is likely to be an adequate tool for the job.
However, suppose you're frequently pushing your kitted drift car to the limits at the race track to the extent that accidents, tire delaminations, and chilling in gravel traps are becoming a common occurrence.
In that case, it's probably time to level up your towing accessory game!
Although aftermarket towing hooks were once the weapon of choice, it didn't take long before drifting enthusiasts began regretting their decisions.
With most tow hooks being designed more for 'show' than practical purposes, you'll soon realize the hard way that your trusty tow hook is just as bendy as a tow strap, and you can forget that free tow back to the pits.
After shamefully getting your buddies to push you back to the paddock, this is when you'll find yourself on Google, searching for the best alternative solution to your regrettable purchase.
Thankfully, you've (hopefully) found this page before it reached this stage!
Tow Strap vs Tow Hook
You might be wondering at this point why we feel that aftermarket tow hooks are inferior to straps.
Bending and limitations
We've witnessed bendy tow hooks on more occasions than we'd like to admit. Admittedly many of them may have been fakes, but we'd prefer not to take our chances.
Towing hooks are designed with straight-line towing in mind, and in an awkward situation that you may well find yourself in at the track one day, they're likely to be taken beyond their limits.
When pulled at an angle, you run the risk of bending or breaking your tow hook, while a strap is completely flexible by design yet still capable of dealing with the load.
Track considerations
Many racetracks now ban protruding tow hooks as they're often regarded as a hazard. If you're unfortunate enough to have a crash, they can create further damage - potentially to the chassis itself.
If you get a little too close for comfort with another driver (or they bump into you) with a tow hook, it's likely to spear the bumper, or perhaps even body panels.
However, with a flat tow strap, you won't need to have concerns about creating further damage.
If you're a racer that's tired of other racers' bump-drafting your car, a tow hook on the rear might not be such a bad idea – keep your fingers crossed that you'll never need to use it for its intended purpose!
Street considerations
Whether you're building a street car or driving to events in your track day car, tow hooks can also become a further danger in this scenario.
Let's face it, solid metal parts protruding from your cars' bumpers aren't ever going to be a good thing.
If you were to hit something such as a dog, or a pedestrian at low speed, a tow hook would likely cause unthinkable damage.
Picking the ideal location
When it comes to hooks, you're going to be limited by the towing location on your car and the hook design.
With a tow strap, you'll have much more flexibility, and this can be especially useful for those with typical drift-style body kits, where they've smoothed over the factory/OEM mounting hole in the bumpers.
Alternatively, you can also mount a tow strap to your bash bar and create a neat and tidy slimline cut in the bumper to feed the tow strap through.
Tow strap installation
There are plenty of valuable videos out there showing ideal tow strap locations for your specific application.
Some products will come as part of a kit, where others will mount to your existing mounting points. For those running bash bars or similar, you'll be able to consider a custom mounting location.
For those considering a bash bar, this video shows you how convenient installation can be:
Here's a different method that uses the existing tow mount and OEM bumper hole for the BMW E46 M3.
Or, for the Miata owners out there, you can check out this video:
As you can see, it couldn't be more straightforward for those looking to use a different mounting location; ensure you avoid obvious potential issues, such as touching any parts that could potentially get hot, such as the exhaust on the rear.
If your tow strap is flapping around, you can fix it up with a zip tie. Although we hope you'll never need to use it, if you do, then the zip will be easy to remove.
Fakes
Yep – this again! As with all reasonably-priced automotive accessories on the market, fakes, unfortunately, make a frequent appearance when it comes to tow straps.
We've used trusted sources and suppliers for this guide to ensure you don't get stung with a fake tow strap that's likely to break far easier than a genuine product.
We high;y recommend sticking with tried-and-trusted brands from reputable sellers rather than buying a 'JDM YO'-style tow strap that ships from China – this should be enough to get the alarm bells ringing!
Thankfully, there are plenty of reasonably-priced tow straps on the market, so we would always avoid fakes at all costs.
---
Best tow straps
At this point, we're hoping you can see why we much prefer to run tow straps on our cars here at Drifted.
Not only are they far safer, but they're also more convenient, often cheaper, and provide a far superior alternative, especially when it comes to aftermarket body kits.
We've also seen people asked to remove their protruding tow hook at tracks, but never a strap.
All of our picks come from verified sellers, which thankfully means that you'll be able to avoid fake products on the market.
Admittedly, straps are much of a muchness. When opting for a genuine product from a reputable company, it's likely to be the price, design, or practicality of a specific strap that'll be the selling point when it comes to the ideal choice for your needs.
With that covered – let's take a look at the best tow straps on the market!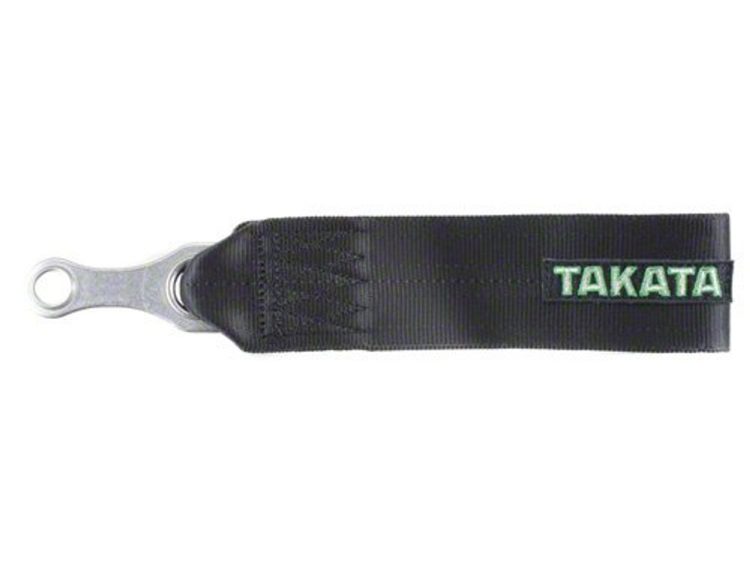 Manufacturer: Takata
Fitment: Universal
Value for money:

🔥🔥🔥🔥

Purchase link: Takata Tow Strap
Our comment: The JDM fans out there will undoubtedly be familiar with Takata, who are best-known for their stand-out green harnesses.
Sticking with their trademark colors, they bring this simple, high-quality tow strap to the market.
For those looking for uniquely colored, premium parts for their build, this could be a perfect choice.
With towing capabilities of up to 4,000lbs, it'll be suitable for every drift or race car (with some rare exceptions!)
Manufacturer description: "Tow straps for your race car. Available in green (discontinued) and black, with TAKATA Logo embroidered. With bendable stainless steel bolt-on hardware for up to 7/16″ or max 12 mm bolt; capable of pulling over 1800 kg (4000 lbs.)"
---
Manufacturer: RaceQuip
Fitment: Universal
Value for money:

🔥🔥🔥🔥🔥

Purchase link: RaceQuip Tow Strap
Our comment: RaceQuip is best-known for its involvement in the racing scene, with quality among the best in the industry.
We've been hugely impressed with this unique tow strap, which is available with two designs, a metal loop ring and a soft (fabric) loop ring.
Our favorite part of this product? It's fully adjustable. That's right, no matter whether you want to have it 7" long or 24" long, it's still capable of 3,500lbs towing weight.
With drop-forged steel hardware and 2" wide 12,000lb commercial grade polyester webbing, this tow strap is arguably the most exciting offering in this guide, with a fantastic price to match.
Manufacturer description: "This Item is a updated and upgraded verison of the Safe-Quip tow eye loop strap found on many Spec Miata, SCCA, NASA, PCA, PBOC, and BMWCC Road Race Cars."
"Don't confuse these 12,000lb Polyester units with the light-duty versions sold by others. Bolt this strap to the bumper brackets or anwhere on the bumber, and you will have a rugged tow loop hook that will not be in the way to bump and bang your head and knees."
---
Our comment: Another JDM industry leader when it comes to high-quality safety products, tuning legends Cusco should need no introduction.
With a similar, basic design to its Takata rival, this could be another excellent option for those looking to showcase the finest premium products on your ride.
Capable of load-bearing up to 3,500kgf, this 2" wide tow strap has the strength to match the looks.
Manufacturer description: "Universal Tow Strap by Cusco®. Designed utilizing the latest technology, this product features premium quality and will perform better than advertised. Perfect for your vehicle and lifestyle, it is manufactured to meet or exceed stringent industry standards."
---
Manufacturer: Sparco
Fitment: Universal
Value for money:

🔥🔥🔥🔥🔥

Purchase link: Sparco Tow Strap
Our comment: Sparco has been leading the tow strap game for quite some time, thanks to its fantastic price tag, exceptional quality, and simple yet effective design.
This tried-and-trusted method is rated for an impressive 6,600lb max load, which could come in handy for those of you with heavy builds.
Another fantastic tow strap bargain.
Manufacturer description: "The Sparco Tow Strap is a lightweight fabric alternative to the traditional steel tow hooks. The Sparco Tow Strap is rated for 6,600lbs max load."
---
Our comment: For those looking for the cheapest product in our guide, look no further than this offering from ISR performance.
Perfect for those looking for quality on a budget, this red tow strap comes with all of the necessary mounting hardware for ease of fitment to any vehicle.
ISR Performance hasn't provided a load rating with this strap, so if you're running a heavier vehicle, we'd consider parting with a few more bucks for peace of mind.
Manufacturer description: "Take the anxiety out of towing with an ISR Performance racing tow strap. This high tensile strength strap gives your crew an easy access point to hook to while helping keep your expensive custom body parts safe from damage."
"Designed to give you a reliable, convenient tow point that is easily distinguished by your pit crew. A universal tow strap is a great way to protect your vehicle investment."
---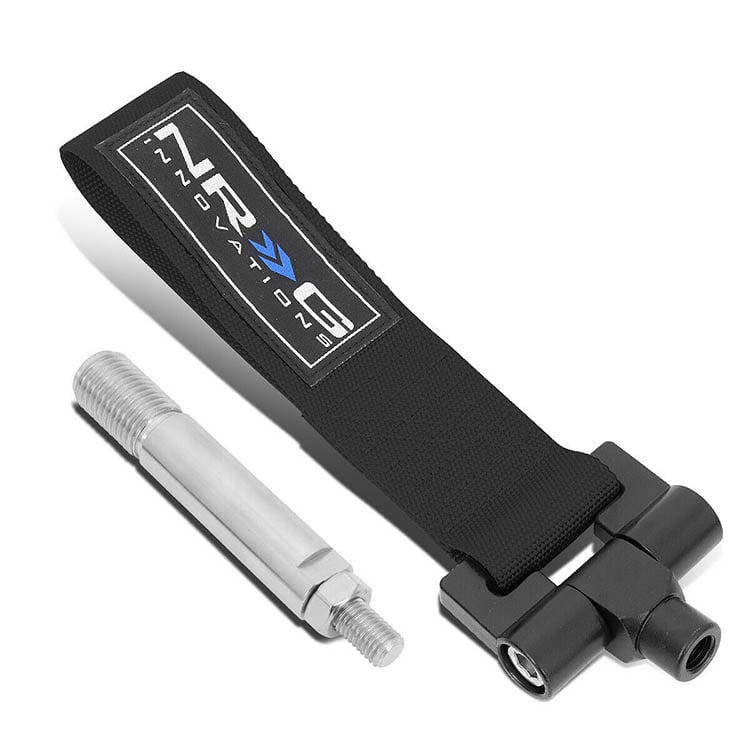 Our comment: We feel that this offering from NRG Innovations is one of the best-looking tow straps in our guide.
Crafted from premium-quality powder-coated and polished steel with a 2.25" wide nylon strap, this would undoubtedly stand out from the crowd.
These straps are vehicle-specific due to the adapter, so we recommend heading here to find the specific version for your car.
Given that it provides everything required to fit this to your OEM towing location with simple convenience, this is an excellent option for those that aren't too confident with tools, but it does come at a price.
Manufacturer description: "The NRG Tow Strap was specifically designed to maximize their vehicle's potential without having to worry of getting stuck and without anything to pull them out of it."
---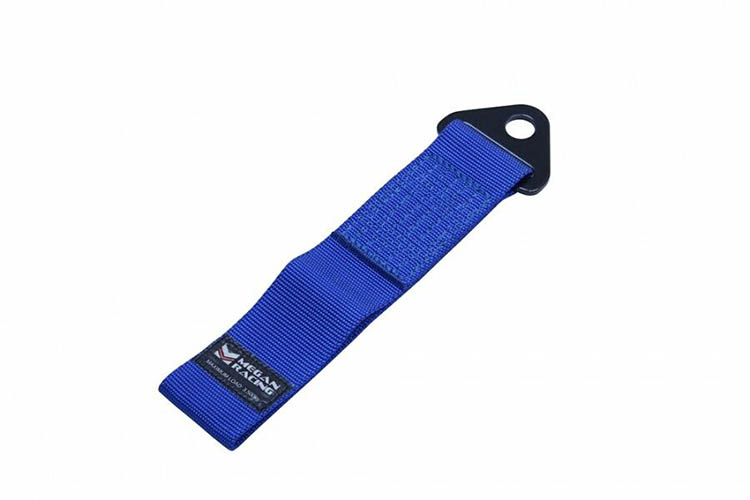 Our comment: Megan Racing is known for bringing budget parts to the tuning scene, but thankfully they've still managed to maintain exceptional quality in the process.
These budget tow straps are rated to an impressive 7,700lbs, which is undoubtedly going to be sufficient – unless you're drifting a truck!
Megan Racing's tow strap is another excellent choice for those looking for a simple solution on a budget.
Manufacturer description: "Megan Racing is proud to present our new line of tow straps, featuring 2″ nylon webbing and 0.6″ bolt hole. Easy installation and great accessory for your race car."
"2″ wide and 10.25″ total length nylon ribbon strap with 3,500 KG (7,700 LBS) tow capacity."
---
Our winners
---
Our Drifted Choice award goes to Sparco
Our tow strap winner is the Sparco Tow Strap.
For those looking for a simple, reasonably-priced tow strap from one of the highest-regarded brands on the market, this Sparco strap is a fantastic choice.
From what we've seen over the years, we feel this could quite possibly be the most popular strap on the market, and it's easy to see why so many enthusiasts are delighted with their purchase.
---
Our Premium Tow Strap Choice
Our Premium Choice is the Takata Tow Strap.
If you don't mind spending a little extra cash on premium products for your ride, we love the look of this Takata strap, and it has the typical JDM quality that you'd expect to match.
If you're looking to earn maximum scene points at a meet or the local track, look no further! Takata's signature colors will undoubtedly get plenty of well-earned attention.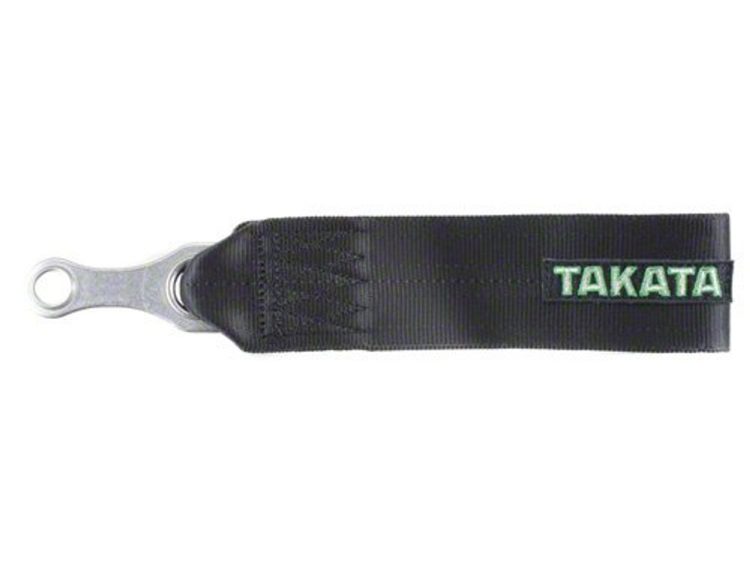 ---
Our Budget Tow Strap Choice
Our Budget Choice is the RaceQuip Tow Strap.
Although it's won our budget award, we feel that this offering from RaceQuip is quite possibly the best pick of our entire list.
With two different designs, alongside its unique adjustability feature, this represents incredible value for money, and it's by far the most convenient choice in our guide.
If you feel that this ticks the right boxes for what you're after, we're confident that you won't be left disappointed!
Thank you for reading our best tow strap guide.
Whether you're looking for the finest JDM products or the best value-for-money products on the market, we feel we've provided something to suit everyone's needs in this guide.
If you feel we've missed a product that's worthy of being added to our list, then feel free to drop us a line, and we'll be more than happy to check it out.
If you enjoyed this article, then please share it with the buttons at the side and bottom of your screen. Find this information useful? Please post a link to it on your owners clubs. We appreciate your support.