Ultimate Racing Gloves Guide
Whichever stage you're at in your drifting journey, gloves can be extremely useful for multiple reasons. We're going to take a deeper look and show you the best choices on the market.
---
In a hurry? Here's our Best Racing Gloves summary
| Budget Choice | Winner | Runner-Up |
| --- | --- | --- |
| | | |
| Sparco Land RG3.1 | AlpineStars Tech 1-ZX | MOMO Corsa R |
| 🔥🔥🔥🔥🔥 | 🔥🔥🔥🔥🔥 | 🔥🔥🔥🔥🔥 |
| Buy Now | Buy Now | Buy Now |
You've most likely seen or heard of other drivers wearing gloves whenever they drive hard, whether they're at a private drift day, competing professionally, or even practicing on their simulator at home.
Safety has become a huge factor in drifting over the years, and as the sport increases in popularity, accidents, unfortunately, become more commonly heard of.
Whether due to a momentary lapse of concentration (or pure stupidity) or attempting to push the boundaries a step too far, drifting is an undeniably risky form of motorsport at times, and these things occasionally happen.
This has led to even grassroots events requiring proper safety gear, and gloves are undoubtedly going to become increasingly necessary as time goes on. Whether you love or hate them, if you're serious about drifting then it's something that's better to get used to sooner rather than later.
Different gloves can provide different fitments and feel, so even if you've tried one glove and it wasn't for you, a good-fitting pair of gloves could make all the difference, and eventually make you feel more confident behind the wheel.
It's always worth considering the different materials involved, for example, some drivers prefer to use a grippy Alcantara or suede wheel along with suede gloves, as this provides the ultimate grip and precision.
Others find this too much and opt for less grippy gloves with a leather wheel, letting the human muscles do the clamping to ensure they maintain enough force to ensure full control.
If you find yourself fumbling a lot with the wheel, or letting it spin whilst rubbing your hands, you can get hardened skin or friction burns. One of the benefits of gloves on a longer drifting session is that these issues will be substantially reduced or perhaps eliminated entirely.
Other benefits with long term sessions can be if your hands get sweaty on hotter days, they're likely to provide grip on the wheel that is varied and unwelcome. With gloves, you can guarantee a consistent touch without your clammy hands providing unpredictable slipping the steering wheel.
Once people get used to gloves, they'll likely choose to adapt them to any form of 'spirited' driving, whether it's on the streets, a closed parking lot, at the track, or during practice on a simulation game.
This is good practice to ensure you get used to wearing gloves, and you may even find yourself not wanting to drift without them eventually.
Who knows, if you keep them in the car then they may well come in handy on a cold winters' day, especially if you made the mistake of opting for that nice shiny stainless-steel gear knob!
Some of the smaller benefits are that they'll keep your hands clean, you're less likely to hurt yourself with a quick fluster and you can keep your rings on underneath, so no more worrying about losing them!
With the ever-increasing safety measures, we highly recommend thinking about the levels that you intend to be competing at. For the US-only, you can stick with SFI-approved gloves. However, if you ever intend to compete Internationally, you'll want to consider opting or the stricter-regulation FIA gloves.
We always recommend checking with each individual manufacturer's sizing guide before purchasing, having oversized-flappy gloves is likely to become a huge annoyance very quickly!
Consider going for a size that may initially appear to be a little snug, as they're likely to provide a true feeling and you'll probably wear into them anyway.
Now that we've explained their purposes and you've decided that you're going to benefit, let's take a look at our Best Racing Gloves selection!
---
Best racing gloves lineup
To find out more about any of these products just click on the product name or photo.
Our comment: Undoubtedly one of the biggest names in motorsport gloves, AlpineStars provide three choices in our guide, each at varied price points. These are their entry-level gloves, but that certainly doesn't mean that they've cut corners.
These have been developed using the same technology as their premium gloves, which reduces weight and provides the best fit and feel.
Despite their price, these are fully FIA-approved and certainly one of the best choices for beginners if you're not looking to splash big bucks.
Manufacturer description: "With a significant weight-saving thanks to new material construction technology, the extremely lightweight and comfortable Tech 1 Start Glove features excellent grip response, while the aramidic main shell offers high levels of heat and flame resistance."
---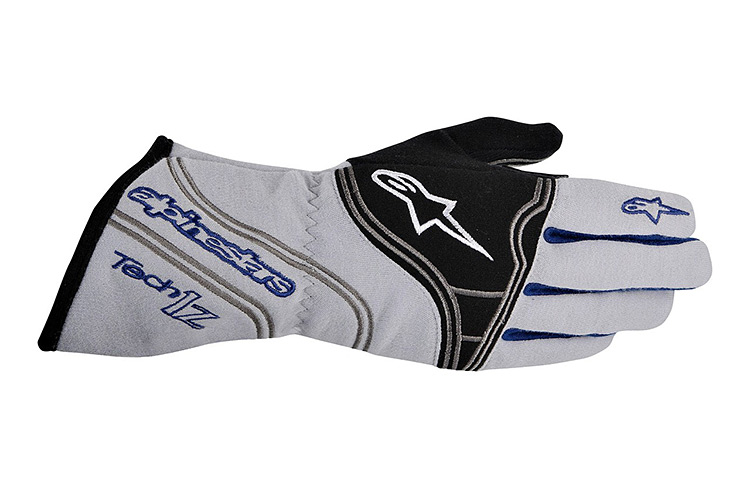 Manufacturer: AlpineStars
Colors: Red/Black, Silver/Blue, Black/Fluor Orange, Black/Fluor Yellow
Value for money:

🔥🔥🔥🔥🔥

Safety rating: Dual homologation – FIA & SFI Approved
Purchase link: Buy your AlpineStars Tech 1 Z Gloves here
Our comment: The second offering from AlpineStars is their Tech 1 Z gloves, which come at a middle-range price point.
These feature a more exciting design than their cheaper offering, along with increased weight reduction and improved levels of control and comfort.
The Tech 1-Z utilize the same aramidic construction as their upper range Tech 1-ZX gloves with interior grip zones and silicone textured outer grip for optimum control and feel.
Pre-curved fingers and palms reduce bunching when gripping the wheel, and a 180-degree elastic wrist closure offers a secure fit.
These are of course also FIA-approved and are a great all-round glove for beginner to advanced drivers.
Manufacturer description: "The Tech 1-Z Glove features a range of design and material innovations resulting in an ergonomically evolved chassis which offers a significant weight reduction and improved levels of control, cockpit comfort and performance. Drawing on decades of technical expertise from Alpinestars' racing program, this glove features an innovative flame-resistant aramid fiber ensures superior safety and feel."
---
Manufacturer: AlpineStars
Colors: Silver/Black/Red, Red/Black/White, Anthracite/Black/Red, Blue/Black/White, Black/Silver/Red, Black/Silver/White, Black/Yellow Fluor/White
Value for money:

🔥🔥🔥🔥🔥

Safety rating: Dual homologation – FIA & SFI Approved
Purchase link: Buy your AlpineStars Tech 1-ZX Gloves here
Our comment: These are AlpineStars' premium racing gloves, and the ultimate choice for those who don't mind splashing out a little extra cash on their safety equipment.
These gloves incorporate a range of the ultimate materials and construction innovations to provide maximum levels of weight reduction but with the most impressive grip, sensitivity and mobility of the range.
With flame-resistant aramidic outer material and a bonded aramidic inner, this maintains optimal temperature control for maximum comfort.
These also incorporate newly-developed inner latex grip zones combined with a revised outer silicone grip technology on the palm and fingers which provide the ultimate touch and feel.
Pre-curved fingers and its ergonomic shape with external seams offer a superior fit with reduced material bunching and a 180-degree elasticated wrist closure for easy entry and a secure fit.
As with all of the AlpineStars gloves in our guide, these also meet the FIA homologation standards.
Manufacturer description: "Complying fully with FIA homologation standards, the premium auto racing glove Tech 1-ZX incorporates a range of groundbreaking material and construction innovations resulting in a significant reduction in weight as well as improved levels of mobility, grip sensitivity and cockpit comfort."
---
Our comment: MOMO's Xtreme Pro gloves offer a pre-curved shape with a silicon-coated palm to provide extra grip, and a redesigned stitching pattern on the thumb to increase comfort.
These have been created from high-quality Nomex material to achieve the lightest weight possible whilst still maintaining excellent breathability and MOMO's signature 'x-tragrip' leather on the palm and fingers for additional grip.
These FIA-approved gloves have been designed with professional racing in mind using the latest fabrics and technologies.
Manufacturer description: "XTREME PRO gloves are professional caliber racing gloves made of soft, stretch fire resistant nomex. The gloves' palms are coated with silicone ensuring excellent grip for optimum performance."
"XTREME PRO gloves are professional caliber racing gloves made of soft, stretch fire resistant nomex. The gloves' palms are coated with silicone ensuring excellent grip for optimum performance."
---
Manufacturer: MOMO
Colors: White, Red, Blue, Black
Value for money:

🔥🔥🔥🔥🔥

Safety rating: Dual homologation – FIA & SFI Approved
Purchase link: Buy your MOMO Corsa R Gloves here
Our comment: MOMO's alternative choice, the Corsa R, is the perfect choice if you're intending on competing in the US, and considering going further afield in the near future with their FIA & SFI dual homologation.
These gloves have been specifically hand-crafted with pre-curved pattening that will keep you safe and comfortable, whether you're drifting or racing.
With external stitching to prevent pressure points and abrasions, they are constructed of a 1-piece palm construction to eliminate friction-causing seams. Pre-curved pattening further reduces fabric bunching and their zig-zag closure ensures the gloves stay firmly in place.
The Corsa R are treated with an exclusive fire retardant tactile treatment which provides superior steering wheel grip.
These gloves are an excellent choice for the money, and would undoubtedly be a fantastic choice for beginners right the way through to competition drivers.
Manufacturer description: "The MOMO CORSA R race glove is MOMO's all new outside seam racing glove sporting the latest addition to MOMO's advanced motorsports safety products specially created for superior driver comfort and safety. Following closely on the heels of the recently launched MOMO Corsa Evo race suit, MOMO's Corsa R gloves combine Italian design with the latest in motorsports technology and innovation."
---
Our comment: Sparco's entry-level gloves are one of the most popular choices on the market. With excellent value being provided by one of the highest-regarded brands along with FIA and SFI approval, it's easy to see why.
These gloves feature a single-layer ultra-lightweight palm and quality suede inserts. Sparco's ergonomic palm design with reinforced stitching conforms the glove to the hand's position.
If you're looking for a lightweight glove with elastic wrist closure and wheel-hugging suede where it counts, you're certainly going to find these hard to beat for the money.
Manufacturer description: "The Land RG-3.1 has been redesigned for 2016. The Land RG-3.1 glove is our entry-level competition glove that provides excellent protection and feedback."
"The palm has been redesigned with new suede anti-slip fingertip and palm grips to provide greater performance. The elastic wrist and wide range of sizes helps ensure proper fitment. Available in black, blue and red. The Land RG-3 is SFI and FIA approved."
---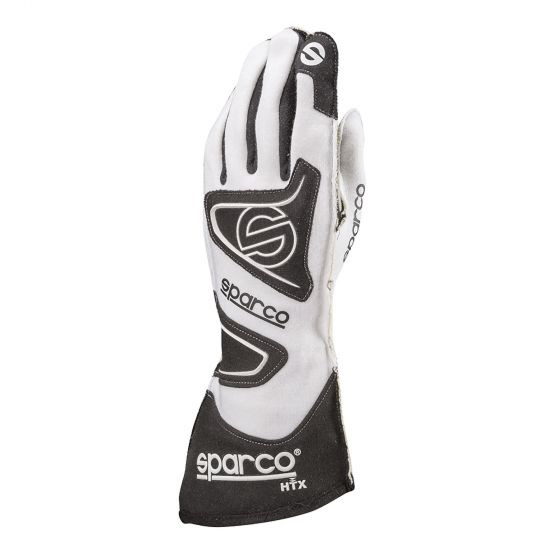 Manufacturer: Sparco
Colors: Red/Black, Blue/Black, Black/White, White/Black
Value for money:

🔥🔥🔥🔥🔥

Safety rating: Dual homologation – FIA & SFI Approved
Purchase link: Buy your Sparco Tide RG-9 Gloves here
Our comment: The Sparco Tide RG-9 is the big daddy of Sparco's selection, using the best possible materials alongside cutting-edge technology to provide the ultimate grip, shock absorption, and comfort.
These feature an anatomically correct palm that contours to the natural shape of your hand. With their 3D HTX technology in the palm, this Sparco-exclusive material increases grip whilst absorbing vibrations and increasing dexterity.
The shape of the HTX material was specifically built with durability in mind, so these gloves will certainly last longer than some of the cheaper alternatives.
They may not be the cheapest in our list, but sometimes it's worth spending that extra bit when it comes to safety and wheel-feel. You can guarantee that these gloves certainly won't disappoint!
Manufacturer description: "The Sparco Tide RG-9 race glove is a pre-formed race glove that benefits from the use of HTX material."
"Specially formed volcano like rows of this material provide the driver with increased levels of grip and comfort due to the shock absorbing nature of the material. External seams, for greater comfort and ease of fit."
---
Our comment: BridgeMoto brings something a little different to the market with these awesome retro JDM-styled racing gloves. For those of you wondering about the name, Super Taikyu is the largest Japanese endurance race series.
Although they only have SFI approval, which rules them out if you're intending to compete internationally in the near future, these certainly look unique and we wouldn't hesitate to rock them at the track!
Made with 100% Nomex and goatskin leather, these double layered-gloves have full leather palms and thumb for added vibration and fire protection.
Unlike the elasticated options above, these have an adjustable strap for you to find your perfect fit the 'old-school' way! A great choice for those of you looking for something a little more retro to match your unique car!
Manufacturer description: "100% Nomex & GoatSkin Leather construction, SFI Approved Double layered design and Vintage style square BridgeMoto patch."
---
Our comment: As you've probably already seen from the photo and color options, BridgeMoto has another crazy color range and design for you with their UltraViolet Pro gloves!
They may only have SFI approval again, but they're a great choice for those of you who want to rock something different to stand out from the crowd.
These offer extreme grip on the palm and fingertips with silicone for hybrid use on suede and leather steering wheels and feature double-layer Nomex protection and external stitching.
Unlike their retro JDM glove above, they've opted for the modern elastic option this time around.
Manufacturer description: "Extreme grip on palm and fingertips for hybrid use on suede and leather steering wheels. Durable fire resistant silicone palms. Double layer Nomex protection. External Stitching for maximum finger comfort."
---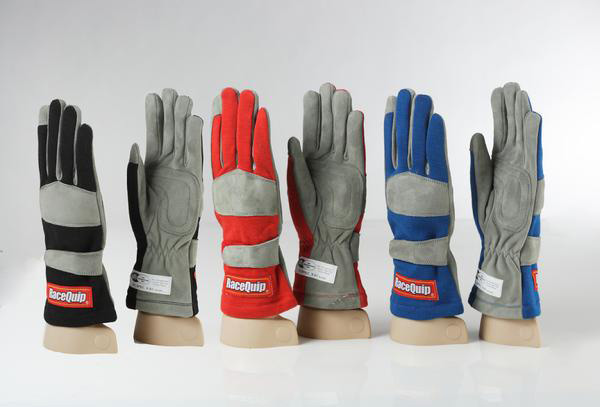 Our comment: By far the most popular selling glove in the RaceQuip range, their 351 presents fantastic value for money for those looking for a simple single-layer glove.
These are a mix of Nomex and leather and are built to SFI-1 specs, which means they're not ideal for international competitions, but will a great choice for the U.S.
The signature grey suede leather palm provides a premium look with additional grip. Extra leather has been added between the index finger and the end of the thumb in the high-wear area to ensure durability.
For the price, these are certainly one of the best entry-level gloves on the market which have provided themselves a great reputation over the years.
Manufacturer description: "The RaceQuip 351 is a Nomex® and leather glove built to SFI-1 specs that provides a soft and supple feel."
"The knuckle pad and palm reinforcements attach to the Nomex® back in a way that promotes flexibility. The 351 glove features a standard length gauntlet with an adjustable hook and loop closure on the back to ensure a proper fit."
---
Our comment: They may be in the upper end of their price range, but RaceQuip has kept them extremely affordable to bring an excellent double-layer glove to the market.
Two layers of soft knit Nomex have been joined with a full leather palm of supple reinforced white leather to form a long gauntlet SFI-5 rated glove.
These features, alongside mitered fingers, provide excellent comfort, feel and steering wheel grip. These feature two adjustment straps across the back which allow for separate wrist and palm tensioning to ensure the perfect fit whilst maintaining flexibility.
A great choice for a two-layer glove that allows for maximum adjustment to get the perfect fit and feel. If you're picky with how your gloves fit and don't intend to compete internationally then these could be the perfect choice for your needs.
Manufacturer description: "The RaceQuip Mod Glove is for the discriminating buyer. This is the most comfortable SFI-5 glove that you will find anywhere."
---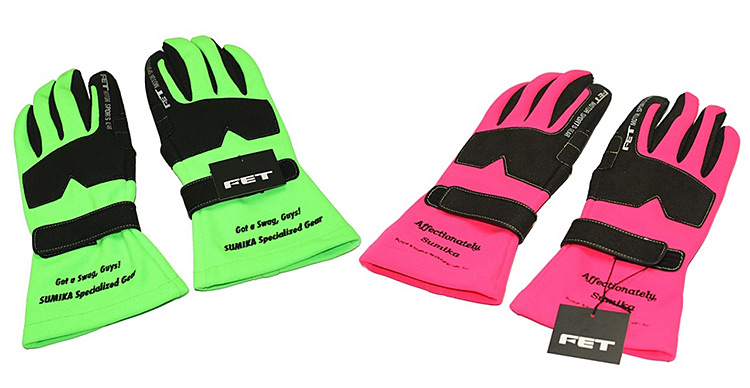 Our comment: Although they don't represent the best value for money in our list, sometimes you've just gotta go with your heart, and these will make the perfect present for any JDM fanboys (or girls!)
Although they don't appear to have any U.S./EU official safety ratings, if you're only interested in a set of gloves for fun or learning, these are undoubtedly one of the most epic looking options out there!
These are as JDM as it gets, and each glove is individually hand-made by Japanese craftsmen to the typically high standard that FET Sports produce. An excellent alternative for those of you after something different to the 'serious' gloves on the market.
Manufacturer description: "A racing glove of FET SPORTS getting a high evaluation in response to wide demand performance as a brand leader of the driving glove."
"3D racing glove finger part of the special sewing and draping black white finger adopts a sewing picketing, both to reduce the discomfort due to stitching and design. Delivers exceptional ease of use when operating the steering wheel and shift easily get familiar."
---
Our comment: We have another set of fun gloves to offer you, this time with an SFI safety rating included for those of you that are competing. These look great during the day, and borderline creepy at night. They'll certainly get some people wondering what the hell is going on!
If you don't take yourself too seriously and like to have fun in competition, these could be ideal. They feature a multi-layer Nomex construction with goat suede palms. They have reverse seams with silicone skeleton graphics on the back of the hand and an elasticated wrist for the ideal fit.
A reasonably-priced, fun option which is also practical for daily or competitive use.
Manufacturer description: "SFI Rated racing gloves with nomex construction. Soft palm of goat suede. Reverse seams and silicone graphics finish. Elastic wrist with custom fit."
---
Manufacturer: OMP
Colors: Black/White, Red/White/Black, Yellow/Black, Blue/Cyan/Black/White
Value for money:

🔥🔥🔥🔥🔥

Safety rating: FIA Approved
Purchase link: Buy your OMP First Evo here
Our comment: For those of you that aren't looking to splash the cash, but intend on competing outside of the U.S, racing equipment legends OMP's First EVO gloves are one of the most popular choices on the market for entry-level gloves.
Manufactured from soft knit Nomex with premium silicone and leather inserts, this helps to provide exceptional grip and sensitivity when drifting. They also feature internal stitching and elasticated wrists for premium comfort.
An excellent, simple choice for those of you either looking for your first glove or a reasonably-priced FIA-approved replacement.
Manufacturer description: "The OMP First Evo is a mid length lightweight race glove made from soft knit flame retardant Nomex material. The gloves feature internal stitching and high grip leather pittards on both the palm and fingers. This modern design racing glove also benefits from an elasticated straight cut wrist closure."
---
Manufacturer: OMP
Colors: Navy/Cyan, Red/White, White/Black/Red, Black/Anthracite/Yellow, Blue/White/Black, Black
Value for money:

🔥🔥🔥🔥🔥

Safety rating: FIA Approved
Purchase link: Buy your OMP Tecnica Evo Gloves here
Our comment: These are the cream of the crop in the OMP racing glove range, and they certainly look the part for those of you intending to enter international competitions.
The palm of the Tecnica Evo gloves utilizes a silicone rubber which optimizes the grip levels and sensitivity on the steering wheel. An additional padded leather insert central to the palm also allows for cushioning when involved with heavy gear changes for periods of time, which can be particularly useful in drifting.
If you're looking for a stylish, professional-looking FIA-approved glove, then chances are you'll need to look no further as the OMP Tecnica Evo are most definitely going to be a perfect choice.
Manufacturer description: "The Tecnica Evo race gloves from OMP are made in soft, fire resistant Nomex with external stitching for extra comfort."
"Other features include pre-curved fingers, diagonal cut wrist, and modern design with Velcro closing strap. This version of the Tecnica Evo race glove features agressive styling to match the OMP Tecnica Evo race suit"
---
Our winners
We have split our winning products into two categories; premium racing gloves and budget racing gloves.
Our Premium Racing Glove Choice
For those of you that understand the importance of premium safety equipment and appreciate the look and feel of the premium materials and grip and sensitivity that it offers, you're going to find it hard to beat the AlpineStars Tech 1-ZX.
Our Premium Racing Glove winner is the AlpineStars Tech 1-ZX.
Once again featuring both FIA and SFI approval, this enables you to compete at the highest level anywhere you can imagine. Combining the best materials available with the perfect fit and stylish, modern looks, these are an unbeatable glove that will undoubtedly serve you well, whatever level of racing you may be at.
Our Budget Racing Glove Choice
It was a tough call between several gloves, and the RaceQuip 351 was certainly a contender, but it's Sparco who takes the win with their Land RG-3.1 glove this time around.
Our Budget Racing Glove winner is the Sparco Land RG-3.1.
It's easy to see why so these gloves are so popular with beginners or those of you on a tighter budget. These incredibly-priced gloves are extremely lightweight and comfortable and even feature both FIA and SFI approval!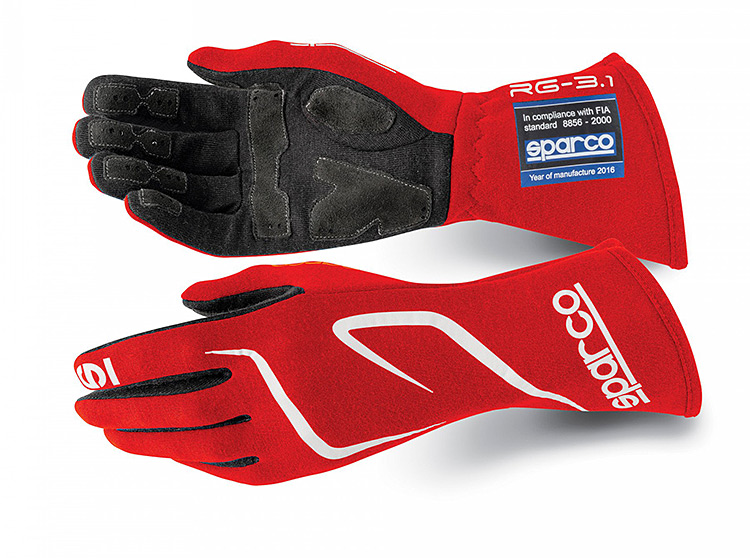 Thank you for reading our Best Racing Gloves guide
We hope that you're now confident in choosing the perfect gloves for your needs, to provide you with the ultimate familiarity every time you get behind the wheel to shred some tires! Now is the perfect time to pick up your perfect steering wheel. Looking for a great sports seat? Our ultimate racing seat guide was written for you.
Photography credits
We would like to thank the following sources for the use of their images:
If you enjoyed this article then please share it with the buttons at the side and bottom of your screen. Find this information useful? Please post a link to it on your car owners clubs. We really appreciate your support.